When to go for web-hosting? If you choose to go for a non-hosted blogging platform (like wordpress.org),that needs to be installed on a web server, you need to go for web hosting.
Many of the free blog hosting services available to bloggers offer a basic blogging package at no cost.
A great number of the non-hosted blogging software packages are also free, but the web server that you need to install them on isn't free.
Be clear about when to choose a free blogging platform & when to opt for web hosting? Remember, blogging on a free hosting service is living with limitations. The most flexible, powerful and professional way to run a blog is to own a self-hosted blog with its own domain name for which you need to select a reliable web hosting provider.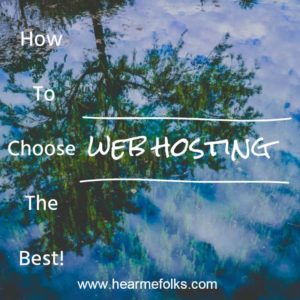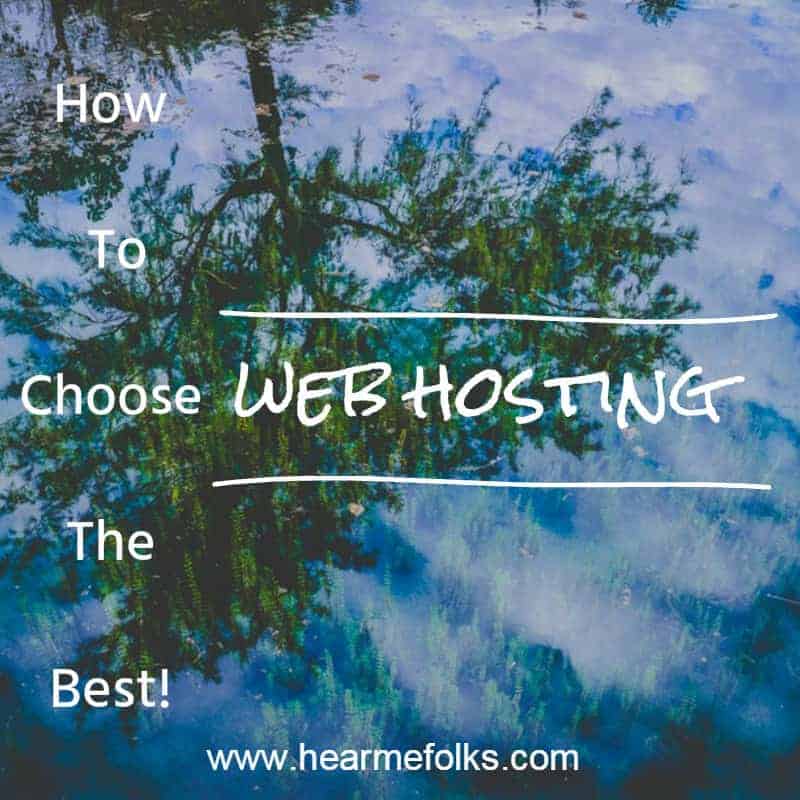 After you choose a domain name, you should be able to pick a web hosting.The hosting of your website is a very important service and you should always do your research before you sign up. But before you even start a blog and think of hosting for your site you should have an idea of
If you want to create a web page only to create an online presence then you only need a basic package.But if your intention is to build a functional business model with special technical support then your hosting is a very important factor to consider.So, lets start with the pricing of a web hosting provider.
Pricing
Normally when you plan to choose a hosting, your decision will be based on cost alone mostly. Cost should be the last thing you consider when it comes to finding a web host. Like most other things, you get what you pay for. Free or incredibly cheap will often have far more drawbacks than they're worth.
On the flip side, the most expensive hosts are not usually worth the cost either. As I suggested in my earlier post, remember to look into the web hosting offered by your domain registration service. This might save you money and will also streamline the management of your blog.
Other than the pricing, there are many options you should consider before you sign up, which include:
Uptime of the servers
The Uptime of your hosting providers is a very important factor that you should consider when taking a decision. Uptime ensures that, when your audience attempt to visit you site they shouldn't find it difficult to access it due to technical problems. Most web hosts will be able to tell the guaranteed amount of time a website will be available online under normal loads. Some web hosting providers offer 100% uptime, which means that they will ensure your website is online and available all the time. But practically it's not feasible, some amount of downtime is inevitable, even on expensive web hosting plans. However, it's not unreasonable to expect a web host to provide – and to guarantee – 99.9% uptime, so don't accept anything less.
Bandwidth
The next most important feature is the bandwidth. Bandwidth/data transfer is used as visitors visit your website and download pages from your site to view them. Computers and networks can take only so many visitors and downloads, and hosts usually set a quota on how much bandwidth you can use for the particular web-hosting package that you buy. Ask about what happens if you exceed your monthly allowance of bandwidth. (Usually, you have to pay for the extra resources.) For most bloggers. this won't be an issue, but if you develop a very popular blog with lots of visitors, or are serving very large files like videos, bandwidth can become an additional cost.You need to know, 'What's your data transfer limit, and how much your web hosting provider might charge for additional bandwidth.
Disk space
For blogging, disk space is important if you decide to store a lot of images on your blog or upload audio and video files. Uploading images is relatively easy to do, but you need the space to store those images. For the average blog that has a few photos, you most likely want about 500 megabytes (MB). Blogs that have a lot of photos require several gigabytes (GB) of disk space. Video blogs need a whole lot more disk space.Many new sites (that don't host videos or music) need less than 20 MB of web space, so even if you are provided with a host that tempts you with 100 GB (or "unlimited space"), be aware that you are unlikely to use that space, so don't let the 100 GB space be too big a factor in your consideration when comparing with other web hosts.Running out of disk space is an easily solvable problem, so you need not worry about the disk space as a beginner.Most web hosts allow you to add disk space when you need it for an additional cost. Check with your web host to find out:How much disk space does the package include, and what do they charge for additional space?
Mode and Ease of Customer support
What kind of technical support do your web host offer? Do they offer a telephonic support, e-mail support or support via chat?Look for a web hosting provider that offers excellent and easily approachable customer support.Look for a reputable web host that offers telephonic support.Email support might consume your valuable time in waiting for the response. Hosting providers may claim that they offer 24-7 support, but this will not guarantee you will receive fast, knowledgeable service. How do you know whether a provider offers extraordinary support? Check out the reviews, testimonials and endorsements from the current clients.You can also test the response of the customer support staff before committing to any long-term hosting contract.
Hosting Platform & Technology supported
Most blog software use a web server, which is a mix of several kinds of web server technology that is ideal for running websites such as blogs. Here is the list of some of the most common web hosting technologies.For people setting up website for the first time, the operating system is largely irrelevant.
Windows platform means hosting of web servers that runs on the Windows operating system.You should choose Windows platform if you plan to use ASP (Active Server Pages) as server scripting, or if you plan to use a database like Microsoft Access or Microsoft SQL Server. MySQL is the most popular database software for blogs. For any blogging package. you need some kind of database system to store all your blog posts and run the other functionality of the blog software. MySQL is the standard database tool for most blog software.Expression Web is a website design tool developed by Microsoft.Expression Web allows users to develop a web site without any deep knowledge of web development.If you plan to use Expression Web, you should look for a Windows hosting solution.
Linux platform means hosting of web servers that runs on the Linux operating system.A very common web server operating system. it's very stable and considered a standard for web servers. As a blogger, you probably don't need to make too many changes to the operating system as long as it's in place for you.
PHP is the widely-used, free, and efficient alternative to competitors such as Microsoft's ASP. PHP is the programming language that a lot of blogging and content management systems use. PHP is perfectly suited for Web development, and can be embedded directly into the HTML code.
Location of the servers
The location of your server plays a major role in the ranking of your site. One of the SEO tips given by many professionals is to make sure to host your web site in the country you want it to rank in.If you are creating a website or a blog for audience of any specific country, you should host your website in that country.
Backups
Consider how you plan to back up your data (including your database content) and whether the web host will also back up the files on your web-hosting account. Knowing this information can save you from disaster amid data loss in the future. There are times when a site crashes. If your web host does site backups regularly then there is nothing to worry about when such incidents happen. Your web hosting provider should be able to restore back your full (or at least, a big chunk of) site in no time.Daily backups could be ideal!
Multiple Domain Hosting
Do you want to host multiple websites on one account?To accommodate these extra domains, you need extra hosting space. And this is why it is important to have a web hosting account that allows adding multiple domains.Typically, most shared hosting companies allow multiple domains or sub-domains in one account nowadays but you can never be sure. So, be sure to check the domain capacity before you make a purchase.
Business Model Websites:
If you want to build a business model website, then these are the quintessential features.
E-Commerce support: If you want to run an e-commerce site, then it is important for you to pick a web host with an efficient e-commerce features support. SSL certification, dedicated IP, and one-click shopping cart software installation are some of the essential features/supports you will need.
E-mail management: If you want to use your blog for business purposes. having an e-mail address that matches your domain looks more professional. Some web hosts allow you to create multiple e-mail addresses under one domain. which is ideal if you would like to segregate contact inquiries from personal emails? for example.
Sever Upgrade Options: As your business grows, your website will tend to generate more traffic. The ability to scale will be increasingly important. Your web hosting provider should be able upgrade and scale to accommodate your traffic growth. If you expect your website to grow really big in next two or three years, then you should consider picking up a web host with room to grow. By grow, I mean upgrading your web host – from shared hosting to virtual private or dedicated server – for more processing power, memory capacity, disk storage, and better security features.Just remember that there is no such thing as "unlimited resources".
Winding Up:
You should ensure that you invest wisely and seek out a more reliable and professional web host to ensure uptime and dedicated support team available to you all the time if something goes wrong.
When it comes to web hosting, you will find that bigger brands are normally better. Larger, well-established web hosting providers will have greater capacity to ensure that in the event of hardware failure, their backup systems will kick in and prevent your website from going down.
To ensure you get a good web host make sure they have:
Guaranteed uptime
Backup
24×7 support by phone or chat
A user-friendly and functional hosting control panel
Supported server side software and upgrades
Good reviews across the Internet
Thanks for reading till the end 🙂 If you have any questions, please post them in the comments.
Lastly, If you find this guide helpful then consider to share it on social media. It's fun to help a few more readers like you to setup a website with their choice of web hosting!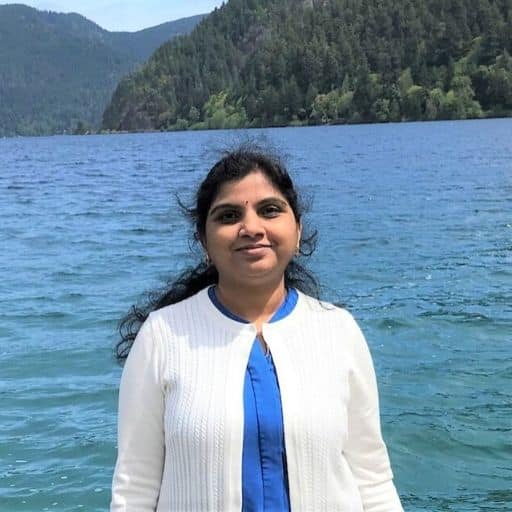 Hey Folks, thanks for stopping by my blog!
I'm Swati. I'm a mom, side hustler, full-time blogger and a millennial work-at-home expert featured on Forbes, CEO Blog Nation, Referral Rock, Vital Dollar, and Databox blog. I embarked on this impeccable journey to expose my online monetary experiences and help you all earn money from home. Come join my make money revolution and attain financial freedom – it's not as hard as you think!