Adsense ad unit creation is not a technical aspect but a logical task! You need to put yourself in the mindset of a regular visitor to know what and how he thinks. Its only then that we can succeed and make money.This scenario holds good in this case as well.What made you click someone else ads, helps you to properly customize and create a compelling adsense ad on your website.
But, Is it really possible to increase CTR?
Yes, Let me explain!
AdSense offers cost-per-click ads (CPC) which means that you earn money every time a user clicks on the ad on your website. The amount received per click varies based on multiple factors. If you want to increase your Adsense earnings, you need to increase your CTR (Click through Rate). Ad Customization helps to increase the visibility of your ads and make them compelling for your visitors.More visibility, more CTR and hence more earnings.
[bctt tweet="Ad Customization helps to increase the visibility of your ads and make them compelling for your visitors." username="hearmepals"]
You can avoid customization, go for default settings and straightaway place the ad code in your website.Its not a compulsion. But a little tweaking here and there can show a drastic change in your earnings from Adsense. By making these changes, you'll be making your ads more visible to users.
In this article, I will show you how to create Google AdSense ad unit along with sharing some best practice and tips to increase your CTR and thereby your earnings.
How to Create Google Adsense Ad Unit
An Ad unit is a set of ads displayed as a result of one piece of the AdSense ad code. You can create and customize an ad unit in your AdSense account.Now lets start creating the ad!
Step 1
Log in to your Adsense account and you can get started with the rest of the process.If you don't have one sign up for Google Adsense account right now.
Related Resource: The New Google Adsense Account Sign-Up Process
Step 2
As shown below, begin with clicking on 'My Ads' tab and then on 'New Ad Unit' button to customize the Adsense ads you want to insert.


Step 3
You can now create new ad unit. On this page, you need to select the Ad size, type, and style and name it.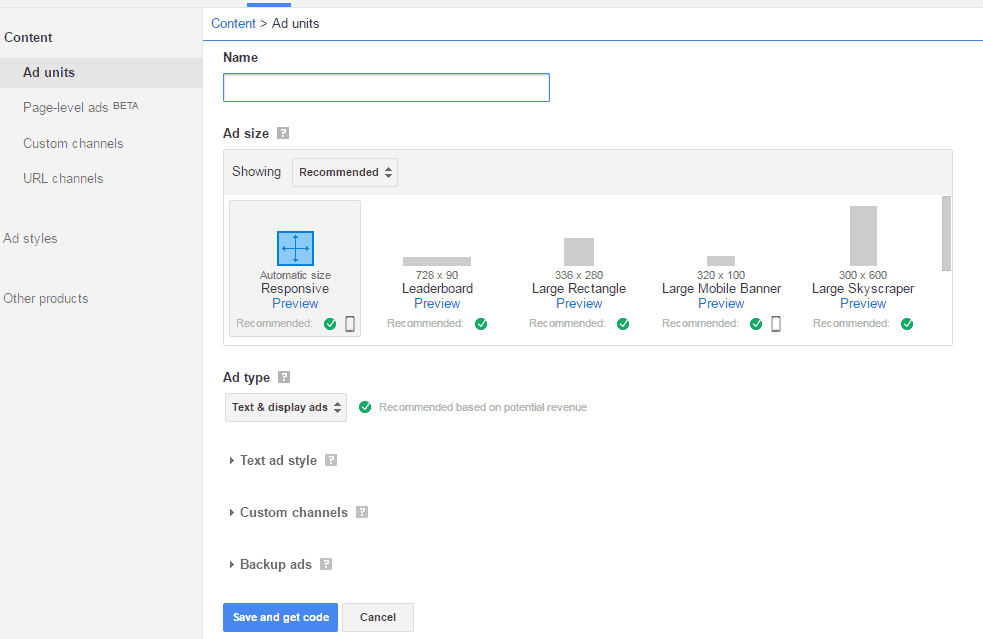 Step 4
The name of the ad is only for recognition purposes. So you can name it as per your convenience for later use.
Step 5
Next step is to choose the 'ad size'. You can see there is a wide range and variety of ad sizes.You can choose among them.
Hot Tip: Its beneficial to go for the recommended ad sizes that display a variety of ad types and have performed well in tests.Wider sizes tend to perform better. Some sizes do not display all ad types.
The most effective ad sizes are the 336×280 large rectangle, the 300×250 medium rectangle, the 728×90 leaderboard, the 300×600 half page, and on mobile the 320×100 large mobile banner.
Step 6
Now you have to choose the 'ad type'. There are two types of ads that can appear on your website:
Text ads; and
Display/Image ads.
Note: Display both ad types to ensure that all available advertisers can bid to appear on your site.By displaying both text and display ads, you can earn more revenue.
Step 7
Next comes 'ad style'. By adding appropriate styling, you'll be making your ads more visible to users.This make a lot of difference between ads your users will notice & click & ads they'll skip right over.
Hot Tip: The three techniques you can use to design ad styles that will be successful for your site are to blend, to compliment or to contrast.
To blend, make the background and borders of your ads the same color as the background of your page where the ad is placed.
To complement, use colors that already exist on your site, but don't match the background and borders exactly where the ads are placed.
To contrast, choose colors that stand out against the background of your site. Contrasting is recommended only for sites with dark background.
Here are the examples: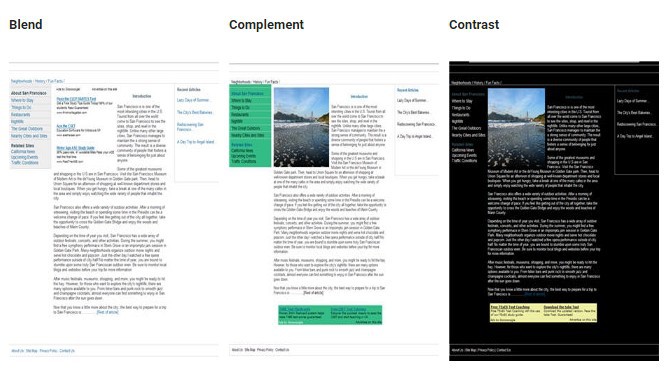 Hot Tip: In simple, its suggested to use an ad style with your site's color scheme or with white background, white borders, and blue titles.
Step 8
'Custom Channels' feature allows you to better track the ad performance based on sites. A custom channel lets you group ad units however you choose, such as by size or location on a page. You can also track ad performance and turn your channel into a targetable ad placement.You don't have to use it if you don't want to.
Step 9
'Backup Ads' are the ones that you'd prefer to show when Google has no targeted ads available. By default, it shows a blank space. However, you can also choose to display ads from another URL, or a solid color instead.
Step 10
You can now click 'save and get code' button to finish ad customization and generate adsense code.
Your adsense code is now ready to be placed on your website.
Winding Up:
Implementing a few strategies suggested above decrease ad blindness. The tendency for users to ignore anything that's separate from the main content of your site will thereby reduce.
Hope this article helps you in creating your adsense ad units and also increase the average CTR of your ads.
Let me know the customization techniques which helped to reach faster Adsense payouts in the comments below.