SurveySavvy, you might have already heard of this renowned consumer panel that offers incentives for completing surveys. What you might not have unleashed till date is its multiple earning systems. It's absolutely free to sign up!
Established in 1999, its one of the very few online survey panels that accept people "Worldwide". It's 100% genuine and conducts surveys on behalf of international companies. It offers online, mobile and teen surveys.
The best part of Survey Savvy is its minimum payout. Once you have accumulated more than $1 USD in incentives, you can request for a payout. 'Payment will be made by check in USD' regardless of the country you stay and will be mailed via U.S. post to your residence.
I've been referred to surveysavvy by one of my friends and really loved because of it's easy money making scenarios. Sign up here for SurveySavvy.
Average earnings: $300
What are the multiple earning streams on SurveySavvy?
While most top survey websites offer either cash or rewards for taking surveys. Surveysavvy offers surveys for money and also comes up with other ways for its members to make money.
Completing Surveys
Yes, this is the most obvious way to make money from a consumer panel offering paid surveys. Let's look into the rest!
Referring Friends
This is the big part! Survey Savvy works on a rewarding two-tier referral program.
You get incentives when
your direct referrals complete surveys, and also when
your indirect referrals (referrals your direct referrals made) complete surveys.
Sweepstakes and Contests
Another exciting feature is the sweepstakes. You earn an entry into the sweepstakes if you fail to qualify for the survey. This makes you the possible winner of the total 50 winners who will receive a $10 credit to their accounts.
Surveysavvy also runs contests and special promotions
worth $500 from time to time. In one of the recent "Superstar contest", the participants were asked to create a video in response to their employee's video or contest. With your creative side on, that isn't a tough task at all and there is every possibility for you to win the prize money worth $500.
SavvyConnect 

Launched in 2009, SavvyConnect is a small and secure application that collects anonymous data as you browse the web. With this software, members will be able to participate in market research surfing the web. The installation is quick and easy. Moreover, it is optional and there is no compulsion as such. It tracks simple usage statistics about your browsing habits online. While you simply browse the internet the way you normally would, SavvyConnect tracks things like how long you spend on a web page.
New SavvyConnect Referral Program
By referring your friends and family via the new SavvyConnect referral program, you can earn higher paying incentives from your direct and indirect referrals when they download the SavvyConnect software and complete projects.
New promotion for US members: You can earn $5 per month per device for installing SavvyConnect on your internet connected devices.  The more devices you install on, the more you'll earn! This system is referred to as "Project Gold".
If you don't want to install software, you can choose to install savvy connect chrome extension. It works with the same benefits.
These are the 5 simple ways to make money with surveysavvy.
Interested!
How SavvyConnect Works?
SavvyConnect sends us anonymous information about how you use the internet. We use that data to find trends in online search, shopping, entertainment and other applications.
What are the Benefits of Installing SavvyConnect?
SavvyConnect participants receive additional, paid research opportunities.
The app provides instant access to all SurveySavvy survey invitations and easily allows you to keep track of the surveys to which you have been invited.
Active SavvyConnect members will receive specific engagements and survey opportunities.
You will also be eligible for expedited payment requests with a one-week turnaround versus the standard 4-12 week processing period.
The software is free and easy to install. You will find the download link at the top of the page.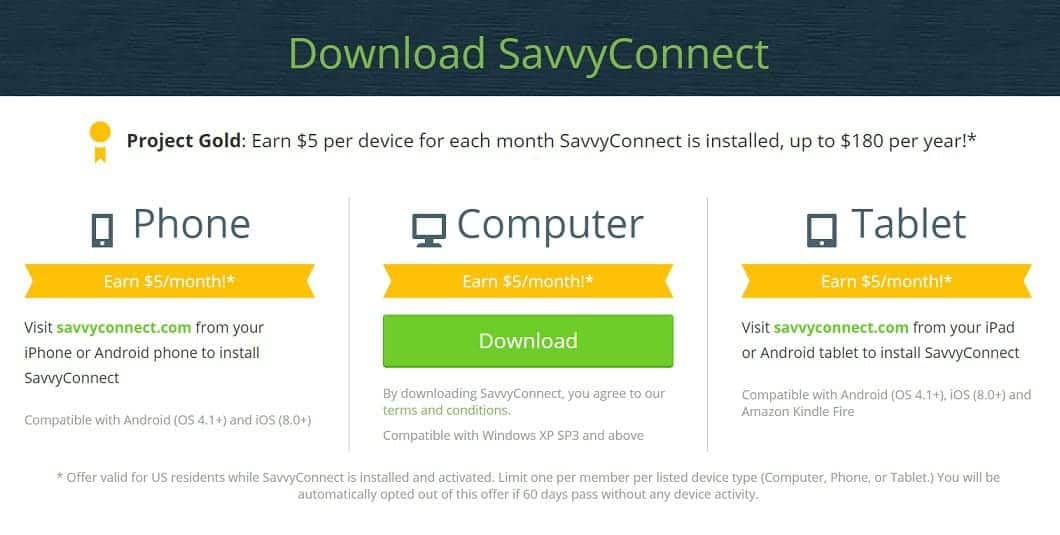 Is this software safe?
I would say yes! SavvyConnect uses secure encryption, and respects browser's "Incognito" or "Private Browsing" mode, making it safe and easy to participate while controlling what you share.This information, data or content collected is not shared with third parties.
Final Thoughts
On the overall, Surveysavvy is a reputed site and is on par with other leading survey websites. The minimum payout of 1$ can be reached quickly.
However, You won't benefit much just by taking surveys.The two-tier referral program can be a game changer.This allows you to make a lot more money provided you know how to get referrals.
Savvyconnect is a gold mine and can vastly increase your referral earnings, without you needing to wait for upcoming surveys. "Project Gold" can benefit you a lot if properly marketed.US residents can bag huge payouts with this feature.
So, if you're from the US don't loose this opportunity to make huge money.
Rather than waiting for surveys, I suggest you install savvy connect (if feasible) and participate in market research simply by surfing the web!
PROS:
The surveys range anywhere from $1-$25 and sometimes even more but never less than $1.
Multiple earnings streams from a single system
Tow-tier referral Program
Minimum payout
Software Installation not required to participate in online surveys.
You can uninstall the software at any time
CONS:
SavvyConnect for the phone is available for US residents only.
There is no guarantee as to how many surveys you may receive or participate.
It can be challenging to qualify for a survey, which is based mostly on demographics.
No wire payments.
My Rating: 3.5/5
However, different people have different experiences. So try your luck with Survey Savvy and make money staying at home.
What is your feedback for SurveySavvy? Feel free to share your experiences and submit your review for Surveysavvy.