Shout out to all the netizens craving to make quick money on the internet…
All this while, you've just heard of internet marketers talking about making money either via blogging/vlogging.
Today I will introduce you to an amazing site…that has made me 250$ in cash within a week of signup…
Yes, you heard me right!
I never believed in the potential of this site, until I tried it myself!
Let me first give you a brief intro to the site…………
Ebates!
Ebates is a shopping portal that offers worthy rebates to customers that make purchases at their favorite stores online through their portal.
It was developed with an idea to make shopping easy for Moms & No-geeks in 1999! The site offers shoppers one destination to find the best deals, coupons, and cashback from over 2000+ online retailers, and hence within a week of its launch its reached 1,00,000 hits/day through word-of-mouth.
Joining is always free – you'll never pay them anything.
What Ebates Does?
Stores pay Ebates a commission for sending you their way, and Ebates shares the commission with you as Cash Back.
You get Cash Back at over 2,000 leading brands (like Amazon, Samsung, Macy's, JCPenney, Groupon etc) every time you start your shopping trip at Ebates. With over 10K+ coupons & 2000 stores, you get up to 40% Cashback on almost everything you buy through this site!
In order to receive cash back for in-store purchase, you need to add your credit/debit card to your account. Link offers to your card and shops with your linked card.
It also offers a 10$ Sign-up Bonus to its customers for shopping!
If you're already signed up for this site, don't forget to save big on your purchases, but if you haven't, be sure to signup first!
How to Save big with Ebates?
Sign-up for Ebates for free & choose to
'Shop online through their site at your favorite stores' or
'In stores',
Ebates offers you cash back on all your purchases made through their website.
There are no points to redeem, no forms to mail in and no fees. Your cashback will be either deposited in your PayPal account or paid via check through mail quarterly.
If you're worried that you might miss an opportunity of an exciting cash back at your favorite store then get these……
Ebates Cash Back Button
Shop directly at stores, and the Button will notify you when to activate Cash Back. When you install the button on your browser, a green bar will show up at the top of the page showing you how much cash back you'll earn.
This extension helps to explore the top deals available in the store and also easily search for other stores offering better rebates & coupons from the menu itself. This is soo cool as you can verify the cashback available for the stores directly from the icon without even logging into the site.
Just click on the "Ebates Button" link in the footer of the eBates – Add to Chrome! Easy!
Ebates Mobile App
This feature is now available for download for free for iPhone, Android & Ipad to conveniently use in-store coupons, scan products to compare prices, and get up to the minute deals.
Just click on the "Ebates Mobile Apps" link in the footer of the Ebates – Download Ebates App!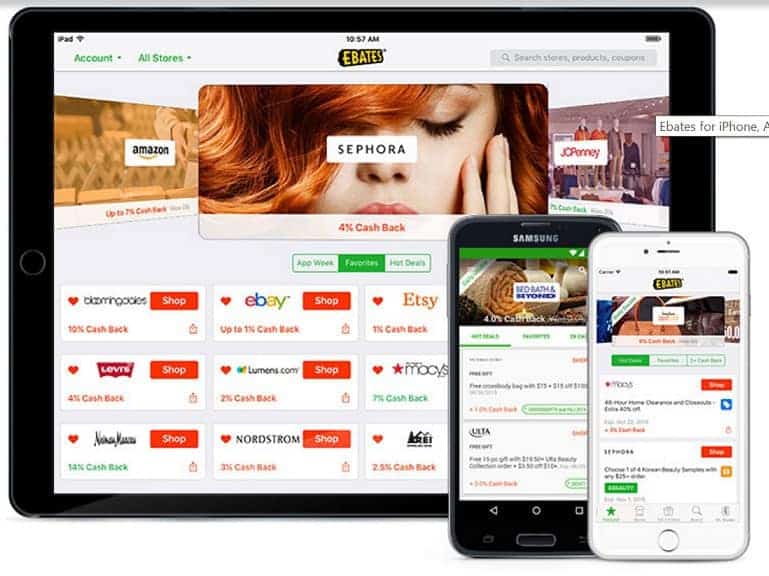 Ebates Cashback Visa Credit Card
Basically, you earn an extra 3% Cash Back (in addition to the actual cashback) on all your purchases, plus 1% Cash Back everywhere else Visa is accepted
If your credit rating is good & you're willing…then you can definitely take advantage of this amazing extra cashback offer everywhere you purchase online, by opening an Ebates Visa Credit Card.
Take a look at the below to see how you can 'Stack your cashback with an Ebates Cashback Visa Credit Card!
Look for the apps, Tools & Services tab in the footer of their website – Apply for an Ebates Visa Credit Card!
In-Store Cash Back
Ebates has recently introduced the In-Store Cash Back offer, wherein you earn rebates for purchases made in stores. This is the most beneficial deal for savvy shoppers willing to make purchases offline rather than online.
Redeeming an In-Store Cash Back offer is simple:
First, you need to add your credit & debit cards to your Ebates account.
Find an In-Store Cash Back offer you like and link it to your card.
Pay with your linked card in stores and get Cash Back.
Important Note: Once you've linked an offer to your credit or debit card, simply use that card to make an in-store purchase that meets the terms and conditions of the offer. Remember, if you are using a debit card, be sure to process the purchase as a signature debit transaction instead of PIN debit transaction. If the purchase is processed as a PIN debit transaction, Ebates will not be made aware of the purchase and you will not be eligible for In-Store Cash Back.
The In-Store Cashback is highly beneficial for those who prefer to shop in-stores.
The downside of an In-store cashback is the offers are currently available for just a few stores (only 31)! If more beneficial sites are added then this would be a revolutionary step taken!
Get Your Deals On! Save the most with online rebates, deals, promo codes, and discounts.
Coming back to my own money-making experience…
Here's How I saved 100$ in cash with Ebates?
Ebates helped me save around 100$ in cash, by offering cashback on my purchases in the following stores this thanksgiving week!
Name of the Store
Purchase Amount
Cashback Earned
Gap
In-Store
290$
6%
17.4$
Aldo Shoes
Online
120$
3%
3.6$
Toys'R'Us
Online
29.99$
4%
1.2$
Banana Republic
In-Store
74$
2%
1.48$
Tommy Hilfiger
Online
81$
5%
4.05$
Microsoft Store
Online
1000$
6%
60$
Michael Kohr's
Online
250$
3%
7.5$
Macy's
In-Store
120$
6%
7.2$
Total Cashback Earned
102.43$
If I haven't signed up for Ebates, I might have lost this amazing opportunity to save big on my expenditures…
That's not it! Here Comes the money-making part of Ebates
Here's How I made 150$ with Ebates?
Ebates is not just a cashback site, it's also the most popular way to make money at home just by following your routine!
This is how I made the maximum money…
Pssst! 'Refer to Your Friends to Earn Bonus Cash' just as I did!
Yes, you can earn bonus cash back if you refer Ebates to your friends. Every new member you refer to Ebates who then shops at their partner merchant sites will count towards your total.
You earn $5 plus 20$ bonus for every qualified referral.
A "qualified referral" is a new member of Ebates referred by you that signs up during the referral period starting October 1st, 2016 and ending December 31st, 2016 that makes purchases totaling $25 or more that earn cash back within one year following signing up.
Ebates will pay you a $5 "Base Bonus" for each such qualified referral and you will be eligible for an additional one-time "Tier Bonus" for the referral period based on the total number of such qualified referrals you generate based on the Tier Bonus table then in effect.
For instance, right now they're offering $75 for referring 3.
Likewise, I've made 150$ (within a week of signup & promotion) just by referring it to a few of my friends!
While only a few have qualified, I'm eagerly waiting for the rest to convert…
The best part of ebates is the one year period they offer for your referral to make a purchase. I believe, one year is enough time for a referral to convert and I find no reason not to convert on such a big money saver.
Eagerly, waiting for my first big first check from Ebates, expected by Feb 15, 2017 (since it pays quarterly).
Till then the promotion keeps rolling … expecting to make & save a lot by this year-end from this amazing site!
Stay tuned for more updates regarding this site…
I hope you would love this genuine information & make the MOST money with Ebates.
I'd love to hear from you with any comments or questions!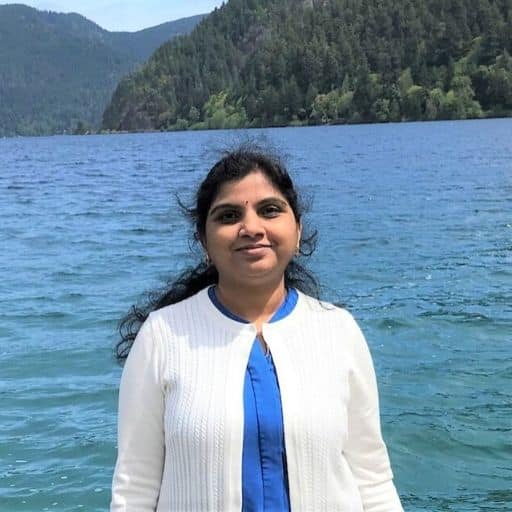 Howdy Folks, thanks for stopping by my blog.
I'm Swati, a proud mom, dedicated side hustler, full-time blogger, and a recognized millennial work-at-home expert. My expertise has been featured on esteemed platforms such as Forbes, CEO Blog Nation, Referral Rock, Vital Dollar, Databox blog, and many more. I have embarked on this incredible journey to share my firsthand experiences in the world of online income generation and to assist all of you in earning money from the comfort of your homes.
Join me in my mission to revolutionize the way we make money and achieve financial freedom. Trust me, it's not as challenging as it may seem!
Together, let's explore the boundless opportunities and pave our paths towards a prosperous future.