YouTubers are some of the best paid online workers today.
Setting up a YouTube channel is easy. The hard part is creating content that will pull in thousands of subscribers. This calls for popularizing your channel through social media and paid ads.
The field is, however, saturated with so many channels that do not attract much traffic. This consequently leads to insignificant returns. That should not keep you from trying out this lucrative hustle which, according to Forbes, one can earn you about $5 per 1,000 video views.
The amount that YouTube pays video creators depends on many factors including:
Number of views per video

How you monetize your videos

Video length

Quality and length of your ads
To start earning, your need to clock at least 1,000 dedicated subscribers who will view your videos. Its also worth noting that you can increase your earnings by:
Adding affiliate links

Brand sponsorship

Merchandising
Before you start seeing dollar signs, you need to figure some things out first. Ask yourself, what's your niche, can you curate content regularly, and do you have the right gear to shoot videos?
Well, while you ponder the above questions, let's hear it from a successful stay-at-home YouTuber with about 92K subs in one channel alone!
Monica, or Monu to her viewers and friends, is an India-based food enthusiast who runs a food channel right from her home. And that's not all, her work is based on a very unique concept; cooking from a miniature kitchen.
So, how much does she make and what has her journey to the current viewership been like?
Let's dive in together!
1. Hi Monu, can you briefly introduce yourself and your work?
Hi. My name is Monika Beesetti, a visual content maker or simply a Youtuber. I own two YouTube channels, "Ammadu Let's Cook Vantalu", (English) and "Aritaaku" (Telugu).
Being a foodie, I share my Recipes, Baking Tips, Home Remedies, and Diets in my Channels. I'm also a Miniature lover. As such, I love to try out creative stuff to ensure that my viewers experience something new each time they watch my content.
2. What led you to become a YouTuber?
From an early age, I had a fantasy to have a doll-house kitchen and I used to pretend that I was a chef, cooking with the tiny vessels.
With time, I poured my heart and soul into making my dream come true. I came up with a plan, worked on it for several days by the end of which I had a "Realistic Mini Modular Kitchen".
I wont lie, coming up with a workable design was not easy, especially when working with miniatures. However, keeping myself productive and doing something that I love kept me on task.
From there, sharing my expertise on YouTube came naturally. And guess what, I m glad that I can now construct my kitchens just the way I dreamt! You can take a look at the Mini kitchen here:
3. How much can one expect to make as a beginner YouTuber?
YouTube has a lot of scopes to earn money. It depends on the views & ads for your content. Generally, YouTubers can expect to earn up to 2000-3000$ annually, in the budding stages.
4. How many subscribers do you have right now? And, how much is YouTube pay per view?
I currently have around over 150,000 subscribers; 92k+ in "Ammadu Let's Cook Vantalu" channel and 58k+ in "Aritaaku" one.
As per my analytics, I get anywhere between $1-$3 per 1000 views.
5. Which video was the most fun to make? And, what is the best comment you've received so far?
First off, I enjoy making every video.
But specifically, it was fun making "Saree Cake", A cake in the shape of "Paithani Saree", along with edible jasmine flowers & edible jewelry (Necklace & Bangles). I purposely tried new ways to make this Customized Cake to surprise my mom. It totally blew her mind!
I also enjoyed making the "Bulli Kitchen Series" videos.
I have received many lovely comments which really made me happy. But among them one of the best comment received so far is about my Mini Kitchen:
"Hats off to you! Unique passion, took a tour of your Bulli kitchen, feel like Alice in wonderland. Everything was so beautifully made, your gas stove, fridge small utensils. So innovative, loved every bit of it."
I would also like to add that while cooking is fun, the most thrill I get is when washing tiny utensils in my Tiny Kitchen.
6. How was it starting out without any experience? Along the way, did you get any training that you can recommend?
Yes, I started on this journey in July, 2017. And, I must admit that it wasn't easy at all (especially during the initial stages). And no, I haven't got any sort of training. Rather, I spend most of my time practicing and exploring technical stuff, as well as challenging recipes.
7. Can you share some valuable tips on increasing watch time and subscribers?
Content is king. Make awesome content that automatically increases your watch time and subscribers.
8. What kind of equipment would you recommend for a newcomer?
It depends on the budget.
The most basic equipment you require is a camera and tripod for high-resolution videos and stability.
For my YouTube video setups, I use a combination of:
Checkout 10 Best YouTube Cameras with Flip Screens
9. What challenges did you face as a work-at-home YouTuber?
Honestly, I felt much more comfortable working from home. Most importantly, my husband supports me a lot, making sure to create a peaceful environment as I work.
10. What is the best piece of advice you could give a newbie?
Believe in yourself, before the world believes you, work hard, give your best & bring the best out of you.
Good Luck!
You've heard it from someone who has been there and done it. You can turn that passion into an income-generating venture and you have YouTube at your disposal. So, what's stopping you?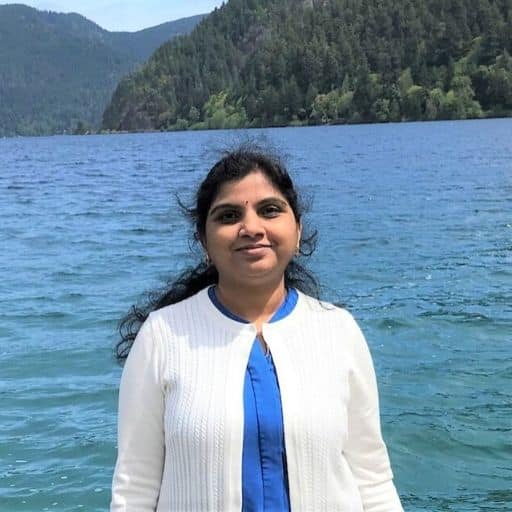 Hey Folks, thanks for stopping by my blog!
I'm Swati. I'm a mom, side hustler, full-time blogger and a millennial work-at-home expert featured on Forbes, CEO Blog Nation, Referral Rock, Vital Dollar, and Databox blog. I embarked on this impeccable journey to expose my online monetary experiences and help you all earn money from home. Come join my make money revolution and attain financial freedom – it's not as hard as you think!