I've seen many wannabe entrepreneurs, start a blog and also quickly give up, with the fear of failure…(more precisely) failure to make money sooner (what a pity, indeed!)
Don't let the fear of losing be greater than the excitement of winning-Robert Kiyosaki
This is what, I keep reminding my followers.
I don't want them to quit…or give up even before winning.
To be frank, blogging is not a get rich quick scheme, a successful blog cannot be built overnight (or during a fixed period of time).
It tests your patience at times (especially in those early days), but if you're willing to work with patiently (preferably, smartly), you can indeed make a living off blogging. The reality is many do, I do, then why can't you?
Trust yourself..step ahead proactively with patience..you'll definitely see success!
By working smart, I meant implementing winning strategies (to 'Increase your Traffic', Tips to 'Monetize your Blog')… that make a difference and help you reach your goals faster.
Are you stuck deep in the pits of blogging darkness not knowing how to increase your blog traffic and make money from your blog? I feel your pain! Its high time, you wait for the magic to happen.
This post includes a list of few best-selling blogging books that effectively address all your blogging concerns and help you make money.
You just need to TAKE ACTION, get these pain-resolving best blogging books for building an email list, driving insane traffic and making money from your blog. I pronounce, each of these books has the capability to take your blog to the next level!
Tip: Join Amazon Kindle Unlimited 30-Day Free Trial, to access unlimited e-books for free for 30 days.
1. TRAFFIC TRANSFORMATION: 21 Strategies I Used to Increase My Monthly Page Views from 17k to 400k+ in 10 Months by Lena Gott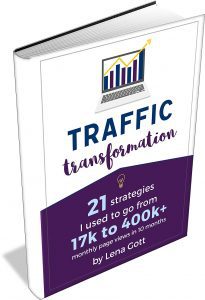 Lena Gott, a CPA turned stay-at-home-mom is the owner of What Mommy Does, which is all about "Helping Every Mom Feel Successful".
If you're stuck in the pit of blogging & struggling to drive traffic to your blog, then 'TRAFFIC TRANSFORMATION' is a must-read!
Lena lays down her top 21 traffic generation tips & theories and a list of what NOT to do in this e-book. She also poured in all her best tips, from what she did just after publishing each post, including how she shares content on lesser-known platforms like StumbleUpon and Google+.
Check out her: FREE Blog Traffic Bonus Guide (that contains 3 solid traffic generation tips that aren't included in Traffic Transformation)
It's the prequel to Traffic Transformation: 21 Strategies I Used to Go from 17K to 400K+ Page Views in 10 Months.
They are foundational strategies that helped me push my blog traffic over the edge when I needed additional traffic for sponsored opportunities and increased ad revenue.
They may seem simple at first, but I promise they're not – I still use them to this day!
I have read many books on blogging, but this one is unique. Includes the working ways to leverage social media to increase traffic to my site.
I highly recommend this book and I'm pretty sure everything you wanted to know about growing your traffic is covered in this book. The steps narrated are practical, problem-solving, digestible, and logical.
I myself employed strategies narrated in this book and saw a 276% growth in referral traffic!


Another book, that gained recent traction is "PINTERESTING STRATEGIES" by Carly Campbell from Mommy On Purpose.
It's a step-by-step detailed guide on how to get crazy PINTEREST traffic to your blog through manual pinning.
This book covers all the steps Carly took to grow her blog reach with Pinterest doing manual pinning without any schedulers (like Tailwind or Board booster). She herself grew her Pageviews from 0 to 200k doing manual pinning, isn't that unbelievable. The author steers the reader towards all the steps that will save both time and money while promoting on Pinterest…steps that she draws from her own practical experience to arrive at. In simple, the Pinterest marketing strategies included in the eBook are mind-blowing and out of the blue.
Above that, My personal experience with this book is phenomenal.
After implementing the steps outlined in this amazing book…my pins started gaining more traction, and a few went viral. The extended PINTEREST reach also inflated my email-list by 110%. I'm happy to announce that I hit a huge milestone for my blog. As I was reading this book, I felt like my friend (who was a blogging genius), sitting next to me revealing all her pinning secrets.
You might also want to see, what everyone else is saying about this ebook. Read them here…
If you're struggling to figure out, 'how to work around with Pinterest for your blog', then this ebook is definitely worth it!
To sum up, I would simply say #1 & #2 are a must if you're looking for a humongous spike in your blog traffic.
Another book worth mentioning is Facebook Strategies Worth Sharing by Brittany Ann from Equipping Godly Women.
Facebook has around 1.7 billion active users monthly and it keeps growing every second. It is imperative to utilize the platform strategically to your advantage.
If you're already into blogging, you might have already realized how frustrating Facebook promotions can be. The constant algorithm changes (the recent update was a spoiler), the declining reach, explains how difficult it is to get your fans to engage with anything you write…
You try to follow all the advice out there, but it's just so confusing and contradictory. And it changes all the time!
That's when you might need expert guidance. Now coming to me…
I started out with zero experience and spent a day in and out doing content marketing on Facebook, but the reach wasn't as expected. I finally had to reach out for expert guidance and landed at this amazing resource: Strategies Worth Sharing.
I am super happy with my Facebook growth performance. After, Pinterest my second highest traffic referral is Facebook.
Get this book here for just $20, it's worth every penny, and implement these strategies to pave your way to Facebook success.
Ruth Soukup is a blogger who writes in a personal finance and lifestyle niche. Her blog, Living Well Spending Less features a wide variety of topics, including money-saving tips, recipes, DIY projects, household tips, parenting ideas, and more. She had the unique opportunity to learn what works (and what doesn't) in a variety of niche markets. Her own blog has earned a full-time income from the monetization strate
gies discussed in the above book for more than two years.
Unlock this best-selling book to get solid advice and practical action plans for creating a successful and profitable blog.
The book is filled with practical takeaways and action steps to help you access and create the most successful plan for your blog. It gives them tools to reach your blogging goals, whether these goals are to create a blog, grow your platform, make more money, turn your blog into a business, or all of the above.
In simple, this book is a one-stop destination for all your blogging needs.
If you want your blog to be profitable, then this book is for you. Take your blog to the next level, regardless of whether you have just begun or have been blogging for years.
John Chow is a self-proclaimed "dot com mogul" at John Chow. You simply can't deny the success John has had in monetizing his site. He rocketed onto the blogging scene when he took his blog from making zero to over $40,000 per month in just 2 years.
You might pass on this book based on my skepticism of the "make money online" theme of the title!
In this book, the author walks you through the step by step process, uncovering all his money-making secrets (how he went from earning $0 to over $40,000 a month from just a couple of hours each day) but in a professional tone.
A few interesting segments of the book besides the basics of blogging & making money are SEO are Google Adsense Optimization, Promotion, and winning over your audience's.
If you have just launched a blog (or are planning to) and want a solid blueprint on how to make it successful, 'Make Money Online' is a must-read.
Winding Up
These are my favorites and helped me grow my blog, I accredit everything I learned, in these books!
I'm very serious when I tell you these are worth your time and money.
Have you read these books? What's your opinion about them? If you haven't! I would say you need to! I'm sure, you will definitely love them.
Who else wants to take their blog to the next level? Wait no more, give these books a try!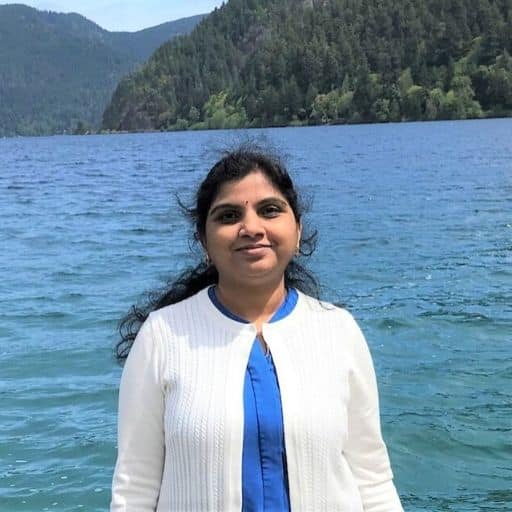 Hey Folks, thanks for stopping by my blog!
I'm Swati. I'm a mom, side hustler, full-time blogger and a millennial work-at-home expert featured on Forbes, CEO Blog Nation, Referral Rock, Vital Dollar, and Databox blog. I embarked on this impeccable journey to expose my online monetary experiences and help you all earn money from home. Come join my make money revolution and attain financial freedom – it's not as hard as you think!