Get paid to be an online friend sounds crazy, especially after living by the adage of stranger danger, right? But what if I told you that this is a totally acceptable way to make money in 2022?
It's safe and all you need to start off is a mobile phone or computer. Besides, statistics say we spend almost half a day on our phones, so why not get paid to be a phone friend?
It's a great way to earn a side-hustle income. And as much as you can say you have many friends, a survey taken in 2018 indicates that about one-third of older adults are socially isolated in the USA.
So bad is the situation that there have been a record number of emergency room visits in some states due to social isolation.
What this means for you is that there are people, particularly the elderly, looking for friends. As such, you can be a friend to the elderly and get paid.
Pssst… they are willing to pay good money!
There are also younger people looking for like-minded persons to connect with on a global level.
More to this, you don't have to show up physically, you just work from home and get paid.
So, how do you connect with such people? There are many platforms, like the popular Papa, that offer family on-demand services meant to provide companionship to seniors.
We are going to review this and other such sites later in this article.
For now, let's first get to know the basics of being an online friend, how much you can earn, and more.
Ready to get paid to be a virtual friend? Let's get started.
Who is an Online Friend?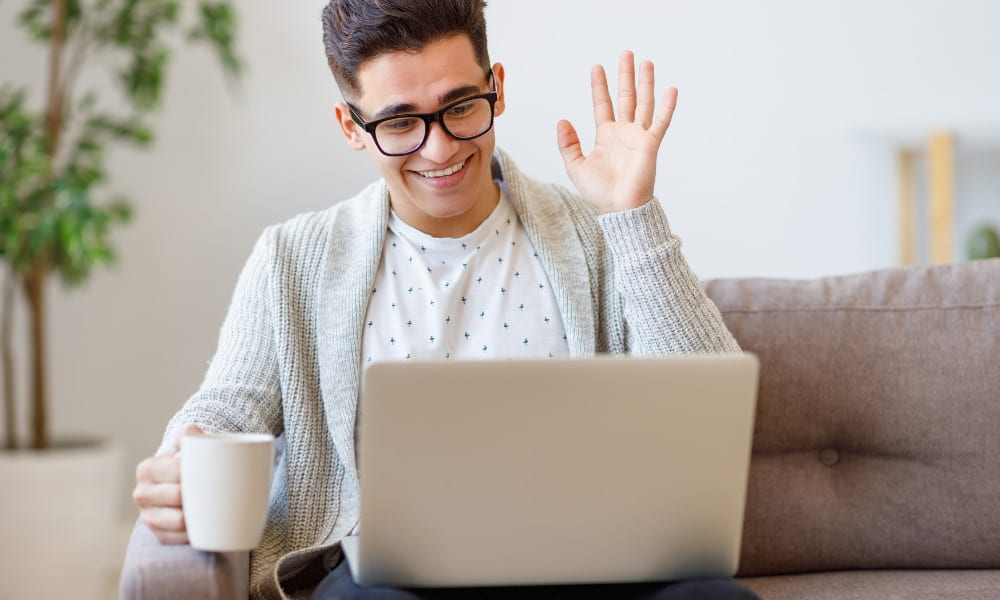 As the name suggests, an online friend is anyone you make friends with over the internet.
Chances of meeting your online friend are minimal, not unless you agree to meet them.
As a matter of fact, all of us have online or virtual friends from social platforms like Facebook and the likes. But in this case, we're talking about how to get paid to be a friend online, not in kind but in cash.
Another aspect of this kind of friendship is that you can talk about anything under the sun such as books, weather, or even politics.
It all depends on how close you become to each other and the bounds.
How 'Online Friend for Pay' Works?
To get started on any platform that pays you to be an online friend, you have to join a company or website that provides such services.
You'll need to register with them and create a profile.
Typically, you will then undergo a little test that tries to determine whether you have a good personality that suits such kind of a job.
Any client looking for an online friend will come to visit such sites. That's why creating a good profile is such an important step – it has to be unique to appeal to clients.
As a tip, list your talents, any unique abilities, or foreign language knowledge.
You should, however, note that you are prohibited from any romantic relationships or conversations as long as you are under the payroll of these companies.
After your contract ends, you and your online friend can decide how your friendship progresses.
Ready to get paid to be a virtual friend? Here are the steps to follow:
1. Create your profile
The first thing when you join any of these websites is to sign up and create a profile. This involves giving out a short summary of yourself and something about your personality.
Remember to enhance honesty while creating your profile. This is what attracts lots of possibilities in any money-making opportunity.
2. Add any info that helps you stand out from the rest
If you have any knowledge in multiple languages, talents, or unique abilities, add them to your profile. This is what sets you apart from other competitors.
Clients are always interested in the specialty you can bring to the table. Can you juggle? List that too, some clients just want friends who can keep them entertained.
3.

Add your financial details
Most of these opportunities come from websites that pay through PayPal.
If you don't have a PayPal account, you can create one right now, for free. Most sites will pay through direct deposit.
As such, add your financial details to your platform of choice. Don't forget to read any terms and conditions carefully to avoid falling for illegal online money scams.
4. Pass the personality test
This test is necessary to determine the type of person you are.
It's not a difficult test, you are basically tested on general things such as the knowledge of different capital cities in the world and other questions like that.
This test helps you connect to your clients. Once again, be honest while undertaking this test.
5. Wait for clients to approach you
Now that you have everything ready, it's time for clients to come looking for an online friend. Your profile is now visible to everyone and clients can search about you based on things such as gender, location, age, and skills.
When a client contacts you, you have the freedom to either accept or reject their request to get paid to be a phone friend. If you accept, you can hold a conversation with them through texts, phone calls, video chats on Joi App, or chat rooms.
How Much Can You Earn as a Virtual Friend?
There is no fixed rate or payment. How much you earn as an online friend is all dependent on the platform or site you join. Some have a flat rate while others will give you the freedom to set your rates.
On the downside, if a site gives you the freedom to quote your price, there is usually a catch; they'll deduct some money from your payment as their commission.
Basically, as an online friend, you can expect to earn about $20 per hour.
Papa for instance charges its clients $20-$25 per hour.
Some people in this business have gone a step further and even run errands and collect groceries on behalf of their socially isolated clients for about $11-$14 per hour.
Besides this, there are added incentives like tips and covered expenses such as fuel when working as a freelancer.
Admittedly, this is not a lot of money, but it can help boost your income as a side hustle. Earning $20/hour directly translates to $480 per week or $ 1,920 per month.
This is if you are working for 8 hours, 3 days a week. If you work for more hours or days, then your potential to earn more increases.
The number of clients you work with also determines how much you earn. So, with the right approach, you can as well make get paid to be an online friend in your full-time job.
Even though money is the main point in this business, working as an online friend brings about a whole new experience since you get to interact with different people from different cultures around the globe.
Resource: Platforms that pay you to flirt.
Get Paid to Be an Online Friend [8 Sites]

Ready to get paid to a virtual friend? Here are some prominent websites to look out for:
1. RentAFriend
Deemed one of the best platforms where you can get paid to be an online friend, Rent a Friend has a large database of users.
They claim to have more than 600,000 people searching for an online friend every day. What I like about this platform is that they even allow in-person meetups. You can, alternatively, choose to stick to virtual friendship.
With Rent a Friend, you are your own boss, and they allow you to set your personal rates, anywhere between $15-$50 per hour. You'll also like the fact that they don't take any commission from your earnings.
However, membership for Rent-A-Friend costs $24.95 a month or $69.95 a year. Members can charge anywhere from $20 to $50 for their services.
Instead, they'll charge you, clients. This means that only paying members can contact you thus eliminating any jokers. You cannot, however, do a background check on another Rent-a-Friend user.
How Much Money Can You Make on Rentafriend?
The amount of money you make as a virtual friend is all about the hours and effort put in.
If your average workweek consists of 10-12 hour days, then it's not uncommon for someone to clear $2000+ per week full-time.
But if you prefer weekends only you could make closer to $300-$500 depending on how many gigs are available during those periods.
Check out this estimated income chart to take a look at what might potentially fit into your schedule!
Ready to get paid to be an online friend with this app? Check out our Rent a Friend review for cash flow.
2. RentALocalFriend
Highly recommended by Tripadvisor, Rent a Local Friend works on the basis of promoting the local people of a certain city.
Potential clients are tourists or visitors to your local city. This platform is available in 315 cities. As such, with this site, you can get paid to be a phone friend from virtually anywhere in the world.
There is no fixed rate on this platform. Basically, though, most users charge by the hour, between $50 to $200. On average, users make around $120 per day working through Rent a Local Friend.
Sign up today and get paid to be a text friend.
Also Read: How to get paid to text
3. RentACyberFriend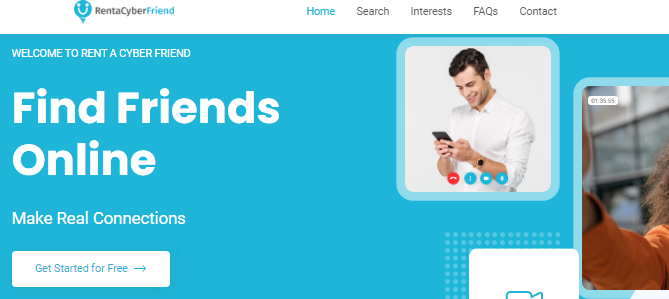 RentACyberFriend is a social platform that links people seeking online friendships to paid online friends.
If you are at least 18+ years old, friendly, and passionate, and with a good internet connection, you can make some extra bucks by working as an online friend on the site. Besides that, you can earn through other services in form of gigs such as being a tutor or local guide.
It's entirely free to join, but you can upgrade to premium memberships (Gold, Silver, or Bronze). This will allow you to unlock better visibility and fast matchups.
As a CyberFriend, you get to set the amount you charge per minute for calls (usually between $15-$50 per hour) and you get to keep 80% of your earnings. You get to withdraw your payments directly to your bank once you hit a minimum target of $75.
RentACyberFriend lacks a app and is currently neither rated nor reviewed by users on Trustpilot.
Join Rent a Cyber Friend today and start earning.
4. Fiverr
Fiverr is a renowned freelancing site that gives users access to a wide range of personalized services at a fee. Here, you can access the services of graphic designers, app developers, videographers, and more.
The platform also gives a chance for users to earn by posting the services they offer at their rates. For example, you can offer your friendship services or be a life coach and get to earn cash or even receive gifts from friendship seekers.
You need to first register on Fiverr and download the Fiverr App. Next, create a profile and set your friendship charges, starting from $5 up to any amount of your choosing
Looking at some of the Fiverr profiles for get paid to be an online companion, services you can offer include dating and friendship advice.
The good thing about Fiverr is that you are not limited on how much you can charge your clients. You have the freedom to charge more, typically up to $10,000.
On the downside, Fiverr deducts a 20% commission from your earnings.
The site has an average rating of 3.8 start from over 8,800 reviews on Trustpilot.
5. FriendPC
FriendPC is another alternative if you want to get paid to be a phone friend.
Some of the services you can sign up for include virtual friends, virtual gamers, virtual girlfriends, and online companions.
Any clients who want to talk to you have to pay thus eliminating any frauds who want to contact you.
Unlike most platforms, FriendPC pays you immediately as long as you fulfill your services.
More to this, you can withdraw any amount you earn- no minimum cashout limit.
Get started with FriendPC for free.
6. Freelancer.com
Similar to Fiverr, Freelancer is another platform where you can buy or sell any kind of freelancing service.
One of the services offered is to get paid to be a friend online. Payment on this platform for online friend services ranges from $12-$25 per hour.
The process is pretty easy making this one of the best sites if you want to make quick money fast.
Payment is made through PayPal or direct deposit to your bank account. Freelancer.com stands out in that even teens aged 15 and 18 years can also use an adult account with the permission of the adult's account.
It's, therefore, a good way to make money as a teenager.
7. College Pirates
Not strictly an online friend's platform, College Pirates is a site where you can mentor college students for money.
Each consultation is worth around $80 and entails providing advice on issues that face college students or just general guidance.
This job is open for current or former students who've recently graduated from that particular college you want to sell services to.
This site links you to students that match your profile and you can communicate through chat or video.
Get Paid to Be a Virtual Friend
Looking for more ways to earn extra money for being a friend. Try working online as a phone or chat friend to guys who are miles away. Some of my top platforms for the gig include:
8. FlirtBucks
As the name implies, this a flirtation website targeted at adults. You get to keep 100% of your earnings, making Flirtbucks a top choice for people looking to earn as phone actors.
Video calls on the site earn you up up to $24 per hour, while text messaging pays you around $6 per hour. Payment is biweekly via check or PayPal.
Is Flirtbucks worth your time? My research confidence levels amongst freelancers is low where the site is involved.
So, if you are going to register on the site, do due diligence to secure your personal information.
Related Post: Is Flirtbucks Legit & Worthy
9. Phrendly
This is an adult-themed website where women in the US and Canada earn for flirting with lonely gents. According to Phrendly, you can make up to $66 per hour connecting with friends via video.
The site is free for talkers but 30% of your earnings are docked for working via the service. Apart from your hourly fee, you can also get gifts from your clients at a 10% commision.
Cashout is through Direct Deposit at a minimum payout of ten dollars. Engagements are anonymous with the site insisting on never taking conversations off the website.
10. Papa
Papa is not only popular but has also been identified as an effective platform for building friendships.
The New York Times reports that the site has seen thousands of elderly people "combating loneliness" after joining.
Initially, the program brought together college students and old people in need of companionship. The concept was built on physical meetups, but that has now changed or improved, for the better.
For example, get paid to a virtual friend on Papa and non-c0llege goers can also apply now.
As earlier noted, Papa pays well with just being a friend paying up to $25 per hour and up to $15 per hour for side gigs.
Click here to become a Papa pal now.
Virtual Friend Jobs: FAQs
1. Can I get paid to be a friend?
There are many platforms that pay you to be a friend to someone either over the internet or in person. Such platforms include Rent a Friend and FriendPC.
Being a friend to someone pays an average of $15 – $20 per hour, or even more depending on the services you offer. Furthermore, most platforms let you set your own rates and rules of engagement as a freelancer.
2. Can I get paid to be a caregiver for a friend?
You can be paid to be a caregiver to a loved one. You can find such gigs on platforms like Papa that connect you with persons in need of care and friendship.
This is one of the best rewarding jobs you can undertake. It also gives you a whole new experience since you get to spend most of your time with people who appreciate your efforts.
Get Paid to be a Virtual Friend [Final Thoughts]
For a fact, you can get paid to be an online friend. You don't earn much but it is a great way to earn as a side hustle. However, since you are working over the internet, you should observe some safety measures since you are dealing with strangers. If in any case you must meet, ensure you must meet in public.
Have you earned from any of the platforms outlined above? Tell me all about it in the comment section below. And don't forget to mention any site that I might have overlooked.
Lastly, if you love being an online friend, then you'll definitely find this phone actress jobs post informative.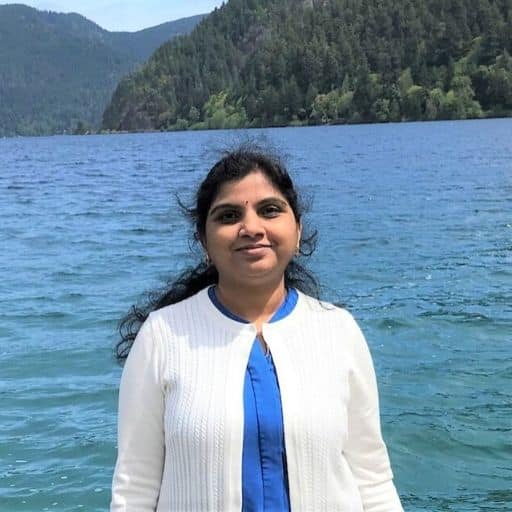 Howdy Folks, thanks for stopping by my blog.
I'm Swati, a proud mom, dedicated side hustler, full-time blogger, and a recognized millennial work-at-home expert. My expertise has been featured on esteemed platforms such as Forbes, CEO Blog Nation, Referral Rock, Vital Dollar, Databox blog, and many more. I have embarked on this incredible journey to share my firsthand experiences in the world of online income generation and to assist all of you in earning money from the comfort of your homes.
Join me in my mission to revolutionize the way we make money and achieve financial freedom. Trust me, it's not as challenging as it may seem!
Together, let's explore the boundless opportunities and pave our paths towards a prosperous future.