Wouldn't you like to know how to make quick money in one day?
The whole notion of earning that fast seems unrealistic, doesn't it? Well, gone are those days when you needed to concentrate solely on your day job to earn money.
With the internet, you can now get started on a task and get paid immediately after completion, be it after minutes or hours.
There are several great online job platforms, and the pay is reflective of your skills and experience. What's more, the gigs can be on-site, with just an app directing you to where your services are needed.
Plus, in most make-money quick gigs, the pay is hourly, making it possible to clock a full 8-hour day, just like you would in an 8-5 job. The best part is that you get to set your rate and schedule!
But getting scammed is a reality which is why you need to try legit ways of doubling your money in a day or less. Interested? Here are the best, tried, and tested ways to earn money fast.
CAUTION: Making money quickly can easily get you into online scams and pyramid schemes, where you can lose much more than you are looking to make. As such, it helps to restrict yourself to only known platforms and marketplaces.
How to Make Quick Money In One Day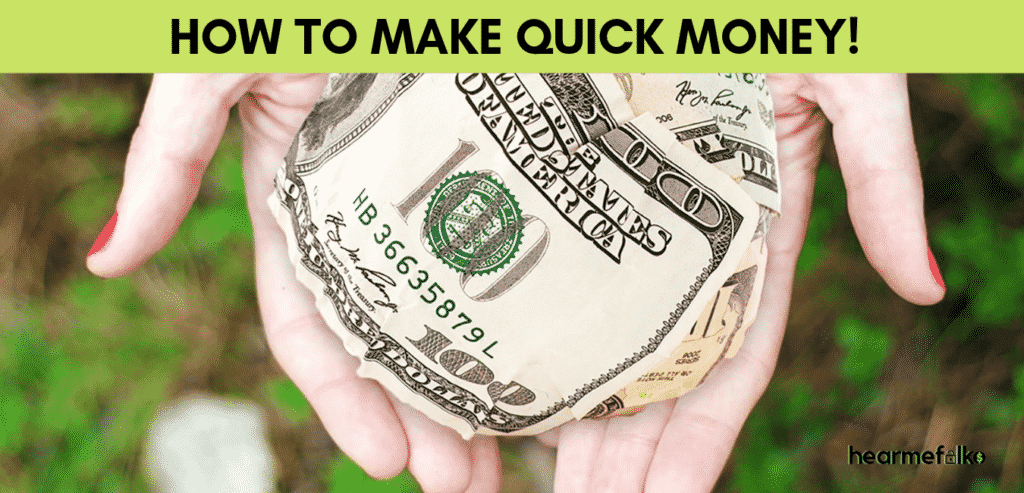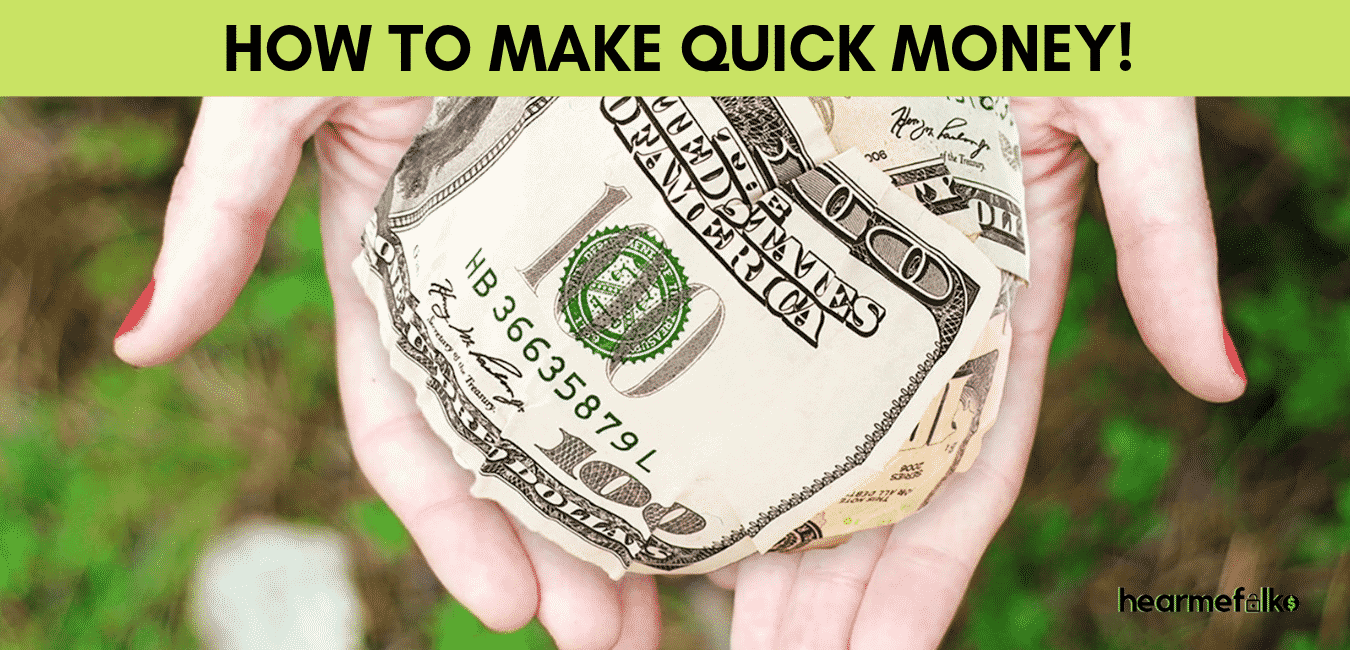 With easy connectivity brought about by the internet, you can earn extra cash right from your house.
I'm referring to instant pay task-based activities like answering surveys, freelance writing, and tutoring kids online. Let's dig deeper into the tasks involved:
Answer Surveys for Quick Cash
If you have been wondering how to make money online in one day without investing a huge chunk of your daily working hours, start by taking paid surveys.
You just need to answer questions on a website or app and get paid – it's as simple as that! My top picks for online survey platforms include:
This is a legit website that pays money for taking surveys. And, once you reach the $5 minimum payout amount, you can withdraw your earnings through PayPal or direct bank transfer.
Joining Survey Junkie is free. Their surveys are short and easy, and you can choose which surveys you want to take.
The site pays up to $3 per Survey and has a 4.4-star rating on Trustpilot and an A+ BBB rating. Moreover, you can easily maximize your earnings with these legit survey junkie hacks.
Click Here to Earn With Survey Junkie.
2. Opinion Outpost
Say what you think about popular services or products and get quick cash on Opinion Outpost. Apart from surveys, the site pays you for product testing, watching ads, and mystery shopping.
Rewards on the site can be redeemed via PayPal, Visa credit card, and Amazon gift card. The site also partners with the likes of Nike, Apple, Macy's, MasterCard, and Home Depot for payments via digital gift cards.
Each survey pays up to $250, which is equivalent to $2.50, with a minimum withdrawal capped at $10.
Sign Up for Opinion Outpost Surveys
NOTE: Vindale Research is currently closed, but you can continue surveys on Opinion Outpost, their partner site.
3. Branded Surveys
Formerly MintVine, this is a legit platform where you can get $1 right now for just signing up. This US-based survey site pays $1 to $3 per study, with a minimum payout of $5.
Referrals on the site earn you 50 points ($0.50). Surveys are accessible to the residents of the US, the UK, and Canada.
From personal experience, you can make up to $150 monthly on Branded Surveys. That's basically free money for just 20 minutes of your time, daily. Sign up here.
Read My Branded Surveys Review here.
4. Inbox Dollars
For quick cash, task surveys on Inbox Dollars, one of the oldest and best paying online survey sites. Typical 20 minute-surveys can make you up to $20.
The platform also rewards you for playing games, reading emails, and shopping online. What I like about the site is that it features high discount cashback offers, grocery coupons, plus a $5 sign-up bonus.
Join Inbox Dollars and Get $5 Free
5. Resspondent.io
This is a leading research studies platform with each study paying an average of $50. A short survey (10 minutes) pays $20 while studies that take hours can pay $500 or more at times.
You can also earn through live interviews, daily studies, and focus group discussions. The company lets you confirm availability before you are allotted a study or seat on a panel.
The platform accepts participants from the US, South Africa, the UK, Germany, France, and Australia. Read my Respondent.io Review here
Register to Participate In $300 Surveys
How to Make Quick Money Online
Wondering, how can I earn free money fast? Sign-up bonuses on sites like Inbox Dollars are one way of getting money for doing nothing.
Another easy hustle idea to earn you free cash is cashback rewards and saving on purchases. You can also check for unclaimed assets, inclusive of gift cards, in your name.
Get Free Money with Fetch Rewards
Earn redeemable points whenever you shop online. This is the operation model of Fetch Rewards, a rewards platform where you snap and upload receipts for free points.
To maximize your earnings from online purchases, the site allows you to link your email and Amazon account to the platform. Further, you earn through successful referrals and dining out, as well as taking surveys.
The platform also partners with GoodRx for discounts on prescription drugs.
Download the Fetch Rewards App
Other platforms for earning money through scanning receipts include:
Save Money with Capital One Shopping
Capital One helps you save money and time when shopping for the best deals. It is a free browser extension that works in the background as you buy stuff online.
Its AI searches for coupons, compares prices, and gets promo codes to earn you points. Even better, the extension applies the hacks for you during checkout.
You can redeem the rewards for cash via a check or gift cards to various retailers.
Get The Capital One Shopping Extension
Other shopping browser extensions that can help you save good money include:
Become a Mystery Shopper on Mobee
Do you shop in-store? How about you earn free money by becoming a secret shopper? You just go about your normal shopping, picking items and checking out prices, and later filing a questionnaire.
To participate, download the Mobee App, sign up, and find a 'mission' near you. This makes it possible to earn points every time you decide to shop.
You also get points for referring friends and contests. Mobee points can help you offset some of your shopping costs via gift cards.
Get Your Unclaimed Money
Forbes reports that $49 billion was unclaimed in the US.
Could you be one of the beneficiaries? The extra money could come from overpayments, abandoned checks, trust funds, and safety deposit boxes.
And here is the best part; you don't need to pay to locate such funds.
The extra cash could be anything from a few dollars to millions. Use the resources below to track your free money:
How to Make Quick Money from Home
How much do you need in the next hour, $10, $20, or even $100? Depending on your skills and experience, you can make money online or offline through the following ways:
Sell Freelancing Services on Fiverr
If you have any specific skill set, such as web design, graphic design, and video editing. Simply create an account on Fiverr and then list out your own gigs highlighting your area of work.
The jobs board lets you earn $5 to $10k per gig. It is free for all, without any minimum payout limit. And you can access it from anywhere in the world.
However, you really need to master your craft before diving into this platform as the competition is stiff.
Teach English Remotely – Earn $25 in an Hour
One of the best ways to make money quickly in one day is by teaching the English language remotely. The work involves tutoring students on grammar, writing, essays, reading (k-2), and literature from home.
With a teacher's account on a site like Tutor.com, you can also teach sciences, tech, business, and foreign languages. And, the more experienced you are, the higher your hourly rate.
Choose your work hours and earn as high as $100 per hour, depending on the platform and clientele. For example, with ESL platforms you can make substantial fast cash teaching English to business/ corporate clients.
Where to teach English for easy money:
Related Post: How to Teach English & Earn Up To $25/hr.
Become a Freelance Writer
It is easy to write and earn good money online and fast. That said, you should have a flare in writing, coupled with impeccable grammar, and the ability to churn out original, well-researched content.
So, where can you sell articles, blog posts, poetry, and essays?
Learn: How to Make Money as a Traveler
Try Affiliate Marketing for Passive Income
Manufacturers and retailers are always on the lookout for new ways of reaching new markets. This means there is a ballooning industry for savvy promoters.
And with just a blog, website, or social media account, you can claim your share of the marketing budget. The hustle here is affiliate marketing where people buy through custom links approved by the originating retailer.
Notably, the commission is usually low, but with a huge inventory, you can earn hundreds of dollars in a day.
The leading affiliate marketing programs in 2022 include ShareASale, Amazon Associate, and eBay Partners.
Monetize Your Social Media
Facebook, Twitter, Instagram, TikTok, plus other social platforms are now an integral part of the lives of millions around the world. This creates a pool of ready consumers of any content you can think of.
So, instead of just surfing the web why not make money through monetization features? Start by sharing affiliate marketing links followed by sponsored posts that can go for as much as $10 for every 1K followers.
It goes without saying that making quick money in one day over social media calls for having a huge following.
Gone are the days when high-paying sponsors insist on partnering only with influencers featuring 100k+ followers. Now, you can start getting sponsorship deals with just 1k or 10k followers as a micro-influencer.
Learn how to make $500 a day from home
How to Make Quick Money in a Day Selling Stuff
How much junk have you accumulated over the years? It is time to take stock of your attic, garage, and storage units. Categorize the items according to type, quality, and condition, and start selling them today.
Depending on the item, you can make thousands of dollars from a single sale. Here are some ideas:
Sell Used/Old Items Online
If you really need some quick cash, you can try selling some of the old stuff lying around in your house or your closet. eBay is a great online platform where you can list everything from electronic gadgets to furniture.
How much you make depends on the condition of the stuff, your marketing skills, and where you sell.
So if you're ready to make real money fast, get rid of your old electronics, books, games, baby toys, and clothes head on over to the following websites:
Sell Baby Stuff at Once Upon A Child
Kid's items are quite expensive, meaning a large pile of them can potentially make you thousands of dollars fast. Items to consider include clothes, shoes, books, toys, furniture, bikes, and strollers.
Ensure to clean and repair them to fetch the best prices on the Once Upon A Child marketplace. The store reviews the items, makes an offer, and pays you cash on the spot.
That's instant pay for your unwanted kid stuff!
I advise you to call the store to know what's selling fast before you load up your car with baby items.
Find the Nearest Once A Upon Child Store
Don't have the stuff to sell? Try selling unwanted, old, and used stuff from other people.
Flipping is simply buying stuff and listing it at a higher price. There is no shortage of stuff to flip or places for them.
Top items to flip include furniture, sports memorabilia, kitchen appliances, power tools, vintage clothing, and industrial equipment. You can source the items from flea markets, garage sales, auctions, and online marketplaces.
Apart from Facebook Marketplace, you can earn cash by selling flipped stuff on:
Also Read: Furniture Flipping for Easy Profits
Most Popular Items to Sell On Facebook Marketplace
Sell Your Photographs
Sites like Getty Images, Adobe Stock, and 500px accept photos from creators for sale online. This is a passive income kind of a gig since you can sell one photo over and over.
Typically, you list your photos, and once a buyer downloads them, you get a percentage of the proceeds. It is also a great idea if you can build a custom blog and photos.
This way, you will have the opportunity to get your desired price on photographs and also create a huge following. However, you will need good photography skills and high-end equipment to capture images worthy of purchase.
Related Read: Learn How to Sell Feet Photos Online
Sell Domains and Websites
Fact: Premium domain names can make you a small fortune. Case in point, Cars.com sold for a whopping $872M!
This hustle requires investment to buy and monitor domains.
To start, head over to the likes of GoDaddy, Flippa, and NameCheap auction sites to buy domains. You can also auction your old domains and make extra money online instantly.
When buying, go for names with huge profit potential. This means being up to date with the trends in different industries.
For example, ask yourself what name or phrase the will bank wants to associate with in the future. Find the name or its variant and buy it and in a year or so, it could be worth 7 figures.
Additionally, you can buy a cheap domain, for as low as $0.99/year, subscribe to a hosting service, and develop a website. As the readership of your site grows, so does its worth when selling it.
Read: How to Flip Money for More Money
Sell Sports Memorabilia and Souvenirs
Are your grandparents sports fanatics? Could they have passed down vintage tennis visors, baseball bats, or basketball apparel? These are items that sell fast and can fetch you easy money online and from local fairs.
The industry is worth around $5.4 billion, meaning there is money to be made here. Specifically, look for autographed items from your alma mater, especially from the years that you were crowned champions.
To get the best price have your items appraised before you offer them for sale. One of the best ways of making money quickly is selling baseball cards through online auctions at a small commission.
Find out how to sell vintage baseball cards from this post.
Sell Unused Gift Cards
Do you have an unused gift card, both physical or digital kind, and need money quickly? You can sell the gift online at a fee. Basically, you get 70% to 90% of the card's value. Additionally, the marketplace may charge a small commission for the service.
You can always avoid the fees of digital marketplaces by selling gift cards on local social media groups. However, such markets can be reliable, especially when you need to make money fast.
To this end, list your unused gift card on the following sites:
How to Make Quick Cash [In One Hour]
Engaging in odd jobs is an easy way of getting money without any experience. The jobs can come from your family and neighbors or companies and warehouses that need workmen. Take a look at the following odd job opportunities:
Deliver Groceries with Instacart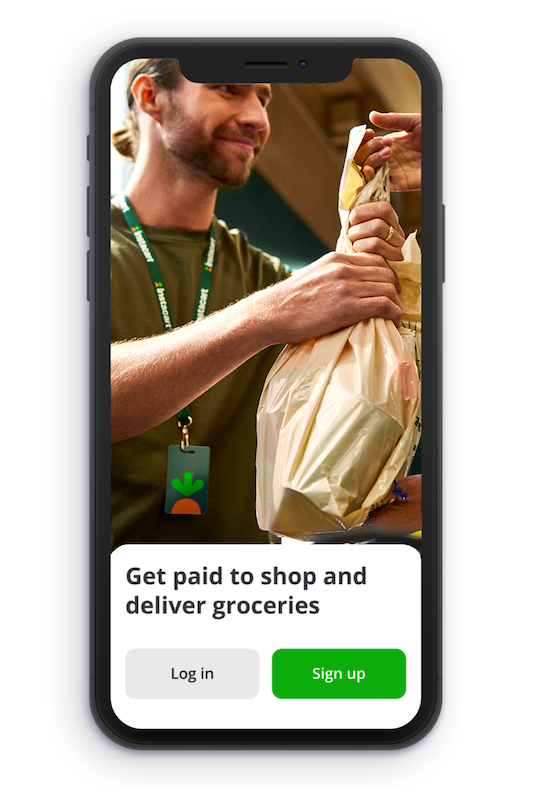 Right now you can download the Instacart app, register, browse for delivery gigs near you, and start making extra income quickly.
The earning potential is a cool $25 per hour, and all you need is a car, a bike, or a scooter to work.
The service is available in the US and Canada, partnering with both global and local retailers near you.
You can deliver everything from alcohol and organic groceries to beauty products and office supplies.
You get to keep all the tips and earn referral bonuses whenever your friend shops through the platform.
This is an instant pay gig via direct transfer to your debit card or weekly direct deposits.
Other delivery apps to try out include:
Get Odd Jobs on TaskRabbit
If you have a particular skill set like plumbing or furniture assembly, become a Tasker to give your bank account a boost.
First off, though, the platform charges a registration fee of $25. However, the fee allows you to access thousands of jobs where you keep every dollar you earn. The best part is that you are free to charge as much as you wish.
What's more, with repeated successes, you can become an Elite Tasker and charge high rates. For example, you can earn over $100 an hour for yard work, moving, and the like.
With such gigs, you can easily make $15k monthly on Taskrabbit. Most importantly, ensure your work is satisfactory to attract loyal clientele and constant referrals.
Teach Odd Skills on Udemy
Becoming an odd job instructor is another excellent path to improving personal finance. A perfect platform for the hustle is Udemy. This is an online training and courses site where you can pass on handyman expertise for a fee.
Be it Ayurvedic cooking, carpentry, plumbing, or gardening, there are people willing to learn such DIY skills. For example, home repair courses on the site go for between $19.99 and $199.99.
Your training will be available for download in over 180 countries. And all it takes is coming up with a curriculum, recording/ uploading it, then launching it
To ensure many takers for your course, reach out to your contacts through your social media handles and custom website.
Join Udemy and Create Your Course
Read and Review Books on OnlineBookClub
Are you interested in easy home jobs? How about getting paid to read your favorite subjects and genres?
This is a gig reserved for people who read widely with a knack for making objective literary observations. All you will need to do is register for new book releases, review them, and earn extra income in your spare time.
The payoff can be huge, with a site like Any Subject Books paying up to $60 per review. As a top contributor, you can also share in a $10,000 contest for poetry and art pieces.
Other benefits include $20 and $25 Amazon Gift Card giveaways. Typically, the extra rewards are awarded to ardent reviewers who complete up to 30 reviews in a month.
Become a Reviewer on OnlineBookClub for Free
How to Make Quick Easy Money In a Day
You can beef up your personal finance by raking in some bucks in ways that you didn't expect. Isn't that exciting? Some of these opportunities fall right into your schedule while others only need a few tweaks and adjustments and you are good to go.
Here's how to make quick money in one day, easy.
Host Guests Through Airbnb
You can turn that extra space into good money in a day.
Whether it is that extra room in your home, your college kid's room, a private wing, or an entire house you are not using, you can enlist it on websites like Airbnb for free and start making money. It only takes a small percentage of your rate.
You will be in control of how much space you offer, how much you charge, and the kind of hosting you will do (occasional, part-time, co-hosting, full-time, etc.). As a bonus, you get to meet and interact with people from all over the world.
On average, you can make $168 per night. This figure varies depending on the region and location of your property, the size of the space, how often you are renting out, and the services you are offering.
You can maximize your earnings by offering extra services including cleaning, tour-guiding, gear rentals, and meals.
Rent Out Your Car On HyreCar
Besides your property, you can also rent out your car to earn money. Think of all the time you leave your car sitting in the parking lot because you are working, traveling, or busy with other things. Now that's an opportunity to earn extra income.
You don't have to drive your car yourself. HyreCar will match your car with rideshare and delivery drivers and earn you $30-45 per day and over $720 every month without lifting a finger.
HyreCar conducts extensive background checks on drivers who rent cars and also sets you up with a range of protection plans should your car get damaged, vandalized, or stolen.
On your part, you list your car, set up the pick-up and the time of drop off then you wait for your car to work for you.
Other places to rent out your car include Turo, Getaround, and Avail.
Also Read: How to Get Paid to Advertise On Your Car
Rent Out Your House
Renting out is a great idea when you have a house or living space that you don't use for long periods of time, although even short-term rentals also work. When you rent out your house, you will have more responsibilities as a landlord as well as requirements by law.
While you can handle renovations, sprucing up, cleaning, and ensuring that appliances work, real estate agents and attorneys can help you in marketing it and navigating the legal side of things.
Ideally, you should rent out your house at a monthly rent of 0.8-1.1% of your home's value. If your house is located in a tourist-friendly area, short-term renting works great and can give you a much higher value for your space.
While at it check out other things you can rent out for money.
How Can I Make Money Immediately?
Start by selling things that you no longer need, including baseball cards, old college or high school books, and kid's furniture. You can also sell your expertise on sites like Upwork, Taskrabbit, and Fiverr. Ensure due diligence to get your item's or skill's worth when looking to make cash quickly.
The Takeaway: Is Making Money Quick in One Day a Viable?
How to make quick money in one day is just a matter of having what people need and getting it to them. Simple. Research different markets for fast-selling goods and services.
Thereafter, create online seller profiles and, where applicable, link your social accounts to attract buyers quickly.
So, what are you waiting for? Get started right away with the above 28 ways of making money in under 24 hours or less. And don't forget to enrich the list with any ideas that I may have overlooked.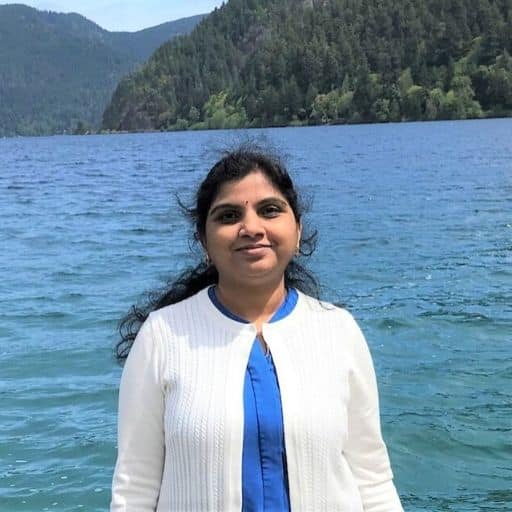 Howdy Folks, thanks for stopping by my blog.
I'm Swati, a proud mom, dedicated side hustler, full-time blogger, and a recognized millennial work-at-home expert. My expertise has been featured on esteemed platforms such as Forbes, CEO Blog Nation, Referral Rock, Vital Dollar, Databox blog, and many more. I have embarked on this incredible journey to share my firsthand experiences in the world of online income generation and to assist all of you in earning money from the comfort of your homes.
Join me in my mission to revolutionize the way we make money and achieve financial freedom. Trust me, it's not as challenging as it may seem!
Together, let's explore the boundless opportunities and pave our paths towards a prosperous future.