This post helps you know where to sell Beanie Babies for money in 2022. From eBay and Etsy to Craigslist and flea markets, there is a ready market for the stuffed product.
For those of you who don't know, Beanie Babies are small plush toys that used plastic pellets, referred to as 'beans', instead of wool or fabric scraps.
Chances are that you may have Beanie Babies in the house and don't even know. Why? These small plush toys were all the rage in the late 1980s through to the late 1990s. Everyone wanted them, and they were selling for crazy prices. It made a comeback in 2008, and in 2022, the beanie mania is back, fuelled by online flea market flipping.
However, there are many variations of the toy, fetching different prices. Types include the millennium bear, Teenie Babies, princess beanie baby, and the ever-popular Peace Bear.
Read to find potential buyers for beanie babies online. The post also covers pricing beanie babies and tips for selling Beanie Babies and making fast sales.
Beanie Baby Sites: Where To Sell Beanie Babies?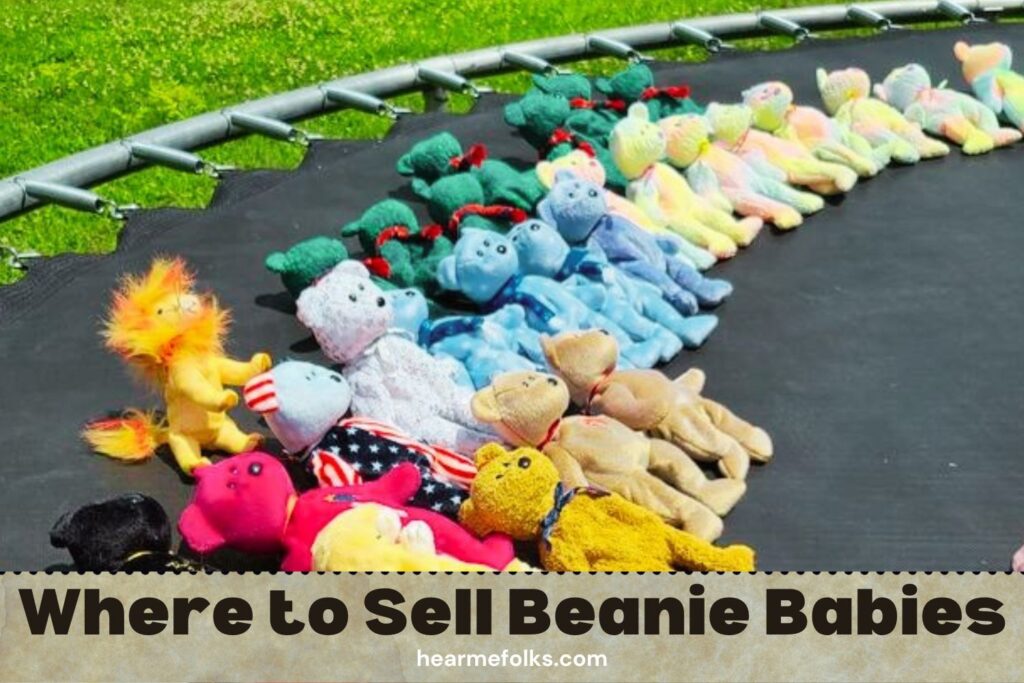 Beanie baby collectors can be found online, in both large and small sales platforms. Be it 1st, 2nd, or 3rd generation bear collections, you'll find ready beanie baby buyers on:
1. eBay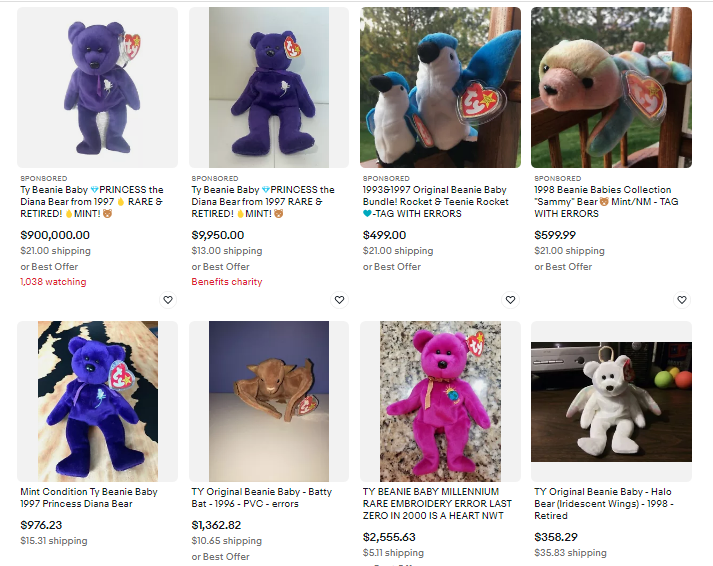 eBay is a global online market for anything you can think about. Whether you want to offload a valuable beanie baby or a common TY Warner beanie, this is the right site to make fast sales.
To sell your beanie baby collection, start by creating an eBay account. It's best to set up a business account when you want to buy and resell other items, including furniture and wooden toys.
With your User ID, choose a payment system and start listing your new or old beanie baby collectible toys. Most importantly, list your products under the "Beanie Babies" category or "collectible".
Beanie Babies Prices on eBay
Set high prices for retired beanies and lower prices for the newer lines. For example, the 1996 kangaroo Ty beanie baby goes for over $1,800 while a 2001 Ty Warner beanie sells for $3.
2. Sell4value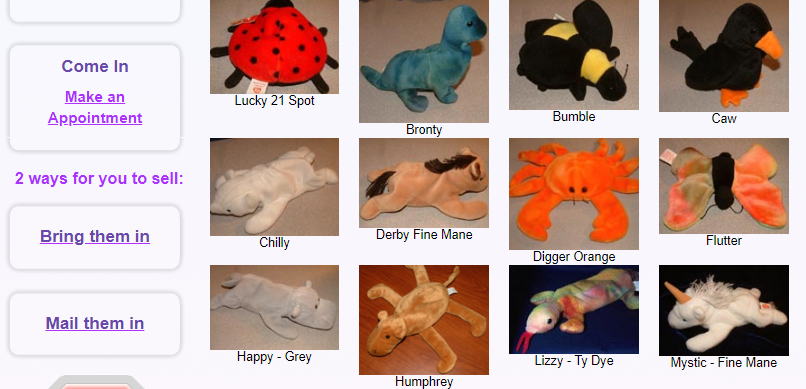 This is a leading buyback site for collectibles such as Barbie dolls, Jewelry, Hummels, Coins, and Beanie baby toys. Only new or old items in mint condition are sold here.
So, if you have original beanie babies with tags still intact, Sell 4 Value will make you an offer. The platform has no interest in Beanie Kids, the McDonald's Teenie Beanies, and Basket Beanies.
Items that sell fast include Ty Beanie Babies, Ty Warner Beanies, and Fluffies. No listing is required, just book an appointment, the shop gets a buyer, and both of you meet to finalize the deal.
Beanie Babies Prices on Sell4Value
The company offers you half the market value of your collector item. This deal is for items that resell for $50 or more. For less valuable beanies, the price may be lower.
Common toys such as Beanie Buddies, and Pluffies go $0,50 each. The transaction is instant at their centers, however, it takes up to 5 days for the check to reach you, if you ship the beanies.
3. Mercari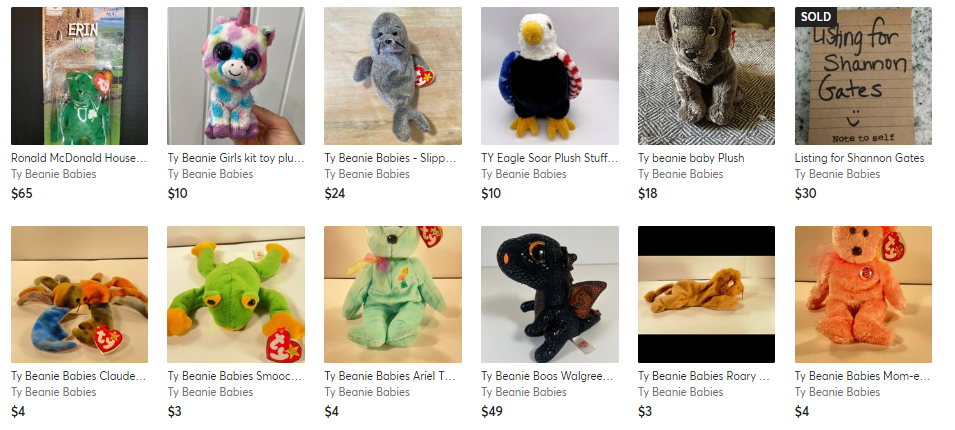 Mercari is a platform that helps you declutter your home. You can sell almost anything, be it a rare beanie baby or a common beanie that's not in a good condition.
Just take a pic of your collectible toy, and post it on Mercari with a catchy description. Other products that sell on the app include apparel and sports equipment and materials.
Beanie Babies Prices on Mercari
Typically, depending on the edition, beanies on Mercari sell for $5 – $30+. For example, a new Chameleon Beanie Baby can fetch $15, while the rarest beanie baby sells for over$1,500.
4. PlushCollector
This is a buy-back market for collectibles including Star War toys, with a special preference for TY beanie babies. The site lists both mass-produced editions and rarest beanie baby collections.
Visit the site and select "Sell Now". The platform will display different models to help you identify your toy line. Next, start listing your toys and request a price estimate.
Within 24 hours, one of the site's seller associates will email you with a proposal, it's that easy! The selling price depends on the toy's condition, including the presence, or lack of, a tush tag or swing.
Beanie Babies Prices on PlushCollector
Prices are not ideal on the site, with a Beanie Boo toy selling at most $5.50. On the other hand, a Ty Alphabet baby goes for less than $1. As such, the site is best for selling en masse.
PlushCollector pays via PayPal or Business check. For products worth more than $25, the site pays for their shipping through a prepaid voucher; anything less, and the shipping cost falls on you.
Start Selling on PlushCollector
5. Etsy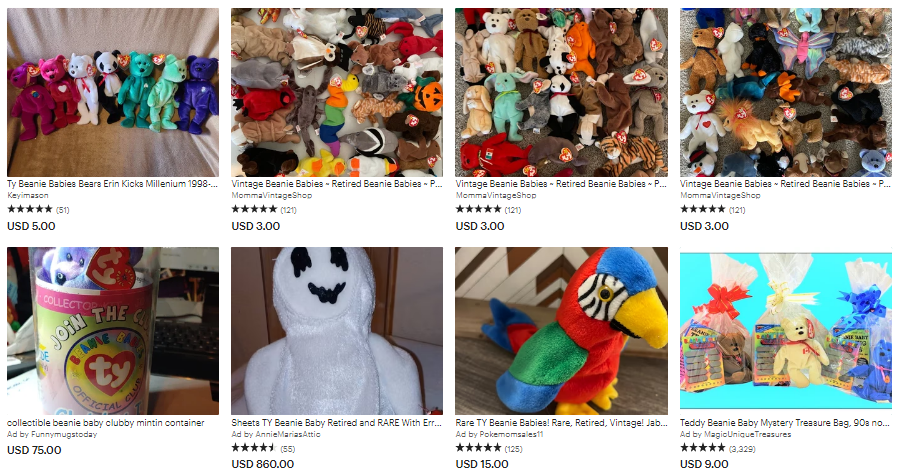 Etsy is a global online shop made up of thousands of individual stores. The site is known for custom and vintage items including jewelry, paintings, and trendy wear.
To sell here you need to create a store and popularize it via social media and other online platforms, such as a blog.
There is no standard pricing on Etsy with vintage items selling at higher prices.
Beanie Babies Prices on Etsy
Beanies on Etsy cost anything from $2.75 to $10,000+; the rare the beanie, the higher the price.
Case in point, a 1993 Piccadilly Attic with a generation hang and intact tags can get you $15k easily. For every sale, Etsy charges you a fee of 6.5% of the total price.
6. Sell2BBNovelties
Sell2BBNoveties is another leading buyback site for collectibles. You can get quotes on rare Beanie Babies, Pokemon cards, baseball cards, LEGOs, comic books, and more.
Only Beanies in mint condition are accepted by the company; dirty, second-hand, and beanies without hang tags cannot be sold here.
Beanie Babies Prices on Sell2BBNoveties
The site has a catalog featuring items that are in demand and the buyback price. Payment is via PayPal after you process your order, ship it, and your collection is reviewed.
Currently, TY Beanie Kids are priced at $0.50-$1.0, Beanie Beary bags at $3-$6, and TY McDonald's Teenie Beanies at $0.05 – $10. Note, that sets sell at higher prices than single items.
Where To Sell Beanie Babies For Cash Near Me?
Wondering where can I sell beanie babies locally? When you need fast cash, it helps to have access to local buyers. This is to help you cut off the middleman and forgo shipping costs. To find such buyers, look into:
7. Facebook Marketplace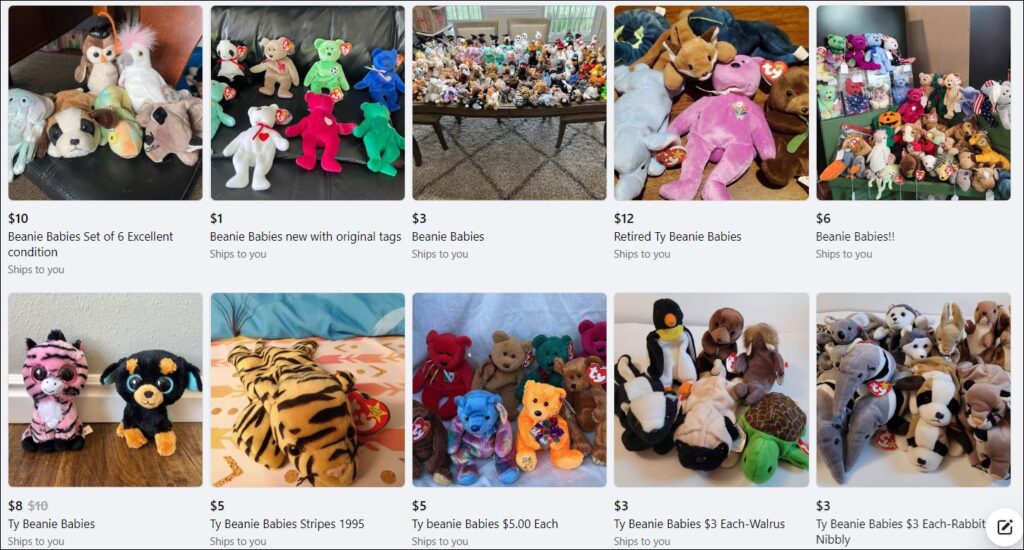 This is a marketplace that is driven by social connections over Facebook. Item categories include Electronics, Family, Deals, and Vehicles. Collector items such as beanies fall under Toys & Games.
The platform helps buyers filter listings based on locality and price, making it easy to transact one. Additionally, Facebook syncs with other online seller platforms, like Shopify, for extended reach.
This is a free marketplace that also gives you access to 'Groups' of other beanie baby collectors.
Beanie Babies Prices on Facebook Marketplace
A popular group to get buyers on Facebook is "Beanie Babies for Sale" with over 36.2k members. Prices vary depending on the location and condition of the toy.
A Ty millennium bear with a hang tag on the groups is listed for $15, while teenie babies are listed for $10 – $15.
Related Read: Collectibles That Sell Best On Facebook Marketplace
8. Craigslist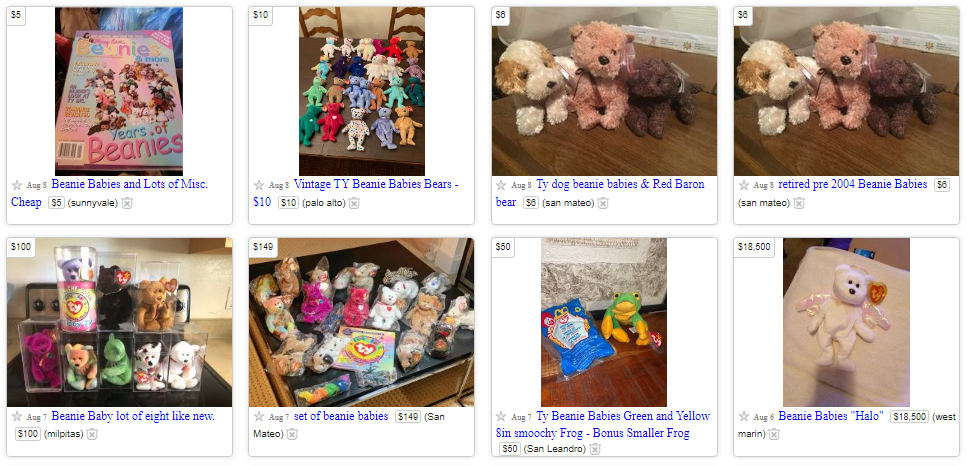 This is an online community bulletin board where anybody can post stuff for sale. The site is free to join and post, meaning that you get to keep 100% of the sale value of your valuable beanie babies.
What's more, when you open the official website, your browser defaults to your locality. This makes selling beanie babies within your neighborhood, county, or city easy.
How to Sell Beanies on Craigslist
Take advantage of the beanie craze in any area by fine tuning your Craigslist posting to the nearest sub-board. Also, most Beanie Babies collectors search "for sale by owner" listings.
Typical prices for extensive collections range from between $100 and $1000+. If you are a budding flipper, this is also the platform for getting free original beanie babies.
9. OfferUp App
This is an app that makes local buying and selling novelties, such as a Princess Bear toy, easy. The app also features high-value items like cars and electronics listed by your neighbors.
OfferUp has been downloaded over 50m times on Play Store. Recently, the platform partnered with LetGo, a leading app for trading in used stuff, for a larger local market.
How to Sell Beanies on OfferUp
Get the app and use it to upload up to 12 pictures of your beanie baby and use a detailed title to complete the listing. Next is to wait for messages from potential buyers to arrange the sale.
The app encourages face-to-face transactions, but it also facilitates shipping when selling to out-of-town buyers. Payment is in cash, direct deposit, or debit card.
10. Flea Markets and Garage Sales
Beanie babies collectors turn to individual sellers at fairs, flea markets, yard sales, and garage sales for unique pieces. This is where you'll get 1st generation beanies hiding in plain sight.
You can get everything from a Princess Diana beanie baby to the highly valuable Large Wallace beanie in these local sales.
Learn how to post a Garage Sale on FB
How to Sell Beanies at Flea Markets
People visit flea markets right before, or during, a major holiday. As such, sort and sell the appropriate beanie for the occasion.
So, to get the best prices, Sell Christmas and Easter beanies during the holidays and the likes of Valentino the Bear just before 14th February.
Find Yard and Garage Sales Near You
What Are The Most Expensive Beanie Babies?
The most valuable beanies are the limited, old, and rare beanie baby collections. From sold listings, beanies that fetch the highest prices on resale include:
Chef Robuchon Bear ($5,000+) – Only 200 were produced for the line.
Quakers the Duck ($4,700) – the year 1994.
Peanut the Elephant ($2,500)- the year 1995.
Humphrey the Camel ($1,300)- the year 1994.
Spot the Dog ($1,000+) – Original Nine Beanie Babies member, the year 1993.
How Are The Beanie Baby Prices Estimated?
Generally, the value of beanie babies is based on age. The final resale or auction value can, however, favor newer releases due to the following factors:
Current beanie babies craze: Depending on the season, market, and location, a new beanie mania can drive up the price of a newer Beanie Baby.
Rarity: A Beanie Baby value goes up if the toy is retired and had a limited release. For example, the "Original Nine" beanie line was released in 1993 and retired by 1998, making them extremely pricey.
Condition of the beanie: Mint and near mint Beanies are more valued than a beanie with a worn-out cloth or torn tush tag and hang tag.
How to Tell Tag Generations for TY Beanie Babies
The first step in learning how to sell Beanie Babies is knowing which beanie is in your possession. Avid collectors and appraisers can distinguish the different generations of beanies by just looking at the Ty inc tags.
New buyers, however, may require some pointers, especially on the original 4 generations of old beanie babies. Look for:
1st Generation: Flat, Made in China/Korea with skinny 'ty' letters.
2nd Generation: Same skinny 'ty' letters but the tag opens. It features a barcode plus the words "Retain Tag For Reference".
3rd Generation: Opens like a book but has several variations with a 'ty' bubble font as a common feature.
4th Generation: Have poems on the inside and the font is similar to the 3rd generation's. They also feature www.ty.com on the face. The domain may or may not be cut off.
Beanie Babies Price Guide
To help you know if you own an expensive beanie baby, there are several online price guides at your disposal. These are illustrated charts featuring identifying information for all Beanie Babies; from the 1st to the 19th generation.
Who Buys Beanie Babies?
Beanie mania is mainly driven by collectors. Reporting on the original beanie craze in the Great Beanie Baby Bubble, Zac Bissonnette, records an individual collector living with over 40k beanies.
Flea market flippers are also known to buy toys in the hopes of making profits. Lastly, beanies are still a favorite toy among children and adults alike.
Tips For Selling Beanie Babies
With so many types and generations, selling beanies at a profit is an art by itself. Below are important pointers:
1. Find Out the Value of Your Toy
Get a price guide to help you identify and sort your beanies into different categories. Group the toys according to year of release, physical condition, color, and type.
This makes it easy to find and compare similar beanies on sold listings for price estimates.
2. Understand the Market
Who are you selling to? Is it a wealthy collector, a buyback website, or just a one-off buyer? These are questions to help you know which markets to research for fast sales.
3. Take the Best Photos
When selling Beanie Babies online, visual representation matters. Use a high-quality camera to take clear images of your toys. Take close-up pics of the tush tags and the hang tags.
Also, ensure to capture errors such as misspelled names. The reason is that such oddities have been known to increase the value of some collectibles.
4. Have Your Beanie Baby Authenticated
If you suspect that your Large Wallace could be worth top dollar, have it appraised professionally. The service costs around USD20 plus shipping, but it is worth it.
additionally, remember to indicate that you have a certificate of authentication in the product description to attract high-level buyers.
5. Insist on a Secure Payment System
when selling Beanie Babies in person, insist on cash or direct bank deposit for large amounts. Most importantly, when selling online avoid checks since they can bounce.
Other secure payments to consider include PayPal and Cash App.
FAQs
1. What Is The Best Place To Sell Beanie Babies?
Where to sell your Beanies largely depends on the value and size of the collection.
For example sites like Sell2BBNovelties and Sell4Value are best for selling cheap large collections. On the other hand, one-on-one marketplaces, such as garage sales, are best for selling a few beanies worth less than 50 dollars, or so.
2. Who Buys Beanie Buys In Bulk?
You can find bulk buyers on Facebook Marketplace, Etsy, and Mercari, especially when selling complete sets that can be resold as individual pieces at higher prices.
Alternatively, you can also sell huge collections of Beanie Babies on buyback sites like PlushCollector, Sell4Value, and Sell2BBNovelties.
3. Is It Worth Selling Beanie Babies?
Yes, it is totally worth selling Beanie babies! They are still a darling to many novelty collectors, making them an easy item to sell online. Early edition Beanies are particularly in high demand and can make you hundreds of dollars on resale.
That said, newer and most old mass-produced beanies will only earn you a few dollars. The trick is to keep your collection in mint condition, and only sell high-value beanies, depending on the prevailing craze.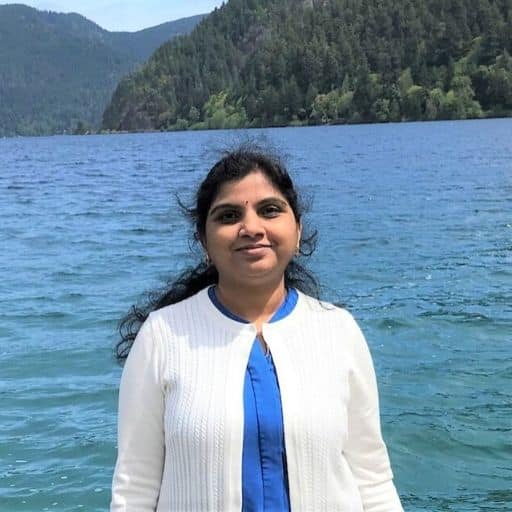 Hey Folks, thanks for stopping by my blog!
I'm Swati. I'm a mom, side hustler, full-time blogger and a millennial work-at-home expert featured on Forbes, CEO Blog Nation, Referral Rock, Vital Dollar, and Databox blog. I embarked on this impeccable journey to expose my online monetary experiences and help you all earn money from home. Come join my make money revolution and attain financial freedom – it's not as hard as you think!