Do you have an interest in learning more about the most popular and best-selling items on Facebook Marketplace and making extra cash? If your answer is yes, you are in the right place!
Among the 2.934 billion people who use Facebook, 1 Billion engage in buying and selling items. Simply put, this is a huge and potentially lucrative market.
Because it is both cost-free and user-friendly, a large number of people take advantage of the marketplace's features. As such, it's no surprise that a lot of online sellers use the platform as a second source of income.
In this article, we will be discussing the top-selling items on Facebook Marketplace in 2023 as well as tips on how to sell fast and conveniently.
How to Sell Items On Facebook Marketplace?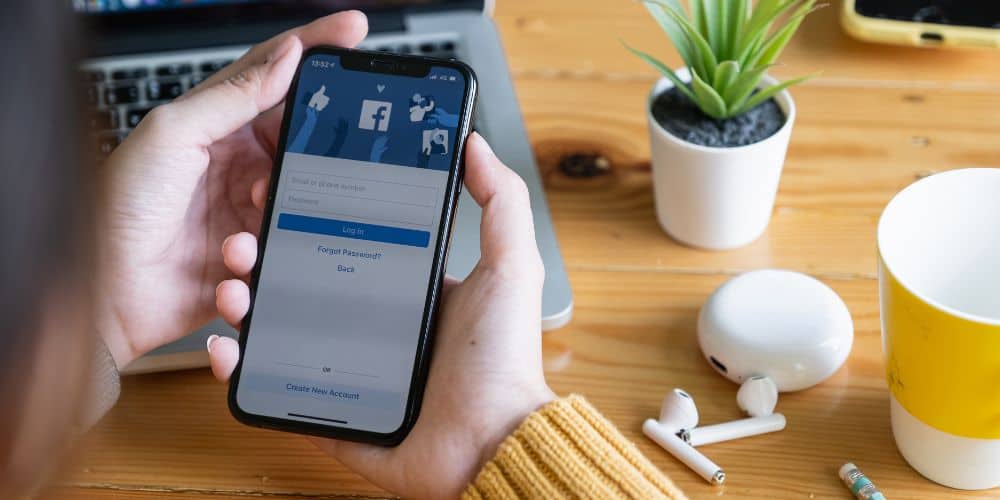 Selling on Facebook requires you to just list an item for sale and wait for potential buyers to reach out. So, how do you list your item(s) on Facebook Marketplace?
Steps on how to create a listing on your Facebook Marketplace:
Once you have logged in on Facebook, click the

Marketplace icon and select "Sell".
Choose the Listing Type (Item for Sale, Vehicle for Sale, Home for Sale, or Rent) that is applicable to your for-sale item.
Upload clear photos or videos of your item.
Add the title, price, category, condition, detailed description of the item sold, and product tags.
Click "Publish" and wait for your listing to be visible.
How to Find Hot Selling Products On Facebook?
Like most markets, you won't find immediate buyers for every item you list on Facebook Marketplace. That said, there are some goods that are constantly out of stock. Those are the items to focus on!
To identify stuff with the greatest potential for profit on Facebook Marketplace, you will need to conduct product research.
Start by utilizing the Categories section on the platform to discover the top-selling and best items to flip on Facebook Marketplace.
You can choose from a wide variety of categories, such as automobiles, clothing, electronics, household items, and so on.
Next, go through the suggested items that appear on the first page of listings. This will give you more idea on what are the top selling items on Facebook Marketplace in 2022.
To know more about how to find the hot selling items on Facebook Marketplace, watch this video.
What are the Best Selling Items On Facebook Marketplace?
As mentioned earlier, not all of the goods on Facebook Marketplace sell extremely quickly. Trends vary depending on your location and the quality of the listings.
After extensive research, here is the list of the best items to sell on Facebook Marketplace.
1. Furniture & Home Decor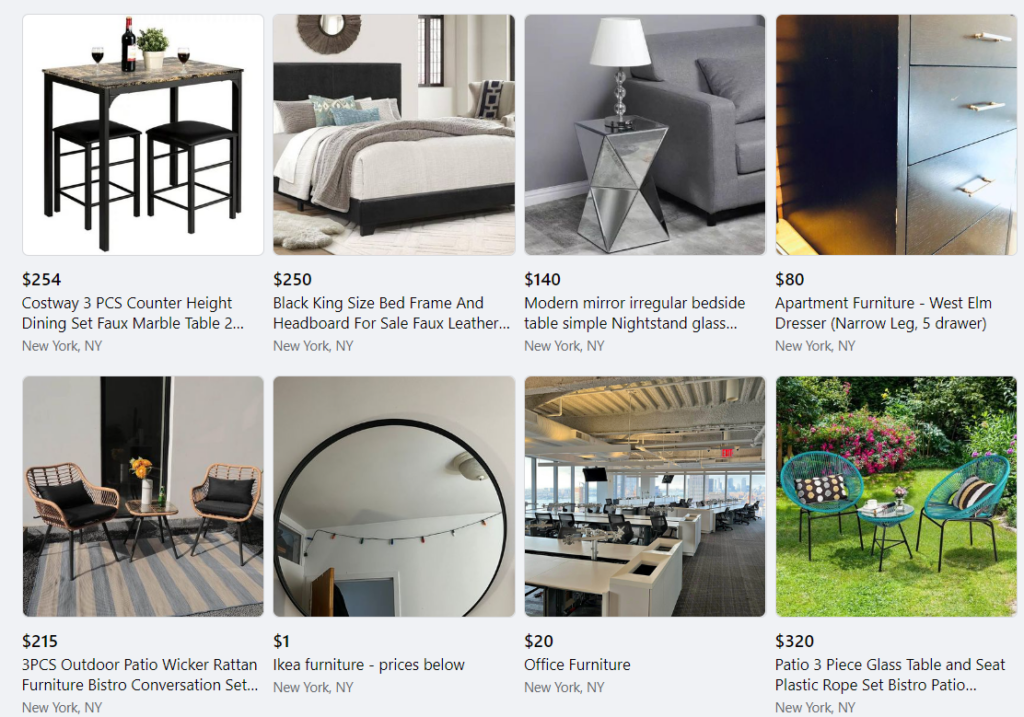 Furnishings in excellent condition fetch high prices and move fast on the platform.
The reason is that due to the high cost of brand new furniture, many people who are shopping on a limited budget opt instead to purchase used furniture that is near mint condition.
The most bought furniture items on Facebook Marketplace include:
Sofa

Beds

Rugs

Cabinets

Bookshelves

Frames and wall arts

Office and gaming chair

Tables (Dining tables, study tables, corner tables, etc.)

Outdoor furniture (patio set, lounge chairs, dining set, etc.)
In my observation and experience, people who usually shop on Facebook Marketplace prefer to purchase products that can be stored in a small space.
This is likely due to the fact that it is simpler to transport such items and reduces the additional costs associated with hiring a mover.
If you want to sell furniture and other home products quickly, you should give a full description of the item and be honest about its flaws.
Tips for Selling Furniture & Home Goods On Facebook Marketplace:
Put the dimensions of the furniture item.

Clean the furniture and make sure there is no dust.

Take clear pictures of the item and take closer pictures of any damages.

Ensure your prices are competitive.
2. Clothing, Shoes & Accessories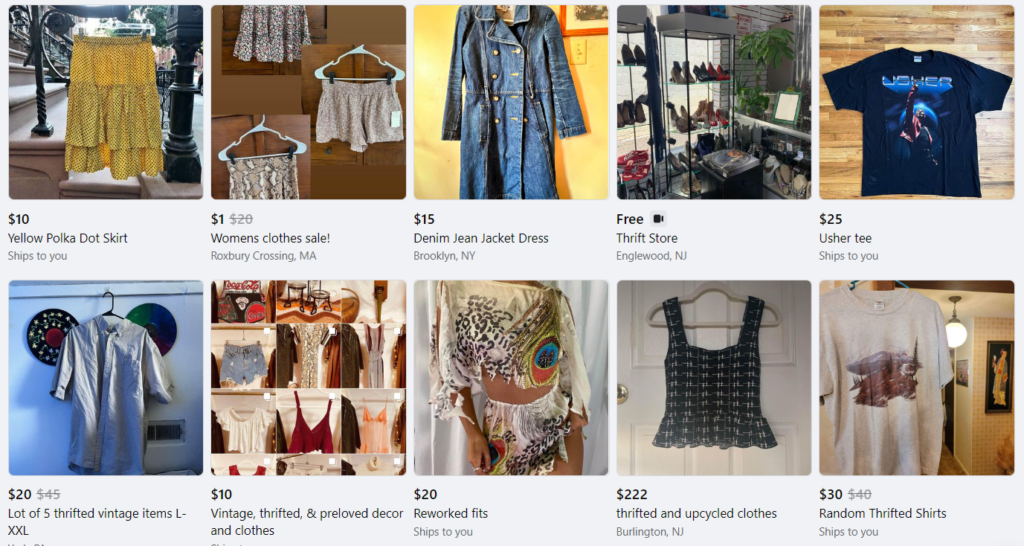 Clothes, shoes, and accessories are some of the most popular items on Facebook Marketplace since they are cheaper than buying new wearables.
According to the data gathered by the National Association of Resale and Thrift Shops, 16-18% of Americans shop at a thrift store every year.
People start to shift to thrifting or buying second-hand clothes, shoes, and accessories because of the fact that signature brands are expensive and harm the environment by using animal skins.
Here are some of the most popular brands listed on Facebook
Gap

Nike

Zara

Shein

Coach

Adidas

Chanel

Lululemon

Michael Kors

Tommy Hilfiger
Tips for Selling Clothes Online:
Take pictures of stains and tears for better accountability to your customer.

If you happen to own a mannequin, display the garments on it. If you don't have one, take a picture of the item while you're wearing it instead. (P.S. You can crop your face if you're not comfortable.)
3. Mobile Gadgets & Accessories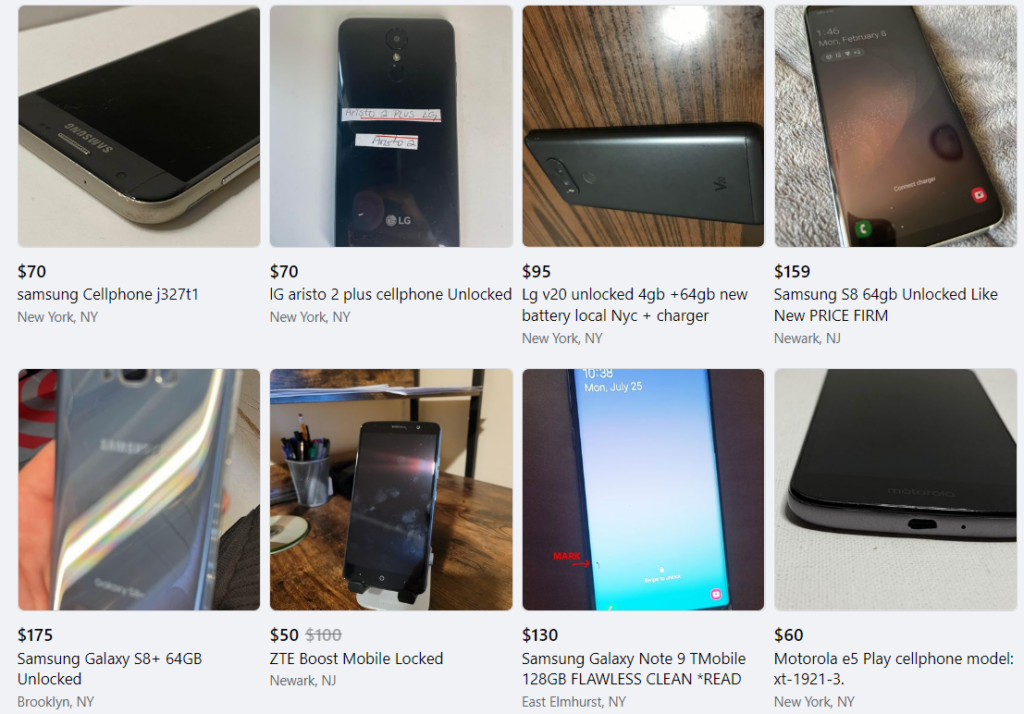 Old phones, mobile gadgets, and accessories are one of the top-selling and best items to flip on Facebook Marketplace.
Mobile Repairmen often purchase defective phones in order to salvage usable components from within them.
Many users of the site also buy mobile accessories like earphones, ring holders, dashboard mount holders, and more.
Tips for Selling Mobile Gadgets & Accessories:
Take images of the device while it is both off and on.

When describing the item, make sure to be as accurate as possible. Explain the specifications, whether or not you are the initial owner, and its warranty status.
4. Kids Stuff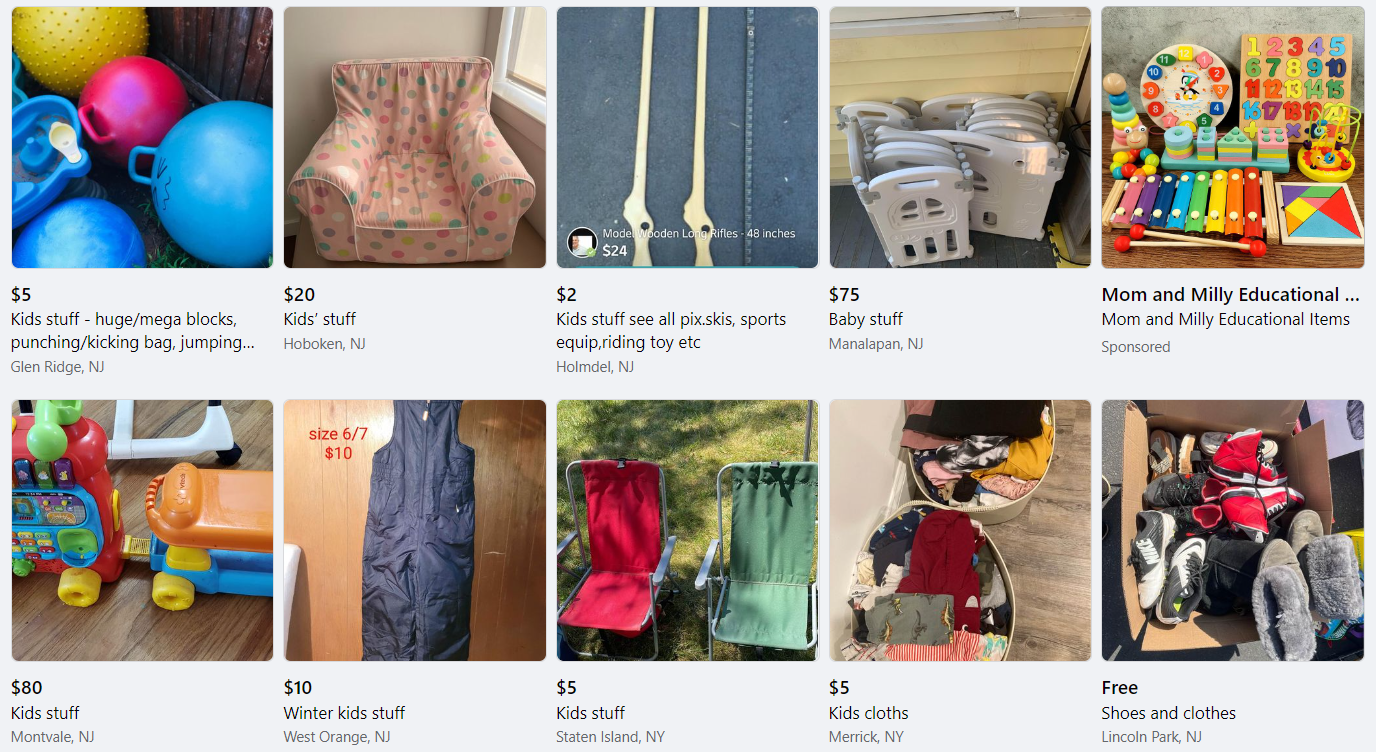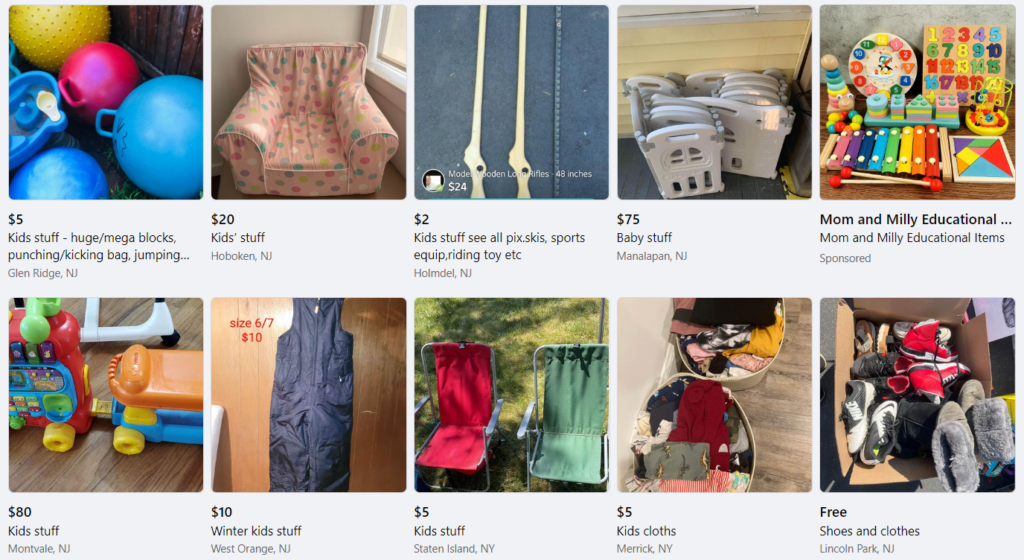 Kids' clothes, shoes, toys, and other baby stuff sell fast on Facebook Marketplace. Believe it or not, even if you sell used baby clothes, someone is still willing to buy them!
Certainly, the items should still be in good condition, to ensure the child's comfort.
Tips for selling kids' stuff:
Take pictures of any tears in the item so that the buyer will be aware of it.

Make sure the clothes, shoes, and toys are clean and washed thoroughly.
5. Baby Care Products & Supplies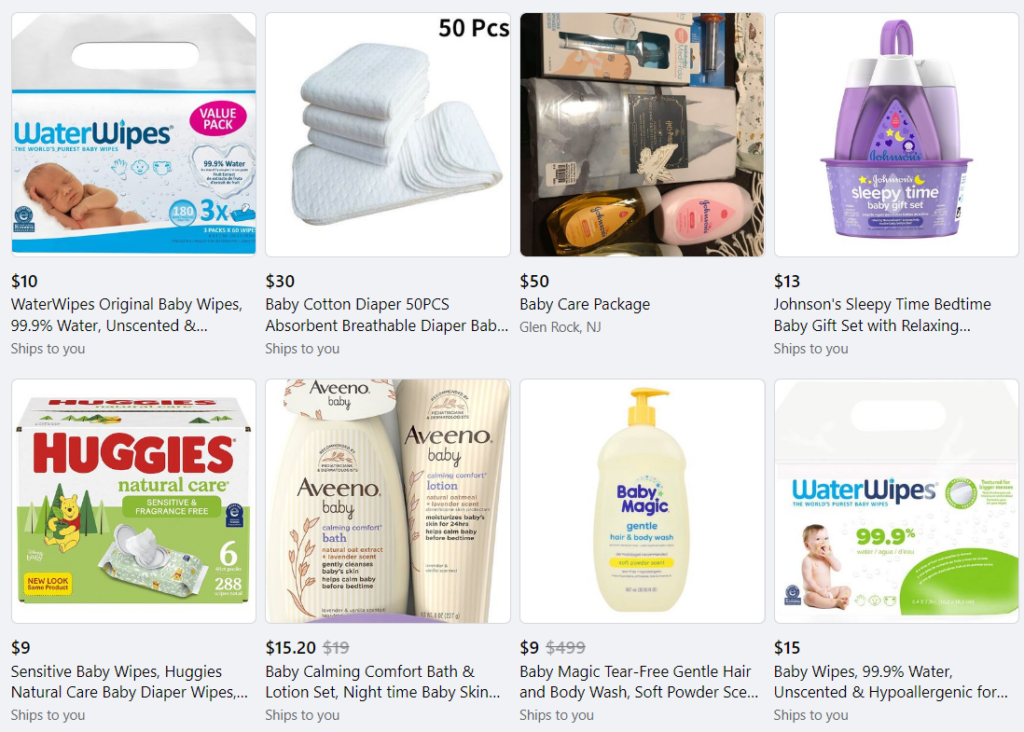 Aside from kids' stuff, one of the most bought items on Facebook Marketplace are baby supplies. This includes baby bottle sterilizers, baby bags, cribs, breast pumps, and car seats.
More parents are also thrifting their baby supplies to buy new items like books and the like.
So, if you had a baby that's now a toddler or teen, it is time to rummage through your storage and start selling their undersized stuff on Facebook Marketplace to earn some fast cash.
Tips for Selling Baby Care Products & Supplies:
Make sure to mention the brand of the item. Most parents feel reassured when they know the company behind their baby care products.

Clean and sanitize the items.
6. Books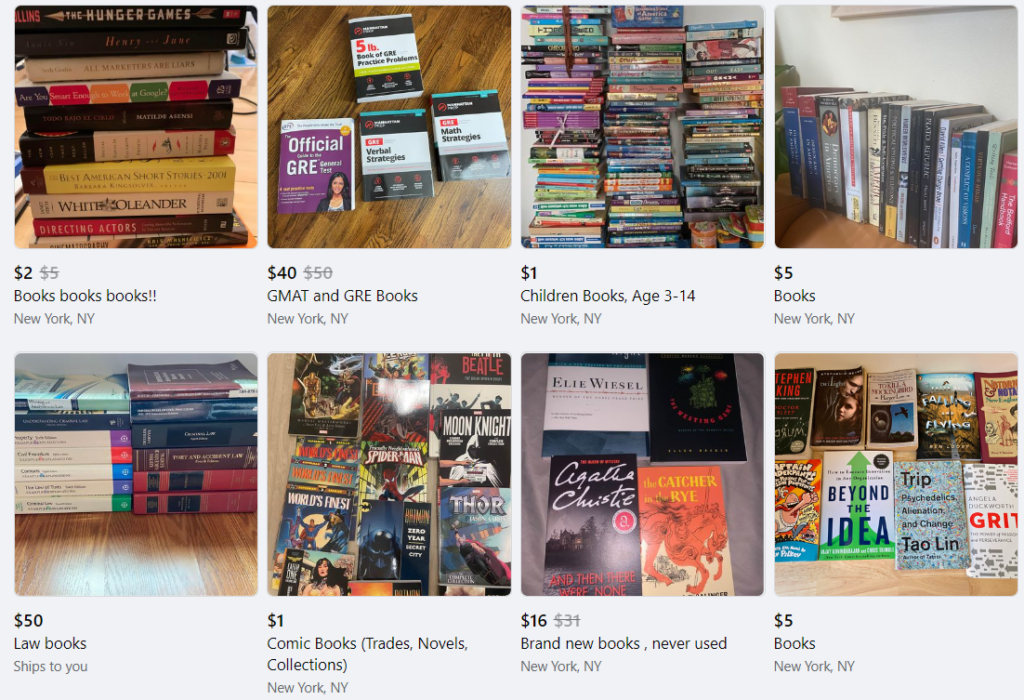 Despite the rapid development of technology, many people still desire to read hardcover books.
Hardbound and softbound books are still one of the top-selling items on Facebook Marketplace in 2022. You can cater to a large variety of customers, from college students to bookworms.
To earn money fast, sell famous books, law books, nursing books, and IT books.
According to the National Association of College Stores, it has been found that 70% of the total students buy used books instead of brand-new releases.
This is because the average spending of a college student who takes a 4-year course is around $1,250 and buying used books only costs $30-$50.
Tips for Selling Books:
Mention the author's name, genre, and the number of books.

If the book is part of a series, sell it as a whole and not just a single book.

Be very honest about the condition of the book. If it lost a page or got wet, let the buyer know.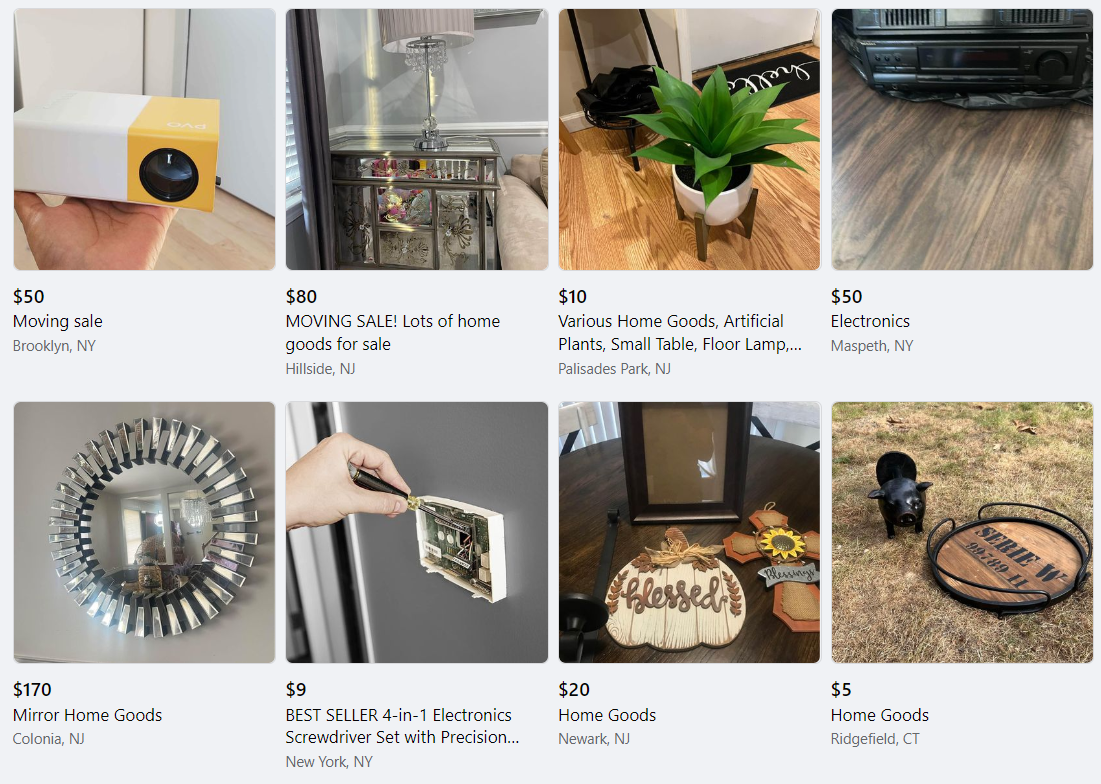 Home goods and electronics are one of the best things to sell on Facebook Marketplace.
Just ensure that the item is still functioning and let the buyer know if there are any damages or dents in the item.
TV

Oven

Stove

Freezers

Deep fryer

Microwaves

Dishwasher

Refrigerators

Induction Cooker

Washing machine
8. Sports Supplies & Fitness Equipment
People nowadays aim to be healthy. Many go to the gym, while others prefer losing weight and exercising at home by setting up a personal gym.
As such, used fitness equipment and sports items are one of the most popular items on Facebook Marketplace in 2022.
You can sell sports supplies like unused basketball balls, volleyball, baseball, tennis rackets, badminton racket frames, bikes, and many more!
Tips for Selling Sports Supplies & Fitness Equipment:
Take pictures of the scratches and dents on the item, if any.

If you're selling a bike, make sure the tires don't have mud or grease stains.

Include the dimensions of the item you are selling to manage the expectations of the buyer.

The best time to sell fitness equipment is after the Christmas and New Year holidays since more people desire to go back to their pre-holiday bodies.
9. Seasonal Goods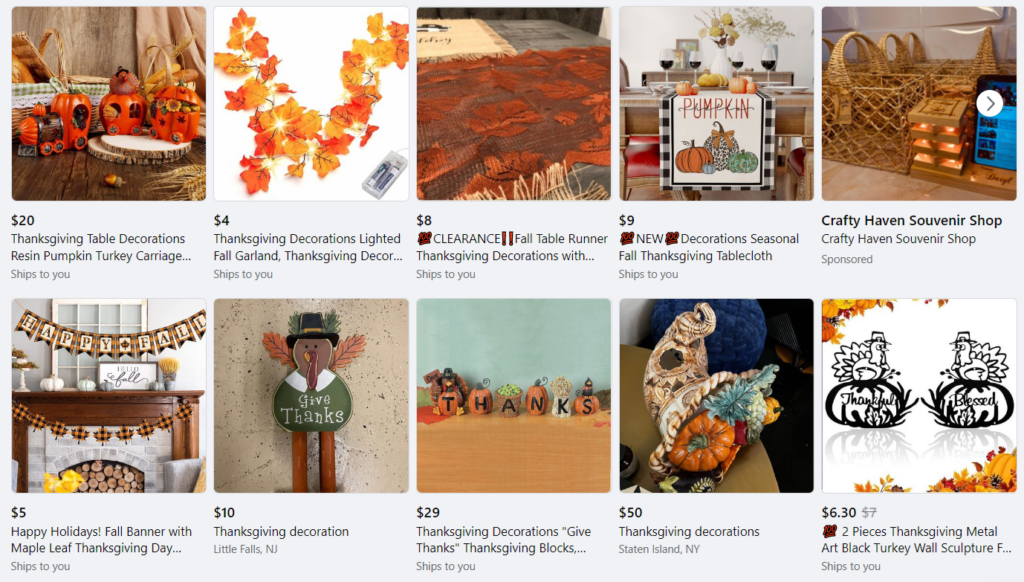 The good thing about selling in Facebook Marketplace is that despite the season, there are buyers for your items.
Be it St. Patrick's Day, Easter, Christmas, Halloween, or Thanksgiving, there are dozens of items for the festivities. Selling your old costumes and decorations on Facebook Marketplace may be a great way to earn extra income.
Offer things like school supplies (for the back-to-school season), and gifts for Mother's day and Father's day. Winter coats, swimsuits, and the like also move fast during the holidays.
Tips for Selling Seasonal Goods:
Make sure your timing is right- posting summer items during the winter might not sell.

If you are selling decorative items such as a table runner, you should avoid taking images showing it folded up in the product listing. Instead, snap a picture of it when it's on your table, set in a great background.
10. Vehicles
More and more people prefer to buy second-hand cars nowadays because of their low prices. Moreover, sellers who need instant cash prefer to sell on Facebook Marketplace rather than listing it in a car dealership to avoid the dealer's fee.
When selling your car online, prepare the following documents:
Bill of Sale

Vehicle Title

Service Records

Owner's Manual

Warranty Documents

Emissions Test Documentation
Tips for Selling Vehicles On Facebook Marketplace:
Take note of any scratches or defects in the description box.

Take clear, quality pictures of every corner of the inside and outside of the car.

Be patient. This may be one of the most popular items on Facebook Marketplace, but the competition is tough due to the many similar listings.
11. Tools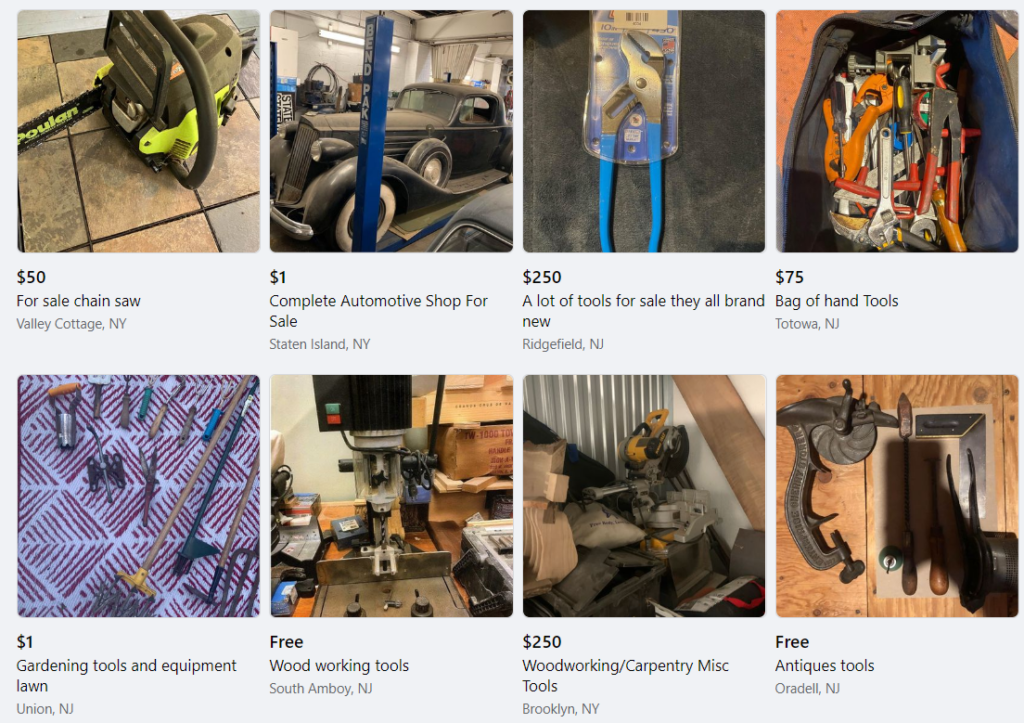 Making a profit from selling tools may not be one of the best items to flip on Facebook Marketplace. However, you can still sell tools like circular saws, drills, grinders, sanders, hammer-drill, lawnmowers, snowblowers, etc.
Tips for Selling Tools:
Even though not many people will buy these items, you can still attract budding handymen and homeowners using the

Tags

section when listing.

When posting, save a picture of the item from the Internet and upload it first before posting the actual photo of the item. This is to give buyers an idea of how old, unused, or damaged your item is.
12. Garden Tools and Plants
Lots of people find solace in the cultivation of plants. Because of this, garden tools and plants are one of the top-selling items on Facebook Marketplace in 2022.
The fad kicked off during the pandemic and now the gardens and nurseries are full and it's time to sell.
This means the competition is stiff, but with a good collection, the returns can be high. You can also sell your old and unused garden and landscaping tools.
Tips for Selling Garden Tools and Plants:
Make sure your plant is not dying or yellowish.

If you are selling a plant, take a picture of it in sunlight to get a more natural photo.

When a potential buyer sends you an inquiry, send an actual photo of the plant at the time of the inquiry.
13. Collectibles
Many people still collect antiques for display. The following are some of the items that you might want to sell:
Coins

Paintings

Baseball cards

Vinyl records

Trading cards

Beanie Babie toys

Antique glassware
With collectibles, go for vintage items or limited releases. It also helps to get a certificate of authentication for high-value items like baseball cards.
You can also sell thrifted products like Beanie Babies that are on trend.
Also Read: How to Post a Garage Sale On Facebook Marketplace
What Items Cannot Be Sold On Facebook Marketplace?
Because there is such a wide variety of things that may be sold on Facebook Marketplace, you can get the impression that there is no restriction on what should be offered there.
However, there are several things that cannot be listed through Facebook Marketplace. Such items include:
Alcohol

Animals

Gambling

Adult Products

Used Cosmetics

Currency

Selling of services

Prescription Drugs

Healthcare Products

Weapons and explosives
Even if you make an attempt to list prohibited items, Facebook will erase your listing, and you risk having your access to the marketplace revoked.
Tips for Selling Fast On Facebook Marketplace
Now that you know what items you can sell on Facebook Marketplace, let us now dig deeper into how to sell these items fast so you can generate a profit.
1. Take Good Quality Photos Of Your Item
When a customer sees your listing, the first thing they look at is the photographs you've included. Images that are of poor quality or are blurry can be rather off-putting to the customer.
Use images that accurately depict the item that you are selling. For example, if you are selling an iPhone, it is important to take a picture of its specifications as well as its battery health.
2. Give a Detailed Description
The next thing that the customers look at is your product description. Being direct to the point is one of the fastest ways to sell and earn in Facebook Marketplace. Placing a detailed description of the item saves your time and the customer's time from all the inquiries.
For example, if you just put "iPhone for Sale" in the description, you should expect the customer to ask what device of the iPhone you are selling, the size of the internal memory, its battery capacity, and so on.
3. Make Use Of The Tags Section
The Tags section of Facebook Marketplace helps you bring in more sales.
Following the examples above, if you sell an iPhone 13, your tags should be, "iPhone for sale", "iPhone 13 for sale", "For Sale", "Phones", etc. Once the customer searches or clicks on these tags, your listing will appear.
Pros & Cons Of Selling On Facebook Marketplace
Selling on Facebook Marketplace is easy and has more reach to customers since Facebook is widely used by many users. However, just like any other platform, it also has its pros and cons.
| PROS | CONS |
| --- | --- |
| It is free to all Facebook users. | Limited to a reach of 100 miles. |
| You can sell a wide variety of items. | It has a lot of competing platforms like Amazon. |
| There is seller and buyer protection from scams. | Most sellers sell cheap and buyers usually lowball. |
| There is no limit on how many items you can list and sell. | |
FAQs
1. What Items Sell Fast On Facebook Marketplace?
Some of the best items to sell on Facebook Marketplace are second-hand furniture, kids' stuff, and electronic devices. Among these items, mobile devices and electronics sell fast!
2. What You Can't Sell On Facebook Marketplace?
The things that you are not allowed to sell on Facebook Marketplace are items that are not real, services, animals, healthcare, alcohol, body parts and fluids, currency, and many others.
3. Best Alternative Marketplaces to Sell On
If selling on Facebook Marketplace does not work for you, here are some alternatives on where you can post your items:
eBay

Etsy

LetGo

Decluttr

OfferUp

Mercari

NextDoor

Craigslist

AliExpress

VarageSale
4. How Much Does It Cost to Sell On Facebook Marketplace?
The fact that there is no charge to list items for sale on Facebook Marketplace is easily the site's most attractive feature. If you already have a Facebook account, you are able to immediately begin selling items on the marketplace.
5. What Is the Best Day to Sell On Facebook Marketplace?
The ideal day to post your listings on Facebook Marketplace is on a Thursday, Friday or Saturday. This is not a scientific fact, but buyer trends show that people buy online towards, or on the weekend, when they can pick up the items.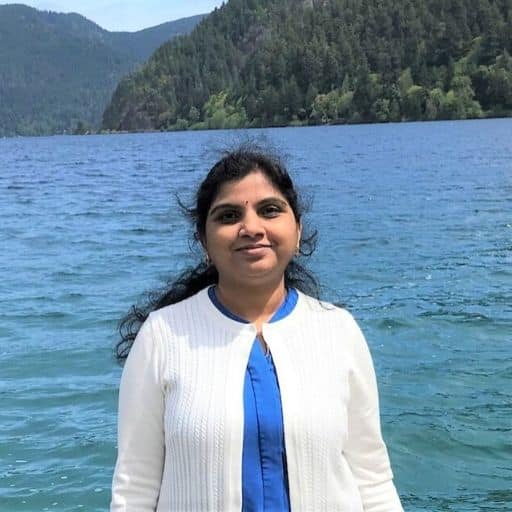 Howdy Folks, thanks for stopping by my blog.
I'm Swati, a proud mom, dedicated side hustler, full-time blogger, and a recognized millennial work-at-home expert. My expertise has been featured on esteemed platforms such as Forbes, CEO Blog Nation, Referral Rock, Vital Dollar, Databox blog, and many more. I have embarked on this incredible journey to share my firsthand experiences in the world of online income generation and to assist all of you in earning money from the comfort of your homes.
Join me in my mission to revolutionize the way we make money and achieve financial freedom. Trust me, it's not as challenging as it may seem!
Together, let's explore the boundless opportunities and pave our paths towards a prosperous future.