For ways to make money through your mobile internet devices, you'll find this MobileXpression App review 2022 to be extremely helpful.
This mobile application is free to download, does not charge to run on your devices, and requires no input from the user to earn you extra cash. In my book, this is as perfect as a passive income platform can get!
But before you start using this app, you need to know what information the app collects, how the app affects mobile phone usage, and whether it is a secure app that you can use to earn real money and rewards.
This MobileXpression review covers addresses these and other queries on what this market research company has to offer, starting with a quick overview:
MobileXpression App Review Overview
| MOBILEXPRESSION | FEATURES |
| --- | --- |
| Year Established | 2016 |
| Purpose | Collecting Browsing Data |
| Available Countries | USA & Canada |
| Applicable | 18 years |
| Subscription Plan | None |
| Average Earnings | $5/month |
| Cuts and Commissions | None |
| Minimum Payout | $5 |
| Payment Method | Gift Cards and Donations |
| Bonus Program | $5 Welcome Bonus |
| Google Play | 1M+ Downloads, 4-star Rating |
| Ratings & Accreditations | 1.8 Stars on Trustpilot, Not BBB Accredited |
| MobileXpression Review: Final Verdict | The app is legit and earns you passive income every week. |
| MobileXpression Login | https://www.mobilexpression.com/login |
What is MobileXpression?
MobileXpression is a market research panel that records and collects trends and behaviors of people using the internet. In return for your data, you get paid!
Just like TV utilizes ratings to determine the top-rated and most-watched shows, MobileXpression uses information collected from people who have the app installed to determine the popularity and importance of certain apps and websites. Companies can then use this information to make themselves better for their audience.
The app is run by Comscore, Inc. a digital research company based in Virginia, United States.
Before we get to how to make money with MobileXpression, let's answer some important FAQs, starting with how to download the app.
How Do You Sign Up for MobileXpression?
Do you want to become part of the MobileXpression panel? For starters, it is absolutely free to join, but since you have to be connected to the internet, depending on your data plan, you may incur some costs.
Here is how to go about it:
Fill in the MobileXpression registration form and provide basic demographic information as required.
Next, download and Install the MobileXpression app via Google Play or Apple App Store.
Allow the MobileXpression to collect your phone data to constantly win gift cards.
Also, note that as a new member MobileXpression rewards you with a USD 5 gift card.
Click to Earn From MobileXpession Today
How Does MobileXpression Work?
As a mobile marketing platform, MobileXpression is interested in the behavior of the people using the mobile internet.
Such user preferences include the websites you visit, how long you stay, and what you do on the sites.
To get this information, the app on your phone feeds MobileXpression servers with your user data.
In particular, the mobile expression data that's transmitted include your web browsing history and crash logs that indicate the app's performance.
The app is pretty small at just 4.2 MB and does not come with any in-app ads or purchases. With such simplicity, it means that issues of the mobile app slowing down your device are highly reduced.
Who Can Join MobileXpression?
To use MobilExpression, you must be at least 18 years of age and should have a device that can access the internet.
Additionally, you need a mobile device that is compatible with the iOS or Android MobileXpression software.
Generally, the software requires not more than 100KB to install and 128KB to store the collected information. However, membership is only limited to residents of Canada and the United States.
Join MobileXpression today and earn credits for a gift card after you've been an active member for only 1 week!
Click Here To Start Earning Within a Week!
What Data Is Collected by MobileXpression?
MobileXpressions collects information about your mobile data usage through an app that acts like a VPN connection. It observes activities such as mobile performance, video streaming, camera usage, and the links you access.
However, when joining, be ready to share some of your personal information such as emails, gender, age, education level, etc. This is to help provide information on the type of people who have different opinions about web platforms.
Nevertheless, the company behind this platform assures you that none of your identifiable information is shared with participating outlets.
It's also worth noting that although the app identifies messaging and call apps, it does not record their usage.
Simply put, MobileXpression VPN does not monitor your photos, videos, text/voice messages, phone records, or contacts.
How to Earn With MobileXpression?
MobileXpression has three main features that allow you to earn cash and prizes:
1. Mobile App
The easiest way to earn on MobileXpression is to use your phone as you usually do, and keep the app running in the background.
After installation, tap the Permit button to allow the app to collect data from your mobile device. However, if you are edgy about your internet activity being monitored, go for the second feature to earn rewards.
Remember though, that you don't need a new device for the app to work.
MobileXpression operates on Android version 5 and up.
2. Mobile Surveys
Here, you only need to answer the occasional surveys that come your way and earn some cash from your MobileXpression account. And, if you don't meet the required qualifications for a given survey, you will be informed beforehand to help you avoid wasting time.
3. Sweepstakes
How would you like a chance to win an iPad for just having an app on your mobile phone? That's how you earn from the mobileXpression app via sweepstakes that can get you up to $5,000+.
Every week, users are entered into a draw where they can win digital devices and e-gifts, among other prizes. The only requirement is to ensure that the app is working properly all week long.
You are able to earn gifts such as £20 Amazon vouchers, iPad, TVs, or Headphones.
Become a member and earn a gift card in only 1 week!
How Much Does MobileXpression Pay?
Wondering what kind of MobileXpression rewards are out there. Hear me out…
Just by installing the app, you start making points. These are credits that can be redeemed or exchanged for various rewards.
Members get Amazon gift cards for their points with the added advantage of taking part in a $100,000 weekly sweepstakes.
As a new member, you get a $5 Amazon gift card at the end of the week the app is installed. To earn more, take surveys on the go.
Typically, MobileXpression rewards you with around $1.30 per week for collecting your data, which is $5.20 monthly.
At the end of the year, assuming that the app runs uninterruptedly, you make a little over $60.
Add this to other prizes that you may win and the prospects are not bad for this passive income-earning opportunity.
Sign up on MobileXpression today and earn credits for a gift card after you've been an active member for only 1 week. Plus, by keeping the MobileXpression software on your phone or tablet computer, you'll be eligible for additional credits each week that can be redeemed for more gift cards!
Got a smartphone? Click here to get MobileXpression
MobileXpression Rewards
The platform offers rewards such as:
Credits for running the app.
E-gift cards for different retailers.
$5,000+ in sweepstakes.
Donating a tree to Trees For Knowledge.
Is MobileXpression Legit Or a Scam?
Thinking of uninstalling the app? Don't. MobileXpression is a legit rewards platform that rewards regular mobile internet users for their browsing data. Their sweepstakes and survey program are also above board.
The app gets a 4-star rating on Play Store and an even higher rating on App Store. It has been downloaded by 2m+ users who are enjoying MobileXpression rewards.
To understand the program better, let's look at some reviews from its current and previous users.
MobileXpression Reviews On Reddit
The reviews from the r/beermoney subreddit below, the app elicits mixed feelings amongst users. Some people feel that MobileXpression may be infiltrating their privacy and mining their personal data.
That said, there are lots of positive reviews from users who installed the app and kept it running. For example, a user got the app as a paid offer on Swagbucks, a platform like MobileXpression. They confirm getting 500 SBs that are equivalent to $5.
Additionally, after keeping the app running for a week, the user got an extra $5 Amazon gift card. Other users report using the app for a year on end, earning rewards, and cashing out regularly.
Negative Reviews
One important check of a legit online platform is the presence or lack of negative user reviews. I have yet to come across an app website that commands a clean sheet of positivity – and MobileXpression is no different.
On Trustpilot, the app gets a 'poor' rating of 1.8 out of 5 stars. This raises the question of whether MobileXpression is worth your time.
Well, if you thought to check the reviews on the site, here is a sample of what you'll find:
Users complain of being locked out of their accounts during payout. Data security also features a lot, as well as the inability to access some websites if you use a VPN app.
Note, that these are common allegations with apps like MobileXpression. The site does, however, assure users that all user data is 'encrypted in transit to ensure no interference by third parties.
MobileXpression Pros & Cons
| PROS | CONS |
| --- | --- |
| Free to join. | May slow down your devices. |
| $5 registration bonus. | Your account may be locked out. |
| Sweepstakes of up to $5k. | Poor rating on Trustpilot. |
| Paid surveys. | Not BBB-rated. |
| Legit platform. | |
MobileXpression Review: FAQs
1. Is MobileXpression Safe?
The platform is owned by Comscore, a reputable US-based multimillion revenue media analytics company, which speaks to its integrity. Further, the app's use of a VPN is designed to improve data security when visiting different sites.
Lastly, it runs in the background, ensuring uninterrupted phone usage.
2. How To Uninstall MobileXpression?
To stop the app from accessing your data, simply delete it from your PC or phone.
For an iPhone, go to the settings tab and click on "General" and scroll to "VPN and Device Management". Next, tap on "MobileXpression" click "Remove", and confirm your selection to get rid of the app.
Is MobileXpression Worth It? [Final Thoughts]
From this MobileXpression review 2022, it's evident that this is not only a legal survey app but a passive income platform that pays in gift cards every month.
What's more, if you are lucky, you can also make so much more through monthly sweepstakes that range from $100 to $100,000. This is in addition to helping the parent company donate trees from your continued participation.
Are you interested in making free money? Just Get the App Here!
And remember to share your go-to apps for making passive income effortlessly.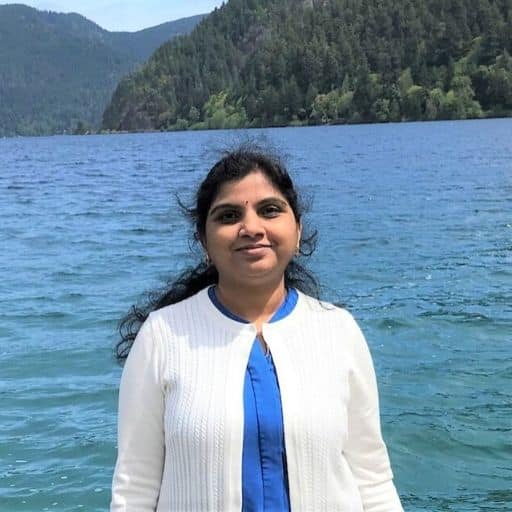 Howdy Folks, thanks for stopping by my blog.
I'm Swati, a proud mom, dedicated side hustler, full-time blogger, and a recognized millennial work-at-home expert. My expertise has been featured on esteemed platforms such as Forbes, CEO Blog Nation, Referral Rock, Vital Dollar, Databox blog, and many more. I have embarked on this incredible journey to share my firsthand experiences in the world of online income generation and to assist all of you in earning money from the comfort of your homes.
Join me in my mission to revolutionize the way we make money and achieve financial freedom. Trust me, it's not as challenging as it may seem!
Together, let's explore the boundless opportunities and pave our paths towards a prosperous future.