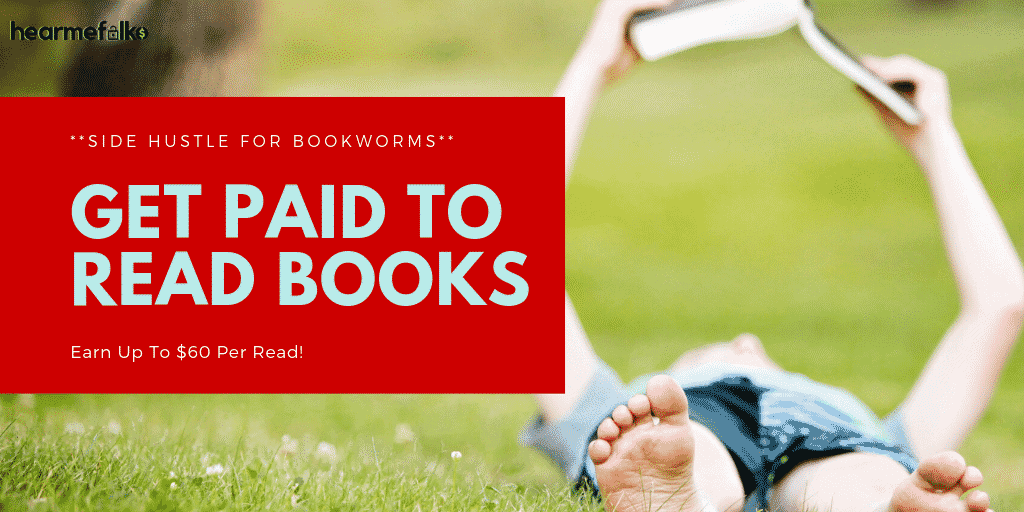 It may seem almost unbelievable, but you can actually get paid to read books, now! 😯
Famous American author and entrepreneur Jim Rohn once rightly said, "Reading is essential for those who seek to rise above the ordinary." Besides following the path of such a rise and personal enrichment, there can be a lot more motivation for developing the habit.
Thought-provoking, right?
As we all know, reading is definitely a good habit that not only just nourishes the grey matter of your brain but also opens new windows to look at the world. And, if you really love reading books, then it's high time that you should start earning from what you really enjoy doing!
Surprisingly, some websites are ready to pay $1000s to read aloud!! If you are passionate towards reading books? Wait no more, learn how you can actually get paid to read and earn money!
How to get paid to Read Books
En-cashing your reading habit is easy; you just need to know the right avenues to follow. There are some websites that get you started with Amazon gift coupons, while a few platforms pay the readers a handsome compensation!
It may not become an active income for you, but as a lucrative passive income, it can definitely help you to take care of your daily expenses.
And honestly, getting paid for just reading books online is altogether a win-win situation for any bookworm. So, if you had to give up your hobby of reading good books to make time for your tiring day job, or your family responsibilities like me, having a side hustle is a good reason to pick up a book and resume reading!
Besides having a keen interest in reading books, your flair for writing can be an added advantage. This is because most of the websites we are going to introduce you with will need you to write a small review of the book that you read. There are many websites that also need you to write your own experiences, beyond the usual book review. And for that, you can also expect a much more substantial remuneration, as compared to basic reviews.
I tried and tested the websites that pay to read books online and here are my final picks:
Get paid from 'Any Subject Books' in Cash
Any Subject Books is a website that doesn't demand a long-term commitment from you; they mainly work on a "book-by-book" model. As a result, it is one of the best websites to get paid to read books.
First, you need to apply on the website to be selected as a book reviewer. Once they select you, you'll get an invitation to read and review a book. But don't worry, you'll only get books of your preferred genre. And along with the assigned book, they will also send you a short synopsis.
Once you finish reading that book, they need you to submit an honest and objective analysis. But, remember not to regenerate any review that already exists anywhere on the internet; they are strict about accepting only genuine reviews.
They will pay according to the book they want you to review. And, the final offer depends on multiple factors, such as the overall volume of the book and the difficulty level of the subject. You need to give your own honest views on the style, characterization, plot, etc.
Remember not to be a puppet who gives a five-star rating to all the books, just to make the authors happy; that's not what they want that from you. The main focus of the website is to encourage objectivity of the review, rather than subjectivity. So, don't hold yourself back from pointing out weak plots, poorly-designed characters, or bad editing.
'Any Subject Books' website will directly deliver your review to the author of the book. Besides, the review will be also published on the website after acquiring necessary permission from the author.
After your final submission, the author will have the right to reproduce your review or any part of it without altering it. But don't worry, you will receive your remuneration once you successfully submit your review.
Sadly, Any Subject Books is currently not open to book reviewer applications, but check back again — this could change at any time.
QUICK MONEY HACK:

Survey Junkie – Survey Junkie is 100% legit and pays up to $18 per hour. The site has a 4-star rating on Trustpilot. Their surveys are short, easy, and you can pick and choose which surveys you want to take redeem for gift cards or PayPal cash – Click here to Start earning now!

Neilsen App – Get rewarded just for using the Internet as you do today! Nielsen Consumer Panel will pay you $50 per device just to download and install their app on your phone/computer – Download the Nielsen app on all your devices and earn $50/device just like that!

PineCone Research: Earn $3 – $5 per each survey & up to $7 per each product test – Sign up now.

Vindale Research – The biggest plus about Vindale Research is many of their surveys pay quite well. Each survey can pay you anywhere between $0.50 to $50. The best part is that you get instant $2 FREE when you sign up for Vindale Research.
Get paid to read books aloud
If you don't want to write reviews, there is another way – there are platforms where you can get paid to read books aloud. However, you need to have a good voice quality, along with the knowledge of narrating a story. Many websites offer good compensation to the narrators of books.
Voiceover artists earn as high as $34 per hour through such platforms!
If you want to en-cash your talent and turn this into a full-time job, you will get thousands of opportunities in freelancing websites like Fiverr, Upwork, Freelancer, and People Per Hour. Besides, certain websites also provide excellent job leads for book narrators.
ACX, or the Audiobook Creative Exchange of Amazon, is an excellent platform for book narrators, where you can find many opportunities. You just need to select a book for which you want to audition as a narrator.
And, once you are shortlisted, you will get paid according to your pre-determined hourly rate. Not only that you can also earn royalties from sales of your narrated audiobooks!
VoiceBunny is another great website if you want to advertise your voiceover talent to potential clients. You need to create an account on that website and then submit your voice quality test.
Once you are selected, you can search for your preferred jobs. There are more than thousands of opportunities, but they surely need a high-quality voice acting along with speedy delivery. One important feature of this site is that you are absolutely free to set your own hourly rate.
The Voices is another wonderful platform if you are searching for opportunities as a voiceover artist. After creating a basic or premium membership on the website, you need to upload a demo.
The Voice Match engine will then match your skills with the requirements of the clients. And, once you get the perfect match, you can directly approach the client through this site. Along with a great hourly rate, this particular website also offers payment security through SurePay.
Brilliance Audio, a voiceover industry leader, frequently hires audiobook narrators for their new projects. They give the best hourly rates in the industry; but, they only accept professional delivery, clear punctuation, excellent sound modulation quality, and a great voice acting talent.
Once they start looking for a book narrator for a new project, you need to contact them with your voice-over demo.
ALSO READ:
Get paid to Read articles and Rate them
Your job as a voiceover artist or book narrator can surely fetch more money than any other category of jobs related to book reading. But, if you don't want to take it as a full-time job, there are other ways where you can get paid to read books, without putting as much effort.
Many websites, these days, offer book readers the opportunity to get paid to read articles and books. You just need to rate them, along with submitting a small review of that particular article or book.
KirkusMedia is a great website that offers extraordinary earning opportunities to all the book lovers. You need to apply as a reviewer along with your resume and a small writing sample. So, once you are selected, they will assign you a book to review.
After reading that book, you need to submit a 350-word review within two weeks. They pay quite a high price, although the final offer price depends on the volume of the book.
Online Book Club is a great platform where you can earn between $5 – $60 per book review (depending on the length of the book). First, you need to create an account, which is absolutely free. Then, select a book to read.
Once you complete that book, write an honest review about it. Keep in mind that you don't need to necessarily write a positive review, as this platform gives you full freedom to be critical.
For your first review, they will gift you a book. And, after that initial approval, you will start earning money by reviewing your favorite books.
Women's Review of Books is the best website to get paid to read books if you enjoy fiction, nonfiction, and poetry, written by and about women. You need to create an account on that gender-focused forum and let them know about your credentials and already-published reviews if any.
Once they approve and assign a book to you, write a brief review of that book after finishing it. The members usually earn up to $100 per book review, although it depends on multiple factors.
BookBrowse is another excellent website if you want to earn handsome money for reading and reviewing books. First, you need to complete their joining form along with a 300-word sample review.
Once they are happy with it and approve your account, you need to write a small review of the assigned book. However, they also expect you to write a 'beyond the book' article, in which you have to talk about your learning experience with the help of the book. That is why the payment for each review is quite good.
PublishersWeekly, the weekly news magazine, often looks for books and articles reviewers. You need to send them your updated resume along with a small 200-word honest review of any recently published book. And, once they select you, they will assign your book-review project from which you can expect a handsome payment.
Also Read: 31 Easy to Do Legit Online Jobs That Pay Weekly [2020 Version]
Get Paid to Read books app
If your computer is nothing more than just your work-buddy and you have little time after your day job to access it, then you can also get paid to read books through mobile apps. There are now many apps for both Android and iOS users, where you can read and earn money during your spare time.
Besides having the opportunity to read your favorite books, you can also now pay your bills by pursuing your beloved hobby. Like the websites I mentioned above, these apps will also need you to submit a small review and rate the books after reading them.
Goodreads, one of the finest social cataloging websites, has a great app for your mobile devices, where you can submit reviews of your favorite books. They frequently have job openings for in-house reviewers and proof-readers and pay a handsome amount of money.
You need to send them your updated resume, along with your writing sample and previously published articles to get things started.
Scribd is a well-known digital library that also has frequent job openings for proofreaders and book-reviewers. It not only has an elaborate collection of e-books but also features some of the most genuine reviews regarding any specific book.
And, once you are selected as an in-house reviewer, they also want the same expect the same quality from you. You need to submit an honest and subjective review of the book that they will assign you to read and rate.
BookYap not only has great analyses of motivational, non-fictional, and practical books but also features the most genuine reviews you can find online.
The good thing is that they frequently have job openings for in-house reviewers. So, if you have a keen interest in these genres of books, then you should keep an eye on the website for the next opportunity.
But, don't forget to apply with your detailed resume and writing samples to secure a broader chance of selection.
Wattpad doesn't have any direct-earning model as of now, but you will have a great chance to showcase your writing skill to the whole world through this app.
You can review books written by other Wattpad community members to make a great network. And, if you have a flair for writing stories and novels, this app will help you get adapted to web and TV series.
Once you start publishing in this app, you will also have the chance to collaborate with their in-house Wattpad Studios and Wattpad Books.
Ready to Get Paid to Read Books?
Apart from all the websites and mobile applications I have listed above, there are many offline publications that frequently require book reviewers and proof-readers.
Keep an eye on your local directories and online job-search engines to get those opportunities.
Besides online publications, the offline outfits also pay quite a decent remunerations to the reviewers these days. You just need to keep your eyes open to grab those opportunities.
Now that you have all the information, take your first step to get paid to read books.
Start applying for the position at all the websites and apps. Happy reading and happy earning, folks!
Pin this Post and Spread love ➡