How would you like to earn extra money sitting at home – with little resources, a little smartness, and a lot of free time in your hands, finding legit online transcription jobs for beginners can't be hard!
The flexible schedule and accessibility makes transcription a perfect option as both a side gig and a full-time job.
While there are prerequisites to the job, for those who have been wondering how to become a transcriptionist from home, I have all the necessary information covered in this post.
If interested, make a note of them and apply for these best transcription companies that require little to no experience. Before I unfold the list of remote home-based transcription jobs for you, let's discuss first things first.
I) What is Transcription?
Essentially, transcription is the act of converting audio and video files into text. With a set of pre-recorded audio, a transcriber writes everything that is said into a text document.
Transcription helps people make sense of the information they find difficult or overwhelming. Text can be easier to comprehend than audio or video, which is why it's often used in the medical field.
As an example of transcription, doctors use text when there is limited time during an appointment and patients are asked to read aloud what they've written.
A transcriptionist is someone, who helps in transcribing audio and video files ranging from court proceedings to classroom lectures into text format for the convenience of their clients.
Commonly, there are four types of transcription, namely Edited transcription, Verbatim transcription, Intelligent verbatim transcription, and Phonetic transcription.
In simple, transcription can be classified into General, Legal, and Medical Transcription.
While General transcription may not require you to have prior training this might not be the case in legal and medical transcription as Legal transcription relies on your previous experience while Medical transcription requires an AHDI-approved certification (Association for Healthcare Documentation Integrity).
II) How to Become a Transcriptionist?
If you have good listening and understanding skills, language proficiency, good speed-typing skills, and of course, round-the-clock availability of a sound internet connection – Viola, you are a perfect candidate for Transcription!
Requirements for General Transcription Jobs
General transcription is less demanding in its entry requirements as compared to legal and medical transcription. The requirements needed are;
Typing speed, about 60 words per min

Computer/Laptop

High-speed Internet connection

Transcribing software – Express Scribe is the current recommended industry standard.
This moderately priced Express Scribe transcription kit combines a heavy-duty USB foot Pedal (IN-USB-2), USB Transcription Headset & Express Scribe Professional Transcription Software (Digital Download).
The transcribing software also offers valuable features for typists including variable speed playback, multi-channel control, playing video, file management, and more.
You can easily install an express scribe on your computer and control audio playback using the foot pedal.
The included foot pedal is the most popular transcription USB foot pedal available. So, that being said, this is what you might need to get everything working.
Get This Best-Selling Express Scribe Pro Transcription Kit Now
Armed with all the above, you can kick start your transcription job as a beginner. As you gain experience, you will later find out that a foot pedal can increase your productivity. Remember, the more you transcribe, the more you earn!
Also, you are required to be a good listener and typist, without forgetting to follow instructions. Each company lists different style guidelines to be followed when transcribing.
What Skills Do I Need To Earn As a Transcriber?
Wondering what skills do I need to earn as a transcriber? Alongside the transcription requirements, I explained previously in this article, there are certain skills you're required to possess when applying for this job. Let's find out;
Communication skills

Typing speed and accuracy – 60 wpm is a good speed, but how about accuracy? You should avoid typing errors because they will slow you down. You have to go back and rectify them, reducing your typing speed.

English proficiency

Excellent spelling and grammar

Understanding foreign languages – This is an added advantage because you will sometimes come across media files recorded in a foreign language. You are required to translate and transcribe them into an English text file.
You should ensure that all these skills are captured in your resume since they are what the hiring companies specify.
Make sure to also capture any experience in a position where skills like typing speed and accuracy were essential.
Grammar and spelling are also important during transcribing. Reflect on past experience in your resume where language proficiency mattered.
Related Read: 10 Ways You Could Get Paid to Type
35 Legit Data Entry Jobs for Beginners
General Transcription Training for Beginners
There are several online transcription courses that you can look at to get started. Such is the Transcribe Anywhere school founded by Janet Shaughnessy, a renowned transcriptionist. It offers high-quality education for people wanting to become a transcriptionist.
TranscribeAnywhere.com is an approved school by the American Association of Electronic Reporters and Transcribers (AAERT), an organization that offers the Certified Electronic Transcriber (CET) examination and certification. Yes, All students who complete the Transcription course and pass the final exam will be awarded a Certificate of Completion.
Janet offers an all-inclusive, multimedia education system for both general and legal transcription to get you from newbie to polished professional in as little as 2-4 months. And, yes you get certified at the end of the course after taking a test.
The best part is transcription can be done sitting at home, without having to worry about commuting and without having to compromise your day – job!
Not sure, if transcription is a smart career for you? Start off with this "FREE 7-LESSON MINI-COURSE" and decide for yourself.
III) How Much Money Can You Make As a Transcriptionist?
Wondering if online transcription jobs are worth it? Yes, they are.
Transcription is a decently-paid job that is in huge demand these days that can turn out to be your full-time job. And, there's a ton of work out there for transcriptionists.
However, the money you can make depends on various factors like your accuracy, speed, volume, the type of work you are handling, and the company you work for. Each company offers different pay rates per hour.
How Much Do Beginner Transcriptionists Make?
On average, a beginner transcription makes about $0.5 per audio minute or $10-$15 per hour.
As a transcriptionist, you can expect to earn more if you are willing to take more difficult assignments or files with expedited turnaround times. The more experienced you become, the more income for the same amount of time they put in.
Of course, if you start your own business and hire subcontractors, your income can grow well beyond these figures.
The big bucks are, however, in the legal and medical fields. Start as a general transcriber and garner experience that will see return clients giving you jobs that require specialization.
You should also aim to start working directly with the client to avoid the pay cuts charged by transcription marketplaces. Fields such as medical and legal pay more.
According to PayScale and the Bureau of Labor Statistics (BLS) statistics declared in 2019, the median annual transcriptionists' salary varies between $10.04 – $27.49 an hour.
The mean hourly wage for a medical transcriptionist is $17.50, while their mean annual wage is $36,400.
On the other hand, a Legal Transcriptionist salary can be around $60,000 a year with the average median general transcription salary ranging around $40,426 per year.
And as per Glassdoor, here's a quick breakdown of how much you could as a general, legal, medical transcriptionist.
24 Online Transcription Jobs for Beginners
Are you in search of the best transcription companies to work for? Loads of companies offer transcription jobs for interested home-based transcriptionists.
Here, I've covered the best remote transcription jobs:
1. GMR Transcription
If you look at their website, GMR is associated with almost half the top brands in the world! They offer a wide range of transcription services and your assignment will be paid off based on the difficulty level.
Besides transcription services, you will also find paid captioning, translation, proofreading, and editing opportunities.
Proficient with the Spanish language? You can also take Spanish Transcription/Translation Jobs on this site.
And the best part is that you get to choose your transcription assignments and work on them whenever you see them as convenient.
The company's hiring process is easy. Why? You only have to submit your resume at the company's website career page after which the company emails you a test with instructions.
Once done, submit the test which will then be graded, and if selected, you are bound to start working after about 2 weeks.
But here's the catch, once you're hired you have to; transcribe two or more hours of audio before pay and transcribe a minimum of 4 hours of audio each month to continue working with the company.
Average Pay Scale – $1000 to $3000 per month ($10 to $15 per audio file)
2. Rev
Rev.com does transcriptions, and captions/subtitles for videos in both English and foreign languages.
This company has tie-ups with The New York Times, Viacom, CBS, PBS, and Disney (Wink! Wink!) You got to take a test for this and once you clear it they will inform you in 5 days and you can start transcribing!
If you don't qualify for the test they give you 45 days to try it again (second chance!) And you need to have a PayPal account because that's how they pay you.
Average Pay Scale – $2 to $30 per hour (depending on your skill and speed)
Related Read: Rev Pay and Legitimacy Review
3. Verbalink
Most people who want to get into home-based transcription have heard of Verbalink.
This company does transcription, translation, subtitling, and writing (copywriting, editing, proofreading, etc.)
But here's the catch – one, you have to be from the US, and also, you have to qualify for their (very) hard test.
Once you get through the test, the work will be assigned almost immediately and you have to log a certain number of hours every day (schedule them according to your convenience).
These people pay marginally more than the rest of the transcription providers and your skills will be much appreciated. And the payments are done through PayPal.
In addition, you need a foot pedal and a handset, which is a mandatory requirement of this company as their clientele is huge!
Average Pay Scale – starting with $5 to $8!
4. Quicktate
Quicktate is a site for Call Transcription and Auditing that provides services to consumer-based biggies like Ford, Coca-Cola, Wells Fargo, and Korn Ferry.
They mostly deal with legal call transcriptions of voicemail messages, phone calls, conference calls, memos, etc.
In order to work with this company, you must have prior transcription experience as well as a clean record void of any felonies or misdemeanors. You get paid weekly via PayPal.
Average Pay Scale – up to $5 to $10 per hour
5. Tigerfish
This company boasts more than two decades of transcription services and offers a high-quality finish. It takes inefficient transcriptionists and demands efficiency and sound skills in what you do.
The job may be a bit time–consuming and might have deadlines, so be prepared to work hard before entering into terms with this one.
This one pays through PayPal every fortnight.
Note: Tigerfish application requires you to be a US citizen. Check out more details about this company here
Average PayScale – about 5 cents to 10 cents per line.
6. Casting Words
Ever wanted clients like NASA, BBC, Microsoft, and SAP? Well, here's your chance to work for them. Casting Words offers high-quality transcriptions with great accuracy.
The payment is done through PayPal (weekly) and differs mostly on the type and quality of the audio/video file that you are transcribing.
If you join as a freelancer in this place, who knows someday you might end up working for NASA (as a transcriber, of course!)
Average Pay Scale – $0.02 to $1.00 per minute.
7. AccuTran Global
This company is transcriptionist friendly – the test is simple, their transcriber – base is large and diverse and you can start working almost immediately. The pay is a little less but they offer you an easy start.
These people advertise their requirements in the "Apply for Work" button on their home page and transcribers get hired accordingly. These people pay through check or wire the amount to your account.
Average PayScale – about 0.5 cents to 0.7 cents per word.
8. Daily Transcription
Multi-language subtitles, interpretations, academic transcriptions, and everything else, emailed to you!
No embarrassing telephonic conversations to handle. Just get a mail, transcribe it and mail it back. Their clientele – HBO, ABC, Harvard!
All you have to do is pass a simple test and mention your specific working hours. The pay is less but the privacy is more. They also give you training (if required), feedback, and mentor coaching.
Average PayScale – about 75 to 85 cents for every minute of the audio file (starting rates).
Also Read: Daily Transcription Reviews
9. Scribie
This company offers some of the lowest transcription rates to its customers (that include Deloitte, University of Michigan, and Intra health) and offers pay depending on the toughness of transcribing an audio file.
You have to apply for it, pass the test, and then get to select the difficulty level of the audio file that you are transcribing. They give you a monthly bonus and the expected time of completion for audio files (less than 10 mins) is about 2 hours.
Also, to work on Scribie, you must also be proficient in both written and spoken English and understand various spoken accents such as American, Indian and British accents.
Average Pay Scale – $5 to $25 per audio hour
10. 3PlayMedia
Trusted by loads of Universities (Yale, Massachusetts, Wisconsin, Colorado State, Florida) and gives loads of tips for the freelance transcribers.
This company pays based on the accuracy of your transcription (they want at least 99% accuracy, mind you!).
They have a wide range of clientele and an even wider range of services offered. They advertise the type of jobs for which they are hiring, so you need to check the website periodically.
Average Pay Scale – starting from $0.05 per line.
11. Crowdsurf
Not having much experience as a transcriber or completely new to the field? Well, you have found the best place to start as a budding transcriber.
This company encourages your initial stages of transcription and provides a platform for your work. You have to take an assessment test and then create your email with them wherein you will get your work assignments.
The company's time hours are flexible as you can work on the files assigned for whatever number of hours you want.
Average Pay Scale – $0.03 to $0.20 per media minute.
12. SpeakWrite
Supposed to be one of the highest-earning transcription services for freelancers, this company has been offering transcriptions to legal, law enforcement, protective, and business services since 1997. This has an app of its own too.
You have to register with them to get into the transcription job (Psst, they are hiring even typists!) They also require applicants to have prior experience in transcription.
Average Pay Scale – up to $20 per hour.
13. Kendall Creek Communications
They are limited to corporate and legal transcription services and are relatively new in the market. For confidential transcriptions, you need to have a security clearance.
They are completely dependent on the transcriptionist to provide the services as they do not have any platform or software on which you can work.
If you have an AAERT (American Association of Electronic Reporters and Transcribers) certification and a foot pedal, it makes you that much more desirable to them as a transcriptionist.
You need to take a few tests and work on probation on a minimum scale for a period of time.
Average Pay Scale – $0.75 to $1.75 per page
Related: 20 Beginner-friendly Legal Transcription Jobs from Home
14. GoTranscript
With a 95.5/10 rating on TrustPilot, Gotranscript gives a lot of encouragement and boosts your budding transcriptionist career with regular feedback, tips, and guidance.
They pay weekly (every Friday) through PayPal and Payoneer and give you about 6 hours for a 10-minute transcription file.
GoTranscript hires worldwide and does not emphasize prior experience to apply. You can log in through your Facebook or Google account or register through any email id.
Pay Scale – $0.60 per audio file.
Check out the full GoTranscript review here
15. Upwork
Upwork is like Uber Service of Transcription. Clients post on the website demanding transcription services and you get to select the one which you want to transcribe.
The hiring persons (those who want transcriptions) look for freelancers by posting their requirements. The better your skills (accuracy, speed, and finish), the better are your chances to be inundated by hiring clients.
All work and financial transactions are done through secure sources and the payment is done instantly through a variety of channels.
Pay Scale – The clients pay you directly, the website charges a percentage of your earnings.
Take a look at these 'Get Paid to Write for Websites'
16. SpeechPad
This company has a cool client base like LinkedIn, Amazon, Netflix, L'Oréal, and Yahoo!
You get to transcribe audio files, build captions and subtitles and earn based on the difficulty level of the file you transcribe. They pay you twice a week, require no minimum working hours, and pick whatever jobs you are interested in.
Pay Scale – starting from 25 cents per hour for the transcriber and $2 for translators.
17. TntMiami
This Miami-based web service provider has a black and white website and calls itself T'nT. They have been providing transcription, closed captioning, translation, and subtitling services for 21 years and are especially women-friendly.
The transcriptionists are evaluated first and then given a 90 – day training before they can actually start working with the company.
Average PayScale – about $ 7 to $20 per hour (depending on the type of file).
18. Dictate Express
Being a host to a wide base of clientele, Dictate Express prides itself in having readily available jobs for its transcribers.
In order to get hired, you must pass the 4 tests that are specifically designed to test your spelling, comma use in long sentences, proper and appropriate use of confusing words plus a 4-minute transcription test.
Voice recognition software is a special feature in Dictate Express that will enable you to speed up your transcribing process.
This enables you to get more audio transcribed within a short time. Isn't that what we all want- to make much more in less time?
In as much as your work schedule is flexible, you have to complete a minimum of 45 audio minutes per day in order to remain viable in the company.
Pay Scale – $9 per hour
19. Transcription Wing
Are you fresh out of school with zero experience in any task? Well, worry not as at Transcription Wing no experience whatsoever is required.
As such, Transcription Wings is also perfect for stay-at-home moms. So, go right ahead and fill out the online application on their website and make use of that extra time.
And the best part is that it deals with medical and legal transcription experience, which pays even better (More money at your disposal)
Average PayScale – 0.60 cents per audio minute
20. Transcription Divas
As the name dictates this company prioritizes clean and accurate transcription of audio files from their remote workforce. This goes a long way in ensuring a higher pay per audio minute hence a more intense hiring process is done after the submission of your application.
This means that you have to be highly proficient in English and have the required transcribing equipment such as a foot pedal.
Transcription Divas is offering online transcription jobs for beginners in the UK, US, and Australia.
Average Pay Rate – $20.85 an hour
Remote jobs that pay from $20 an hour
21. Ubiqus
Ubiqus is one of the best-paying companies for newbies as you can earn about $7.00 per hour. That said, you must be a US resident, have prior experience of 1-5 years, or have a current transcription student status to get hired on Ubiqus.
You are at liberty to choose when to transcribe an audio file. However, you are required to submit it before the set deadline and ensure that little or no revision will be necessary.
These strict guidelines do come with a high pay – Ubiqus is among the few transcription companies that pay over $10 per hour.
Average Pay Scale – $14 per hour
22. TranscribeMe
Transcribe Me is another site that offers online transcription jobs for freelancers without any experience.
It gets even better as their hiring process is easy, as upon registration you simply take an exam and wait for a reply which takes about a fortnight.
This company is dedicated to ensuring accurately transcribed audio files by dividing the files received into a short 1-2 minute clip – that ensures you spend less time transcribing the file.
Another upside of this California-based tech company is that they pay transcribers generously.
Average pay: $16 – $22 per audio hour
23. Appen formerly Appenscribe
Did you know Aussies add extra vowels to their pronunciation? Well, the future becomes 'fee-you-cha' and if one says they went to 'Maccas', it means they were at McDonald's!
Where I'm going with this? Appen is an Australian-based company that requires you to have a good mastery of different spoken and written English accents in order to accurately transcribe client files.
Getting a transcribing job at Appenscribe is simple as the hiring process is lenient, especially for newbies. Working on the platform starts immediately after you pass their tests. Beware, though, you may have to wait up a few months to get approval.
Average Pay – $10 per audio hour
24. Bam Transcription
Are you drawn to the entertainment industry like webisodes films? Here's a site that will definitely best suit you.
All you have to do is to apply as a transcriber by sending an email as the company does not have an online application system that you can just fill out.
Once submitted the email will be reviewed and if approved you are hired as one of their firm's transcribers.
Average pay rate – $15 per audio hour
Also Read: My Review of Literably Transcription Jobs
Transcription Jobs from Home: FAQs
1) How Flexible are Transcription Jobs?
How flexible an online job gets is highly dependent on the type of field you are looking to get established in.
As such, you'll find some to be more flexible than others. The company you work for is also a deciding factor in job flexibility. Traditional companies often assign you to specific job shifts. Typically, these shifts are reviewed every 6 months.
This information is provided when you are applying for a job. It's therefore clear whether a job is shift-based before you even start working on it.
Other companies will allow you to claim a job whenever you want. They are based on a first-come-first-serve schedule. Such jobs are more flexible, but the jobs will not be always available every time.
And finally, some companies will hit you with a deadline for you to finish a job. They don't care whether you are working on the job, provided you're done on time.
2) Typical Transcription Interview Questions:
Before a transcription company hires you, you have to pass an interview.
And of course, the interview questions vary from one company to the other, but I have done my research and come up with a list of the common questions you will come across in all companies;
Do you verify your work twice? Provide an example of when you caught errors while verifying.

Explain how knowledgeable you are when it comes to grammar and spelling. Answer whether you've heard experience in this role.

Explain your organization skills.

Give reasons why you want to work for this company and what drew you to it?

How available are you in your schedule? Can you meet the required job schedule?

Do you have any experience working remotely?
Alongside these questions, you'll also come across more role-specific questions such as;
What would you do if you misunderstood a specific part of an audio file?

The medical specialty you find difficult to transcribe and the reason why?

Explain your training experience in this field and whether you hold any certificates?

When you don't understand a term in a file, what material will you use to learn the meaning of this term?

Since the files you'll be transcribing are confidential, how will you ensure this confidentiality?
To a beginner, these might seem like difficult questions. Worry not, these are just the basics that you can learn from demo jobs that come with many transcription platforms.
3) How To Identify Scams In Transcription?
Scam jobs are definitely on the rise. How do you, therefore, know whether this job is a scam or not? To help you answer this, here are some questions that will guide you to determine the credibility of a company.
Why is this company too good? Some companies will have better payment terms than the standard pay across other platforms. This is probably a scam company.
Why pay you before you pay me? If you come across a company that asks you to pay during the application process, DON'T, it's a scam. Ideally, they should take their cut from your earnings!
I can't find this company's name and information, why? It's probably because it's a scam. Legitimate companies always want you to do a background check and gather information about them. Why would a legitimate company hide its name?
Why do you need my personal information? Be cautious when a company requests too much of your personal details. It may be because they want to steal from you. Mostly, your names and email address should suffice.
4) Is it hard to be a transcriptionist?
Not necessarily, there are a set of skills that indicate that you may be an especially good transcriptionist but everyone is capable of learning and honing the skills required through practice and training. While transcribing has downsides, as does every job, the perks greatly outweigh them making it both a great full-time and part-time job.
5) Are Transcriptionists Still In Demand?
Transcription is especially in demand because bloggers and YouTubers need transcriptions.
Anyone who makes videos can use captions and many need their video content turned into text-based web content. With podcasters increasing constantly, many podcasts employ transcribers.
Almost all online business owners have a blog that can use transcribed content. Outside of new ways transcription has grown with the internet, there are many older businesses that need transcribers.
Additionally, corporate businesses often need board meetings and conference calls transcribed. Legal professionals with hearings, police interviews, and interrogations can use transcribers as well.
Journalists and media professionals have a need for interviews and biographies, as does anyone who does research and/or interviews. Medical to educational to market research companies have a steady need for transcriptions.
Captioning is a form of transcribing that requires time stamping. Neither is inherently easier or harder than the other as it depends entirely upon the recording being listened to. Since the skills required are essentially the same, it is a personal preference that is better.
7) How fast do I need to type to be a transcriptionist?
The average speed for the general transcriptionist is 50 words per minute while transcriptionists who work on time-sensitive projects typically type closer to between 65 and 75 words per minute.
Overflow and non-crucial transcribers type an average of 40 to 45 words per minute.
You should not let your typing speed hold you back from becoming a transcriptionist since your speed will only increase with time and practice.
You can check your own typing speed and accuracy percentage here!
8) How many hours does it take to transcribe 1 hour of audio?
It takes the average transcriptionist 4 hours to transcribe 1 hour of audio, but it depends on the specifics of the audio itself and the skills of the transcriber.
Just like with typing, do not let your speed discourage you from becoming a transcriptionist since you will get quicker with each job.
9) How to Find Online Transcription Jobs?
All you have to do is pass the simple online test that usually assesses your listening, understanding, and typing skills and they immediately let you into their services.
A little bit of discretion and confidentiality would be required sometimes if the content is delicate. Listed above are some popular companies offering work-from-home transcription jobs.
10) What is the Best Transcription Company to work for?
What defines a good transcription company is how it fares when compared with other platforms in its field. The best company, therefore, is one that offers the best pay rates and one with good customer service, since it's not all about the money.
Going through this review you'll find that Rev is the best company that meets your needs. When it comes to rates, the best companies start at around $0.8-$2 per minute.
11) What is the Best Transcribing App?
There is no transcription application that is more accurate than a human transcriber, but there are many transcribing apps that can make it easier to either get audio transcribed or to be a transcriptionist.
Rev Voice Recorder: This free voice and audio recorder will create audio files that are easily transcribable from your phone. The app allows for clear and accurate recording. Download it here!
Temi Record and Transcribe App: This app uses world-class speech recognition technology to transcribe recordings live. It is less accurate than human transcribers but it is instant and has an accuracy rate between 80% and 85%. Find it on iPhone here

and Android

here

!

Google Docs Voice: This free app cannot transcribe audio files, but can transcribe live audio with fair accuracy.
Rev Call Recorder: This app uses elite speech recognition services to record phone calls and send them directly to Rev for accurate transcriptions.
Are Transcription Jobs Really Worth It?
There are practically no downsides to transcribing, and the one that comes to mind (needing the skills required to complete your jobs) has a solution at the end of this article!
Outside of that, transcribing is perfect for anyone since it fits into any schedule. Transcribing can be done at any time of day and on any day of the week. The hours are entirely chosen by you and work can be found all over the world.
The pay is fantastic as both an extra side hustle and a full-time job. You can easily earn anywhere from 1,000 to 3,000 dollars a month depending on how much time you put in, and your experience level.
And given the large variety of work and options for specialties, you can work in a field that interests you.
To get started, all you need to do is apply for a job in one of the transcribing companies, with each company having its own set of requirements. You're required to own a computer, internet connection, headsets, and transcribing software. Once you undertake a company's test, they'll get back to you with transcription jobs if you qualified.
What if you've never done transcription before? I highly recommend enrolling in this basic mini-course, Transcription Foundations, first — that way you can learn the basics about general transcription and get hired thereon.
If you've already worked for any of these companies, I'd love to hear from you.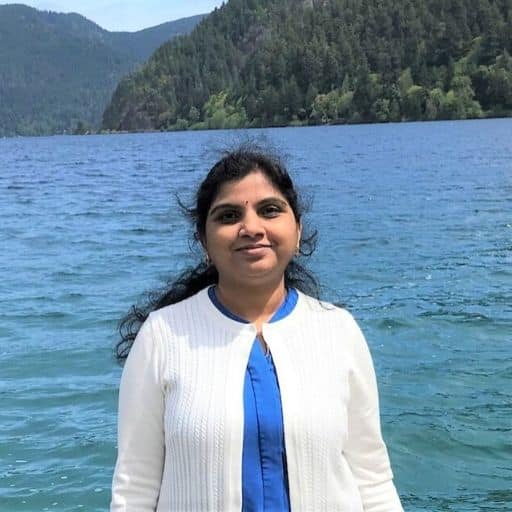 Hey Folks, thanks for stopping by my blog!
I'm Swati. I'm a mom, side hustler, full-time blogger and a millennial work-at-home expert featured on Forbes, CEO Blog Nation, Referral Rock, Vital Dollar, and Databox blog. I embarked on this impeccable journey to expose my online monetary experiences and help you all earn money from home. Come join my make money revolution and attain financial freedom – it's not as hard as you think!