How would you like to earn extra money sitting at home – with little resources, a little smartness and a lot of free time in your hands?
If yes, then make a note of these transcription jobs from home that require no experience. Before, I unfold the list of Remote Home-based Transcription Jobs, let's discuss first things first.
What is Transcription?
We find it easier to read online than listen to an audio file or watch a video. Often this is because the accents are not understandable or the internet is too slow to buffer them. Text consumes less space than audio or video files.
Transcriptionists help in transcribing these audio and video files ranging from court proceedings to classroom lectures into text format for the convenience of their clients. At times, it can also be data entry or report writing works, which would sometimes require a good grip on language and grammar.
Transcription can be classified into General, Legal, and Medical Transcription. Legal and Medical transcription requires all of the skills necessary as a general transcriptionist with the added knowledge of legal and medical terminology.
What does it take to become a Transcriptionist?
If you have good listening and understanding skills, language proficiency, along with good speed – typing skills and of course, round the clock availability of a sound internet connection -Viola, you are a perfect candidate for Transcription!
Wondering, how long it takes to transcribe one hour of audio?
The industry standard is four hours of transcription time for one hour of clear audio. For an entry-level transcriptionist, it might take much longer. With this in mind, you can select your working hours, plan the amount that you can transcribe per day and work out the timings at your convenience.
The best part is transcription can be done sitting at home, without having to worry about commuting and without having to compromise your day – job!
Janet Shaughnessy, a renowned transcriptionist and the creator of Transcribe Anywhere, offers high-quality education for people wanting to become a transcriptionist.
TranscribeAnywhere.com is an approved school by the American Association of Electronic Reporters and Transcribers (AAERT), an organization that offers the Certified Electronic Transcriber (CET) examination and certification. Yes, All students who complete the Transcription course and pass the final exam will be awarded a Certificate of Completion.
Janet offers all-inclusive, multimedia education system for both general and legal transcription to get you from newbie to polished professional in as little as 2-4 months. And, yes you get certified at the end of the course after taking the test.
Not sure, if the transcription is a smart career for you? Start off with this "FREE 7-LESSON MINI-COURSE" and decide for yourself.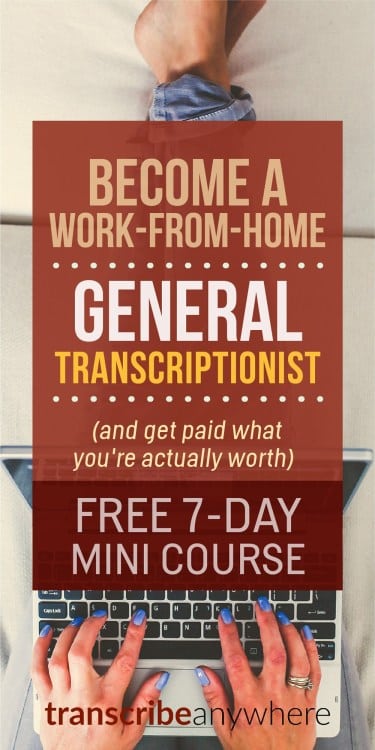 Interested in General Transcription? ➡ Click here to Sign up for this FREE General Transcription Mini-Course.
How Much Money Can You Make As a Transcriptionist?
Transcription is a decently-paid job that in huge demand these days. And, there's a ton of work out there for transcriptionists.
According to the Bureau of Labor Statistics (BLS), the mean hourly wage for a medical transcriptionist is $17.50, while their mean annual wage is $36,400. On the other hand, a Legal Transcriptionist salary can be around $60,000 a year. The average median annual income for a general transcriptionist is currently $45,000.
However, the money you can make depends on various factors like your accuracy, speed, the volume and the type of work you are handling. As a transcriptionist, you can expect to earn more if you are willing to take more difficult assignments or files with expedited turnaround times. The more experienced you become, the more income for the same amount of time they put in. Of course, if you start your own business and hire subcontractors, your income can grow well beyond these figures.
How to Find Online Transcription Jobs?
All you have to do is pass the simple online test that usually assesses your listening, understanding and typing skills and they immediately let you into their services. A little bit of discretion and confidentiality would be required sometimes if the content is delicate. Listed below are some popular companies offering work from home transcription jobs.
17 Transcription Jobs from Home (No Experience)
Are you in search of the best transcription companies to work for? Loads of companies offer Transcription Jobs for interested home-based transcriptionists. Here, I've covered the best ones:
If you look at their website, you will find that they are associated with half the top brands in the world! They offer a wide range of transcription services and your assignment will be paid off based on the difficulty level. Besides transcription services, you can also find the translation, proofreading, and editing services.
Proficient with the Spanish language? You can also take Spanish Transcription/Translation Jobs in this site
Average Pay Scale – $1000 to $3000 per month ($10 to $15 per audio file)
The Rev.com does transcriptions, captions/subtitles for videos in both English and foreign languages. This company has tie-ups with The New York Times, Viacom, CBS, PBS and Disney (Wink! Wink!) You got to take a test for this and once you clear it they will inform you in 5 days and you can start transcribing!
If you don't qualify in the test they give you 45 days to try it again (second chance!) And you need to have a PayPal account because that's how they pay you.
Average Pay Scale – $2 to $30 per hour (depending on your skill and speed)
Most people who want to get into home-based transcription have heard of Verbalink. This company does transcription, translation, subtitling and writing (copywriting, editing, proofreading, etc.) But here's the catch – one, you have to be from the US and also, you have to qualify their (very) hard test.
Once you get through the test, the work will be assigned almost immediately and you have to log a certain number of hours every day (schedule them according to your convenience). These people pay marginally more than the rest of the transcription providers and your skills will be much appreciated. These people also pay through PayPal. In addition, you need a foot pedal and a handset, which is a mandatory requirement of this company as their clientele is huge!
Average Pay Scale – starting with $5 to $8!
This is a place for Call Transcription and Auditing. They provide services to the consumer based biggies like Ford, Coca Cola, Wells Fargo, and Korn Ferry. They mostly deal with legal call transcriptions of voicemail messages, phone calls, conference calls, memos, etc. This company also pays through PayPal (weekly).
Average Pay Scale – up to $5 to $10 per hour
This company boasts more than two decades of transcription services and offers a high-quality finish. It takes inefficient transcriptionists and demands efficiency and sound skills in what you do. The job may be a bit time – consuming and might have deadlines, so be prepared to work hard before entering into terms with this one. This one pays through PayPal every fortnight.
Average PayScale – about 5 cents to 10 cents per line.
Ever wanted clients like NASA, BBC, Microsoft and SAP? Well, here's your chance to work for them. Casting Words offers high-quality transcriptions with great accuracy.
The payment is done through PayPal (weekly) and differs mostly on the type and quality of the audio/video file that you are transcribing. And if you join as a freelancer in this place, who knows someday you might end up working for NASA (as a transcriber, of course!)
Average Pay Scale – $0.02 to $1.00 per minute.
This company is transcriptionist friendly – the test is simple, their transcriber – base is large and diverse and you can start working almost immediately! The pay is a little less but they offer you an easy start. These people advertise their requirement in the "Apply for Work" button on their home page and transcribers get hired accordingly. These people pay through check or wire the amount to your account.
Average PayScale – about 0.5 cents to 0.7 cents per word.
Multi-language subtitles, interpretations, academic transcriptions, and everything else, emailed to you! No embarrassing telephonic conversations to handle. Just get a mail, transcribe it and mail it back. Their clientele – HBO, ABC, Harvard! All you have to do is pass a simple test and mention your specific working hours. The pay is less but the privacy is more. They also give you training (if required), feedback and mentor coaching.
Average PayScale – about 75 to 85 cents for every minute of the audio file (starting rates).
This company offers some of the lowest transcription rates to its customers (that include Deloitte, University of Michigan, Intrahealth) and offers pay depending on the toughness of transcribing an audio file. You have to apply for it, pass the test and then get to select the difficulty level of the audio file that you are transcribing. They give you a monthly bonus and expected time of completion for audio files (less than 10 mins) is about 2 hours.
Average Pay Scale – $5 to $25 per hour.
Trusted by loads of Universities (Yale, Massachusetts, Wisconsin, Colorado State, Florida) and gives loads of tips for the freelance transcribers. This company pays based on the accuracy of your transcription (they want at least 99% accuracy, mind you!). They have a wide range of clientele and an even wider range of services offered. They advertise the type of jobs for which they are hiring, so you need to check the website periodically.
Average Pay Scale – starting from $0.05 per line.
Not having much of an experience as a transcriber or completely new to the field? Well, you have found the best place to start as a budding transcriber. This company encourages your initial stages of transcription and provides a platform for your work. You have to take an assessment test and then create your email with them wherein you will get your work assignments.
Average Pay Scale – $0.03 to $0.20 per media minute.
Supposed to be one of the highest earning transcription services for freelancers, this company has been offering transcriptions to legal, law enforcement, protective and business services since 1997. This has an app of its own too. You have to register with them to get into the transcription job (psst, they are hiring even typists!).
Average Pay Scale – up to $20 per hour.
They are limited to corporate and legal transcription services and are relatively new in the market. For confidential transcriptions, you need to have a security clearance. They are completely dependent on the transcriptionist to provide the services as they do not have any platform or software on which you can work.
If you have an AAERT (American Association of Electronic Reporters and Transcribers) certification and a foot pedal, it makes you that much more desirable to them as a transcriptionist. You need to take a few tests and work on probation on a minimum scale for a period of time. Here are 15 reputed companies offering legal transcription jobs from home.
Average Pay Scale – $0.75 to $1.75 per page
This company too gives a lot of encouragement and boosts your budding transcriptionist career with regular feedback, tips, and guidance.
They pay weekly through PayPal and Payoneer and give you about 6 hours for a 10-minute transcription file. They hire worldwide. You can log in through your Facebook or Google account or register through any email id.
Pay Scale – $0.60 per audio file.
This is like Uber Service of Transcription. Clients post on the website demanding transcription services and you get to select the one which you want to transcribe. The hiring persons (those who want transcriptions) look for freelancers by posting their requirements. The better your skills (accuracy, speed, and finish), the better are your chances to be inundated by hiring clients. All work and financial transactions are done through secure sources and the payment is done instantly through a variety of channels.
Pay Scale – The clients pay you directly, the website charges a percentage of your earnings.
This company has a cool client base like LinkedIn, Amazon, Netflix, L'Oréal, Yahoo!, NYU. You get to transcribe audio files, build captions and subtitles and earn based on the difficulty level of the file you transcribe. They pay you twice a week, require no minimum working hours and pick whatever jobs you are interested in.
Pay Scale – starting from 25 cents per hour for the transcriber and $2 for translators.
This Miami based web service provider has a black and white website and calls itself T'nT. They have been providing transcription, closed captioning, translation, and subtitling services for 21 years and are especially women-friendly. The transcriptionists are evaluated first and then given a 90 – day training before they can actually start working with the company.
Average PayScale – about $ 7 to $20 per hour (depending on the type of file).
Ready to take up Remote transcription jobs?
Go ahead and sign up for these companies.
What if I've never done transcription before? I highly recommend enrolling in this basic mini-course, Transcription Foundations, first — that way you can learn the basics about general transcription and get hired thereon.
If you've already worked for any of these companies, I'd love to hear from you.