In this GoTranscript review, I'll walk you through 'What is GoTranscript and Is GoTranscript legit or a scam?' as well as answer any questions you may have.
Among the scores of legit transcription sites that pay well, this Scotland-based platform comes highly recommended. But to ensure that you have all the info you need to earn as a transcriptionist, here is a comprehensive review of GoTranscript.
From the onset, the platform is legit with the likes of Netflix, BBC, and a good number of universities being amongst its customer base.
However, for freelancers, it's not just about the legitimacy but also how much the company pays and its suitability for those looking to work from home, especially without being on a phone.
In this review, we are going to look at employee and service reviews of the company on Reddit and other similar review platforms. We are also going to find out how much they pay and how to get started on their online transcription jobs.
Read on for a glimpse of GoTranscript tests for its independent contractors and especially how to pass their audio tests.
Let's get to it, starting with what the company is all about…
GoTranscript Review: Features Overview
| | |
| --- | --- |
| CRITERIA | FEATURES |
| Year Established | 2005 |
| Purpose | Video & Audio transcription |
| Available Countries | Worldwide |
| Membership | 18 Years and older |
| Subscription Plans | None |
| Average Earnings | $0.60 per audio/video minute |
| Cuts & Commissions | None |
| Minimum Payout | No minimum |
| Payment Method | PayPal & Payoneer |
| Bonus Program | 10% on referrals |
| Google Play | None |
| App Store | Available |
| Ratings & Accreditations | 4 stars on Glassdoor |
| GoTranscript Review: Final Verdict | Legit and pays as advertised |
What is GoTrancript?
GoTranscript is a transcription services company founded in Scotland in 2006. They deal with analyzing audio and video files to give a text output.
Currently, the company has transcribed over 144m minutes of work which is done by thousands of transcribers and proofreaders from around the world. That said, the majority of their transcribers are native English speakers residing in the US and UK.
Formerly known as SpeechtoText, Go Transcript caters to clients such as the University of Cambridge, Stanford University, Bose, and Fisher & Paykel Healthcare. Apart from transcription, their other services include subtitling, translation, and captioning.
The company uses AI to handle some jobs but as luck has it, human intelligence trumps machine intelligence.
As such, the company needs human eyes and ears to manually go through the files and transcribe them. And that's where your skills as a work-from-home freelance transcriber come into play.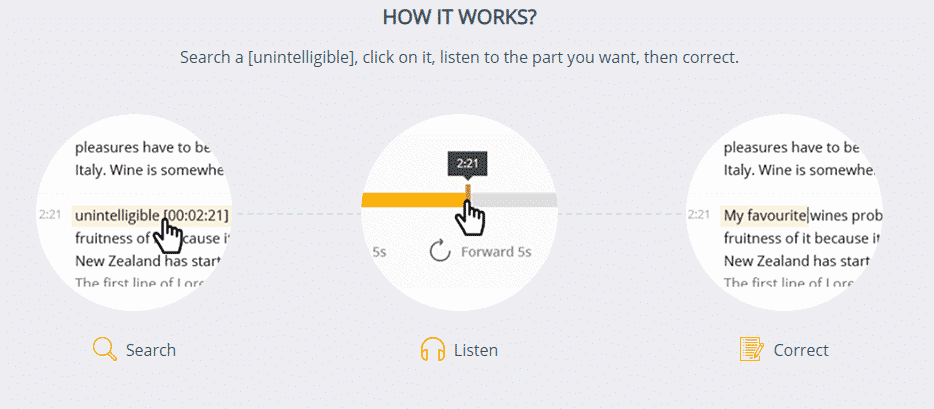 GoTranscript Jobs
GoTanscript offers 4 categories of jobs to remote workers, namely:
a) GoTranscript Audio and Video Transcription
Transcribing audio and video files helps clients to gather useful information and data fast. Such files can be of any length but are subdivided to have several transcribers working on them for increased productivity. Transcription can be of any number of content including seminars, speeches, sermons, and lectures.
Most of the work falls under general transcription which comes with low pay rates in the industry. The big bucks are in legal, medical, and financial transcriptions jobs which GoTranscript also has plenty of.
b) GoTranscript Translation
Translation can involve working on the text, video, and audio files. The aim is for clients to reach a wider audience for business, politics, or personal reasons. Translators also make it easier for English speakers to understand academic papers, games, apps, and patents written in foreign languages.
Currently, GoTranscript employs translators in over 15 languages including Spanish, German, and French.
c) GoTranscript Subtitling and Captioning
Usually, these jobs involve working on video files to create a text that can be read by whoever is watching on a digital screen.
This part of the job is usually interesting with freelancers having early viewing of movies and TV shows. Also, subtitling and captioning may involve high-paying files such as Forex, software, legal, and technical engineering videos.
These jobs also involve generating captions in a different language other than the one from the originating file. Additionally, unlike transcription which mostly requires you to generate word-for-word text from files, captioning is a bit different.
It's up to you to translate and generate words that the audience can understand as if the original video was in their native tongue.
How to Become a Transcriber On GoTranscript?
From the above job scope, it's evident that GoTranscript only works with the best transcribers in the industry. So, before I tell you how to apply on the transcript, I have a question- how are your transcription skills?
If you are just beginning, I recommend trying out Janet Shaugnessy's free 7-lesson mini transcription course. Janet is a leader in the industry for over 10 years under her belt. She teaches both general transcription and legal transcription.
It's also in your best interest to couple the transcription test with proofreading skills that come in handy in these types of freelance jobs. The best course to take is Caitlin Pyle's 76-minute proofreading workshop. What I like most about this training is that it's completely free!
Now, back to the GoTranscript application process. First, you need to click on this link to sign up. Next, you will be tested before accessing the platform's job board.
To help you out, GoTranscript provides 28-point guidelines for their transcription style. The instructions also come with in-house transcription software to make it easy for you to pass the test.
As I had stated earlier, this platform is highly competitive. As such, after you pass the test and get hired, your work needs to be excellent.
On the upside, the jobs page is very detailed to ensure that you only pick jobs that you can handle. Here, you will get to see the text format, length, and turnaround time of each job.
NOTE: Each job is proofread for accuracy and style, and rated based on a 5-point grading system. If you don't score at least 3.7 in your first 3 jobs, your approval is withdrawn. On the other hand, if you maintain an average rating of 4.5 and above, you can apply for an editorial position.
GoTranscript Pay: How Much Can You Make on GoTranscript?
GoTranscript says that transcription services on the platform pay between $150 and $1215 per month. Your earnings are paid every Friday through PayPal and Payoneer.
They don't require you to earn a given minimum to make a withdrawal. Also, if you choose PayPal as your payment method, the company covers the withdrawal fees.
The company pays up to $0.60 per audio or video minute.
According to GoTranscript reviews on Glassdooor.com, on the lower scale, transcribers make a base pay of $3/hour while seasoned subcontractors make up to $13 per hour. Translators earn around $2k per month and up to $17 per hour.
GoTranscript Test
To work on GoTranscript, you have to pass their test. Luckily, it does not require timestamping and as such, working on it should be easy. Also, the test comes after you have read all their transcription style guidelines- so read and understand them first.
Further, the company furnishes you with old transcription tests to practice on. And for each test, you will see any errors you have done to ensure perfection.
The tests are for both transcription and editing jobs. Unfortunately, some of the tests are heavily accented; which is a good thing since once you pass the actual test, you will encounter such files on the job board.
Click here to access GoTrascript practice tests.
How to Pass The Audio Test in Gotranscript?
The biggest obstacle to your GoTranscript application is its test. To begin with, the audio test calls for clean verbatim. This means that you have to be able to listen clearly and navigate through the file with ease. For that to happen, have your noise cancellation headset and foot pedal ready.
Apart from attempting all the practice tests, do not rely on any transcription software to transcribe for you. Such AI's are prone to mishear and omissions. Also, leverage your internet research skills to understand the topic you are transcribing.
For example, for a medical audio file, search for terms to do with the disease or treatment. This will help you to avoid mishears and making assumptions.
GoTranscript Reviews On Reddit
The best way to know the legitimacy of any online platform is by reading the opinions of its current and former employees on online forums. And what is the best review platform if not Reddit, a leading American web content rating website?
For a clear look at what GoTranscript is all about, below are both positive and negative GoTranscript reviews that touch on the test, pay, services, and employees.
This first review is about the GoTranscript test from an unsuccessful applicant. The worry here is that the test includes an extra person interrupting the audio with non-related commentary. Among the suggested solutions arising from the query include:
Listing the commentary as an extra speaker

Using annotation, such as [background noise], to indicate sound events

Not overly depending on the practice tests, but to rather master all the guidelines
In the next review, the user seeks insights on how to make it on GoTranscript. Among the advice shared include:
Picking easy jobs when starting out to ensure good ratings

Disputing unfair ratings

Making note of changes made by editors to improve your transcription
GoTranscript Reviews (Service-Based)
When it comes to services, GoTranscript does seem to be a fair employer. Case and point: In the below thread, the redditor inquires about the closure of dormant accounts.
From the answers, your account will remain active for years without any jobs to show off. During this time, you will continue receiving emails about job opportunities.
And when opt to start working again, the will be no penalties. The only way the company drops you is on request or when your rating is 3.6 or below.
Note: The redditor gives 3.4 as the cut-off rating but that has recently been amended to 3.6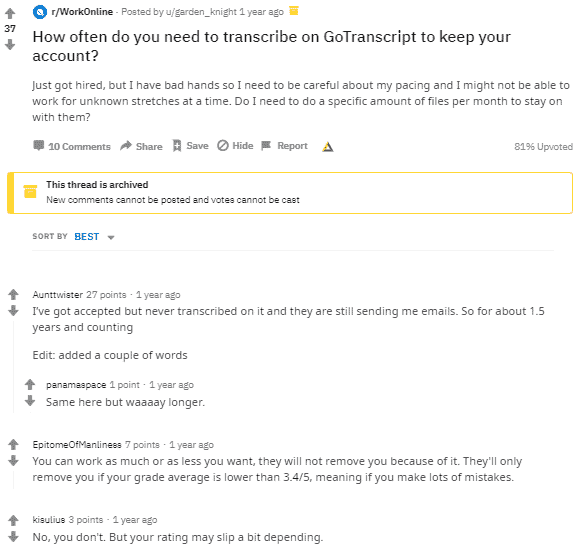 Other reviews on Reddit point to GoTranscript as one of the best weekly paying platforms for freelancers. For an overall view of their services, here is how glassdoor.com rates GoTranscript based on salaries, services, benefits, and so on.
GoTranscript rates high on job availability, life/work balance, and business culture and values.
GoTranscript Reviews (Employee-Based)
None of the critical negative reviews about the company point to it being a scam. For example, take a look at the 2-star reviews from a former and a current GoTranscript transcriber below.
The first reviewer worked for less than a year. They applaud the company for being timely with PayPal payments and the freedom to work when your schedule allows. Their disappointment is about low wages and scarcity of work.
My two cents is that pay is relative to the effort and time that you put into your work. With the right equipment, training, and stellar typing speed, you should be able to earn way above the average pay of $150 per month quoted by GoTranscript.
Here is how: Assuming that you can hit 90% -95% accuracy, you should transcribe 5 minutes in 1 hour easy. At a base rate of $0.60 per minute, you make $450/month (0.60 X 5 X 30).
I have based these calculations on entry-level ability; expert transcribers can transcribe 20 minutes in 1 hour!
About job scarcity, just like other online job boards, the trick is to keep on checking for new job updates regularly. This applies to all other large job marketplaces that offer transcription jobs including Upwork and Fiverr.
The redditor above shares an even better approach to making more money on GoTranscript. Their advice is to work both as transcriber and editor with the goal of making up to $1500 per month.
Lastly, here are some GoTranscript 5-star reviews:
What I Like About GoTranscript
The majority of the positive reviews paint a picture of a legit and good platform to work on. Also, the ability to choose the files you wish to work on gets GoTranscript lots of praise. This is as opposed to other websites that assign you files without the chance of requesting different ones. Additionally, these users say that there are enough jobs to choose from and with high ratings, the pay is good.
However, if you still feel that the pay is low or the jobs are difficult, I direct you to try:
Is GoTranscript Legit? Is It Safe & Real or Fake?
GoTranscript is a legit transcription company with thousands of jobs available to their remote transcribers. The platform is highly rated on many review sites with TrustPilot awarding it 4.6 stars out of the possible 5.
So, GoTranscript is 100% Legit and Safe to use!
Their pay rate is above average with top earners making around $1215 per month. The platform also has one of the best turnaround times in the industry (6 hours to transcribe 10 minutes).
So, not only is GoTranscript legit, but is safe, reliable, and also ranks high among the best online websites to work on for beginners.
Interested? Apply to become a transcriber on Gotranscript here!
Have you worked with GoTranscript? How are their pay and jobs? I would like to hear your views in the comment section below.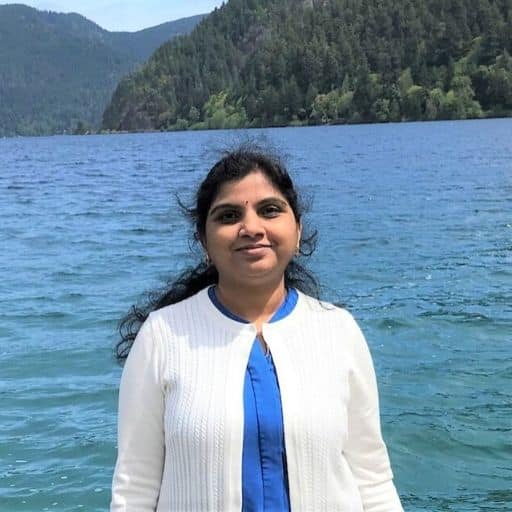 Howdy Folks, thanks for stopping by my blog.
I'm Swati, a proud mom, dedicated side hustler, full-time blogger, and a recognized millennial work-at-home expert. My expertise has been featured on esteemed platforms such as Forbes, CEO Blog Nation, Referral Rock, Vital Dollar, Databox blog, and many more. I have embarked on this incredible journey to share my firsthand experiences in the world of online income generation and to assist all of you in earning money from the comfort of your homes.
Join me in my mission to revolutionize the way we make money and achieve financial freedom. Trust me, it's not as challenging as it may seem!
Together, let's explore the boundless opportunities and pave our paths towards a prosperous future.