If you are going to engage in a side hustle, then you need to ensure that it is totally legit. When you work for a platform like Rev that pays weekly, you need a guarantee that your 7 days of hard work won't go to waste.
So, Is Rev transcription legit or a scam? Does Rev actually pay? In this Rev transcription review, I will answer all your burning questions about this leading platform, and more so, concerning its legitimacy.
As one of the leading transcription platforms, Rev is bound to elicit both negative and positive vibes depending on what you hear, perceive, or experience.
Luckily for you, I have combined all these with extensive research to prepare a very honest Rev Transcription review.
Are you ready? Here is everything you need to know about Rev.com.
What is Rev.com?
Rev is a San Francisco and Austin-based company that offers transcription, closed captioning, and translation services. It was opened its doors in 2010 and currently has over 50,000 independent contractors serving more than 170,000 customers.
The platform's clientele includes companies such as Microsoft, PBS, Amazon, and Comcast. If that is not a good measure of legitimacy, Rev has been featured on Tech Crunch, The Wall Street Journal, and was PC Magazine's 2019 Best Transcription Service.
According to its founders, Rev is pegged on an advanced speech recognition software that offers 'exceptional accuracy'. Work is done by both in-house staff and, luckily for you, work-at-home freelancers.
Over the years, the company has received varied reviews, mostly due to unstable base pay. In 2019, the platform slashed the minimum pay rate for transcribers from 45 cents per minute to 30 cents per minute.
At the same time, customers' fees raised to $1.25 per audio/video minute- an increase of $0.25 from yesteryears. Rev justified the upward shift by promising a higher rate to transcribers for 'difficult files'. They also promised to be less strict on their grading system.
The news didn't go well with both customers and workers. Freelancers felt slighted in that, the company was now earning more per minute of transcription yet it was paying less.
Rev.com Jobs
Freelancers on Rev choose jobs from 4 categories on the platform. Primarily, the website offers transcription jobs to freelancers both in the US and elsewhere in the globe.
These are work-from-home opportunities that don't require much training or capital. Rev gives you an option of working on 2 broad categories; Transcription and captioning.
As a transcriptionist your work entails:
Listening to audio recordings as well as video files

Converting what you hear into text, and

Labeling the speakers as accurately as possible
If you decide to try your luck as a captioner, you will:
Watch a video

Convert what you hear into text

Convey the sound in a creative manner, and

Synchronize the typed text with the video file
The job may also require you to translate audio/video files from one language to the other.
Is rev captioning legit? I say it is. Basically, clients post hundreds of jobs on the platform and it's upon you to choose what you best qualify for. To make your decision easier, the Rev lists the content, deadline, and pay upfront. As such, you can claim a job that best fits your schedule and preferences.
Additionally, the platform offers an online-based transcription software that aids in capturing speech from the files. Once the text has been generated, you can download it into the required format, such as MS Word, and PDF.
All this sounds easy but you may have to contend with poor audio quality, several speakers talking at the same time, disturbing content, and accents. That said, compared to other side-hustle ideas such as paid surveys, Rev pays better and the job supply is constant.
Interested in Legal transcription? Proceed here
How Much Does Rev Pay? Is Rev.com Worth It?
You are here for ways to make money, right? So let's get to it!
Rev pays you depending on the work that you do; there is no standard pay. Transcriptionists make between 30 cents to 90 cents per audio or video minute.
On the other hand, captioners can make anything from 45 cents to 75 cents per minute.
It takes you about 1 hr to transcribe 20 minutes of audio/video file. On the lower-earning scale, you could be looking at $6/hr and about $18/hr, on the upper scale.
The platform reports that the average earnings among its transcriptionists is $245 per month. Currently, the top earners are making about $1495 per month. The average earning of the top 5% of contractors is around $900/month.
I wouldn't call the pay much, not when there are other stay-at-home jobs that can make you up to $50/hr. There is an upside though,- Rev transcription jobs don't require much experience, just a good set of ears and basic typing skills.
How's your French or German? If you are fluent in a foreign language, Rev translators make between 5 cents and 7 cents per word. This translates to about $6 to $8 per minute of a standard speech.
Rev captioning is another favorable earning stream with Revvers making between $5 and $8 per video minute.
Completed work undergoes stringent grading and you could be looking at more than 5 hours to transcribe a 20-minute file. With this in mind, a beginner should expect to complete about 15 jobs per month, making about $150.
Still, on the pay, you should not approach Rev as your new and only source of income. When it comes to online gigs, the best move is to combine several earning streams.
Rev Captioning Test
Before you go expecting to hit the above amounts in your first month, you should know that it takes a while to get used to the work. You will also have to go through grammar and other tests.
In particular, the Rev captioning test is not a walk in the park. Many beginners fail the test over and over. The failure rate is so high that questions like 'is Rev captioning legit? Are so common in forums discussing Rev jobs.
Don't give up hope, though, the test is difficult but doable. To begin with, as we have seen, captioners earn better than transcriptionists. Thus, it makes sense that the test is a tad complicated.
The test requires you to caption 3 short videos that should take about an hour. I recommend practicing on free online captioning software such as Aegisub, Jubler, and Subtitle Horse before attempting the test.
Is Rev.com Legit?
To know whether Rev is legit or not, the best approach is to look at what its clients and contractors have to say about it – and we will definitely do this.
That said, we can start by looking at how the company fares in the business world.
From the many accolades that Rev receives in business journals, it's safe to assume that they are legit. You also have to consider that the Rev is trusted by Amazon, a trillion-dollar company.
If that doesn't convince you that Rev is not a scam, let's look at real indicators of the company's practices.
REV Rating on Trustpilot and BBB
Out of over 5,000 client reviews, Rev gets a 4.2-star rating on Trustpilot. 82% of its clients also give it an 'excellent' rating. This leading customer review website also ranks Rev at 14th place from a pool of 47 in the Online Marketplace category.
Better Business Bureau, simply known as BBB, is another good marketplace trust evaluator. The company has been around for over 100 years and focuses on business based in the US, Canada, and Mexico.
BBB awards an A+ through F rating. The evaluation is based on the information that is available to the public, clients' reviews, and workers' reviews.
So, how is Rev's performance according to BBB? Rev has an A+ BBB accreditation. What this means is that the company rates positively on factors such as transparency and type of business.
Also, an A+ rating shows that the company comes with good complaints handling and excellent customer service. Still, on legitimacy, it's important to note that not many of Rev's competitors, such as Daily Transcription and TranscribeMe, are BBB-accredited. So yes, considering all the evidence, Rev is legit.
Rev Transcription Reviews
As I mentioned earlier, Rev has been on the receiving end of bad press due to their low minimum pay. This is not to say that the company does not get good reviews from other quarters.
Let's start with the negative Rev reviews first…
This review posted on Glassdoor boldly claims that Rev is a scam. A closer look at it, however, leaves you with more questions than answers.
Source: Glassdoor.com
For example, why is it that the reviewer worked for more than a year for a company that is supposedly not legit? There is also the question of admitting that Rev does indeed pay "around 40 cents per video minute".
What comes out from reading the entire post is that these are just the ramblings of a disgruntled freelancer. If you are not yet convinced, it's worth noting that Rev has a physical address that you visit – something that's not common with scams.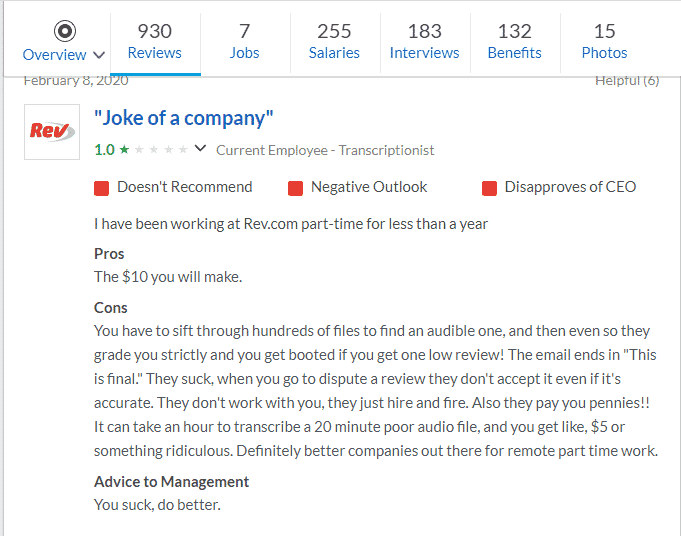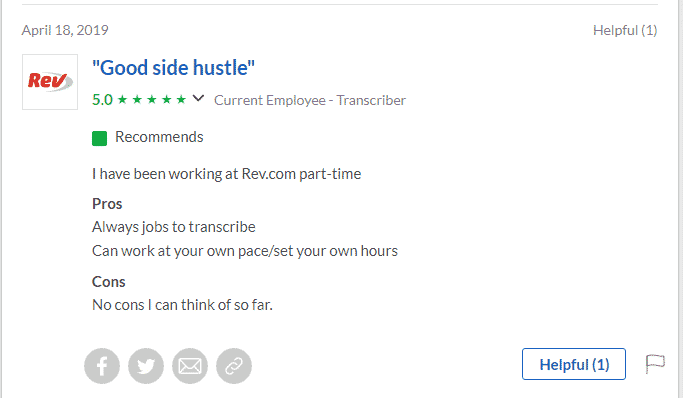 My two cents is that Rev.com is just like many other online work-at-home platforms; this means that you should expect strict guidelines, pay disputes, and normal bureaucracy.
It is up to you to put your best foot forward and be patient as you learn the ropes.
And if you don't have the patience, you can always try these 15 ideas to make $300 fast, as you try to get your footing.
What I Like About Rev.com
It is legit

High pay for freelancers who are fluent in foreign languages

You decide on what to work on as opposed to being given assignments

You set your own hours – leaving you free to combine Rev with other lucrative side hustles such as proofreading.

Some interesting video/audio files such as yet to be released tv shows.

No prior experience is required nor are there academic
What I Don't Like About Rev.com
Exposure to graphic and disturbing content, often without prior warning, has been a contentious issue with the platform. Think of violent footage from police body cams or court proceedings of sexual abuse cases.

The minimum pay is considerably low. Consider that Daily Transcription starts their transcribers at 75 cents to 85 cents per audio minute.

Most bad reviews talk of poor customer support. There are also recurring complaints of unrealistic expectations from graders.

Starting off is difficult and so is getting work consistently.
Is Rev Legit?
Rev Com is a legit company where you can earn money online. Depending on how well you work and the amount of work you do, you will make somewhere between $6-18/hour.
This is a great place to look you are just starting out earning online, looking for ideas to increase your freelancer income, or checking out some side hustles away from your day job.
The pay, however, may not be enough to earn you a living. On the brighter side though, Rev jobs are flexible enough to allow you time to explore other online job ideas.
Did you know that there are other legit online jobs that pay $1000+ weekly? Why not check a few and combine them with transcription or captioning on Rev com?
Going back to Rev, are you convinced yet? If your answer is yes, then head to the official site and apply to become a freelancer with Rev.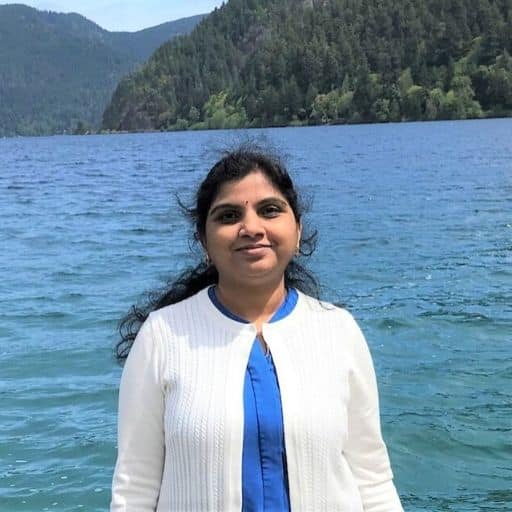 Howdy Folks, thanks for stopping by my blog.
I'm Swati, a proud mom, dedicated side hustler, full-time blogger, and a recognized millennial work-at-home expert. My expertise has been featured on esteemed platforms such as Forbes, CEO Blog Nation, Referral Rock, Vital Dollar, Databox blog, and many more. I have embarked on this incredible journey to share my firsthand experiences in the world of online income generation and to assist all of you in earning money from the comfort of your homes.
Join me in my mission to revolutionize the way we make money and achieve financial freedom. Trust me, it's not as challenging as it may seem!
Together, let's explore the boundless opportunities and pave our paths towards a prosperous future.