Have you ever tried your luck with any stay-at-home jobs for moms?
It's time for YOU to have a career full of freedom & flexibility. No more selling products. No more bosses. No more what-ifs. ALL women have untapped abilities they can use to build a life they love.
I'm talking no scams… and no pushing products on your friends or family. Is there such a thing?
Yes, there are unlimited!
With the kind of importance that career has imbibed in every person's life in today's date, nobody wants to sit idle in their homes and not do something to make a difference. And, I was no exception to it!
As a mom, I'm always on the lookout for legit online jobs that are highly flexible. I always wanted and preferred to be stay-at-home.
The concept of a 9-5 job has been daunting to me ever since my son was born.
But, in no time, I realized that it isn't easy to survive on a single paycheck, especially in the most expensive part of the country. That's when I realized that I need a solid job, that meets both ends. I started to look for avenues to make an income from home.
One that brings a difference in our financial status and also allows me to stay at home (SAHM) with my kid.
As a part of the research, I stumbled upon a list of some slow-paced flexible stay-at-home mom jobs that open gates for entrepreneurs, stay-at-home moms, dads, college students, and even if YOU have zero experience.
In fact, there are thousands of people all over the world that generate a legitimate income working remotely. If you learn in-demand skills, you can exponentially increase your ability to earn money online.
So if you want to make money, listen up…
In this article, I'm going to discuss the perfect jobs for housewives, young women, and retired employees who want to get back to working again.
Surprisingly, most of these online jobs (even high-paying ones) don't even require you to hold a degree and still make a solid income while staying at home.
By the end of this read, I'm sure you'll regret having missed these opportunities all this while.
High-Paying Stay at Home Mom Jobs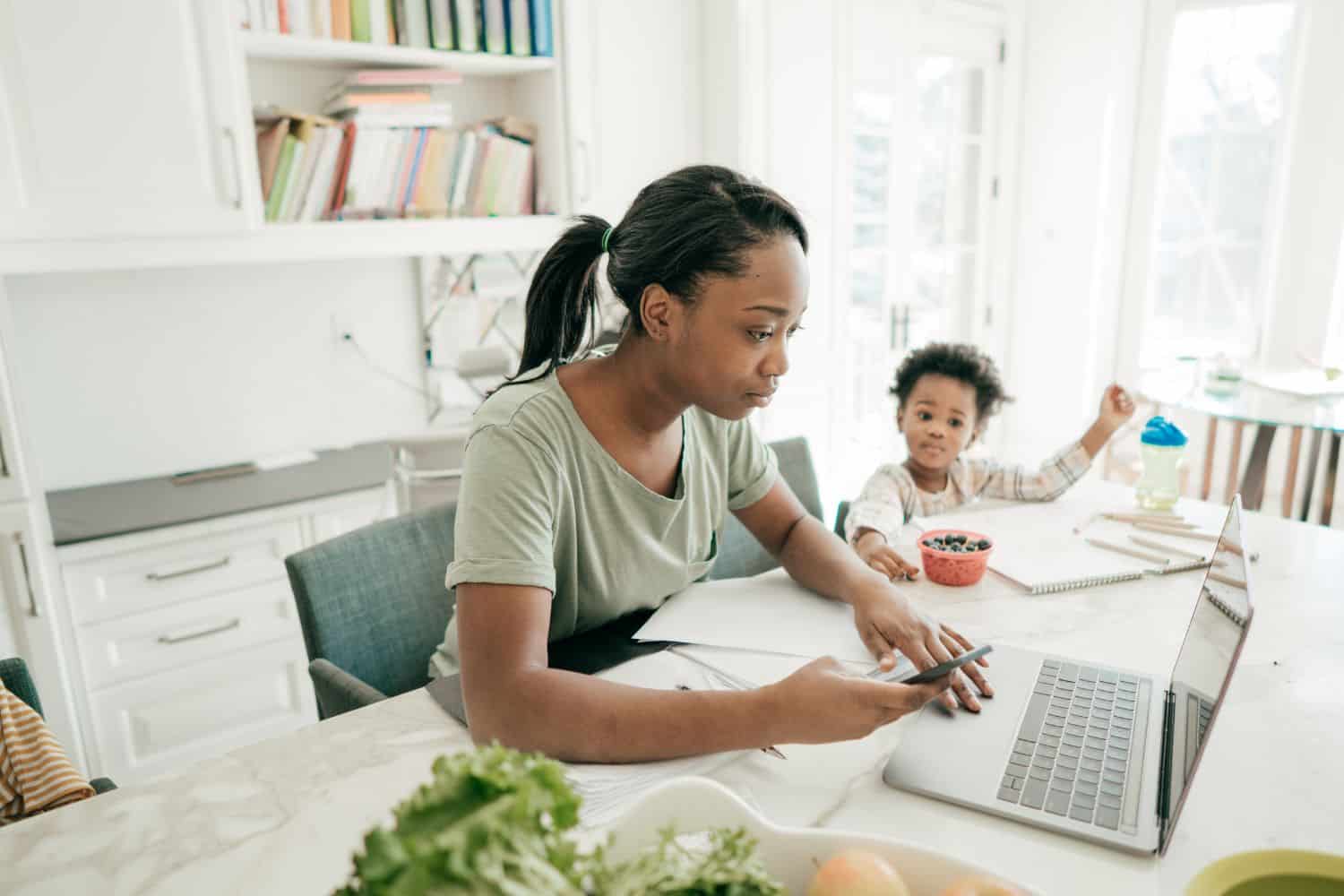 Whether you might want to make $1000 or $10,000 or more per month, this list will pave your way to success.
You just have to find the perfect option that suits you the best and make every effort to make it work. So, are you ready to work from home while staying at home?
1
) Online Proofreading
Given the fact that content is taking the front seat in every realm of work and every niche, it is not surprising that accuracy in every published content will have no room for imperfection. This is where the work of editing and proofreading comes into play.
If you are well versed with the English or even the language that the content is in, proofreading is actually quite a well-paying job that you can easily do from the comfort of your own home.
As a freelance proofreader, one can expect to make $40,000 or more per year – not bad, especially when there are no prerequisites like an English degree (or ANY degree, for that matter)!
Would you be interested in making over $50,000/year as a freelance proofreader?
Caitlin Pyle, a former freelance proofreader over at Proofread Anywhere, and one of the most talented proofreaders out there created an online transcript proofreading course that now has hundreds of graduates, and almost all of them have incredible success stories.
She'll teach you the basics of proofreading to make sure you're a word-skills SUPERSTAR. After you master the skills, she'll show you how to turn this newfound knowledge into a profitable business.
You'll learn exactly how to find clients, structure your workdays, and run a successful proofreading business. Pretty valuable stuff, right? This is a perfect opportunity for someone with word skills looking to start working for themselves.
If you are still not sure, I highly recommend you to check out this webinar, where Caitlin goes into detail on how proofreading will benefit you. Here's what you'll learn:
What a successful proofreader does (and doesn't do!)
How to elevate your skills to become a GREAT proofreader
How to use one of the most popular proofreading tools out there… and learn a few places to find clients!
Learn more about the proofreading profession
2) General Transcription
This is yet another amazing job opportunity for stay-at-home mothers. It is quite rather a popular field of work and works around mainly because of the growing demand of the niche.
With the exploding popularity of video all over the internet, there is a rapidly increasing demand for transcription.
Much of that video needs to be turned into a written document to be used for marketing, training, blog or website content, and eBooks… the list is endless.
Many companies and marketers of all kinds use transcriptionists. The demand for qualified transcriptionists will continue to rise.
The average median annual income for a General transcriptionist is currently $45,000, while, Legal transcriptionists can earn up to $60,000 a year.
Of course, if you start your own business and hire subcontractors while working as a project manager yourself, your income can grow well beyond these figures.
All you need to do in this job is to listen to audio files or even video files at times and transcribe them for someone to take notes of. These kinds of jobs can be done from the comfort of one's home easily and the pay is quite good.
Time management, commitment, and attention to detail are the only prerequisites for becoming a transcriptionist. Check out the below course ideal for newbies and semi-skilled transcriptionists.
3
) Virtual Bookkeeping
And here is the big one…
Don't get deterred by the title of the job thinking that it demands you to keep track of the books around, it is the complete opposite of the same.
People who work as bookkeepers, either as a freelancer or even under a company tend to keep track of the finances of their clients which they have to estimate and keep complete track of. The majority of stay-at-home moms incline toward this because the payments under this job are actually quite amazing.
Frankly speaking, bookkeeping is amongst the highest paying online jobs suitable for anyone that requires no prior experience or degree. The pay scale there can even range from $69 to $80 an hour, which is way too good.
Even if you have no prior online job experience in handling finances and keeping a track of the expenses under a company, you can still earn on the high end. Wondering, how?
Ben Robinson, the founder of Bookkeepers.com specializes in this skill and successfully coached over 5k students on how to become virtual bookkeepers with most of them without any degree of expertise.
Inside Bookkeeper Business Launch, you'll find the skills and systems you need to become a successful bookkeeper. From learning the foundational bookkeeping skills to starting your business, and finding your first clients.
Want to learn more?
This 3-part training will take you behind the scenes in the untapped market of bookkeeping services
4) Participate In Market Research
These research platforms and websites are constantly on the rise, mainly because the consumer thought process is what the majority of companies are basing their marketing schemes on.
If you have a working internet connection and a computer at home, taking up surveys can actually be an amazing option to make extra cash in your spare time.
Websites like Ipsos I-Say, Nielsen Consumer Panel, and Survey Junkie are some of the most predominant names. Let me break down the key highlights of each:
Survey Junkie: With a 4-star rating on Trustpilot, Survey Junkie surveys are short and easy, and you can choose which surveys you want to take and redeem for gift cards or PayPal cash. Click here to start earning now
The Nielsen App: The Nielsen app on your mobile device pays up to $50 in rewards points per year, redeemable via PayPal or gift cards. Download the Nielsen app
LifePoints Panel: With over 4k positive reviews and a 4.5 rating on Trustpilot, Lifepoints is available to a global audience over 16 yrs of age. Participate in surveys, and win Amazon/Walmart gift cards. Sign up now
Here's a quick list of the best-paying survey platforms to make up to $50 per Survey.
All you have to do is to register, take a survey, and earn points. You can redeem these points for cash or gift cards (Amazon, Target, iTunes, Starbucks), VISA prepaid cards, or donate to charity.
Also Read: 35 Online Jobs for Stay at Home Dads
5) Virtual Assistance
This is an evolving model of work that is gradually gaining prominence. In this, all you need to do is to explore your area of expertise and end up assisting companies, small business owners, and entrepreneurs.
With the consistent need and growth in the field of social media marketing, copywriting, or even the realms of digital marketing, if you find yourself being well versed in any of the trending niches, hop on to the chance.
There are over 275+ services you can offer as a Virtual Assistant to your client!
The most popular tasks handled by Virtual Assistants include Social Media Management, Travel Booking, Email Management, Scheduling, Organizing & Planning Projects and so much more…
Becoming a Virtual Assistant will not only put your talent to good use, but you get to earn a decent income as well.
According to Gina Horkey, a Successful Virtual Assistant and professional coach at HorkeyHandbook, I happen to have a couple of friends who are in this industry, earning over $70,000 working for themselves and loving their jobs.
To get paid on the higher side, you'll need the required skill set, which can be easily acquired by taking the right training.
You'll get to know the services to offer, who to offer them to, how much to charge, where to find clients, how to set up your website (including what should be on it!), how to effectively pitch clients, working with clients, and a lot more!
Interested in becoming a VA and live the life YOU deserve?
Recommended Reads:
6) Freelance Writing
Next on the list of things is freelance writing. When it comes to freelancing, the options are actually abundant and completely dependent on the kind of expertise you have.
If you are good at writing, you can write content for other companies. And if you are a graphic design maestro, you can even get your hands on the same. Do whatever floats your boat.
With the impending popularity of this realm of work from home, more and more mothers are inclining their interests towards this because even the pay is quite well.
According to the U.S. Bureau of Labor Statistics, as a freelance writer, you can expect to earn a solid income of around $47 per hour.
Their wages put them in the upper 75 percent of all writer salaries, which included those working for companies.
The high demand for writers showcases the demand and opportunities for you to succeed as a freelancer and begin freelancing using a platform like Fiverr or Upwork.
If you're interested in breaking into freelance writing, but not sure what to write about? You can learn everything from choosing the right freelance writer niche to finding clients – including the details necessary to pitch yourself effectively from the most successful freelancer and small business owner Elna Cain.
7) Social Media Manager
The best part is you don't need to learn all the fancy techniques and tricks to start. If you can type a simple text or sentence, surf the web and send an email… you're good to start. Later on, you can add all the fancy stuff and charge them more.
Want to become a social media manager and start a management business? In fact, who wouldn't want to secure clients ready to pay $500 (or more) to manage their social media?
Here's a simple system to help you become a freelance social media manager that works like crazy!
8) User Testing
Much like the common items and products, even websites need a test run before they make it on the internet. This is mainly done to get a hang of how the usability of the website is and how well the users can navigate through the website.
It is quite important to ensure that if you are delving into this field of work, you should have a basic knowledge of the front and back end of website development.
It is not always mandatory, but knowing such helps you gain credibility with the clients you are working with and even helps you earn more than the standard amount of money.
User Testing is one such company that hires for this online job position. It pays you to test websites or apps, complete a set of tasks, and speak your thoughts aloud. Mobile Testing is another great way to make money on User testing.
To get hired as a mobile tester, you need to possess a specific smartphone and qualify for their sample test. Whether it's the website or mobile testing, you get paid $10 for every test you complete.
Find Out More: 15 Best Places to Get Paid To Test Apps & Websites
9) Blogging
As mentioned before, content is becoming a quintessential component of every company's brand.
Whatever the aspect of marketing is, content is the one thing that's mandatory. You just can't skip out on that. The Internet is an amazing platform for you to share the things that you have good knowledge about.
Owning a blog is the perfect way to not just showcase your talent. It is also an amazing platform for channeling both active and semi-passive income.
If done correctly, you can churn mind-blowing profits. I've seen bloggers make a 6-figure income staying at home. I make over $6000 a month on average as a stay at home working just 4-5 hrs a week.
Just like any other brick-and-mortar business, blogging requires dedication and hard work, without which you can't expect to make money.
If you're one such dedicated individual, blogging is the perfect place for you to make unlimited income, with less than a $100 investment.
Yes, you heard me right. You just need to host your blog and buy some essential tools, to start making money. I myself started with Bluehost (for less than $50) and made thousands of dollars over the years. Not just me, in fact, many of us have done it. So, if we can, you can too!
Unleash the power in you and get started today!
Related Read: Step-by-Step Guide to Start a Money-Making Blog in 15 Minutes!
10) Research Assistant (RA)
Do you have a bachelor's degree in any field? Universities, research institutes, and current students could use your expertise. The position involves doing research for academic topics, social programs, and private interests.
In some RA jobs, especially where the client has a Ph.D., a post-graduate degree might be a major requirement. This is usually contract work, running from a few weeks to around 2 years.
According to the U.S. Bureau of Labor Statistics, RA's in social science make $27.13/hr.
11) Drop Shipping
Companies and manufacturers are always on the lookout for a way to increase sales. Right now, drop-shipping is the go-to sales funnel for companies with global reach. You can now join the club and make over $20/hr from your couch.
The best part is that you don't have to worry about shipping, stocking, and after-sales services; the originating company does all the heavy lifting. Your work is to just market the product online, and once a buyer clicks on your links to buy, the company takes over.
You get paid after delivery is made. Remuneration is on a commission basis, with each sale making you 20% to 30% of the price set by the partnering company. You can start the hustle through your Etsy or Shopify online store.
Also Read: 24 Ways to Earn as an Attractive Female In 2023
Fun Stay At Home Jobs for Moms
SAHM jobs do not have to be boring. Some gigs such as selling stuff online can be fun and good exposure for a satisfying career from home. Take a look at the gigs below:
12)
Declutter and Sell
Next on the list for the best kind of jobs for stay-at-home moms is to put their "declutter trait" to use to earn money.
Several things and items are lying around in our homes that we don't even use. These are not just unnecessary clutters but can actually be put to good use. This mode of earning money is not steady but can help you earn quite a lot if you find the correct way to put things to good use.
Several online websites refurbish old clothes, furniture, and even electronic goods and pay you for them. You either get direct cash for them or sometimes even gift coupons.
Ensure to put everything into good use and source money out of things that were possibly of no use in your household. Let me list out some common items and platforms here:
eBay – Any old/used product
It's Worth More – Sell used breast pumps
ThreadUp
BookFinder – Books
Decluttr – CDs
Gazelle – Mobiles
NearlyNewly,
LetGo – Shoes, Clothes
If selling is something that interests you, and if you want to get into serious business and build a 6-figure eBay empire, do this…
Discover tons of insider tips, strategies, and little-known eBay "hacks" from Dave, a real-world strategist who has helped 300,000 people learn how to sell on eBay – with several 6-figure income success stories.
Here's an amazing resource to cash in on used books – Buy Used Books From Thrift Stores and Start Re-selling Them For Major Profits on Amazon!
BONUS: PHOTOGRAPHY
If you enjoy capturing photos, you may consider selling them. Even if it was on your smartphone, you may still make money by selling your photographs on stock photo sites for quick cash.
With the right skills and gear, photo sessions at events or parties might earn you hundreds or even thousands of dollars as a stay-at-home mom.
The best advice I have to offer is to make your images speak. It implies shooting high-quality photographs using natural light, which works wonderfully. Pair them with captivating descriptions and see how they sell like hotcakes!
Trust me, you can easily cash in $100 per image by becoming a Shutterstock Contributor.
Apps like Foap, Alamy, and Fotolia pay good money for quality photos.
13) Deliver Groceries with Instacart
Instacart is a grocery delivery job where the employees get paid for delivering the placed order in the local area.
Shoppers who sign up for their programs have to indulge in shopping for the items that have been placed in the order and deliver those items to the designated address. Since you need to deliver these items somewhere in your own locality, the hassle is not that much.
The majority of the people who have worked with Instacart have mentioned that they have even earned around $25 an hour which is pretty amazing. But, the payment is not steady or constant and depends on the rush and the area you reside in.
14) Do Affiliate Marketing
The next thing on the list is using the power of affiliate marketing. If you are confused as to what it is, it is the commission system, where the company pays you money on a successful sale made using the link directed by you to the purchaser.
Affiliate marketing can be dealt with or without a website. In both cases, your marketing strategy is the key to your success.
If you think, it's quite a tough path to earn money because you need to have a good influence base and a good audience, I'm sorry, but you are wrong.
Today, there are millions of marketers across the world that make a living from affiliate marketing. But, just as in blogging, the earning potential for affiliate marketing is unlimited and relies upon the niche.
To make money as an affiliate marketing specialist, obviously, you have to start somewhere. If I were you, I would begin with the best.
And, that's what I did, I invested in the best-selling affiliate marketing course created by the affiliate marketing wizard, Michelle from Making Sense of Cents, who makes over $50,000 a month solely from affiliate marketing.
Wait, I didn't stop there… I went ahead and invested in yet another affiliate marketing course by Carly Campbell. And, I'm glad I took it!
Check out my detailed review of these two best-selling courses and decide what you want to go for!
Don't stop yourself from investing in the right courses. You can always gain knowledge for FREE, but you might waste enough time, and eventually lose interest in the process. That's what most people do and give up, saying affiliate marketing is tough! It isn't tough once you learn how to do it correctly.
15) Pinterest Account Manager
Many small business owners and bloggers vastly rely on Pinterest Virtual Assistants and Social Media Managers to increase their brand visibility on the Pinterest platform. This turns out to be an amazing opportunity for Pinterest lovers well-versed with the platform.
As a Pinterest Account manager, your job is to handle your client's Pinterest account. This job does need you to have prior experience because the marketing scheme works best when you have experience doing it in real-time.
With little training, you can start offering Pinterest Management services in your spare time from home, and charge up to $500/month per client!
Kristin Larsen, the go-to side hustle expert on CBS, offers an incredible Pinterest Virtual Assistant course that will teach you how to make extra money managing Pinterest accounts.
This is the perfect place, to begin if you're interested in becoming a Pinterest VA!
16) Teach English Online
This form of work-from-home job is being taken up by the majority of people owing to the booming popularity of this stream of work.
More and more students and kids need that extra help that they are lacking in their school. And what better way to earn money than to share your own talent with someone else as an online teacher, right?
The best way to start with this is by signing up on the various online tutoring platforms that can help you gain the confidence you need to then venture out into doing what you do best – teach students the subjects that they are failing in.
The only thing to ensure is that you are well-prepared and clear about what you are teaching the child because the child's future is completely in your hands.
The pay is quite good in the field of tutoring and even students take up this job to help pay for their own knick-knacks. If you are starting with the online tutoring platforms, make sure to sign up on the authentic ones.
VIPKID is one such platform that pays up to $22 per hour to teach English online to kids in China. This is an amazing work-from-home opportunity – and don't worry, you do not need to know any foreign language.
Who Qualifies?
Any "formal" or "informal" teaching experience such as mentoring, tutoring, coaching, or alternative education.
Eligibility to work in the US or Canada as an online teacher with a native accent
Bachelor's degree in any field
17) Scopist
Scoping is similar to proofreading on an advanced scale.
A scopist is one who edits legal documents for court reports. You can easily make $30k-$50k a year working full-time. The least experienced Scopist should make a minimum of $20-25 per hour.
If you're knowledgeable about shorthand or have an eagle eye for editing files, this job suits you the most. Even if you're not, you can still acquire the skills necessary to earn a 6-figure income.
18) In-Home Childcare
Well, handling kids is a job in itself, right? Wouldn't it be amazing if you got paid for what you do daily – watch and care for kids?
In-home child care is actually an amazing opportunity for you to work from the comfort of your home and earn a hefty amount of money.
Many parents tend to want their children to have one on one attention and care, which is why they prefer the in-home childcare facilities more than that of the normal daycare services.
This is rather an evolving business and work-from-home job, but if you have the kind of will and expertise, might as well take up that job. Child care pays $29,081 to $40,509 annually.
19) Interior Designer
Oftentimes, even highly qualified women prioritize their kid's well-being over their own careers and choose stay-at-home mom jobs post-pregnancy.
If you are one such mom who has an interior design degree and has been driving away from the possible talent that you should rather showcase to the entire world, it is important to start branching out and trying it from the comfort of your own home.
Many people tend to not want to hire huge interior designers owing to the kind of charges they impose. This is where you can step in to get the best kind of clients and the best prices for putting your own talents to good use.
As a stay-at-home Interior designer, you can make $54,166/year.
Related Article: Best Side Hustle Ideas for Single Moms In 2023
20) Become a Housekeeper
People need their houses cleaned and pets look after, but not necessarily by live-in housekeepers. For a few hours a day, you can take care of specific tasks for homeowners around you.
The work includes cleaning floors and utensils, stocking bathrooms, and emptying trash containers. No academic qualification is required, but most clients will insist on a high school diploma. Find daytime housekeeping jobs near you on Jooble.org.
Housekeepers and maids make $26,220 per year, on average.
21) Become a Flea Market Flipper
Can you spot a gem in a pile of dollar items? Utilize your good eye for potential gold nuggets by flipping flea market finds. All you need is to become a regular at flea markets, garage sales, and yard sales.
The next step is to find items that sell fast with a high-profit margin. Some repairs and improvements may be necessary, so be ready to work with your creativity and handiwork.
Flippers make a profit of up to 50% of the buying price.
Related Article: How To Start a Flipping In 2022
22) In-Home Childcare
Well, handling kids is a job in itself, right? Wouldn't it be amazing if you got paid for what you do daily – watch and care for kids?
In-home child care is actually an amazing opportunity for you to work from the comfort of your home and earn a hefty amount of money.
Many parents tend to want their children to have one on one attention and care, which is why they prefer the in-home childcare facilities more than that of the normal daycare services.
This is rather an evolving business and work-from-home job, but if you have the kind of will and expertise, might as well take up that job. Child care pays $29,081 to $40,509 annually.
23) Copy Editor
Copy editing is closely related to proofreading. However, the task goes beyond correcting grammar. A copy editor has to research and fact-check a given document to ensure error-free content.
A stay-at-home copy editor typically works for publishing companies, media houses, and blogs. They receive 'copy' from writers and go over it before forwarding it to the editor. Freelance copy editors earn a base of $48,890/yr, and up to $108,084/yr for experts.
24) Graphic Designer
Graphic design has always been a well-paying job, long before graphics software became mainstream. Get started with Google's Coursera and learn the trade as a home mom designer.
The course teaches you fundamental skills of creating images, making motion graphics, and communicating through typography. Further, you'll learn how to use graphic design tools including Adobe Illustrator, Procreate, and Canva.
This home job can make you $19.97 per hour, and all you require is a PC and subscriptions for the right software. What's more, you don't need to master all the tools, just become an expert in a single one and start making money from home.
Case in point: Mary Dailey an amateur designer who uses Canva to create designs for Airbnbs, uses her Etsy store to sell printables that go for about $4.
One of her designs has been downloaded over 650 times; that's a cool $2,600 from a single template. As Dailey explains, "I make it once, and then it keeps on selling out." Isn't that what earning passively is all about?
25) Customer Service Representative (CSR)
Companies around the world are looking to hire stay-at-home moms like you to become the first contact for customers. Why? As many businesses go online, there is a need for round-the-clock support and customer service.
As a customer service representative, your earning potential is over $45,400 every year. You can get CSR stay-at-home mom jobs on freelancers' sites like Upwork and PeoplePerHour.
What's more, this is a flexible job opportunity, meaning you can work as support for several companies. This will require you to be conversant with products and services across the board. To make extra income, a skill such as sales is vital.
And apart from a phone and PC, you'll need proper time management to endure availability whenever a customer reaches out.
Also Read: Customer Service Representative Jobs for Women
Professional Stay-At-Home Mom Jobs
Looking to make a career out of a seemingly easy home mom job? Below are my top picks for remote job opportunities that engage you for just a few hours a day.
26) Essay Test Scorer
With so many students kids and adults turning to online tutors, it makes sense that there are thousands, if not millions, of tests being generated every hour. Luckily for you, teachers need help in scoring the tests in a timely and efficient manner.
A site like Write Score pays remote freelancers to score essays and other academic tests. This remote work is best for freelance writing experts and teachers looking to get extra cash. The site pays $9-$12 per hour.
Other platforms with similar jobs for a home parent include:
27) Become a Life Coach
What if told you that stay-at-home moms have so much to share with the world. Why did you choose to work at home? Is it that motherhood is the best job for you, or is that you like being your own boss?
People out there want to hear how you got where you are. This is all about coaching people in the same life trajectory as you. As a life coach, you can teach people the intricacies of marriage, career, and life-work balance.
For example, world-renowned life coach Lisa Nichols helps people cultivate lasting relationships. She makes money through her motivational books, TV shows appearances, and YouTube channel.
Life coaching pays, on average, $59,305 per year. How much you earn in this mom job depends on your experience. With 10-15+ years under your belt, you can make six figures easily.
28) Web Designer
This is a great job for making much-needed extra income. A web designer working from home can rack in over $90k yearly. You can search for the best job openings on Glassdoor for companies looking to employ remote job seekers.
A typical job description for a web designer position includes knowledge of both the developer's end and the user's interface. Simply put, you need to come up with programs, tools, and applications that are reliable and easy to use.
Typical qualifications include using coding languages such as HTML, CSS, MySQL, and JavaScript (Js). Almost all industries now rely on the internet in one form or another. This should tell you that web developers are very much in demand, both for remote and on-site positions.
29) Become a Travel Consultant
Did you know that most travel agents have never left their state or country? What this means is that you can work from wherever you are, directing people to the best holiday destinations and making travel arrangements on their behalf.
There are travel firms looking for work-at-home agents, though, you can also start your own travel agency. Freelance travel consultants make up to $43,810.
Start by knowing more about flights, cruises, and railroad schedules around the world. Next, liaise with a hotel, resort, and taxi company to ensure smooth travel for your clients.
Also Learn: How to Get Paid to Travel for Free
30) Business Analyst (BA)
With a background in business management, bookkeeping, and data analysis, you can work as a BA from home. Your work is to assess various business processes and advise the management on the way forward.
This is a highly specialized field, meaning competency is a must. Daily tasks include budgeting and forecasting, pricing, pricing, and reporting. Business Analysts make $79,987 annually plus bonuses.
31) Direct Sales Representative
You can make money online from home as a direct sales representative for companies globally. The work, usually, involves job seekers ready to be integrated into existing sales and marketing funnels.
That said, the job description for a direct sales representative can differ depending on the industry. For example, searching on Upwork for "Direct sales jobs" displays hundreds of vacancies, including:
Generally, to work as a sales rep, you must be a vibrant marketing specialist. The people you call, email, or video chat with, must identify you and trust you, right from "hello". Note, that remuneration for such positions is through commissions.
32) Coordinating Recruitments
Human resource departments usually get overwhelmed with huge applications for every new vacancy that's advertised. To ensure more resources are geared towards the existing workforce. That's where freelance recruiters come in.
Your task is to go through the applications, using the laid-out guidelines, and come up with a shortlist. The company may require to okay the shortlist, after which you schedule and conduct interviews. Lastly, you provide the client with their next employee or a list of top contenders.
Recruiting coordinators in the US make a median salary of $44,850 per year, $23/hr.
33) Message Therapist
If you are not squeamish about touching other people's bodies, massage therapy is a great career choice for a SAHM. The work is to simply manipulate the client's body to relieve stress and make them relax.
You may need a state license to practice plus a license to operate the business inside your home. While there is no need for certification, it's in your interest to rack up some hours working in a spa to learn message skills. The median pay for this mom job is $46,910 per year or $22.55 per hour.
34) Brand Ambassador
Are you a social media fanatic, and who loves content creation? Becoming the face of a service or company, among your online social circles, can be your flexible job at home.
Interested?
This is how brand ambassador gigs work: For each Instagram or Twitter post, your client pays you to mention their slogans and campaigns. Clients also expect you to wear or use their merchandise and promote the brand in person.
The job requires you to be of excellent standing in the community and have loyal followership. Salary ranges around $19 per hour. Find brand ambassador jobs on Indeed.
34) Dispatcher
Interested in a fun and helpful SAHM job? Become a dispatcher for taxis, buses, tow trucks, and utility vehicles. You can also work as an emergency dispatcher, but that would usually require you to work away from home.
The rest of the transportation coordination jobs can be done from home. This is made possible by high fast internet, tracking software, and accurate web mapping software.
This is an online mom job requiring minimal training. The pay rate for non-emergency dispatchers, according to the Bureau of Labor Statistics, is between $14.00 and $34.37 per hour.
36) Vocal and Instrument Coaching
As a home parent looking to make cash on the side, it's time to put those childhood music lessons to good use. Get other moms in the neighborhood to pay you to train their kids in vocals and playing instruments.
On Upwork, freelance vocal coaches charge around $30 – $250 per hour. Also, join a site like Guru where you can schedule year-long lessons with different students across the world.
Check Out: How to Make Extra Money While Pregnant
The Takeaway: Best at-home Jobs for Moms
Work from home jobs isn't restricted anymore. Jobs are abundant on the internet that people can choose from. The very first thing to do is understand your area of expertise, and then look up jobs that suit your timings and pay scale better.
If you have prior experience, make sure that you are not settling for an odd amount of money, but rather, be firm in your stance and venture out into varying types of jobs around.
You'll never know what you're capable of if you never try.
Don't think about what the worst-case scenario could be – instead think about what's the BEST POSSIBLE OUTCOME that can come from trying something new!
Once you get inside, you'll enjoy the cool benefits of these amazing work-from-home jobs.
My personal favorites are blogging, and affiliate marketing, what's your choice? Which of these have you ventured into, and what do you prefer to recommend to your friends? Write them down in the comments below!