Have you ever thought of bookkeeping as a side hustle? Ever wonder what it would be like to earn $40 (or more) per hour? Well, that's exactly what the average bookkeeper earns according to a study by Quickbooks.
As of Jan 20, 2020, the average Bookkeeper salary in the United States is $43,269, but the range typically falls between $37,972 and $48,536.
As per Ziprecruiter, the majority of Part-Time Quickbooks Bookkeeper salaries currently range between $36,000 (25th percentile) to $58,500 (75th percentile) across the United States.
Note: Salary ranges can vary widely depending on many important factors, including education, certifications, additional skills, the number of years you have spent in your profession.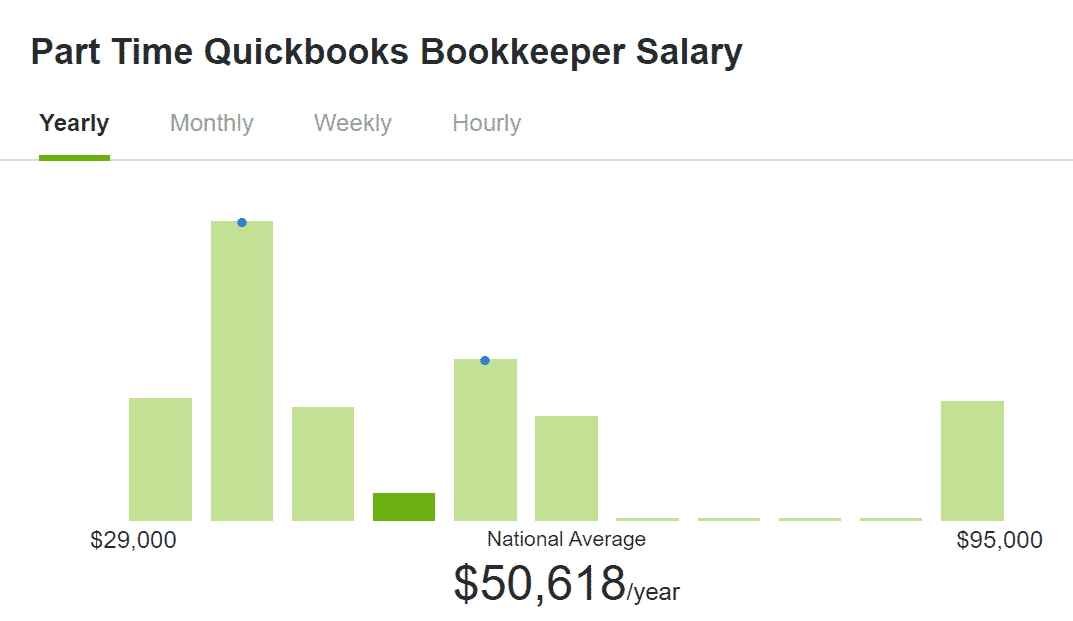 Isn't that cool?
What's more interesting is that this high-paying side job doesn't need YEARS of education (degree), no prior skills or experience (having them is definitely an added bonus). Yes, you can get started without any degree or basic accounting skills.
According to Fit Small Business, an entry-level freelance bookkeeper can expect to earn around $23 an hour.
A strong determination, attention to minute details, willingness to learn, and the ability to keep up with figures, data, and paperwork will fetch you far in this business.
Still not convinced? I get ya… hard to believe, but true!
Today, I have Ben Robinson, founder, and CEO of Bookkeepers.com
For years, he has been helping people start their own virtual bookkeeping businesses from scratch. To date, he has trained over 9000 people on how to start a bookkeeping business, and most of them now earn a full-time income staying at home ($40+/hr).
If you want to be one like them and set up a thriving career/business, now is the time. He'll help you understand how you can start earning like a 21st Century Bookkeeper. I highly recommend you gain access to his FREE 3-part video series right here
Here's what is included in the series:
Class 1 – Why Bookkeeping Rocks?

Class 2 – Your Recipe For Success

Class 3 – Start Your Biz + Get Your First Client
Additionally, he also covers:
The 4 types of virtual bookkeeping business…and how to decide which one is perfect for your ideal lifestyle
The simple (and surprising) technique that helps 75% of my students land their first client (WITHOUT being salesy!)
6 simple systems that every bookkeeping professional needs in their business!

Case studies, blog posts, and life-changing success stories of his students.
So, without any further ado, let's interview Ben and find out how to become a Virtual Bookkeeper to live your dream life. Take a few minutes and read through this post before you plan to get started as a Bookkeeper.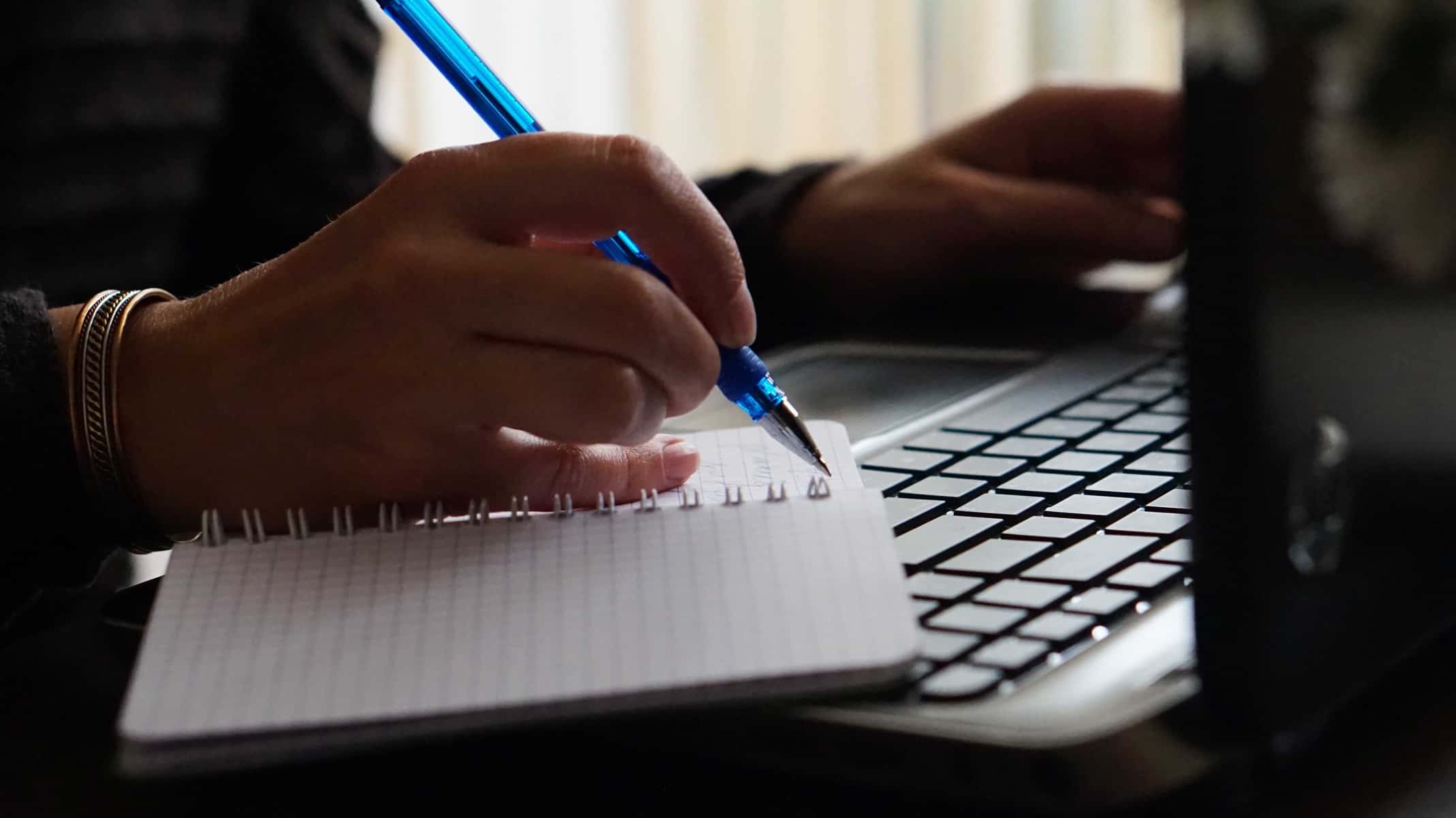 1) How did you go from being a CPA to starting an online business teaching people how to build their own successful bookkeeping business?
Ben: Yeah. So, in 2014, I sold my CPA firm. I'd owned my own CPA firm for about 14 years, and I didn't want to go back into that because I had been doing it for 14 years on my own and probably another five before that. So, it was time for a change.
One of the big things that we did in our CPA firm is that we did the bookkeeping. I trained at the time about 120 bookkeepers over the course of my career on how to do bookkeeping services and how to do them right.
I didn't plan on doing anything with bookkeeping or accounting or anything related to that when I first sold my firm, but Kelly, my friend Kelly, had lost her job. And she was a stay-at-home mom of three boys and had a good virtual job. She lost that job, and she was worried that she was going to have to go back to work. And I said, "No, you're not going to have to go back to work in a real office-type environment. Let's start you a bookkeeping business." And that kind of formed the genesis of Bookkeeper Business Launch. It was all by necessity, something that she needed.
2) Wow! And continuing on that, question number two, how did your passion still drive your business growth today?
Ben: Yes. So, my passion really now is seeing results, seeing results that our students get. Going inside of our Facebook group and reading emails and having personal relationships and phone calls with people who are starting to live the life that they have dreamed up. What we call the 'and' lifestyle around here, a life where you can have family, you can have finances, and you can have freedom and you never have to choose between all of them. So, every day I get up. One of my favorite things to do is to go into the Facebook group and look at the wins, look at how people are getting clients, how they're starting to do crazy things for their family, crazy, great things for their family as a result of them starting a business.
So obviously we all have a profit motive. We're in business to make money. But more than that or as important as that is just seeing results, and more than just monetary results, seeing people really come outside their shell and realize that, "Hey, I'm a pretty badass person," because growing a business is so much more than just growing a business, you're growing personally as well. That's my passion. That's what fuels me every day.
3) Excellent! So moving on to the next question, at what point did you realize that your business now, was actually taking off and that you could really make money through it? If you'd walk me through your thoughts and emotions from that moment.
Ben: Yeah. So at first, I was very introspective. We started very slow. I started with a pilot class in May of 2015, and 30 people were in it. That's what I wanted to take, and I was focused on just delivering a great product. That very first one was totally awful when it comes to looking at the technology, looking at the way we delivered it, and where we've come in the last four years, it's amazing. To realize where we're taking off, I didn't stop to smell the roses and think. I had my nose down, and I think it was probably two years into it and just seeing the scope and the number of people who had gone through and the number of people that were getting results. I was like, "Okay. Wow. This is …" Because when you first launch it, you are just excited to sell. But then you're also realizing, "Hey, to continue this, people have to get results." Somewhere along the path, I don't know the exact date, but probably about two years in, we started to see people getting all of these results. That's where I was realizing that I had 'made it'. Although I don't know where it is because I'm always striving for more.
4) Fabulous. So you kind of touched on that, why do you think most people fail to grow their businesses, and what advice would you offer them to keep pushing despite all the setbacks?
Ben: I could elaborate on this for a long time.
Number one, I think that people misjudge how much work it takes to start a business. Just like we all when we had children misjudged how much work they were. We saw other people and we heard them. We're like, "Ah, whatever. It's not going to be for me." It is going to be for you. It takes a heck of a lot of work to start your business. So number one is underestimating that and getting overwhelmed because they were ready for it. So that would be number one.

Number two, I believe that it's because they don't have a product that the market wants. We may have a product the market needs, but the market doesn't care. You've got to give people what they want in order to deliver what they need. So really instead of going from a supply-side saying, "Hey, I'm going to sell widgets," the first thing you've got to do is figure out what is the market asking for? Is it widgets? Is it toothbrushes? It is bookkeeping services? We got to approach it from a consumer, a demanding angle instead of approaching it from a supply. I'm going to do this.

And then the third one I would say is that they're not capitalizing. They don't have enough money. They think that they can start it on a shoestring budget, which you can but if you don't have a little bit of money and are dependent on your situation. If you're trying to do this on top of a job, it's going to take a lot of time and commitment. But I would just say number three would be undercapitalization, not having enough money.
5) Great! So, what is bookkeeping and how is bookkeeping different compared to accounting?
Ben: So it's kind of like nursing and doctoring. There's an overlap obviously in all of them.
Bookkeeping is an aspect of accounting. Bookkeeping is more about the nitty-gritty of the business, the transactions, the daily vibe of a business, whereas accounting is more of the higher level, financial statements, and all of that. But there are blurred lines between bookkeeping and accounting, especially when it comes to what bookkeepers are doing versus what accountants are doing.
So we've all been to the doctor and we're now seeing nurse practitioners. We're seeing physicians' assistants where we used to always see physicians. And the reason is, is that those nurse practitioners and those PAs are getting their skills upgraded. They're doing more. They're doing things that the doctors used to do so that the doctors can now focus on the things that they truly do, and the same thing with bookkeepers and accountants. There's overlap. But now with computerized and automated and all these other things that we have, bookkeepers now, time is not so much spent on data entry as it is being more analytical and doing things that accountants could or should be doing in the past.
So, again, there's a little bit of overlap in them or a lot of overlap in the two. But they're both … It's always said that accounting and bookkeeping are the languages of business. So that's exactly what it is.
6) What is the average monthly pay range for virtual bookkeepers?
Ben: We make no income claims. So I will not answer that.
7) What are the initial and then what are the ongoing costs for a bookkeeper generally working from home?
Ben: So actually, we have a free class series that we put people through, and one of our classes, class number two, we dedicate to that. I don't have that information in front of me, but whoever is reading this and looking at it, if you want to go to learntobeabookkeeper.com/class-1. That's learntobeabookkeeper.com/class-2.
I go through that in great detail, and anybody you send our way, can go through that as well and take a look at those costs.
8) What are the three core skills or requirements that are needed to become a virtual bookkeeper?
Ben: Just three?
Number one, you got to enjoy people. Bookkeeping is first and foremost a relationship business. You have to enjoy people. You have to build your business on the relationship and not the transaction. People cancel transactions. They don't cancel relationships. That's first and foremost.

Number two, you got to like numbers. You don't have to love them, but you got to like them. Obviously, this is a numbers business. So you got to know them, right?

You got to have an eagle eye. I would kind of consider that all in there, and you've got to be kind of smart, right? You've got to be able to think on your feet. This is starting a business, and you got to have those not just book smarts but street smarts because having that tenacity, having that grit to find answers when you're the only one that can find the answers because you're the business owner and everything stops with you. Those three things right there are critical. I could go on and on and on about it, especially in the bookkeeping business. But those are the three critical elements.
9) What kind of person would be a good fit to be a virtual bookkeeper?
Ben: That's kind of the same question as what we talked about the skills. I mean, you got to be gritty. You got to like numbers, all those things. That's kind of the same thing there.
10) Got it. So Is virtual bookkeeping available only for citizens of the United States?
Ben: No. No. You can do this regardless. Other countries, obviously consult your local laws and rules and regulations as it pertains to bookkeeping because certain countries require different things. But, no, absolutely not. We have students in Canada, Ireland, UK, Australia. At the last count, I believe we had 18 countries represented in there. So no, definitely not.
11) Oh, wow. Great. Can you tell us about your Bookkeeper Business Launch program, what can students expect to get from it, and what's so unique about your course that makes it different from other related courses?
Ben: So the thing that would … I don't know if we have a related course because we teach the 21st-century bookkeeping skills that you need to not only be successful today but well into the future. Going beyond just what traditional bookkeeping is all about. Teaching the right skills. People don't care what software you use. They may say, "Hey. I want you to use QuickBooks," and that's fine. But what they're really looking for is the end result. So teaching those skills, the ones that people will pay for now and into the future.
The second thing is marketing which actually works. Unless you have sold bookkeeping services and have sold a lot of them, like hundreds if not a thousand of them like I have, you're probably doing your marketing wrong. And ask me how I know, because I did my marketing all wrong and figured out what does work and what doesn't work. So we continue to refine the program iteration after iteration based on feedback from students, what's working for them, and what's changing in the marketplace. So being very green, organic, new with the strategies and tactics. But again, it kind of goes back to blocking and tackling.
And so that is unique with it. Also setting up the systems. One of the reasons that a franchise, which we are not a franchise, we are not a business opportunity in the slightest. This is your own business you're starting here from scratch, 100%. But everything is you're not starting with a blank sheet of paper. You're starting with a proven system that's what Bookkeeper Business Launch is about.
In terms of what can students expect to get from it, we've got a whole page dedicated to that. Learntobeabookkeeper.com/your-move. Learntobeabookkeeper.com/your-move. It goes over every single aspect of this, what's included in there. One of the big things, things that I'm most proud of, and, Faith, you know this to be the case as well, is our community. Our Facebook community of students.
We have I think this morning we were somewhere around 5400 students that are in there, of which 80% are active on any given month. All in there at a collaborating with one another, helping each other. They don't see each other as competition because frankly, they're not. I don't remember two bookkeepers in our group ever crossing paths or competing with one another because it's a big, big market out there that needs bookkeeping services.
12) Fantastic. And here we go with our final question of the day, what's your number one piece of advice for anyone who wants to learn how to run a successful bookkeeping business?
Ben: Number one piece of advice.
Join Bookkeeper Business Launch. I mean, you're not starting from scratch. That aside, if we were taking that aside … Number one piece of advice for anyone who wants to learn how to run a successful bookkeeping business? I mean, the things that we have mentioned, right? Is that you just got to go out there and do it. Okay. So here's like the first thing, and we talk about this in our pre-marketing or in our marketing of the program. Make sure you're the right fit. Make sure you have all the facts. We know the system works for the right person, as long as that person's going to work that system. It doesn't matter if you're using our system or anybody else's system, if you don't put in the effort if you don't implement, if you don't take action, you're going to get zero results.

So you've got to make sure, number one… The number one piece of advice that I would give you is that you determine that you're the right fit for it. When you determine that and you say, "This is what I want to do," that you do it and you do it with everything and you don't look back. On the days that you hate your life and you're asking yourself, "Why in the world did I do this?" Because there will be those days, and they will be frequent at first. But the next day, that night you go to bed and the next day you get up and you just say, "I'm going to do it again." So that's kind of my number one piece of advice.
Well, there you go. Thank you, Ben, for taking the time to show us how to become a bookkeeper with no experience and still make money from home. I'd like to sincerely thank you for your time and for giving us all these incredible answers.
CONCLUSION:
As you have seen, it's possible to become a virtual bookkeeper and get virtual bookkeeping jobs from home.
So, are you ready to get paid on par with lawyers, consultants, and doctors working from home? Consider virtual bookkeeping, dive into your first lesson of Bokkeeper's free training right here.
A virtual bookkeeping business can be a profitable business or a side hustle if you have the right mindset for it. Whatever the case, this is definitely a new avenue for you to make money online.
Don't want to set up your own business just yet? Get access to the free bookkeeping course then look for virtual bookkeeping jobs at Flexjobs.com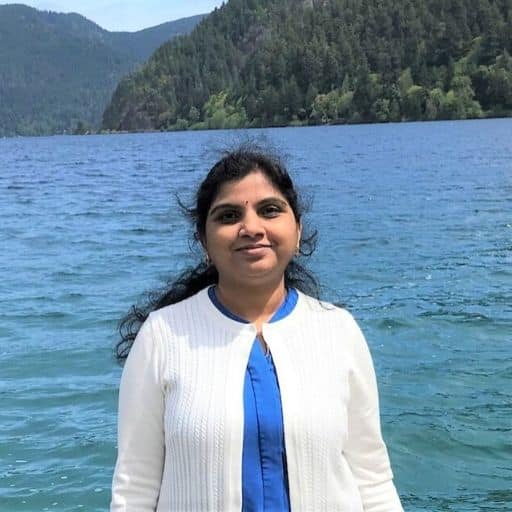 Howdy Folks, thanks for stopping by my blog.
I'm Swati, a proud mom, dedicated side hustler, full-time blogger, and a recognized millennial work-at-home expert. My expertise has been featured on esteemed platforms such as Forbes, CEO Blog Nation, Referral Rock, Vital Dollar, Databox blog, and many more. I have embarked on this incredible journey to share my firsthand experiences in the world of online income generation and to assist all of you in earning money from the comfort of your homes.
Join me in my mission to revolutionize the way we make money and achieve financial freedom. Trust me, it's not as challenging as it may seem!
Together, let's explore the boundless opportunities and pave our paths towards a prosperous future.