Looking for voice-over jobs for beginners or freshers? If you have a voice that everyone compliments, good pronunciation, and the ability to speak with emotions, then you have the opportunity.
Voice acting may sound like a difficult way to earn money. And, there's no point misguiding you; it's not easy. But, it is possible to work your way to the top.
It has a growing, flourishing global marketplace, and here's the proof:
According to Voices.com trends and stats, the demand for Non-English voice-over grew by 60%, while the number of job postings calling for English only grew by 43%.
Moreover, the number of postings for female voices is growing faster (24%) than the rate of new jobs posted for males (16%).
Luckily for you, there are plenty of platforms where you can find voice-over jobs for beginners from home. These jobs will let you have a fun and creative job, whether you want to make it a side hustle or a full-time career.
It allows you to be creative, and enjoy a job that's unique and fun, as you lend your voice to videos, e-learning materials, audiobooks, etc.
Before we get to the specific job boards, let's cover some important aspects of voice-over jobs, starting with the definition.
What are Voice-over Jobs?
If you are into commercials and wildlife features, then you are familiar with off-camera narrators. These are people who lend their voice to otherwise silent films. The actors behind these voices are known as voice-over artists or actors.
Their trade goes beyond TV ads and programs. You can now find narration jobs on mediums such as audiobooks, training videos, animations, and podcasts.
Other related narration projects include training and coaching videos, videogame characters, and academic tutorials and presentations.
From this wide range of voiceover mediums, it's evident that not all narration jobs are done in a professional studio. With the right software and voice style, you can do the recording at home.
As such, it's possible to bid on a project, work from anywhere in the world, and get paid real money as a voice-over freelancer.
VOICE OVER TRAINING
I highly recommend you sign up for this FREE mini voice-over training by Julie Eickhoff, a six-figure Audible Approved Producer, who has narrated and produced around 100 audiobooks.
It covers basics and questions pertaining to lending your voice for pay.
It's here that you will learn how to do VOs for audiobooks and where to source the jobs.
What Qualifications Do You Need to Become a Voice-over Actor?
Mostly, when a narration job is advertised, the major requirement is for you to send a demo reel.
This is a short recording that showcases your million-dollar voice style and versatility.
What this basically means is that anyone can take on a voice-over job, provided that their voice really sells.
Additionally, it also means that voice-over jobs for beginners from home are nonexistent without a demo recording.
The point is to come up with a one-in-a-lifetime demo reel.
A typical demo is one to a one-and-half minute long, segmented into 15-second-long voice varieties.
The breakdown is meant to show your ability to switch between voice styles on cue. By the time the client is done through your demo, they should be in a position to mentally cast you into a given role.
Your demo should cover everything from a cartoon and a businessman to a robot and a teacher.
Lastly, ensure that your recording is duplicated in several audio formats, and ready to be sent on request.
Here is more on how to start a career in voice-over work plus recommended training for beginners:
How to Get Started With Voice Over Work?
You surely need some talent to shine in this profession. But, if you have, you can definitely polish it, with hard work as time passes by.
However, you'll also need a good platform where you can find quality voice-over projects to strengthen your profile.
Still, wondering, how do I start a career in voiceovers? And, how can I get paid for my voice? You don't have to. Today, I'm here to reveal them to you. Read along to find the pre-requisites and qualifications.
Here's a free resource that'll help you get started on the right foot!
Voice Over Training
Julie Eickhoff, the creator of this FREE mini-course, has narrated and produced around 100 audiobooks and is an Audible Approved Producer.
She has been working from home doing voiceovers since 2011 and makes a full-time income.
Her free mini-course will answer all your questions about becoming a full-time voice acting artist. Take a look at what's covered…
What is Voice Over?

How does working as a voice artist work?

What background do I need to be successful?

What skills would I need to learn?

How do I get work?

How much money can I make?

Do I need my own recording space and equipment?

What's a typical day like?

How can I learn everything I need to know?

How to start a career in voice-over work?
If you are an aspiring voice-over artist and looking for full-time work-from-home career options…
And what kind of take-home will Julie's training prepare you for? Let's find out below.
Voice Over Jobs Salary
Depending on whom you ask, voice-over jobs pay can range anywhere from a few to millions of dollars per gig.
Think of renowned voiceover actors such as Dan Castellaneta and Nancy Cartwright, among the lead cast of The Simpsons.
The actors have seen their salaries jump from $30,000 to $400,000 per episode in recent times. That puts their basic salary at 9.6 million per season, which is basically one year's worth of voice acting.
Understandably, you won't be beginning at such high rates- that's not to say that your unique voice isn't worth millions on the first try.
That said, a look at the average salaries of current voice-over artists should keep your ambitions realistic.
To this end, according to PayScale, voice-over talent pays around $30 per hour on average. The estimate is based on profiles from 55 individuals with the highest quoted pay being $149 per hour.
A closer look at the report also shows that experience get you paid higher, making a voice-over career worth pursuing as a full-time gig.
Additionally, the job comes with tips and bonuses that can be north of $500 depending on the job and the medium's success in the market.
What Equipment Do You Need for Voice Acting?
Some voiceover platforms will provide you with in-page audio recording software for your demo reels and jobs. Nevertheless, as a professional VO actor, you need to record clips that mirror the sound quality you hear on the radio or TV.
Depending on your budget, here are the essential pieces of equipment for your home studio.
1. A Laptop or Desktop Computer
A laptop or desktop computer, preferably with an external hard drive for backing up your recordings. Expert voice-over artists also sign up for cloud-based storage for extra storage.
2. Microphone
Your laptop's mic is bound to record distracting noise around you. Ensure audio clarity by getting a condenser mic that is designed to minimize background noise.
The mic is also optimized to capture high sound from angles and a few feet from the equipment.
As part of your microphone assembly, you need a top-notch audio interface. Such equipment includes a preamplifier system to boost your voice before it is recorded.
A mic also needs a microphone stand, tripod stand, or boom arm to give you room to act out your scenes, plus a pop filter for a smooth sound.
3. Audio Recording Software
Whether you are working on a video game or an audio advert, you need premium voice recording and auditing software.
Tools such as Audacity helps you improve the sound quality of clips and convert audio to different formats.
You can also use the software to cut, merge, and mix recordings for the desired effect.
4. Soundproofing
Emulate talented voice-over professionals who work in soundproof studios, dedicate a room to your house, and soundproof it using acoustic foam.
The idea is to block all outside noise for clear recordings and a quiet workspace.
5. Headphones
Before you submit any voice acting job recording, you need to listen to it and make the necessary corrections.
Get yourself this high-quality noise-canceling headphones for clear sound playback and for long voice-over home jobs sessions.
Voice Over Jobs for Beginners
Here are our handpicked websites that have the best voice-over jobs for freshers.
It is the best platform that provides quality voice-over jobs for freshers.
Besides, it has already established itself as the biggest community of voiceover artists, opening an opportunity of earning anything between $100 and $1500, depending on the project.
And for that, most companies now take it as their main resource if they want someone to deliver a great voiceover.
Their client base now includes megabrands like the History Channel, Discovery Channel, Microsoft, Cisco, and many more.
It is the best marketplace if you want exposure in front of a massive community of clients. So, naturally, you need to be talented to get noticed, and once you do, you'll get offers you won't be able to refuse.
Getting started with it is pretty easy, as you just have to upload a sample of your voiceover to this website and fill in the required credentials to open a free account.
However, it's better to pick a premium account that costs $499 per year.
With this account, you can opt for additions and get the notification of new openings directly in your mailbox, besides getting priority ranking on the search results of the website, giving you a better chance of exposure.
This website established itself as the primary contender of Voices. Besides, it now genuinely provides the best platform for voice-over jobs for beginners from home.
This trusted voiceover marketplace has companies like Coca-Cola, NBC, 21st Century Fox, and many other reputed brands in the client base.
You can expect to make anything from $30 to $100 per hour from the jobs you find on this platform.
This means that you will get a quality job on this website. Voice123 has completed more than 250,000 genuine voiceover projects since its inception in 2003.
Opening an account here is pretty easy as you need to fill up your credentials along with a good voice note to get started.
The standard account is absolutely free, although it will be a wise decision to go with Premium or Platinum membership to get maximum exposure, both of which will automatically place you much higher in search results.
Moreover, you won't get the chance to appear in all the listed auditions with the free account. You'll have an even better chance of selection through this website if you already have previous experience.
Additional Read: Voices.com Vs Voices123 (Side-by-Side Comparison)
3. BunnyStudio [Formerly Voice Bunny]
Bunny Studio is a relatively new voiceover marketplace that is now giving stiff competition to big fishes like Voice and Voices 123.
Besides, it now offers the best voice-over jobs for freshers, giving you the chance to start at a minimum rate of $31 per voiceover gig.
It is a community of more than 28 thousand voiceover artists covering 50 languages and dialects.
With Bunny Studio, you will have your chance even if you are not comfortable with English, but can deliver a great voiceover in Spanish or French. It is probably the best website that allows you to give auditions from your home studio.
So, you can start working with just a simple setup in your own room. Note that, Bunny Studio has a record of delivering projects to its client in just three minutes. So, you'll need to be fast and efficient to make your name on this platform.
Your work will go through manual and artificial intelligence-supported checking. It is probably the only website that lets us preselect your desired asking rate per hour.
So, you'll have the full freedom to control your earnings. You also don't need to browse through thousands of projects, as the algorithm will automatically send you the best matches directly to your mailbox.
It is not actually a dedicated voiceover marketplace, but a platform that delivers professional videos to its clients.
However, they have a massive opening for voiceover artists, as they frequently need great voices to go in the background of those videos. Besides, they also need a good voice quality often while making a promotional or product launch video for their clients.
Right now, their clientele includes megabrands like Google, Asus, Deloitte, and others. So, you'll have the chance of getting vast exposure in front of these companies.
Thus, Filmless now provides an excellent platform for freelance voiceover artists around the globe, who have great diction along with the knowledge and practice of voice modulation.
You'll only get nearly 4 hours of turnaround time for the projects, so efficiency is a must-have quality if you want to succeed with it. Besides, you'll also need to have more than five years of industry experience if you're going to appeal to the best clients.
While applying as a voiceover artist, don't forget to send your best voice sample to maximize your chance of selection.
Voice Crafters is a multilingual voice-over agency that has been around since 2008. They are a boutique voice-over marketplace and agency representing talent in over 80 languages. They only work with professional, full-time voice actors with at least 5 years of proven commercial experience.
And provide voiceovers for a wide variety of applications such as commercials, explainers, e-learning, corporate videos, promotional videos, IVRs, and much more!
There's no fee to join Voice Crafters, but they do have very strict requirements – for the talent to have their own, broadcast-quality studio and of course to have proven commercial experience.
Voice actors on this site can earn anything from $85 (minimum fee) to well over $3,000 per job, depending on what the voice-over is for and its usage.
At this time, the company is not accepting US English talent. Openings for talented people in other languages are welcome. Look out for openings and apply right here!
Cartoon Voiceover Jobs
Many talented voiceover artists only work in the animation and cartoon field, as they get great satisfaction and get to relive their childhood.
If you are among those who like to enter this cartoon industry, here are the best websites that offer cartoon voiceover jobs right now.
Snap Recordings helps voiceover artists earn approximately $50 to $100 per hour for the gigs. It mainly focuses on voiceover recordings for business or corporate telephone systems.
However, it can also fulfill personal requirements, like daytime greetings, massage on hold, voicemail greetings, or more. It is also helpful for anyone who wants to have their telephone greetings in a humorous or cartoonish tone.
Many companies related to animation and gaming also prefer to give a fun touch to their telephonic business system by incorporating cartoon-like voices.
Snap Recordings has frequent openings for voiceover artists.
To get started, you can fill up your credentials along with a good voice demo to the website to get noticed.
Once you are selected, they will send you the project proposal directly in your mailbox. However, you must remember that efficiency is the king here as they have a short turnaround time for maximum client satisfaction.
Right now, this company accepts voiceover artists who are native speakers of English, Spanish, and French. If you are bilingual, you'll have an edge.
Envato Studio is definitely one of the best websites that provides a platform for voice-over work for beginners, although it is not like other freelance marketplaces as they handpick their freelancers.
It is one of the largest communities of creative people, including talented voiceover artists and voice actors. Here, you can start by making a minimum rate of $40 per project.
It also has several projects for animation companies and gaming studios that require cartoon voiceover jobs. However, making an account is not at all easy on this platform, as you must fill up the 'interest form' first to get selected.
Once they are happy with your voice note and previous experience along with your voiceover quality and talent, they will assign an account to you.
Besides regular voiceover jobs, this website also has frequent openings for voiceover artists that are the perfect fit for jingles, drops, and other works of music production studios.
Needless to say, the payments are quite high as they only entertain great talents in this field. Although they don't have any prejudice against freshers, you'll definitely have an edge if you already have previous experience.
Voice Over Jobs for Beginners from Home
Making money from home can give you the best work-life balance. This is especially so when you are working on something that you really love. With VO jobs involving cartoon characters and funny ads, this is a hustle that can increase your happiness.
For voice-over jobs for beginners from home, look to explore the following sites.
This platform is based in Germany and now brings a great set of voiceover jobs to the United States. It is actually a pay-to-play website that currently has a community of around 8 thousand voiceover artists.
Here, you can earn at least $50 per project, and one of the best advantages of this particular website is that they don't charge any commission for any projects.
The registration process is quite easy as you'll need to fill up your personal details to open a free account.
Once you are done with the initial approval from their side, you are free to browse through thousands of voiceover jobs and projects listed on the platform.
Besides, they regularly update their listings of new projects. When you find a suitable project for you in Bodalgo, you can send your voiceover demo along with your hourly rate to the client.
If you are selected, the client then can contact you directly. One of the best advantages of this particular website is that it doesn't charge any commission for any projects.
Needless to say, the competition is pretty fierce, so it is best if you have any previous experience in this field. It definitely is one of the best platforms for voice-over jobs for beginners from home.
As most of you may know, Fiverr is probably the best platform for freelance job seekers, as it is actually the largest online community of freelancers around the globe.
Among websites like Upwork, Freelancer, FlexJobs, etc., Fiverr is preferred over other freelance communities, and it has established itself as one of the premier marketplaces for great projects.
Whether it's a cartoon voiceover or a background guide for new games, this marketplace has several thousand projects available any day as it has one of the biggest databases of reputed clients. Starting from small-scale companies to industry leaders, you'll find all kinds of projects.
You need to open a free account on Fiverr and make your own gig of voiceover services. Just set the basic gig for $5 that can go as high as you want with additional services.
It will definitely come across great competition in this marketplace, so you need to be efficient and superfast to get noticed by the clients.
Voice Over Jobs in Disney
Headquartered at the Walt Disney Studio, Disney is definitely one of the biggest entertainment companies in 2019.
And, many talented artists, including some incredibly talented voiceover ones, can make their careers while working in this company. But there are very few websites that give a solid platform to enter this production house.
Here are our TOP picks for this category.
It is the best platform to get legit casting calls. Backstage has provided the initial platform to several great Hollywood stars like James Earl Jones, Jane Krakowski, and many more.
And without any doubt, you can be the next big star in the voiceover industry if you can channelize your great talent with the help of this platform, starting your career with at least $50 per project.
Like most of the best production houses, Disney also often searches for their voiceover artists on this platform. It can provide the best opportunity if you really want to associate with Walt Disney's company.
Currently, this website doesn't have any free membership plan. But, you need to pay $9.99 per month when billed annually.
After opening an account and providing proper credentials and voice samples, just go to the dedicated voiceover section of this website to apply for hundreds of ongoing projects.
Once you are selected by the client, they will call you for an audition. And after you clear the final set of the audition, you are ready to directly interact with the client, as Backstage doesn't charge any commission.
This platform now has more than 5k active community members who are also extremely talented voiceover artists, earning at least $100 per hour. So, you definitely need to give your best to make a name among them.
Besides, this platform now provides the best voice-over jobs for freshers. Like most of the voiceover marketplaces, this website too has a simple registration process, as you need to fill in your details and upload a voice sample to get started.
The only drawback is that Voice Realm may take time to finally approve your account, as they now have a waiting period for new members. The membership of this website is currently free.
Besides voiceover or voice acting, this website now also provides a platform for translators, and it will be an added benefit if you are bilingual.
This website currently has more than thousands of active voiceover projects, and, they also add new projects daily.
So, you don't need to worry about the job prospect, as you just need to concentrate on your skills. It is great if you have any previous experience in this industry.
This incredible platform from the house of Amazon now gives an excellent chance to bag voice-over jobs for beginners from home and gives you the chance to earn up to $200 per hour.
However, ACX mainly concentrates on audiobooks. So, you need to have sufficient excitement and thrill in your voice to make the audiobook really pleasurable to hear.
This platform now accepts voiceover talents to convert the books into audio stories that get featured on Audible, Amazon, and iTunes.
So, you'll definitely get a huge amount of exposure while working with it. They often need someone to convert cartoon stories, especially from the Disney production house, thus giving you the chance to work with this amazing production house.
Opening an account on this website is pretty easy, as you need to upload a great voice sample to get approved. And, once you are done with the initial projects, you can directly apply for the projects.
Right now, this platform has more than two thousand active voiceover projects that they update regularly.
A significant outfit from the house of Mandy, this platform provides a great way to find legit voiceover projects that pay quite well.
It is actually a community of artists with more than 2.5 million active members, who earn at least $25 per short project, and $50 per hour for long projects.
Besides the voiceover for television commercials, it also provides a great platform for those artists who want to make use of their voiceover talents in film and theater.
However, you definitely need to be extraordinarily talented and super-efficient to succeed in this platform.
As it has previously collaborated with several film studios and production houses, Mandy Voice is definitely one of the best platforms if you are looking for voice-over jobs at Disney. So, you can definitely land your dream job with a world-class company, through this site.
Right now, the membership is absolutely free as you need to fill up the simple form to get started. Once you apply for a particular project or job opening through this website, you may have to give a small audition to go through the final selection process.
This platform also gives you a chance to open a free website to get more exposure.
Voice Acting Jobs Near Me
Are you in the market for voice acting jobs for anime and none of the above platforms is helping? I'm asking this because it's possible to miss out on some voice talent jobs if you limit your job search to popular job boards.
The reason is that not all productions have accounts with freelancer marketplaces.
For example, anime (Japanese animated works) film and TV voice productions can be found by searching the internet for nearby jobs. Such searches will direct you to voice-over auditions in your locality.
Popular production houses that employ directly from their career, applications, jobs, cast, auditions, or contact us pages include:
Funimation is an American-based entertainment company specializing in East Asian media productions. Mainly, they dub and distribute Japanese anime.
Some of their notable works include Attack on Titan and Dragon Ball. The company is known to hire locally from time to time.
While it's not uncommon to proposition big names in the industry, the company offers both major and minor roles to newcomers. The outfit is owned by Sony Pictures, so, expect their contracts to be airtight.
As such, their remuneration is kept private and so are their cast roles. To work here, your demo needs to be comprehensive and as diverse as possible.
BTVA, as this company is popularly known, lists both male and female voice-over jobs.
They employ talent to play characters in anime, cartoons, movies, and video games among other productions. Their job board is well illustrated with audition deadlines and the originating company or the individual client.
The number of current applicants is also indicated for each job. I find this to be important since you get to know the level of completion you'll encounter.
On the upside, most of the listings give you the specific lines that you are to record, plus the background of the character.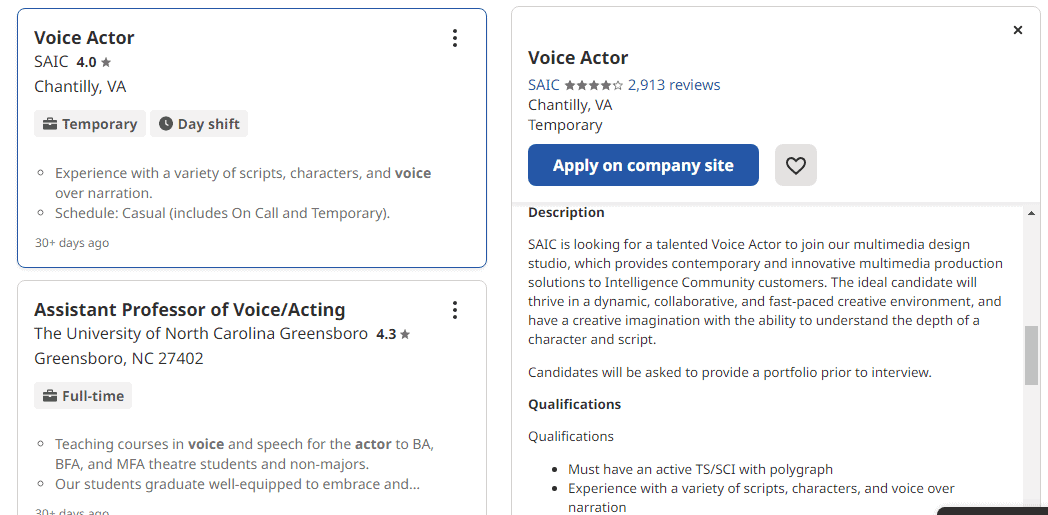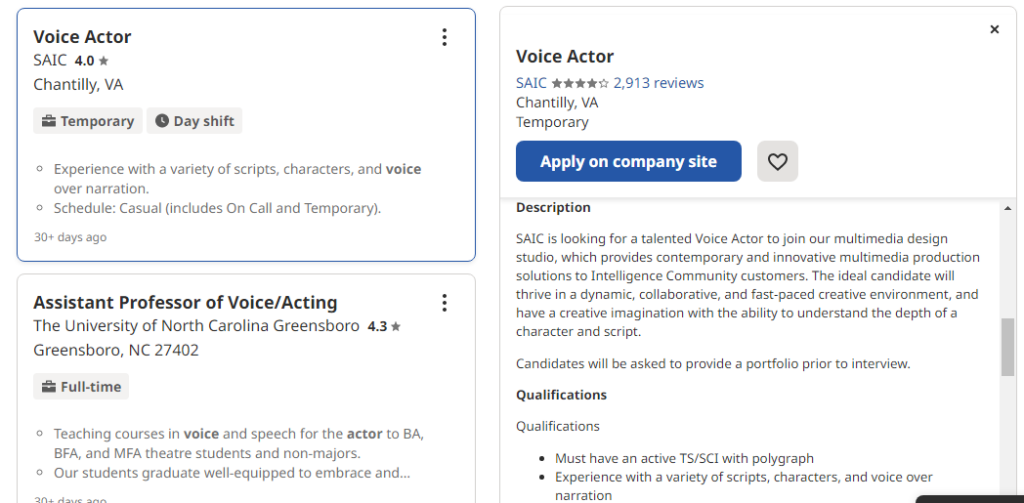 Indeed is a leading jobs marketplace for voice-over talent.
Apart from listing employment opportunities across the globe, the company also keeps a database of resumes from interested jobseekers.
This provides an excellent opportunity for clients to source talent by reaching out directly to desirable applicants.
Jobs on the website are from all over the world. The dashboard, however, has tabs for you to narrow down searches to your city or town. So, you can go for one on one or remote jobs that you qualify for.
To your advantage, the platform outlines comprehensive requirements for each job.
Additionally, the number of days a listing has been active is indicated. Usually, you also get to see the offer's salary, with typical voice-over listings paying $15 – $20 per hour.
Additional Resource: Remote Jobs That Pay $20 an hour
Voice Over Jobs for Audiobook
Typically, audiobook recordings do not require professional voice actors. The job calls for an everyday Joe's voice to read books out loud without much need for tonal variations.
That's not to say a versatile voice talent won't get you high-paying audiobooks gigs. The point is, that it's possible to land "voice over jobs with no experience" to just read a novel.
What is your favorite genre? Audiobooks come in every category, including fiction, romance, business, and thriller. All you have to do is go for your kind of literature and make killer demos.
As per Voices, the industry-standard rates for an audiobook narration range from $200 – $300 per hour of recording, meaning you could expect to make between $500-$1,000 for a 2-3 hour recording session.
Awesome, right?!
Places that you can find tons of audiobook narration jobs to start with:
FlexJobs, as the name suggests, is a platform where you can get flexible jobs. Listings can be full-time or part-time jobs from anywhere across the globe.
The site was founded in 2007 by Sara Sutton, a mom on the lookout for remote jobs. Since then, the platform lists thousands of freelance opportunities ranging from voiceover talent to anime writing gigs.
You can search through their listings or sign up to receive a notification via email when a job is available. The application process is made easier with all requirements specified, including benefits and job schedules.
Freelancer.com is just like most job sites listed here, except that they concentrate on remote work-from-home gigs.
You can get small tasks such as a few lines on a cartoon show or large ones such as an audiobook narration. To bid on the site, you first have to sign up and create a profile showcasing your talent.
After your account is approved, you can get busy placing bids from the listed jobs. Voice-over jobs online go for anything from $15 to $100 per project.
Tasks that require foreign languages usually fetch more money. The best part is that you get to see the number of bids and the average price quote on each job before you apply.
Also Read: 10 Most Popular Audio Narration Jobs
Voice Over Jobs for Video Games
Gaming is now an acceptable way to earn online. In fact, there are legit game apps and websites that pay decently.
What you may not know is that you can also use your voice to earn from video games. As a voice-over talent, you deliver the dialogue for a game character or narrator.
Won't be fun recommending a game where you are credited as a voice character? And with the new Hollywood trope of adapting video games into real movies, this could be your chance to launch your big-screen career.
Check out the websites below to give your video games, and voice-over career a nudge.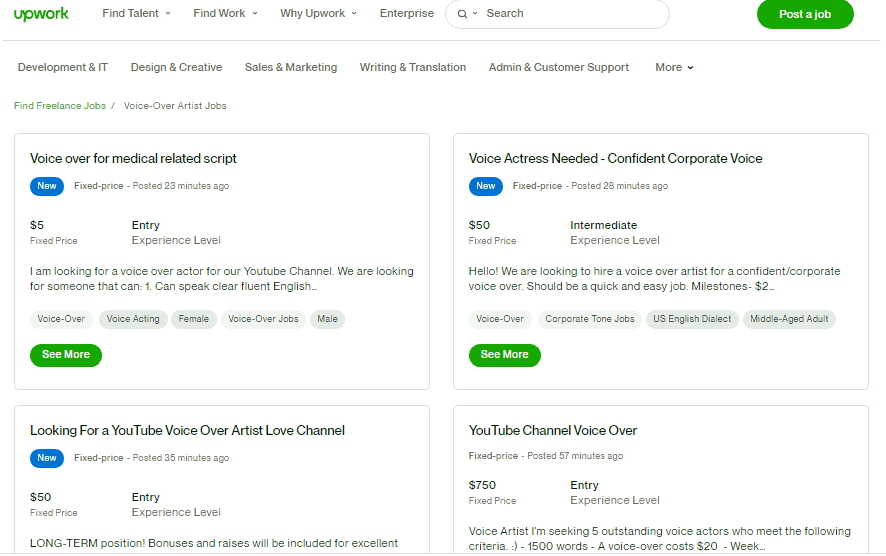 As one of the largest freelancer job boards in the world, Upwork is the ideal place to get video narrators' jobs. The platform is available worldwide, with jobs paying on both hourly and fixed basis.
You can get one-off jobs as well as gigs that run for months. The pay can be quoted with the job description or left open for negotiation.
Other typical tasks that you'll come across include voice-over for animated YouTube series and producing audiobooks.
If you are fluent in a second language, you are likely to get work translating English-language games for a foreign market. What I like most about the platform is that your payment is protected, reducing the likelihood of online money scams.
Voquent is a UK-based voice-over agency where you can sign up as a freelancer. They offer a wide range of services, chief among them being voice-over for video games.
Additionally, they employ subtitlers and translators. Sign-up is free with projects ranging from console to PC games.
The best part of the deal is that you can upload up to 30 samples of your previous work or demos. This makes it easier for you to get picked in a pool of other actors for incoming and ongoing projects.
Additionally, once your profile is approved, you have the option of providing a referral link to a personal voice-over website or blog.
Most of the jobs here are for English speakers only. They consider accents such as British, Irish, Welsh, American, New Zealand, Canadian, and Scottish.
The company does, however, also accept ESL speakers to provide translation work in over 500 languages and local dialects from around the world.
As an ESL teacher, you can also try your hand at online tutoring on some of these well-paying English tutoring websites.
Additional Resource: 95 Well-paying jobs for moms
Voice Over Actor Freelance Jobs
Working as a freelance means accepting home jobs that pay remotely. A client sends you a voice acting job that requires execution from a home studio, and you get paid via online payment services such as PayPal.
Such voice jobs can be sourced from the following sites:
This is yet another freelance voice-over jobs site for acting beginners and experts. Apart from professional voice actors, a potential client can get writers, software developers, and SEO experts from the site.
Payment is via direct deposits, PayPal, and Card transactions. Online job seekers enjoy full control of invoices, pay rate, and work hours.
Typical job offers on Toogit include voice work for animated characters and audiobooks. Joining this India-based platform is free, however, you're charged 8% of every payment that you receive.
Are you interested in Amazon voice over artists' jobs? Brilliance Publishing is owned by Amazon making it one of the best platforms for voiceover jobseekers.
The site deals with voice work for audiobooks that are usually listed on Amazon. That said, salaries and jobs opportunities are rarely published on this exclusive site.
To try your luck as a freelance Amazon voice actor, get your demo reel ready and check out Brilliance Publishing vacancies on LinkedIn.
This is a professional voice-over platform that allows freelancers to keep all of their earnings. Nevertheless, the site charges a membership fee of $199 per year for access to their work from home VO opportunities.
The subscription also gets you listed in their directory, making it easy for a high-paying potential client to reach you. You'll need to register on VOPlanet and wait for approval before you can upload your voice demo and create a profile.
What I like most about the site is that the client's budget is displayed to all freelancers. This makes bidding easy and helps in guiding your audition.
This is a US-based company, perfect for jumpstarting your freelance voice-over career. First off, you get access to an online profile editor for creating your voiceover demo. And once you submit your recording, verification takes a short time.
Secondly, once approved, you can start applying for auditions for the different VO gigs on offer. The tests are run online, meaning you can participate from anywhere. Projects are allotted fixed amounts to ensure you know how much you'll make from the word go.
Covoco perks include an AI that matches you with jobs that fits your voice acting. Also, sign-up is free with your earnings being remitted monthly.
25. Earworks
Earworks is a US-based video and audio auditing company with lots of voice-over jobs for beginners. Established in 1987 deals with the production of television and radio programs, as well as ads for corporate clients.
As a voice actor, the company can contract you to work on jobs from the likes of Toyota, Dupont, ESPN, Nike, PBS, and McDonald's. Both adults and kids (with parental consent) can work on Earworks' freelance jobs.
To get a voice-over job on the site, create an mp3 demo and attach it to this form. The platform allows the submission of up to 3 voice work demos.
I recommend taking advantage of the slots to showcase your diverse voice acting talent; animated characters, singing, reporter voice, etc.
Voice Artist Jobs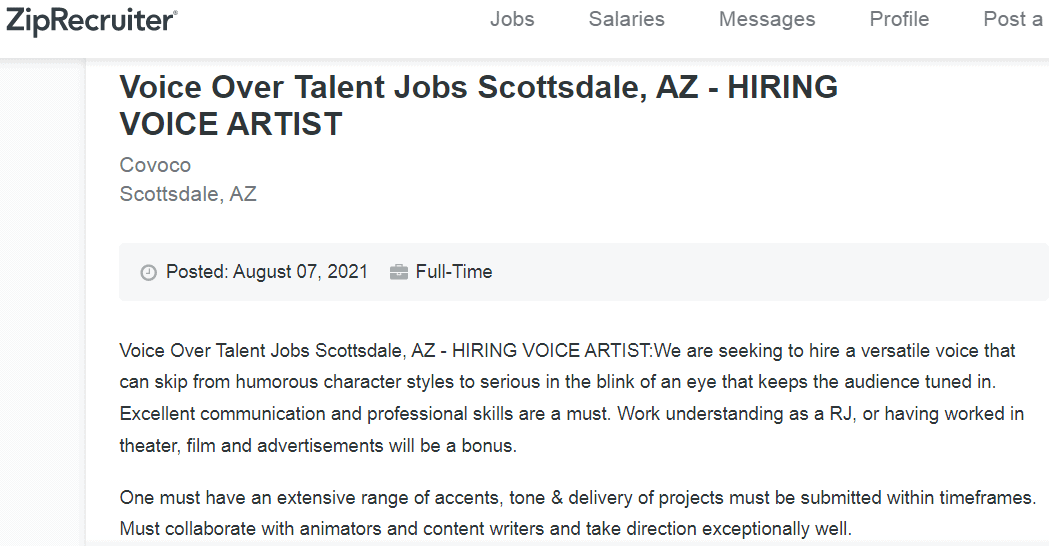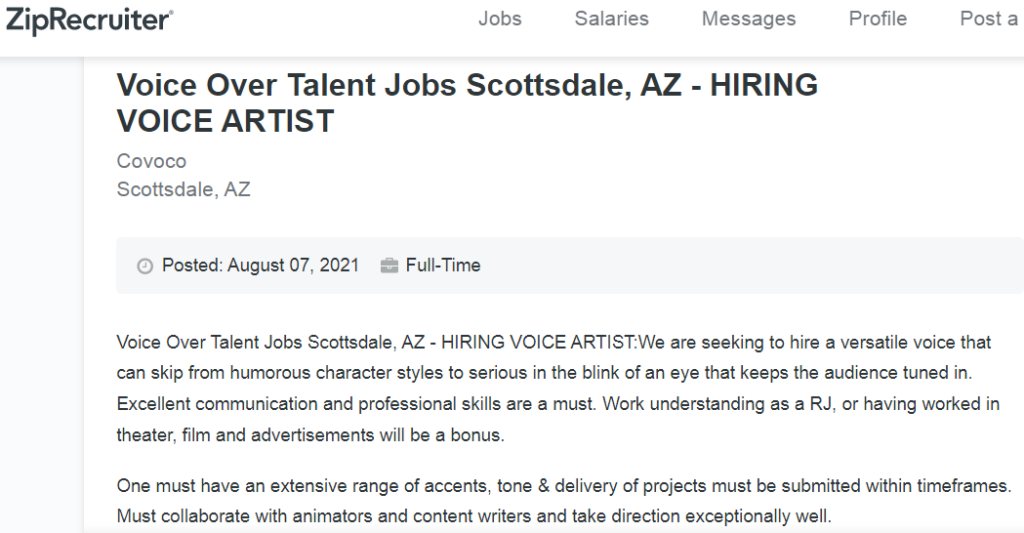 This is a leading jobs marketplace and a must-visit site for work-at-home side hustles. Potential clients list vacancies on the site and wait for interested people to apply.
A typical voice-over job description includes a short background on the client, the position's roles and key responsibilities, requirements, and salary. To get voiceover job updates, register on ZipRecruiter using your email address.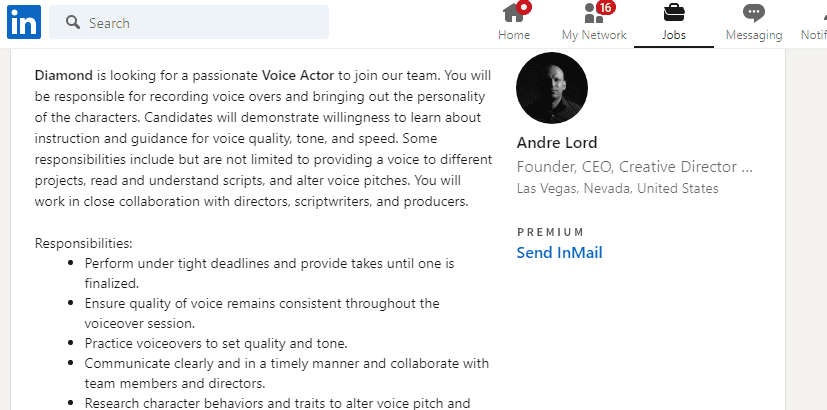 This is an American-based employment-oriented social website. Unlike most social media sites, LinkedIn is mainly focused on professionals and jobseekers looking to network.
Register on the site and create your voice-over profile, with samples of your work. The next step is to find and connect with film, radio, and TV producers and forge a professional relationship.
Additionally, you can search and apply for VO jobs listed on the platform using your profile.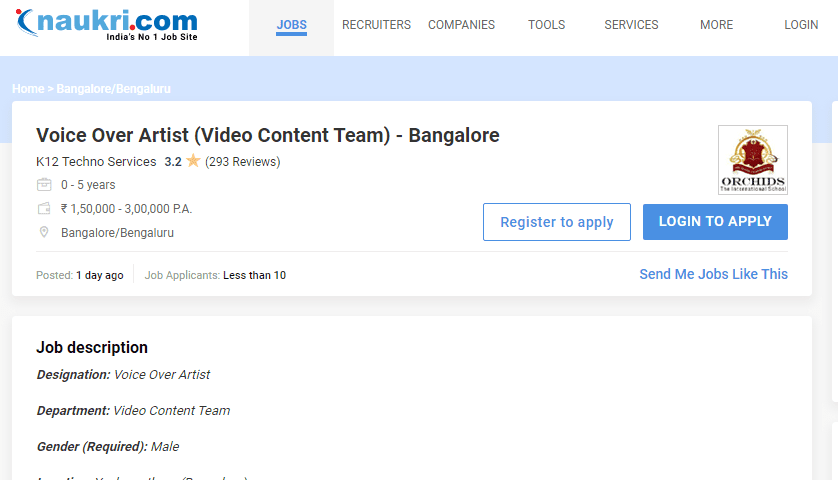 Naukri is, arguably, India's leading jobs website, listing both full-time and part-time vacancies from around the globe.
As a voice-over artist, you just need to log in to the site and filter through the jobs to get your idea employment opportunity. Basically, every listing features the salary, skills, academic qualifications, and work duration.
To apply, you first need to register with Naukri.
Glassdoor is a marketplace review site that focuses on companies and work opportunities. The site provides job seekers with insights into jobs, CEOs, salaries, and other work-life balance metrics.
On the other hand, employers turn to the site for professional help. You register, create your profile, search for voice-over jobs, and apply today.
Voice Over Jobs for Beginners from Home: FAQs
1. How Can I Get a Voice-over Job Without Experience?
You can get voice-over jobs as a beginner by bidding on freelancer marketplaces. Nowadays, there's a huge demand for freelance voice-over artists. The leading sites for entry-level voice talent jobs include Upwork, FlexJobs, and Fiverr.
Voice-over actors need to have a good sounding, clear and articulate voice; along with excellent reading skills and the ability to mimic different accents or dialects.
Though, training and experience are not prerequisites for you to get hired. However, to beat the competition, it helps to have a demo that lays out your ability to switch between different voice styles.
2. How Much Do Beginner Voice-over Actors Make?
Is there money in voice-over work?
There is a lot of money to be made in voice-over work, and it can be done from anywhere.
Voice-over jobs pay around $14 – $26 per hour for beginner-level audio recordings. The pay varies with the project length, with large jobs such as audiobook narration paying up to $300 per hour.
To earn higher salaries, target auditions near you, as well as upload your resume to media and animation production companies. Also, ensure that you pad your resume with a professional demo reel.
3. What is a Demo Reel In Voice Acting?
Also known as a showreel or sizzle reel, a demo reel is a short video or audio clip that is specifically meant to showcase an actor's talent. The recording is usually between 20 and 30 seconds long and delves directly into your vocal talents.
It is okay to edit a demo reel to include features such as music and video effects; however, your post-production voice features should not be distracting to the listener.
4. How Long Does It Take to Become a Voice-over Actor?
For beginners, it helps to take voice-over training to hone your audio capabilities. But if you are confident with your voice style, there are marketplaces with jobs ready for bidding.
However, for the big bucks, you may need professional training that can take you about 4 years in a drama show reels can also go for online voice-over training that only takes a month or two to complete.
All you have to do is ensure that the course is from a reputable and experienced voice-over actor.
Voice Acting Jobs: Final Take
Now that you know how to start voice acting sitting in the comfort of your home, with the help of the best and the most reliable websites, it's time for you to explore a profession that will allow you to put your gift to good use.
If you enjoy doing it, you can do it as a part-time job. Who knows? It can even become your full-time career!
VOICE OVER TRAINING
I highly recommend you sign up for this FREE mini voice-over training by Julie Eickhoff, a six-figure Audible Approved Producer, who has narrated and produced around 100 audiobooks.
It covers basics and questions pertaining to lending your voice for pay.
It's here that you will learn how to do VOs for audiobooks and where to source the jobs.
---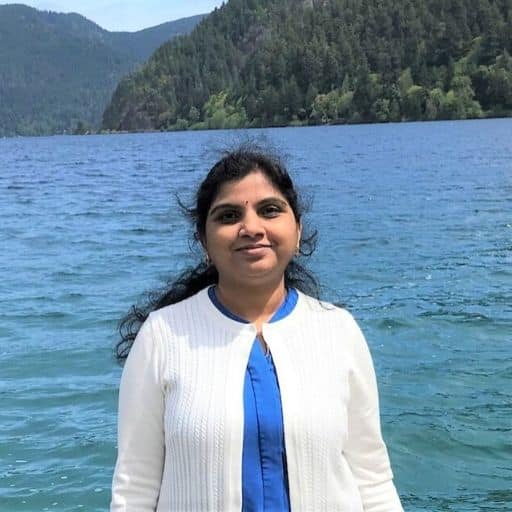 Howdy Folks, thanks for stopping by my blog.
I'm Swati, a proud mom, dedicated side hustler, full-time blogger, and a recognized millennial work-at-home expert. My expertise has been featured on esteemed platforms such as Forbes, CEO Blog Nation, Referral Rock, Vital Dollar, Databox blog, and many more. I have embarked on this incredible journey to share my firsthand experiences in the world of online income generation and to assist all of you in earning money from the comfort of your homes.
Join me in my mission to revolutionize the way we make money and achieve financial freedom. Trust me, it's not as challenging as it may seem!
Together, let's explore the boundless opportunities and pave our paths towards a prosperous future.