Did you know that there are side hustle ideas for singles moms that can make you $100,000 per year? You heard that right and no, you don't have to quit your job.
I have compiled a list of the best side hustles for moms that you can do with minimal investment and for just a few hours of your time. What's more, these are jobs that can establish you as an expert and earn you so much more than just mere upkeep.

Interested?
15 Best Side Hustles for Moms
Here are 15 side hustle ideas for single moms and anyone else who wants to supplement their income.
1. Proofreading
We often talk about the best ways to make money from home and the different ways to work for yourself.
Perhaps one of the lesser known ways to do this is by proofreading.
There is an incredibly high demand for proofreading worldwide, and the best part is that you don't need to be in any specific location to do the job… it's all from your computer or tablet!
With proofreading, you take content that other people have written and proofread it with a fine-toothed comb to make it perfect.
This gig is obviously for a very specific type of person who LOVES to correct grammar, hates when authors use a comma splice, or makes note of spelling mistakes on a restaurant menu… it takes a certain "eagle eye" ability to be good at proofreading!
Now, how much can you make as a proofreader? Well, this mom makes $2700 a month proofreading from home, working part-time! There are some proofreaders earning over $40,000 working for themselves and loving their jobs – quite a lot!
Interested?
Learn the exact steps it takes to pounce on this opportunity and start living the life you want with this FREE 76-minute workshop.
If you take action, I know you'll see a huge return on the investment of your time and resources. Here are 30+ websites hiring proofreaders any time of the year.

2. Freelance Writing
Do you have a passion for writing or do you just happen to be an excellent writer? You could turn this into a profitable job. Writing is one of the good-paying jobs for single mothers.
Blogs, company websites, and other online platforms are willing to pay a good hourly or a fixed rate for good quality writing- I'm talking about figures north of 200,000 per year.
This doesn't come easy though; first, you have to establish and sell yourself as an expert. What's a better way to do this than to learn it from someone who has been there and done it?
Check out Elna Cain's, six-figure freelance prolific writer offering a 1-hour video writing prep masterclass. And, if you want to jump right in, here's her ever popular 'Write Your Way to Your First $1k' course to help you succeed.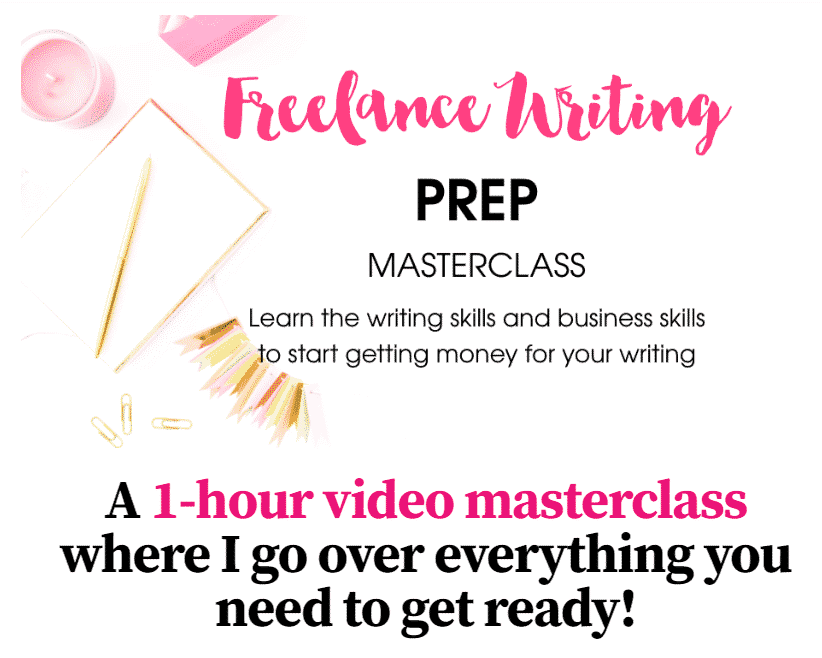 Additionally, content mills like Upwork, Contently, and ClearVoice are great places to start out before you are established.
3. Internet Researcher
How good are you at internet research? Institutions and businesses depend on online research to get leads and grow. Much of this is done by off-site researchers who can work from anywhere in the world.
This job involves sifting through the web to extract all kinds of information. It will be upon you to analyze markets and define who the competition is. Forget about cat videos; think about spending time on the net to come up with actionable databases.
Being adept at software such as PRIM Internet research can take your side hustle as an internet researcher a notch higher and push you towards being a headhunter for top-tier clients.
4. Virtual Assistant
One of the leading side hustles for moms is becoming a virtual assistant (VA). Also known as a virtual personal assistant, the job entails providing administrative assistance to websites or blogs from home.
A VA does more than operating a one-woman call center. It will be up to you to do everything that pertains to running the business; from customer service to subcontracting tasks. This list of 150+ services a virtual assistant can offer – solid proof that there are no limitations to this job.
Here's how this student makes around $2,700 a month on the side working part-time. That was just his initial pay ($25k+ per year!) — until he realized that he was too good at it (so pretty darn good!), he now makes a full-time income!

Online job sites such as FlexJobs, Upwork, and Fiverr have many VA listings with varying pay. You can also directly approach companies that are known to offer this kind of jobs, including:
You can find out more about how to become and excel as a virtual assistant in my recent interview with Gina Horkey – a millennial freelance entrepreneur. The pay from this job can be anything from $20 – $40 an hour – not bad for a stay at home mom side hustle.
5. Blogging
What is your passion? Cooking, traveling, sports, shopping, name it, you can blog about anything under the sun. A blog can easily make you as much as $150,000 a month.
And all it takes is a small investment when starting off and from there you can monetize using paid ads. Other blogs and websites can also pay you to place links on your platform. A simple way to start blogging is by starting a WordPress blog as explained in the post.
To learn how to drive traffic and monetize your blog, check out these courses and books that help me make over $4,000 a month:
6. Coaching
What are you so skilled at that it will be so natural to teach others to do it successfully? Add the will to help people fix their problems and great people skills and you've got yourself a coaching business.
Experience in the particular field also goes a long way. Think; how credible will you appear if you are helping me sell stuff online when you've never sold anything? Get the idea?
Still, coaching is one of the best stays at home mom side hustles. Why? Because there are so many people that know what they want but need you to believe in them, then hold their hand to reach there.
So, what is it for you? Weight Loss, dating, business, career? Armed with your niche, this article on how to start a coaching business from scratch can help you proceed.
7. Taking Paid Surveys
Paid surveys, whether on the phone or PC, are some of the easiest ways on how to make money as a single mom. Surveys don't pay much, but they don't require any investment on your part and they are short, and most of the time, interesting.
However, before you start taking paid surveys you need to vet the platform so as not to fall to scams. Usually, pay is through gift cards and PayPal. With the right surveys you can make $50 per survey and up to $20 per hour on others.
Good news, I've got you! Check out my reviews of the best-paid survey platforms:
Vindale Research – The biggest plus about Vindale Research is many of their surveys pay quite well. Each survey can pay you anywhere between 0.50 to $50 per survey. So, there is a good chance that you can earn good money from a single survey. The best part is that you get instant bonus and choose to keep the products that you review – get started today!
LifePointsPanel: With over 4k positive reviews and a 4.5 rating on Trustpilot, Lifepoints is available to global audience over 16 yrs of age. Participate in surveys, win Amazon, Walmart gift cards – Sign up now.
8. Brand Influencer
If you are like me then you spend considerable time on social media. How many followers do you have? How about monetizing your following by simply posting about your everyday products?
This is what being an influencer is all about and with the right numbers you can leverage brands to pay you to post. To know how to tap into influencer marketing check out Shane Barker's 'How to Be an Influencer' course.
9. Writing / Selling Ebooks
Fiction, non-fiction, thriller, cyberpunk, horror, comedy, romance, fairy tales…Which genre appeals to you most? Without going through panels and publishing houses, you can now write and sell Ebooks right from your home.
What makes this among the good side hustle ideas for single mom is the ease of marketing after you have mastered the writing part. You can sell on online marketplaces such as eBay and Amazon.
Better still, people can read your book from apps such as Amazon Kindle, Aldiko Book Reader, and Cool Reader. To pool potential customers create a website, comment on publishing blogs, and network on social media.
10. Search Engine Evaluator
Are you looking for good jobs for single moms and you have a college degree? Search engine evaluation is your kind of job. It is easy, remote-based, and it pays well. And all it requires is typing on search engines and checking results.
Ads quality rater or internet assessor are names that also refer to the job. This is a side hustle that you can do from anywhere in the world. The pay is decent, ranging from $500 to $4000 per month.
Google is among the search companies that pay well. And I should know, I have done search engine evaluation and I found the job easy and the hours flexible.
Read all about it here: An Ultimate Guide To Google Rater Job.
11. Stock Trading
Arguably, stock trading is one of the good-paying jobs for single moms. As a matter of fact, this is a job that you can do full-time and make lots of money from. However, stock trading is as risky as it is lucrative. You could make millions or lose just as much in seconds.
To learn the ins and outs of the trade, start by learning the basics from millionaire stockbrokers such as Jason Bond. He can teach you how to buy stocks without a broker. To get timely alerts on trades sign up with brokers such as Kyle Dennis of Fast 5 Trading. What's more, you can trade on the go through apps such as:
12. Teaching English Online
Is your English good? Can you teach as well as you can speak? If the answer is yes to both questions then it's time to start teaching English online, a job that can pay from $20 an hour.
This is among the best side hustle ideas for moms without any experience– all you need is a laptop and reliable internet. However, the interview process usually requires you to teach a mock class to get used to a given platform.
My choices for the best websites for online teaching include VIP Kid ($22/hr) and QKids ($20/hr). The sites usually prefer US-based job seekers so if you are anywhere else in the world, you can try EF Education First.
13. Transcribing
Best side hustles for moms are jobs that you can do at home and at your own convenience. That's why I find transcribing to be one of the leading candidates with fast typing and listening being the only requirements.
The job involves creating text from video and audio files and you can get paid anything from $15 to $22 per hour. Transcription can be of any content including court proceedings, conferences, interviews, news, lectures, etc.
Apart from fast typing skills, that you can sharpen using software like KeyBr, courses such as the ones offered by Transcribe Anywhere can be handy.
To get you started, here are 17 companies that hire remote transcribers. For the big bucks, I recommend you try legal transcription jobs– to make $20K – 60K per year.
14. Get Paid to Read
Yes you read that right, you can just read all sorts of books online and earn some bucks. Apart from the knowledge that you will garner, you stand to make about $60 per book.
And all that these platforms need is for you to write a short review after you are done reading. The review could be negative or positive- you just speak your mind! And if you are right from the job, here are some of the best ways to get paid to read books.
You can also combine reading-for-pay with proofreading. However, proofreading requires you to freshen up your written language and other grammar skills.
Here a course that can be of great help, especially if it's been ages since you graduated: How to Find & Correct Writing Errors: The Proofreading Guide.
15. Become a Host
Do you have an extra room? Listing your apartment on Airbnb is among the best side hustles for moms. To begin with, there is no mandatory time requirement for how long you can host.
It's also upon you to decide who can stay and who can't. Additionally, you can charge for any extra service including cleaning, laundry, cooking and so on.
What's more, you don't need any kind of training and you can set any kind of rule as part of the booking requirement. Depending on the size of the room and booking frequency, you could be looking to make $2000-$10,000 per month.
16. Voice Over Talent
Does your voice sound like that of your favorite celebrity? Maybe not, but with a little practice you can be hitting the right notes to make you a good voice over talent. The job requires confidence and dedication to be perfect.
This side hustle will see you doing voice overs for YouTube videos, social media clips, or for any project that requires voice acting. With the right skill set, you could be featured in an animation series and make a name for yourself.
On average, according to Payscale.com, the pay is about $35 an hour, start earning search for voice acting jobs here.
For training, go with this Udemy's Voice Training Course.
Bottom Line
Having a side hustle is a great idea for single moms and anyone else for that matter and with the above ideas, you cannot be limited
The list could be endless but the idea is to give you the best to choose from, not confuse you further. Nevertheless, I am always looking for new ideas to keep you updated so be on the lookout for more.