Did you know that you can get paid to cross-stitch? Dating as far back as the 6th century, cross-stitching is among the longest-existing forms of thread embroidery.
Today, the art is making a comeback, especially in the fashion and design industry where stitchers produce unique patterns of fabric being worked on.
Do you have an eye for art? Then cross-stitching is something you should probably try. Why? For starters, cross stitching is not hard to learn and you don't even need to go to school to be successful in cross stitch careers.
As long as you possess a good dose of imagination and creativity, you are good to go. If you are a novice in the art or I just happened to have piqued your interest, you can follow the steps I have shared later in this article and also watch a few videos to get started.
First things first though; Let's understand what Cross stitching is and how you can make money selling cross-stitching.
What Is Cross Stitching?
Cross stitching, as the name suggests, therefore, entails the process of overlapping stitches so that they form a shape that resembles a cross.
To stitch is the art of forming loops of threads from the movement of needles while knitting or sewing.
Traditionally, people usually cross-stitched items for their own use but today, you can get paid to cross-stitch. Alternatively or alongside your regular job, you can also sell your finished projects. Typical search terms to use on job boards include "DMC thread jobs", "cross stitch gigs" and "embroidery jobs".
How Do I Start Selling Cross Stitch?
There are a lot of cross-stitch job opportunities out there that have the potential of making you good money provided you have the required skills.
Today I am going to elaborate on the various ways on how you can start selling your cross stitches.
Let's get started!
1. Birth and Wedding Samplers
If you are looking for a job among the needlework careers that lets you offer products that will coincide with the achievement of an individual in his/her lifetime then perhaps offering birth samplers and wedding samplers is the answer you've been looking for.
Marrying one's soulmate and even having babies together is ranked high among the milestones in an individual's life. It's during these moments in life that people are looking forward to buying unique gifts for their loved ones, and this is where you come in.
2. Start a Blog or an Instagram Account
To begin with, blogging is not a get-rich-quick scheme. It takes time and effort to start reaping the benefits and this can't be achieved until you've attracted enough followers or visitors to either your website or account.
I'd advise you to post at regular intervals about cross-stitching. When blogging, it's important you keep this question in mind, "what will make my blog unique as compared to others." Since cross-stitching is about art, don't forget to take photos and showcase your work.
If you decide to start an Instagram account, then remember to put hashtags on your posts so that other cross-stitchers can find your photos and follow you.
3. Teach Cross-Stitching
Look around for job vacancies in craft stores in your local area. You could also opt to teach on the side in your local region. There, you can guide those kids on the techniques to follow to make let's say a card.
You can also give them tests and those that score high get to be rewarded with some of your finished cross stitches. This way you will be marketing your work.
Besides giving them out as free gifts to these kids, you could also start a Facebook page and invite your fellow co-workers, family, and friends to like and comment on your work. That way they will make your projects more visible to potential buyers.
Where to Sell Finished Cross-Stitch Designs?
If you love arts and happen to produce your own cross-stitch designs, you couldn't be in a better place.
Selling cross stitch is one of the various techniques you can employ to make cash part-time.
Traditionally, after one had finished a design, they had two options; either store the piece of art or hang it for display. It never occurred to most that selling those designs was one of the best ways to fuel their hobbies.
One thing I like about selling cross-stitch designs/patterns is that you can sell one pattern repeatedly. Also, in case you were using someone else's pattern after purchasing it, be keen not to violate any copyright.
Patterns normally have a notice attached to them that instructs you on what you can and can't do.
Below are ideal places for you to sell your patterns.
1. Sell On Shopify
Shopify is an online platform that assists you in creating your online store. With Shopify, you will have to attract your own customers.
So if you still have a blazing passion for crafting, ensure you have conducted enough research on digital marketing or work with someone with the know-how.
Make sure you have answers to questions such as what market am I targeting? How do I reach them? What are they looking for? And who are my competitors in the market? This will allow you to come up with the most expensive cross stitch in the market.
2. Etsy Cross Stitch
Etsy is a leading marketplace for selling handmade items. To get started you will need to register, create your store and provide a listing of all your items (this will cost you 20 cents.)
Etsy has stated in its fee policy that it will charge a total of 5% transaction fee to all the sales that you will make.
It is paramount that you provide a detailed description and a good item name. This is due to the reason that Etsy is not only the powerhouse to cross stitch pattern suppliers but also a marketplace with tons of people competing to sell their finished projects.
You can read Etsy's success and failure stories to have a glimpse of what you are up against in the market.
3. eBay
eBay is another platform that you could use to make a living in your career in hand embroidery. An upper hand for using eBay is unlike Etsy where you are charged for listing your items, here there are no such charges meaning you can keep your listing up for as long as you'd like.
To get started you will be required to sign up, provide a listing for your items and set your prices. The platform has its own action system that will carry out the rest of the work which is directing potential customers your way.
eBay will, however, charge a 10% fee for all the sales though.
4. Take Custom Orders
This can be achieved by spreading the word to your relatives and friends and informing them that you take custom orders. Remember to request your customers to tell a friend. Who knows; your customer number could increase and you end up making a living out of these needlepoints jobs.
You can also opt to reach out to designers. Most of these designers lack sufficient time to stitch their patterns. Although it's tricky to get these gigs, if you are lucky enough to land one, these gigs could help you make money cross-stitching.
5. Attend Craft Fairs
With the exception of the internet, craft fairs are supreme places to sell you finished cross stitches.
Although you will incur some expenses such as transportation, booth fees, and maybe your lunch, provided you have enough, attractive, and trendy stitches, the venture is worth a try and you could end up with good money.
To get information on craft fairs in your city, town, or locality, check your local papers and get in touch with the event's organizer to secure a booth. Afterward, prepare in advance by putting together as many pieces as possible, working out your costs, and setting your prices.
How to Make Cross Stitch Patterns to Sell
Like I stated earlier in the article, learning how to cross stitch is easy for anyone with an eye for art and the creativity to go with it.
If that's you, here are some cross-stitch patterns ideas for you to try:
Essential Tools for Cross-Stitching
1. Good Embroidery Scissors
Since cross stitching and embroidery requires precise clipping, I'd advise you to invest in a pair of sharp small scissors that will enable you to maneuver with ease. Make sure that your scissors are used ONLY for embroidery.
2. Needles
Cross stitch needles, also called tapestry needles, have a relatively bigger eye than the regular sewing needles which makes it easy for threading up cross stitch threads. They are also blunt to avoid accidents that could occur during the process.
Tapestry needles to be used during your cross stitching process depend on the count of your fabric. The table below shows the exact size of the needles and also the count of fabric they are suitable for.
What is Aida? I'll explain all about it in the Fabric section
Use size 18 cross stitch needles for a 6-count Aida fabric.
Use size 20 cross stitch needles for an 8-count Aida fabric.
Use size 22 cross stitch needles for an 11- count Aida fabric.
Use size 24 cross stitch needles for a 14- count Aida fabric.
Use size 26 cross stitch needles for a 16- count Aida fabric.
Use size 28 cross stitch needles for an 18- count Aida fabric.
Use size 24 cross stitch needles for 28- count even weave fabric over two stands.
Use 26 cross stitch needles for 32- count evenweave fabric over two stands.
Use 28 cross stitch needles for 36- count evenweave fabric over two stands
Use 26 cross stitch needles for 22- count Hardanger fabric.
3. Needle Minder/Pincushion
A needle minder is an item on which you can rest your needles safely when you have pre-threaded them, when changing thread or when you are taking a break.
Since cross stitching and hand embroidery involve lots of picking up and putting down of needles, a needle minder saves you time and keeps the needles within easy reach.
A needle minder can be a small well-decorated piece of clay, metallic, wood, or any other material with two pieces of magnet, one attached to a decorative top while the other serving as a plain backing.
When using the needle minder, the decorated side goes on top of your embroidery fabric while the other goes to the lower part in a sandwich style. This magnet holds the decorated piece in place on your fabric without puncturing your fabric and also provides a magnetic field that attracts and keeps your needles.
4. Embroidery Hoop
This is yet another essential tool that will assist you in getting your stitches right. Embroidery hoops help create a flat surface that makes it easy to stitch neatly by stretching your fabric. This will eliminate the chances of having your stitches either hanging loose or have stitches that shrivel.
Later on, I will take you through the process of applying the hoop.
5. Embroidery Threads
To begin with, threads vary in colors and materials. Speaking of materials, stranded cotton is the most frequently used. Normally each thread has six strands but you can increase the number of strands depending on how thick you want your thread to be.
Pearl cotton is also another thread common in cross-stitching because of its texture. It is slightly heavier in comparison stranded cotton. It is made up of a single strand that has two fibers twisted together. It is better not to separate them as they are designed to use as they are. Pearl cotton threads also feature different weights.
Rayon floss is also another thread on the list. If you have a thing for bright attractive colors, this is your thread. It is the shiniest of all the embroidery threads and similar to stranded cotton, it is readily available. Despite its attractiveness, this thread tangles easily. You can address this by using short lengths.
6. Aida Fabric
Closely woven fabric is ideal for cross stitching since your stitches won't disappear in between the fabric threads. While there are numerous fabrics available, here are the best options.
Cotton is the world's most popular soft natural fabric. It is extracted from the cotton plant seeds through a process known as ginning. Cotton is praised for its versatility, durability, and comfort. It has also yielded many fabrics such as chino and muslin.
Linen is one of the oldest materials to ever exist. Similar to cotton, linen is made from natural fibers and is lightweight. Linen is extracted from the flax plant. The extracted flax strands are then spun into yarn, ready to be woven into pure linen or blended with other fibers.
Silk is known to be the world's most luxurious natural fabric. It is a soft fabric with a shimmering look and smooth touch. Unfortunately, like satin and lace, silk is quite expensive due to the delicate process of converting the silk thread into yarn.
Note: The weave of the embroidery fabric is also of the essence. Aida for example, also know as java canvas, is a cotton fabric traditionally used for cross stitching thanks to its open and wide weave which makes it easier to see the wholes. Aida also comes with a stiffness that can allow to cross stitch without an embroidery hoop if you are careful!
Steps for Cross Stitching
Step 1: Identify Your Project
If it's your first-time cross stitching, I'll recommend that you start with charts or kits marked for beginners.
Look for a pattern that is not too large, made up of whole stitches, and has few details on the backstitch so that you can try out and see your results quickly.
Step 2: Assemble Your Materials
A cross stitch kit comes along with all the threads, needles, and fabric required to sew the design inside. On the other hand, with a cross stitch pattern in mind, you can go ahead acquire all the materials you need.
For the fabrics, I suggest that you begin with Aida fabric as it is more friendly in the hands of a beginner compared to evenweave and linen fabric.
Step 3: Locate the Centre of Your Chart
This is usually marked with symbols- for example; "0" may be an arrow or a triangle- around a chart's edges. Take note of the color and strands of the thread in this location. Take your needle and thread it according to the color at the center of the chart.
Step 4: Mark the Centre of Your Fabric
Fold your fabric vertically and horizontally to locate its center. This mark will correspond to the center of your fabric.
Step 5: Apply the Hoop
In order to have a perfect tension, make sure that you have excess fabric extending outside of the hoop, otherwise, your tension won't work.

It's also worth mentioning that embroidery hoops come in different sizes. So in order to get that perfect tension, pick an embroidery hoop that suits your project.

Separate the two rounds of the hoop and lay the inner on your work table. Place your fabric on it such that the center of your fabric corresponds with the center of the hoop. Bring the outer round of the hoop over your fabric and gently stretch the fabric down so that it is tautly sandwiched between the hoops.

After you have created the tension required, start making your cross stitch according to your pattern. it is always advisable to use the "stab" technique. This means that each and every stitch motion should be completed separately unlike the sewing method where you drive the needle in two holes simultaneously.
I know that the latter method might seem quicker compared to the stabbing method, but it comes with the likelihood of producing uneven stitches in the long run.
Note: The way you pull your thread each time you make a stitch is yet another aspect that you should keep in mind throughout your process. Be keen not to pull the thread too tight such that you wrinkle your fabric.
Do you need need a refresher or a nudge in the right direction on how to make a cross stitch? Watch the Youtube below.
FAQs
1. Can You Make Money from Cross-Stitch?
The answer is yes! In comparison to the past, today cross stitch jobs pay well. Although the cash you gather from these gigs might not be enough to settle your bills, if well planned out, it can be enough to cover all your cross stitch expenses and leave you extra to supplement your income.
Further, platforms like Ebay, Etsy, and Shopify make it easier to reach a wider market for your finished projects while events such as weddings and birthdays make great places for taking custom orders.
2. How Much to Charge for Cross Stitch?
A traditional method for hiring cross stitcher expert is charging a few cents per stitch.
This method was very effective a decade ago but today, it will bring you something between $3-$4 an hour and only seems suitable when you are test stitching for a designer, provided they avail the patterns, materials, and shipping.
Nevertheless, the pricing can range widely as it is not under any regulations so it is important to only accept pricing that you are comfortable with.
A more reasonable rate is charging $0.05 per stitch after calculating your average time spent. Notably, these are only general pricing guidelines; the ultimate decision is up to you.
3. Is it Legal to Sell Finished Cross Stitch?
The answer is yes! It is legal. There are, however, rules put in place to guide you on what and what you can't do. These have everything to do with copyright. If you came up with the finished cross stitch design, then you can decide what to do with it whether you give it out, sell it, or hang it in your house for display.
However, if you had secured one of the cross stitch designer jobs and you were getting paid for the work, then the ownership and copyright of the designs is your employer's. The same case applies if you buy a pattern or a cross stitched item.
Let's use a book for example. When you purchase a book, you are its owner but you don't possess its copyright.
This is to mean that it will be against the law to "mass produce" copies of the same book simply because you bought it.
This equally applies to selling finished cross stitches; making a photocopy of it or taking the pattern and making a similar piece for sale without the permission of the owner is illegal
Get Paid to Cross-Stitch: The Take-Away
Cross-stitching is a great way to accentuate the interior decor in your home or office but if you are already doing it as a hobby, why not turn it into a business idea? Today, there are numerous platforms to make money doing needlepoint jobs both online and locally, thanks to the ever-growing online population and gradual appreciation for various forms of art all around us.
If you are a beginner in cross-stitching, my detailed information on everything you need and the step-by-step guide should get you started. Otherwise, there are enough resources to turn you into a pro.
The best part is that you can list your creations on sites like Etsy, Amazon, and Shopify and earn good money.
What's to stop you? Let's get stitching! And if you have any designs, share them in the comments.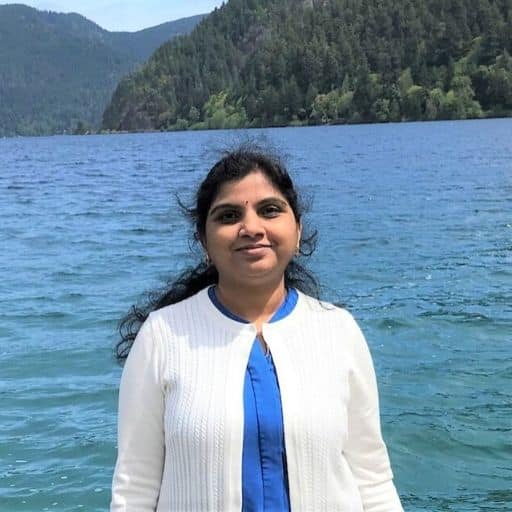 Howdy Folks, thanks for stopping by my blog.
I'm Swati, a proud mom, dedicated side hustler, full-time blogger, and a recognized millennial work-at-home expert. My expertise has been featured on esteemed platforms such as Forbes, CEO Blog Nation, Referral Rock, Vital Dollar, Databox blog, and many more. I have embarked on this incredible journey to share my firsthand experiences in the world of online income generation and to assist all of you in earning money from the comfort of your homes.
Join me in my mission to revolutionize the way we make money and achieve financial freedom. Trust me, it's not as challenging as it may seem!
Together, let's explore the boundless opportunities and pave our paths towards a prosperous future.