What can teachers do to make more money? If you are a teacher and could use a little extra cash, I have compiled a list of the best side jobs for teachers online.
Teaching is recognized as a noble profession around the world, but it is not necessarily the best-paying job. Therefore, it is natural for teachers and tutors to be on the lookout for side hustles.
Luckily, there exists a lot of side jobs for teachers that you can either do when schools are closed, on weekends, or even as a part-time hustle.
Some of the opportunities below require you to have some experience while others are perfect for beginners.
30 Best Side Jobs for Teachers In 2022
Wondering, what side jobs can teachers have?
In this article, I'll show you the best side jobs for teachers and provide reputable companies that hire teachers, as well as summer jobs and online hustles that don't require teaching accreditation. Let's get started!
Non-Teaching Online Jobs for Teachers
Before we get to the teaching-related side hustles, there are several ways for teachers to make extra money away from classrooms. Here are a few most sort out ways:
1. Online Surveys
Online surveys have a reputation for being scam jobs, but there are worthy survey apps that pay you for real. The pay rate is usually about $0.5-$5 per survey.
While the pay is not that high, there are countless paid survey platforms that you can sign up on to increase your earnings. Also, surveys can be done anytime and anywhere.
These platforms also come with other paying opportunities including cashback offers, watching videos, playing games, and taking part in focus groups. So, why not, take part in online surveys and get paid extra income.
Popular and credible online survey sites include:
2. Sell Your Lesson Plans
Not everyone prefers teaching as a side hustle. So, how else can you leverage your teaching experience to make extra money online? The idea is simple; sell curriculum, lesson plans, and other educational material.
By far, this is the most prevalent side hustle adopted by most teachers all across the country, and it's also one of the simplest.
Teachers Pay Teachers is an online marketplace that gives teachers a chance to share their best piece of work and get paid for it. What you earn on this platform depends on the number of clients that buy your educational material and the frequency.
According to their website, most educational materials cost a minimum of $1 to a maximum of over $18. Top sellers on this platform earn $50,000+ per month.
Payment is sent to your PayPal account on a monthly basis. On the downside, this platform deducts optional expenses such as advertising costs from your payout.
Enroll today and start selling your lesson plan and other educational materials.
Second Jobs for Teachers (Remote Jobs)
How can you make money from home as a teacher? The following are some of the most popular home jobs for educators.
3. Become a Proofreader
A major aspect of teaching is ensuring that students produce error-free content, right?
Well, you can leverage that skill to earn online. Known as proofreading, this is the task of correcting grammatical mistakes.
The work involves ensuring information flow, rectifying spellings, and so on. Notably, there are tools that you can use to proofread the content but they can't beat the human intellect.
There is an incredibly high demand for proofreading worldwide, and the best part is that you don't need to be in any specific location to do the job… it's all from your computer or tablet!
If you ask, how much can I make as a proofreader? Well, I happen to have a couple of friends who are in that industry, and it turns out — quite a lot!
There are mom proofreaders earning over $30,000 a year working for themselves and loving their jobs.
So, how good are you at spotting typos?
Put that knowledge into use and be on your way to earning over $50,000 per year.
To sharpen your skill, I recommend opting into Caitlin Pyle's Free Proofreading Workshop, a former six-figure freelancer Proofreader, and the owner of Proofread Anywhere.
Once set, there are tons of platforms where you can join and build your proofreading career.
Find legit proofreading jobs here.
4. Freelance Writer
Even if you don't enjoy blogging, you may still utilize your writing abilities to earn extra cash by offering freelance writing services.
There are many legit companies that pay huge to write. I'm talking about marketplaces that give you opportunities to make extra cash from home with full flexibility.
Payment rates range between $30 to $1000 per article.
Online writing tasks range from blog articles to academic publications. What this means for teachers looking for side jobs is that you can write about anything under the sun.
Popular niches include health, beauty, fashion, pets, personal finance (my favorite), and parenting. What's more, there are scores of freelancing websites that pay decently.
In fact, writing is one online job that can quickly become a mainstream employment opportunity. Upwork and FlexJobs are some of the top marketplaces where writers and clients meet.
So, what's holding you back? Get started making $1000 monthly offering freelance writing services!
Also Read: How to make money writing poems
One of the great things about being a teacher is that you already have the skill set to be a great virtual assistant. You're organized, efficient, and used to working on deadlines.
So, tasks like scheduling appointments, handling customer inquiries, and managing social media accounts would be a breeze for you. Plus, since you're already used to this kind of work, you wouldn't have to make any major adjustments to your lifestyle.
This is a great side job for teachers looking to work either part-time or during the summer vacation. The pay typically varies between $20-$40 per hour.
Further Read: 12 Places to Find VA Jobs for Newbies
6. Bookkeeper
As a math teacher, you can put your number and organizational skills to work and snag a seasonal job as an accountant, bookkeeper, or tax preparer for small businesses.
This work can be done remotely from home, making it a convenient summer job and a perfect way to earn extra money as much as $3k-$5k+ per month.
If you are interested in starting your own bookkeeping career but don't know where to start, check out this free bookkeeping workshop.
7. Private Tutoring On Yup
Another good thing about Yup is that you can connect with one student at a time; in 1:1 sessions as a private tutor. Yup is one of the best platforms for teachers with extensive tutoring experience.
The platform gives you a chance to help students to complete homework, master concepts, and gain confidence in their studies around the globe. As such, anybody can apply regardless of the country they are in.
Employment criteria are not strict, but you do tests on your subjects of interest to ensure that you are up to Yup standards.
This online platform ensures that you can work at home or on the go. You can download their app on the App Store or Google Play.
Pay is around $11 per hour with Tutor Quality Managers making about $15 hourly. Your earnings are released on a monthly basis via direct deposit or PayPal.
Apply now to join Yup's private tutoring team.
Also Read: Online Jobs Paying $40 per hour
Passive Income for Teachers
8. Become a Blogger
If you enjoy writing, you can consider blogging as a part-time job for teachers after school hours.
The reason why blogging is one of my favorite hustles is that you are not limited to what you can write.
Whether you want to share your teaching experiences, give tips to other teachers, or just write about random things that interest you, there's a blog niche for everything.
What's more, blogging can be a fantastic side job and a long-term source of passive income; through advertising, affiliate marketing, paid sponsorships, or even selling your own products or services.
Many bloggers (including me) pocket over $5,000 per month. It all depends on the amount of traffic your website receives.
Want some inside scoop? Here's a screenshot of my ad income on a single day in the month of August.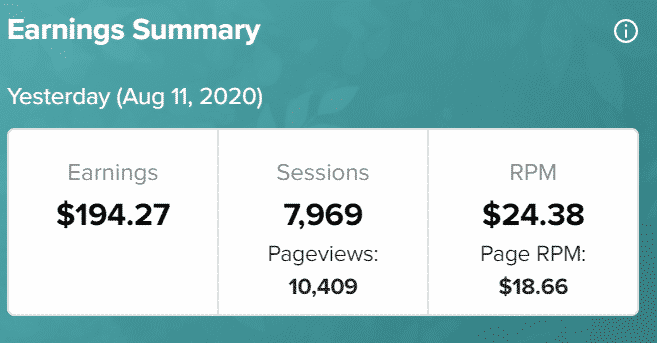 Further reading: How to make a full-time income blogging.
9. Create and Sell Printables
As a teacher, you may also sell colorful printables on Etsy as a consistent source of passive income. There is increasing demand for printables and digital downloads these days. Needless to say, more demand also means more income potential.
To be successful, you will need to produce high-quality, engaging printables and market them properly. So, you may start with school-based printables such as worksheets, coloring pages, and class pages.
Other fun ideas include:
Calendars

Planners

Cheatsheets

School worksheets for kids

Homeschool worksheets

Printable wall art

And more
Consider using a graphic design tool like Canva. Next, upload your creations in PDF format to Etsy, and make them available for anyone to buy with proper Etsy SEO.
Once you have set up your shop, start promoting your products on social media, Pinterest, and other online platforms. You can also distribute flyers in local schools and colleges.
If you need help setting up a printables business, check out this online course on How to Make Printables to Sell on Etsy.
10. Write and Publish eBooks
Do you have a knack for writing? Is fictional writing your thing? Are you a whiz with grammar? If you answered yes to any of these questions, then you might want to publish and sell your own eBooks on Amazon Kindle to create passive income for years to come.
This is a great side hustle for teachers because it can be done from the comfort of your home, after school hours, during summer break, or on vacation.
Also, the nicest feature about this Kindle publishing is that you continue to receive royalties each time one of your books sells. So, you can supplement your income while still teaching.
Summer Jobs for Teachers
What are the best part-time jobs for teachers? Listed below are the perfect side hustles for teachers that don't require any educational background for you to earn money.
Whatever job you choose, make sure it's something you're passionate about so you can enjoy your summer break to the fullest!
11. Airbnb Rental
Do you have an extra room in your home to spare? Turn it into an Airbnb rental.
This platform is a great way to supplement your income while keeping your regular teaching job. Furthermore, you get to set your pricing, availability, and house rules.
More to that, Airbnb also provides a $1 million liability insurance policy for every room you turn into a rental.
Typically, Airbnb earns you up to $2500+ per month.
Click here to list a room on Airbnb.
12. Summer Camp Teacher
As a teacher, you might love working with kids, a summer camp teacher or counselor position may be perfect for you.
You'll get to spend your days outdoors, leading activities and supervising kids. This job can be physically demanding, but it's also very rewarding.
13. Pet Sitter
As a pet sitter or dog walker, you can use your summer break to earn some extra money while getting some fresh air and exercise.
You can advertise your services online or through word-of-mouth. Offering pet grooming would be an added bonus.
If you have a good rapport with animals, this could be the perfect summer job for you. Check out apps like Wag or Rover for high-paying dog walking and pet-sitting jobs.
14. Sell at a Farmer's Market
Do you enjoy sit-down eateries and love buying and selling fresh fruits, vegetables, or DIY crafts to sell at Farmer's market? Then working at a farmer's market may be the perfect summer job for you.
You can set up your own stand and sell fresh produce, crafts, or whatever you like, or you can work for someone else and help them with their business. This job is great for anyone who loves being outdoors and interacting with the public.
15. Farm Worker
If you're looking for a more physical summer job, then consider working on a farm.
Farmworkers are responsible for tasks like planting, harvesting, and caring for animals. It can be hard work, but you'll get to enjoy the fresh air and beautiful scenery.
Many farms hire extra workers during the summer months, so this is a great option if you're looking for seasonal work.
16. Librarian
If you want a summer job that's a little more low-key, then consider working as a librarian
You'll get to help people find the books they're looking for and assist with other library duties. This job is perfect for anyone who loves reading and helping others.
17. Tour Guide
Love touring your city or town? Then consider working as a tour guide. You'll get to show visitors around and share your knowledge of the area.
This hustle is ideal for instructors who are good at communication, enjoy meeting new people, and also love discussing their hometowns. Once you find yourself comfortable, think about becoming a local tour guide.
Also Read: Jobs that Pay You To Travel With No Experience
18. Baby Sitter
Since you're proven to be good with kids, babysitting may be the perfect summer job for you.
You can choose to work for a family or start your own babysitting business. This job is great for anyone who loves kids and wants to have a flexible schedule.
Also Read: 13 Places to Find Babysitting Jobs for Extra Money
19. House Sitter
A great way to make some extra money (while enjoying luxury for free) is to housesit. This can be especially appealing to teachers, as it can provide a quiet place to work on lesson plans and grading during summer break.
Offer to watch your neighbor's home while they're away on vacation, and you'll have plenty of time (and peace and quiet) to get things done and get paid handsomely.
Check out: 15 Places for Paid House-Sitter Jobs
20. Sell Custom Goods On Shopify
Another option could be to set up a shop on Shopify and sell custom goods like T-shirts, mugs, hats, books, clothes, jewelry, or accessories.
Once the shop is set up, you can add your custom-designed products and market them to your audience via social media.
21. Flip Things for a Profit
Why not find items to flip for a profit during the summer break. This can be done by visiting garage sales, estate sales, thrift stores, or even your own home.
Once you find an item that you think you can sell for more than you paid for it, you can list it for sale online or in a consignment shop near you. With a little effort, you can easily make some extra cash by flipping things during the summer months.
Further Read: How to Flip Flea Market Stuff for Quick Cash
23. Create Products to Sell On Holidays
If you're crafty, look into creating summer-themed arts and crafts to sell at local fairs or online. You could also create and sell instructional materials, such as summertime gardening guides or tutorials.
Likewise, you could also plan and start creating winter-themed crafts during the prime time of the year. Whatever you make, be sure to price your products competitively and market them effectively.
Further Read: 50 Trending Crafts to Sell On Etsy
24. Selling Jewelry
Do you have a collection of jewelry that you don't use? Selling jewelry can be a profitable side job.
And no, you don't need to own jewelry in order to start selling; there are many sources that you can take advantage of.
For example, if you are a DIY guru and can make beautiful jewelry, there's a ready market for handcrafted pieces locally and online. Etsy tops the list of online places where you can sell your handcrafted jewelry.
Other platforms to sell your jewelry include Amazon and Shopify. To get more jewelry to resell at a profit, you can also buy from wholesale stores, family, and friends.
Further, you can collaborate with jewelry companies such as Paparazzi Accessories, OrigamiOwl, and Magnabilities to sell jewelry and earn a commission.
Companies That Hire Teachers: Online Tutoring
For teachers who want to earn extra money while still imparting knowledge, I have good news for you.
Side jobs for teachers extend to platforms where you teach kids online. There is no limit to the subjects or level that you can teach and get paid.
However, you have to contend with early hours and non-English speaking students. That said if you can teach at the tertiary level and in a foreign language, earning 6 figures is well within reach.
No experience teaching online? Worry not, most of the following companies hire even newbie teachers! Let's take a look at the top companies that hire teachers remotely.
Requirements:
Bachelor's degree from US or UK University

Currently reside in the US or UK

Prior teaching experience or equivalent (ie: education assistant, tutoring, mentoring, or homeschooling)

High-speed internet, computer & webcam or microphone
Vipkid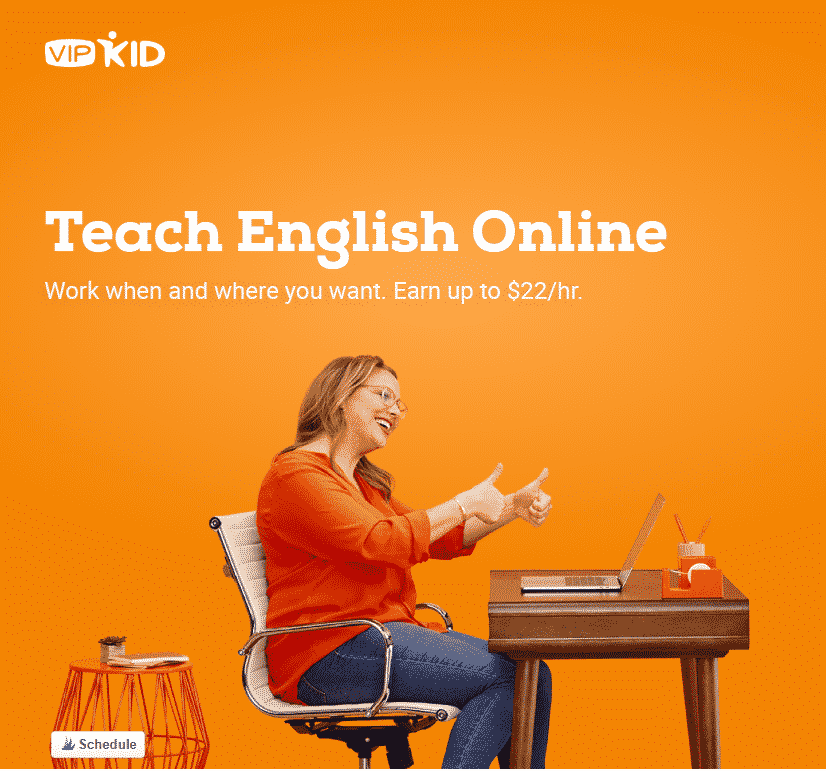 Are you an English teacher with a passion for kids? Well, Vipkid is looking for you!
It's an online teaching company that recruits teachers to help Chinese kids learn English online through teleconferencing lessons. In layman's language, it's a virtual classroom.
Due to time differences, most teaching sessions take place during the early morning hours.
Nevertheless, you can set your own availability if you have a tight schedule. Moreover, you work from the comfort of your home.
According to Vipkid's website, earnings depend on the classes you get to teach. The base pay is $7-$9 per class.
Typically, since each class is 25 minutes long, you can pocket up to $14-$18 per hour. But here's the kicker; Vipkid has available add-on incentives for teaching more classes, referrals, and more.
The bottom line? There are tons of opportunities to earn incentives for Vipkids.
As such, a teacher can earn a total of $14-$22 per hour. Payments are through direct deposit or PayPal.
You can get your pay weekly, bi-weekly, or monthly.
What's holding you back? If you live in the USA and Canada, Sign up with Vipkid today and start teaching for cash.
Related post: Vipkid vs Qkids Review
Qkids
Almost identical to Vipkid, teaching on Qkids is also one of the best paying side jobs for teachers.
Founded in 2015, Qkids is an online platform that connects Chinese kids aged 4-12 with anyone living in the USA or Canada, who has a passion for teaching.
The job is teaching English to these kids via narrative game-based learning techniques. Here, you get to work from home and you can set your own schedule.
Generally, since Qkids is based in China, most teaching sessions will fall again in the early morning hours.
The amount you can earn on Qkids is an average of $16-$20 per hour, with the base pay being $8 per class. Usually, the class takes about 30 minutes.
In addition to Qkids' basic pay, there are incentives and bonuses that include referrals, attendance, and performance bonuses.
Qkids pays directly to your bank account before the 15th of every month. Click here to start your Qkids application today!
Further reading: Everything you need to know about Qkids- Review
Skooli
Make money as a teacher online by enrolling with Skooli.
Primarily, the platform focuses on math. That said, you can teach other subjects such as English, Science, and Business Studies.
What I like about this platform is that it caters to all educational levels ranging from elementary school to college students.
Also, their teaching software is available for both mobile phones and computers.
Additionally, you get to work from home, and joining is pretty straightforward. You only need to create an account, log in, set your status as "available", then wait for students to contact you. From there, you can set your sessions whenever students make contact.
Skooli only hires the most qualified tutors, and hence they pay a higher rate than most teaching platforms.
Typically, the base pay is about $25/hour, with weekly payouts deposited to your PayPal account on Fridays.
Click here to kick start your side hustle as a Skooli tutor.
Chegg Tutors
Chegg is popular for thriving in the retail textbook business.
Recently though, they introduced online tutoring as one of the ways for teachers to make extra money.
Tutoring on this platform is home-based. Your interactions with students are, therefore, handled via an online interface. The platform does most of the groundwork on your behalf.
I like that Chegg hires teachers for all grade levels, including postgraduate studies.
Once you gain approval as a tutor, you select your specialized subjects and the platform directs students who need help in those subjects to you.
Chegg's starting pay is at $20+/hour, with top tutors pocketing up to $1000/month.
Chegg pays through PayPal every Thursday morning. You can earn good subject bonuses by teaching high-demand subjects such as special education.
Ready to start a side job for teachers online with Chegg Tutors? Sign up here
Tutapoint
Looking for the best side jobs for teachers? Well, Tutapoint is the way to go!
This platform's sole purpose is to hire remote teachers to help students. They hire tutors for all academy levels but they've set high standards on their teachers' selection criteria.
When students sign in for tutoring aid, Tutapoint online matching system automatically routes them to the teacher with the proper credentials that they need. The best part is that you can teach using any language.
Similar to most online teaching platforms, you get to schedule sessions with students at whatever time you find convenient.
The platform requires you to work for a minimum of 5 hours a week. If you come up short or fail to show up for a session, you risk losing your job.
On the flip side, only American and Canadian citizens are eligible to apply for a job with this platform.
Tutapoint's pay rate averages at $15-$15 per hour paid twice a month via direct deposit or through check.
Interested to become an online tutor? Click here to submit your application.
Tutor
Enroll with Tutor to make money as a teacher online. This platform hires you as an independent contractor to help students with their homework through an online environment.
There are a variety of topics in which you can help these students, but the most popular ones are math and sciences.
Tutor service is available 24/7 and it's up to you to pick your own schedule.
Only the USA and Canadian citizens are eligible to apply, and you get to work remotely provided you have a computer and internet connection.
Tutor requires you to at least work for a minimum of 5 hours per week in order to receive payment. The pay ranges between $10 and $17 per hour.
What's more, there are incentives available for high-quality tutoring.
Additionally, you get compensated $5.50 an hour during the wait time for students.
Payment is made twice a month through direct deposit.
For more information about Tutor applications, check out their application process, and apply today.
PrepNow
PrepNow is a perfect platform for a part-time job for teachers. They hire tutors to work during weeknights and weekends, provided that you meet the minimum availability time – 6 hours per week. Each session lasts about 1-2 hours.
Generally, you choose your lessons depending on your available time. However, this tutoring platform is a bit demanding since it requires you to have 2 years of teaching experience and a bachelor's degree among other requirements.
You can tutor a variety of subjects including Math, SATs, and ACTs.
There's a downside though; only people residing in the USA are eligible to apply.
For most tutoring positions, the basic pay is about $15-$17 per hour, and you get compensation for any time you spend communicating with parents.
There is no pairing in this platform, you just log in and offer online tutoring for students randomly.
Ready to work on PrepNow, click here to get started.
Brainfuse
This online platform gives you a chance to teach students ranging from the third grade to the twelfth grade.
Tutoring sessions at Brainfuse are available 7 days a week, but you have to set your own schedule.
All that you require to kick start your tutoring job here is the possession of a college certificate, preferably a teaching certificate.
Unlike most tutoring environments, at Brainfuse you'll be teaching several students in a single session.
Rates range between $9 and $14 per hour. Payment is via direct deposit to your bank account or through a check every two weeks.
The registration process here is quite straightforward since you don't have to fill a series as compared to other platforms.
Email your resume to jobs@brainfuse.com to register as a teacher at Brainfuse.
Revolution Prep
If you are a professional teacher? Revolution Prep offers a chance to earn that extra cash by tutoring students online.
This platform is exclusive, approving around 2.2 percent of the total applications.
As such, it is very selective compared to other platforms. Also, tutoring positions are not always open throughout the year. At the same time, they don't accept any new applications once they close.
Revolution Prep pays tutors $20+ per hour. For more information, visit their website today.
Shmoop
Shmoop also pays you for writing educational materials like study guides and test prep materials (exam).
Once Shmoop hires you, payment is made after every writing project that you complete, which is about $500-$1000 per project.
Shmoop is arguably one of the most rewarding platforms for teachers online. You get to choose whether you want an hourly contract or a monthly contract. For hourly contracts, you make $5-$17 for writing projects.
Looking for a second job? Visit Shmoop's job listings
Education First (EF)
Headquartered in the USA, EducationFirst is leading the teaching industry since its establishment in 1965. And now, it has its presence in 112 countries all over the globe. Besides, it also has an association with more than 500 state-of-the-art schools.
It has also made its name for transforming the whole learning experience with its team of more than 43k employees. And now, they are also welcoming, passionate teachers to join their virtual teaching team.
You just have to conduct 25-minute sessions for kids aged 6 to 10. The application process is easy and takes merely 5 minutes to complete. They usually contact each applicant within a few days of the application to schedule a telephonic interview.
Besides having a strong academic background and at least a bachelor's degree in any discipline, you'll also need to have a TEFL certificate to get selected.
You can choose your preferred work hour, although they want you to commit a few hours during early weekday mornings and late weekend nights.
Right now, they are accepting applications from only the citizens of the USA, UK, Canada, Russia, Australia, New Zealand, China, Indonesia, and South Africa. You can earn around a $12 base rate per hour while teaching on this platform.
Get Started with EF Education First here
For more ways for teachers to make extra money without experience, Click Here
Part-time Jobs for Teachers: FAQs
1. Can You Make Money On Teachers Pay Teachers?
Yes, you can make money on Teachers Pay Teachers. According to a recent survey, over 70% of teachers said they made money on Teachers Pay Teachers (TPT), with the average teacher earning $7000 per year. That's a lot of extra cash!
If you're a teacher looking to supplement your income or simply want to make some extra money, TPT is a great option.
2. How Do Teachers Make Passive Income?
One option for making passive income as a teacher is to create and sell educational materials. This could include anything from creating a workbook to recording a video lesson series. If you have an area of expertise, you can also create and sell online courses. Another way teachers can make passive income is by selling printables and participating in affiliate marketing through blogging and vlogging.
3. Can a Teacher Engage in Business While Teaching?
The answer is a resounding yes! Many teachers are using their skills and talents to launch businesses that earn money during the summer months or after school hours.
Some business ideas for teachers include:
Offering private tutoring services to students who need help catching up or getting ahead.

Creating and selling educational materials, such as lesson plans, printables, worksheets, or e-books.

Use your crafty skills to make and sell handmade items like jewelry, soaps, or candles.

Start a pet-sitting business to earn extra income while caring for furry friends.

Offering your expertise as a Virtual Assistant.
Side Gigs for Teachers: Wrap Up
From this review, it's clear that you can make a fortune from part-time jobs for teachers. The majority of these jobs are not very demanding, they require you to set up your own schedule, and for some, set your price.
Still, wondering what to do besides teaching? Sign up with one of these perfect side hustles and start earning in the comfort of your home.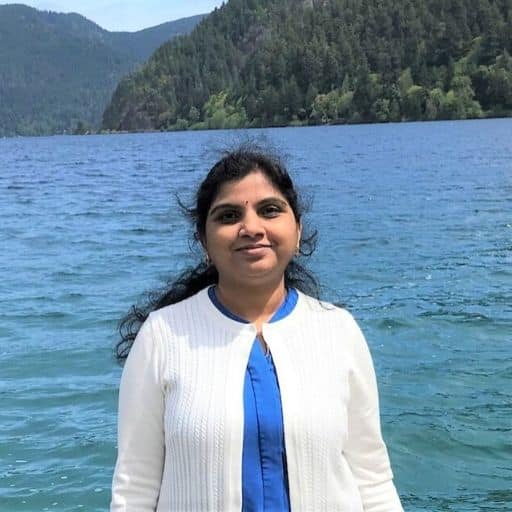 Hey Folks, thanks for stopping by my blog!
I'm Swati. I'm a mom, side hustler, full-time blogger and a millennial work-at-home expert featured on Forbes, CEO Blog Nation, Referral Rock, Vital Dollar, and Databox blog. I embarked on this impeccable journey to expose my online monetary experiences and help you all earn money from home. Come join my make money revolution and attain financial freedom – it's not as hard as you think!