You can make money doing almost anything these days, but have you ever considered flipping furniture for a profit?
The hustle requires an entrepreneurial mind plus a little hand craftsmanship. With the right tools, an online shop, or a brick & mortar store, you can make flipping tables, chairs, and the like, your full-time job.
What I like about the gig is that you can start with very little upfront investment (or zero investment). Also, with thousands of handiwork videos on YouTube as a guide, no prior experience is required to flip broken or even scratched furniture.
What's more, with just a few hours to spare weekly, you can turn flipping into a 6-figure business. Such is the case with Elle Woodworthy, a furniture flipper on Etsy, as reported in the New York Times.
This complete guide explains how to get started flipping furniture, where to sell it, how much money you can make flipping furniture, and tips to maximize your profits!
What Is Furniture Flipping?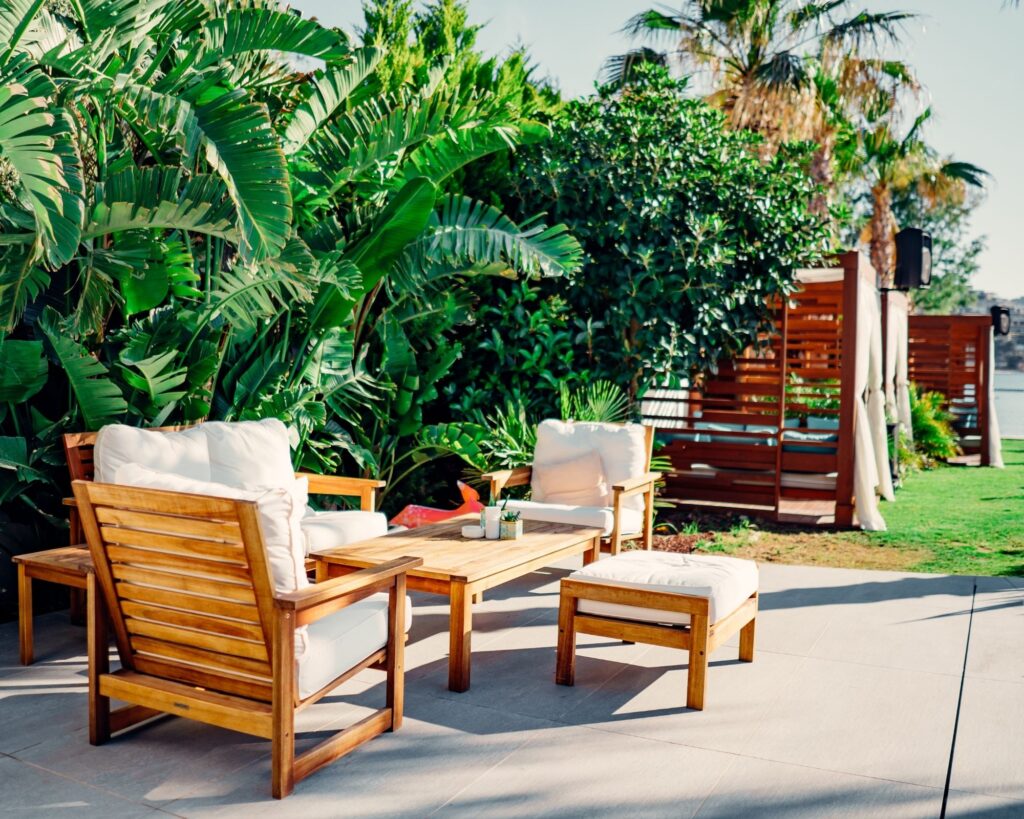 Flipping, or upcycling furniture, is simply the process of acquiring different pieces of furniture at a low price and selling them at a higher price. The process may require a little value addition through fixing broken parts or a new coat of furnish or paint.
As a furniture flipper, your goal is to buy cheap furniture from yard sales, thrift stores, and used goods online marketplaces. Next, refurnish it, advertise, and sell it at a much higher price.
How to Start Flipping Furniture?
To start the business, you need to know what to flip, where to get it, and how to sell it. In between, though, there are skills to be learned for a successful flipping business.
For example, you need to know how to choose items to flip and how to fix them.
To be a successful Furniture Flipper, you will find training, such as the one offered at Flipper University, worth every minute. This online course is the brainchild of a couple who turned a flipping side hustle into a six-figure full-time job!
Let's begin by understanding some of these furniture flipping basics:
Where to Find Furniture to Flip?
Finding old furniture is easy if you know where to look. Start by taking an inventory of your own house; look for accent chairs with broken legs or sofas with worn-out leather.
After exhausting your own furniture, it's time to look for marketplaces for a steady supply. Luckily, there are a ton of places to find re-sellable pieces at a very low cost.
Whether you're looking for a new sofa or an antique coffee table, you're sure to find something to suit your taste and budget. However, it's important to keep in mind that not all used furniture is created equal. But, once you've found the perfect item, be prepared to haggle!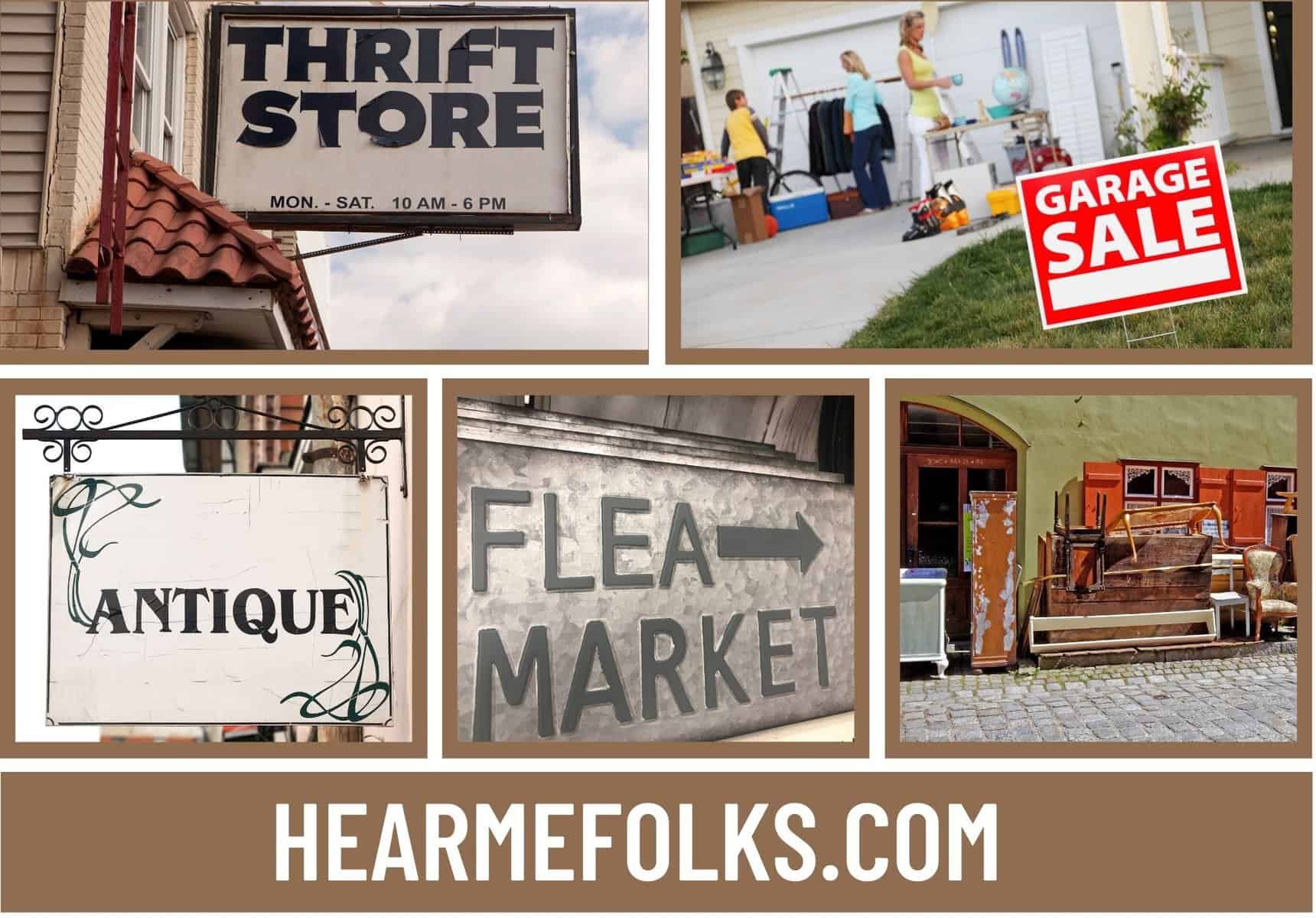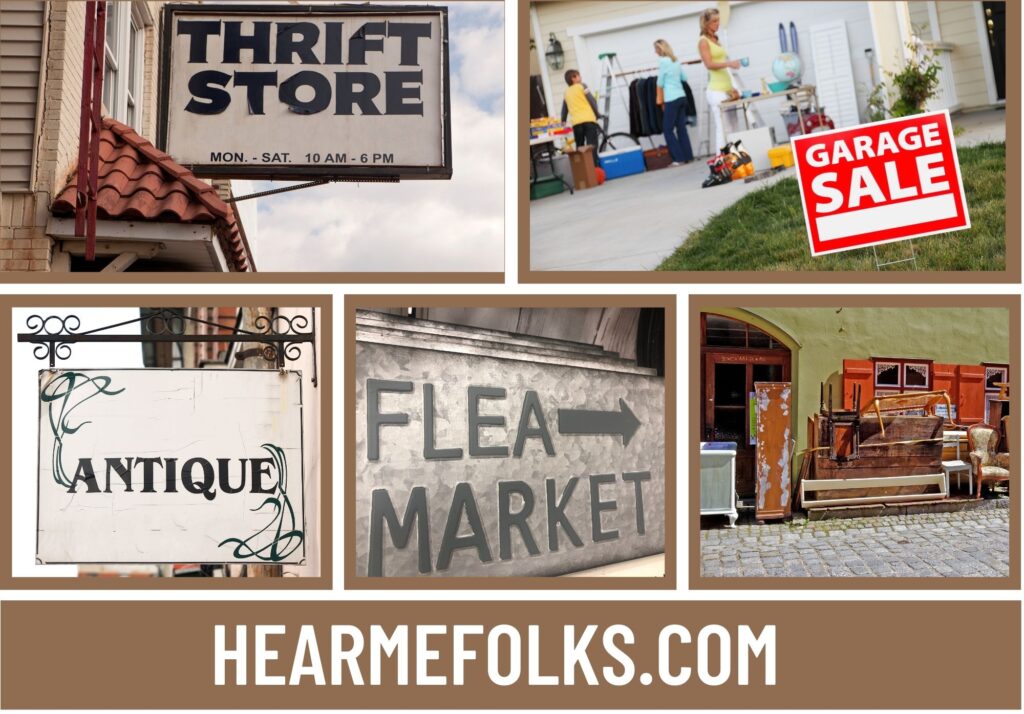 1. Thrift Stores
Thrift stores stock everyday furniture, including vintage items that can fetch you thousands of dollars after resale. To find a thrift store closest to you, install Triftgo on your phone and shop on the go.
2. Estate, Garage, and Yard Sale
Be on the lookout for neighbors or neighborhoods with yard sales. I recommend searching for sales events near you on Facebook.
For a garage sale in different zip codes, try garagesalefinder.com
3. Flea Markets
For those who love a good bargain, flea markets are the perfect place to find used furniture. Before making a purchase, be sure to inspect the piece for any damage or wear and tear.
With a little patience and a bit of luck, you're sure to find some great used furniture deals at your local flea market.
4. Antique Shops
Vintage finds fetch very high prices, which is why antique stores are a must-visit for serious furniture flippers. Check out these top antique stores around the US.
5. Online Marketplaces
Websites like eBay, Amazon, Craigslist, and Facebook Marketplace have forged new retail spaces for all kinds of commerce.
If anyone wants to dispose of their dresser or other larger pieces of furniture, they will likely list such items on these digital markets. So, as a DIY enthusiast, you need an online presence to sniff out furniture deals that can make you extra cash.
Other online platforms for sourcing cabinets, beds, and the likes, include:
6. Flipping Free Furniture
Go to your backyard and rummage for discarded tables or pieces of solid wood and cloth. If yours is a closely-knit community, talk to your neighbors and see what unwanted furniture they are ready to donate.
Don't forget to search through Craigslist's "free stuff" section.
Furniture Flipping Ideas: Best Furniture Items to Flip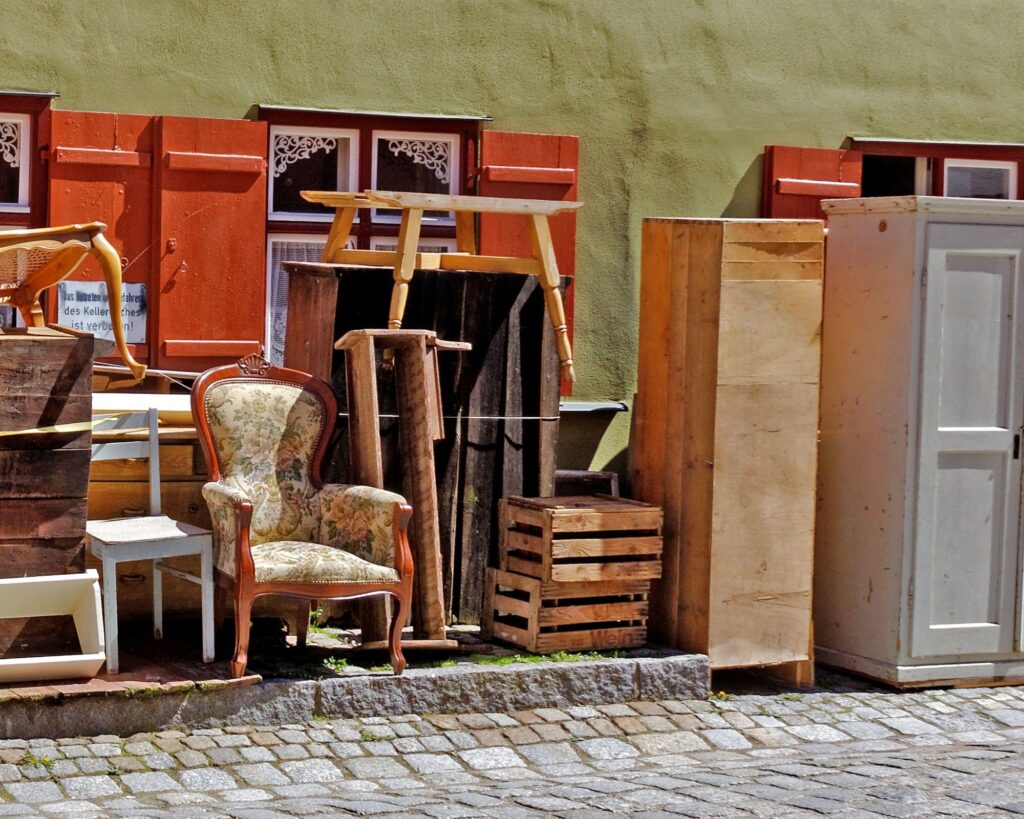 What are the best furniture items to flip for profit?
If you are looking for some ideas on what pieces of furniture to flip, dressers and coffee tables are always a good place to start. These are two of the most popular items among flippers, so you should be able to find a good market for them.
Of course, you can also flip just about any other type of furniture depending on your potential buyers and your DIY skills, so ultimately it is up to you to decide what you want to flip.
Just remember to take the time to refurbish the piece properly and choose a piece that is relatively easy to refurbish (without taking up lots of your time) and you should be able to make a nice profit from flipping furniture.
With all this in mind, here are the high-quality furniture pieces to flip for extra money:
China cabinet
Dressers & Armoires
Office furniture
Vintage couch
Chairs
Sideboards
Console tables
Baby cot and playpen
Do some research in different markets for pieces that will give you the highest ROI. To learn which furniture treasures have the best resale value.
Materials to Get Started Flipping Furniture
Furniture flipping essentials for every beginner include materials for woodworking, leather working, and metalworking materials. These are tools and materials to allow you to transform an old piece into polished and new-looking furniture.
According to the Architectural Digest, the supplies for a furniture flipper include:
1. Orbital Sander
The first step into getting thrift store furniture finds into market-worthy products is cleaning.
An orbital sander helps you clean dirt and smoothen imperfections. Additionally, sanding roughens up wooden surfaces to make polishing easy and ensure the paint adheres better.
Go for the Black & Decker Cordless orbital sander that's easy to operate for a first-time wood furniture flipper. The best part is that the tool is portable and compact enough for a one-handed operation.
Get the Cordless Black & Decker Orbital Sander on Amazon
2. Wood Filler and Sealer
Furniture projects are incomplete without filling gouges, seams, and cracks. The wood filler also comes in handy when covering deep-set stains. Note unlike wood putty, wood filler drys rock hard, making it possible to sand off excess material using a powered sander.
3. Wood Primer, Paint, and Brushes
The last step in furniture makeover is painting surfaces for both uniformity and aesthetics. Use a wood primer to ensure the longevity of your pieces by improving the paint's adhesion.
EXPERT TIP:When working on larger pieces of wood, use self-priming paint to save on time, cost, and energy.
As part of your painting kit, you'll also need:
Painter's tripods
Tape
Stain- as an alternative to paint, for a rugged wood finish.
4. Tool Set
For any wood DIY project, it is a good idea to have a tool kit ready. The tools to include in your set include chisels, carving knives, hammers and nails, and a sharpening stone.
You'll also need to purchase different hammers, for example:
Mallet – striking chisels
Claw hammer – driving and removing nails
Trim hammer – light work and tight angles
Joiner's mallet – Striking against the wood when joining 2 pieces
Get started with the REXIBETI Wood Chisel Set. The chisels have thickened rubber handles for maximum grip and a sturdy build for repeated use. I find the set essential for creating decorations and patterns on wood for that vintage feel. Get The Kit on Amazon
Other important woodworking tools and supplies include staples, epoxy, wood glue, a gel stain, clamps, an electric drill, and chalk paint.
How Much Does It Cost to Flip Furniture?
Apart from the above tools, that'll cost you about $200 (largely a one-time cost), furniture flipping is hard work that can cost up to $500 to get started. Part of the money covers the cost of old furniture and transportation of both small and larger pieces from the yard sale to your workspace.
Additionally, you have to account for the restoration work that may require a veneer here and a leather fabric there. For example, a yard of leather fabric can for between $12 and $20 depending on quality.
Lastly, a DIY project takes time to complete, with your labor time going into the final asking price for the finished item. As such, the cost of upcycling furniture is a combination:
Price of the old furniture.
Cost of materials & supplies.
Cost of restoration (labor).
Check Out: How to Find a Scrap Yards Near You
How to Restore Used/Old Wooden Furniture?
To flip furniture, you need to learn how to restore old pieces of wood, as well as upholstery. That said, the work can be especially simple if you have carpentry training.
For a beginner, though, these are skills that you can learn from flippers and craftsmen on YouTube. You can also pick up the skills from carpentry and upholstery e-books and other online resources.
The highlights of DIY restoration of an old wood furniture piece involve:
1. Furniture Rejuvenation
Rejuvenation means that you won't have to spend extra money to replace any parts. It's best for furniture that is not badly aged or worn out.
All you have to do is clean off the dust from a recliner's fabric and wax the exposed wooden surfaces to get it ready for resale.
When dealing with fabric, use the right cleaner to remove stains. For removable covers, wash and dry them thoroughly and use a fabric softener to reduce static and wrinkles.
2. Furniture Refinishing
As the name suggests, refinishing is the process of stripping off the existing finish and reapplying it afresh. Here are the steps to follow:
Step 1: Use soap and water to wash off grime and dirt from the surfaces. Ensure to gently rub on the surface to avoid being pricked by any splinters. Get rid of white rings by rubbing petroleum jelly on the spot and leaving it overnight.
Step 2: Scrape off paint splatters using a razor for small patches, and the orbital sander for large patches. Be gentle to avoid damaging the rest of the finish.
Step 3: Replace the missing veneer and use wood filler to cover the holes. Sand the area and use gel stain to restore the entire surface. Lastly, apply a new coat of finish as the final stage of your furniture makeover.
3. Furniture Repair
Any furniture piece that cannot be restored by the above methods requires extensive repair. For instance, you may have to replace a whole arm stump on a chair, or the entire back panel of a dresser.
To ace the repair, prepare a large enough workspace and have all the above tools ready. Now, tap into the DIY enthusiast in you and inspect the different parts, ready for serious woodworking.
Tips on Repairing Furniture for Flipping
Always start by removing old adhesives on the work area using a hard-edged knife or chisel. You can also dissolve the adhesive by applying dilute vinegar or acetone nail polish. A heated chisel will also do the trick.
During disassembly, use a wood or rubber mallet to avoid bending or breaking the undamaged parts. When using a claw hammer, prevent surface damage by placing a rubber scrap or wooden block on the impact spot.
Use wood glue to join new parts to the old furniture. If the damaged part is designed to hold on weight, such as a chair's seat or apron, use dowel pins and glue to join the pieces. Wobbly dowel joints can also be restored by wrapping a wood shaving on the tenon.
Remove loose screws and insert a small wooded dowel plus glue before re-screwing. This simple fix eliminates the play.
To join a middle piece that is broken, use a mending plate that is thin and strong; this is after gluing together the broken ends.
Use clamps to squeeze two pieces of wood together after gluing, for a stronger bond.
EXPERT TIP:Some repairs may be difficult, requiring you to pay a carpenter to make you the right piece.
How to Reupholster Furniture?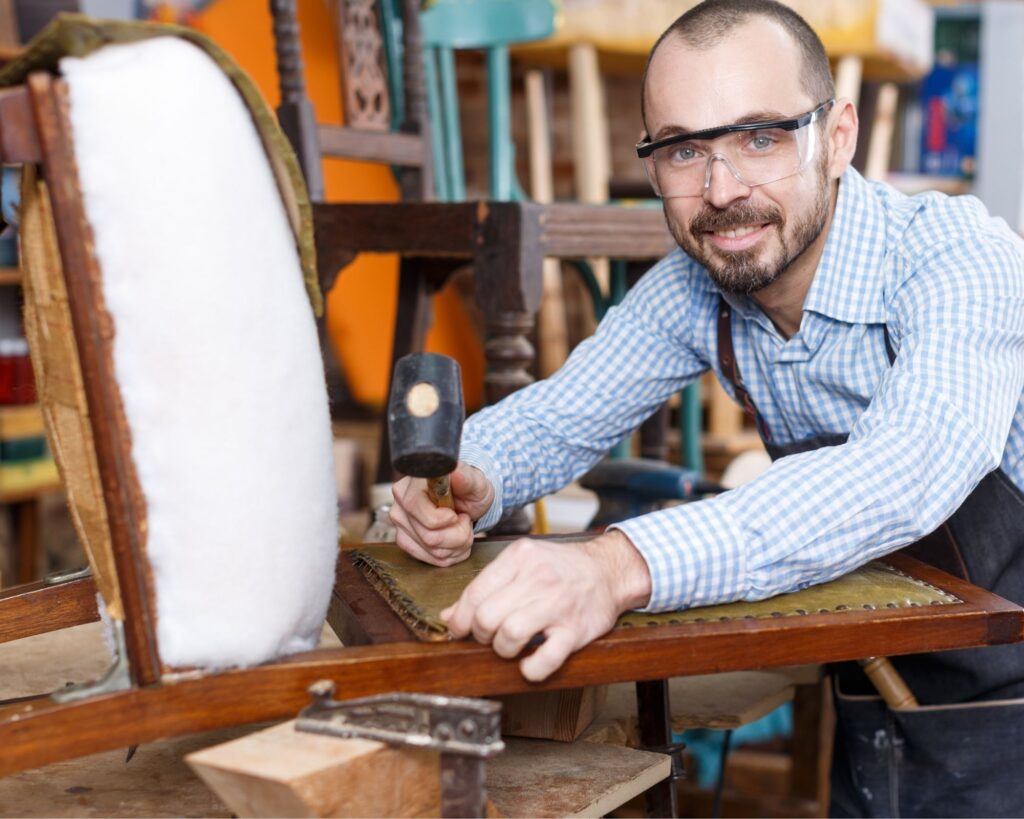 Your thrift store finds may come in the form of furniture with torn, faded, or outdated fabric. This is where a DIY reupholster comes into play. So, if you know how to cover wooden structures in the latest fabric, it is time to earn extra cash flipping old sofas, dining chairs, love seats, chaises, and recliners.
At-home upholstery requires one major tool- a staple gun. I recommend you get the Neu Master 3 in 1 Staple Gun. This is an inexpensive yet heavy-duty hand-held tool, perfect for furniture projects that require working with different fabrics.
It comes with an adjustable power setting for adapting to different material thicknesses. On top of this, you get a free stapler remover with your purchase of this chrome-finished steel tool that's rust-free.
Get Your Reupholstery Gun on Amazon
With your stapler ready, here are the steps for reupholstering old wood furniture:
Step 1: Prepare your Upholstery Tools & Supplies
As a flipper interested in refurbishing furniture, your workspace should have the following supplies:
The stapler gun plus staple remover
Enough staples
Quality upholstery fabric (note, restored furniture sells best when fitted with trendy fabric)
Sewing machine (optional)
Cotton batting
Screwdriver
Pliers
Scissors
Step 2: Remove the Old Fabric
Start by taking several photos of the furniture, from different angles. The images will be useful once you start fitting the new fabric.
Now, use the staple remover to pull out the old staples. The fabric may also be held in place on two pieces of wood using screws. As such, have a screwdriver and pliers ready for pulling out stubborn screws.
Most importantly, do not cut off any pieces of the fabric.
Once the covering is out of the way, you may choose to remove padding to expose dirty undersides.
Step 3: Clean and Repair Damaged Parts
Vacuum out dust and debris on the wooden surfaces. This will help in exposing weak joints, loose screws, and any cracks, bends, etc. Repair the imperfections and replace the upholstery foam.
Step 4: Cut the New Fabric
Mostly, the upholstery fabric is one complete irregular cloth that is cut to cover an entire surface. Use it as a template to cut the new fabric.
Even with trendy fabric, it is a good idea to add new patterns to increase the value of the piece. This is where skills such as embroidery, tufting, and using a sewing machine can be invaluable.
Step 5: Start Stapling
Remember the photos you took at the beginning? Use them as a reminder of how each section of the furniture is meant to look.
Also, remember to use the right materials for the job, for example, upholstery tacks are best for creating crisp edges.
How to Sell Non-Restored/Used Furniture?
From the above restoration processes, it is evident that flipping life can be costly if aren't very handy or don't have money to purchase all the necessary materials upfront.
To this end, you can make money flipping furniture by just gathering used items and selling them right away without fixing or restoring them.
On a positive note, selling non-restored furniture can save you a ton of time by not having to refurnish or upholster the furniture. However, you miss out on a lot of profit by not even painting furniture before selling it.
Also, items that are in decent-enough condition to sell are hard to find. In addition, you will need to price your items a lot lower than if they were restored.
This model of furniture flipping business means that you'll have to search for items that are in decent condition. Start by moving from one garage sale to the next, in the hope of getting pieces in decent condition.
As a potential buyer, this puts you in competition with people looking to buy ready-to-use items, the same buyers you are meant to eventually sell to.
Lastly, the profit margin for non-restored items is quite low so, you may have to sell a lot more furniture to make it worth your time.
How to Price Your Refurbished Furniture?
You typically want to earn double, triple, or quadruple the amount you spend on the item initially. The final price is, however, subject to several factors. After a furniture makeover, consider how much money you initially spent on the item and the amount of time it took you to fix it up.
You will also need to account for your vehicle mileage (gas money) and the cost of materials during restoration.
For example, if you bought a chair for $20 from a garage sale in the neighborhood, spent $15 on materials, and then worked on the project for 2 hours, you could easily list your item for $100.
This means you get $65 in gross profit. And assuming your compensation is $10 per hour spent on the restoration, your net profit becomes $55. This is more than double the buying price of the item.
Here is a summary of what to consider before fixing a listing price on a furniture piece:
Buying price
Cost of materials
Transportation cost
Labor cost
Cost of listing the item (if any)
Expected profit (must be than the sum of the above)
Is it possible to under-price your flipping finds? The answer is yes, the internet is full of stories where people bought items worth thousands of dollars, if not millions, for a fraction of their worth.
This calls for due diligence as a used furniture flea market flipper. You need to know how to price your finds like a pro. Below are some pointers.
How to Sell Antique Furniture?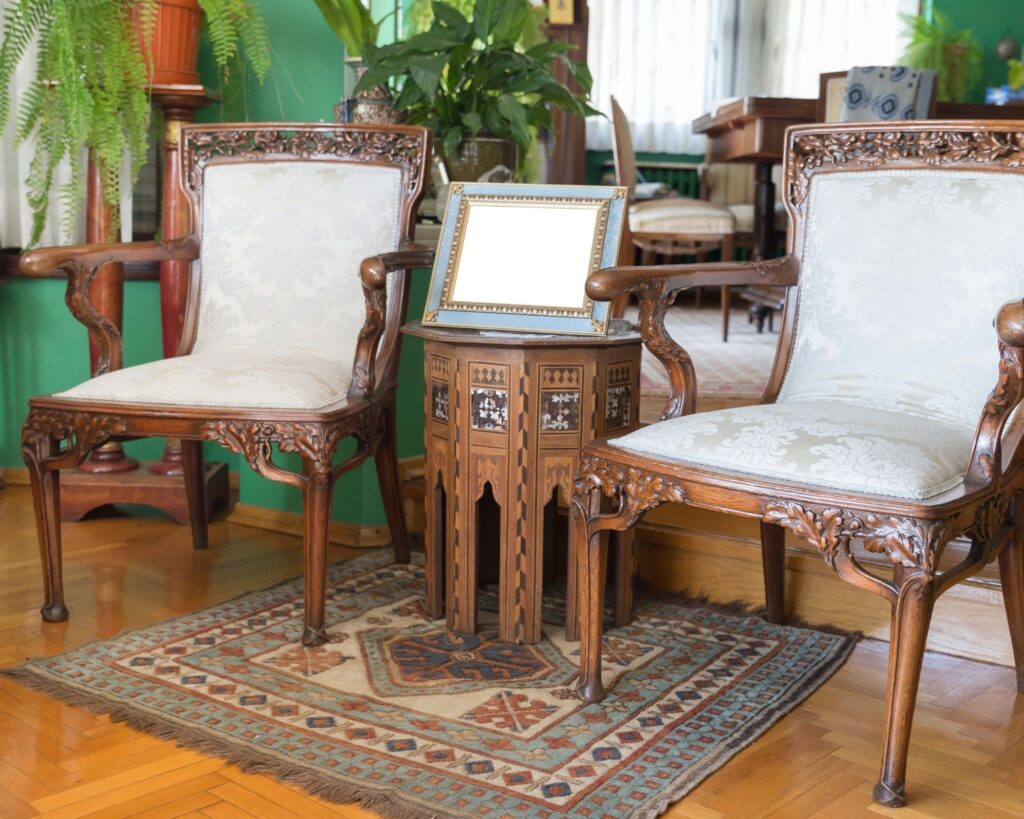 Once you come across a high-end or antique-looking item, haggle and buy at the lowest price possible. Suppress any instincts that tell you to list is fast or at a supposedly high price. Instead:
1. Find the Furniture's Value
High-end furniture bears a trademark that is not always displayed openly. The tag could be on the underside, inside a drawer, or obscured by a flap. Inspect your pieces for the following brands:
If come across any of the above brands, or any other stamp, take a photo of it. Next, reverse search the image on the internet to find the manufacturer.
Go through the manufacturer's catalog to know the right price for the item. For old furniture, search through listings for antique items. You will also find online marketplaces like Etsy useful for information on prices.
2. Get the Furniture Appraised at Value My Stuff
Sometimes you will come across old pieces that aren't listed anywhere, even on antique catalogs. In such cases, it's best to contact a professional appraiser.
Charges can be as high as $400 per item when dealing in person. However, you can get the same services on a site like valuemystuff.com, one of the best places for appraisals at $28 or less.
Ensure to get an appraisal certificate to help you negotiate for a high price when flipping an antique furniture piece.
3. Set a Price for Your Furniture
The idea here is to be realistic. For example, many people on this Quora forum agree that your asking price should correlate with that of similar items on sites like eBay.
It also goes without saying that you can't sell at a price that's higher than the current retail price for a new item. A common approach is to sell used items at between 70% and 80% of the price of a brand-new item.
Nevertheless, there is no formula for determining the right price for used furniture or the cost of the hard work that goes into its restoration. So, you may decide to make a quick sale and sell at 50% of the retail price, or hold on the piece longer for a better price.
Where to Sell Upcycled Furniture?
Now that you know where to find used furniture, how to restore it, and how to price it, it's time to sell it.
There are dozens of options to choose from to sell your furniture. Start with the sites where you bought the item in the first place. I'm talking about the likes of Facebook Marketplace, Offer Up, 5Miles, and Poshmark
Other little-known sites and consignment shops to sell upcycled furniture include;
If the above sites do not provide favorable terms, you can always check consignment stores near you on Showroom Finder.
Related Post: Where to Consign Your Used Stuff
Is Flipping Furniture Profitable?
Yes, flipping furniture can be EXTREMELY profitable! If you are able to find good deals on furniture, do quality work, and then sell it for a higher price, you can make quite a profit or even earn a six-figure annual income.
However, you must be cautious when selecting goods, be aware of the market value of furniture, and ensure that the items are reasonably priced. Furthermore, to refinish or repair furniture, you'll need some basic woodworking skills.
Nonetheless, if you are not skilled in fixing up furniture, it may take a while to learn how to restore pieces that fetch a high price.
How Much Money Can I Make Flipping Furniture?
Most furniture flippers can, typically, earn anywhere between $100 and $1,000 per month. Some experienced flippers even make $20,000 or more per month flipping furniture full-time.
The amount of money you make flipping furniture is subject to::
Where do you live?
How much time do you spend flipping furniture?
Your ability to fix up furniture
How do you market the pieces to buyers?
Someone who puts in 20 hours per week flipping furniture will most likely make more money than someone who can only put in 5 hours per week.
Similarly, if you live in a big city where a lot of people are discarding their old furniture, you will have a lot more supply, free even, than someone who lives in a rural town.
To know what the hustle holds for you, here are success stories from leading used furniture flippers:
Elle runs a furniture flipping business on Etsy where she makes 6 figures a year. In an interview with The New York Times, she reports starting the hustle with her own unwanted furniture that she listed for $35.
The items sold almost immediately on Facebook Marketplace. Since then, the business has grown large enough for her husband to quit a 9-5 job and join her in flipping furniture.
This West Michigan couple makes enough money flipping chairs and the like to pay their $872 per month mortgage. For them, this is a hobby that was borne out of flipping houses.
The idea came about when their YouTube fans showed more interest in furniture than the houses. On average, the couple reports making $1,000 from this lucrative hobby. The couple aims to buy a piece at $25 or less, and sell it at $125 after restoration.
Shayna is a viral Instagram flipper with over 369k followers. She makes over £2,000 ($2,450) per month flipping furniture. That's $29,400+ annually!
She started with a free wardrobe from Facebook Marketplace that only needed painting to sell. Her success, she says, is due to learning all the basics of upcycling furniture and the willingness to put in the work.
How To Make Money Flipping Furniture?
Making money flipping furniture is easy; start by purchasing a cheap piece of furniture and fix it up, and then sell it for a much higher price. To get the best price, list your items on secondhand and used items buying and selling sites.
Here are some tips to make the most of furniture flipping:
Tips for Flipping Furniture
Go for finds that require as little repair as possible.
Start with free furniture or donations to test the market and your business skills.
As a beginner, don't spend too much money on a single piece of furniture. Instead, buy many pieces, each at a low price.
Do market research on what is selling before buying.
Do a thorough inspection of any furniture before you buy. It is easy to land furniture that looks solid its termite-ridden.
Stock on upcycling materials as dictated by demand.
Try out new designs, colors, and fabrics during upholstery.
Learn new flipping techniques from YouTube tutorials and other sites; stay at the top of the flipping game.

Create flipping shops on Etsy, Shopify, and the like.

Create your own flipping website or blog.
List items that are accompanied by detailed descriptions and clear photos.

Sell at a price that is reflective of the surrounding markets, both online and physical marketplaces.

Lastly, avoid being stuck in your flipping comfort zone. If you are used to flipping tables, give dressers a try.
Mistakes to Avoid While Flipping Furniture
Buying furniture made of MDF, or any other particle-based boards. Such furniture isn't durable and will most likely get damaged during transport.
Using low-quality paint, furnish, stain, or wood glue. You need to return customers, which is only possible by ensuring quality through and through.
Not inspecting furniture for brand tags. Why sell an antique for $100 just because you aren't meticulous?
Too much customization may not appeal to most potential buyers.
Taking shortcuts, such as painting over flaws.
Not being active in your comments section, it's not just about selling, potential buyers need to experience your expertise.
Is Flipping Furniture Worth It?
Whether you are in as a hobby or a side hustle, furniture flipping is not only satisfying but profitable. The hustle is, especially, easy for people who already know how to sell online and are good with their hands.
Flipping Furniture for a Profit: The Bottom Line
This complete furniture flipping guide outlines the steps to realizing profits as a furniture flipper. You can make a few dollars, or thousands of dollars, from each flip; it all depends on skill and level of investment.
From materials and tools, to the best places to buy cheap pieces and where to sell them, the in and outs of a successful furniture flip hustle are contained herein.
And now it's your turn to enlighten us with your flipping insights. Where do you buy them? Where do you sell? Share your knowledge in the section below: