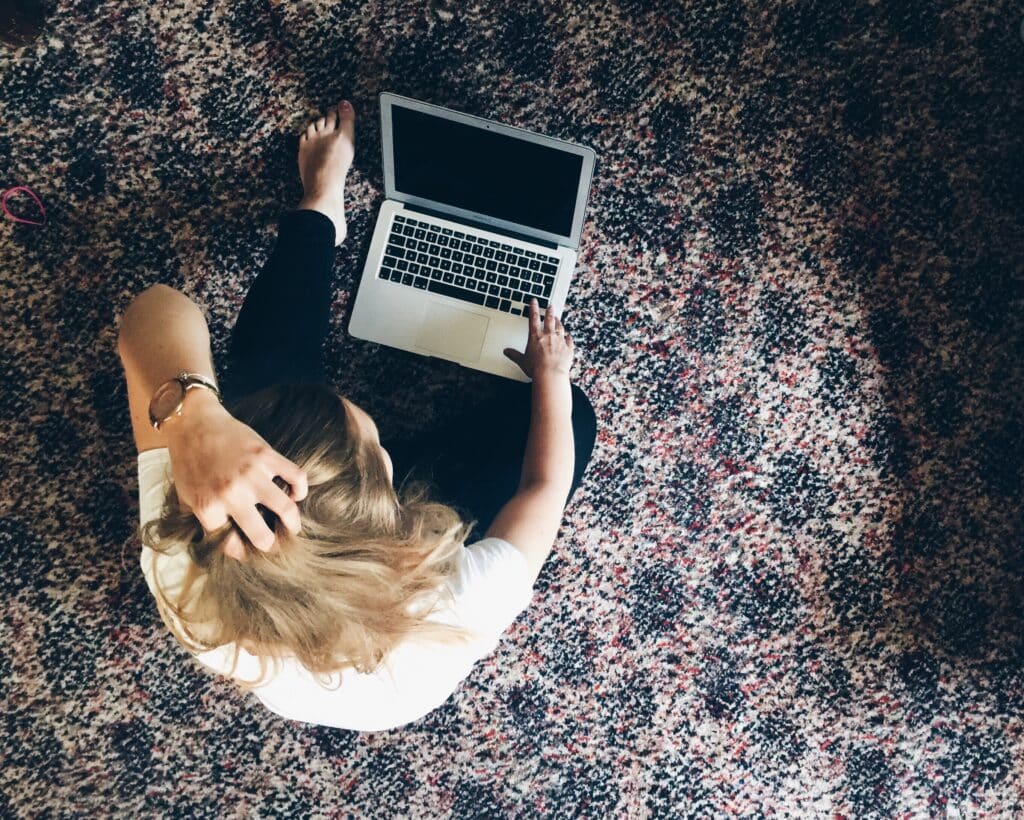 Are you looking for free online jobs that pay daily your kind of side hustle?
In my ongoing review of stay-at-home jobs, I have come across legit jobs that pay weekly and others that do it monthly.
This got me thinking, is it possible to work online and get paid instantly? Fortunately for you, in my research, I did come across dozens of companies that pay freelancers on a daily basis.
Be warned though, many of these are mostly low-paying gigs. For the big bucks, you can try these high-paying work-from-home online jobs.
Now, back to the daily-paying jobs. Online jobs that pay hourly or daily are generally easy and take just a few hours to finish. What this means is that if you work fast and choose the right jobs, you can be looking for decent pay at the end of the month.
EASY MONEY HACK:

Survey Junkie – Survey Junkie is 100% legit and has a 4-star rating on Trustpilot. Their surveys are short, easy, and you can redeem for gift cards or PayPal cash – Click here to Start earning now!

Swagbucks – Swagbucks is a rewards platform that pays to do simple tasks like watching videos, completing paid surveys, and trying out new products. Surveys on the platform pay anything from $2 to $50. Sign up here to claim your $5 welcome bonus!

The Nielsen App: Downloading the Nielsen app on your mobile device unlocks up to $50 in rewards points per year, redeemable via PayPal or gift cards – Install the Nielsen app just like that!

LifePoints Panel: With over 4k positive reviews and a 4.5 rating on Trustpilot, Lifepoints is available to a global audience over 16 yrs of age. Participate in surveys, win Amazon, Walmart gift cards – Sign up now!

PineCone Research: Earn $3 – $5 per survey & up to $7 per product test – Sign up now!
Let's get to the top picks for free online jobs that pay daily:
I) Paid-Survey Sites Where You Can Earn Daily or Weekly
1. Survey Junkie
Paid Surveys are one of the easiest ways to get paid through your phone. Surveys are usually not more than 10 minutes long and with an app like Survey Junkie, the jobs are frequent. The platform kicked off in 2013 and has since garnered over 11 million users.
However, only the US, Canada, and Australian users can register for this rewards service. Their surveys are short, quick, and can make you between $2-$50. The minimum payout is $10 which you can redeem daily for cash via PayPal or through gift cards.
To learn some hacks and personal experience on the platform, read my Survey Junkie Review.
2. My Points
MyPoints is among the best reward programs that pay both in cash and gift cards. The app has so far paid its users over $236 million. Currently, it's ranked among the highest paying cashback platforms. Each purchase at stores affiliated with the program can earn you up to 40% back.
You can also make money by taking surveys, participating in polls, and engaging with ads. The app also pays you to play games. Payment is through PayPal and gift cards to more than 2000 retailers. Are you an avid online shopper?
Join MyPoints and claim your $10 welcome bonus.
3. Swagbucks
Swagbucks Rewards Panel is a popular application with simple jobs that pay daily cash. You earn by completing simple tasks such as surveys, playing games, and watching videos. Other earning streams include points for shopping online, searching the web, and referring friends.
The platform is available to both iOS and Android users. 100 points on the apps get you $1 with $5 being the minimum cashout. Your rewards come in the form of gift cards to retailers such as Amazon and Walmart. I have so far made $88 on Swagbucks and the app has proven a good stream for passive income generation.
Sign-up here to claim your $10 welcome bonus!
4. PineCone Research
How would you like to turn your everyday opinions into cash? PineCone Research pays you to test products and services. Each completed survey gets you 300 to 500 points with 100 points being equivalent to $3. As a product tester, you make $7 and you get some cool products before they hit the market.
Better still, you don't have to rack up certain points to cash out-you can redeem your rewards at any time, daily if you like. As an active user, you also stand a chance to make $500 or $4500 in a bi-weekly and quarterly draw respectively.
Register here to start earning $3 per survey and win free test products.
II) Mobile Apps That Pay Daily
5. Ibotta
Cashbacks are some of the easiest ways of earning daily for doing nothing. If you are a coupon lover, the Ibotta is a must-have app. It allows you to earn cashback on both online and in-store shopping.
This cashback rewards platform partners with over 1500 brands, from grocers to electronic retailers. To date, the app has paid out more than $600 million to over 35 million users. Rewards come in the form of gift cards or instant cash via PayPal.
Further, you get $20 when you sign up.
6. Field Agent
How would you like to get paid daily through your phone for simple tasks such as taking a photo? When you become an "agent" on this platform, you can make between $2 and $12 for a single task. Typically, the work involves checking prices, assessing displays, taking photos, and doing surveys.
Users receive their payment around 48 hours after completing a job through PayPal. The firm opened its doors in 2010 and has since become a premier crowdsourcing platform for retailers in the US, Canada, and the UK. You can download the app on both App Store and Google Play.
7. Easy Shift
Easy Shift lets you earn extra bucks by successfully completing quick jobs at local stores and shops called shifts through your phone. It simply involves taking product photos, checking prices, and reviewing them. You earn from $4-$20 per single shift.
The shifts are added daily, and all you have to do is login into the platform, reserve a nearby shift, and head out. Typically, you receive payments within 48 hours through PayPal after shift approval.
This software went live in 2010, with its headquarters in California, USA. It's available on GooglePlay and App Store for residents in the US and the U.K.
III) Websites That Pay Daily or Weekly
8. Cambly
Are you a native English speaker with a knack for imparting knowledge? If so, there are scores of legit platforms where you can teach English and get paid daily. On the Cambly website, tutors make 17 cents per minute, a little over $10/hr, by teaching via audio or video calls.
The good thing is, no experience is required to tutor on Cambly. However, they don't make a commitment to the expected weekly take home. That said, going by reviews on Glassdoor, you can make around $21K per year- that's over $60 per day! Interested? Sign up here.
9. OneSpace
If you love writing, OneSpace is a website that pays remote freelancers for tasks involving data entry, writing, data editing, transcribing, image tagging, and translation. Basically, what you earn depends on the task you choose; simple tasks pay 10 cents per job. Article writing earns you $0.02-$0.035 per word.
OneSpace pays workers as soon as clients approve jobs; 24-48 hours via PayPal. To become a member, you just need to create an account, accompanied by your CV.
10. Chegg
Chegg is another online teaching platform where you can make a living. Unlike Cambly though, this platform requires you to be a university graduate to tutor. Understandably, Chegg offers legit online jobs that pay weekly via PayPal.
The base pay is $20 per hour with subjects ranging from calculus to literature.
Top tutors on average make about $1000 per month. If you are dealing with a high-demand subject, the pay goes considerably higher. Chegg has over 3 million users which makes for a potentially huge pool of customers. Click here to learn how to become a tutor.
11. Fiverr
Fiverr is arguably the largest marketplace for freelancers with opportunities ranging from graphic design to article writing. The platform comes with thousands of legit online jobs that pay well. Getting started on Fiverr is easy and with each completed job, your rating goes up.
Typically, Fiverr pays fortnightly but for top freelancers, you can get your dues 7 days after an order has been cleared. Depending on the number of jobs that you submit every day, you can get paid on a daily basis. What I like most about Fiverr is that apart from working for clients, you can even sell Ebooks on the platform.
Sign up here to try any of these 10 Unsavvy Gigs To Make Quick Money on Fiverr.
12. Qkids
If you love teaching kids, then you will find working on Qkids both fun and rewarding. Work involves teaching English to Chinese kids aged between 4-12 years. Notably, the hiring process is strict and eligibility is only open to the US and Canada-based users.
The platform allows you to work online and get paid daily. Lessons are 30 minutes long, with each making you $8-$10. You can also make $4 dollars by login in 3 minutes before the classes start and waiting for 3 minutes after class time is over. If parents rate your teaching as effective, you get an extra $1 per class. Cool!
What's more, if you teach at least 15 classes in a week, you get a $1 bonus for each class.
Click here to apply for Qkids.
13. Upwork
Upwork is another legit and lucrative online marketplace for stay-at-home freelancers. The website is popular with a variety of online jobs that pay hourly. You can also opt for fixed-pay jobs as per the client's requirements. While payments take five days to clear, you can make withdrawals daily.
Some of its high-earning jobs include web development and firmware engineering. Pay depends on the type and duration of the job. To date, the platform is available in 180 countries with over 14 million users. Annual pay to freelancers is over $1 billion making Upwork a top-tier marketplace.
14. ClickWorker
When you become a "clickworker" you can earn around $8-$11 per hour or more by completing tasks assigned to you. Such tasks involve online research, proofreading texts, categorizing websites, mystery photography, product descriptions, and paid-surveys.
Clickworkers get paid on a weekly or monthly basis through SEPA or PayPal. Founded in 2005, this tech company currently boasts of over 2 million clickworkers around the globe!
If you prefer working on the go, the company recently developed ClickWorker mobile apps available on Google Play and App Store. Register here to become a ClickWorker.
15. Amazon MTurk
Amazon is not just a marketplace, you can earn from it through Amazon mTurk. This is simply a crowdsourcing platform where requesters hire remote "crowdworkers" to do on-demand tasks known as HITs (Human Intelligence Tasks). Jobs include product description, identifying content in images and videos, and answering questions.
The amount you earn depends on the HITs you choose to tackle. Payments are made to your bank account. Alternatively, you can redeem them for an Amazon.com gift card.
Open an Amazon mTurk worker account here.
IV) Customer/Tech Support Jobs That Pay Daily or Weekly
16. Vipdesk Connect
Did you know that you can earn by providing online customer support for companies?
VIPdesk Connect hires and trains employees to work from home. Your work will involve solving customer queries for well-established brands. Interactions are through phone calls, emails, chats, and social media.
Qualified employees get paid $10-$16 per hour but the jobs are only available to USA residents, and Canada sometimes. This tech company is based in Alexandria, USA, and has made a milestone by being named among the top workplaces in 2020 by The Washington Post for the 7th year in a row.
17. TeleTech
TeleTech, simply known as TTEC, hires freelancers to conduct online surveys and provide customer support services via phone, chat, and social media. However, they do require applicants to have a high school diploma or GED before they can register.
When hired, you get to earn $8-$10 per hour with added training bonuses.
Established in 1982, TeleTech boasts over 47.8k employees globally handling around 3.5 million customer interactions daily. Sign up here to join TTEC as a home associate.
18. A Better Call
A Better Call offers telemarketing services to other companies. They hire work-at-home agents to provide exclusive phone-based customer support services like business sales leads and appointments.
Once hired, you can earn up to $20 per hour with bonuses available for an excellent performance. If you are looking for legit online jobs that pay weekly, A Better Call is your kind of workplace; accumulated pay is released on a weekly basis. To work here, be ready to prove that you have at least a minimum of 2 years of experience in your field of interest.
19. Brighten Communications
Do you love telemarketing? Brighten communications hire freelancers to work from home. They delegate tasks such as telemarketing and cold calling on behalf of companies looking to make sales. Unfortunately, they only hire USA residents.
Once hired, payments start at $12/hour and may rise to $22/hour depending on how hard you work. Payout is once a week via check or direct deposit. This website has been in existence since 1999 and serves over 1000 firms. You can easily sign up on their website and start making money.
20. BlueZebra
This is one of the oldest online workplace companies having been established in 1998. BlueZebra is a virtual company with all members working from home. They hire people around the globe to make phone calls trying to generate leads and book appointments on behalf of their clients.
New work at a rate of $15/hour, a rate that doubles during the first 60 days depending on client reviews. Payments are made every 7 days through direct deposit. Blue Zebra accepts applications from the US and Canada only. Also, you must have at least 2 years of experience in cold calling for your application to be accepted.
21. Accolade Support
Similar to other customer support jobs, Accolade Support is a virtual support center that hires and trains freelancers to perform tasks. Typical jobs include taking customer complaints, providing technical support, and selling products to inbound callers.
Payment ranges between $7.25-$10 per hour plus hourly compensation bonuses. These payouts are made within a 7-day time frame. Interested freelancers must be USA citizens. Other than that, all you need is a quiet workplace and reliable internet access.
Apply here to become a telemarketer today.
22. Game time
Do you have a bachelor's degree and are in need of a good hustle? Gametime offers freelancing jobs, with interested candidates expected to perform tasks such as reviewing and analyzing data, improving the user experience for customers, researching and taking action against fraudulent users, and more.
Users can earn up to $15/hour. In addition, Gametime rewards you $1,500 free credit for games. Gametime was recently named the 3rd fastest growing company in the USA with a 34,000% growth in 3 years.
23. Language Line
Effective communication is vital. How about the idea that you can earn by interpreting and translating languages? LanguageLine hires native speakers on behalf of organizations with limited English proficiency and also to the deaf or communities with hearing problems.
Pay depends on your field and language skills. For example, a medical interpreter can expect to make $12-$20 per hour. Jobs are plenty of 25,000 worldwide clients from various sectors employing the service. Apply here to choose your preference from over 240 languages.
24. Needle
Chat jobs are becoming quite marketable. Needle has been around since 2009 providing customer assistance and chat-based jobs for big companies. They hire home-based workers to help customers find exactly what they want from a given company. Tasks include providing a shopping experience, answering questions on items, and providing feedback.
Generally, when you become a "needler" you earn 10/hr, paid every Monday through PayPal for the jobs completed in the previous 7 days. Currently, they are enrolling a points system payroll whereby you can redeem points for free gift cards.
25. City Twist
Just like other customer support jobs, City Twist hires and trains home-based employees to make outgoing phone calls to auto dealers using provided leads. The positions are available in the USA only. To date, this 13-year old company has a clientele base of over 11,000 dealerships in the USA.
They pay weekly with the rate depending on how hard you work. Granted that, top representatives earn up to $2,000-$3,000 per week. This opportunity is best for freelancers who have a special interest in cars and the motor vehicle industry. Does this sound like you? Apply here.
V) Phone Jobs & Virtual Assistant Jobs That Pay Daily and Weekly
26. Virtual Office VA
Making phone calls at the comfort of your home can earn you money, that's right. Virtual Office VA hires freelancers to work on behalf of a host of clients remotely. In most cases, your daily task is to offer leads to homeowners who wish to sell their houses without a real estate agent.
At any rate, users receive payment every once a week through PayPal as soon as the information you have gathered gets approved. The payment rates are $9/hour. They offer jobs to people residing in the US and Canada only. You can easily apply on their official website.
27. Call Center QA
This is an independent call center that hires telephone mystery shoppers from the US only. You won't have to worry about the experience to work on this platform; you just have to be 18 years or older. Tasks include making calls to various retailers and requesting information about products and services.
Registration is very simple and payment rates are $5 for every complete call made. These mystery shopper calls are about 10 minutes long followed by filling a short feedback form. You should expect payouts within 7 days through PayPal. Apply here to become a mystery shopper.
28. Westat
Are you into data collection? You can make it a source of income with Westat, a company that hires telephone data collectors to work from the comfort of their homes. These tasks involve data collection and research in various fields such as health, education, transport, and the environment.
Their payment rates range from $8.25-$10.25 per hour paid weekly through checks and direct deposits. Westat has been in this business since 1963, having successfully served several U.S military departments. Visit their website for details on how to join.
29. Ver-a-Fast
Providing good customer service is a great setback for many companies. Filling that gap has made Ver-a-Fast become one of the largest verification companies in the USA and Canada. The good news for stay-at-home freelancers is that the majority of Ver-a-Fast workers are remote freelancers. Once hired, your work entails making follow-up calls to customers.
Users get paid about $150-$200 for work done over a week, typically 15 hours of calls. Payout is made through check. Ver-a-Fast started in 1976 and requires job seekers to have experience in communication skills before signing up.
Final Thoughts
From the above selection of free online jobs that pay daily, and weekly for others, it's quite evident that the web is not short on freelancer jobs. From selling cars to playing games, there is almost no job that you can't make money on-right from your home.
That said, my list provides only a snippet of the many opportunities that are out there. So, what are you making money on? Is pay daily? Would you recommend it to others? Let me know all about it.