Looking for a comprehensive Survey Junkie Review 2023? You are in the right post, covering all you need to know about gig work on one of the leading paid survey companies in the United States.
This is a guide on how to get started, how payments are made, maximizing earnings, ratings, and critical reviews on Survey Junkie.
Most importantly, as a Survey Junkie user, I have several lessons to share about hustling on Survey Junkie surveys like a pro.
That said, although earning opportunities on the internet can be a valid way to generate additional income, it's crucial to approach them with caution and perform thorough research to avoid scams.
Survey Junkie is just one of many online survey websites available, and I recommend you explore various options to determine the best fit for your goals.
With this in mind, are there worthy alternatives to the platform for frequent survey takers? Read on to find out.
But first, here is a quick overview of this top GPT site:
Survey Junkie Review: Overview
| CRITERIA | FEATURES |
| --- | --- |
| Year Established | Founded in 2011, Launched in 2013 |
| Purpose | Surveys, Focus Groups & Data Sharing |
| Available Countries | The U.S, Canada & Australia |
| Applicable | 18+ years |
| Subscription Plans | None |
| Average Earnings | $0.20 to $5.00 per survey |
| Cuts & Commissions | No cuts or commissions on earnings |
| Payment Method | PayPal & e-Gift Cards |
| Sign Up Page | Click Here to Sign Up |
| Bonus Program | Points for profile completion & referral program |
| Google Play | 4.4/5 stars, 74.1K reviews, 1M+ downloads |
| App Store | 4.6/5 stars, 68.7K reviews |
| Ratings & Accreditations | Accredited on BBB with a B rating & 4.25/5 star reviews. Trustpilot rating of 4.3 from 43k+ reviews |
| Survey Junkie: Final Verdict | Survey Junkie is totally legit. |
What Is Survey Junkie?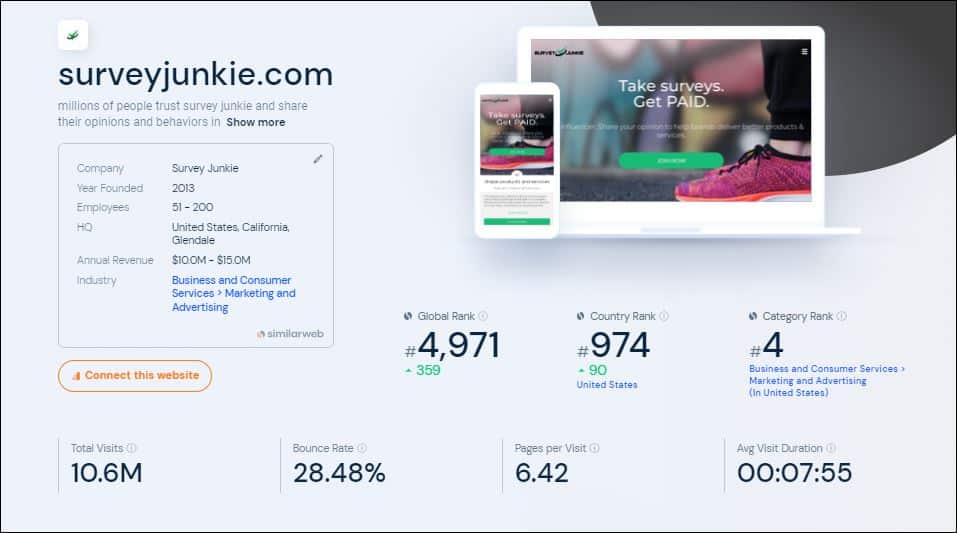 Survey Junkie is a platform that facilitates connections between companies seeking consumer opinions and users willing to take surveys.
Users take surveys to get points that are exchangeable for gift cards or PayPal money. The website was launched in 2013 and is based in Glendale, California.
The company is owned by DISQO, a platform that specializes in data collection, analysis, and consumer insights.
Survey Junkie compensates subscribers for filling out surveys and sharing their feedback. The site is free to register and lists surveys on various topics.
Users receive points for their completed surveys. Additional credits can be earned by taking profile studies and getting friends to join the website.
Also, the website has a good reputation within the online earning community. However, it has its advantages and disadvantages, and it's important to review feedback and ratings from other users before you join.
How to Participate?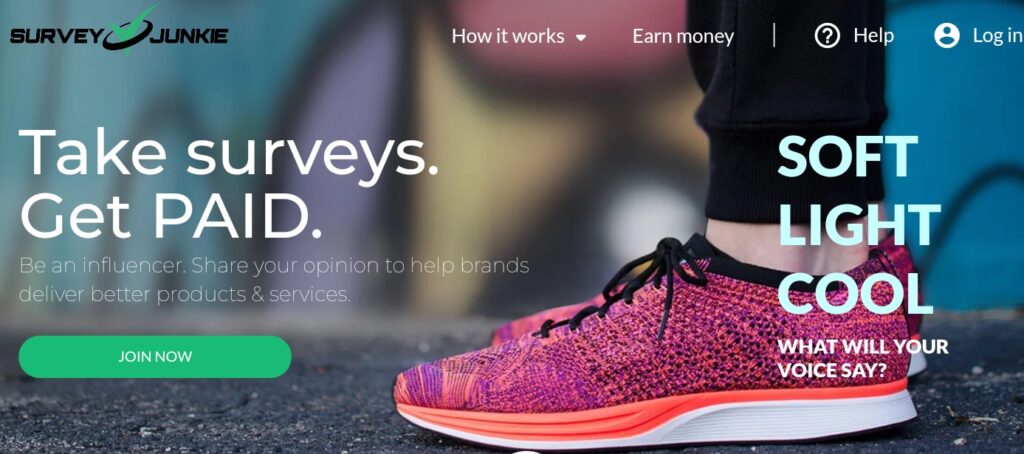 Registration on the website is free, and no upfront payment or investment is required. To participate, users must create an account and provide answers to a profile questionnaire.
The profile quiz helps Survey Junkie identify relevant surveys for your demographic.
Surveys on the site are typically supplied by third-party companies looking to gather consumer feedback and insights.
What's more, the company evaluates and filters studies to ensure that they are pertinent and trustworthy.
Users can access available surveys through the Survey Junkie dashboard and select the ones they want to participate in. Note, some surveys may have additional screening questions to ensure that the participants match specific requirements.
Upon completing a survey, the points are deposited within 24 hours. After you redeem your points, payment processing begins after a few days.
The GPT comes with a referral program that enables users to receive additional points by inviting friends to join the platform.
Click to Join Survey Junkie and Get $10 Free
How Does Survey Junkie Work?
On Survey Junkie, work-from-home users are paid for their opinions on various topics like product evaluations, market research, and customer satisfaction surveys.
To start earning, applicants create an account and complete a user profile. Once your profile is complete, you can work on surveys that match your demographics and interests and get paid.
The scope and magnitude of surveys can vary, and compensation depends on the study's duration and your suitability.
Below Is a look at how to get started on Survey Junkie:
1. Sign Up for Survey Junkie: Registering an Account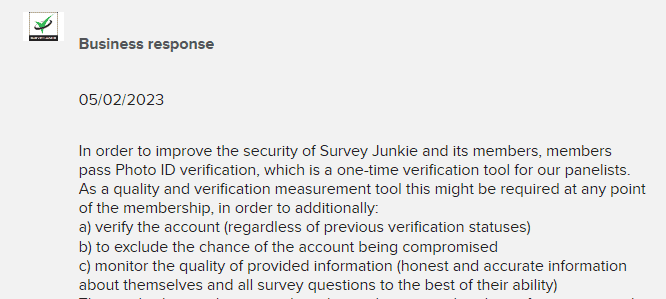 Setting up an account on Survey Junkie is easy and uncomplicated. Users can either register using an email or through a link to their Facebook account.
After signing up, you get a verification email, and once your application is approved, you can start working on surveys.
To get verified, the company may require you to send a photo ID, typically during your first cashout.
As shown in the above Survey Junkie Customer Service response following a customer complaint, verification helps ensure the security of your account.
2. Completing Your Profile
To boost your earnings on Survey Junkie, ensure accuracy when filling your profile with your demographic info and interests.
This increases your chances of being matched with relevant surveys.
Additionally, Survey Junkie rewards users with extra points for completing their profiles, so it's worth taking the time to fill out your profile completely.
Also, you will find additional short profiles that are category specific.
For example, on the left-hand side of your dashboard, you may get household, job, or shopping profile tabs. Completing such questionnaires awards you 5 points, for each quiz.
3. Completing Surveys
After finishing your profile, Survey Junkie will begin to suggest surveys that match your profile. These surveys can be found on your dashboard and include details such as the survey's length, point value, and estimated completion time.
To optimize your earnings, select surveys that are short and high-paying. You should also opt into the SJ Pulse program to earn from sharing data- more on that later.
How Much Does Survey Junkie Pay?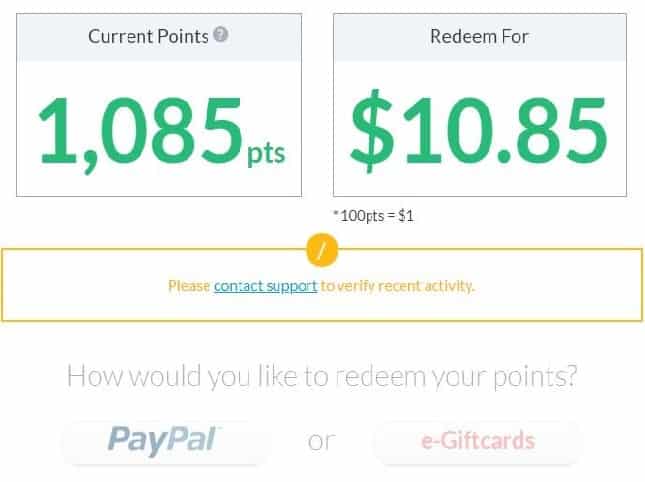 Wondering how much can you make with Survey Junkie? On average, users can earn anywhere between 20 and 500 points per task, which takes between 5 to 30 minutes.
I have been a longtime member of the site and hitting the 1K points mark took me about 3 hours. The points are exchangeable for cash through PayPal or gift cards for different retailers, at the rate of 100 points for $1.
Users can redeem 500 points at a minimum, which equates to $5. According to the site, if you complete three surveys daily, you can get up to $40 monthly.
Note though, while Survey Junkie can provide a legitimate income, it should not be relied on as a primary source of income. However, for those who have the time and interest to participate in surveys, it can offer supplemental earnings.
As such, I recommend that you approach Survey Junkie as a secondary source of income, rather than a primary one.
How Does Survey Junkie Pay?


Survey Junkie pays its users via PayPal or retail gift cards. Once a user requests payment, the platform processes the payment in a few days.
To receive cash payments, users require a verified PayPal account. You can redeem points via various brand options if you'd rather get gift cards.
For users who prefer gift cards, there is a variety of options from retailers such as Amazon, Sephora, and Starbucks. Nevertheless, some survey takers report issues with payment processing, such as delayed payments or account freezes.
While these issues are not common, users should know that payment processing and options may vary depending on your verification status and location.
Here are some important details for both options:
1. Cash
You can receive your rewards in cash through PayPal.
Steps to cash out in cash:
Step 1: Login and click on the "My Points" tab.
Step 2: Click the "Redeem" button next to the cash option.
Step 3: Select the amount of cash you want to redeem and confirm your PayPal email address. Ensure your digital wallet's email address is correct, as this is where your cash reward will be sent.
Step 4: Once you confirm your PayPal email address, your cash reward is processed within 24 hours. Further, you'll get a confirmation email, immediately after the reward is sent to your wallet.
2. Gift Cards
Steps to cash out via a gift card:
Step 1: Login and click on the "My Points" tab.
Step 2: Click the "Redeem" button next to the gift card option.
Step 3: Select the retailer. Note that some retailers may have a minimum or maximum redemption amount.
Step 4: A code will be displayed on the screen once you confirm your redemption. You'll also get an email with the gift card code.
Step 5: Use the gift card code to buy online or in-store at the selected retailer. Some gift cards may be printable, while others may be sent to your mail.
Note that Survey Junkie's gift cards do not expire. Also, there are no additional fees or shipping costs associated with redeeming your rewards for gift cards.
Survey Junkie periodically offers bonus points for redeeming your rewards for select gift cards. As such, always check for ongoing promos before cashing out.
Popular Gift Card Options On the Platform
Where do you shop? Walmart, Target, or just a regional retail store? Below are some of the Survey Junkie gift cards that you can use to offset your online or in-store purchases.
Amazon: Amazon is among the popular gift card options on Survey Junkie. You can buy books, furniture, gaming equipment, toys, shoes, and more on Amazon.
Groupon: The company offers discounted deals on various goods and services, including tours, dining, parties, massages, and shopping. A Groupon card can buy any deal on the Groupon website.
iTunes: iTunes is a media company with a music and video library where users download and stream content. An iTunes card can buy any content available on the iTunes Store.
Sephora: This is a popular beauty retailer that stocks everything from makeup and fragrance to brushes and bath & body products.
Starbucks: A Starbucks gift can buy any product at the physical locations of the coffee shop giant. The card can pay for your pastries, coffee, lunch, and more from Starbucks.
Target: This a giant departmental chain store that stocks clothing, beauty products, gaming accessories, groceries, and more. With a Target gift card, you can shop both online and offline from its outlets.
Walmart: This is a popular retail chain that provides various products, including groceries, clothing, electronics, and more.
Is Survey Junkie Legit & Real?
When considering whether to use Survey Junkie, among the things to consider is whether it's a real and trustworthy website. So is Survey Junkie legit? Let me answer by referring to the Survey Junkie BBB rating.
Survey Junkie is indeed an authentic website that's been operating since 2013 and has 10M+ registered users. It's also an accredited business by the Better Business Bureau with a B rating, which is a good indication of its credibility.

Further, the site runs a legal business whereby it gathers feedback and opinions from consumers. The information is important for developing and improving products and services.
Simply put, the platform serves a legitimate purpose in the market research industry. To date, DISQO reports that over 40M surveys have been completed on the site.
Furthermore, Survey Junkie has an easy-to-use interface, responsive customer support, and a quick payment processing system.
Is Survey Junkie a Scam?
When considering Survey Junkie reviews, it's natural to wonder if it's a scam. The good news is that it's not.
Scams often entice people with unrealistic possibilities of earning and require upfront fees. Survey Junkie, however, is a legitimate site that doesn't require any payment to access earning opportunities.
Instead, it offers reasonable earning potential through completing surveys and other tasks. More to this, the site has an impressive 4.25/5 star rating from 1600+ reviews on BBB and a 4.3/5 star rating from 43K+ on TrustPilot.
That being said, it's important to be aware of imitator sites that use Survey Junkie's name or branding to deceive users.
Only use the official Survey Junkie website and be cautious of any site that promises unrealistic earnings or requires an upfront payment to avoid scams.
Does Survey Junkie actually pay? The answer is definitely in the affirmative. The website is known for its fast payment processing system, with most payments processed within 24 hours of redemption.
How to Earn Points with Survey Junkie?
Survey Junkie, as the name implies, is primarily designed as a paid survey platform. Nevertheless, you can earn from other streams such as sharing browsing data. Here is a quick look at all the ways people accumulate points on the site:
1. Online Surveys
Among the principal ways of getting points is through surveys. Each task is unique and therefore has its specific worth of points.
The length of the surveys can vary, from 5 minutes to 30+ minutes. Some premium studies can be even longer but for higher rewards.
Survey takers can check the point value of each survey before starting a study. The setup lets you decide if a study is worth your time before you get started.
Luckily, as long as a member qualifies for a survey, there is no limit to the number of surveys one can take in a day.
Basically, online surveys on Survey Junkie are straightforward and flexible jobs that allow you to earn points at your own pace.
2. Sharing Data with SJ Pulse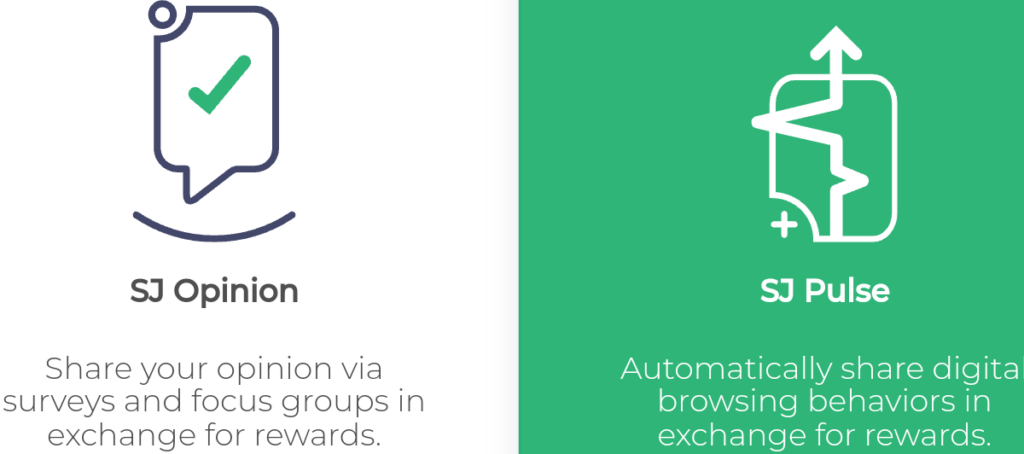 Another way to earn points is by sharing data with SJ Pulse. This is a program that tracks internet browsing activity and collects data on user behavior.
Members can install the browser extension on their desktop or laptop and earn points for each day that they have it installed.
Once the SJ Pulse extension is installed, it works in the background where it collects data on browsing activity. This means you can earn points without working on studies or joining focus groups.
However, members should only share data with SJ Pulse if they are comfortable with the idea of their browsing being tracked. Worried about intrusion? The data is anonymized to protect you.
3. Focus Groups
Focus groups involve participating in virtual discussions with other members on a specific topic. The most common task in the category is in-person focus groups.
These are typically conducted in a physical location and involve a group of people discussing a specific product or service. In-person focus groups usually take longer to complete than online surveys, but they also pay more.
In large cities, you may have more opportunities to participate in such tasks regularly. The payment for in-person panels can hit $150 or more depending on the study's length.
Survey Junkie will typically notify you of any upcoming opportunities in your area, and you can apply to participate if you're interested. If selected, you must attend the focus panel at the set down time and venue.
4. Phone Surveys
Finally, Survey Junkie also offers over-the-phone questionnaires. These surveys are conducted remotely via call and normally take around 15-20 minutes to complete.
Usually, phone surveys pay more than online surveys but less than in-person focus groups. You can earn $100+ from each phone survey.
To participate in phone surveys, start by providing Survey Junkie with your phone number. They will then contact you when there are phone surveys available that match your demographic information.
5. Product Testing
Product testing involves trying out and analyzing new offers and providing feedback through questionnaires or calls. The opportunity can include trying out stuff like food, cosmetics, apps, or household items.
Members are allowed to use the product for a specified period and provide feedback on their experience. Test rewards can vary, with members earning around 500 to 50,000 points per product test.
Note, the offers may not be available for all members, and opportunities may be limited based on geographic location.
Survey Junkie Hacks
Hacks implies maximizing output via all means necessary. The site, however, prohibits the use of bots and multiple accounts. So, without contravening Survey Junkie's terms of service, here are 3 top survey hacks:
1. Complete Your Profile and Stay Active
A simple way to hack Survey Junkie is to ensure your user details are up-to-date and complete. The info comes into play when moderators assign you appropriate jobs.
Failure to provide enough information, or giving outdated information, could result in fewer survey opportunities being available to you.
Upon signing up, you will be prompted to fill out a basic profile that includes demographic information like age, gender, and location.
You can provide more customization to your profile by answering additional questions about your interests, habits, and preferences.
Lastly, give detailed answers to all profile questions and keep checking for new questions so you can update your answers.
2. Be Honest and Consistent
It's crucial that you are truthful and consistent in your survey responses. This is because clients of Survey Junkie value accuracy.
Therefore, it's essential to review all questions thoroughly and deliver thoughtful and accurate responses. If you're uncertain about completing a quiz, start by familiarizing yourself with the sponsor company.
Also, by being honest in your survey responses, you'll establish a strong reputation with Survey Junkie and its clients. This leads to more survey opportunities and higher-paying surveys in the future.
3. Refer Friends and Family
You can earn more points through referrals. By inviting others to join Survey Junkie using your unique referral link, you will be awarded a bonus, which is typically around 5% of their earnings for 3 months.
You can actively promote your profile to improve your earnings. This can be achieved by sharing the referral URL on social media, email, or even creating a dedicated surveys blog or website.
Don't Miss: How to Hack Survey Junkie in 2023
Survey Junkie Reviews; Positive and Negative
Survey Junkie has received some complaints from users, with the most common being the limited number of surveys. Also, when a new user joins, all the tasks are locked until they complete their profile.
Even after completing their profile, the supply of surveys is still pretty limited. Nonetheless, there are enough studies to reach the $10 cash-out amount eventually.
Survey Junkie Reddit

According to some Survey Junkie reviews on Reddit, The site used to have some sketchy practices in the past, including an unrealistic earnings calculator.
Negative comments also include changes in points value after opting into a survey as well as frequent disqualification.
Since then, Survey Junkie has updated its site to include realistic earnings expectations. The result is that now the site has many surveys that users can take on their own.
Further, as shown in the screen grab above, some users find the rewards to be unworthy of the time taken to complete the tasks.
Another crucial complaint is that Survey Junkie appears to want users to register for other survey panels. To this end, the site has a tab of recommended survey panels, and this may be because of the limited supply of surveys in general.
It's worth noting that the other survey sites featured on Survey Junkie are legitimate. Opting into third-party studies can get you a chance to get paid on paid panels like Swagbucks.
Survey Junkie Reviews Trustpilot

Survey Junkie is a verified company with a 4.3-star rating on Trustpilot from over 43k reviews. From the comments, users like the availability of surveys but find the low payout for disqualified surveys to be frustrating.
There are also frustrations with qualifying for studies and redemption issues with Amazon rewards.
You also get concerns about Survey Junkie's dishonesty regarding its practices and rules. This mostly has to do with long pre-surveys for qualification followed by rejection without any explanation.
Another common grievance is difficulty in verifying your identity and receiving payment, as well as glitchy surveys that waste time.
Overall, Survey Junkie reviews on Trustpilot, paint a picture of a legit company. Most importantly, Survey Junkie Support answers almost all queries, be they positive or negative.
Survey Junkie Pros and Cons
| Survey Junkie Pros | Survey Junkie Cons |
| --- | --- |
| Easy registration process: Registering is simple and free of charge. You only need to provide basic personal information, and you can start working immediately. | Limited earning potential: While Survey Junkie boasts a high payout rate, it may not provide enough surveys to earn a substantial income. This makes the GPT site more suited as a supplementary income source rather than a full-time gig provider. |
| Legitimate platform: This is a genuine survey website that has been in operation since 2013. The organization has a strong reputation and compensates its members for their opinions. | Survey disqualification: Your demographics may disqualify you from some tasks. This can be frustrating, especially if you spend your time answering screening questions before being disqualified from the survey. |
| No concealed charges: The survey site does not impose any fees to join or complete surveys. Its payment process is also open and transparent. | Limited payment options: Survey Junkie only pays through PayPal or e-gift cards, which means you must have a PayPal account to receive cash; if not, then you have to sell your gift cards. |
| High payout rate: Survey Junkie provides the best payout rates among survey websites. Avid survey takers on the site report making up to $15 a day, a top rate for online surveys. | High competition: The survey site is a well-known platform, resulting in a lot of competition for jobs. This can lead to fewer available surveys, making it tough to earn consistent income. |
| Flexible working hours: You can take surveys at your convenience, day or night, based on your schedule. The site does not have any specific working hours or quotas that you need to fulfill. Also, it comes with an app, enabling users to get survey jobs on the move. | |
| Responsive customer care: Everywhere you look, from BBB to TrustPilot, the company's customer service has a permanent presence. This is indicative of a caring service and a legit platform. | |
Sites Like Survey Junkie
When considering which site to use, ensure due diligence to evaluate a company's suitability.
Factors such as payout threshold, variety of earning opportunities, and availability of high-paying surveys may all play a role in your decision.
With this in mind, reading reviews from other users can be helpful in determining which sites are most reliable and user-friendly.
Among the Survey Junkie alternatives fronted by dedicated survey gig workers include:
1. Swagbucks
Swagbucks offers multiple ways to earn, including surveys, cashback, and online shopping rewards.
The company has a low cashout threshold of $3 that you can cash out via PayPal. Just like Survey Junkie, Swagbucks also pays via gift cards.
New applicants are awarded ten dollars as a sign-up bonus upon spending $25 from select retailers. The platform is legitimate and verified by Trustpilot with an excellent 4.3-star rating.
On the downside, redemption times for rewards may vary depending on location. Also, some users have reported being disqualified from surveys after spending a significant time on a task.
2. Opinion Post
Opinion Post offers high-paying opportunities for product testing and surveys. The site comes with a low cashout threshold of $3.
Payout per survey ranges between $0.50 and $1.50. Each task takes 10 – 30 minutes and teens of 17 years and older can earn on the platform.
Trustpilot awards it a 3.4-star rating with negative reviews touching on account blockages and problems when redeeming points.
Register to Earn On Opinion Outpost
3. InboxDollars
This is one of my all-time favorite paid survey websites. Surveys, cashback, and online shopping are some of the earning options on InboxDollars.
You can also hunt coupons, play video games, and get online shopping rewards on InboxDollars. Here, the surveys are usually shorter and pay up to $5.
New applicants get $5 free and can cash out upon making $10 on the site. Unlike most survey companies, InboxDollars pays you cash for each task.
The platform is available via a browser extension, Android & iPhone App store. It is owned by Prodege LLC, a B-rated company on BBB.
Join To Claim Your $5 InboxDollars Welcome Bonus
4. PrizeRebel
PrizeRebel offers many ways to earn cash including surveys and testing digital products. Users also earn from simple tasks such as liking social media handles.
The surveys on the site pay around $0.60 and $0.90, with the minimum payout capped at $5.
I like the platform for its diverse payment system that includes PayPal, Bitcoin, and gift cards. Also, registration is free though it does not get you a sign-up bonus like the other Survey Junkie alternatives.
Tips for Boosting Your Earnings
Quick Tips for Increasing Your Survey Junkie Earnings
Here are some recommendations for users to maximize their earnings on Survey Junkie jobs:
Keep checking your dashboard for new tasks.
Make sure your profile, including category profiles, is complete to receive new survey offers.
Respond to new offers quickly.
Invite people to join the site to benefit from the referral program
Take your time when completing surveys to avoid inaccurate answers or disqualification.
Establish a schedule to ensure the best time management.
Have one dedicated email to avoid missing job invites.
Survey Junkie Customer Support
Survey Junkie provides members with customer support through its website and email (pulse@surveyjunkie.com). Also, members can seek assistance from Support 24/7.
The website has an extensive FAQ section on its website, which gives answers to common questions.
Also, as noted earlier, Survey Junkie support is active on review platforms to ensure timely resolutions to pressing concerns from its members.
Is Survey Junkie Trustworthy?
Since 2013, Survey Junkie has attracted a large following, but there are doubts about its authenticity. So is Survey Junkie legitimate?
Survey Junkie's reputation in the online survey industry is well-established and positive. Trustpilot and Sitejabber, among other review platforms, report mostly favorable feedback from Survey Junkie users.
In general, members appreciate the platform's user-friendly interface and above-average payout rates. The site's uncomplicated payment process also gets praise amongst most survey takes.
CheckOut:
Survey Junkie Reviews: FAQs
1. Will My Survey Junkie Points Expire?
Survey Junkie allows you to accumulate points whenever you can spare a few minutes. The site keeps your account active, all year round, provided that you complete one survey during that time.
2. What are the Common Survey Junkie Issues and How to Avoid Them?
Common issues include technical problems that hinder users from completing surveys. Others include disqualification from a survey for not meeting its demographic requirements and slow payout processing times.
To avoid technical problems, make sure that your internet connection is stable and that your device is compatible with the platform.
Further, you can prevent being disqualified from surveys by providing accurate information when filling out your profile and choosing surveys that meet your interests.
Lastly, while Survey Junkie typically processes payouts within 24 hours, users may experience delays during peak periods. This can be avoided by cashing out on weekdays and in the morning, as opposed to weekends and evenings.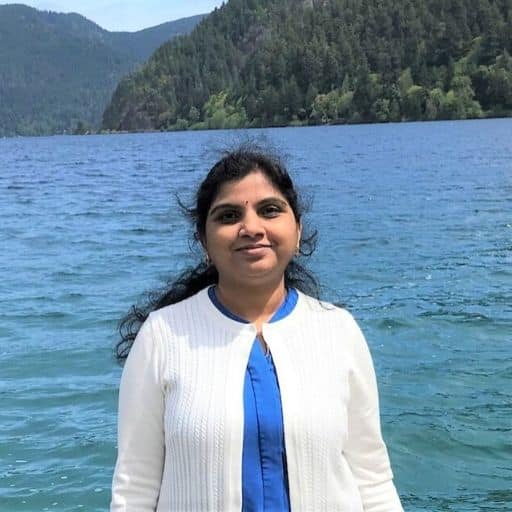 Howdy Folks, thanks for stopping by my blog.
I'm Swati, a proud mom, dedicated side hustler, full-time blogger, and a recognized millennial work-at-home expert. My expertise has been featured on esteemed platforms such as Forbes, CEO Blog Nation, Referral Rock, Vital Dollar, Databox blog, and many more. I have embarked on this incredible journey to share my firsthand experiences in the world of online income generation and to assist all of you in earning money from the comfort of your homes.
Join me in my mission to revolutionize the way we make money and achieve financial freedom. Trust me, it's not as challenging as it may seem!
Together, let's explore the boundless opportunities and pave our paths towards a prosperous future.