This Enroll App review introduces you to a market research company that pays you to perform simple tasks during your leisure time.
Growth in online platforms for paid tasks and surveys has been on consistent rise over recent years. Both browser and mobile applications have been diversified into different fields and functionalities.
Enroll App is one of the platforms that's designed for testing preferences on the visual, audio, layout, usability, and suitability of web-based applications.
Most importantly, can earn money with Enroll? This Enrollapp review explores the app's legitimacy, rating on review websites, and how to get started with at-home testing jobs.
Basically, the mobile app pays users for answering poll questions, installing beta apps, and commenting on companies' products and logos, among other simple tasks.
Read on to know the amount of money you can make with Enroll, its enrollment process, and similar sites for side hustles.
Let's start with a quick overview of the app:
Enroll App Review [Overview]
| CRITERIA | FEATURES |
| --- | --- |
| Year Established | ZURB- 1998 |
| Purpose | Paid surveys |
| Available Countries | Global |
| Applicable | 13 years and older |
| Subscription Plans | None |
| Average Earnings | $0.10 to $1.5 per test |
| Cuts & Commissions | None |
| Payment Method | PayPal |
| Bonus Program | Yes (unspecified) |
| Google Play | None |
| App Store | None |
| Ratings & Accreditations | 1.8 on Trustpilot, Not BBB Accredited |
| Enroll App Login | https://enrollapp.com/login |
| Enroll App Sign up | https://enrollapp.com/ |
What Is Enroll App? How Does Enroll App Work?


Enroll is an online platform that pays users to carry out various tasks including testing digital products, logos, and even the websites of different companies.
The site is owned by ZURB, a product design business started by Bryan Zmijewski. ZURB was founded in 1998 by the Stanford graduate who serves in the capacity of Chief Instigator.
Enroll users are given the freedom to choose the tasks they are willing to perform. This ensures flexibility when scheduling work hours.
The best part is that testing digital products doesn't take much in terms of time and know-how, and you can access the site from either your laptop, mobile, or tablet through your browser.
Once you are through with the registration process and approved, you are tasked with giving feedback to the company, after running your tests, for which you get paid via PayPal.
In general, testing does not require technical skills with basic knowledge of using computers and mobile apps being the main requirement.
Mostly, Enroll app pays users for usability testing of web platforms and giving feedback on the suitability of web elements like logos.
How to Earn Money On Enroll App?
To earn on Enroll App, you first need to be a registered user on the platform.
Enroll App registration is easy and it is as follows:
On your browser, navigate to the official Enroll website and tap on "Register".
On the sign-up form, fill in accurate personal information and a valid Email address.
Create a strong password for your account and accept the terms of service after reading them.
You will then need to confirm your email address, provide information about your level of computer proficiency, specify availability, and provide your Paypal account.
After getting a confirmation email, tap the Enroll App login link to access your account.
Your first tests will be unpaid profile tests to increase your chances of selection for paid tests.
After registration, updates of available tests will be sent to your email. A prompt reply to this email is what guarantees you get assigned to the tasks.
You need to click the link provided in the email to complete the some quick tests. Users are paid from $0.10 to $1.5 per each test they complete, based on how engaging and the time it takes to complete the test.
Tests are either to approve or disapprove of certain company logos or website designs while giving a personal opinion over why you opt for one design over the others.
When working on a website, you also need to assess what can be altered in the design to make it more appealing. More helpful insights mean increased chances of selection for more tests.
EXPERT TIP: Different tests take varying times to complete. Basically, though, you can complete a couple of tests within an hour, with the longest test taking up to 15 minutes. Most tests take around 3-5 minutes.
Click Here To Register On Enrollapp.com
How Much Does Enroll App Pay?
Wondering how much money can you make from Enroll app? The short answer is that it depends.
Payment for the test varies from test to test and pays from $0.10 to $1.50. Your monthly earnings on Enroll largely depend on the number of tests you take. The more paid tests you take, the more the amount you are set to earn.
For example, if you go for 5-minute tests of an unreleased app paying $0.20, you can make $2.4 per hour. Working 5 hours day, your daily pay comes to $12; in a month, you can earn over $350.
The pay per test varies depending on how long the test takes and how involved the tasks are. Also, you are not guaranteed regular tests and that's why I recommend signing up for more than one paid tester platform.
EXPERT TIP: The faster and the more efficient you are at taking tests, the more jobs will be sent to you and the more you can earn from Enroll App.
Enroll App Payment Proof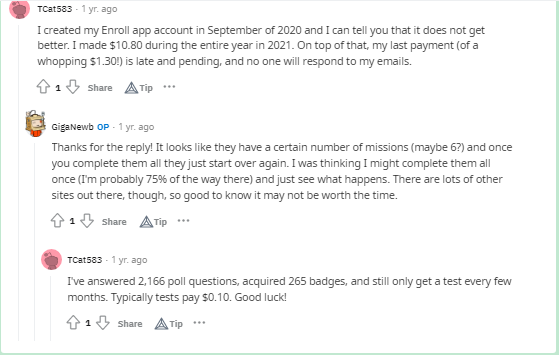 By all indications, Enroll App is an easy way off adding some extra bit of funds to your pocket by performing simple tests. However, the question asked frequently about website testing platforms is proof of payment by current users.
So, does Enroll App really pay? From the Subreddit above, it's clear that Enroll App pays and that it comes with a low payout threshold of just $1. Nevertheless, users complain that the compensation is low.
Enroll Hacks
To make more cash on Enroll, you need to:
Be quick to accept email invitations for tests. This is because Enroll works on a "first come first serve" basis.
Spare more time for taking Enroll testing jobs to increase chances of selection for high-paying tests.
In addition, you need to complete missions that are sent to your email. A single mission is usually 6 poll tests that open the door for more paid jobs. I also advise acquiring as many badges as possible to improve your tester rating.
CAUTION: Anyone proposing Enroll hacks that can increase your earnings without having to work on tests is definitely a scammer. The site is very clear on how to earn, which is basically testing products, answering poll questions, and providing unique insights.
Enroll App Reviews
ZURB, Enroll's parent company, is rated at 1.8 on the Trustpilot from 21 reviews. This is a 'poor' trust score.
Nonetheless, Enroll App is revered by many for its ease of navigation through the platform and for making payments to users via PayPal. It is also praised for the low threshold for payouts.
On the other side, there are complaints about the low payment per test offered by Enroll and the fact that users have to undertake many unpaid tests before they get to receive a paid test.
Enroll App Reviews (On Trust Pilot & Reddit)
Below is one of the most comprehensive negative Enroll app reviews on Trustpilot: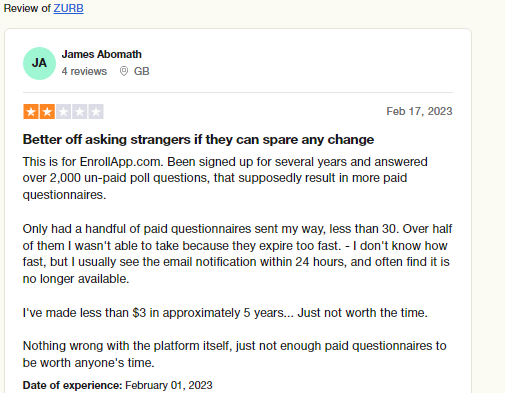 A current Enroll app user James Abomath, takes issue with having undertaken 2,000 questions without pay. The worst part is that the effort only got him 30 paid questionnaires.
Further, the paid chances expire fast and seem to hit your email late.
With this in mind, it's best to synchronize the email accounts in your smartphone device and PC email accounts. This ensures that you can access the GPT platform and answer polls on the go.
In the above thread, various subreddits echo the sentiments shared by James.
Tcat583 reports making only $10.80 in an entire year working on Enroll App. More to this the company was holding part of the user's payments without any help from Enrollapp Support.
They go on to add that after answering 2,165 unpaid questions and accumulating hundreds of badges, only a few paid opportunities get sent.
Another reviewer comments that after completing pre-qualifying tests, the exercise starts over again.
Enrol App Pros and Cons
Like all other online platforms, Enroll has some thumbs-up aspects and also some downsides to it.
| Pros Of Enroll App | Cons Of Enroll App |
| --- | --- |
| The low payment threshold of $1 and no withdrawal charges. | Low payment for most tests. |
| Registration is free. | The "first come, first serve" basis of its operation needs prompt acceptance of the invitation. |
| Payment is automated. | User demographic profiles can be restrictive. |
| Payment is made through PayPal. | |
| No professional skills are needed. | |
| No geo-restrictions; global availability. | |
Is Enroll Legit? Or Is Enrollapp.com a Scam?
Enroll is a legitimate company that you can easily use as a secondary income source. There are no fees incurred for registering as an Enroll user and no commissions charged for cashouts.
Moreover, ZURB, the developer of Enrollapp, is legit with offices in Silicon Valley; you can visit them at 1875 S Bascom Ave Suite 2400 Campbell, California.
The company offers various web-based services including Growth Design, Product Innovation, and the development of Web and Mobile Device applications.
However, It's worth noting that Enroll App is rated poorly by users on Trustpilot, Reddit, and other review platforms. Further, neither Zurb nor Enrollapp is accredited by the Better Business Bureau (BBB).
Alternatives to EnrollApp
Enroll App is an efficient and easy way to add some cash to your pocket. It is advantageous over many other platforms in functionality. However, the app does not pay enough to grant it a spot in worthy side hustles.
Below are some of my go-to paid survey platforms with better offers in terms of payment:

This is a popular paid surveys company that pays to collect your user data. You earn up to $50 for each device that's signed into the app (up to 3 devices).
The company has been around for over nine decades and pays over $10k in rewards every month. BBB rates the app at A+. What's more, the Nielsen mobile app has been downloaded over 1 million on Google Play.
Install Nielsen Mobile App Today
2. Qmee
This is a UK-based surveys and rewards company with a 4.3-star rating on Trustpilot. Apart from poll questions, the site helps you save on your online shopping through discount codes.
The browser site does not have a cap on minimum cash out and users can withdraw earnings at any time. What I like most about Qmee is that you can use it to make cash while playing mobile online games.
Sign Up to Get $3 Free On Qmee
Other paid options include Survey Junkie, Pinecone Research, and Mingle. Interested? Here are 14 surveys sites to try out.
Related Read:
Enroll App Reviews: FAQs
1. How Do I Get My Money From Enroll App?
The process of signing up for Enroll will require you to provide your Paypal address for payment purposes. The amount you earn from each paid test is debited into your Enroll balance.
You are allowed to withdraw the amount into your Paypal account on the 11th of every month given that you have surpassed the threshold amount for withdrawal ($1).
2. Does Enroll Have an App?
Despite being known as Enroll App, the online platform is yet to develop a mobile phone application for it and hence there's yet an Enroll App download link. To access Enrollapp, you need to make use of mobile browsers.
Most Enroll users opt to work on a phone over a computer as it gives more flexibility. You will, however, require a speedy and stable internet connection for this.
Who Can Join Enroll App?
Firstly, Enroll App is free from any geo-restrictions. This means that anyone can register on Enroll regardless nationality. However, there are two personal requirements you need to meet for you to register as an Enrol App user:
You must be of 13 years or older for successful registration.
You should have a valid email account and a PayPal account.
Further, you need an efficient device (PC or smartphone/tablet) to work and a fast internet connection.
Enroll App Customer Support
The need to factor in the level of customer support offered by a company is crucial in making an informed decision about its suitability.
In this regard, Enroll promises consistent customer support for all users, to the extent of sharing the founder's phone number online.
To get assistance on Enrollapp, contact Bryan at 1-(650) 533-0469, or send an email to getstarted@zurb.com or support@enrollapp.com.
The company also has a contact page where you can type up your issue and send it to the Zurb team.
Lastly, for queries on using Enrollapp, payments, referral bonuses, profile management and the like, visit the Enroll Help Center.
You may however expect some minimal response delays on public holidays or weekends.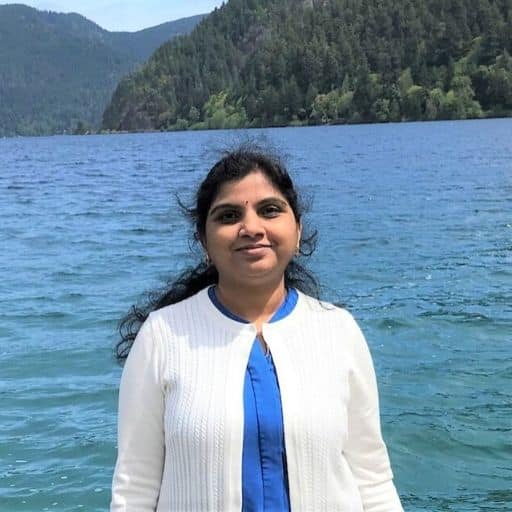 Howdy Folks, thanks for stopping by my blog.
I'm Swati, a proud mom, dedicated side hustler, full-time blogger, and a recognized millennial work-at-home expert. My expertise has been featured on esteemed platforms such as Forbes, CEO Blog Nation, Referral Rock, Vital Dollar, Databox blog, and many more. I have embarked on this incredible journey to share my firsthand experiences in the world of online income generation and to assist all of you in earning money from the comfort of your homes.
Join me in my mission to revolutionize the way we make money and achieve financial freedom. Trust me, it's not as challenging as it may seem!
Together, let's explore the boundless opportunities and pave our paths towards a prosperous future.