Have you ever heard of user testing websites? Just like any other remote work-from-home opportunity, user testing is legit too! You'll get paid to test apps while staying at home and in your viability.
The best part is that app testing companies aren't looking for tech-savvy testers; just normal users like you and me!
App creators need you to give honest feedback on how an app looks, behaves, or feels when using it. The idea is to ensure that apart from an easy user interface, the app functions as intended, without glitches.
Before you apply for app testing jobs, find out which companies pay users real money. The reason is you can easily fall for malicious apps meant to mine your personal data.
In this post, you'll find legit websites and apps testing companies that employ remote users. These are home jobs that can earn you extra money, with the potential of providing you with employment that spans for months at times.
Ready to test apps for money? Let's start by understanding some basics of app testing gigs.
Can You Really Get Paid to Test Apps?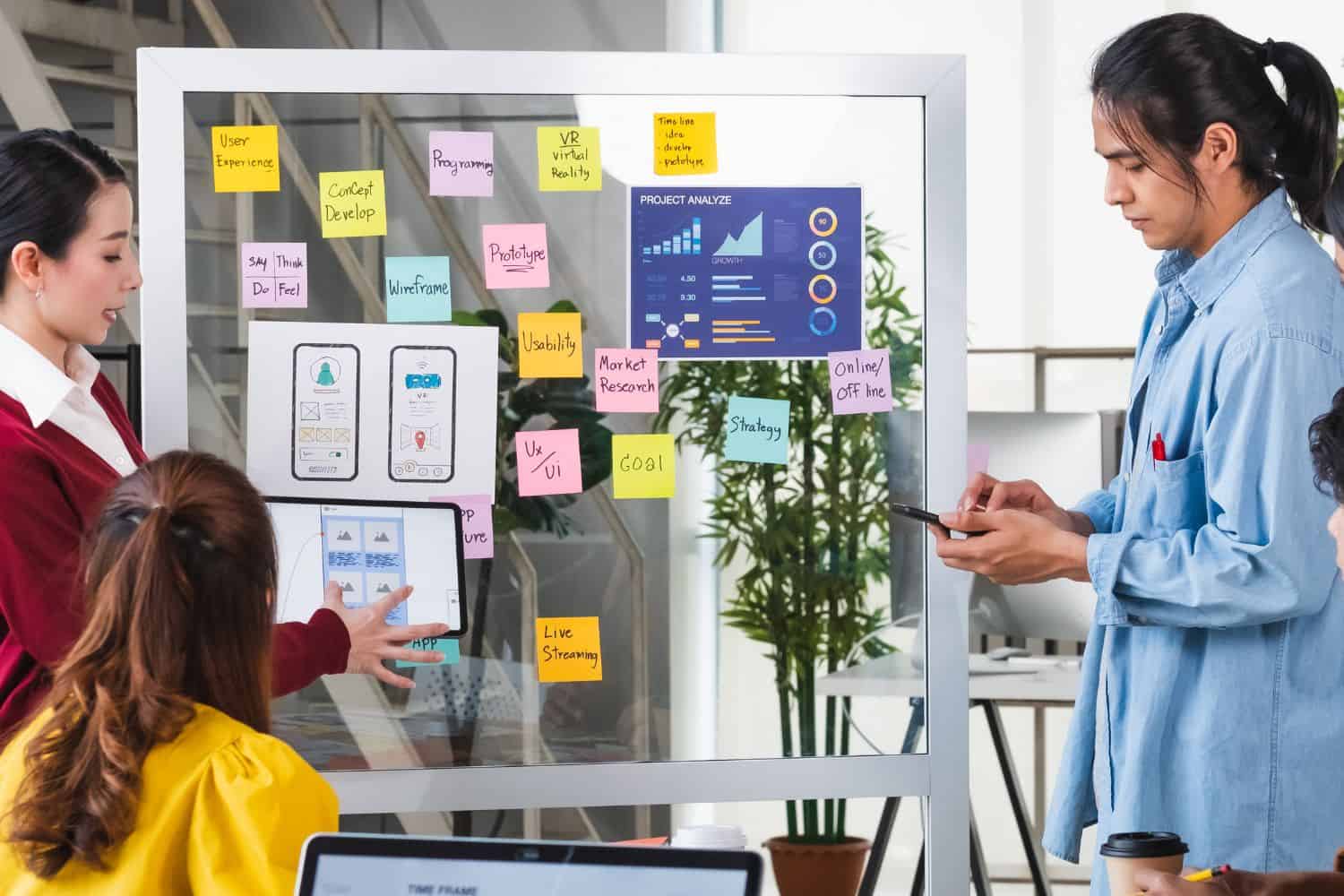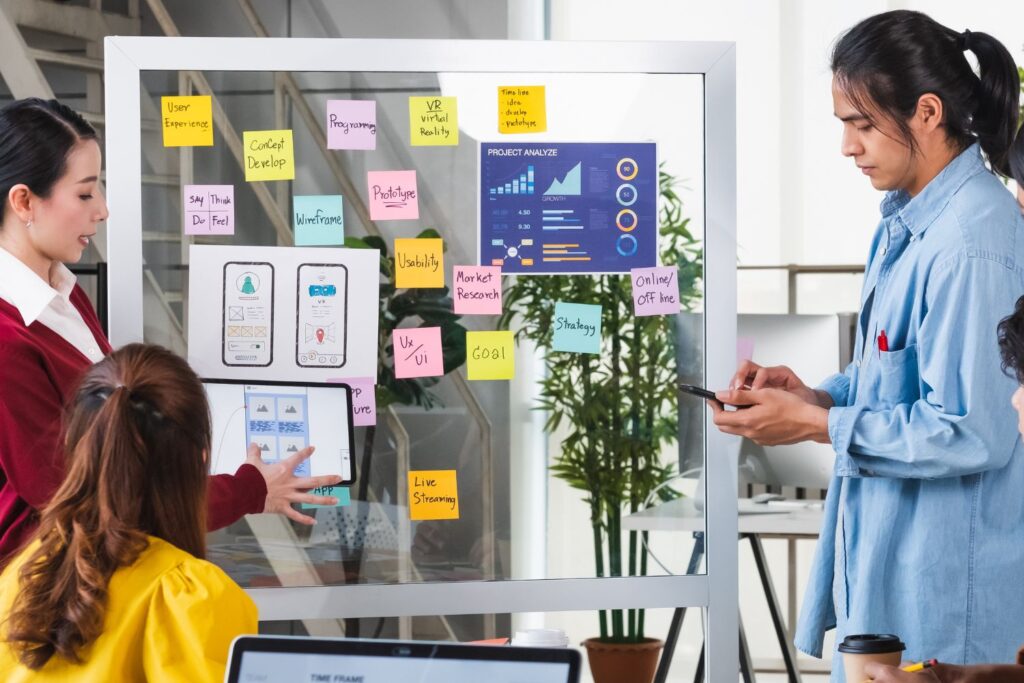 Making money testing apps is a real hustle that gets you paid via your PayPal account, direct deposits, and other digital wallets.
Pay depends on the parameters under testing and the duration of each test. Some tests also pay you to complete product reviews through questionnaires.
Typically, user test projects pay from $5 to $90+ per app or website testing gig.
The trick to earning more is completing tests fast and thoroughly, ensuring that you get allocated more tasks by the app developers.
Is App Testing a Job? How Does It Work?
App testing falls under GTP (get-paid-to) gigs that do not require experience or academic prowess.
The role involves downloading an app on your iOS or Android devices and testing the performance or functionality and ensuring the overall user experience is positive without any hiccups.
For the quality feedback part, app developers may require a Q&A over the phone or video. Some jobs ask that you enable a screen recorder on your device for providing usability feedback.
Requirements for app testing jobs include:
A smartphone running on Android, iOS, Blackberry OS, or Microsoft OS.
A PC running on Microsoft Windows, Linux OS, MAC OS, Android, and iOS.
Specific software version.
Average typing skills.
Basic computer literacy.
Completing a short sample test.
Get Paid To Test Apps
Ready for mobile app tester jobs that pay well? But, where can you get paid to test apps? Take a look at the following sites that offer app testing opportunities to freelancers working from home, without prior experience.
1. Test IO
Test io is a Testing-as-a-Service (TaaS) company with over 400k testers under its wings. The site offers work to testers in 187+ countries.
You test the latest and most interesting apps across different categories including games and social applications. According to Test IO, testers get up to 5 paid tests a day, with the chance to work as an expert tester as their skills improve.
Payment is done via Skrill, PayPal, or an IBAN bank account. Joining the platform is free and your earnings are remitted at the end of every month.
How Much Does Test IO Pay
Best gigs pay $50 per app. Note that you may be disqualified from some Test IO studies depending on your location or type of device.
Join Test IO and Earn Money Now
2. Test Birds

Whether you are looking for simple app usability tests or full app tests, Test Birds has you covered. This is a testing company based in the Netherlands, with tester gigs for over 600,000 remote workers.
The idea is to provide actionable and factual insights to app developers. Apart from mobile software, the site pays you to test websites, wearables, and other smart devices.
As a tester, you get a fixed amount depending on the job complexity. And to make more money, Test Birds encourages you to scour for serious bugs.
What's more, the site offers free training for amateur app testers.
How Much Does Testbirds Pay?
A basic usability test pays around 20 euros ($20.50). Detecting and reporting on serious technical issues can make you many times the base pay.
3. User Testing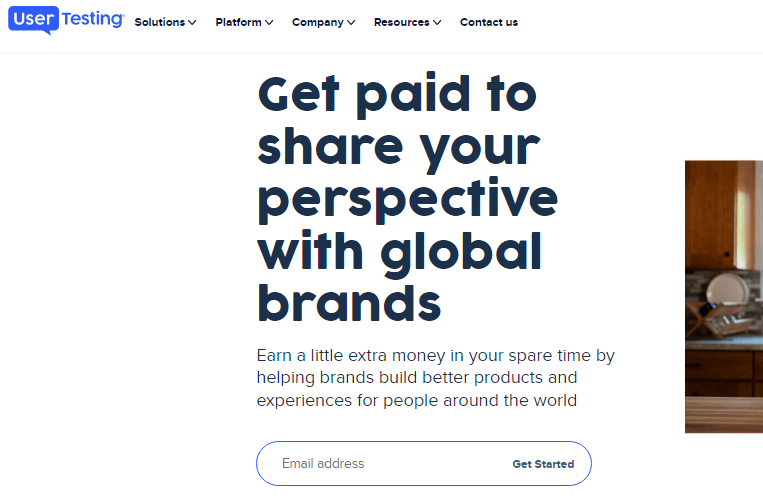 User Testing is a leading mobile app and website testing company founded in 1999. The platform works with both established brands and upcoming developers to help develop functional digital products.
After applying and getting approved, User Testing will pay you to test mobile apps upon downloading their app on Google Play Store or App Store. The company only pays via PayPal.
The work involves testing prototype apps or finding bugs in products that are already on the market. All you need is to be 18+ years old and speak English or German to get paid on the site.
How Much Does Usertesting Pay?
After a test cycle, User Testing pays you after 7 days. A standard study takes around 20 minutes to complete and pays you $300 – $400 p.m.
Input Your Email to Apply for UserTesting Jobs
4. Userlytics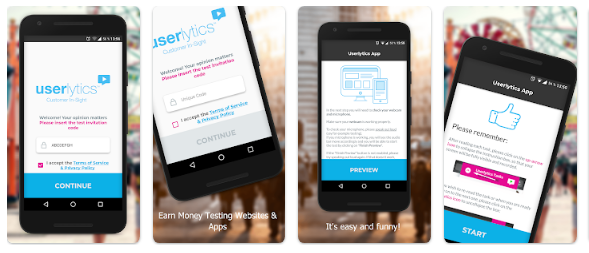 Earn money testing apps and join thousands of other freelancers on Userlytics. The job is to interact with both web and mobile apps and complete questionnaires.
Other digital interfaces that you can test on Userlytics include video commercials. Minimum device requirements include Windows 7, Android 8, iOS 12, and Mac OSX 10.13.
You may also need to install the Google Chrome browser to test websites. Some sites' usability testing may also use a PC with microphone and webcam capabilities.
How Much Does UserLytics Pay?
For voicing your frustrations, thoughts, and suggestions, the platform pays you up to $90 per test. On Glassdoor, Userlytics web testers report salaries between $15k – $16k/yr.
Download UserLytics on Google Play Now
5. TryMyUI

TryMyUI offers clients both moderated and unmoderated UX studies. Software developers pay $99/month to have remote testers review various digital products for bugs and suitability.
Remote mobile apps and website testers join for free. The site relies on videos of your screen as you navigate an app or website. Lastly, you wrap up by submitting a written survey.
You can engage in as many tests as you wish, but the company cautions that theirs is not a full-time job. This is a legit site with a 4-star rating on Google Play from over 1.38k reviews.
How Much Does TryMyUI Pay?
The site pays you $10 per test, with easy study taking around 20 minutes to complete. Payday is every Friday via your PayPal account.
Test Apps For Students
One way to make extra money in college or high school is to become an app or website tester. The payout may not be high, but you can make $10 or more per day for just 20 minutes of your free time. Interested? Get paid to try apps on the following platform:
6. UserZoom

Become part of the digital product development cycle by testing software on UserZoom. The company pays independent contractors to identify problems and report back to developers.
A few tests on the site will require moderation by the client, meaning answering questions as you take a live test. This calls for live audio or video surveys as you test an app in real-time.
That said, most tests pay you to evaluate the usability of apps, and answer surveys afterward.
Registration for the app testing gigs requires you to be 18 years or older and provide honest answers to a few profiling questions. Once approved, you get testing jobs depending on your quality rating and demographics.
How Much Does UserZoom Pay?
Standard tests that only require you to fill a form pay $2. Live studies via a video or audio platform pay around $10. Payment is via PayPal after results are approved.
Join UserZoom and Test Digital Products
7. PlaytestCloud
How much of your free time in college do you spend playing games? With PlaytestCloud, you get paid to play games that are in the development stage or during the soft opening stage.
The company reports testing for 45 top games on the Apple App Store. Simply put, you'll be testing the best games before they become mainstream.
During the task, the platform records your gameplay and think-aloud tests. PlaytestCloud offers game testing jobs to testers in the US, the UK, and Canada.
How Much Does PlaytestCloud Pay?
For testing both single and multiplayer game builds, you earn $9 for about 15 minutes of playtesting. Pay is via PayPal and you can cash out any amount.
8. UserCrowd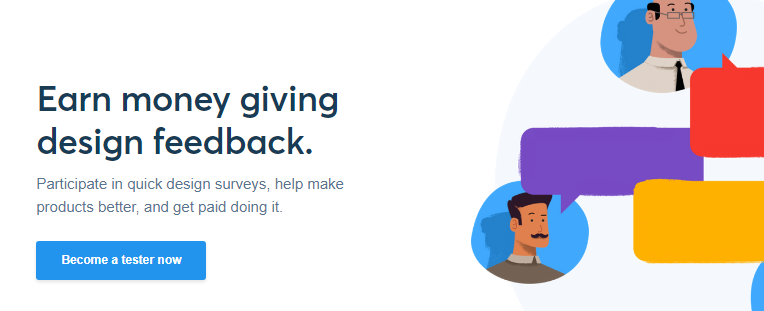 This is a survey and product testing platform that pays you for short tests. Unlike other testing sites, the platform has a low payment threshold.
Testers accumulated credits depending on the length and type of survey. UserCrowd reviewers on Reddit point to a platform with a few tests paying at most $10 per month.
The platform is interested in the average app user tester, meaning anyone can sign up. To maximize your earnings enable push notifications so as not to miss invites whenever new tests come about.
How Much Does UserCrowd Pay?
For every question, you get 1 – 2 credits. Each credit earns you 20¢. The minimum payout is $10, or 100 credits, via PayPal.
9. TestingTime

TestingTime is a Switzerland-based company, owned by the Norstat Group, a leading European market research conglomerate.
The site gets a 4.2/5 score on Trustpilot, a rating that is higher than most 'get paid to test apps' platforms in this list. Strong customer support and fast test cycles make TestingTime a favorite platform for app testing freelancers.
To get more tests that make you more money, TestingTime encourages you to go for in-person studies. Such include beta tester jobs for novel apps or web platforms.
A typical job can include a sample/qualification test, a one-on-one interview, discussion panels, and a survey on the entire test conducted.
How Much Does TestingTime Pay?
The company does not provide remuneration estimates. Payment is sent to your in-app wallet from where you can withdraw to your bank or PayPal account.
Become a TestingTime App Tester
Get Paid To Review Apps On Your Phone
With a few minutes of using an up, followed by a short wrap-up survey, you can earn around $10 on the go. Most apps will provide an unpaid practice test to determine your suitability, before sending you paid jobs.
Ready to test mobile apps? Sign up on the following testing sites:
10. Enroll
Are you at least 13 years old and looking to test apps and get paid? Enroll is looking for you to start testing apps on your tablet, iPad, or smartphone and earn extra cash.
Registration is free, but before you can start testing mobile apps or testing websites, Enroll provides a sample test. The study helps you get a sneak peek at what to expect from a paid test.
This testing site relies on your visual and audio perceptions when answering surveys. Typical tests require you to explain, in writing, how web images, video/ audio clips, etc. make you feel.
How Much Does Enroll Pay?
Going by Reddit reviews, Enroll pay is lower than most other testing sites. Complete tests pay around $0.20 for 5 minutes of your time. Pay is via PayPal only.
11. IntelliZoom

This is a San Jose, CA-based UX insights company that pays you for testing app interfaces. You can also test websites and earn money on the site.
The site requires you to maintain a high-quality rating to earn many paid tests.
To get started, you need to download the UserZoom app. Studies that require sharing a screen recorder with a moderator need you to install a Firefox or Chrome Extension.
How Much Does IntelliZoom Pay?
Survey-related reviews on the platform take up to 20 minutes to complete, making you $2. Video and talk-aloud tests pay better- $10 per study. Pay is within 21 days after a test is approved.
Register To Test Apps on IntelliZoom
12. Tester Work
As the name suggests, this is a software testing site where users test everything from apps to websites. Most tests are from popular companies including Instagram, Microsoft, Google, and MasterClass.
Test cycles on the site can be taken online or onsite through the site's Testathon events in different countries. Here, you test mobile apps and interact with top testers around the world.
Quality work ensures that you get prizes as a team or individual. Rewards include smartphones, cash, and books. Most tests look for bugs and new user insights.
Apply to book your seat for the next Testathon for free!
How Much Does Tester Work Pay?
Tester Work pay varies with the task. Salary reviews show payments of up to $124k per year for software testers and $33 for QA tests.
Payout is via PayPal or through signing up for an Upwork contract.
While most user testing platforms combine both apps and website tester jobs, there are sites dedicated solely to testing computer software. Here are the leading sites in the category:
13. Userfeel
This is a multilingual platform for testing apps and websites. Currently, there are over 150,000 independent testers on the site, across different demographics.
Userfeel tests take 10 – 20 minutes and include audio comments and written reviews. It is possible to get 5 tests every day depending on your effectiveness as a tester.
Typical Userfeel website testers' job involves assessing the effectiveness of an online sales portal, from item selection to checkout. A Mac or Windows computer with an audible mic is needed for the tasks.
How Much Does Userfeel Pay?
Clients pay $30 per test and you get $10 per test for providing useful insights on specific web applications. Money is sent to your Userfeel Wallet, a week or so after the job is approved.
The earnings can be withdrawn via PayPal, Visa Debit, or Amazon Gift card.
Register on Userfeel to Start Testing Websites for Cash.
14. Ferception

Ferception offers UX research services with independent contractors working on tasks from the likes of Coca-Cola and Samsung. The company is based in France, with B2C recruited worldwide.
This is a paid web testing site that also pays you to test apps. Basically, you explore platforms on your mobile phone, send both negative and positive feedback, and wait for a review.
Once approved, you get paid with the possibility of being invited to consumer meetings where you can make more money.
How Much Does Ferception Pay?
Based on the complexity of the test, the pay ranges from $10 to $20. Payment is via gift cards and PayPal.
Get Paid To Beta Test Apps
Beta apps are new or upgraded versions that may not be ready for mass or final public release. Such apps or web platforms are, usually, released to a sample size of intended users for testing. To find beta programs that pay high, look at:
15. Ubertesters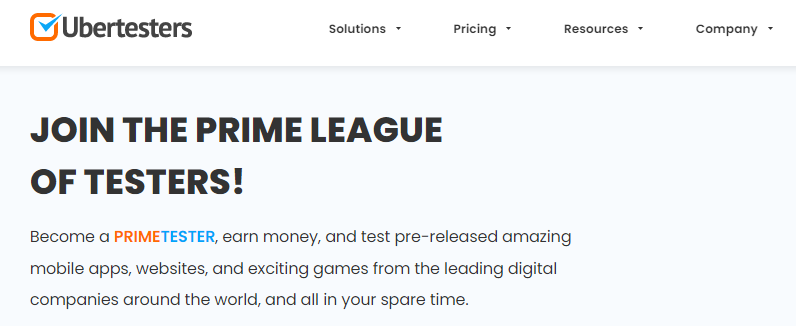 This is a crowd-testing service for beta testers as well as Q&A survey takers. As a user tester, you get to download, use, and evaluate the apps at different stages of development.
Just like many testing sites, Ubertesters provides functional testing, test case execution, usability testing, and mystery shopping testing.
To prosper here, you have to maintain a high rating from both the clients and the platform. Much of this has to do with completing orders conclusively and in a timely manner.
How Much Does Ubertesters Pay?
The testing site pays you hourly. According to estimates from Glassdoor, a software QA tester salary review, the base pay is around $34K-$37K/yr ($16 – 17.70 per hour).
Note that the pay varies depending on your rating, location, and the devices that you can test.
16. Validately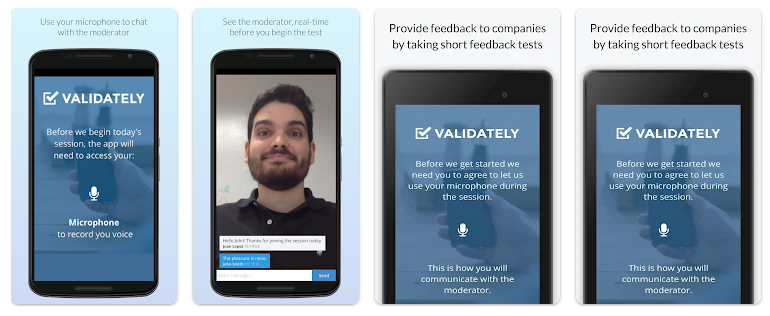 This is a constituent platform of UserZoom where you can make a few extra dollars carrying out software user tests. Typical jobs include iOS app and Android app testing.
Making money on the platform requires you to be fluent in English, be 18 and over and have a mobile device or a PC. As many sites for beta testing insist, you need fast internet- 3mbps.
For moderated tests you use a screen recorder, speak via a mic, and answer questions live. It takes about a week for clients to verify that the test case execution was successful.
How Much Does Validately Pay?
Moderated tests pay the highest at $40 – $70 for 30 – 60 minutes, respectively. Unmoderated tests, basically QA surveys about usability testing, pay $10 for about 15 minute of your time.
Download the Validately App Today
17. Checkealos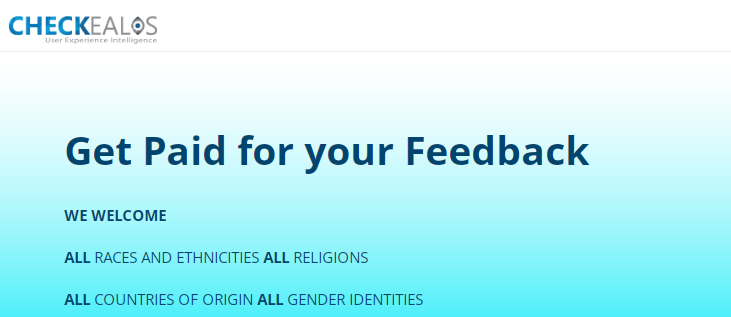 Checkealos is a web testing site with members in over 70 countries.
These are thousands of remote workers who help clients run real-life tests for multi-devices, product interaction, and market absorption.
Test designs include moderated user testing, card sorting, and expert reviews. The site relies on normal users to test unreleased, prototypes, and in-store apps.
New testers have to answer screening questions to help you land the right tests. For example, you may be just the right person for VR, e-Commerce, Banking, or Insurance beta apps.
How Much Does Checkealos Pay?
You make 8 Euros ($8.17) for 30 minutes of testing. For live testing, you earn 30 Euros-150 Euros ($30.50 – $153).
18. Intuit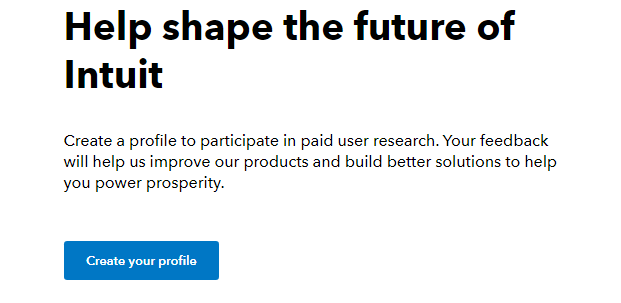 Intuit has been operational since 1983 and now has a global workforce that you can join for free. This is the company behind QuickBooks, Mint, and Credit Karma.
This is a tech platform that helps clients solve customer-related problems. Luckily for you, apps under development are one such issue that requires extensive research.
Some of their app testing gigs may require a live interview with expert beta testers.
Additionally, the onboarding process is extensive, involving several more interviews and craft demonstration sessions.
How Much Does Intuit Pay?
This is one of the highest-paying digital product testing websites. For example, software test engineers earn $83,983 per year on average. That's over $65 per hour.
FAQs
1. How Do I Become An App Tester?
To get paid to test mobile apps, you need to enroll on sites such as Intuit, Testing Time, and UserZoom. These are platforms where app and website developers, as well as software developers, partner to test digital products before they are released to the general market.
Since the tests are meant to mimic real-life use, you don't need special skills to qualify for the tests. All you require is a smartphone or a laptop for website testing. For aloud tests, a mic and webcam capabilities are essential features for the testing device.
2. How Do Testers Get Paid?
You get paid per test which may include taking a questionnaire survey after you have used an app for a specific time. Such piecemeal tests take around 20 minutes to run and a few more minutes to fill in the survey. Pay is usually via PayPal and other digital wallets.
Some testing sites also pay via direct deposits.
3. Do Beta Testers Get Paid?
Programmers who design apps aren't suited to test their creation since they are likely to be biased when operating the product. As such, testers (without any software development skills) come in to use products and provide insights that guide final designs.
Beta software and app testers make some of the best salaries in this gig worker field. Typically, the job can be done remotely, but some companies prefer independent testers who can show up and work in-house, and get paid hourly.
4. How Much Does App Testing Cost?
App testing costs app developers and investors up to $10,000. The total cost depends on factors such as security protocols, intended use, and existing competition.
Regardless, testing at different stages of development is a must, with the money getting paid to different players involved in the process.
Test Apps for Money: Final Thoughts
Testing apps is one of the simplest ways of making money from your phone or computer. The job is to just install and use an app on your software-powered device as you usually do, and comment on the experience.
Since no exceptional skills are required for the tasks, this is a get-paid-to-remote job for everyone, including teens and the elderly.
Nevertheless, testing apps may not make you much money and may require complementing with other freelance gigs like transcription and proofreading.
That said, you can work to become an expert tester, capable of detecting the most hidden and complicated bugs for a big payday.
Are you at that point already? Share your hustle's journey with beginner app testers below: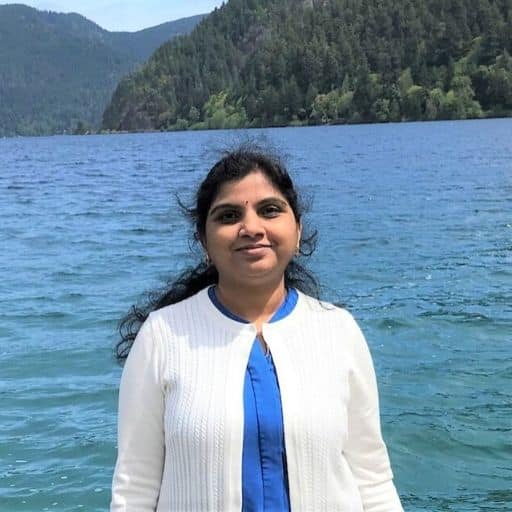 Hey Folks, thanks for stopping by my blog!
I'm Swati. I'm a mom, side hustler, full-time blogger and a millennial work-at-home expert featured on Forbes, CEO Blog Nation, Referral Rock, Vital Dollar, and Databox blog. I embarked on this impeccable journey to expose my online monetary experiences and help you all earn money from home. Come join my make money revolution and attain financial freedom – it's not as hard as you think!