Just like you can be paid to test beta apps, you can test websites for money. This is a job opportunity for making extra money and helping web developers curate easy-to-use and effective web platforms.
You'll get paid to test different interfaces and functionalities of websites. Basically, this is a remote work-from-home job that gets you paid per project or by the hour.
As a web-based job, the question becomes, which is the best testing platform to get gigs from? As you know, with remote jobs, it's easy to get scammed. To this end, below are legit companies that hire website testers.
First off, though, let's go through the job description, requirements, and other basics of web testing for money, as well as typical pay rates.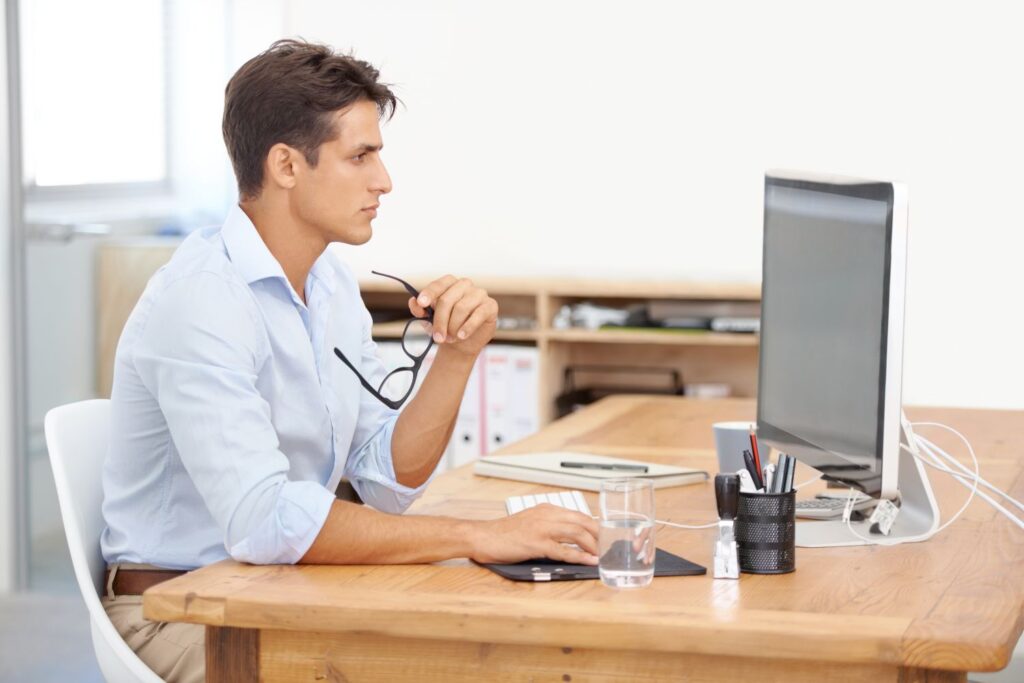 How to Get Paid to Test Websites for Money?
Popularly known as live user testing, this involves testing websites live using audio or video. All it takes is 15-20 minutes of using a website, providing constructive feedback, and getting paid by the hour.
The job requires you to find a testing website, sign up, and start doing UX tests. These opportunities come from companies that need the everyday internet user to test their websites and ensure that they are functioning properly.
How Much Money Do Website Testers Make?
Website testing sites do not pay a lot to home-based testers, meaning you can hardly make this your full-time job. Usually, payment is made via PayPal with the tasks taking just a few minutes of your time.
On average, the pay rate is $10-$20 dollars for a QA test that lasts for 20 minutes or less. Per month, you can make around $400 working on a single test per day.
Usually, payment is made via PayPal with the tasks taking just a few minutes of your time.
You can earn more by applying for aloud tests that are usually moderated by a web developer. Such tests can pay up to $90 but take longer and require you to complete the tasks live, with the moderator watching, asking questions, and listening in on your progress.
Additionally, with skills such as software engineering, you can earn hefty bonuses for detecting stubborn bugs. These are software errors or faults that hamper the usability of a website.
What Exactly Does a Website Tester Do?
A website tester is responsible for testing websites and web applications to ensure that they are functioning correctly.
This includes testing for bugs, errors, and other potential problems and ensuring that the site is compatible with different browsers and devices.
Website testers may also be responsible for conducting user acceptance testing (UAT) to ensure that a website or application meets the needs of the end-user. Strong communication skills are needed in order to report the findings to the relevant team members.
What Do You Need To Get Paid to Test Websites?
No special gadgets, fancy degrees, or monthly subscriptions are needed for app or web testing jobs.
All you require to earn money as a tester is a PC (desktop or laptop), smartphone, and a stable internet connection.
Depending on the company, you may test using a tablet, download specific software, install a browser extension, or install an app. For aloud tests, a microphone and webcam are must-have features on your device.
Get Paid to Test Websites for Money
With thousands of websites going live every day, there are more than enough website testing opportunities out there.
At the same time, new features are being incorporated into the existing 1.96 billion sites.
Simply put, testing jobs grow by the minute, including paid app testing jobs.
So, are you wondering what companies hire people to test websites and apps? Here are the leading platforms for UX and beta testing platforms:
1. UserTesting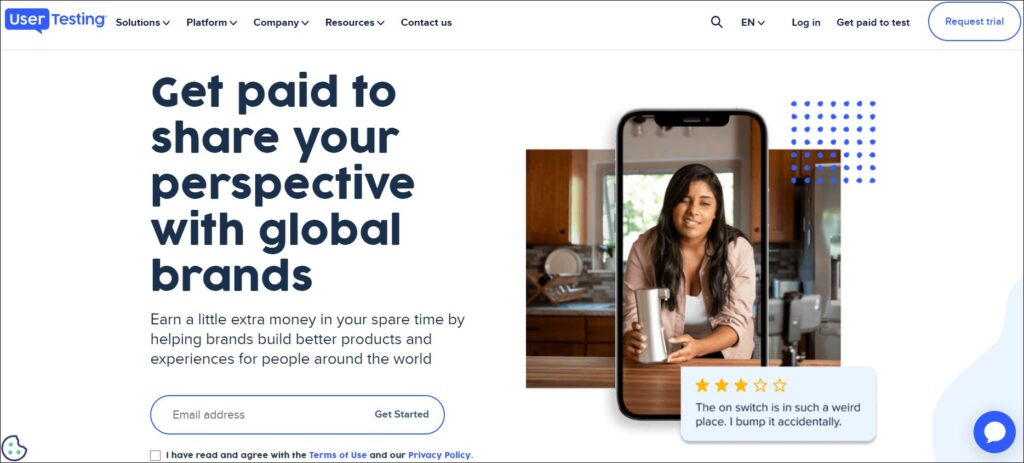 Since 1999, Usertesting.com has been helping businesses and individuals to perfect their web platforms. The site offers website usability tests to at-home testers around the world.
Clients engage the platform to get insights on blog pages, checkout, plugins, layouts, and other features that make a site appealing. The tasks fall on you, the everyday websurfer.
After you complete the application, you need to pass a sample test, before you start to get emails for paid website testing jobs. The company offers both quick surveys and long, aloud UX tests.
Your test feed displays the job, pay, and time, to ensure you only choose gigs that are worth your time.
Testing via a computer won't require you to download anything, but for mobile devices, you must install the UserTesting App- available for both Android and iOS.
Payment: Once you submit a test, payment is via PayPal within seven days. On average, you'll earn $25,587/yr ($12.95 per hour).
2. TryMyUI

Trymyui pays you for tests that take around 20 minutes to complete. The assignment is to use a site just as you do every day, and provide actionable information on how to improve usability.
To make extra money from home, the site sends you tasks via email.
Trymyui gets a 2.1 star on Trustpilot. This is a 'poor' score brought about by scrabble for jobs. Typically, each usability test needs 4-6 testers. As such, the first gig workers to respond to the job invite, land the job.
I recommend enabling push email as well as desktop notifications. This ensures that you receive and reply to job emails promptly. Remember, the site is legit, you just have to swiftly grab the usability tests as they come.
Payment: A Trymyui test pays $10. Payment is made via PayPal.
Register for TryMyUI Website Tests
3. Enroll App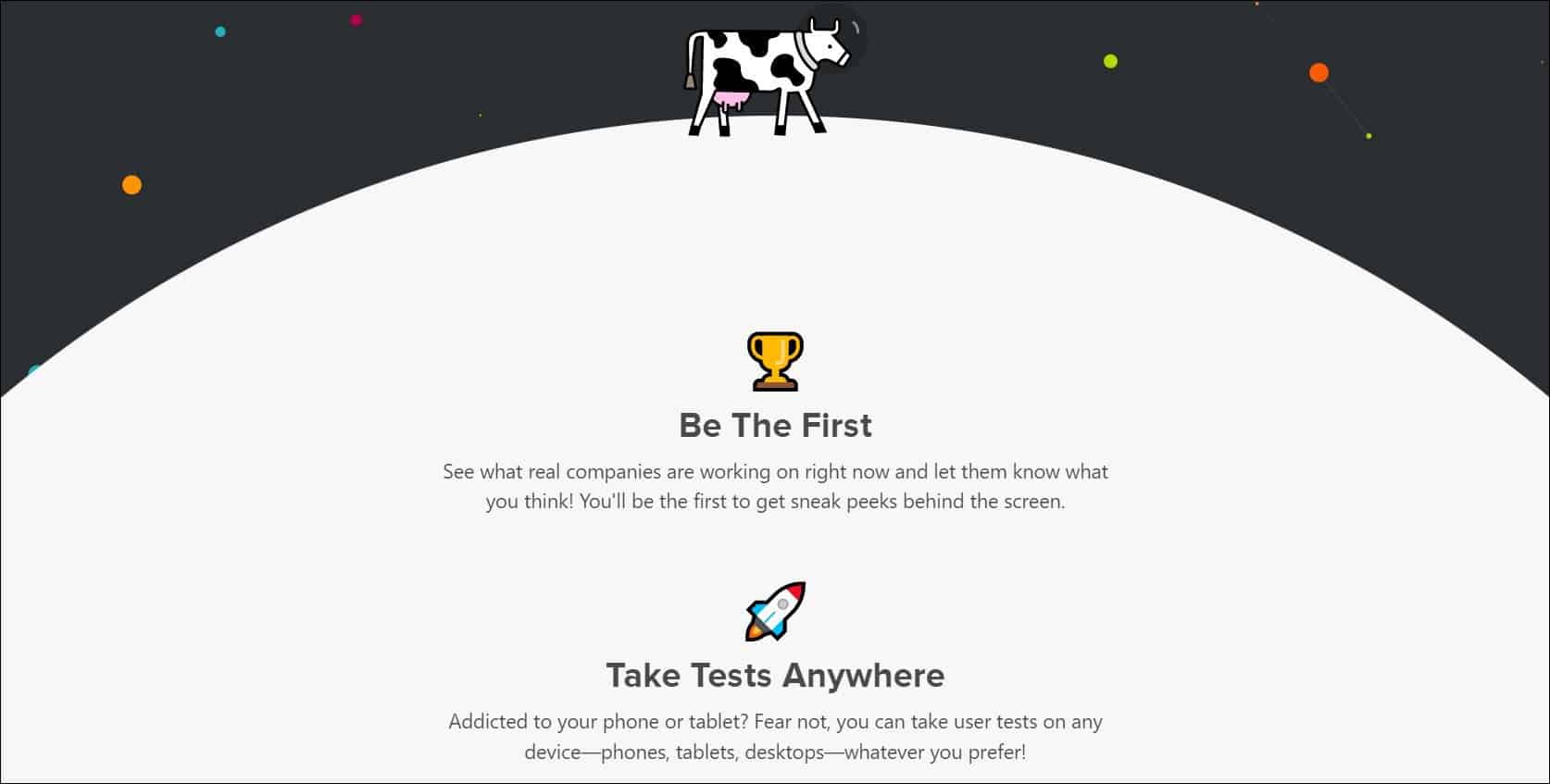 This is a platform under ZURB, a company founded in 1998 on product design. The platform helps businesses develop a wide range of digital products including software, websites, and apps.
Before the products are released, Enroll comes up with different metrics that need testing on various devices. The company is interested in factors such as how you feel when navigating a page; sadness, surprise, anticipation, and so on.
You may also be required to state your level of education, income, age, and other demographic data for analysis. Enroll allows 13-year-olds, with parental consent, to register.
Payment: You need a PayPal account to take tests on Enroll. A 5-minute test pays you around $0.20.
4. UserBrain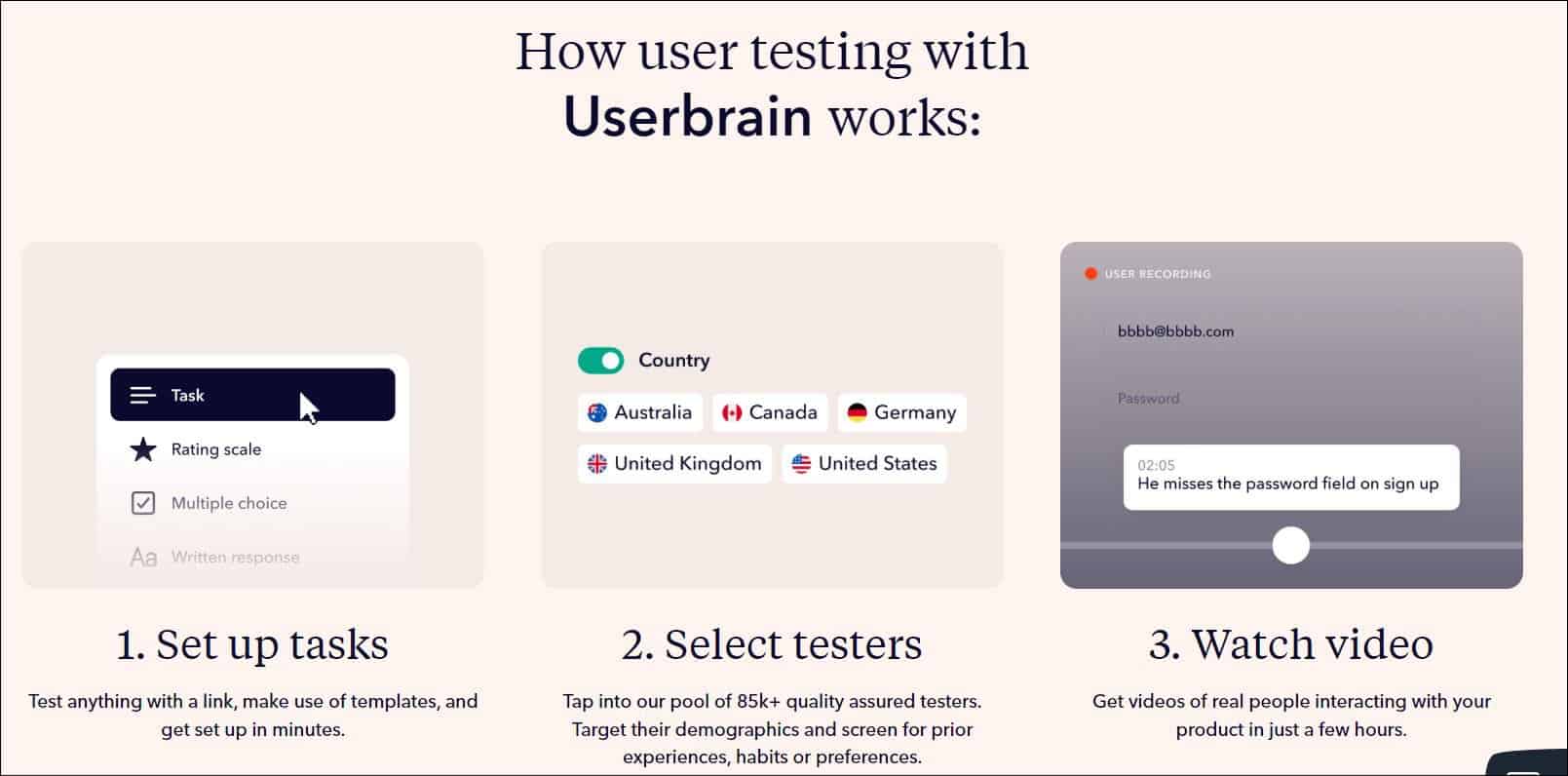 To earn through UserBrain, you'll need to download the UserBrain Recorder app on your Apple devices. Tests that require using a PC need you to download a Google Chrome Extension.
As you go through the tasks, the recorder captures your aloud insights and relays them to a moderator. To ensure you are ready for the live tests, the platform guides you on how to complete a moderated test after you sign up.
It is worth noting that the website says clients can expect results in under an hour. As such, once you get test invitations, work fast to keep up with the company's ideals.
Typically, completing tests on the site takes 5 to 20 minutes.
Payment: For every test you complete, UserBrain rewards you with 5 dollars, paid via PayPal. The minimum payout is $10, with withdrawals taking 5-10 business days to process.
5. UTest
This is one of the best testing websites from home, serving the likes of Uber, Google, Starbucks, and Facebook.
To influence digital products from such influential companies, the company gives you access to browser-based testing software. You can also receive test requests via the uTest app on Google Play or App Store.
A typical Q & A test takes place remotely, while some clients may require to carry out beta tests on-site. Like many testing sites, uTest pays you more for in-person tests compared to online studies.
To ensure repeat jobs, the company advises that you complete each test cycle you are assigned. The software on your computer also needs to be genuine, as opposed to beta versions.
Websites and mobile device testing tasks on uTest pay to depend on your rating, experience, and the client's budget. Also, the ability to use a website using a language other than English can get you more tests.
Payment: Website usability tests take a few minutes and pay $5 to 25. Expert-level tests such as bug replication can pay up to $600 per test.
6. Userlytics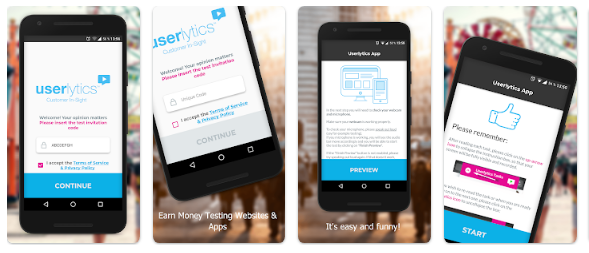 With Userlytics, you can earn money testing websites and join thousands of other freelancers. The job is to interact with both web and mobile apps and complete questionnaires.
Other digital interfaces that you can test on Userlytics include video commercials. Minimum device requirements include Windows 7, Android 8, iOS 12, and Mac OSX 10.13.
You may also need to install the Google Chrome browser to test websites. Some sites' usability testing may also use a PC with microphone and webcam capabilities.
Payment: For voicing your frustrations, thoughts, and suggestions, the platform pays you up to $90 per test. On Glassdoor, Userlytics web testers report salaries between $15k – $16k/yr.
Download UserLytics on Google Play Now
Website Testing Opportunities Near Me
Testing sites pay top dollar when the participant takes a test in person. This is common with beat tests for secure platforms such as banking, security, and government platforms.
Commonly, you'll receive an invite via email to show up at a given location for the test. Such tests require stringent background checks to ensure the protection of intellectual data. Get these high-paying app testing, including website testing, from:
7. Respondent IO
Looking for tests that pay top dollar near you? Check out Respondent, a website that features a wide range of gig workers who operate remotely.
One way to make money on Respondent is by testing apps and websites. Other gigs on the site include marketing, sales, virtual assistance, software development, and paid surveys.
Each job pays differently; for example, a software developer can make up to $200 per hour.
Additionally, the site offers referral bonuses whenever a friend uses your link, registers, works, and gets paid. On average, you earn $50 for each successful referral.
Respondent io is a reputable company that provides work from government agencies and fortune 500 companies.
Payment: Tests on the platform take only minutes to complete and pay over $30 per study.
Become a Respondent Io Participant
8. Test IO
This is a testing as a service (TaaS) platform where you can test websites and apps for money. Over 400k freelance crowd testers work on the site from around the world over.
You work on both established websites and innovative startups. The tests pay you for reproduction, sniffing out bugs, and testing user experience.
What's more, the site gives you access to Tester Academy, a wealth of online resources for testing job seekers. Jobs on the site are, usually, specific to locations and devices.
The site is free to sign up for new freelancers, with a PC and mobile phone as the only requirements. What I like most about Test io is that you can choose what to work on without any fear of penalties.
Total earnings for each test cycle (monthly) are aggregated on the 11th of every and paid at the end of the month.
Note, Test io requires you to complete tests within a given period or otherwise you get excluded from the test.
Payment: Payment is through Skrill, PayPal, or direct deposit to your IBAN account. The most lucrative testing is finding bugs for up to $50 per report.
9. TestBirds

How would you like to test the next wearable tech devices? Such is the kind of digital products that Testbirds' clients assess through the help of crowd testers from home and on-site.
Companies pay Testbirds for QA, functionality, usability, and UX testing.
You just need to list one device to start testing. This can be a PC, tablet, smartphone, VR headsets, smartwatches, and the like.
Before you start getting different testing gigs, you must complete an entry test that introduces you to the platform. The best part is that you receive up to five Euros ($5) for completing the test after you make €6 ($6) from paid tests.
What's more, you get "community points" for referring new testers. The bonus points give you access to the top testing recruiters, right on your dashboard.
Top ranking testers also get more earning opportunities including writing articles and getting a reservation as a backup tester on various jobs. Most tests on the site take 10 to 15 minutes to complete.
Lastly, the site hires kids under 18 years, provided they get parental consent to test websites and earn.
Payment: The website testing jobs available on Testbirds earn you $10 to $50+. Payment will be sent via PayPal, Payoneer, or direct deposits via your IBAN bank account.
10. MyCrowd QA
For explorative bug tests that pay high, look into MyCrowd QA. This is an on-demand platform for testing web platforms and apps through remote freelancers.
Other tests on the site include user testing, regression testing, accessibility testing, and manual testing. The gigs involve running different tasks on your computer or mobile apps (both iOS and Android versions).
Clients pay for real-time tests, meaning you need a fast internet connection and a strong work ethic to get constant job invites.
Also, your Tester Reputation (rating) needs to be high to access the best testing features and gigs.
This is an exclusive website, with activation of new applicants going to people referred by existing testers.
Nevertheless, before your account is approved, you can review and verify bugs listed on the site for small giveaways and a share of the 'Review Bounty'.
Payment: Some bug hunts on MyCrowd QA pay up to $1,000. The site pays freelancers through PayPal.
Test Websites for College Students
Do you want to earn some money as you continue with your studies? For just 20 minutes or so per day, you can easily make twenty dollars through testing websites.
The gig can be extremely lucrative if you are learning web or software development. The skills you gain from college can help you find web bugs and test beta apps. Here are sites for such remote job opportunities:
11. MTurk

This is a jobs platform from Amazon targeting work-from-home gig workers. The site offers web and mobile app developers an environment for testing new applications.
Known as the Developer Sandbox, the platform allows developers to engage MTurk Workers, that's you, to test their creations.
A single task is usually fragmented into microtasks and may pay a fraction of what other testing sites in our list offer. That said, as an expert tester, you may land tests that pay above average.
Typical micro-tasks include image processing, data verification, paid surveys, transcription, and app testing. Most MTurk tasks are time sensitive and only those who complete them within the stipulated time get compensated.
Payment: You can make around $20 to $30 on a good day. Specialized tests can pay hundreds of dollars. Amazon pays you through Amazon Payments, gift cards, and bank deposits.
12. Beta Testing
You can test websites, new hardware, and mobile applications on Beta Testing. The site lists tasks from Xerox, The New York Times, Typeform, and the likes.
Only fluent English-speaking adults can get approved on the site. Text requests depend on the interests that clients are looking for.
To ensure you get matched with easy tests, fill in your demographic details truthfully. Beta Testing does not have lots of jobs with an expert worker getting only up to 5 gigs per month.
It takes up to 7 days for a test to be reviewed and approved before you can get paid.
Payment: Each test pays $10 – $20+ via PayPal.
13. Fiverr
Fiverr has lots of earning opportunities for college goers including product testing, website UX testing, paid surveys, and app development. I recommend the site as your entry vehicle to the gig economy.
After you register, create a seller profile and list your trade as a website usability tester. The starting rate for all jobs on the tasks is $5, which can go up to $10,000 with time.
All it takes is consistency when bidding for new jobs and ensuring quality work. As your expertise and complete jobs rise, expect former clients to refer you for more lucrative testing jobs.
Payment: Testing beginners charge $5/hr. The money is paid via credit card and PayPal. The site charges 20% of the total gig fee for listing your seller profile and giving you access to the gig marketplace.
Create a Seller Account on Fiverr
14. Upwork
As one of the largest freelancers' platforms, Upwork features remote job opportunities across the board.
All you need to access the gigs is open an account and create an app and website tester profile.
You'll also need to state your fixed or hourly rate for the job. No special qualifications are required here, but experience is a major factor in your asking rate.
Expert profiles on the site include:
Quality assurance tester

Marketing researcher

Website performance tester

Remote app and website tester

Freelance software tester
Companies can reach out with job offers depending on your profile. However, to get your first paying gig, you'll have to search through the site's database for testing jobs and send in your bid.
Some clients offer piecemeal jobs, known as milestones, and later hire you for long-term jobs depending on your initial performance.
Payment: Skimming through different testing postings shows hourly rates ranging from $5 to $40+ per hour. The rate depends on the difficulty involved: Entry, Intermediate, or Expert level.
Upwork charges between 5% and 20% of your pay, depending on the level of your earnings.
Create an Upwork Freelancer Account
How Can I Test Websites For Money?
There are a few ways that you can test websites for money. You can sign up for a service like UserTesting.com, which will pay you to test websites and give feedback on your experience.
You can also find website testing companies that are looking for beta testers on sites like PeoplePerHour or Upwork. These are freelancers' platforms where you sell your expertise as a tester.
Finally, you can always contact website owners directly and offer to test their site for them in exchange for payment. For this approach to work, it's best to establish your trade through a dedicated website/blog as an expert beta and UX tester.
How Do I Become a Website Tester?
To become a website tester, open any of the above websites and follow the onboarding instructions, starting with new account registration.
Some of the equipment that testers ask for include a personal computer and a smart mobile device. Your devices must have a microphone feature to enable you to communicate with moderators in real time for the aloud test.
Other tips for becoming a successful website tester include:
During registration, use the device you will be used

to take tests. This makes it easy to collaborate demographic details and other user parameters that may be required by testers.
Ensure a steady internet connection. Most testing opportunities are available for under an hour, or even minutes, and payment goes to the first users to submit.
Avoid scams and spammy sites. Basically, these are 'jobs' platforms that pay you to refer others to join, without definitive ways for you to earn. Also, such sites ask for a subscription fee, a feature that's not common with legit website testing for money platforms.
Submit correct demographic details for appropriate match-ups

with repeat clients.

Complete and be truthful when answering sample/entry tests.

Enable push email so as to never miss invites.

Go for moderated tests and specialized testing gigs, such as bug hunts, to make more money.

Query any unpaid dues. Most test cycles are completed and paid within 21 business days or less.
How to Be Successful at Testing Websites?
There is no one-size-fits-all answer to this question, as the best way to be successful at testing websites will vary depending on the individual and the specific website being tested. However, there are some general tips that can help make the testing process more effective:
Join a user testing panel or community. This will give you access to a variety of testing opportunities, and you can build up a good reputation as a reliable tester.

Make sure you have strong profiles on the different sites you apply for work. Include information about your testing experience, skills, and availability. And remember to ace the qualifying test.

Be quick and responsive when applying for website tests or when communicating with clients. Show that you're professional and serious about the work.

Follow the instructions carefully and provide detailed feedback. This will help you stand out from other testers and increase your chances of getting repeat work.

Have a clear understanding of what is being tested and what the goals of the test are. This will ensure you focus on the right elements or features during the testing process.

Have a system in place for tracking issues that are discovered during testing. This will help to ensure that you stand out as an experienced apps and website

tester.
Most importantly, ensure effective communication with the team responsible for developing the platform under testing. This is to make sure you add value to the team and that any issues that arise can be quickly resolved.
Test Websites for Money: FAQs
1. Are Testing Websites Legit?
Usability testing is a legit work opportunity. The tasks are carried out by duly registered workers for which they get paid and are expected to pay taxes.
To query the legitimacy of a website, it helps to look at user reviews on Reddit and Quora. Company reviewers such as Trustpilot and BBB can also help you tell a fake site from a genuine one.
2. What are the Requirements as a Website Tester?
Working as a usability tester for website developers does not require a degree or special skills. The job involves the everyday use of a website or app and providing detailed feedback on the experience.
All that is needed is mastery of the testing language, a computer or a smart device, and basic typing skills.
3. Does User Testing Really Pay?
User testing pays to depend on the features being investigated, the time taken to complete a test, and the site listing the job.
Normally, web testing pays $10 to $20 for gigs lasting 20 minutes or less. With a steady supply of testing jobs, ZipRecruiter estimates that you can earn $26 per hour, on average.
Are Website Testing Jobs Really Worth It?
There are a lot of website testing jobs out there, but are they really worth it?
The answer depends on who you ask. Some people say that website testing jobs are great because they offer an easy way to earn money. Others say that the jobs are not worth the time because they can be repetitive and boring.
Ultimately, the decision to freelance as a tester depends on how much money you plan on making and how much time you have on your hands.
In my opinion, at around $10 for 20 minutes, testing jobs are totally worth it. The only problem is that testing gigs are not that many to make a full-time job out of.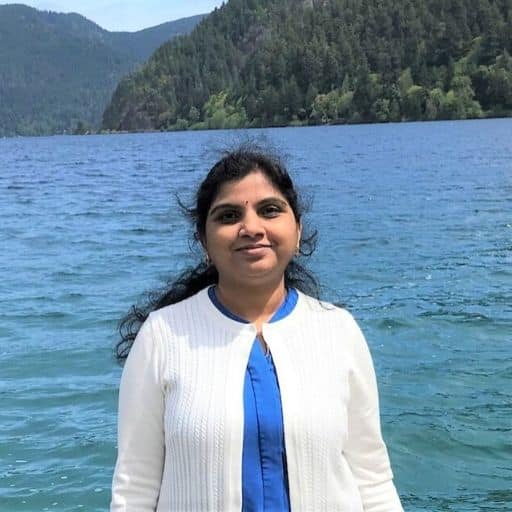 Howdy Folks, thanks for stopping by my blog.
I'm Swati, a proud mom, dedicated side hustler, full-time blogger, and a recognized millennial work-at-home expert. My expertise has been featured on esteemed platforms such as Forbes, CEO Blog Nation, Referral Rock, Vital Dollar, Databox blog, and many more. I have embarked on this incredible journey to share my firsthand experiences in the world of online income generation and to assist all of you in earning money from the comfort of your homes.
Join me in my mission to revolutionize the way we make money and achieve financial freedom. Trust me, it's not as challenging as it may seem!
Together, let's explore the boundless opportunities and pave our paths towards a prosperous future.