The best PayPal games that pay real money include platforms that reward gamers for just a few minutes of fun playtime.
Generally, though, these can't replace your regular hustle.
However, these cash games help in supplementing your income and when combined with other easy online money-making ideas, the overall payoff can be huge.
Whether it's when taking breaks in the office or being active in it for the money, there are several real money-earning games, from arcades and slots to strategy and survival games, there is an app to suit your preference.
What's more, apart from PayPal money, most of these games come with other rewards such as gift cards for online and offline retailers.
Granted, earning from some of the free games in this post may involve having to engage with the sponsor's ads.
However, for the others, you have to stake a little of your money and battle it out with other games for contest prizes.
PayPal Games That Pay Real Money
So, if you enjoy playing games on your smartphone, here are the best PayPal games that pay real cash. Let's dive right in…
1. InboxDollars (US) | Inbox Pounds (UK) | Daily Rewards (Canada)
Inbox Dollars is a platform that rewards you for playing games, watching TV, taking surveys, and shopping. There is no entry fee and there are lots of games to choose from.
Avid games help make more than $10 a day, for just a few hours of their online time.
Among the games offered by InboxDollars(US)/ Inbox Pounds(UK) / Daily Rewards(Canada) include Bubble Shooter, Solitaire, and Candy Jam.
There are also arcade games such as pool, chess, and sudoku to make money from.
The website also offers hundreds of games from GSN Games to try your luck.
Additionally, you get 18% in cashback for every $1 spent on GSN Games.
Click here to Claim Your $5 Sign Up Bonus upon email confirmation.
2. Swagbucks Play
Available on both Google Play and App Store, Swagbucks is another common platform where you can play free games to earn real money.
Currently, it scores a 4.3/5 rating on Trustpilot and an A+ on BBB.
Apart from the chance to earn money playing games, answering surveys, shopping online, watching videos, searching the web, and reading some content also earns you SB points.
Some of the highly rewarding mobile games on this platform include Slotaire Cruise, Angry Birds, Wheel Of Fortune, Play Board Kings, Grand Mafia, Mafia City, etc.
You can easily earn up to 10,000-15,000 SB upon Installation!
100 SB points on Swagbucks equals $1 dollar.
The SB points you've collected can be redeemed for Amazon/Walmart gift cards or instant PayPal cash. And, you can cash out with as little as $3!
Is Swagbucks safe? It totally is!
I'm a member, though not an active one, and I have made decent pay for the little time that I have spent on the website. You can actually read a genuine review of Swagbucks here.
Click here to claim up to a $10 welcome bonus on Swagbucks.
3. FeaturePoints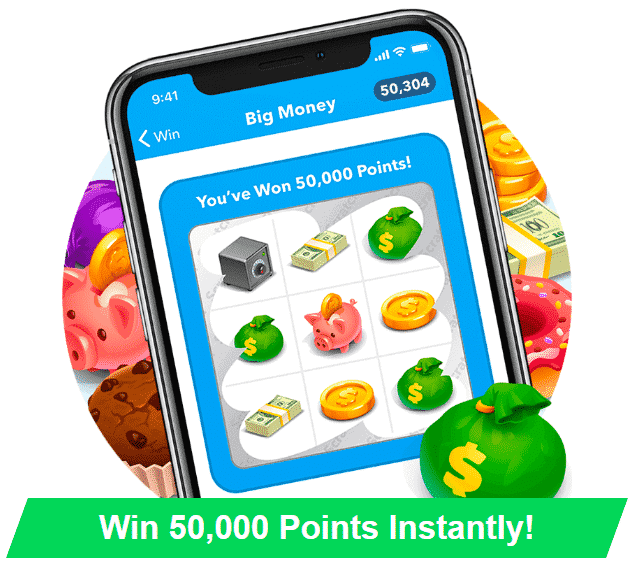 FeaturePoints lets you earn money by playing games, alongside other activities like watching videos, referring new users, taking surveys, and shopping online.
It's one of the fastest paying apps in this list of games apps that pay instantly to PayPal.
I love this website because, other than PayPal, you get a ton of other choices for cashing out including gift cards, Bitcoin, quick picks, and credits toward games. Payment is made within a few hours of completing your objectives.
Once you sign up, you can earn free points through a friend's referral code. The app is available on both Google Play and App Store.
Users who've used this app gave it over 4.0/5 ratings on the two app sites, with the website having already rewarded $5.8+ million since 2012.
4. AppKarma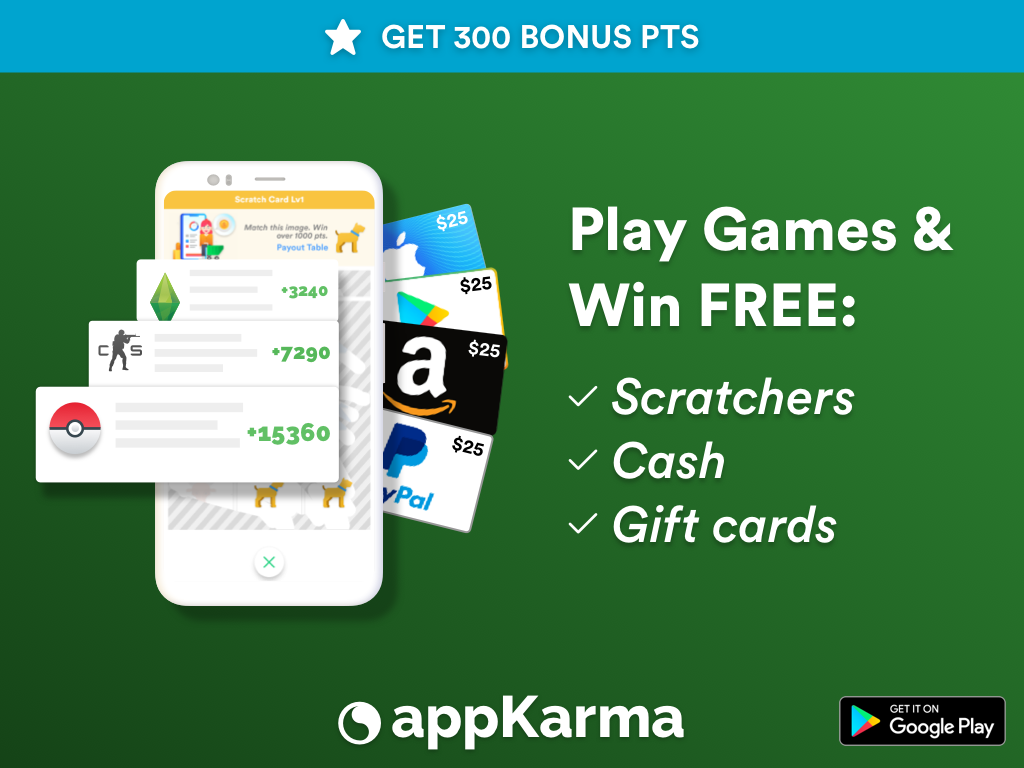 Having received a 3.9-star rating on Google Play from 330,000+ reviews, AppKarma is quite a popular app. You get to earn rewards by playing games from their list of gaming apps.
Once you complete any of their objectives you get to choose whether to receive your money via PayPal or gift cards from Amazon, Walmart, Target, Google Play, iTunes, Xbox Live, Playstation, and Starbucks, just to name a few.
And you can earn in other ways besides playing games, like taking quizzes, referrals, and achievement badges.
Once you refer a new member you get to earn 30% of the amount your friend earns from installation offers available. What's more, the app is completely free.
Click here to Install AppKarma
5. Make Money
One of the most popular apps on Google Play, Make Money has a 4.7-star rating from over 500,000 reviews.
This proves that it's definitely legit and most users are content with it. It's one of my favorite PayPal games for money where you get paid real cash for playing their suggested gaming apps.
However, if playing online games for rewards isn't your thing, you can earn credits by taking surveys, trying free apps, testing services, watching videos, and referral bonuses by inviting your friends.
Make Money gives you hundreds of thousands of credits, whereas other cash apps just give you one thousand. Every credit here is worth real money sent directly to your account.
With this app, there is no flimsy gift cards just pure cash through your PayPal account.
Also Read: Get Paid Today from Home
6. Wealth Words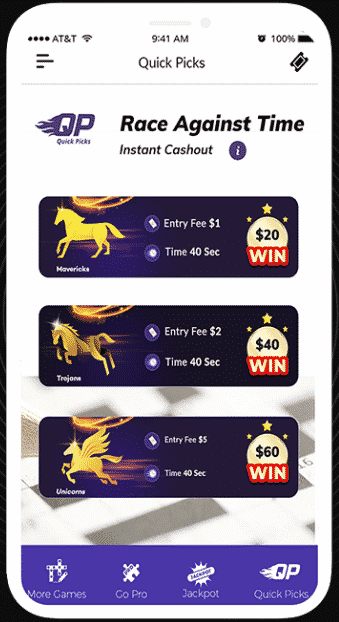 Would you like to sharpen your mind with crossword puzzles? If so, go ahead and sign up on WealthWords.
This website provides an unlimited online crossword game that will keep your mind engaged at all times and some cash on top. Incredible!
After signing up, all you have to do next is be accurate when solving the puzzles in order to stand a chance of being rewarded. With winning comes instant pay which is done through PayPal.
Choose your level- beginner, intermediate or advanced- and earn up to $10,000 for a puzzle with a word count of 40. Generally, jackpot games offer a bigger prize.
Alternatively, players buy tokens for more game choices with each token going for $0.25. This app is available for both Android and iOS users.
Check out: 12 Cash app games that pay real money
7. CashPirate Buzz
Want to put that Android phone of yours to proper monetary use? Well… CashPirate is just the way to go.
From playing games for money and taking up PayPal surveys to referring your friends to the app, and even participating in quick picks, you get to earn real cash.
Once you sign up, you'll get your unique referral code. Share the code with your friends for a chance to make 10% of your friends' earnings.
This app is only available to Android users.
8. GiftPanda
GiftPanda is a games app from the developers of CashCrate. The app also offers players an incentive of 10% of the earnings that their referral buddies make.
Additionally, if your referral invites another of his/her friend, you earn 5% of their earnings as well.
As such, there is no limit to how much you can earn using this app. Payment can be sent direct to your PayPal account or paid in Bitcoins, Visa, or Mastercard.
Make money by playing the available games, taking part in surveys and quizzes, and ultimately making referrals. With a rating of 4.7 and over 300,000 reviews, GiftPanda is certainly legitimate.
Why not sign up and start earning today?!
9. CashOut
CashOut tops my chart as one of the best games that users love playing. This app has about 5000+ installs with a rating of 4.0 from reviews on Google Play.
Top earners around the globe have cashed out more than $200,000.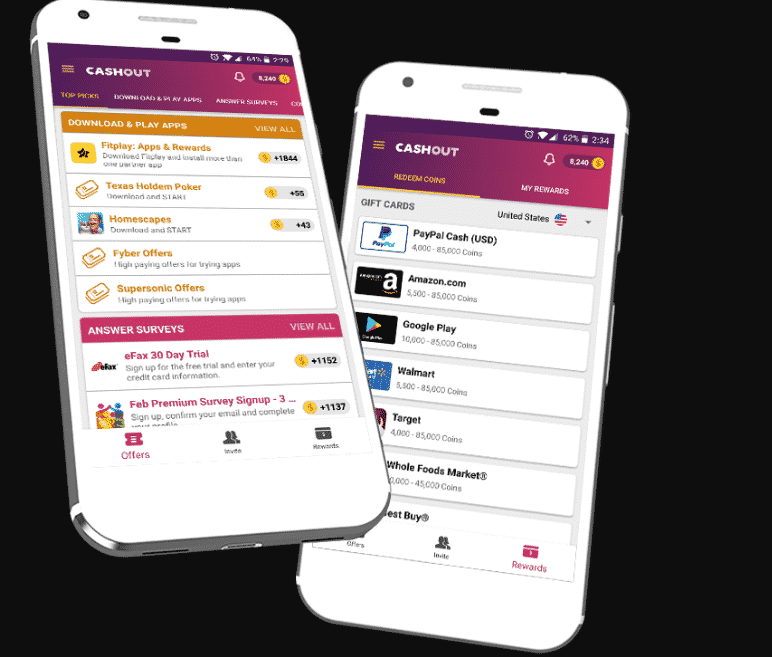 You get to earn real cash by playing mobile games, but you can also opt for gift cards from Amazon, Apple iTunes, and Walmart.
The amount you earn is in the form of coins that are redeemable to your PayPal account. To start earning, simply install CashOut, sign up, complete tasks, and finally claim your rewards.
This amount depends on the task you take with the lowest paying about $0.5 and the highest rewarding you as much as $20.
To enhance your earnings, you can also take part in surveys and watch videos. You get to earn free coins for daily check-ins regardless of whether you complete a task or not.
10. Bubble Shooter Pro
As the name suggests, this is a bubble shooting game that you can earn. It may sound like a simple game, but it's really fun and addictive. The best part is you can make a little fortune from it.
All that's required is to match 3 bubbles of the same color, making them burst, which is later translated into points. The more bubbles you manage to remove (burst), the more points you earn.
You can play this game either online or offline, depending on your preference. But for your points to be recorded and translated into real money, you have to go online.
If you believe you are good at it, challenge yourself with bubble shooter pro mode with more than 490 levels!
Also Read: 10+ Survey Sites with No Minimum Cashout
11. Spin to Win
In this game, you simply spin a wheel for a chance to win some real money. In other words, you can call it 'spin to earn coins'.
It's a highly rated gaming app, scoring a 4.8-star rating from 4,000+ reviews.
If you find spinning this wheel a bit monotonous, there are other ways to earn money from the app, including scratch cards and machine game combinations.
Sign-up gets you 30 chances to start growing your cash, that's 10 spins on the spin wheel, 10 scratch coupons on scratch cards, and 10 spins on the match machine.
Unlike other gaming apps, Spin to Win doesn't collect user data that is normally sold to other third-party apps for promotion purposes.
Download this game today and spin it to earn money and get paid through PayPal.
12. MooCash

MooCash is another legit games app that pays instantly to PayPal. The app allows you to make money by not just playing.
As such, you can also earn by taking surveys, sharing apps and games with friends, and watching videos. These offers pop up on your lock screen, just swipe to participate and make real money.
Pretty easy, right?
With this app, you can earn up to $5 or more in a day. However, MooCash has put a limit on the minimum amount you must hit to be able to withdraw – $2 or $5 depending on where you are making money from.
This amount is paid via PayPal, bank transfer, prepaid recharge, or free talk time.
It takes a little bit of time to get your money, about 7 days, which is a major downside for MooCash.
If you like this app, you can upgrade to MooCash+ which rewards you with 150 free coins instantly, amongst other offers.
This app is available for free on Google Play and App Store.
13. Solitaire Cube
Do you love stacking cards? Solitaire Cube is almost identical to Microsoft's spider solitaire where you stack up cards, sorting them by their suits in piles.
Yeah, it's that simple. And you get to earn real cash for doing this.
How do you earn exactly? By enrolling and competing in head-to-head competitions and tournaments where you get to earn real cash prizes.
To enter such tournaments, you have to deposit some money and play against other real players.
Whoever gets the most points at the end of it is the winner. Rewards are deposited to your PayPal account
What I like about this app is that you won't get annoying video ads. It's a seamless experience with smooth controls and animations.
However, unlike other online game platforms that allow kids to earn, with Solitaire Cube you have to be above 17 years to play.
You can download it from the App Store or Play Store.
More Games Apps to Win Real Money
Still not satisfied? Want more options to earn money playing games? Here are a few more games that pay real money for playing!
Who wouldn't want to earn some extra cash while having fun? It's awesome right, I bet you thought this couldn't happen in the world of gaming.
14. GSN Games
To increase your chances of winning by playing online games, I recommend starting with GSN Games. The website allows you to have a go at the different games before you enter a tournament.
As such, you get to test your skills before you can compete for money. You also play with gamers who portray a similar skill level, allowing for a level playing field.
What's more, the platform is owned by Sony Entertainment Pictures, so you can bet it's totally legit. GSN Games also lets you play new and trendy games such as Angry Birds.
16. Repeat.gg- formerly XY Gaming
Just like GSN Games, Repeat.gg lets you play against opponents with skills that match yours. The difference is that instead of online games, the website allows you to link your own games.
Using your own Xbox, Playstation, or other consoles, you connect and challenge others for both cash and rewards. If you don't feel like competing, you can just hang around and play free tournaments.
Players get notifications of upcoming tournaments long in advance. This builds up the hype and keeps the platform vibrant. Popular games to win big include Starcraft and Fortnite.
16. Primeslots
Primeslots is fast-paced and is on top of my list of real money-earning games. All it takes is clicking a button, watching the reels spin, and voila! You could be looking at a big win.
The website is built around casino models with slots being the main games. There are more than 150 slot games with varying features and rewards. To make the deal even sweeter, on sign up you get 110 free spins.
Each spin you make gets you closer to winning a 50,000 GBP jackpot. Basically, every game on Primeslots can make you real cash.
Caution though, this is not a casual game but a real gambling website, so mind your wagering. Click here to Sign Up and Claim Your 110 Free Spins.
17. Gamesville
Since 1996 Gamesville has been a leading website where you can play free online games to earn money.
The company started with Bingo Zone where hundreds of gamers could compete against each other.
With time, other games have been added including puzzles, trivia, cards, pop quizzes, and new bingo variants.
Bingo, however, still remains a popular product and now has an exclusive website of its own; Bingozone.com.
The website also pioneered using ads to promote gamers. You earn points on the platform through GV coins. You can redeem points for pure cash from $5 – $100 prizes.
18. Cash Dazzle
Cash Dazzle offers you a chance to work from home by playing free online games to earn money. During the first five days after registration, you earn tokens by watching sponsors' ads.
From the initial tokens earned, you can enter into competitions for better rewards.
The website also pays you for completing activities. You can be asked to make a purchase, follow someone's Twitter account, fill out surveys, or come up with a recipe.
There are about $1000 in wins every day at the site, with players also getting a chance to win a jackpot.
One of the leading games on the platform is 'Spin The Wheel', a casual game that you can play as many times as you can for free.
19. Bananatic
Bananatic is a website that promises to let you earn money playing games with bananas as the in-site currency.
This Get-Paid-To site is legit, has over 3000 reviews, and comes with a 4.8 excellent rating on Trustpilot. You can also earn by playing on the Bananatic app on Android and iOS devices.
Each game is prized differently with instructions requiring you to reach a certain level to claim a reward.
If you are into online games, you will find completing 'Bananapedia' quests to be very rewarding.
Also, you can earn Bananas by watching ads or by just downloading games. Even better, the website partners with paid survey sites where you can earn extra bananas on top of the third party's pay.
2,500 banana points are equivalent to $5 which you can cash out using Paypal or gift cards.
Additionally, you get to earn $1 or 500 points for every referred user who collects 500 bananas.
Click here to sign up for Free.
20. Second Life
Are you into virtual reality? Second Life is a gaming website with a twist. Here, you can let your imagination run wild as you create new worlds and play games. You can trade in properties, gadgets, and clothing.
By monetizing your own games, you can earn points charged to competitors.
Virtual properties on the site include bars, dance clubs, and other amusements. All these businesses need staff- gigs or jobs that you can also get paid for.
Second Life uses a currency known as Linden Dollar that you can redeem for real dollars.
For every minute on the platform, you can make $1 (real) or even more; it all depends on how creative your projects are.
So lucrative is the website that you can hire web developers to build virtual worlds on your behalf.
21. PCH Games
Publishers Clearing House, commonly known as PCH is probably the most famous sweepstakes company in America.
While chances of winning the grand prize are slim, the promise of a $10,000,000 sweepstake makes every trial worth it.
PCH was established in 1967 and has been expanding since to include online platforms for you to earn money playing games.
As you continue sending entries for the sweepstakes you can play games like Spider Solitaire and Video Poker.
Games on the website can earn you anything from $50 to $500. To start with, go for less popular prizes which come with better odds of winning.
As your winnings grow, then you can comfortably go for the bigger prizes.
22. WorldWinner
Get paid to play games such as Scrabble cubes, Angry Birds, Wheel of Fortune, and Two Dots on the WorldWinner website. This is one of the oldest online gaming sites having been established in 1999.
Entry is free, but to play you need to make a deposit. That said, initial deposits attract bonus bucks that you can use to enter cash tournaments.
What's more, WorldWinner also offers an app to earn real money playing games.
Cash tournaments are charged as low as 25 cents, and you can practice in the 'Free Tournaments' section.
Competitions are grouped according to skill levels. This ensures that every gamer gets a fair chance to win part of $250,000 in daily prizes.
Click here to Claim Your $10 Bonus With your First Deposit.
23. Bingo Mania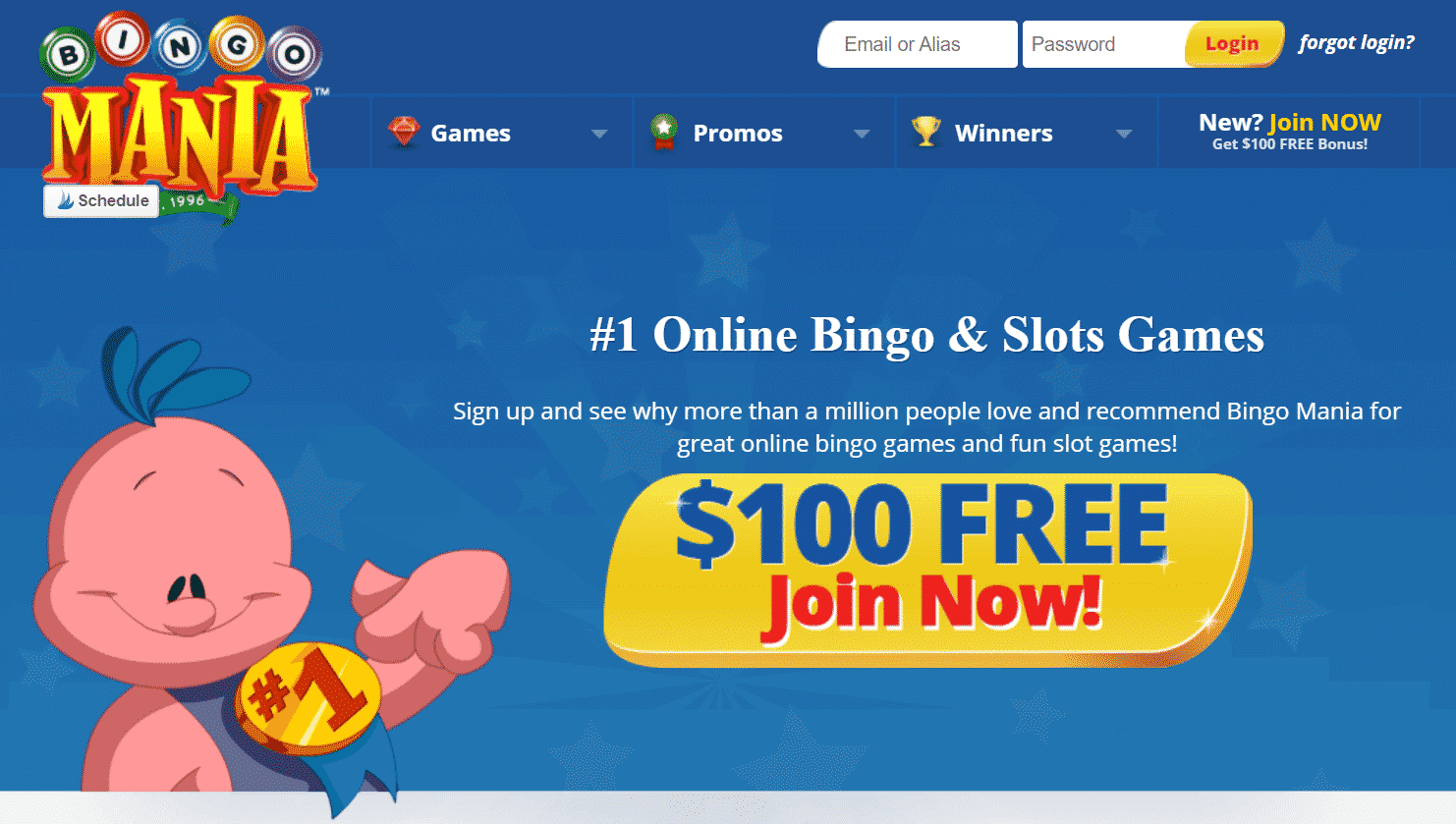 Bingo is now cool! The game that was once associated with old people is now available online. One of the best-paying websites to play the game is Bingo Mania with a $100 sign-up bonus.
While its main focus is bingo, Bingo Mania also offers slot games, poker, and table games. You can access the platform from almost anywhere in the world, all you need is a stable internet connection.
The platform was established in 1996 and now runs one of the most legit apps that pay-to-play games.
You can now invite as many friends as you like to BingoMania – there is no limit to making money with BingoPal.
The cool part here is, every time one of your BingoPals wins $25 or more, you win too, up to $1,000 in extra free bonus! Here's how BingoPal works:
24. Game Testers
As the name suggests, this website pays you to test video games.
These could be mobile or PC games that run on different operating systems. The idea is to determine if a game is boring, slow, compatible, and other such parameters.
Game testing is not just about playing, for some paid tasks you need to be a little geeky.
They are currently looking for Twitch streamers, Youtube gaming bloggers, video game developers, gaming-related blogs, websites, and anyone interested in making money gaming.
You may be asked to fix glitches, correct language errors, or test new game consoles. The pay is, however, worth it.
The website has plenty of work with a typical job earning you $50 to $150 per hour.
How do you like that part-time job? Game Testers has so far paid out over $1.5 million. Usually, the website offers work to testers in the US and Europe.
25. Gaming Jobs Online
Gaming Jobs Online is another website where testers can make money playing games. It has been operating since 2008 and today ranks among the best work-at-home platforms.
Some of the other ways that the website pays you to include taking part in online play sessions and completing surveys about games.
You can also be paid to review mobile games or test new ones before they are launched.
Your pay can be $30 per hour or more – it all depends on the task at hand. If you're not testing games, the site also pays members to watch movie trailers, complete surveys, and take part in gaming focus groups.
Also Checkout: Rewarded Play App Review
26. Razer Cortex
Which games keep you awake all night long? Is it World of Warcraft or Crossfire? Whichever game it is, as long as it's available on the Razer Cortex library, you can be paid for every minute of play.
Currently, the platform pays a total of 50 Razor Silver for gameplay of up to 10 minutes. On a daily basis, you can make up to 1,500 Razor Silver for playing.
The currency cannot be redeemed for real cash but you can purchase lots of merchandise with it; from new games and consoles to t-shirts and headsets.
The platform also supports a mobile app where you can launch, play, and earn points.
27. Corporation Master
Corporation Master, just like Second Life, is a virtual reality-based game.
You play by creating and stimulating the real-life economy. People invest in your ventures, and money earned can be converted into real cash.
The game requires you to create and manage a business. You can later sell, trade-in, or even acquire new ventures. There are also job opportunities inside the virtual world where you can earn wages or salaries.
Payment is via virtual currency that can be exchanged for real cash. Expert gamers accumulate wealth inside the game for a big cashout. Success in the game actually gives you an upper hand in real-life entrepreneurship.
28. Paid Game Player
Are you over 18 years old and looking to make money playing games? Paid Game Player has over 600 games offering cash prizes. The website has been running since 2006 and registration is free.
Games on the platform range from casinos to arcade games. Apart from winning from playing games, you can earn through a referral program.
For this though, you have to upgrade from free to premium membership.
The site also runs draws for different types of games and Premium members can earn extra by reviewing games.
The $4.99 p.m upgrade also allows you to complete surveys for extra cash and to enjoy ad-free games.
29. PlayAndWin
How does being the world's richest virtual farmer sound? That's just one in hundreds of achievements within reach on the PlayAndWin website.
This UK-based platform offers free online games such as Yatzy, Pow, Route 66, and Mahjong 3.
PlayAndWin stands out amongst real money-earning games due to its high prices on draws. For example, 100 coins can get you a 10.00 GBP draw, and you only need a few minutes of intensive play to earn the coins.
With such unlimited potential, this platform comes highly recommended. I also like the fact that there are great tutorials that make each game on the website easier for newbies.
30. QuickRewards
Quick Rewards is one of the best websites where even newbies can earn money playing games.
I like the fact while you are not playing, there are lots of other activities to make money from on the platform.
You can also earn by taking surveys, shopping, surfing the internet, and watching videos. Games to play include 'Guess My Number' and a trivia question that runs every day.
Another simple way of earning is watching videos that can get you up to $5 per video.
You can also earn 50 points easily by clicking videos on the 'How To Video' section. Lastly, referrals earn you 5% of whatever your friend makes on the website.
Also Read: How Getting Paid to Watch Movies Works
What Games Pay the Most Money?
Without a doubt, casino games pay more money compared to other PayPal games that pay cash. The reason is, that the stakes are high and the pool of players is made up of serious gamers.
If you are looking for a big payday, then these are the kind of apps you should target.
But be warned, the higher the expected win, the more cash you can lose.
With that in mind, I have also included games such as Mistplay that pay you by the minute. Such platforms are especially good for beginners since they help you earn as you sharpen your gaming skills.
Related: Get Free Steam Games
31. Bitstartz Casino

Are you a fan of casino games? Bitstartz casino is one of the apps that pay users real money to play games. You can even place bets if you are a gambler, with this casino accepting bitcoins among other currencies.
This online casino is available on the internet in both PC and Mobile versions. There are tons of cash games to be played on this platform and earn real money from- that's 2900+ casino games.
It currently has more than 2.7 million registered players worldwide.
Once you win, you can cash out within 10 minutes with this online casino offering a variety of payment methods including bitcoins, credit cards, and web money, among others.
The good thing about casino games is that there is no limit to how much you earn.
Top winners make more than $2 million from casino games and $5 million from jackpots yearly This makes Bitstartz Casino one of the top games that pay the most.
32. Mistplay
If you spend too much time playing games, Mistplay is just the perfect fit for you. With this app, the longer you play, the more you get to earn.
Every 2-10 minutes playing session is worth a cash reward of about $0.66. To withdraw though, you must hit a minimum of $5. Typically, games on the app earn about $2-$5 per hour.
On accumulating the within, which takes just a few hours, your money is emailed to you as a gift card in less than 48 hours.
You can redeem your units for awesome rewards including Amazon, Google Play gift cards, Visa, and more.
Mistplay also has a variety of games for you to choose from and a grand prize worth $400, launched every week.
Mistplay is a fun way to earn since you can compete against your friends and unlock achievement badges every time you unlock new missions.
That's not all, every badge grants you more units to spend on rewards. This app is, however, only available to Android users.
Click here to read the Misplay review
33. Long Game
Are you wondering what apps pay you real money to play games? And not just real cash, but the money that is insured?
Long Game is one of the gaming apps that not only reward you but also ensure the safety of your earnings.
Basically, it's a 'gamified' savings account where you deposit money in your account, and in return, you are rewarded with coins. From there, you can use these coins to play online games.
You might be wondering how you get to earn. Right? By playing these games, you get cash rewards.
If you doubt the credibility of this app, you'll be satisfied to know that Long Game gives you a 30-day free trial provided you are using Direct Deposit. Most importantly, your money is FDIC-insured.
There is no limit to how much you get to earn on Long Game with daily payouts ranging from $1000 to $1 million+. This app is available to mobile users on Google Play and the App Store.
Sign up today to earn real cash from playing games.
34. World Winner

How does playing against people with your skill level for real cash prizes? That's just one of the advantages of trying your gaming prowess on the World Winner app and website.
To begin with, this platform is owned by the Game Show Network (GSN), a company of Sony Pictures Entertainment. Simply put, this is one of the most legit apps to earn money playing games.
Games on the app include Bingo Cash, GSN Casino, and Wheel of Fortune. Over 100,000 contests take place on the platform with prizes on the line amounting to $250K, daily.
The best part is that, before you leverage your skills, the app offers free tournaments for newbies to practice on.
Also, GSN limits the amount of money you can lose in a year, and once you hit the limit, your account is restricted until the next year. This helps you to play within your means.
Additionally, apart from playing games, you can make money through their referral program. For every successful referral, you earn $25 plus promotional merchandise from world-class brands.
You get your winnings through PayPal or a credit card. To date, the platform has paid members $1.5 billion in cash prizes!
Get World Winner for Android or iOS now and start playing for PayPal cash now.
35. Pogo [Chance to Win $10k In a Lucky Draw]
Pogo is one of the websites with the best money-earning games including mahjong, puzzles, chess, bingo, dominoes, and poker.
The site also rewards you with tokens for watching ads, especially during the first few days after joining.
You also stand a chance to win $10,000 in a daily draw. Registration is free but what I like most is the website's exclusive clubs. These are members-only playrooms where a fee is required for admission.
For example, Club Pogo will cost you $6.99 per month but with benefits; no ads, discounts on in-game purchases, more games, higher prizes, and much more.
Click here to sign up and try your luck on the $10,000 draw.
Also Read: How Getting Paid to Watch TV Works
Games Apps That Pay Instantly to PayPal
So, ready to get paid to play? What do you think about these websites where you can earn money playing games? While there are many apps that offer PayPal games for real money, the trick is knowing the legit ones from the scams.
I have done the leg work for you and presented you with the above legit games apps with the best prizes in the industry.
Further, these are apps that will occupy your free time with fun-filled adventures and adrenaline.
However, it's worth noting that for any app that promises money, it's upon you to understand the ins and outs of the offer.
As such, always go through the terms and conditions before signing up. Also, check out online reviews to understand what current and former users say about the app.
So, which of the game apps interest you the most? Is there an app that pays higher that needs to be on this list? Let me know all about it in the comments and don't forget to install these apps that reward you for unlocking your phone.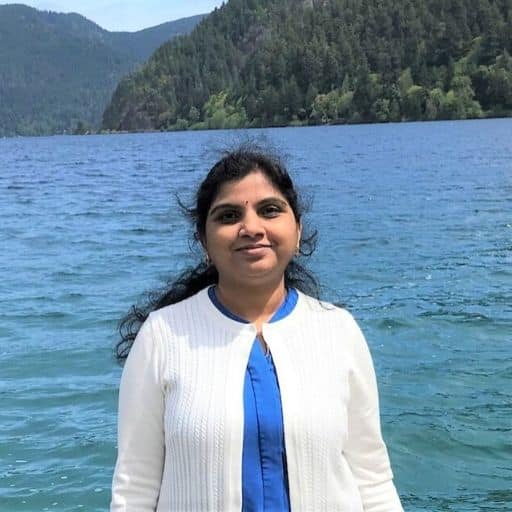 Howdy Folks, thanks for stopping by my blog.
I'm Swati, a proud mom, dedicated side hustler, full-time blogger, and a recognized millennial work-at-home expert. My expertise has been featured on esteemed platforms such as Forbes, CEO Blog Nation, Referral Rock, Vital Dollar, Databox blog, and many more. I have embarked on this incredible journey to share my firsthand experiences in the world of online income generation and to assist all of you in earning money from the comfort of your homes.
Join me in my mission to revolutionize the way we make money and achieve financial freedom. Trust me, it's not as challenging as it may seem!
Together, let's explore the boundless opportunities and pave our paths towards a prosperous future.