After reading this CashGem review you'll have known enough about CashGem, a site marketed as a leading cashing platform.
Some will tell you that if you already have a CashGem account, the best time to delete it is immediately after you create it. The rest praise it for its $15 per referral payout and hefty signup bonuses.
So, where does the truth lie? Is CashGem legit or a scam? Let's scrutinize the platform to get a real picture.
Over 170 million affiliate marketing-related transactions worth a total of $12+ billion USD are made online yearly. On top of that, there are now over 4 billion potential customers online with the number growing rapidly by the day.
Cashgem claims to hold a strategic position in this industry but actually, all they're doing is giving affiliate marketing a very bad name.
Dive in and learn all you need to know about this scam and why you should avoid it.
What is CashGem?
The site started in March 2015 in Amsterdam with the goal of making a network where influencers could promote products and get exposure as advertisers.
CashGem was fashioned to act as a link between influencers and top brands. As stated on their official website, this is the #1 cashing platform, and big-name influencers on Instagram work with them.
Well, I noticed that the CashGem website keeps on launching under numerous yet different names. Some of its previous names include KashTree, Tap2Earn, and NextCash, all within a span of 5 years.
At this rate, you can never guess what they are going to call themselves next. This seems to be the churn and burn strategy that is normally used by scam companies.
As stated earlier the bait is a welcome bonus of $30 and $15 per referral. No matter what they say or have reviewers say, the rewards are entirely imaginary. This is a scam, period!
Its founders launch, con people, and immediately cease operating under one name & relaunch under a brand new name to avoid negative reviews & scam complaints. This way, they can keep repeating the same pattern and tricking more people to join and lose money.
Is CashGem Real?
With a quick Google search, here's what we found on their official webpage: CashGem claims that it started its operations in 2015. However, the site in its current form was first registered in April 2020. This is a huge red flag… and it gets even better.
On the About Page, you'll see pictures of their 'team' and their job titles. "Vice President of Business Development", "Vice President of Marketing", and "Senior Vice President of Demand Generation and Partner".
This may give you a feeling that CashGem is a regular company but it's just a ploy to gain your trust. You should know that all the images used on the page are just mere stock photo models and nothing like 'CashGem Team' exists! Let alone that, the company itself doesn't have a physical location.
Yes, the company does not exist, you read that!
On their Terms and Conditions page (https://cashgem.co/terms), the site is owned by CashGem, PTY, Melbourne, Australia. This is a fictitious address since such a name is not listed on the Australian Securities & Investments Commission.
With the information shared so far, all odds are stacked against CashGem. But if you have already been roped into this scam, worry not. Read on to find out how to delete the app from your phone.
Is CashGem.com Legit?
You've probably heard of the saying "if something sounds too good to be true, it probably is". That's exactly what Cashgem is. So the whole idea is that you'll receive a $30 cash bonus just for signing up and for each referral you'll earn $15, awesome, right?
Quick maths, by earning 20 successful referrals in a day that would add up to $300 in a single day. That means earning about 1.5x the average American salary. That kind of money doesn't come that easily without putting in enough work.
If it were that easy, I'd bet that everyone would be doing it. Moreso, in most cases, typical signup bonuses are normally around $1 – $5. So, to get more than $30 for joining a website raises a lot of questions than answers.
Does Cashgem Pay?
To cut this Cashgem review short, the simple answer is no, the site does not pay.
One thing for sure is, the Cashgem site seems like a genuine cashing platform at first glance. However, they've put together some tricks to convince users that they are legit.
For example, like any other site that asks you to get paid for your online activities, CashGem lures with leading online payment methods. They allegedly pay you through PayPal, Bitcoin, Cash App, Venmo, and even Mailed Check. This is all meant to make it look like they're ready to process payments at any time.
Seeing that they have a payment method makes it look that the site is legit, you get it? By now it should be crystal clear that the testimonials you see on the site are all fake. Further, a simple reverse image search shows that the photos used on the site are downloads from royalty-image sites.
It follows that CashGem payment proofs are just uploaded screenshots of fake SMS messages that anyone can make. As a matter of fact, the only people profiting from CashGem are the scammers behind it after they've stolen your data.
How CashGem Works?
The above video is just one of their supposedly 'happy user' testimonials. Note that the language is openly salesy and at no point does the reviewer tell us exactly what product this affiliate marketing platform is promoting.
They promise you the following when you join Cashgem.co:
Once you get to the CashGem Signup page and create your account

, you'll be rewarded with a $30 bonus.

Inviting your friends to Cashgem by sharing your unique link will earn you $15 for each friend. There is a catch though. To be eligible to cash the referral amount out, you have to complete "tasks" from the Cashgem Cash Wall.

For each paid survey you get $45. However, you are required to give out your personal details (full name, email address, street address, phone number, date of birth, etc.), before you start each task- all of which Cashgem will sell to third-party spammers.

You can also earn through testing products from their 'partners' such as Amazon, Redbull, Burger King. Again without explaining how each company supports Cashgem, all they say is "Their support helps make it possible to accomplish all that we do."

Promoting them on Tiktok can potentially earn you $100, laughable right?
Just one word to sum up everything you've read on how Cashgem works- WOW!
I bet you've never seen anything like this again; $45 for completing one paid survey? That's a red flag! It gets worse when you try contacting the CashGem support team.
You'll be jumping out of the frying pan into the direct fire.
They just respond by saying that their payment system is down and ask you for more personal information to speed up the process.
Listen, there is nothing like "making money online by" clicking a few links, copy and pasting, or sharing a link on social media. After all, that's not even how affiliate marketing works. If you see any platform styled like this, click cancel.
CashGem Reviews
Away from reviews posted on the CashGem website, the platform gets poor reviews from other review sites. Case in point, Trustpilot rates it at 2.2 stars- a 'poor' rating.
Going through the comments is a total heartbreak.
Users complain about 'accumulating' thousands of dollars and never getting a dime. And here is another eyeopener…
From the above review, the company is supposedly based in the Netherlands. Huh. That's clearly fishy. Why? As earlier mentioned, the CashGem lists Melbourne, Australia as their current business address.
So, why are they moving shop every few months to addresses that are not on any official country's business databases?
Also, it's worth pointing out that of the 20 CashGem reviews posted on Trustpilot, only one user who gives the platform a 5-star rating tries to win your trust. Suspicious? The review is actually another sales gimmick urging you to "follow the directions to the point to recieve payment". And yes, the comment is full of grammatical errors!
Not yet convinced that this is a scam? Let's see what Redditors have to say about CashGem.
CashGem Reddit Review
Same story here. Users claim to have made thousands in a short time but after cashing out, the money is not forthcoming. One Redditor poses a question that should be on everyone's mind, "If this was legit, why would anyone work?"
Investigations by other Redditors unearths that at one time in 2019, the company stated that they debuted in 2015. This is despite the fact that, at the time, the domain was just a week old!
Need more proof that CashGem is not legit? The following review requires no commentary.
Is CashGem a Scam?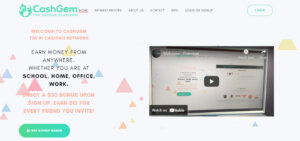 Yes, we can confidently conclude that CashGem app is unethical and a full-blown scam. For one, Cashgem wants to lure you into this scam as well as your friends/family members so that they can steal your information. Such info includes your online banking and social accounts which are at risk of being compromised.
Meanwhile, the scam can also cheers you up by paying you a few times to get you to bring in more people before the crooks eventually vanish for good. Typically though, as a CashGem member, you will never get a penny- they are the real definition of real scammers.
They promise to give you huge rewards in order to get every bit of personal information from you and your friends. Your details are then sold to a third party. They gather hundreds if not thousands of emails and before you realize it's a scam, they'll have already pocketed a lot of money.
They use the scam to create fake social media profiles to gather fake likes on sites such as Facebook.
Is this a theme that runs through similar GTP sites? Nope!
Legitimate sites like Swagbucks, for example, will share with you a certain percentage of the dollars they make from you.
As for CashGem app, you will just be wasting your time and putting your other accounts in danger.
After giving out personal information, you'll start to receive unsolicited emails, text messages, and odd cold calls.
In case you missed it the first time, YOU WILL GET NOTHING FROM CASHGEM, it is A SCAM. Avoid it at all costs!
Also Read: WFH job opportunity that's almost a Scam
How to Delete CashGem App?
Maybe you unknowingly fell into Cashgem tricks and now you're fed up with their email spamming. To get rid of your CashGem account from their database, you'll have to send them an email requesting them to delete your account.
However, you can also limit the damage by simply going to "My Account" and exchanging your email address with a fake one. Proceed to also change your name plus any other details and log out. In short, you'll be resetting your real CashGem login details with fake ones.
CashGem Alternative
Unfortunately there are hundreds of online programs that are scams. Before you get blinded by any of them, make sure that you do due diligence before clicking sign up. Research and look beyond user reviews to know what platforms are real and which ones are fake.
The good news is that there are a few good affiliate marketing apps and websites around that could potentially increase your income.
One of the best sites in this category is Commission Academy. Through the platform's free step-by-step training you'll learn the insights of becoming an affiliate marketer. What you will notice about this site is that it's all about real work or real pay.
Follow their sound advice and you could potentially end up working with 2021's top brands. Here you'll make a living by promoting products and services and keeping up to 75% of the profits.
The best part is that as a legit affiliate marketer, you won't have to worry about support, refunds, or the pains of handling inventory, as well as shipping. Your partner brands handle everything else and pay you for your successful sales and subscriptions.
The Takeaway: CashGem is A Scam
CashGem is a scam site that keeps rebranding to get users' personal details for other scams along the line. The platform is currently selling itself as an affiliate marketing platform with huge payouts.
To maintain the ruse, the site is laden with fake testimonials that talk about making money without going into specific details.
Nevertheless, it's worth noting that affiliate marketing is a real hustle that can see you make 6 figures; currently, ZipRecruiter puts the national average income at $154,700 per year. That's over $70 per hour!
But before you sign up to promote any brand, be on the lookout for the different types of online scams outlined here. Also, research widely for a niche market that speaks to your likes and go for affiliate programs that pay high commissions.
Do you have a go-to referral and sign-up bonuses site? How much do you make and how is the experience. Enlighten others below.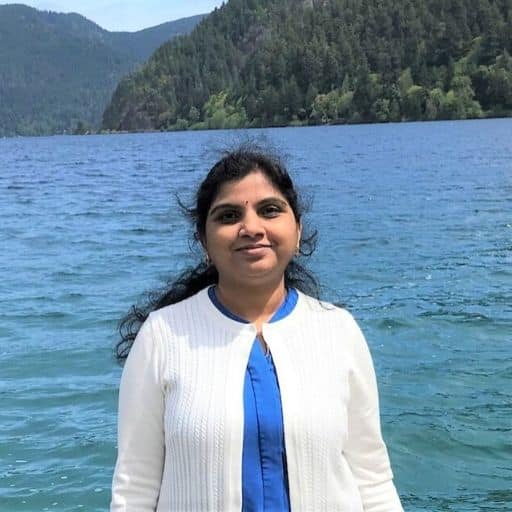 Howdy Folks, thanks for stopping by my blog.
I'm Swati, a proud mom, dedicated side hustler, full-time blogger, and a recognized millennial work-at-home expert. My expertise has been featured on esteemed platforms such as Forbes, CEO Blog Nation, Referral Rock, Vital Dollar, Databox blog, and many more. I have embarked on this incredible journey to share my firsthand experiences in the world of online income generation and to assist all of you in earning money from the comfort of your homes.
Join me in my mission to revolutionize the way we make money and achieve financial freedom. Trust me, it's not as challenging as it may seem!
Together, let's explore the boundless opportunities and pave our paths towards a prosperous future.