Paid Online Surveys have always been the #1 choice for netizens looking to make extra cash on the side.
Moreover, they offer the flexibility to work from anywhere and from any device in your free time. As a work-at-home mom, I can sense the comfort offered by these money-making apps and sites.
If you're looking for some paid online surveys for money, I got you covered. I've done the research for you and made a list of the Legitimate Paid Online Survey Sites with a strong reputation.
There is no harm in trying and giving them a shot. If not, "you're simply leaving money on the table". Yes, these survey sites actually pay…
Here's a Quick glance at the Highlights of the Sites offering 'Best Paid Online Surveys'!!
Launched on Oct 6, 2005, Survey Junkie has over 3 million members to this date, and is promulgated as one of the top-notch survey sites that pay for sharing your opinion.
The best part about Survey Junkie is that their surveys aren't complex and time-consuming. They take about 5-20 mins max! Getting started is simple and all you have to do is complete your profile to find matching surveys.
Survey Junkie is one of the few platforms I tried myself and I really loved it. They've got plenty of surveys and don't compensate for offers like answering emails, watching videos etc.
Fed up of spending hours waiting to qualify for a survey? I like that if you start a survey and don't qualify, you still get a small compensation. It may only be a few points, however, it means you didn't waste any time.
Survey Junkie credits points on successful completion of each survey. These points can be instantly redeemed for cash via PayPal or e-Giftcards.
Looking for a signup bonus? Survey Junkie doesn't offer welcome bonuses. Other than that, I didn't find any notable downsides to this site.
Interested? Sign Up for Survey Junkie Right Here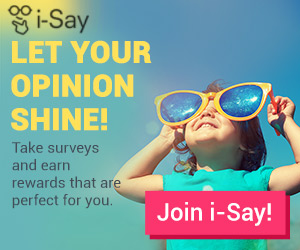 Ipsos I-Say is a reputable online research firm formed in 1975 that has over 15,000 employees.
All you have to do is to register, take a survey, and earn points. You can later redeem these points in terms of Cash paid via PayPal, gift cards (Amazon, Target, iTunes, Starbucks), VISA prepaid cards or donate to charity.
The most exciting thing about this app is that you can even create and answer polls. Participating in surveys for which you qualify will earn you anything between 10 and 100 points. Even if you aren't eligible this survey panel still credits a 5 point bonus.
Besides that, you'll additionally receive 'associate annual loyalty bonus' for the number of surveys you complete in a forthcoming year. The more surveys you participate in, the higher the bonuses you will get. For instance, 5 surveys qualify you for 25 points, 15 surveys for 50 points, and 200 surveys for 600 points.
With every survey, Ipsos permits you to play the Poll Predictor game to win extra prizes by accurately shooting the ultimate survey results.
For every four months, Ipsos additionally indiscriminately picks 10 panelists to win bonus I-Say points too! There is also a click draw in which you stand to win 10,000 points. In order to qualify for this draw, be consistent and respond to questions on profile updates.
Last but not least, get rewarded up to 100 for referring individuals in your country.
Start Earning with Ipsos I-Say US | Ipsos I-Say Canada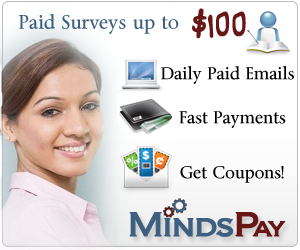 Mindspay, a US-based market research company located in Michigan, pays to share your opinion about products and services. The company offers cash incentives in exchange for completed surveys and completing trial offers.
You can make money via cash-back shopping, desktop services, focus groups, signing up for free and paid trial offers, product testing, and their referral program.
You can also earn credits for completing surveys and reading emails (PaidMails).
Though the number of surveys are limited, you can make between $3-$50 for each completed survey and product/service reviews, product, and service reviews. Plus earn up to $.50 for every email you read.
Not to forget, the referral program is an added bonus. When you refer new members to MindsPay, you get 10% of the earnings they generate. If that is not enough, let me tell you, Mind pays also rewards a $3 sign-up welcome bonus! The minimum payout limit is $50 and the company pays in multiples of $50.
It looks as if you can make a pretty decent chunk of change when you put it all together.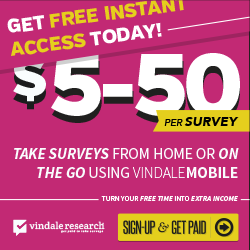 Are you in search of high-paying survey sites? Then Vindale Research is your go-to site, where you can "earn up to $50 per completed survey". Product Developers are willing to pay reviewers between $5 and $50 per completed survey.
Watch paid videos, read emails, review products, participate in contests and opinion polls to add extra cash to your account balance.
This site has already paid $6,955,991+ to its members. Once you've reached $50 in your account balance, simply choose whether you would prefer Paypal payment or check payment.
Sign Up Now – Earn a $1 Welcome Bonus
Sounds familiar? Swagbucks is another reputable site that pays to perform simple tasks besides just surveys.
You get to earn virtual currency called SB (Swagbucks) for taking short surveys, watching videos, reviews, and testing product samples. The surveys take 15 or less at the most and you can participate in multiple surveys daily. Every day, you'll earn bonus points throughout the month as a loyalty bonus too.
Another reason to contemplate Swagbucks is their low payment thresholds.
One Swagbuck is equivalent to one cent.

You can begin cashing out these (SBs) for gift cards for as little as $3 (or 300 SBs) to your favorite restaurants and retailers with Amazon. If you favor PayPal money, the minimum payout threshold is $25 (or 2500 SBs) as a result, your gift cards are even as valuable as money.
Here's why you might love this platform – Swagbucks pays to refer someone to their site and for doing this you'll earn 10% of your referral's lifetime earnings. Cool ahh!
Installing the SwagButton extension will help you with monthly tasks such as Swago (Bingo) and team challenges. Did I mention they give you a $5 bonus from the start? Yes, it does!
For more hot tips and make easy money with Swagbucks join reddit.com/r/swagbucks and Swagbucks Swaggernauts Facebook group
Sign Up Now – Get Started with $5 Bonus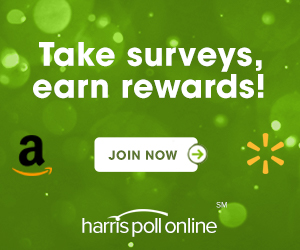 Harris Poll may be a bedrock of the paid survey movement and their findings are usually cited in national news reports. They still offer opportunities for today's youth and child inside you to create some additional money on the Harris poll panelist.
It takes anywhere from 5 to 25 minutes to wrap up a survey. The positive aspect of Harris Poll is in the fact that you get 15 points even for disqualification.
Downsides worth mentioning are, the worth of each survey is not disclosed until the end and they aren't many surveys to participate. They send a total of 3 to 5 surveys a month. If you don't want your inbox to flock with emails and surveys, then Harris Poll is the one to choose.
Completed surveys result in a deposit of credit points. 1250 points are equal to $10 in real value. These points can be exchanged for e-cards and gift vouchers from Amazon, iTunes, Starbucks, ESPN, Walmart, etc. And, you earn an automatic entry into their regular money sweepstakes for each completed survey. Harris Poll is only available on Android devices.
➡ Get Started With Harris Poll – US, CANADA

Like other apps, if you don't want to get attacked with survey invitations each day, Pinecone Research is an excellent opportunity.
You won't receive as many invitations, but every survey has a flat rate of $3 per survey and doesn't take more than 10-15 minutes to complete.
Pinecone Research offers paid opinion surveys and product testing for unreleased products occasionally like some of the other survey apps, it'll proceed you into the biweekly $500 cash sweepstakes and $4,500 quarterly prize draw.
A notification will be sent to your email when you have a survey available. The members receive points for each completed survey, which can be redeemed for cash or prizes.
➡ Sign Up for Pinecone Research Germany, Canada
MyPoints is a popular rewards site that pays to shop online, read emails, play games, take surveys, watch videos, search the web, print coupons and refer friends! One site, many ways, isn't that cool?
With MyPoints you can earn free gift cards when you shop online at 1900+ top retailers like Walmart, eBay & Amazon.
Get Paid Up to $50 per Survey + $5 Bonus after First 5 Surveys
MyPoints rewards up to 500 Points per day for watching funny videos, 300 Points per completed survey, 10 Points for playing games and 5 Points to read emails and visit their partners.
You get to earn up to 25 Points per dollar spent for your purchases. The threshold limit of 700 points($5) can be exchanged them for Amazon gift cards or 75+ other retail and restaurant partners, travel miles that get transferred to your United MileagePlus account, or a direct deposit to your Visa prepaid card or PayPal account, which can later be sent to your bank account.
Sign Up for MyPoints – Make Up To $50 Per Survey!
Inbox dollars is almost similar to Swagbucks, helping you to multiply your earnings.
Paid surveys are a major way to earn money with Inbox Dollars, and however, you'll additionally get pa
id to browse emails, check merchandise, redeem coupons, online searching, and looking at videos online.
Also, they offer a $5 bonus simply for signing up to their platform.
The surveys don't pay much and can be accomplished in less than 10 mins. If you can spend a few more minutes in handling other tasks, you can easily make a decent money off this platform. The payout limit is $30 that can be encashed via PayPal deposits. If you prefer other methods, you'll be able to additionally redeem your points for chosen retail gift cards too.
KickStart with a $5 Sign Up Bonus!
If you love online shopping and have a few minutes to share your insights, let me tell you, you can get paid for doing so! All you have to do is install this trustworthy app from Harris Poll.
Install the app (NielsenOnline.exe), complete the registration by syncing it with your account to Amazon, Shop tracker welcomes you with a $3 Visa Gift Card within 48hours! You can sync up to 3 Amazon accounts per household with a minimum one month purchase history. You may also be asked to participate in the occasional online survey.
If you're worried about the privacy of your personal information, you need not! ShopTracker automatically removes your name, shipping address, and any payment information and catalogs ONLY shopping data and guarantee your complete anonymity along with the secure, worry-free use of your login credentials/password within the app.
You will never need to offer credit card information or purchase anything in order to participate.
After the initial sign up, the earnings are recurring and monthly as long as you have the app installed. That's $36 passive income every year without doing anything! After reaching the threshold, you can easily redeem HIpoints for gift certificates, donations to charity, and more.
Click here, to sign up for ShopTracker…
Springboard America is another leading online market research communities in the US, giving fellow Americans the opportunity to participate in surveys and discussions that will influence the brands, products, and services.
This surveys site offers cash rewards for sharing your opinion. The registration process isn't tedious too!
They also run a great referral program, where each referral earns $2 per sign-up (who qualifies and confirms membership). Payments are made, once you reach $50 in prizes (via Amazon or Visa gift card).
Note-worthy drawback – there aren't many surveys available and those that are available require getting qualified.
Get Started with Springboard America
---
MySurvey-UK (Get paid up to £5 per completed survey)
Do you need to incorporate your voice within the monthly Conference Board Consumer Confidence Survey reported on the Wall Street Journal and also on the big apple Times?
MySurvey offers regular survey opportunities that award you with points which will be saved for money, gift cards, and merchandise prizes.
Since 2014, MySurvey has awarded its members greater than $32 million in payments together with PayPal money and Amazon gift codes.
If you are non-US resident, then MySurvey app would have been the first and foremost survey app to download since it provides open membership to many other international countries.
Nielsen is a global information and measurement company spread to 100 countries with leading market positions in marketing and consumer information, television and other media measurement, online intelligence and mobile measurement.
Unlike any other site, this survey panel works quite different. This amazing site offers the ability to influence the products you see on store shelves when you go shopping. The information you provide helps make better marketing decisions and influence future shopping experiences, in return, you're rewarding with great exclusive opportunities.
Get started by filling up the signup form that includes your household information. As a panel member, you will then be provided with a hand-held scanner or access to our mobile app. Use this to scan the barcodes on all products you (and other household members) purchase during any shopping trip.
In the process, you'll also have to make a note of information, like where you shopped, how much you paid, how many you bought, and more. These records are then to be handed over to Neilsen that helps influence future shopping experiences.
So, what's in it for you? You get to earn:
Entries into Sweepstakes (held monthly, quarterly and annually) – astounding opportunity to win a $2,500 Visa® Prepaid Card!
Points redeemable toward great gifts – a wide variety of merchandise.
Even more gift points when you take part in surveys!
Sign Up Now – Make a difference, while earning Great Rewards
Get Paid for Online Surveys…
Participating in 'Paid online surveys' is fun, free, and simple. Don't let this opportunity go off your hands!
For decades, paid survey sites have set a misconception about 'making money online'. I agree most online sites were scams and the bad remark they left can't be wiped out for another decade. But, with the advancement in technology and media, scammers can no longer sustain for a long time.
Survey sites don't make you rich or earn you hundreds of dollars a day. But, you can still make a few dollars worth the time you spend. If you 're skeptical or looking for the best options to get rich, I'm not going to persuade you into it. Then these might interest you:
Write down your comments below and share your opinion about the surveys sites you think are the best.
Your opinion is gold and helps me curate this list even better and safeguard fellow netizens from internet scams.