Our Surveyworld Review 2023 answers questions on how this popular survey site operates and rewards users.
As a way to make money online, paid survey and research platforms can help you earn PayPal Cash, virtual gifts, and branded merchandise. Such platforms act as a middleman between you and various companies that need user data and opinions.
Typically though, a survey and research company can only offer a side hustle gig with a low pay rate. With this in mind, I recommend you signup for several legit survey sites to increase your daily income.
Now, let's look at how you complete surveys, how much and how you get paid, and other ways to earn from this popular survey and research company.
First things first, does Surveyworld really pay you? Read on to find out more about the inner workings of Surveyworld, starting with a quick profile of the platform.
What Is SurveyWorld?

SurveyWorld acts as a liaison between individuals seeking to take surveys and earn rewards with various research brands. Basically, it offers an impartial community that compares research companies.
The website compiles surveys from various research companies into a single platform, but it does not provide its own paid surveys. It was launched in 2017 and is owned by e-Bron Marketing BV, a marketing and advertising company located in the Netherlands (est. 2005).
SurveyWorld is not a research site and does not distribute test products, conduct surveys, or oversee rewards. The platform informs users about active survey companies seeking participants. For any concerns, users should directly reach out to the research company they joined.
| | |
| --- | --- |
| CRITERIA | FEATURES |
| Year Established | 2017 |
| Purpose | Paid surveys aggregator |
| Available Countries | The Netherlands and 70+ countries |
| Applicable | Anyone |
| Subscription Plans | None |
| Average Earnings | Not Specified |
| Cuts & Commissions | None |
| Payment Method | None |
| Bonus Program | None |
| Google Play | None |
| App Store | None |
| Ratings & Accreditations | Not Trustpilot Verified (2.5/5 stars)Not BBB accredited |
| SurveyWorld: Final Verdict | The site is legit as a paid surveys aggregator |
How Does SurveyWorld Work?
SurveyWorld.me operates as a survey aggregator, directing users to other platforms to earn a commission. Upon responding to a few queries, users receive a promotional link to an external website. To get paid, users must complete the survey on an external site.
The website is a no-cost platform that connects you to paid jobs. To participate, you need an email address for survey invitations and internet access to complete online surveys.
Here's how SurveyWorld operates:
Sign Up On SurveyWorld
Both the survey world sign-up process and survey world login are unusual compared to other review sites. There is no visible sign-up button or form on their site, or detailed guidance on how to join.
Instead, you are advised to contact the support team through the official SurveyWorld Facebook page via a private message.
Tip: Since the site isn't user-friendly, I recommend googling the "Survey World Sign Up Page" to get invitations to participate in surveys featured by the platform. Through the approach, apart from The Panel Station, I got an invite to a survey site called Opinion World.
Another way to access a signup form on Survey World is by following the company's social media account. The reason is that the management team behind Survey World usually posts various survey links on Facebook.
Find Surveys and Get Paid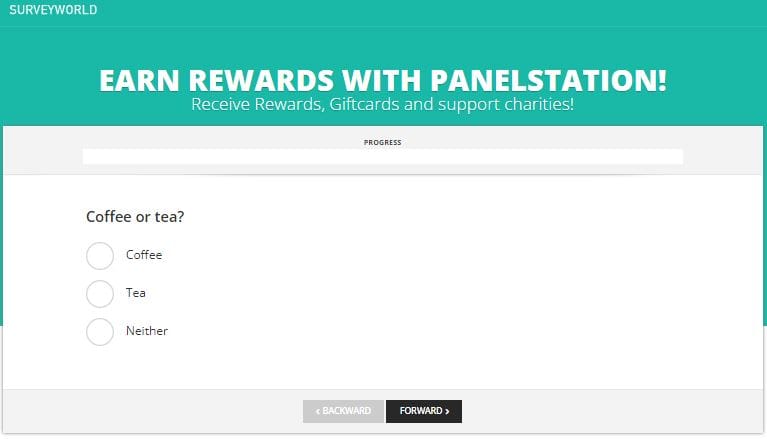 SurveyWorld assists in matching you with paid survey opportunities. Survey types and earnings vary depending on the third-party site.
Typically, depending on availability, you get a short quiz that ends with a redirect to the source survey panel. For example, on the above trial, I got an invite to complete surveys on The Panel Station.
To add to the unusual nature of the site, upon clicking Join Here, I was informed that the survey and research panel site was not accepting new applicants at the moment.
SurveyWorld Testers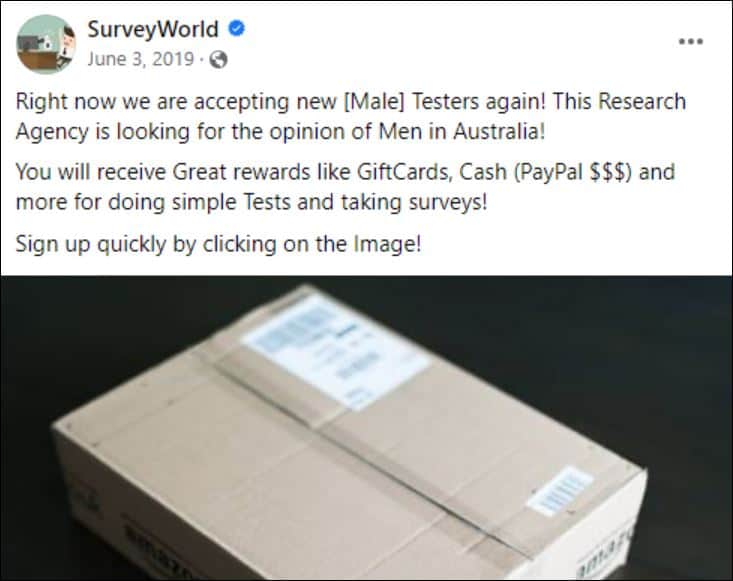 Survey World testers are required based on specific demographic requirements of the research companies they collaborate with. For example in the above "Survey World male testers" job, the company was recruiting male survey takers for a research agency partner.
They emphasized that the agency was interested in the opinions of men in Australia. This indicates that the client had a specific focus on gathering insights from male participants in the Australian demographic.
The post highlights the rewards offered to testers, such as gift cards and cash (PayPal). Typically, the tasks for male testers can include simple tests and surveys, as well as product testing and other tasks related to male consumer behavior.
Similarly, this "Female testers" post is reaching out to Survey World female testers in India. They mention that a prominent research company (The Panel Station) is specifically looking for feedback from women in India.
This suggests that the client has a particular interest in understanding the perspectives and preferences of women in the Indian demographic. The offer is a product testing gig, with participants keeping the test item.
Can You Really Make Money With Survey World?

Yes, you can make money with SurveyWorld. However, your earnings with SurveyWorld are contingent upon the specific panels you join. In terms of earning potential, note that actual survey sites pay relatively low rates.
Reviews on Quora are mixed on the topic; while some users mention earning around $10 a day, others express skepticism and doubt about the potential to earn significant amounts of money through SurveyWorld.
A common sentiment is that while some money can be made, you are unlikely to make $100 a day from paid studies.
The majority of survey platforms offer around $1 to $5 per hour at most, making the hustle suitable for supplemental earnings rather than a full-time occupation. As typical with survey websites, your daily earnings through SurveyWorld's partner sites are unlikely to exceed $100.
How Much Does SurveyWorld Pay?
SurveyWorld does not pay survey takers. The site's only aim is to direct you to different survey platforms that require new workers. Reviews on Quora suggest that earnings from SurveyWorld's suggestions are not substantial.
While some users mention earning up to $10 a day, the consensus is that the earning potential is limited. that said, a few reviewers mention the possibility of making around $20 in a day, but there's no indication of higher earnings.
Is SurveyWorld Legit?
Wondering if SurveyWorld is legit or a scam? All indications are that the website is a legitimate platform that aggregates surveys. Further, the Privacy Statement of e-Bron Marketing BV focuses on the protection of personal data for website visitors and clients.
The company ensures compliance with Dutch privacy regulations, including the General Data Protection Regulation (GDPR) and the Dutch Telecommunications Act.
Most importantly, E-Bron Marketing BV is a legally registered company that serves as the 'Processing Manager' as per GDPR rules, responsible for handling personal data in specific scenarios. This includes processing data from visitors to the SurveyWorld website.
The data handled ranges from provided information to data generated during site visits and the info sourced from the platform's Social Media.
Pros & Cons of SurveyWorld
Before using SurveyWorld, you need to consider both positive aspects and potential drawbacks, as follows:
| Pros Of Surveyworld | Cons Of Surveyworld |
| --- | --- |
| Their customer support is responsive | You cannot directly earn money through Survey World; it doesn't offer earning opportunities on its platform. It acts as an intermediary. |
| They exclusively promote reputable survey platforms | There are no registration or sign-up options available to join this website |
| Survey World links you to legitimate survey sites | Finding a joining form can be challenging |
| No specific qualifications are required to become a part of Survey World | |
SurveyWorld Reviews
SurveyWorld has been reviewed on various websites and review forums. However, there is no result for "Survey World BBB", which means the website is not accredited or rated on the Better Business Bureau (BBB) website.
Trustpilot has not verified Survey World, with reviews on the site awarding it 2.5 out of 5 stars. In addition to the "poor" rating, only 5 people have shared their views.
Four of the reviewers are concerned with the platform's credibility and legitimacy. Similarly, reviewers on Quora are divided on SurveyWorld's legitimacy; some reviews label it as a scam, claiming that it doesn't allow users to withdraw money or that it's a waste of time.
On the other hand, there are reviewers who state that SurveyWorld is a legitimate site when looking to discover valuable surveys online.
SurveyWorld Review (As Per TrustPilot)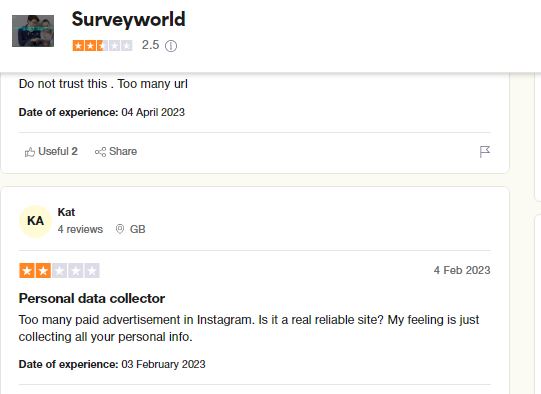 SurveyWorld's Trustpilot reviews suggest skepticism and doubts about its legitimacy. A reviewer expresses uncertainty regarding compensation for sharing opinions.
Another review adds to this skepticism, cautioning against trust due to perceived excessive URLs, which could indicate a lack of credibility.
Users also talk of encountering many paid advertisements, which raises questions about the platform's data collection practices and general credibility issues.
Another reviewer contributes to doubts by recounting unresponsiveness from SurveyWorld, raising concerns about the platform's credibility and communication practices. Regarding payment rates, the Trustpilot reviews don't provide explicit information about Survey World's earning potential.
SurveyWorld Review (As Per Quora)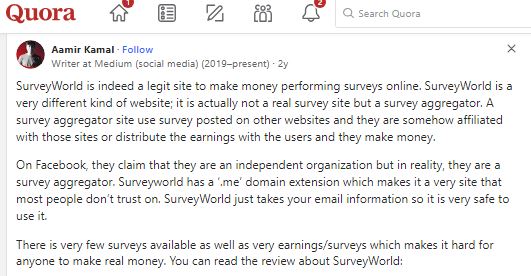 Some reviews on Quora highlight the challenge of making significant money through SurveyWorld. In particular, one user notes that featured surveys are tailored to specific individuals, limiting access based on preliminary questions.
Also, earnings from the external surveys tend to be around 700-800 cents per study, making it difficult to reach $100 a day. The reviewer in the above screengrab is skeptic about SurveyWorld's '.me' domain and its potential implications for trust, malware, and data security.
In contrast, a different Quora reviewer claims that money can be earned from SurveyWorld. They share their experience of earning up to $10 a day through surveys. However, the earning potential is seen as limited to this range. The user suggests using multiple survey apps to increase earnings.
A different Quora SurveyWorld review acknowledges the site's popularity but emphasizes that substantial income might be challenging to achieve.
On the potential of earning with SurveyWorld, some reviews label SurveyWorld as a scam, alleging that although surveys are offered, withdrawing money becomes impossible. Lastly, on job selection, this reviewer advises consistent participation in high-paying legitimate survey sites to achieve substantial income.
Also Read:
SurveyWorld Alternatives
Need a place where you can make the most per survey? Below is a brief look at similar sites to Survey World that are legit and safe alternatives:
You get $10 free for joining the site and offers to earn from playing games, taking surveys, and shopping remotely.
Sign-up earns you $1 for free, with studies getting you up to $2. You can also make up to $50 when you join apps such as Stash through a KashKick referral.
This is a leading UK research company that pays participants $0.20 to $0.35 for short studies. While the pay is considerably low, the site offers a steady flow of jobs for online survey takers.
Is SurveyWorld Fake or Real? [Final Thoughts]
SurveyWorld is real. However, within the context of online paid survey sites, the platform can be a waste of time for experienced survey takers.
Basically, survey aggregator sites can be total scams or legitimate websites that often result in time wastage due to low earnings. This viewpoint suggests that SurveyWorld is real, but it falls into the latter category where earning substantial cash or points for surveys is difficult.
It's, however, worth appreciating that SurveyWorld may keep you appraised about jobs from high-paying sites like Opinion Outpost and Branded Surveys.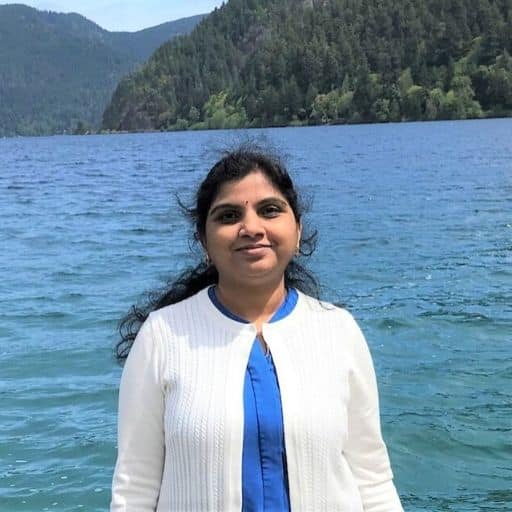 Howdy Folks, thanks for stopping by my blog.
I'm Swati, a proud mom, dedicated side hustler, full-time blogger, and a recognized millennial work-at-home expert. My expertise has been featured on esteemed platforms such as Forbes, CEO Blog Nation, Referral Rock, Vital Dollar, Databox blog, and many more. I have embarked on this incredible journey to share my firsthand experiences in the world of online income generation and to assist all of you in earning money from the comfort of your homes.
Join me in my mission to revolutionize the way we make money and achieve financial freedom. Trust me, it's not as challenging as it may seem!
Together, let's explore the boundless opportunities and pave our paths towards a prosperous future.