This Survey Compare review 2023 is timely when looking for a way to make money online in a legit way. Apart from answering surveys, the site puts other online jobs like product testing and data entry on a single platform.
As a survey aggregator site, Survey Compare does all the heavy lifting to find survey platforms like Swagbucks and Branded Surveys that pay highly. As such, you don't need to join many survey sites to earn.
In this post, you'll know how to join Survey Compare, its pros and cons, how legitimate and safe it is, and the site's popular survey partners.
Also, read on for Survey Compare payout threshold, popular reward options via the site, and top Survey Compare alternatives.
What is Survey Compare?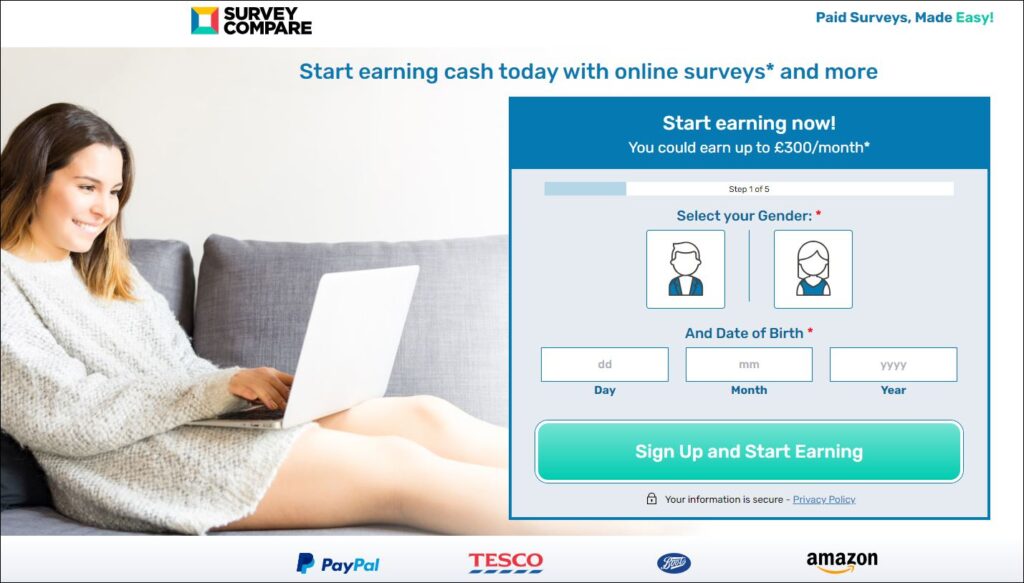 This is a UK-based online platform that acts as an intermediary, facilitating connections between individuals and various research websites. It also connects you to diverse GPT (Get-Paid-To) sites, empowering you to earn money from home.
In essence, it serves as a middleman, helping users discover other websites where they can generate income. The parent company, Marketing VF Ltd, owns and operates Survey Compare.
At its core, Survey Compare functions as a platform that links users with survey companies, providing them with opportunities to participate in surveys and focus groups.
Survey Compare Overview
| | |
| --- | --- |
| CRITERIA | FEATURES |
| Year Established | 2020 |
| Purpose | One-stop "middleman" for paid surveys |
| Available Countries | The UK, with sister sites for the US and other markets. |
| Applicable | 16 years and older |
| Subscription Plans | None |
| Average Earnings | Not Specified |
| Cuts & Commissions | None |
| Payment Method | None |
| Bonus Program | None |
| Google Play | None |
| App Store | None |
| Ratings & Accreditations | TrustPilot – Verified (3.6/5 stars); Not BBB accredited |
| Survey Compare: Final Verdict | The site is legit as a research place for paid studies. |
Is SurveyCompare Legit?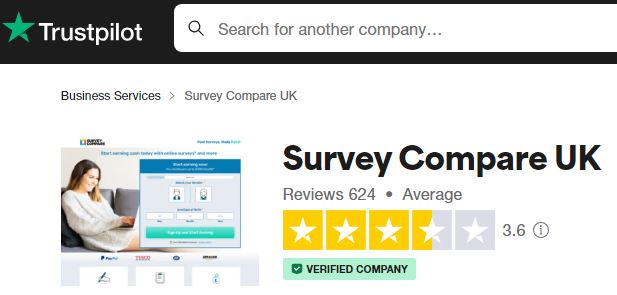 Yes, Survey Compare is a legitimate website that connects users with reputable paid survey websites to get money. It offers a straightforward way to access various top survey sites, all consolidated in one place.
Most importantly, the company is Trustpilot-verified with an average TrustScore of 3.6 stars from over 600 reviews. Further, the company operates under the trading name of Marketing VF Ltd, a company that is registered in England and Wales.
Therefore, Survey Compare stands on a solid foundation, making it a trustworthy option for those seeking opportunities to make money from surveys and other tasks like data entry.
Established in 2009, Marketing VF has gained recognition as one of the rapidly growing technology companies in the UK, solidifying Survey Compare's credibility and reliability as a platform.
Note: To protect users, Survey Compare strongly advises against trusting websites that promise the possibility of becoming rich through surveys.
How Does Survey Compare Work?
Survey Compare's working model is to continuously seek and connect users with the most equitable, trustworthy, and rewarding paid survey platforms.
The company lists platforms seeking insights into consumer views of brands and services. They achieve this by partnering with survey platforms that gather thoughts and opinions from individuals through online surveys.
In return for your valuable input, these companies express their appreciation by offering rewards such as cash, gift vouchers, and other incentives.
Before you can access the list of different GPT sites, you need to create an account on Survey Compare as explained below:
How To Get Started With Survey Compare
Survey Compare Signup is easy and can be done in three simple steps:
Step 1: First, go to the Survey Compare Join page and enter your login details, along with your birthdate and gender.
Step 2: Click the "Sign Up and Start Earning" button to proceed. Log in to the new account after confirming your email.
You'll be presented with a list of survey sites and panels tailored to your location. Here, you can express interest in specific platforms by tapping the "Join Now" button.
Step 3: To finalize your registration, click the "Complete Sign Up" button, and Survey Compare will soon send you invitation links to the survey panels you selected.
You'll get mail from the panels, requesting confirmation of your application. Follow the provided links to confirm, and you're all set to begin earning.
Expect regular survey invites, for your demographics, sent directly to your email inbox. You can partake in as many studies as you prefer and earn for each one you finish.
Survey Compare Survey Jobs
Primarily, Survey Compare provides an opportunity for earning by granting access to cash surveys. The availability of survey opportunities relies on the demand that companies have, mainly based on factors such as age and gender.
By applying for many survey panels, you increase your chances of getting more study invitations. This gives you the freedom to select and participate in jobs that offer the most rewarding incentives for you.
Also, Survey Compare allows you to compare survey offers before you opt-in. The jobs usually come from well-known Survey Panels like:
Additionally, to help you increase your income per month, the site guides you on jobs like data entry, product testing, typing gigs, and mystery shopping.
Stay-at-home parents are especially favored by the site. Case in point, there are multiple tutorials, tips, and ideas on how the demographic can benefit from hobbies like blogging, forex trading, and teaching music.
Does Survey Compare Really Pay?
Survey Compare does not offer direct payments or host research and paid studies. Instead, it operates as a referral service, suggesting reputable websites to users, and providing them with opportunities to earn money through legit survey sites.
The amount you can earn through the recommended sites depends on the time you dedicate to participating in the studies.
How Much Can I Make on Survey Compare?
The platform reports that most surveys have the potential to earn you £5. That said, it's worth noting that some reliable survey websites can pay up to £50 ($64) for jobs that take longer to complete. Additionally, certain panels offer gift vouchers, cash redeemable points, and entries into contests as rewards for your participation.
Best survey sites that pay well use PayPal as a secure and convenient way to transfer money electronically. Meanwhile, gift certificates and vouchers are commonly delivered via email.
Survey Compare Reviews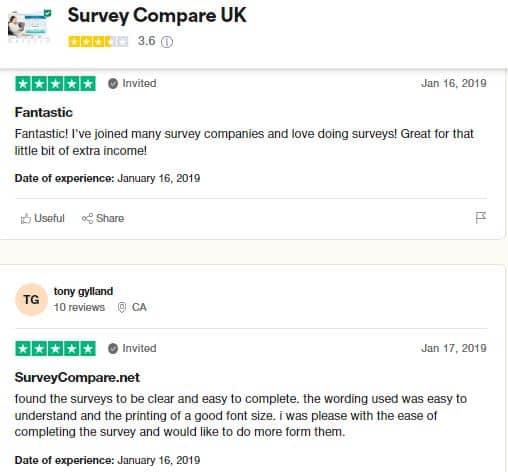 Positive reviewers on Trustpilot have given positive feedback about the website, describing it as an "Excellent Site," "the best for first timers," and a gateway to new online surveys and their respective sites.
Other reviewers view it as a "survey world in your hand" and consider it one of the best platforms for gaining comprehensive insights into the survey market. Other accolades include "First Class Advice" that Survey Compare provides for at-home workers.
Survey Compare Reviews (Trust Pilot)
A user reported encountering significant issues while attempting to participate in surveys. The main issues include connectivity problems leading to errors when selecting or accepting offers. Issues of malware, viruses, and scams have also been highlighted, as captured in the above screengrab.
In another negative Survey Compare Trustpilot review, a user was frustrated by faulty URLs and the high number of qualifying questions for each survey compared to other platforms.
Additionally, the user faced difficulty navigating back to the homepage and noticed surveys with errors still listed as waiting upon logging in again.
Survey Compare Reviews (As Per Reddit)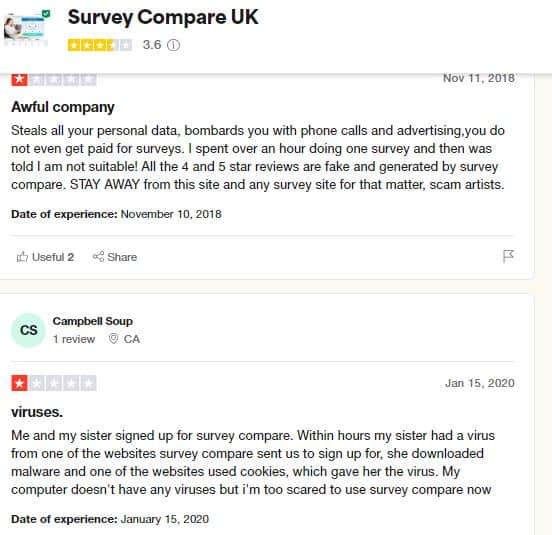 Survey Compare does not have many reviews on Reddit. One of the extensive reviews is somewhat negative:
The user highlights that the positive sentiments appear to have been copied from a similar question on Quora a year ago. This raises doubts about the comments' authenticity making it, in my view, a negative Survey Compare review.
Pros and Cons of Survey Compare
| Pros Of Survey Compare | Cons Of Survey Compare |
| --- | --- |
| No Cost Involved: Entirely free to use, as mentioned on their website. | Third-Party Offers: Only connect users with other survey sites, which means you have to interact with 3rd party sites. |
| Beginner-Friendly: For those unfamiliar with money surveys and GPT apps, the website serves as an excellent starting point. It connects users to reputable and well-known platforms, eliminating the need for extensive research to find trustworthy survey sites. | Limited Appeal for Experienced Users: Primarily caters to beginners, potentially making it less appealing to those with prior knowledge of microtask apps. |
| Time-Saving: Allows users to efficiently sign up for various survey sites and access multiple paid research opportunities within a single day. | Regular Promotional Emails: Survey Compare may send promotional emails regularly, making it difficult to block them as they come from the same email address used for job opportunities. |
| Comparative Analysis: Enables users to compare different research offers, assisting in identifying the highest-paying jobs. | |
| Transparent Earning Potential: The platform is forthright about users' earning potential and provides valuable advice to steer clear of scams. | |
| Charitable Support: Has a positive impact on charitable causes, raising funds for organizations like Honour Village Cambodia, Samaritans, and Lifelites. | |
| Flexibility of Work: Users can participate in market research from any location and at their preferred times. | |
How To Get Paid on Survey Compare?
Survey Compare's minimum payout is not stated on its website because the platform does not provide direct payments. To reiterate, Survey Compare only connects you to websites where users can earn money; the site acts like a referral service.
To receive payment, users must sign up separately for these recommended websites and then proceed to complete surveys through those platforms. These external companies are the ones that compensate you for your work.
Caution: The homepage of Survey Compare is slightly confusing, as it displays popular payment options such as PayPal money and free Amazon gift cards.
This might lead new users to believe that they can receive these rewards directly from Survey Compare, whereas, in reality, these rewards are earned by completing surveys on the recommended external sites.
Best Survey Compare Alternatives
Need a place where you can make the most per survey? Below is a brief look at similar sites to Survey Compare that are legit and safe alternatives:
1. Apex Focus Group
This is a legit website that assists individuals in discovering paid focus groups, clinical trials, and online surveys. Just like Survey Compare, Apex Focus Group does not directly pay participants or conduct focus groups. Instead, it acts as a mediator, connecting individuals to various open studies conducted nationwide.
Apart from helping users earn money online, the site also features medical and clinical trials that pay cash. Participation in onsite trials can get you USD 500 per month or more.
For example, you can maximize your earnings in this 2-year fibroids medication study. Each onsite visit gets you up to $150, with the entire study making you $4k!
Find More Studies On Apex Focus
2. SuperPay.me
SuperPay.Me is an established online platform that offers the opportunity to earn extra cash by participating in online surveys. In addition to cash rewards, users can also earn gift cards redeemable at various retailers like Amazon, Starbucks, and Nike.
The platform collaborates with survey providers actively seeking new participants to contribute valuable survey data through their online survey tools.
The site offers a wide array of payment methods, including PayPal Cash, Instant PayPal cash, and Skrill, allowing users to withdraw as little as $1.00 from their earnings.
3. Testerup
Testerup allows members to gain access to a diverse range of opportunities, including taking various surveys, testing games, installing apps, trying products, cosmetics, and more.
As you complete multiple offers, you become a premium tester, unlocking access to higher-paying offers and the potential to earn even more money.
By participating in online testing, you have the chance to earn up to USD $120 per test offer. After completing the free registration, each member receives over 50 offers to test, amounting to a value of over $800. You can conveniently test from anywhere, at any time, through your mobile, computer, or other smart devices.
For direct surveys, user testing, and other online tasks to help you earn cash online, here are market research companies to register on:
You get $10 free for joining the site and offers to earn from playing games, taking surveys, and shopping remotely.
Sign-up earns you $1 for free, with studies getting you up to $2. You can also make up to $50 when you join apps such as Stash through a KashKick referral.
This is a leading UK research company that pays participants $0.20 to $0.35 for short studies. While the pay is considerably low, the site offers a steady flow of jobs for online survey takers.
Also Read:
FAQs
1. Is Survey Compare a Scam?
No, Survey Compare is a legitimate company based in North London, offering a valuable and established service that connects users with surveys to make money. Also, neither Survey Compare nor the platforms it features ask you for any money.
What's more, Survey Compare is transparent about the potential earnings from surveys. The site also gets positive reviews for its exhaustive and comparative research on surveys.
2. How Much Can I Earn on Survey Compare?
Survey Compare doesn't pay users. Instead, visitors are directed to several survey opportunities on the web. The referrals are trustworthy including websites like MSE that report users earning between £200 and £800 per year.
Although you will earn from referred websites, the site encourages taking many surveys, with each job typically earning you between 50p to £5. Additionally, some sites may reward you with hefty gift vouchers and entries into competitions.
3. Can Teens Work On Survey Compare?
Yes, if you are at least 16 you can join any panel on offer. In some instances, panels may have a lower age requirement; 13 years or 14 years. You can find out which ones allow younger participants when selecting surveys.
4. How Does Survey Compare Make Money?
Sites like Survey Compare generates revenue through affiliate marketing, receiving commissions by introducing users to various job sites and related platforms. When users sign up and work, Survey Compare gets commissions for referrals.
This business model allows the platform to monetize its services effectively. By connecting users with reputable survey companies and establishing partnerships with them, Survey Compare provides a valuable service that benefits both users and the platform.
Survey Compare Review [Final Thoughts]
Survey Compare functions as a recruitment site for survey panels, but it's not a research panel. Its significant contribution lies in assisting marketing agencies in gaining insights from consumers and understanding their genuine opinions.
Survey Compare is fully transparent about the rewards you can expect from signing up, which vary depending on the company involved. As a linking agency, Survey Compare offers opportunities to supplement your income with some of their recommendations making you £300 per month ($380+).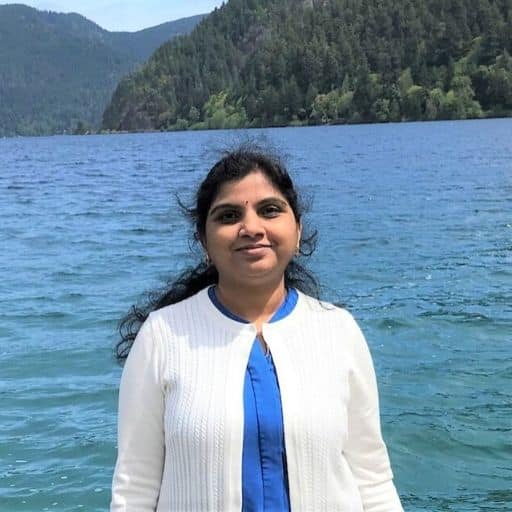 Howdy Folks, thanks for stopping by my blog.
I'm Swati, a proud mom, dedicated side hustler, full-time blogger, and a recognized millennial work-at-home expert. My expertise has been featured on esteemed platforms such as Forbes, CEO Blog Nation, Referral Rock, Vital Dollar, Databox blog, and many more. I have embarked on this incredible journey to share my firsthand experiences in the world of online income generation and to assist all of you in earning money from the comfort of your homes.
Join me in my mission to revolutionize the way we make money and achieve financial freedom. Trust me, it's not as challenging as it may seem!
Together, let's explore the boundless opportunities and pave our paths towards a prosperous future.