To make extra money online easily, this Money SMS review 2023 is just what you need. Basically, you use the app to receive autogenerated messages on your phone for cash.
Sound too good to be true? Well, with get-paid-to platforms, you can make real money by uploading videos, reading emails, and other effortless activities.
The question is, why would anyone pay you to do almost nothing? This article answers how Money SMS works, how it benefits from sending you messages, and how much you can earn from the site.
For a better understanding of this Android App, we shall also check out reviews of Money SMS on review platforms like Trustpilot and Reddit.
So, is the Money SMS app worth installing on your Smartphone? Let's find out, starting with a quick overview of the platform.
What Is Money SMS?

Money SMS App is a free online application that offers the opportunity to create money online by automatically receiving SMS messages generated by the app's system and its clients; it functions exclusively on Android devices.
Mobile network operators transmit authentic but random SMS messages to devices to evaluate their network performance across various global locations. To achieve this, they offer compensation to recipients of the system test messages.
The app guarantees security by not reading private messages or using personal data, limiting its access to its own test SMS. You can join Money SMS and earn money by sending SMS from mobile without investment by merely installing the app and receiving SMS messages.
Money SMS is owned and operated by TelQ Telecom, a German-owned SMS quality services provider. The telecom company is based in Humburg and reports having successfully made 50m+ tests worldwide.
Money SMS Overview
| | |
| --- | --- |
| CRITERIA | FEATURES |
| Year Established | 2016 |
| Purpose | Earning Passive Income Through Receiving Text Messages |
| Available Countries | European Countries, Parts of Asia, Canada, and the US |
| Applicable | Anyone with an Android phone; 18 years and older |
| Subscription Plans | No subscription plans |
| Average Earnings | Varies based on texts received |
| Cuts & Commissions | No information provided |
| Payment Method | Litecoin, PayPal, and BitCoin |
| Bonus Program | 30% earnings of the referee; they get €0,25 |
| Minimum Payout | €2 |
| Google Play | 4.1/5 stars 3.32K Reviews, 100K+ Downloads |
| App Store | None |
| Ratings & Accreditations | Trustpilot rating of 3.9/5, 46 Reviews Not Accredited on BBB |
| Final Verdict | Money SMS is totally legit. |
How Does Money SMS Work?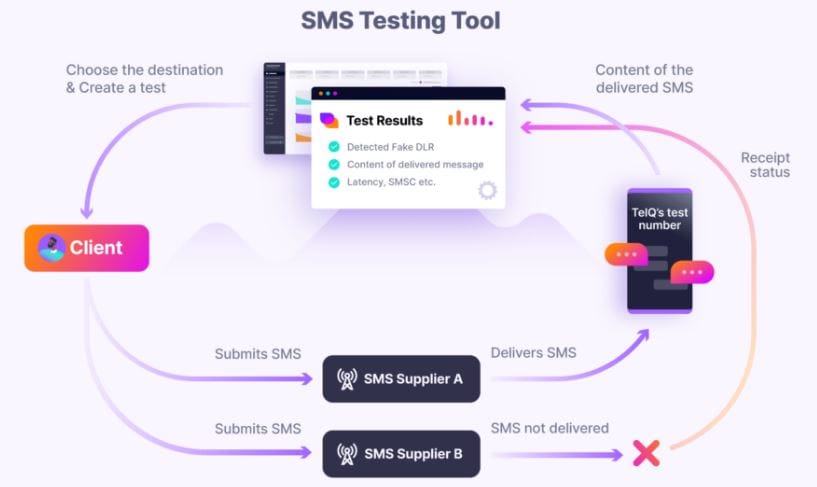 To use this app and get money. you need to download, install, register, and keep your internet data on. Simply put, Money SMS offers an accessible and efficient way for individuals to supplement their income using their Android devices.
It provides a straightforward method for users to get money online through receiving test SMS messages. The rationale behind paying users is that numerous SMS providers and SIM Operators need to test texting services.
This entails sending test SMS messages to international destinations for the purpose of verifying and confirming the correct functioning of different SMS routes. The compensation you receive stems from the utilization of your phone number to offer these testing services.
If you ask me, Money SMS is a truly passive income testing job provider!
The following explains how to get Money SMS and how it works in 4 simple steps:
Step 1: Download the App
Money SMS app download provides two options: You can directly download it from the Google Play Store or you can download the APK file to get installation files from their website and install them on your phone.
However, a Money SMS iPhone app is not available for users. This limitation means that individuals with iPhones are unable to participate in the earning opportunities provided by the mobile app that pays users for receiving random SMS messages.
Step 2: Register Your Phone Number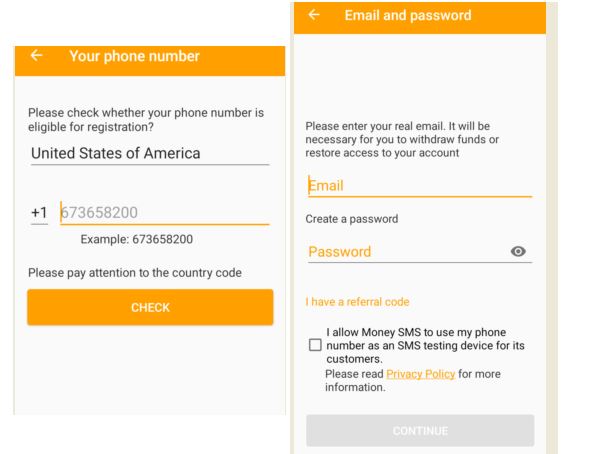 Begin the process of "SMS earn money" by registering your valid phone number, ensuring you select the appropriate country code.
Note, if your phone number is invalid after you click "CHECK", you will get a notice screen where you can check if the app is available in your country, and the allowed networks.
This step is crucial to enable the app to send text to your smartphone.
The next step is to input your email and create a password. Once your email is confirmed, continue to the Money SMS login where you'll be prompted to provide a payment system before you finally launch the app.
Step 3: Get SMS Messages and Start Earning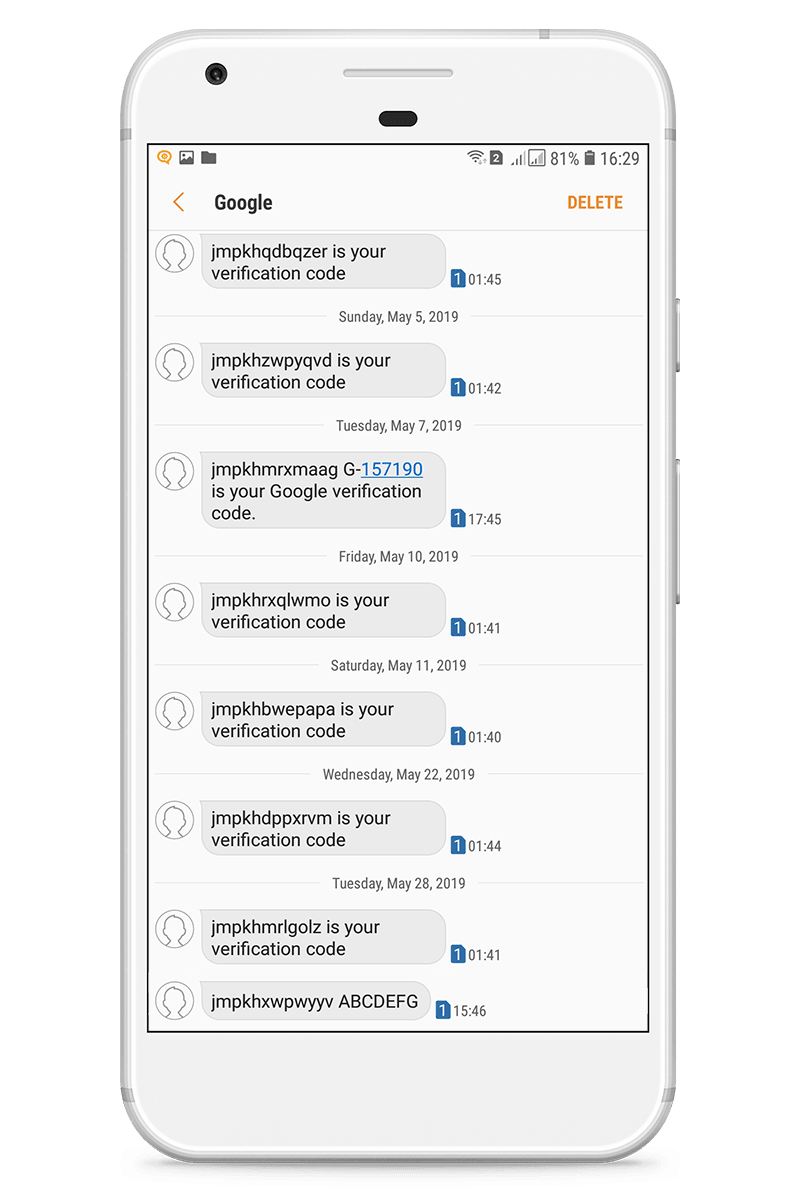 Upon successful registration, the platform will occasionally send SMS test messages to your phone. Money SMS Support advises users to just run the app, ignore and not reply to these messages since they are exclusively for testing cellular networks.
The test SMSs are automatically forwarded to the app's servers, updating your balance. You can delete the texts once your balance has been updated. Above are typical Money SMS texts which are basically random alphanumerics within other legible content.
Step 4: Get Paid and Cash Out
For each text message you receive, you earn 0.02 euros. The quantity of texts you receive is not within your control; it's influenced by the number of active users in your area.
To cash out for the first time, you need to accumulate 100 SMS messages, equivalent to a minimum payment of 2 Euros ($2.18).
Money SMS supports various payment systems such as Litecoin, PayPal, and BitCoin. Notably, the app avoids payment systems such as bank transfers die to prohibitive fees.
How Much Does Money SMS Pay?
You will get payment for every test SMS; you'll receive €0.02 for every received SMS and €0.15 for every sent SMS. The app has a withdrawal threshold of €2 and a payout turnaround of 48 hours.
To make money with SMS, you are required to maintain constant online activity whenever feasible. This is because the Money SMS system needs to recognize your online presence during SMS exchanges in order to receive compensation.
Users can invite other people to join through a referral program that enables them to earn 30% of earnings from people who accept to use their referral code. In return, your friend makes €0.25 for using your referral code,
Note, the app is completely free to use, without any initial payments or hidden fees.
Is Money SMS Real or Fake?
Money SMS is a legit app available for Android users; users on various platforms have reported registering to earn by SMS, receiving payouts, cashing out, and sharing positive experiences with the app.
The consensus among Redditors is that Money SMS is generally considered legit. Some express doubts or concerns about the app's work model but generally don't categorize it as a scam.
As a business entity, the app and the https://moneysmsapp.com/ website are owned by the TelQ Telecom company. This is a SaaS telecom company with physical offices in Hamburg, Germany (HQ) and Belgrade, Siberia.
Money SMS Reviews

Money SMS has diverse user opinions and experiences offering a good understanding of the app's earning potential and user satisfaction. On Trustpilot, the site has been reviewed by over 40 users, with an overall "Great" rating of 3.9 stars.
Most of the Reviews on various platforms provide valuable insights into the app's credibility and its effectiveness as a passive income platform. Review sentiments include topics such as payout speed, reliability, and user engagement.
Money SMS App Review On Trustpilot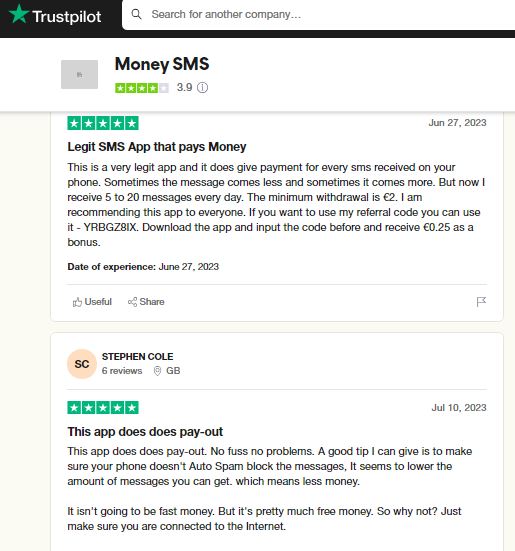 The Trustpilot reviews on Money SMS are both for and against the app. While many users report successful earnings and positive interactions with customer support, others mention challenges like pending withdrawals, inconsistent message delivery, and technical issues.
Basically, though, Money SMS reviewers agree that the app is legit. Positive Trustpilot Money SMS reviews affirm that the app indeed pays users for receiving SMS messages. Users mention successful withdrawals and consistent receipt of SMS messages.
However, there are also a couple of negative Trustpilot Money SMS reviews from users who claim to have faced issues such as not receiving SMS messages, pending withdrawals, or login errors. Others can't access money for receiving texts since their earning are stuck below the minimum payout threshold.
Money SMS Reviews on Google Play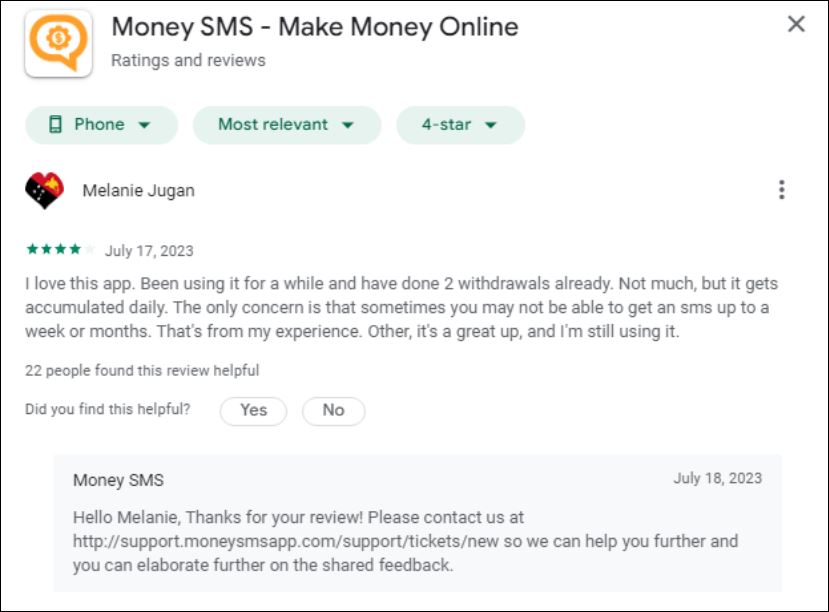 With an overall rating of 4.1 stars from over 3.32K reviews, the reviews on Google Play for Money SMS are by large positive. Users commend the app for its ease and passive earning potential.
Some have successfully withdrawn money, finding the app transparent and supportive, which bolsters their confidence in its legitimacy.
Most users report successful withdrawals, transparency in earnings, and positive experiences. As expected though, there are a couple of negative reviews that mention issues with SMS delivery, freezing when trying to withdraw, and some users considering Money SMS a scam.
Challenges also include occasional lack of SMS messages, freezing during withdrawal, and concerns about slower earnings due to infrequent message delivery. Despite the mixed feedback, Money SMS continues to intrigue users seeking additional income.
Money SMS App Review (As Per Reddit)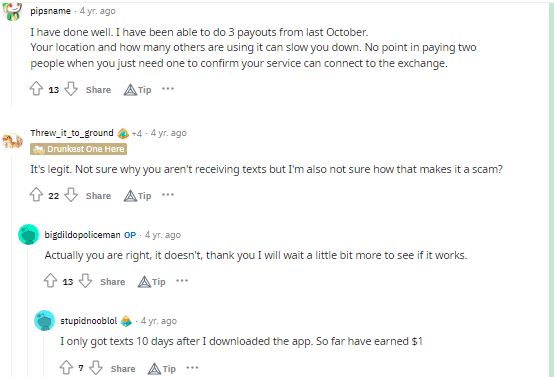 Positive reviews on Reddit imply that users indeed receive payment. The app is generally viewed as legitimate on Reddit, with users sharing experiences of successful payouts and earnings.
On the downside, delays in receiving texts, lack of compensation for sending texts, and potential service variations based on location and demographics are also mentioned.
Money SMS Pros & Cons
| Pros Of Money SMS | Cons Of Money SMS |
| --- | --- |
| Registration is free. | Freezing issues during withdrawal are experienced by some users. |
| Transparent earnings tracking. | Delays in reaching the withdrawal threshold due to slow SMS delivery for some users. |
| Active and responsive customer support. | The app's effectiveness might vary and depends on your location. |
| Many positive reviews. | Availability is limited to certain countries and mobile service providers. |
| Users report successfully cashing out and receiving payments. | Limited to Android users. |
| The commission rate for inviting friends is remarkably generous. | |
| Earning requires minimal effort; all you need is a stable internet connection. | |
| Users can select from multiple payment options. | |
| Light app. | |
Money SMS App Support

Money SMS self-service portal offers assistance to users via an internet-based platform. After registering, you will gain full access to the self-service portal, allowing you to submit support requests and monitor their progress. The support team is also active on various review forums where they answer most queries.
Also Check Out:
Money SMS Alternatives: Apps Like Money SMS
Some apps and online platforms are comparable to the Money SMS app, though each has its unique approach to earning money online. Some apps have higher earning potential and cater to individuals seeking passive income or rewards without significant effort.
Below are some of the popular make money with your cell phone texting alternatives to Money SMS:
1. MobileXpression App
MobileXpression is a data collection app available on Android and iOS platforms. While you won't make money by sending SMS from mobile without investment, it pays users for sharing their data.
This app operates by collecting information about users' mobile usage and behavior, which helps companies gain insights into consumer trends. MobileXpression is unique in that it monetizes data sharing, making it a popular passive income app.
The platform pays via gift cards and features a signup reward of $5.
Related Post: How To Earn On MobileXpression
2. Mobile Performance Meter
This an application that pays users for allowing it to run without actual interaction. It passively tracks user behavior and mobile usage to gather valuable data, for which users are rewarded. Similar to Money SMS, Mobile Performance Meter offers a way to earn money without significant effort or active participation.
Download Mobile Performance Meter
3. SMS Profit
This app is worth your time when looking to earn passive income using your smartphone. Like Money SMS, SMS Profit runs in the background and pays you $0.01 to $0.06 per message.
You get to earn at any time of the day, with the only requirement being to keep your internet active. Just like Money SMS, this application is exclusive to Google Play users.
However, it has a lower payout threshold of $1.5 with payment being via PayPal and Bitcoin.
4. Rakuten
Rakuten, formerly known as Ebates, is a Japanese e-commerce and retail company founded in 1997. While it's renowned for its rewards platform, Rakuten is more than just a loyalty program. It operates as an online marketplace and offers cashback to users who shop via the site.
While different in nature from Money SMS, Rakuten shares similarities in terms of offering users a way to earn rewards (cashback in this case) for their online activities, making it another form of passive income.
Related Article: Get Cashback From Rakuten and Ibotta
FAQs
1. How Does Money SMS Make Money?
Sites like Money SMS make money from companies that need to communicate with clients via messages from time to time. Payment is made to ensure reliance on telecommunication networks across the globe. Most importantly, the test messages need to be sent to real phone numbers, hence the need to use your phone number when registering on Money SMS.
2. Does Money SMS Read My Messages?
Money SMS states that they are only interested in messages with the app's code and official tests. It further assures users that "All other messages are dismissed and not being saved anywhere in our system". Despite the assurances, the fact that the app admits to sharing user numbers with third parties for testing SMS gateways makes me less trusting of the app.
3. Why I'm I Not Getting Money SMS Messages?
To make money sending texts or receiving SMS with Money SMS, you need to be using a phone service that is currently featured on the list of Money SMS services within your country. Your SIM also needs to be active, with the internet data service turned on.
Lastly, your data connection needs to be strong and stable, and on at all times, if possible. As a quality check, the app displays an icon on your screen to indicate it's not running.
4. Is It Worth Installing Money SMS?
This may not be a worthy app for making money from home since it's not a high-paying GPT app. As an SMS testing app, the highest amount you can get from Money SMS is around $10 per month.
Note that most users barely hit the minimum payment threshold within the same period. Also, weighing the implications of data breaches versus the compensation, I say you are better off making money through other online means.
Is Money SMS Safe? [Final Thoughts]
Yes, Money SMS is safe and widely recognized as a legitimate app that pays users for receiving SMS messages. The app has a history of paying users across multiple countries, reflecting its credibility.
The app reports implementing appropriate measures to protect users' data. That said, Money SMS Privacy Policy acknowledges that no method of transmitting data over the Internet or electronic storage is completely foolproof in terms of security.
As a result, the app cannot ensure an absolute 100% guarantee of security or confidentiality. While the app seems to have implemented security measures, be aware that there are always risks when dealing with remote data transmission.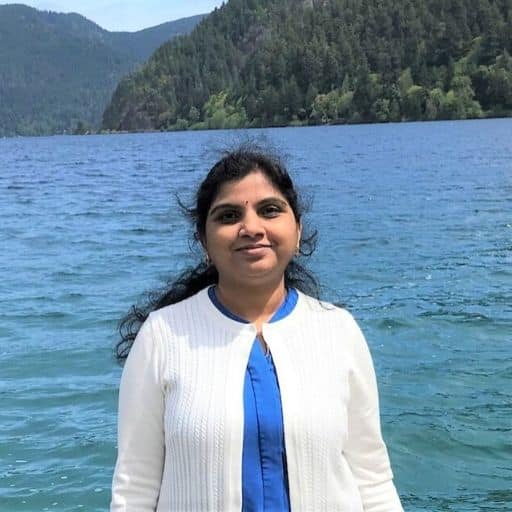 Howdy Folks, thanks for stopping by my blog.
I'm Swati, a proud mom, dedicated side hustler, full-time blogger, and a recognized millennial work-at-home expert. My expertise has been featured on esteemed platforms such as Forbes, CEO Blog Nation, Referral Rock, Vital Dollar, Databox blog, and many more. I have embarked on this incredible journey to share my firsthand experiences in the world of online income generation and to assist all of you in earning money from the comfort of your homes.
Join me in my mission to revolutionize the way we make money and achieve financial freedom. Trust me, it's not as challenging as it may seem!
Together, let's explore the boundless opportunities and pave our paths towards a prosperous future.