The best time to Doordash in 2023 differs depending on factors such as location and tips. Generally though, working at peak hours ensures that you make great money to deliver food.
As a part-time dasher, I can tell you that DoorDashing is a good side hustle. My earnings rarely go below $17 per hour, with the gig making me $25 – $27 per hour during the busiest times.
You can read all about my DoorDash driver gig here.
Now, back to how to maximize your earnings as a Dasher. From my experience, advice from other dashers, and tips from the food delivery company, below are the absolute best times to DoorDash.
This post touches on the peak times for dashing during weekdays and weekends. Also, to help make as much money as possible, we shall look at tips for DoorDash App drivers.
Ready to dash for the best pay? Below is what you need to know:
What are the Best Times to DoorDash?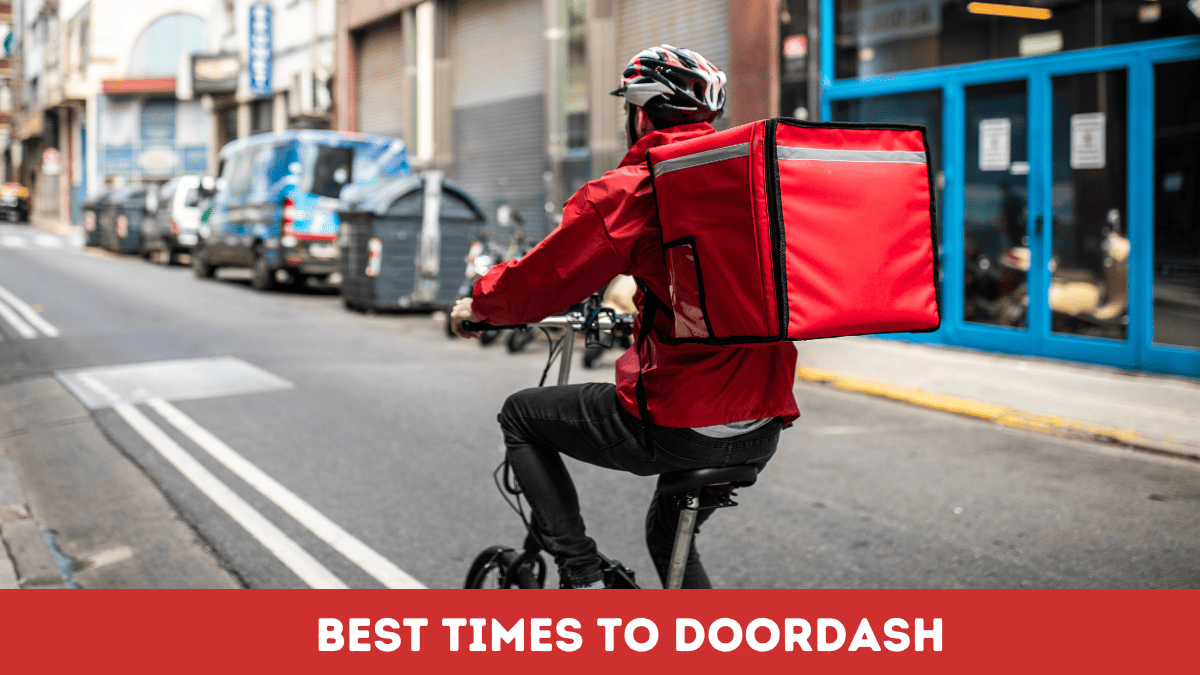 According to DoorDash, the busiest delivery times are during lunch and dinner. Dashers earn the most during meal times which aligns with 11 am to 2 pm for lunch, and 4.30 pm to 8 pm for dinner.
To get most food delivery orders during this time, the company recommends you line up your timetable five days in advance.
As with many food delivery apps, one of the best times to work is when you expect many orders within a small area. It follows that lunch or dinner is when almost everyone in the office or home takes their meal, respectively.
Apart from DoorDash, Uber Eats also reports the same times as their most busy. Basically, you can deliver multiple orders in a single office block or gated community during these times.
The best part is that despite time and distance, or number of deliveries, DoorDash charges every order separately in a trip.
Best Times to DoorDash On Weekdays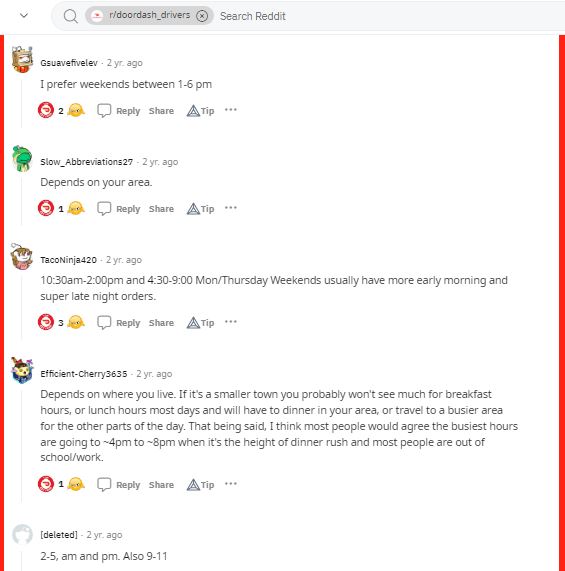 While you won't be busy all day, DoorDash delivery gigs are highest during mealtimes; lunch and dinner, any day of the week.
Busiest times to dash have been observed at 6 pm on Fridays, which fall at the dinner rush that lasts from 4.30 to 8 pm. This is according to an online ordering trends report released by DoorDash in 2022.
The best time to dash on weekdays varies across dashers on Reddit. In this r/doordash_reddit forum, the peak weekdays are given as Monday, Thursday, and Friday between 10.30 am and 2 pm, and 4.30 pm and 9 pm.
Pro Dasher Tip: To find out the best times to aim for peak pay, I recommend keeping an eye on your area's heat map. I find the DoorDash feature invaluable when I need to know when to snag a spot- the darker the red, the best time to deliver for DoorDash!
Best Times to DoorDash On Weekends
The best DoorDash times to work on weekends are early morning through to late evening on Sundays.
This is informed by the Shop & Deliver program that attracts most customers on Sundays. For Saturdays, you can improve your base pay by delivering from 7 am to 1 pm, before people go out for dinner to actual restaurants.
As the Rideshare guy in the above video explains, weekends see most people order food from nearby restaurants, meaning if you are in the area, the mileage is usually low.
Generally, though, Sundays take the day when it comes to dashing on weekends. Here are some excerpts from Dashers on r/Doordash in support:
u/FishmanNJ- "IHOP and other breakfast places. 7AM – 1PM is a pretty good shift for me. Sundays are usually better then Saturdays".
u/cookkjsc- "Yea that makes sense honestly, I've noticed Friday's are usually fine untill dinner (traffic can make Friday night great if it's not too bad because there's plenty of orders) and Saturdays just kinda meh while Sunday is ok".
Best Times to DoorDash On Saturdays
To increase your earnings on Saturdays, which is a prime day for part-time dashers, work early morning for the breakfast rush, and up to midday for lunch. You can also make extra money working Saturday nights, from 9 pm to 12 am. These are the hours when people are get back home from bars.
Working late and go a long way in improving your delivery rates especially when dashing near busy areas like campuses. These are busy times when you can make good money delivering pizza, beer, and wine to parties around your neighborhood.
Best Times to DoorDash On Sundays
Depending on your location, you can significantly increase your DoorDash income by working during day time on Sunday, from 6 am to 9 am for breakfast and from 10.30 am to 1 pm for lunch orders.
The latter slot can be especially lucrative with a lot of restaurants getting orders from churches where you are assured to earn tips. Also, as noted earlier, from morning to late evening is a good time for making money through Shop & Deliver.
What is the Best Time to Doordash In the Morning?
Driving for DoorDash has also been reported to pay best during breakfast hours, starting at 7 am to 9.30 am. The breakfast slot has been picking up, making many Friday and Saturday nights dashers rest for a few hours and then work morning hours on weekends.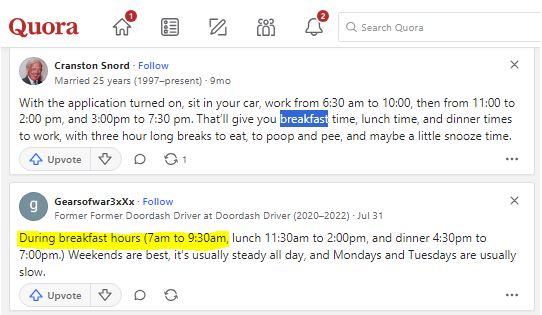 So if you are chasing a challenge that requires completing a certain number of deliveries during the week, it's time you take the breakfast rush seriously. The slot's deliveries have been increasing threefold, consistently for almost three years in a row.
What Is the Worst Day to DoorDash?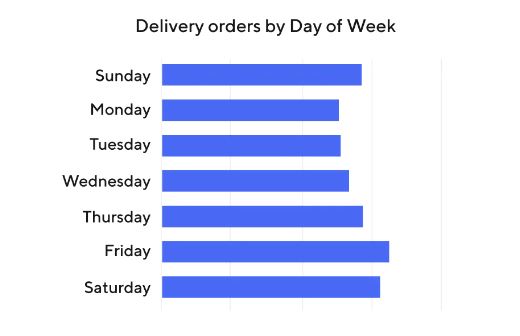 As a DoorDash driver, you can ensure consistent earnings by avoiding working during slow days. According to the 2023 consumer trends report the worst days for food delivery are Mondays, Tuesdays, and Wednesdays.
However, the trend of peak times vs slow times can vary widely, depending on your delivery area. Reddit and Quora reviews show different areas reporting different days of the week as the worst.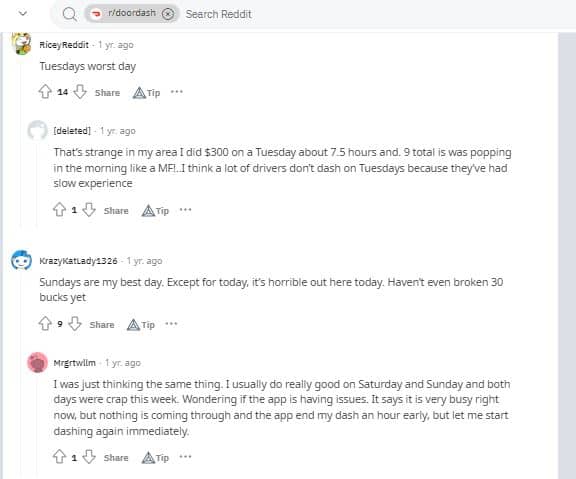 In the above thread, Tuesdays, Sundays, and Wednesdays get prominent mentions as the worst days to deliver food with DoorDash. However, Monday has the most votes as the worst day for delivering during the week since it's when you find most restaurants closed due to low volumes.
What Are the Best Days To Do DoorDash?
Going by the 2023 report, the best days for an independent contractor to stay busiest during the week are as follows; from best to worst.
Fridays
Saturdays
Sundays
Thursdays
Wednesdays
Tuesdays
Mondays
By most accounts, delivery of food to DoorDash customers is at the highest on Fridays through Sundays. Earnings for Mondays are also reported as the lowest by most who dash as an everyday hustle.
Is DoorDash Busy in the Summer?
Summers can be a busy time to work as a DoorDash Driver. However, compared to other seasons, summer is a time for families to go out, have get-togethers, and barbeque communally. As such, don't expect DoorDash App delivery jobs to peak during summer.
So, what is the best time to do DoorDash in the summer? Night shifts and evening hours can be good for peak pay after people have gone back to their individual homes craving specific meals.
You also find that on holidays such as Independence Day people stay together but don't typically cook. That can be a good time to rack in tips and bonuses from generous customers and the app respectively.
What are the Best Hours to DoorDash?
You'll earn more for any delivery orders made from 6 pm to 8 pm and 11 am to 1 pm. DoorDash reports these as the peak hours for delivery drivers in 2023. The times correspond to dinnertime and lunchtime.
These are the times you can add a few more dollars to your base pay from delivery promotions and multiple orders within single trips.
Tips For Dashers To Make More Money
To dash like a pro, you need more than a car and a good personality. You need, for example, to work on your Doordash ratings to attract prime offers consistently and eventually make your side hustle a full-time gig. Other pointers include:
1. Know the Best times to Deliver
The above recommendations for delivery times and days are not absolute. The best time to DoorDash depends on your own availability, area of operation, and local consumer trends. The point is to do your own research to find the local peak hours for every day of the week.
2. Schedule Early
Food delivery gigs are competitive which is why I recommend taking advantage of the app's Early Access Scheduling. If you qualify, starting at 3 pm, you'll see the dasher timetable 6 days ahead and start planning on the deliveries.
3. Ensure Orders are Correct
Whether you are delivering for Uber Eats, DoorDash, Instacart, or the like, it's essential that you present the right items to the customer. So, ensure to double-check all items in each order to ensure nothing is missing.
4. Deliver to the Right Person
Busiest times require a calm mind when handing over food delivery orders. Always countercheck the customer ID and address before handing over the order. This is especially important when delivering Batched Orders in apartments, schools, and office buildings.
5. Offer Stellar Service
Take your food delivery gig seriously, and your customers will accord the same professionalism and hopefully tips to match. So, mind the little things like how you wear, talk, handle items, keep time, and so on.
6. Keep up with DoorDash Promotions
Aside from peak hours, dinner rush, and other prime times for deliveries, keep an eye on the app's promotional offers. For example, after you sign up complete 150 deliveries in 30 days to earn $1500. This is a welcome bonus promotion whereby DoorDash pays you $1,500, even if your orders don't hit the cash threshold.
Find out other smart ways you can make over $500 a week with DoorDash
7. Dash in zones with longer busy times
Saying you registered as a dasher in City A doesn't mean you can't make money in City B. Be active in Dasher forums to know the typical earnings surrounding zones. When you find an area where earnings will match your efforts as a delivery driver, change your dashing zone to the greener pasture!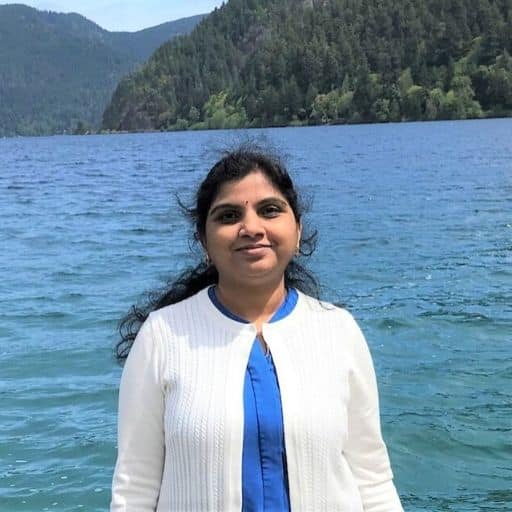 Howdy Folks, thanks for stopping by my blog.
I'm Swati, a proud mom, dedicated side hustler, full-time blogger, and a recognized millennial work-at-home expert. My expertise has been featured on esteemed platforms such as Forbes, CEO Blog Nation, Referral Rock, Vital Dollar, Databox blog, and many more. I have embarked on this incredible journey to share my firsthand experiences in the world of online income generation and to assist all of you in earning money from the comfort of your homes.
Join me in my mission to revolutionize the way we make money and achieve financial freedom. Trust me, it's not as challenging as it may seem!
Together, let's explore the boundless opportunities and pave our paths towards a prosperous future.