Our main topic today is how to make $500 a week with DoorDash. As you know, driving jobs have continued to be popular with the advent of smartphone apps.
Nowadays, freelancer drivers can deliver food and groceries and earn by the hour, or task, from anywhere in the world.
DoorDash is one such app whereby people order food online and have it delivered by remote drivers near them.
So, do you have a car or a bike and are in need of some quick cash, register with DoorDash today and make $500 or more weekly.
This post discusses 'how to get started with DoorDash', 'Is it worth working for DoorDash', best alternatives to DoorDash, the safety of working on the app, and much more.
Further, we shall look at how to cash your earnings from the app as well as how to delete your DoorDash account if you no longer want to work with DoorDash.
Let's dive in!
What is DoorDash?
DoorDash is a platform that eases food delivery services from your favorite local restaurant to your home 24/7. It is available in more than 7,000 cities in Canada, the US, Australia, Japan, and Germany.
The platform boasts to be the largest food delivery services provider in the US, with a total of 57% market share. It was founded in early 2013, approximately 8 years ago, and its headquarters are in San Francisco, California.
DoorDash is the brainchild of 4 former Stanford University students. Recently, the company has seen rapid expansion including the acquisition of Caviar, Scotty Labs, Chowbotics, and Wolt.
It is a big hit in the gig economy with a 3.9-star rating on Glassdoor from 7k+ reviews.
Who is a Dasher?
DoorDash delivery drivers are known as Dashers. They are the ones responsible for delivering the food orders.
By working for Doordash, they get the opportunity to earn a living while enjoying flexible working hours and make a good amount of money on a weekly basis.
Are you wondering what's the average weekly pay for DoorDash drivers? Let's look at the stats.


How Much Can You Make with DoorDash In a Week?
First off, how much you make on DoorDash begins with setting a goal, meaning you can make between $500 to $1,000 a week. That said, your weekly potential earnings vary from one week to the other.
According to ZipRecruiter, the highest-paid dashers earn around $1k per week at $25 per hour. On the other hand, the average salary is reported as $21 per hour, making you a total of $831 weekly. Typically, experienced dashers make $25-$40 per hour. This means that assuming you work for 40 hours a week, you can make $1000 easily.
Basically, to clock such amounts, the number and the type of deliveries plus how many hours you work in a day comes into play.
Location, as well as your operating expenses, are some of the other factors that determine your DoorDash earnings.
The best part about DoorDash is that the requirements for new drivers (Dashers) are minimal. Interested? Here are the key conditions to become a Dasher and kickstart your hustle as a food delivery driver:
A driver must be 18 years older or more.

Have your own mode of transport, preferably a car. Scooters and bikes are also allowed in some cities.

A valid driver's license.

A reliable smartphone.

US-based dashers need a social security number.

Agree to a background check that may take up to 7 business days.
How Does DoorDash Make Money?
Wondering how DoorDash works? First and foremost, it's worth noting that DoorDash does not prepare any meals. All they do is a partner with eateries across different cities and offer food delivery services.
Now, in exchange for the service, Doordash charges the restaurant a commission. So, whenever you order food online and pay the restaurant a delivery fee, part of that fee goes to DoorDash. They also charge convenience stores when a driver delivers groceries or alcohol bought online.
There are 3 commission models that restaurants can choose from. These include premier, plus, and basic plans which offer 30%, 25%, and 15% commissions. The fee is calculated from what the customer pays through DoorDash.
Basic model:

High delivery fee and a small delivery area.

Plus model:

Low delivery fee, bigger delivery area, plus serving loyalty program customers.

Premier model:

Much lower delivery fee in an even bigger area than the other plans. Additionally, merchants access the loyalty program that caters to customers who use DoorDash more frequently.
Additionally, the company promises to make more than 20 deliveries a month and if not, the merchant gets a rebate.
Apart from commissions, DoorDash also makes money from users for the delivery services. Typically, delivery costs you anything between $6 and $8. However, this amount can vary due to factors such as location. DoorDash also earns through DoorPass.
Another way that DoorDash makes money is through DoorPass.
What is DoorPass?
This is a win-win subscription-only delivery service program whereby a client pays $9.99 monthly. In turn, subscribers get free deliveries for all orders above $12 (restaurants) and $25 (groceries).
And that's not all, DoorDash claims that the DoorPass helps customers shave off at least $4 per order from the delivery fee. To enjoy the offer, users register to pay for DoorDash services via an eligible credit card.

How to Make $500 a Week With DoorDash?
Now, back to 'how to make $500 a week with Doordash?', 'how to maximize your DoorDash earnings', and 'how can you earn $500 a week from DoorDash?'
For the best tips on how to earn more from DoorDash, it helps to hear from the Dashers themselves.
With that in mind, I went through DoorDash review threads on sites such as Quora and Reddit, here is how to hack it as a DoorDash driver:
Cherry-picking orders that pay at least $2 per mile is the first hack.

Don't forget the tips that come from communicating well with your customers. By communication, I mean frequently updating your customers concerning their deliveries, delays, and so on. Generally, you get tips worth around 15% of the total bill and t

he best part is that, as a dasher, you keep every dollar.

Be available for the breakfast hours when the competition for orders is usually low.

Never miss peak hours when you earn $1 – $7 in bonuses per trip.

Make free money by inviting others for referral bonuses. Typical offers include $150 – $300 when your friend completes 200 deliveries.

Complete "Guaranteed Earnings" offers to earn free money on DoorDash. For example, the app may promise $500 if you complete 50 deliveries within a given time. So, if you make the deliveries but earn less than $500, DoorDash tops off the difference – that's free money!

Push for extra deliveries per day to cover gas and work for 45-55 hours weekly.

The idea is to 'dash' so, avoid long trips (6 miles or more) unless the pay is worth it.

Declining low-paying orders that'll consume your valuable time.

Most importantly, serving in busy areas is one of the best ways to amplify your earnings. The more deliveries you have, the higher your earnings will be!
Follow the above tips and your answer to "how much can you make a week with DoorDash?" can be $1,500+!
Also Read: How to Succeed with DoorDash (Dasher Success Story)
How to Cash Out on Doordash?
Normally, DoorDash pays you weekly through direct deposit. Nonetheless, for a $1.99 fee, you can cash out on-demand through Fast Pay (for Dashers in the US only). Note though, that you cannot cash out earnings that are in progress.
You'll need a debit card to use Fast Pay services and meet the following requirements:
Made 25+

lifetime deliveries.

Accessed Doordash for a minimum of 14 days after activating the service.

Add your debit card to your Fast Pay account and ensure the information remains unchanged

Make sure your debit card information isn't updated within the last 1 week.
If you meet all the requirements above, proceed to cash out. The process is quite simple:
Click on the link 'Deposits and Transfer' on your Dasher app.

Proceed to the 'Cash out with Fast Pay' tab and click it.
The service only allows you to withdraw funds once daily with funds arriving in minutes.
DasherDirect is also another legal way to cash out on Doordash. To access the service start by applying for the DirectDasher Visa prepaid card. You get paid instantly after every dash at zero deposit fees. Another upside to using the service is that you get a 2% cash back for gas purchases.
Is Doordash Safe?
Every single service provider should ensure that their platform is safe for use. So is Doordash safe? Well, there are many reasons to conclude that Doordash is indeed safe, here are some of them:
Doordash ensures that your food is handled properly and by this, I mean that your package is never opened.

Competition is stiff and with a 56% market share, DoorDash has to maintain a stellar reputation as the best food delivery service in the US.

Another reason why it's safe to use Doordash, especially during Covid times is that you don't have to interact with the driver face to face. Your food can be left at your door and the app notifies you.

Note that, Doordash doesn't just partner with any restaurant, they make sure they are working with the best.

Every dasher has a food bag that ensures your food remains hot until it reaches you. So you don't have to worry about the food going bad.

Apart from making sure the food's temperature is maintained, Doordash delivery personnel make sure that the food is placed appropriately to avoid spilling.

Concerning your address, it's impossible to keep it safe since the delivery guy must have it in order to know exactly where to make the delivery. However, when it comes to payments, you are protected since your credit card details can't be accessed by any Doordash employee. Also, Dashers are subjected to an intensive background search.

Having food delivered to you is much safer than getting the food yourself. This is especially true during the ongoing pandemic. Also, think of the different risks you can come across when getting the food yourself, especially at night. It's just best just to wait and let Doordash handle everything for you.
How to Delete Your DoorDash Account?
Since not a permanent DoorDash employee, you can always quit the platform at will.
Simply choose to stop accepting any deliveries from the app. Officially requesting Doordash to delete your account is another way of deactivating your membership permanently.
Now, provided that you don't have any pending deliveries, follow the steps below to delete your account as well as your personal information from DoorDash servers.
On your homepage, click on Account Settings.

Click the 'Manage Account' subcategory.

Select 'Delete Account'.
The last step is to follow any prompts, such as a text or email verification process, that are necessary before your account is finally deleted.
Doordash Alternatives
The following are other convenient platforms, besides Doordash, that also pay drivers to deliver food, groceries, alcohol, and everyday shopping.
Uber Eats is a food ordering and delivering platform founded in August 2014 with its HQ located in San Francisco, U.S. This online platform has hundreds of partner restaurants you can choose to deliver for.
Participants can browse through available cuisines and pay for food from the Uber Eats application. The application is compatible with both Android and iOS systems.
Customers face a small delivery, service, and order fee. However, when you compare UberEATS to Doordash in terms of the service fee, it tends to have a higher subtotal fee of around 15%. You can also pay a $9.99 subscription fee each month to avoid delivery fee charges.
Additionally, Uber Eats accepts payment from Apple pay and Google pay for both iOS and Android users respectively.
According to GOBankingRates, Uber Eats drivers earn around $8 to $12 per hour. The salary approximation is arrived at after deducting expenses such as gas. You can increase your hourly rate by taking advantage of Uber Eats' Boost and Surge promotions.
Sign up here to deliver or Uber Eats.
This American company specializes in delivering groceries and fresh local produce from the best supermarkets around you right to your doorstep in just a few minutes. It is available in at least 5,500 cities across the United States and Canada.
As an Instacart user, you have the luxury of shopping for over 500 million products. Currently, you can shop from more than 40,000 stores with Instacart; from chain stores to local grocers.
You can always select items on Instacart.com or it's free to download the app that is available for both Apple and Android smartphones.
Delivery fees vary with time and location. That said, the pay is indicated when choosing a delivery offer. Wondering how much do Instacart in-store shoppers make? For a full service, that is shopping and delivery, you earn around $10 per trip, and up to $20 per hour.
Become an Instacart Independent Contractor today!
Another top Doordash alternative is Grubhub. The company has over 300,000 partner restaurants in at least 4,000 cities in the U.S. It reported making roughly $9 million in gross food sales.
Grubhub commands around 26% of the market share and also boasts to make over 745,000 orders each day Since its debut in 2004, drivers have received more than $4 billion in form of tips.
One thing for sure is that Grubhub has an easy-to-use system, fast delivery, and they also offer better prices than most food delivery companies. They also have a great customer support team.
Furthermore, customers can order every meal from breakfast and lunch to late-night dinners. Note that food prices vary from one restaurant to another plus Grubhub does not have a monthly fee subscription for deliveries.
Grubhub couriers use cars but can also deliver food using bikes in select cities. Compensation takes into consideration both the mileage and time taken to reach the customer. You can cash out instantly through the Grubhub app, if not you get paid weekly (Thursdays) via direct deposit.
The service pays drivers around $12 per hour.
Apply to drive for Grubhub now
FAQs
1. How Much Can I Make with Doordash In a Week?
New DoorDash drivers make around $519 per week with the pay increase to an average of $703 as you become more experienced.
Top earners, according to ZipRecruiter, earn $1,000 weekly or up to $52,000 annually.
There are also Dashers making $1,500 weekly by picking high-paying deliveries and working over 50 hours per week.
Your DoorDash salary depends on how often you make deliveries and your area of operation.
2. How Often Does DoorDash Pay Drivers?
The default payment method for dashers is direct deposits made weekly to your bank account. Dashers in the U.S however, have 2 more payment options they can opt for; Fast Pay and DasherDirect.
With Fast Pay, you can request payment whenever you like at a $1.99 fee. DasherDirect on the other hand is a Visa prepaid card through which you receive payment after each delivery at no charge.
3. Can You Earn $500 Per Week with Dasher?
Yes, you can make $500 as a Dasher, if you're willing to work hard – just don't forget that serving in busy locations with good service will help your chances.
Is DoorDash Worth It?
DoorDash is the largest food delivery service by market share in the US. Dashers, as its freelance drivers are known, earn per trip and make from $13 to $25 per hour.
The platform is totally worth your time since you get to work on your schedule. You also have the liberty of accepting or declining deliveries without worrying about ratings.
Further, as a provider of flexible side hustles, the DoorDash app has revolutionized the delivery market with Fast Pay and Direct Dasher payment programs.
Are you in Germany or Japan and looking to make fast cash via an app? DoorDash recently launched in the two countries adding more job opportunities to their existing 4,000+ cities coverage.
Have you worked on the DoorDash food delivery app? How is the pay and are there any hacks you can share? I'm eagerly waiting to hear your experiences and best money tips below.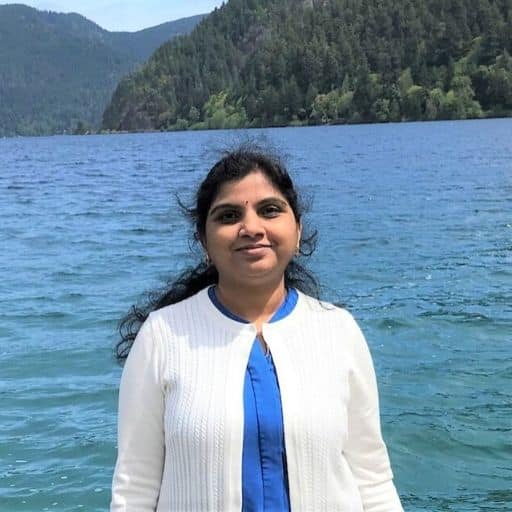 Hey Folks, thanks for stopping by my blog!
I'm Swati. I'm a mom, side hustler, full-time blogger and a millennial work-at-home expert featured on Forbes, CEO Blog Nation, Referral Rock, Vital Dollar, and Databox blog. I embarked on this impeccable journey to expose my online monetary experiences and help you all earn money from home. Come join my make money revolution and attain financial freedom – it's not as hard as you think!