If you search the internet for how to earn money by sharing links, you will be overwhelmed by all the different options at your disposal. What's more incredible is that this is just one of the many ways to earn money from home.
Over the years, the internet has made it possible to make money by completing tasks that require human intelligence to execute. Promoting links ranks high in this category and is actually a long-term passive income earner for expert freelancers everywhere.
Additionally, getting paid to share links is among the simplest methods of making free bucks without much investment.
Do you have a YouTube channel, social media accounts, a website, or a blog? If the answer is yes to all or just one of these platforms, then you have already taken the first step into making money from links.
However, if you are looking for online jobs that can make you enough money to quit your day job, this is not quite it.
The reason is that, although there are experts making over $2,000 per month by sharing affiliate links, it takes time to build the kind of online presence that will see you convert followers into leads.
So, how do you earn money online by sharing links? Read on for more on this, including the companies that offer the best compensation for promoting their platforms' products and services.
What are Links?
Simply put, links (short form for hyperlinks) are used to create connections between web pages. A link between pages on the same website is known as an internal link while those shared across different websites are known as external links.
In this article, we shall be dealing with the latter and specifically how you can share links from web platforms for money.
Let's get started.
Can I earn money by sharing Links?
Yes, you can. All you have to do is share links with your family/friends via email or on social media and other internet-based platforms such as blogs.
Make sure your referral confirms their emails and creates a brand new account using your referral code.
It also helps to provide context with your invites to ensure that your friends get to click and check out what the link intends to achieve.
Your referral must log in to their account on a unique device not previously registered with another account.
Since this is a game of numbers, for you to make money sharing links, aim to reach out to as many people as you can. Sharing links will see you make from $5 to $500 per lead and $1,000 annually easy.
1. How to Earn Money by Sharing Links on Facebook.
To begin with, links are some of the elements that keep you tuned into the internet non-stop. Even on social media, its links that direct you to in-depth takes on different posts.
With Facebook being among the best socializing platforms, you could easily meet your target audience there. All it takes is to create Facebook posts that include a link with or without additional information.
Here are the various ways you could pocket some money by sharing links on Facebook.
Sell Your Own Products
A major way of earning by sharing links is by guiding people to services and products from sponsors. But why sell other people's products when you could sell yours via an online store such as Etsy?
The advantage to starting such online businesses is that they require minimal capital to start and no physical store is required to set up.
What you need to do is:
Create a Facebook business account. Afterward, you could conduct research on what people are interested in at the moment.
The next step is signing up on websites like Aliexpress and Amazon and start selling your products there. Then, you could copy those links and paste them on your Facebook store and get paid as people make purchases.
Go for stuff that moves fast over the internet. My top picks include selling jewelry, customized t-shirts, online courses, or even various crafts.
2. Earn Money by Sharing Short Links And Earn Money on Short Links.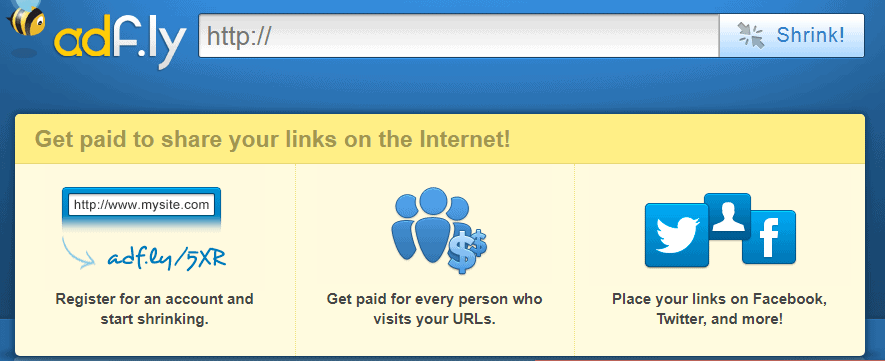 A link shortener is a website that changes long links into shorter ones. Twitter is a good example where link shortening is carried out automatically.
The Importance of Using a Short Link
Helps save on space and makes the shortened link look pretty.

Assists in hiding target URL.

You can make money with the shortened link- by adding an advertisement before being redirected to your destination.
Using a link shortener is just easy. Paste the URL you want to shrink and press the enter button and a simplified link will appear.
How do you get paid?
Like I had mentioned earlier;
So, how do you shorten a long link?
Below are examples of websites where you can shorten links and have place ads placed before the content displays fully:
If you want to start earning money online by shortening links, research companies running online ad campaigns and get them to contact you. Advertisement agencies are another good avenue for you to get paid to share links.
Related Post: How to Make Money Watching Ads
3. Earn Money by Sharing Referral Links
Another remarkable way you could make a few bucks during your free time is through sharing referral links. This is probably the easiest way to make free extra cash as a work-from-home freelancer.
All you have to do is sign up on a select website where you will be provided with a link that you can use to refer friends to the site. To share, copy the link and send via social media or even include it on your web content as a hyperlink.
The referral is considered successful if your friend signs up on a website or app. And for that, you earn a bonus that varies from one website to another.
If you are interested in making cash via referrals, here's a list of websites that may be of interest to you.
In spite of such websites paying you for the referral links, this is NOT the kind of job that will get your rent and bills settled.
Typically, each successful referral gets you $5. Some sites will pay you an extra bonus for further engagement such as making a purchase, placing a bet, earning money, and linking accounts.
With this in mind, allow me to take you through some of the phenomenal websites where you can use links to make money online.
a) Cash App by Square Inc. [$5 Sign Up + Up to $30 Referral Bonus]
You get free money on Cash App by activating your account, referring friends or family, watching videos, completing survey questions, giving out your opinion, and doing free trials for products or services.
Cash App Referral bonuses can vary between $15-$30. Scan the below code to activate your Cash App account and receive a $5 sign-up bonus instantly. Check out all the steps involved in claiming your free money on Cash App.
HOW TO INSTALL & ACTIVATE CASH APP
Download Cash App on Google Play or App Store.
Input this Cash App free money code - "ZFXCWHR" in the "Enter Referral Code" section.

Link your debit card or bank account to your Cash App.

Send $5 to your friends/family within 14 days of entering the referral code to r

eceive a $5 activation bonus!
Refer friends and get $15 (or more) per qualified referral.
The best part is you can cash out your Cash App balance to your bank account directly. These transfers take up to 3 days.
b) Varo Bank [$50 Referral Bonus]
Varo Bank is better with friends and even better with a bonus. They give you and your friends each $50 when they join Varo and spend $20. All you have to do is follow these simple steps:
Share Your Referral Link – Invite your friend to open a Varo Bank Account with your link.
Perform a Transaction – Get paid when your friend spends $20 within 30 days of opening their new Bank Account.
Earn $50 – You and your friend both earn $50!
So, what are you waiting for? Copy your link and start sharing it with your friends.
c) Split App [$5 Sign Up+$2 Link+$2 App Install Bonus]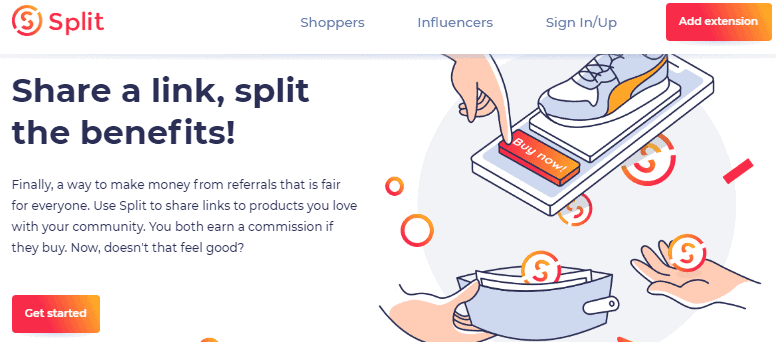 Split App is a platform that rewards you for sharing links via texts and email. Currently, the app is only available for iPhone users only.
Whenever you are perusing your phone and come across a funny video or maybe an article and you think your friend is going to like it, click on the Split icon and share the content immediately.
You will make money once you hit the send button and earn even more when others open the content via your link.
How to get started:
First, on your iPhone visit the App Store and download the Split App.
Secondly, you need to heed the instructions provided to ensure that you allow the app the right permissions on your device. Having done that, you are now able to share links with your buddies through email or text messages.
You'll earn a $5 bonus to your Split account after sharing your first link. Once your friend clicks the link, you earn an extra $2. Additionally, you earn another $2 once your friend refers to your link when downloading the app.
It's just amazing how you could make $9 in roughly less than 10 minutes by just using your phone! Right? What's more, adding the Split extension onto your browser will land you cash backs when you shop.
Download Split app for iPhone and make money now!
d) Swagbucks [$5-$10 Referral Bonus]
Another dazzling way to add that extra cash to your pocket is Swagbucks, a platform that is mainly associated with paid surveys.
So what is Swagbucks?
Swagbucks is a platform that is accessible on your PC or smartphone. It rewards you with points, known as Swagbucks (SB) for completing tasks assigned to you.
These points can, later on, be redeemed for gift cards or real cash through your Paypal account
How it Works:
To begin with, 1 swagbuck is equivalent to 1 cent and you'll require a minimum of 300 SB for you to cash out your reward.
You get rewarded for using Swagbuck when watching videos, doing online shopping, and playing games, just to mention a few.
How to Get Swagbuck Rewards:
Visit their sign-up page and get awarded a bonus of $5 now.
Watching a 30 min video content or so can give you 1-2 SBs.
Each day your dashboard will have a list of surveys with the estimated time for completion being around 5 – 10 minutes. Although the rewards differ according to the type of surveys that are being carried out, don't expect to be honored with more than 100 SBs.
By referring Swagbucks to a friend, you get to earn a 10% commission of their SB points once they start earning. To get credited, you will have to invite your friends, one at a time, using the "refer and earn" tab on your account.
How To Make Money with Swagbucks (Review)
The best part is that Swagbucks is just one of the many apps that reward you for sharing referral links.
Other platforms like Swagbucks in this category include:
4. Earn Paytm Cash by Sharing links.
So do you want to earn Paytm cash online by simply completing tasks like filling surveys, playing games, or even watching and downloading videos?
The good news is you are definitely at the right place because I am going to help you find some of these amazing apps that will let you use your phone as you normally do and still get rewarded in the process.
Interested? Here is how…
First, download the latest Paytm App and install it on your device.
Secondly, sign up and navigate to the money transfer tab. From there, click on the "Invite Friends" button and start referring friends from your contacts using a unique link.
You can send the link via social media platforms such as Facebook, WhatsApp, and Twitter. Additionally, you have the option of sharing the link through your phone's default SMS app.
You get Rs10 (around $0.13) per friend who uses your invitation link with the app allowing up to successful 100 referrals per user. What's more, some of the app's partners reward you with up to Rs. 100 ($1.30) per referral and 100% cashback offers.
Below is a list of platforms that collaborate with Paytm to give you cash for referrals:
MPL Game pro App
Mobile Premier League (MPL App) is an e-sports platform for semi-skilled and pro gamers. You can play your favorite games including Pool, Fruit Chop, Fruit Dart, and Speed Chess. Typically, this site pays you not just for referral links but also real cash for playing online games.
With each referral that you make, you could earn up to Rs 60 + 9 MPL tokens.
You also get 5 – 10 tokens for sharing the link and a similar bonus whenever others click it. You get to cash out your reward through Paytm, Amazon Pay, and Bank transfers.
RozDhan
Arguably, RozDhan is the best app in India for you to earn quick money. It allows you to play online games, download trending videos or even read the latest news.
You will get an Rs 80 (around $1) bonus once you sign in and up to Rs 25 per click on the link that you share with your friends.
Click here to download RozDhan and claim your reward today.
5. Make Money Posting Links from Companies.
Posting links from companies can also be referred to as affiliate marketing. As it happens, this is one of the major revenue earners for bloggers worldwide.
Mostly, your work is to provide valuable information about products and services from a given company on your site.
Such information comes in the form of product reviews that take a deeper look into why your readers should go for offers from the company. You can also go with list posts, comparison posts, and special offers posts. This kind of content sets you apart as an expert, making it easier to convert your visitors to consumers as you promote links and earn money.
When you sign up for an affiliate program, such as the popular Amazon Associates Program, you will get your own distinctive link. This is the link that you'll share across social media and web posts. You get to earn for each conversion made via your link.
While Amazon is the giant when it comes to affiliate marketing, their rates do fluctuate a lot. As such, it helps to sign up for several programs to ensure a steady flow of revenue.
With this in mind, I recommend you look into Clickbank, one of the leading internet retailers and affiliate marketers. What I like about Clickbank is that it is absolutely free to sign up and offers high commissions, averaging at around $30 per sale.
To make it as an affiliate marketer, however, requires you to be knowledgeable in quite a number of things such as:
The Take-Away
I hope that by now I have cleared all doubts that you might have about sharing links as a means of earning passive income. Beginning today, as you chart your course to making money through links, get started on increasing your social media followership and creating a profitable blog.
And with the information above, start scouting and comparing different affiliate marketing programs before signing up for the best. Also, take your time to review apps with the highest-paying referral programs to ensure that you only join legit platforms that pay.
Have you ever made money by sharing links? Which affiliate programs and apps offer the highest commissions for referrals? Talk to us in the comments section and offer any tips to make sharing links worthwhile.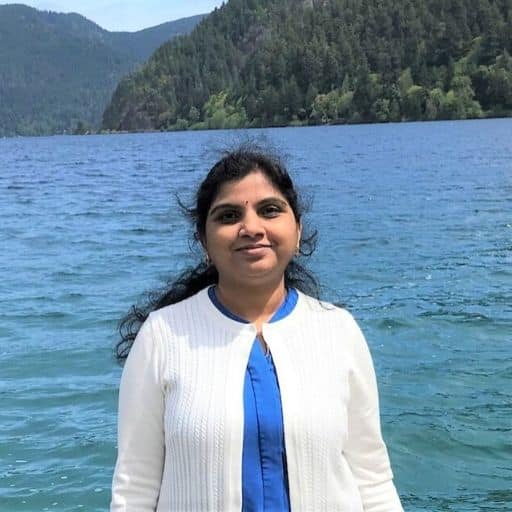 Howdy Folks, thanks for stopping by my blog.
I'm Swati, a proud mom, dedicated side hustler, full-time blogger, and a recognized millennial work-at-home expert. My expertise has been featured on esteemed platforms such as Forbes, CEO Blog Nation, Referral Rock, Vital Dollar, Databox blog, and many more. I have embarked on this incredible journey to share my firsthand experiences in the world of online income generation and to assist all of you in earning money from the comfort of your homes.
Join me in my mission to revolutionize the way we make money and achieve financial freedom. Trust me, it's not as challenging as it may seem!
Together, let's explore the boundless opportunities and pave our paths towards a prosperous future.