Did you know that you can get paid to watch Ads? While Ads can be annoying, there is no disputing the fact that they appear everywhere, with or without your consent. So, why not make money easily by watching short videos as you usually do while surfing the net.
With just your smartphone or laptop, you'll be ready to earn some quick cash without any investment. To this end, there are several apps and websites that are willing to pay you to watch ads from their sponsors.
Signing in is absolutely free with some of the platforms, giving you a bonus for registration and more for referrals.
So, if you are ready to get paid to view ads read on…
How to Earn Money Watching Ads and Videos
Wondering how it's possible to earn money watching Ads and videos online? Worry no more. It is simple, just download and sign in to apps and websites that pay you to watch ads.
The content is provided by sponsors who pay the associated platform to run their adverts. In turn, the sites share a part of the commission with you.
How does it work? Once you sign up with any app, you'll find several ads and videos to watch.
Click on them or leave them running in the background while you continue with your work; either way, for most platforms, you get paid.
Basically, you don't have to invest much time in your phone or laptop.
Can I Get Paid to View Ads and Watch Videos?
Yes, you can get paid to watch ads and videos. However, your earnings will depend on the platform you are using and the time you put into watching these ads.
Basically, you can earn about $200 per month on the higher end. More to this, you'll get bonuses from different offers that increase your earnings.
Usually, you earn in terms of in-app points that can be redeemed for gift cards, vouchers, as well as cash payments through PayPal.
Apps Where You Get Paid to Watch Ads
Currently, there are platforms that pay you for doing almost anything. I'm talking about;
What you will come to realize is that most of these platforms offer several streams to earn from.
Meaning, you can have an app paying you to take online surveys and extra for unlocking your phone. My two cents is that you should take advantage of all the different streams to earn more money.
With that in mind, below are the best platforms where you can get paid to watch ads and videos. As you read through, take note of the extra perks that come with each app.
Here's a list of the get paid to watch ads apps:
#1 Nielsen Computer & Mobile Panel (up to $50 in reward points per year)

Nielsen is a research company that gives various rewards to its users. They also run nationwide sweepstakes that give out up to $10,000 monthly to participants.
By using ratings, this platform is able to see which TV programs you watch and for how long. It's from such data that they make money from interested companies.
Once you install this software on your PC you stand a chance to win a massive $1o000 sweepstake. All panelists earn game tokens for chances to instantly win rewards on their scratch-off games!
The Nielsen app on your mobile device unlocks up to $50 per year in rewards points. These points are redeemable for quick cash via PayPal or gift cards from retailers such as Amazon, Walmart, and others!
Sign up with Nielsen Panel for free.
#2. Swagbucks (Up to $35 per survey + $10 Bonus after first 5 surveys)
Swagbucks is another popular survey platform that pays you to watch video ads. Here, your reward points can be redeemed for gift cards or, you can exchange them for cash via PayPal. After you sign in, watch the Swagbucks video playlist in your account, you start accumulating points.
There is also a welcome bonus of $5 once you sign in. Besides getting paid to watch video ads, you can earn more rewards by taking surveys and surfing through Swagbucks' website. Playing games on and shopping online through the site also earns you points.
Join Swagbucks today by creating an account.
Additional resource: Swagbucks Review.
#3 Inbox dollars (Up to $35 per survey + $5 Sign up bonus )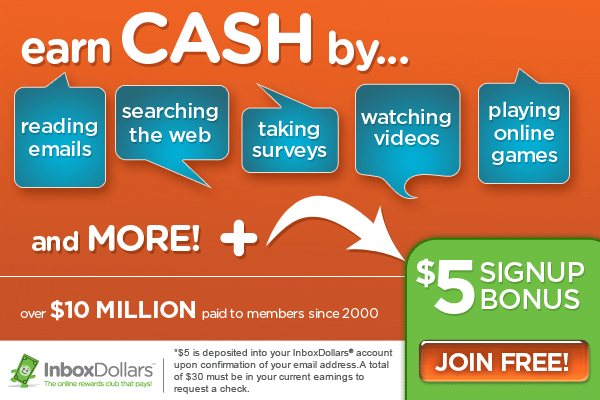 In need of quick cash? Try Inbox Dollars and get paid to watch ads on your phone. This is a legit site similar to surveys industry leaders like Survey Junkie and Swagbucks. For you to withdraw your payment, you have to earn a minimum of $30. I like the fact that InboxDollars rewards you with $5 as a welcome bonus after sign up.
You can cash out either via PayPal or through check. Not only can you earn by watching videos and ads, but you can also participate in completing surveys, reading paying emails, playing games, and shopping online. The only downside of working at InboxDollars is that they charge you $3 as a processing fee for payments.
Click here to claim a $5 sign up bonus on InboxDollars
Sign up for Inbox Pounds if you're from the UK, and Daily Rewards if you're from Canada.
#4 Survey Junkie Pulse

Similar to the Nielsen app, SJPulse also lets you earn rewards passively. The two apps are similar, except that SJPulse collects information based on your; online purchases, websites visited, apps you've installed, searches made, advertisements viewed, and how you entertain yourself using on your mobile or computer.
When you join the SJ Pulse community, you automatically earn points with Survey Junkie! Points you earn are redeemable for real money, sent via Paypal, wire transfer, check, or gift card.
To participate in SJ Pulse, you have two options: Install it on your computer, or opt-in via the Survey Junkie app. Also, you are free to choose how you participate in SJ pulse, whether on your computer, phone, or both.
Isn't that a tidy fortune for an app that doesn't require your engagement? Additionally, you get access to exclusive paid surveys from Survey Junkie, the parent company.
Additional Read: Survey Junkie Review.
#5 MyPoints (Up to $50 per survey + $5 Bonus after first 5 surveys)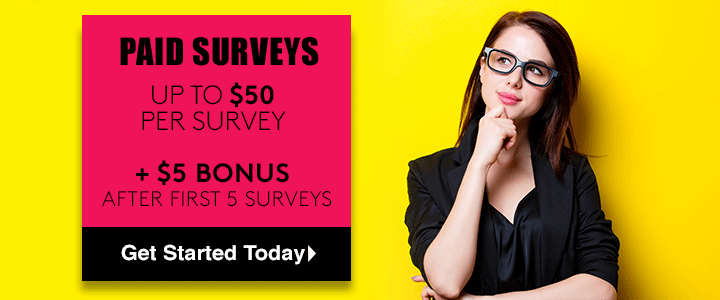 MyPoints and Swagbucks are operated by the same research company, Prodege. You earn rewards points by either watching online videos and ads, playing video games, reading emails, referring friends or taking surveys remotely. Once your points hit 700, you can redeem them for a gift card worth $5.
You can, alternatively, redeem your points for real cash by cashing out via PayPal or a prepaid account then directly to your bank account. Most users claim that MyPoints has one of the best customer service teams who are always ready to help.
Click here to register with MyPoints now!
#6 PrizeRebel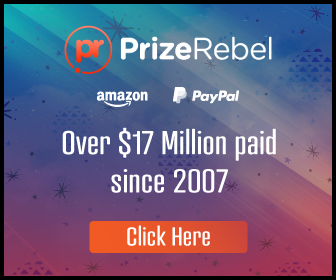 PrizeRebel is almost similar to Swagbucks, whereby you get paid to watch ads and take online surveys. This rewards program also offers promotional and referrals. It's available everywhere around the globe. The minimum payout amount is a $2 gift card, specifically from Amazon that you earn with 200 points.
It's a fact that PrizeRebel has some of the best-paid surveys, earning you up to $10 per hour. While surveys don't run throughout the day, you can make $20/day by taking advantage of their other offers.
Sign up takes just 10 seconds after which you can link up your account to your Facebook – for easier access going forward. Click here to sign up for Prize Rebel
#7 Ibotta (Up to $20 sign-up bonus)
Do you want to save on your grocery's expenditure? Check out Ibotta and get your refund after watching their Ads which run for less than 30 seconds. This is one of the simplest and the quickest way to get back your extra money on purchases. On top o this, once you watch your first ad and scan your receipt you earn $1.
Once you create an account with Ibotta, you get $5 as a sign-up bonus. The reward is redeemable after 30 days. For referrals, you earn $5 when your friends use your link to sign up. Before cashing out via PayPal your account must have at least $20.
Sign up with Ibotta to get started.
#8 Vindale Research
Vindale Research is a platform that pays you to primarily participate in online surveys. It operates in the United States, Canada, Australia, and the UK.
Once you sign in with Vindale, watch videos on their survey pages and start earning. This platform is entirely free to join.
You can cash out through PayPal. With Vindale, you earn as much as $50 by watching ads and videos. Besides watching ads, you can additionally earn through completing paid surveys and research, reading reward mails, and referring friends and family.
In particular, referrals earn you up to $5 per person. That's not all, you can also receive reward codes by simply following Vindale Research on social media platforms (Facebook and Twitter). Read more on Vindale Research here.
Want to get paid to view ads?
Click here to sign up for Vindale Research and get started with a $1 sign-up bonus.
Get Paid to Watch Ads on Your Phone
#9 SlideJoy
Slidejoy is essentially an Android lock screen app. Whenever you unlock your phone, ads do pop up and when you watch them you get paid.
It works by rewarding you with points referred to as carats. 1000 carats are worth $1 and for you to cash out, you need at least $2 which is 2000 carats.
However, the use of the app has been blamed for fast data consumption and battery drain. Additionally, you cannot cash out through PayPal.
That said, you can redeem your points for gift cards. There are various ways to earn carats such as swiping your locked screen and playing games (you can earn between 1000-2000 carats).
Other earning streams include taking surveys (earn 100-450 carats) and solving quizzes (earn yourself 50-100 carats).
Download Slidejoy for your android phone and start earning.
#10 SuccessBux
Successbux is another prime platform where you get paid to watch ads and videos. Once you complete viewing the ads, a captcha, and upon filling it, you earn between $0.001 – $0.002.
There are several cash-out options like PayPal, Perfect Money, and Payza. This platform charges you for payouts and upgrades that lead to better referral gains. For you to cash out, your account must have a minimum of $1.
Other ways to earn money with SuccessBux include completing paid offers and signing up for subscriptions. You can use SuccessBux from anywhere around the globe.
Also Read: 15 Captcha Typing Jobs to Get Paid Daily
#11 iRazoo App
iRazoo rewards you with points for watching ads, videos, movie trailers and sharing your opinion. There are more than 50 video channels for you to go through. 3000 points on this app are worth $5 and you can cash out either via PayPal or gift cards. The PayPal option is, however, limited to some countries.
In addition to watching ads and videos for pay, you can still make more money with the iRazoo app by participating in online surveys, playing games, and completing other paid offers.
Join iRazoo and start earning at the comfort of your home.
Check out: 17 Ways to get paid to watch movies
#12 InstaGC
Available to a global audience, this is another leading platform where you get paid for all sorts of activities. Tasks range from watching videos and ads, to taking online surveys, testing apps, and referrals. There are also promotional codes and online shopping offers to look forward to. Better yet, there is a wide selection of gift cards to choose from.
The minimum number of points you can request a gift with is 100, equivalent to $1. Another great deal is that you can sign up on InstaGC with your email account, or link up to your Facebook or Twitter account.
Create an account with InstaGC and get paid to watch ads.
#13 Earnably
How about installing an app to get paid to watch TV commercials? Sign up with Earnbly and get paid to watch interesting videos from Fox and Hideout TV ads. Besides getting paid to watch ads, you can get more points by filling out paid surveys, enabling apps, using promo codes either on Facebook or Twitter. There are also points to be made from referrals and offer walls from over 30 partners.
You are allowed to cash out via PayPal, gift cards, and prepaid Visa. With a PayPal account, you can redeem 125 points for $1. With a prepaid visa, you need 500 points, worth $5 to cash out.
#14 Fusion cash
Fusion Cash is a GPT website available in the USA and Canada only. You get paid to watch ads, participate in surveys, do online shopping, complete offers and refer friends. For every referral, you earn $1 and when you complete an offer, you earn $2. Finally, every time you cash out you stand a chance to earn $5 for free. Isn't that awesome?
You are only allowed to cash out with a minimum amount of $25. However, $15 of the amount should not come from referrals. A PayPal account is required here for payment purposes.
Sign up and claim your $5 welcome bonus.
#15 Quickrewards
QuickRewards is one of the oldest GPT websites where you get paid to watch videos. As the name suggests, everything here is quick. After signing up, you are asked to choose one program to limit the type of emails received and for a custom experience.
With QuickRewards you can earn more points by; browsing their website, shopping online, watching video ads, and completing various offers.
Payments through PayPal are processed within 72 hours after you make a request. Gift cards are delivered within one week. With 100 quick points, you get to make $0.01, which is the minimum cash-out amount. On the downside, QuickRewards is available to USA and Canada residents only.
#16 Creation Rewards
This is yet another GPT website where you earn by completing different online tasks. For instance, you get paid to watch daily videos, participate in daily surveys, and play sweepstakes. There are also deals and offers, plus referrals to earn money from with CreationRewards.
5000 points are redeemable for $5. You have a variety of gift cards to choose from as well as PayPal and debit cards when cashing out.
Register now for your free new member $5 bonus.
#17 Viggle App
Still, wondering how you can get paid to watch TV commercials? Sign up with the sleek Viggle App from Perk, a leading mobile rewards program. From here, you can stream TV shows from Netflix, Hulu, Amazon, and the likes. Every hour you spend watching a show, you earn 60 perk points.
The rewards gained are redeemable for merchandise from retailers such as Walmart, Amazon, and my personal favorite, PayPal. Want cash for watching ads? Viggle offers users Perk Plastic, a prepaid debit card. You can use it to exchange your perk points for cash. And that's not all, you can make up to 15 times your normal points by watching select TV shows.
That said, to redeem points you need to earn at least 1 perk point every month. Also, you need both a Perk account a Viggle account to cash-out points.
Update: Perk closed down but the Viggle app is still available on Google Play Store.
Get Paid to Watch YouTube Ads
So, how to earn money by watching ads on YouTube?
YouTube is the largest online video platform where you can make money with your creativity. For this to work, first, learn the tricks for shooting a pro-level YouTube video. This will come in handy as you set up a successful YouTube channel.
Now, back to our topic of today, how to make money watching ads.
To begin with, you don't have to really be a YouTuber to get paid to watch ads on YouTube. You simply need to have a normal YouTube account then enable monetization features.
How to set up YouTube monetization
S

ign in to your YouTube account

Tap on the top right end.

YouTube Studio will display, click on it.
On the left end click on other features and monetization will show
Next, YouTube partners account terms and conditions will display, tap to agree, and continue
Continue to set up your YouTube AdSense account for payments

Finally, set your preferences on the types of ads you'd like to see
After monetization, you are ready to get money from ads that pop up when watching videos on the platform. Note, Ads that pop up before a video plays pay more compared to ads that pop up when a video is playing.
The good thing is that you get paid whenever someone watches your video for more than 30 seconds. Another way to get paid by watching ads on YouTube is when someone clicks and watches ads while your videos are playing. Therefore, you'll need to invest more time in YouTube making quality videos.
You can earn between $0.01 – $0.03 for each ad view. On the other hand, 1000 views of your videos roughly earn you up to $18.
The cash out may seem low, but making good money on the platform is possible. Take a look at my interview with a foodie YouTuber for tips.
Important Resource: How Much Does YouTube Pay Per Ad View
FAQS
Can I get paid to watch ads?
There are many apps and websites that pay you to watch ads. Besides ads, you can also earn in other ways such as participating in online surveys, playing games, and more. Understandably, the payoff from ads is not much, but when coupled with other offers, you can make decent money. Just download the app or site that suits you best and watch ads as you enjoy watching videos and your other online activities.
How to get paid to watch ads?
With a computer or mobile phone, simply sign up on any of the above platforms that pay you to watch ads. Basically, watching ads earns you points that are redeemable for monetary goodies such as PayPal money or gift cards. Some apps, however, require you to hit a minimum target for you to be able to cash out.
Final Take
I hope you enjoyed my views on how to make money watching ads. Now it's up to you to decide on which platform suits you best and be on your way to earning money. Its also worth noting that, with some apps, you don't even have to view the ads to earn. As such, you will be making money passively while going on with your life online.
Don't forget to leave a comment after trying any of the platforms above.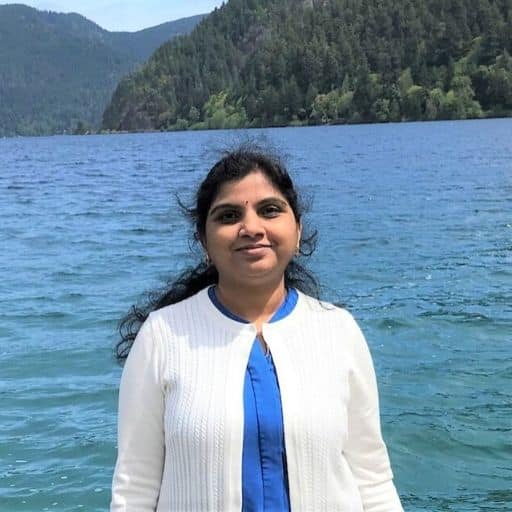 Howdy Folks, thanks for stopping by my blog.
I'm Swati, a proud mom, dedicated side hustler, full-time blogger, and a recognized millennial work-at-home expert. My expertise has been featured on esteemed platforms such as Forbes, CEO Blog Nation, Referral Rock, Vital Dollar, Databox blog, and many more. I have embarked on this incredible journey to share my firsthand experiences in the world of online income generation and to assist all of you in earning money from the comfort of your homes.
Join me in my mission to revolutionize the way we make money and achieve financial freedom. Trust me, it's not as challenging as it may seem!
Together, let's explore the boundless opportunities and pave our paths towards a prosperous future.