Looking at this Vindale Research review, then you might be probably thinking of an easy side hustle? You are in the right place!
As you know survey websites are a good way to earn some extra bucks and even make better use of your free time.
Paid online surveys are widely used by companies today as their leading research tool.
This site helps to collect important feedback from people about companies' products and services. These companies then use such information to improve their delivery and features.
As such, survey websites have been set up to help companies take these surveys. If you become a participant, you'll pocket quite a good amount of money and gain meaningful knowledge at the same time.
There exist dozens of survey websites, some that are legit while others are scams. The question is, is Vindale Research legit?
In this Vindale research review, I'll dive deep to know everything there is to know about their jobs and platform. From the user feedback available on different platforms, we'll see whether it's legit or just another scam.
What's more, I'll give details on how to earn with Vindale Research and how much you can expect to earn.
Let's get started…
What Is Vindale Research?
Started in 2005, Vindale Research is a leading online survey website. It has its headquarters in New York, the US with its servers also being located in the country.
Apart from American residents, this survey website currently recruits members living in the U.K, Canada, and Australia.
Vindale Research has partnered with multiple companies that pay them for taking surveys on their behalf.
Luckily for you, Vindale Research asks remote participants to take part in these surveys online. They even go a step further to allow you to take part in product testing; you get free gifts and easy money!
This platform doesn't charge you to join – it's entirely free.
Besides participating in surveys, I like the fact that they offer you plenty of other opportunities to earn. They have paid about $10M to its users while providing insight to huge brands like Amazon, Netflix, and Disney.
In 2018, Vindale Research was purchased by Reimagine Holdings, and operate under the brand to date.
Is Vindale Research Legit?
Before embracing an online job as your side hustle, it's always right to ensure that this job isn't just another online scam. Further, Vindale Research pays you after you hit a certain target.
As such, you need a guarantee that your efforts will not be a waste of time.
From recent traffic rankings, it's no secret that Vindale Research is a popular website.
According to Alexa, this website ranks among the top 70,000 frequently accessed websites in Canada and the USA. In July 2017, it improved from the top 32000 most visited websites to the top 28,000, which is applaudable!
This proves that Vindale Research continues to gain popularity each passing day.
SimilarWeb is another reputable platform that ranks websites. It shows that Vindale Research receives traffic of over 649,000 visitors, the US leads with about 68% view rate from this traffic.
From these statistics, Vindale Research isn't the most popular website, but it continues growing with increasing traffic, proving that it's legit.
To critically understand whether this platform is worth your time, the best approach is to look at how it fares on review platforms such as Trustpilot and BBB:
Vindale Research Reviews BBB & Trustpilot
Also known as Dynata LLC, Vindale Research has received a 1.82-star rating out of 5 derived from a total of 179 customer reviews on BBB. This below-average rating is a result of 995 complaints received in the last 3 years.
The main concern in these complaints include:
Not qualifying in some Surveys

Surveys close within a short time even when the user is still taking them

Too much information to submit before taking a survey
Despite the bad rap, I love the fact that Vindale Research responds to negative feedback from users. As such, all the negative feedback on BBB has been resolved.
Besides these negative feedback, most users do report complete satisfaction with this platform for things such as
Security and privacy protection

Positive customer service

Payment is on time

Various ways to earn money
Vindale Research scores an A+ on BBB, even though it's not accredited by the company. This high score indicates that this platform is entirely dedicated to serving users and resolving their complaints.
Let's look at how it fairs on Trustpilot.
On Trustpilot, Vindale Research seems to be doing better than fine. It has a 3.8-star rating from 4,280 reviews. 58% of these reviews have given this platform an "excellent" rating. Only 16% of users have labeled it as "poor" and "bad".
From these reviews, most users are satisfied with this online survey. Add this to the fact that Vindale Research has been in business for 17 years and you get a picture of a stellar online survey company.
What's more? This platform doesn't ask you to enter your credit card details during sign up, unlike other scam websites.
Considering all these, it's clearly evident that Vindale Research is legit.
How Does Vindale Research Work?
The basic purpose of survey websites is for users to take part in paid surveys. As such, Vindale rewards you for sharing your feedback with consumer brands. Joining is pretty easy and so is kickstarting your earning journey with this platform.
Below are the steps to follow:
1. Vindale Research Sign Up
V

isit

Vindale Research website

and on the top right-hand side, you'll find a sign-up button.

Click on it to enter your basic credentials including your name, gender, ethnicity, date of birth, address, and more.

An activation link will be sent to your mail.

You'll need to click on it to activate your Vindale account. Joining is as simple as that

Login and create your Vindale Research account
Note you may encounter a case where you sign up and don't receive an activation email. In such a case, click the "Resend Email" button and your activation email should be sent seconds later.
Vindale Research states that you can earn $1 for just filling out your profile. After registration, you are then required to undergo a 5-minute accelerated training tutorial.
2. Start Earning Your Rewards
Once your account is active, it's time to start taking surveys through your computer or mobile phone.
You can also earn through reward codes, watching videos, reading emails, participating in panels, and referring other users to join the platform.
The amount you can make mainly depends on the tasks you take. The more surveys you take, the more you get to earn. And there is no limit to the number of surveys you take in a day.
On the downside, you may not qualify for some surveys.
3. Get Paid for Your Work
As stated previously, you can only withdraw your money once you hit a minimum target ($50).
Once you attain $50, Vindale Research pays you instantly via PayPal. They previously had the option of sending you a check via email but currently, they aren't paying through check
Unlike other survey websites that pay via gift cards or let you donate your money to charities, I love Vindale Research since it pays you with cash. And, you have total control over your money!
How to Make Money On Vindale Research?
There is no fixed amount on how much you can earn by taking a survey. It all depends on the survey.
Once you sign up, Vindale Research starts sending them on a regular basis to your email. So be ready for plenty of them.
But besides surveys, you can earn through other ways. Below is a highlight of making money online opportunities on the site.
1. Take Part In Surveys
Surveys are the most basic way to earn on Vindale Research. It approximately takes 5-15 minutes of your time to complete one survey.
The reward for one survey is about $0.50-$2 that reflects instantly to your account. However, in some cases, it may take up to 5 business days to reflect on your account.
These surveys comprise mainly of questions that you are required to answer, as per your opinion. Your answers in turn help the company to suggest another survey that you qualify for.
Usually, redirection to the next survey is automatic and immediate. It all boils down to the number of clicks put in place to earn you another survey.
TIP: Add a Google Chrome extension that notifies you every time a new survey comes up. This is because you need to respond quickly as these surveys expire if you don't act fast enough. Remember there is a limit to the number of participants needed per survey.
2. Vindale Research Reward Codes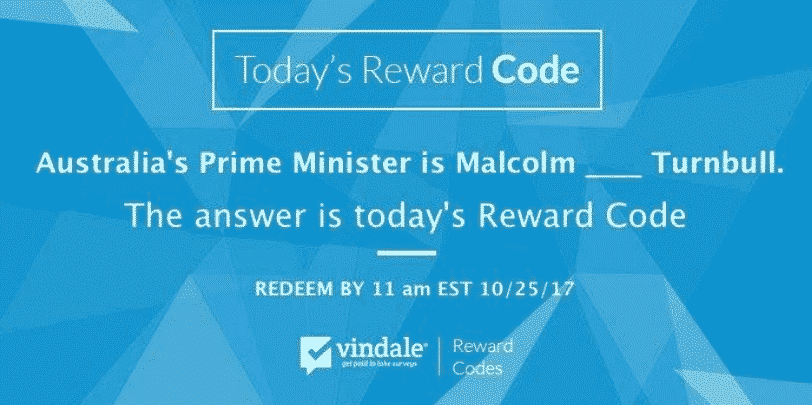 This survey website rewards you for joining and following its social media accounts and blogs. Here you'll find polls, challenges, and alerts that have reward codes.
Be active on their blog, Facebook, and Twitter since they're the most social sites for the reward codes.
3. Watch Videos
On your Vindale Research dashboard, you'll find a "videos" tab from where you can watch videos and earn. These videos comprise ads from other platforms and last approximately one minute or less.
Watching one video pays you $0.05. So, the more videos you watch, the more you get to earn.
4. Subscribe to Reward Mail
Yeah, you can earn by just opening an email. With Vindale Research you can opt into the "Reward Mail" option in your email settings.
Once you subscribe, you'll start receiving promotional emails. You become eligible for payment once you open and read these emails.
If you find these emails a nuisance, you can opt out anytime. Vindale Research also claims that it doesn't sell your email as per its security policies.
How much you can earn from these isn't very clear, but it's a good way to earn some extra cash.
5. Earn Referral Bonuses
This online survey website keeps on getting better. With a referral bonus, you get paid whenever you refer a new member and they end up joining the Vindale community.
The person you refer has to sign up with your referral link and be active for you to receive the full $5 referral bonus.
Sign up today and start sharing your link to earn an additional bonus.
6. Sharing a Payment Photo
Vindale Research rewards you to share a photo of how much you earn. The reward is $5. They probably use these photos as a marketing strategy to prove to others about their payments. Not a bad marketing strategy.
Other survey sites to try out:
How Much Money Can You Make On Vindale Research?
The thing about online surveys is that they may too much of your time. But the reward is always good. This implies that the more time you spend taking surveys, the more you can make.
A survey of about 10-20 minutes rewards you with $0.80. You can therefore earn a maximum of $2-$5 per hour.
Keep in mind that with Vindale Research, you cannot withdraw your earnings until you hit a target of $50. That's when Vindale Research credits it to your PayPal account.
However, when a product is sent to you for review, you may receive up to $75. Completing complex surveys rewards you with better pay.
Besides surveys, there are more ways you can earn with this platform as explained in the previous section.
Vindale Research Payment Method
Vindale Research lets you transfer your earnings to your PayPal account once you hit $50 or more. You, therefore, need to have a PayPal account before you sign up with them.
Up to date, Vindale Research has paid out more than $7.9 million to its users – to be precise, $7,939,326 as of publishing.
So yes, this platform pays you for taking surveys. And the good thing is that you are not deducted any payment as processing fees.
The reason why Vindale stands out against other survey websites is that you get paid in cash instead of points, rewards, coupons, or gift cards.
Vindale Research Affiliate Program
To start with, an affiliate program is a type of marketing whereby a business pays the affiliate for every visitor or new user brought by their advertising efforts.
By joining Vindale Research, you can also become a Vindale affiliate. Head into their affiliates page for more on this.
Basically, you are required to fill out an application to partner with Vindale Research.
After submitting your application, Vindale will review it and then provide you with the links to post on your website. From there, just sit back and watch as your earnings accumulate.
What's more, through Vindale Research's referral program, you can use your referral code as your affiliate link.
This platform pays its affiliates for completing surveys that Vindale itself has agreed upon with its advertisers. They are in turn paid by these companies, then they share this commission with you.
Affiliate Networks like MaxBounty, Panthera, and Offer Juice offer up to $1.60 per lead and you can easily earn $300-$500 a month easily with their affiliate program.
All you need is a good website or a social media platform with decent traffic to promote the offer to a wide range of audiences.
Vindale Research Reviews On Reddit
Much of the complaints tabled against Vindale research has been about their little payout. However, this platform also receives plenty of positive feedback from users. To understand this, let's have a look at some of these reviews.
From these negative reviews, the low payout is a major concern for most users on Reddit. Users also don't like the fact that you can't withdraw your money until you hit the $50 target, which a bit high for a paid survey site.
These are just cases of users not agreeing with the website's policies. You should also note that taking part in online surveys usually falls under side hustles, not your main income source.
That said, the reviews on Reddit are few and none is overly positive. However, none of the reviews claim that Vindale Research is a scam.
Vindale Research Reviews On Survey Police
This is another forum, similar to Reddit, where users air their views regarding different platforms. Let's have a look at what they have to say about Vindale Research.
From the above reviews, one user is complaining about receiving annoying emails. In such a case, Vindale Research clearly states that you can unsubscribe from their mailing list any time you want.
Other users complain about not qualifying for some surveys. This is a normal thing. Qualifying for surveys depends on how fast you act, your profile on it, and how good you answer the questions.
Besides, Survey Police is full of reviews from users who are completely satisfied with Vindale Research.
Source: Surveypolice
My verdict is that Vindale Research is like any other survey website. As such, you should expect predetermined company policies and issues like unsatisfactory payouts from its users.
On the upside, users who've interacted with this platform again don't claim that it's a scam either.
Vindale Research Pros and Cons
What I Like About Vindale Research
It's free to join
This platform provides several ways to earn money besides taking part in online surveys
Rewards are in form of real cash instead of gift cards or points
Better pay as compared to other survey websites
You can enable a browser extension that will notify you every time a new survey is sent to you.
No payment processing fees
They have an app
Vindale Research Review: Wrap Up
Vindale Research is a legit platform that pays you real cash for taking paid online surveys. It provides you with several other ways to maximize your profits. You should earn smart by making good use of your free time and pounce on surveys once they pop up.
Taking these surveys however is a way to make money as a side hustle, it's not meant to make you rich. As such, you should be patient when taking these surveys and when possible, couple them with other free online jobs that pay daily.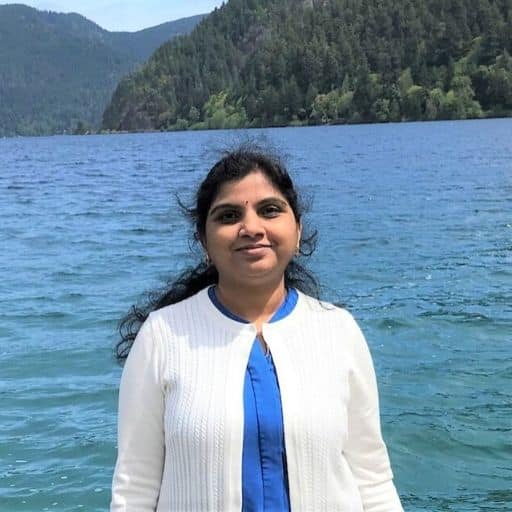 Howdy Folks, thanks for stopping by my blog.
I'm Swati, a proud mom, dedicated side hustler, full-time blogger, and a recognized millennial work-at-home expert. My expertise has been featured on esteemed platforms such as Forbes, CEO Blog Nation, Referral Rock, Vital Dollar, Databox blog, and many more. I have embarked on this incredible journey to share my firsthand experiences in the world of online income generation and to assist all of you in earning money from the comfort of your homes.
Join me in my mission to revolutionize the way we make money and achieve financial freedom. Trust me, it's not as challenging as it may seem!
Together, let's explore the boundless opportunities and pave our paths towards a prosperous future.