In this Cambridge Proofreading review, I will be taking a look at a well-known freelancer's marketplace. Hang on to learn more about your dream job!
Do you always notice when someone unintentionally leaves out a dot in their i's or across in their t's? Well, that's just a part of what proofreading entails. Then there are spotting errors in grammar, flow, and consistency of written work…the list can get longer.
The point is; if noticing errors in texts comes easy, and you are exceptionally good in grammar, then it's probably time to start earning from proofreading.
Currently, college students are paying for the editing of essays and assignments. The need extends to proofreading, and in some cases, doing assignments on behalf of students. This has created an increase in the demand for remote proofreading jobs.
To satisfy the demand, numerous proofreading agencies have mushroomed left, right, and center. My job is to give you unbiased and up-to-date information on opportunities to make money from home.
Before we go to the Cambridge Proofreading review though, do you need the training to become a proofreader? Sometimes, all you need is a nudge in the right direction and you are good to go.
Do You Need the Training to Work for Cambridge Proofreading?
Their basic requirements for proofreading jobs vary depending on where you are when applying for a job and the type of work required. Usually, they update their careers page as per the available work.
Either way, after you get recruited, you must undergo some training. But, it's always good to get trained and well-prepared to secure high pay for yourself! And gladly, you don't have to take the trouble in finding one.
Caitlin Pyle has mastered the art of freelance proofreading and from all her knowledge has created the most comprehensive proofreading course, ProofreadAnywhere. Luckily, you can gain access to her workshop for FREE here.
The ProofreadAnywhere course takes you from the basics of proofreading to the point where you are running your own proofreading business. Not convinced yet?
Check out her FREE 76-Minute Workshop to know everything that proofreading entails and decide if proofreading is your thing.
What are Proofreading Agencies?
Without proofreading courses being offered in many institutions, independent agencies fill gaps.
These agencies hire remote workers to collaborate with their teams of expert proofreaders and editors. For you at home, you can use tools such as Grammarly to perfect your writing.
Furthermore, working as a remote proofreader gives you the luxury of earning from home and you can choose your own schedule.
For more on this agency, I will address some facts about its legitimacy, how much it pays, and how it's rated by users on different review platforms. To start with, let's find out what the company is all about.
What is Cambridge Proofreading?
Cambridge Proofreading LLC is a leading agency that offers professional proofreading services. It was founded over 10 years ago in Cambridge, England with its headquarters located in Chicago. It was started by a group of experienced editors with the primary aim of providing the best proofreading services to:
Students

Private individuals

Academics

Authors, and

Businesses/ organizations
Cambridge Proofreading Worldwide as the name suggests offers these services globally. Their editors are from the USA, UK, Canada, and Australia who proofread and edit in native Canadian, UK, US, and Australian English.
They currently have a network of over 300 editing professionals worldwide who've worked on over 150,000 documents on behalf of 54,000+ clients. This has earned them a positive reputation from thousands of students, businesses, and ESL speakers.
Generally, the company offers remote proofreading jobs in the following subjects like business and economics, life, social, medical, engineering, and physical sciences. Once you get hired to work with their expert team, you get to work on several types of clients' documents including:
Dissertations

Admissions papers

Research proposals

Resumes
If you have what it takes, join the Cambridge Proofreading team by clicking on this link.
Is Cambridge Proofreading Legit?
Before engaging in online streams of making money, it's normal to question their legitimacy. As such, you are probably wondering whether Cambridge Proofreading LLC is but just another online proofreading scam. Right? This agency has received a lot of hype on the internet. Do the services they offer to match the hype?
To get a clear answer, the best solution is to look at how this agency fares from clients' and contractors' opinions.
Looking at the minimum requirements of its editors, there is no doubt that it's not a scam. If you want to work with them, you are required to have at least a bachelor's degree from a top-rated American, British, or English-speaking university.
It's worth noting that, most scam online platforms entice applicants by stating that no minimum qualifications are required to apply.
Another thing that goes for them is their refund policy. In the event, you pay for a service and you are not satisfied with the results, Cambridge Proofreading offers a partial or full refund. The only condition is for you to cite a valid reason.
Besides, Cambridge Proofreading has been in business for more than 10 years, from 2006-2020. Scams don't usually run for such a long time in business without being outed.
Not convinced yet? Let's have a look at how Cambridge Proofreading fares from some internationally recognized business raters:
Cambridge Proofreading Review on TrustPilot
Cambridge Proofreading has a 4.9-star rating from over 1,915 user reviews on Trustpilot. What's more? 94% of its users have given this proofreading agency an "Excellent" rating.
This clearly indicates that the majority of its users are satisfied with the services they receive.
A point to note is that this platform is not BBB accredited. BBB or Better Business Bureau is another market evaluator that evaluates businesses based on information from both users and workers.
Cambridge Proofreading not getting BBB accreditation doesn't mean that it's not legit. There are other businesses like Proofread Anywhere that are not BBB accredited too, with the owner of the site claiming that the Rater demands some payment to evaluate your business.
To be clear, based on Trustpilot user reviews, and the work and pay they discuss therein, Cambridge Proofreading is definitely legit.
Cambridge Proofreading Review as Per Reddit
Unfortunately, nobody has submitted any reviews about this platform on the Reddit website. But you can have a look at Cambridge proofreading user reviews from Findproofing.com, another trusted rater popular with students.
These are reviews from users, including students, with each pointing to an above-stellar operation.
Cambridge Proofreading Glassdoor
Cambridge Proofreading just like any other business receives both positive and negative reviews on Glassdoor. As such, these reviews can help to critically evaluate the credibility of a platform and the quality of services offered.
With that in mind, let's look at some of the most critical Cambridge Proofreading employees and user reviews on Glassdoor.com
This review is from one employee who has previously worked for this agency. They admit that Cambridge Proofreading has an excellent editing team that provides enough support for its freelance editors. Also, he admits that the schedule on the platform is flexible and that there are enough jobs.
However, from this review, there are complaints about payment terms saying that some jobs are more difficult than others. This employee recommends better rates for harder jobs.
Here, it's evident that the company is not at fault; rather, the reviewer wasn't okay with the terms. This is despite the fact that Cambridge Proofreading pay rates are on the higher end as compared to a host of similar platforms. And, on the issue of some jobs being hard, this platform lets you preview a file (job) before either accepting or rejecting it.
Here is another not-so-good review from an employee who has been working as an editor for more than 3 years. Generally, they complain about disorganized management and harsh work policies.
However, this complaint is invalid since in 219 the site did review their workplace policies to better suit freelancers and customers.
Though critical, the above reviews are both 3-stars out of a possible 5-star rating. This implies that both users are, to a good extent, satisfied with the quality of services and remuneration. At the same time, no reviewer claims that Cambridge Proofreading is a scam.
Cambridge Proofreading Positive Glassdoor Reviews
On the other end of the scale, let's look at some of the 5-star reviews from current and former employees. The reviewers have nothing but praise for the site, give or take a few issues with the procedures and workflow.
To understand better, here is an overall review of Cambridge Proofreading on Glassdoor.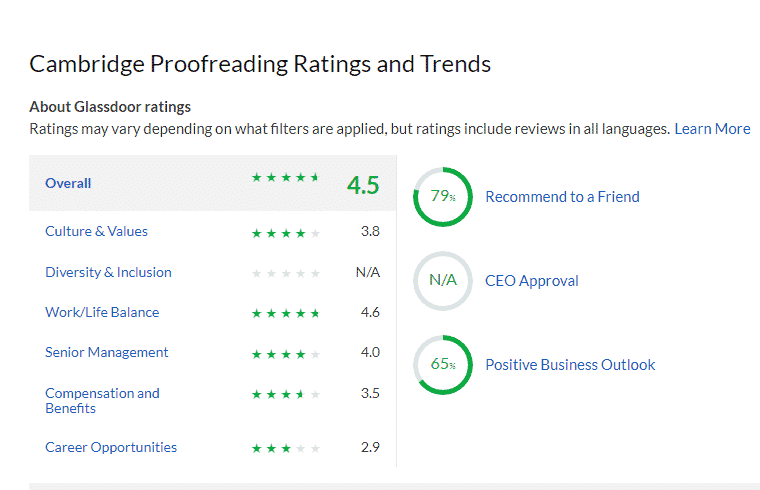 Source: Glassdoor
Having an overall rating of 4.5 from current and previous employees is pretty good. But just like any other business, you should expect normal bureaucracy and strict guidelines or policies.
Other Qualifications
Other than the above tests, for you to join the Cambridge Proofreading team you need to pass these minimum requirements:
Be a native-English speaking person

Be able to edit a minimum of 10,000 words/week

Have a bachelor's degree from an international-recognized British, American, or any English-speaking university.
But for you to stand a better chance, this proofreading agency prefers you to have either:
An advanced university qualification (Masters or doctoral), and

Possess some proofreading experience
How Cambridge Proofreading Works?
Upon approval, Cambridge Proofreading sends job proposals via email. These proposals contain information about the order, word count, topic, and deadline. You get to choose whether to accept or reject this proposal with just a click of a button- no explanation required.
This proofreading platform also has an open market where you can choose jobs from a variety of available orders. From there, ready orders go via Cambridge Proofreading before they reach the client for rating/ approval.
If your customer is happy, that translates to increased proposals, more client recommendations, and a smooth workflow.
Above all, their interface allows you to choose your own schedule by accepting or rejecting jobs at your own will. You do this through a calendar that is unique to your location. Here, you block the days you'd prefer jobs not to be sent to you- quite genius!
What I like about Cambridge Proofreading
Sufficient team support

Easy to use management system

Flexible schedule

Enough proofreading and editing jobs

Reasonable payment rates
What I Didn't Like about Cambridge proofreading
Some proofreading and editing jobs are quite challenging

Most negative reviews complain about low payment rates

Having at least a bachelor's degree to apply for a job
Cambridge Proofreading Salary and Pricing
This platform offers freelance proofreaders a rate of $0.12 per word or between $15 and 30 per hour, depending on your speed. They pay twice per month via PayPal. High rates go to top editors and those dealing with expert-level documents, such as dissertations.
For students and organizations who'd wish to order proofreading services, you pay $24.90 per 1000 words (24 hours). Pricing is also dependent on the number of editors working on your document.
One editor will charge $22.90 and will take 48 hours to complete the job while two editors will charge you $45.80 for the same number of hours.
You should choose two editors when you need your document edited fast. Payment for these services is via PayPal, Visa, Mastercard, Amex, Discover, or JCB.
I like that Cambridge Proofreading has a full or partial money-back guarantee if you aren't satisfied with their service. What this means for contractors is that your work must be beyond excellent.
Cambridge Proofreading Test
To start with, you get free access to their resource library to hone your editing skills and boost your efficiency. More to that, you receive quality feedback and guidance from Cambridge's skilled quality control staff and the editing team manager. This is just some type of support, with the real test comprising of 4 assignments:
General language

Academic language

Comprehension and commenting on the text

Combination of skills and efficiency
The quiz takes approximately 45 minutes to complete. Note that when you start this quiz, you can't pause or go back to your application later on. So, ensure that you have enough time to complete this quiz to the end.
In this quiz, you'll be tested mostly on your grammar and vocabulary- the basics of proofreading. What's more, they assess all applicants' experience to see whether you are a good fit for their team.
Once you qualify with a passing score, you forward your CV. As such, you should have it ready. Also, ensure that your browser is up to date since this type of documents may not work on older browsers.
Click here to start your test.
Cambridge Proofreading Quiz Answers
Cambridge Proofreading quiz comprises multi-choice questions. However, a few of the fields don't have multiple answers. Such are personal details like name, country, and email address, plus a few open-ended questions that test writing concepts.
As a precaution, you should ensure you pick your answers carefully. Once you proceed to the next question, there is no going back to the previous one.
My Verdict: Is Cambridge Proofreading good?
Cambridge Proofreading is definitely 100% legit and a good proofreading platform to work for. How much you can earn highly depends on how fast you work on a client's document where you can earn an average of $20 per hour.
The only downside is that this platform is not a good starting place if you lack experience in proofreading or editing. They require you to have a bachelor's degree and experience as minimum requirements. Don't fret, here are other platforms that hire freelance proofreaders and editors.
If you have what it takes, you can make a fortune by working for Cambridge Proofreading. Their pay rates are one of the best in this proofreading industry. If proofreading is not your thing, here are other legit online jobs that pay $1000+ weekly.
Did you find Cambridge Proofreading good for you? Head to their website to join their freelance editing team. Check out these alternative proofreading companies and job opportunities: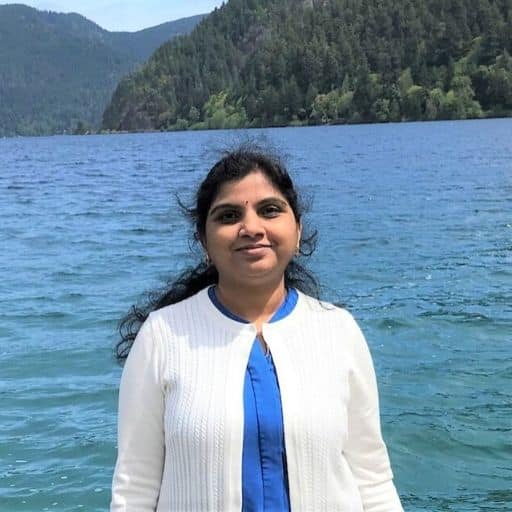 Howdy Folks, thanks for stopping by my blog.
I'm Swati, a proud mom, dedicated side hustler, full-time blogger, and a recognized millennial work-at-home expert. My expertise has been featured on esteemed platforms such as Forbes, CEO Blog Nation, Referral Rock, Vital Dollar, Databox blog, and many more. I have embarked on this incredible journey to share my firsthand experiences in the world of online income generation and to assist all of you in earning money from the comfort of your homes.
Join me in my mission to revolutionize the way we make money and achieve financial freedom. Trust me, it's not as challenging as it may seem!
Together, let's explore the boundless opportunities and pave our paths towards a prosperous future.