Is Proofread Anywhere legit? Is this just another online scam? What if Caitlin Pyle's training is a scam?
If you are wondering about this, then you are probably looking for a reputable proofreading course, right? Well, if correcting grammar, spelling, and punctuation errors is your thing, it's time you leverage your skills for cash.
Don't be fooled though; proofreading is not as easy as it sounds. It takes a little help to become an expert proofreader. And that's where Proofread Anywhere by Caitlin Pyle comes in. The training is said to have helped thousands of people kick start their proofreading business.
In this review, I will address several aspects of the training including modules and cost. More to this, I'll look at the controversies surrounding Proofread Anywhere.
Before I get to that, let's first understand what Proofread Anywhere is.
What Is Proofread Anywhere?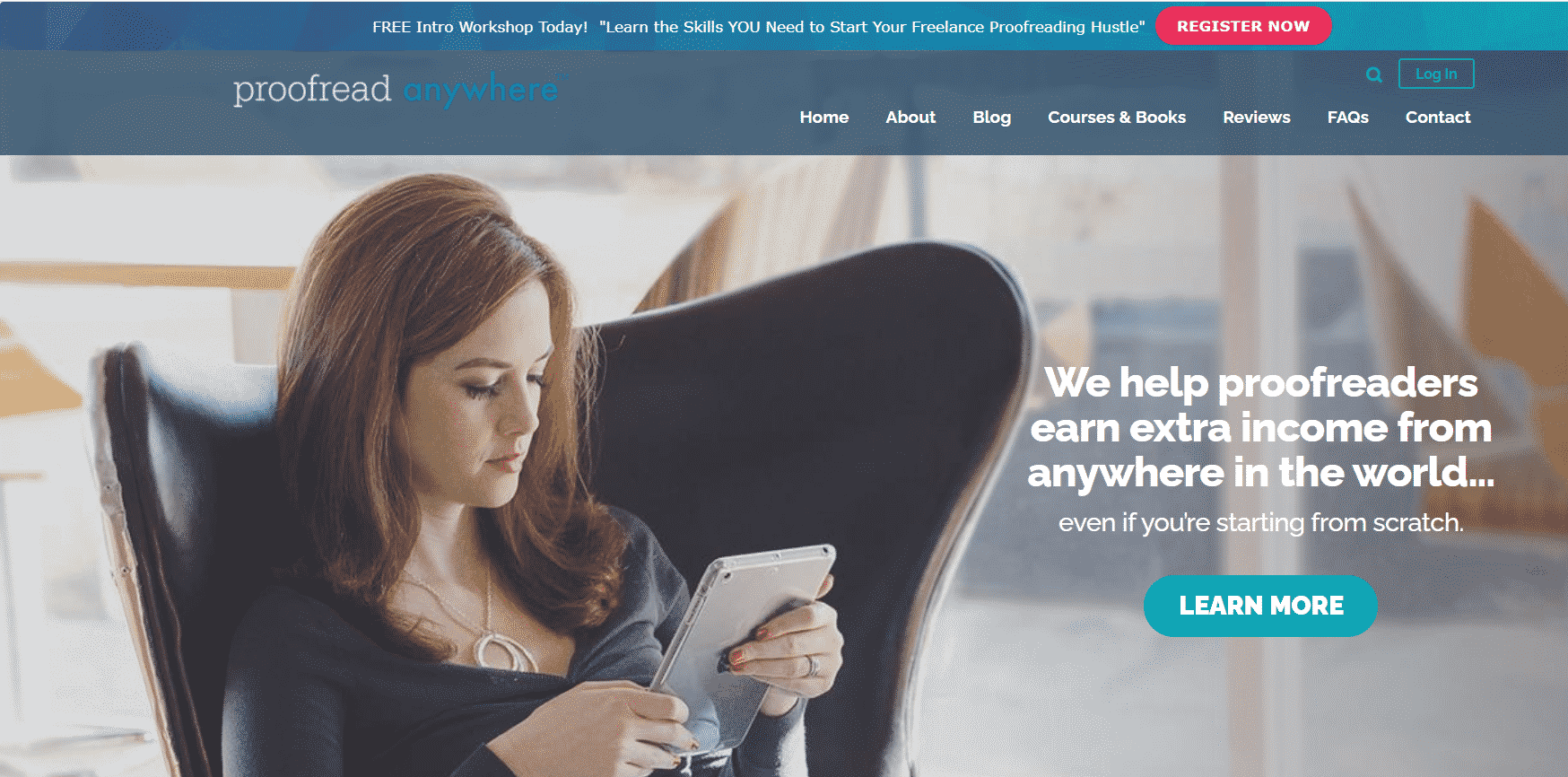 Proofread Anywhere is a popular proofreading course started by Caitlin Pyle, who also happens to be the co-owner of theworkanywherelife.com.
Her proofreading course is the first-ever online course started to help learners proofread court transcripts and other articles from anywhere around the globe.
Caitlin has been a proofreader since 2007. She began proofreading court transcripts in 2012 and made it her sole income source for about two years. In 2014, she started Proofread Anywhere and the venture has since earned her more than $575,000.
Today, she has several features in leading publications like Fortune, Business Insider, and Fast Company. However, her greatest achievement is the huge number of proofreading newbies who depend on her course every year.
In a nutshell, Proofread Anywhere involves:
More than 40 interactive modules that teach you basic proofreading skills in just 8 modules
Bonus learning material that shows you how to work on different niches in proofreading
Grammar Specific Worksheets for testing your skills progress
Access to a private Proofread Anywhere Facebook group. Here you can interact with Caitlin and other students, ask questions, and network for jobs.
For more on the course, click here to access Caitlin's free 76-min webinar
Is Proofread Anywhere Legit or a Scam?
Spending your money on any online course calls for due diligence. Nowadays, there are many online gigs that are fake or under par. Malicious and negative reviews and controversies don't help either, they make online training courses like Proofread Anywhere sound suspicious.
So, is Proofread Anywhere legit? Yes, this course is not a scam.
It dives deep into the basics of proofreading, enlightens people on how to kick start a proofreading business, communicate effectively with clients, grow & market your business, find quality clients, and be an expert, work-from-home proofreader. The course also comes highly recommended by freelancers across the board.
You can take part in this course at your own pace depending on your schedule. However, most people complete it in 1-4 months, with some getting clients within a month after completion.
Not yet convinced about Proofread Anywhere? Well, it has a free intro workshop where you can have a taste of the training and decide whether to proceed with payment or not.
The free trial teaches you the basics and how to excel as a proofreader.
Proofread Anywhere Rating On BBB and Reddit
BBB and Reddit are some of the most trusted online review platforms around the globe. That said, Proofread Anywhere is not BBB accredited and has no customer reviews on this website.
Don't rant yet, there is a reason behind this.
When you visit the Proofread Anywhere website, you'll find an FAQ section where Caitlin answers why her online course is not part of the Better Business Bureau(BBB). Caitlin claims that she's been targeted by BBB for years to pay for their ratings, which she isn't ready to do.
She adds that BBB company is only money-driven and has been receiving creepy emails from them demanding that she pays $465 to be accredited. She also provides some testimonials from business owners who've been forced to pay for their BBB score to rise.
Proofread Anywhere is also not rated on Reddit, but there are both positive and negative reviews from users of this platform that I am going to talk about later in this article.
How Does Proofreading Work?
People often make the mistake of likening proofreading to editing, which isn't entirely right. It's true that any grammatical errors you come across will require editing, but editing means that you can cut out an entire text, rearrange it, and rewrite that entire section that needs corrections.
On the other hand, proofreading simply means you apply the final touches to a document. Your task includes both editing and fact-checking. A good proofreader must possess a strong eye for minute details. And that's exactly where Proofread Anywhere comes in; to help sharpen your ability to sniff out errors in written content.
Let me first tell you the story of Alicia, who made $1,100 the first month after she graduated from one of Caitlin's proofreading courses — even while she was still working full-time at her retail banking job!

She's got a degree in accounting (NOT English!) and uses her daily work commute to proofread and earn extra money.

It took her only three weeks to find her first client, and I'll share her story of that client below:

"I got a rush job that a client needed back in two hours from my phone… I was so excited that I forgot that I had a massage appointment in two hours (an anniversary present from my husband)! The job was a little technical, and I was nervous. I spent a lot of time looking up medical terms, but I used what I had learned and got it in just in time. After my massage, I sat in my car and read the emails she sent me. She was thrilled with my work and asked me if she could send all her work to me. Of course, I said yes."

Alicia made $1,100 her first month — using time that was usually wasted on a railway commute — while still working a full-time job. And did I mention she has two kids?! With some hard work and effort, you can make real money with just a few clients too.
As Alicia confirmed, it is not easy at first. Not everyone is cut out for it. But I think you are.
The Proofread Anywhere Course
After watching a free introductory workshop, you have an option to enroll in either Ignite or Ignite Plus.
Ignite has all the basic course modules, while Ignite Plus is an upgrade to the basics. The latter has all course modules plus add-ons that include:
An exclusive hand-graded exam

Completion certificate,

Free membership in a marketing group

Bonus lessons.
Proofread Anywhere doesn't stop there. You can also opt into a transcript proofreading course that is highly technical. I would recommend you start with one of the general proofreading courses before moving on to proofreading transcripts.
To get started, simply sign up with Proofread Anywhere and work your way up from module 1. Remember, there is no time limit for this online course. As such, you can learn at your pace.
Why Start a Proofreading Anywhere Business?
If you love working from home, you should definitely start freelance proofreading. The good thing is that you can work for clients from anywhere around the world, whether directly or via freelancer platforms.
There is also a high demand for proofreaders with independent authors, publishing houses, and students producing written content daily. Also, the market has experienced monumental growth with online tools such as Sqribble – which allows you to create eBooks in minutes.
The proofreading pay rate is also high compared to other online jobs. A typical freelance proofreader gets to earn about $50-$100 per hour. This rate can only always go higher upon becoming an expert proofreader.
Plus, you have scores of high-paying proofreading job boards to work from.
Since you work from home, the startup cost for this business is pretty low. All you need is a computer or phone, and a good internet connection.
Your home is your office.
And you don't need any academic qualifications, college degrees, or certificates to get started. As such, proofreading is a perfect side hustle without investment.
A good grasp of the English language with excellent grammar and punctuation skills will be handy in your new career. At the same time, this field has several standardized style guides you need to learn and perfect.
Lastly, approach this hustle with the respect it deserves. Although as a proofreader, you get to choose your own working schedule, once you sign up for a gig, the job can be quite challenging. Some clients are very demanding and need their work done quickly and to perfection.
How Much Does Proofread Anywhere Cost?
For a fact, Proofread Anywhere is not cheap. The price may shock you a little bit, but get this, Proofread Anywhere is identical to enrolling in college for a certificate course.
You pay to acquire valuable knowledge for decent self-employment.
On the upside, Proofread Anywhere comes with a free 76-min introductory workshop. Here, you evaluate whether the training is worth paying for. Once you wish to proceed, the charges are as follows:
1. General Proofreading: Theory and Practice TM (GPTP)

Which comprises, Ignite and Ignite Plus plans. Here's what is covered in the curriculum:
General Proofreading Course Modules

Introduction

Proofreader Mindset Workshop

Basics

Methods & Practice

Turning Proofreading into a Business

Finding Clients

Job Workflow

Thriving as a Freelancer

Wrap Up
Bonus Modules
Handbook of Commonly Misused Words

Freelancer Tax Guide

Mindset Mastery

Mindset Shifts for Confidence
2. Transcript Proofreading: Theory and Practice TM (TPTP)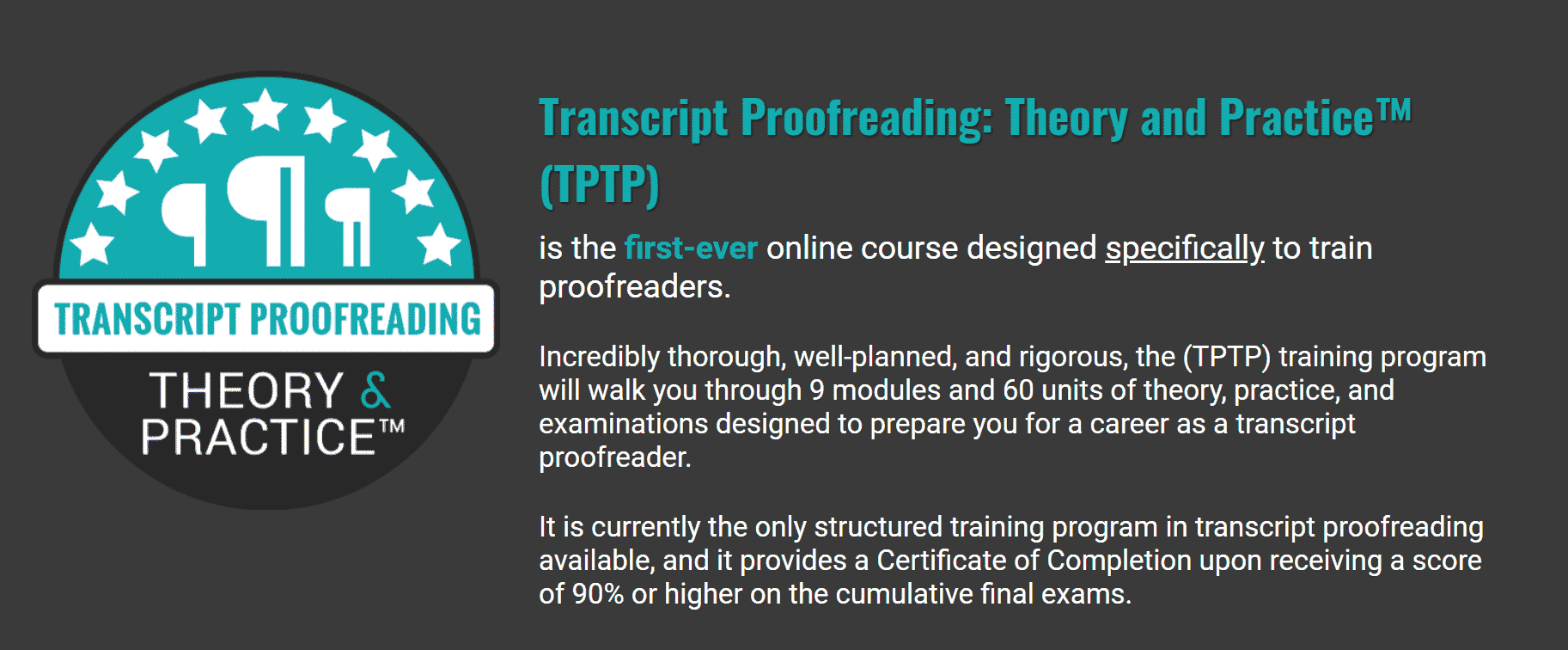 Transcript Proofreading Course Modules
Introduction

Basics

Marking Up Transcripts

Simulation Transcripts

Court Reporting Transcription

Billing, Accounting Procedures, and Final Examinations

Marketing

Wrap up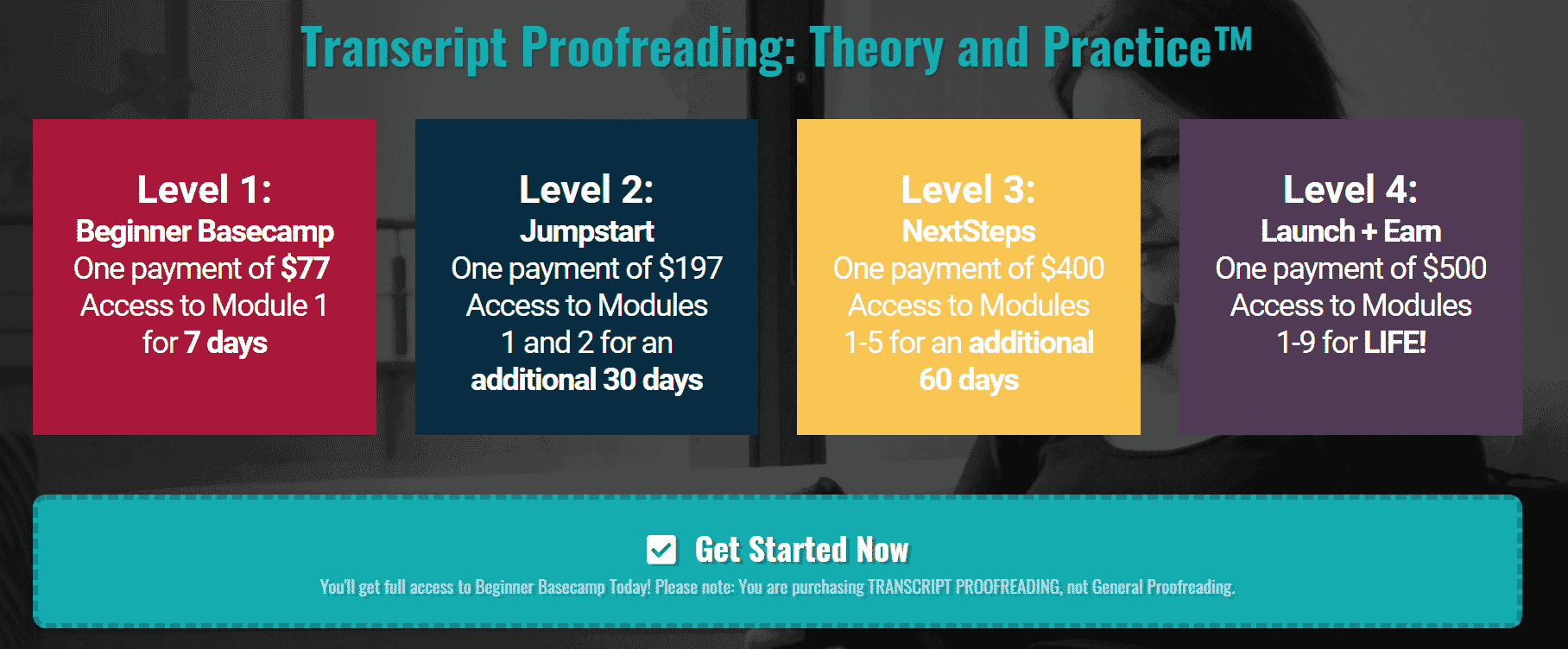 As you can see above the overall pay is $1174 with a 4-level payment plan.
Beginner Basecamp ($77) – Access module 1 for a maximum of 7 days

Jumpstart ($197) – Adds 1 for an additional 30 days

NextSteps ($400) – Adds 2 modules for an additional 60 days

Launch and Earn ($500) – Adds bonus modules and lifetime access to the entire course
Proofread Anywhere Reviews and Controversies
Every other online platform receives both negative and positive reviews from its users. Issues raised range from administrative to content delivery.
Below are examples of what some users found unpleasant about this online course.
Controversy 1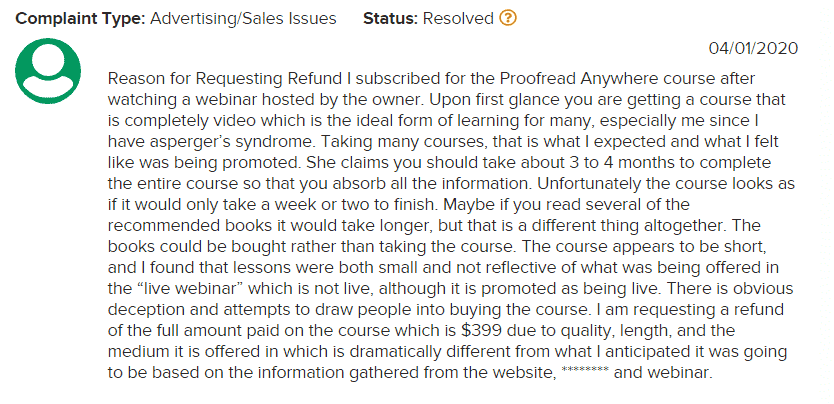 Source: bbb.org
The above review doesn't claim that Proofread Anywhere is a scam. Instead, the user demands a refund on the realization that this online course is shallow, compared to the cost.
Controversy 2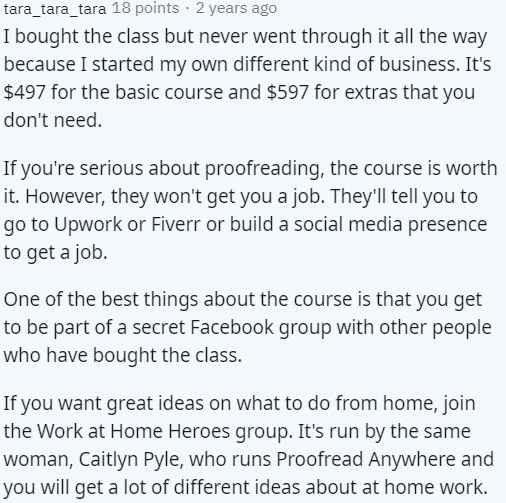 Source: reddit.com
Here, the concern is that Proofread Anywhere doesn't guarantee a job once you complete training. This is just a case of misunderstanding. This online course is just like any other college degree. It equips you with the right tools. It's up to you to get out there and use your acquired knowledge to secure a job.
From these negative reviews, it's evident that there exist Proofread Anywhere controversies. They include;
Availability of similar content for free online

No refunds

Errors on course material
Positive Feedbacks
To counter some of these controversies, let's have a sneak peek at some of the positive reviews.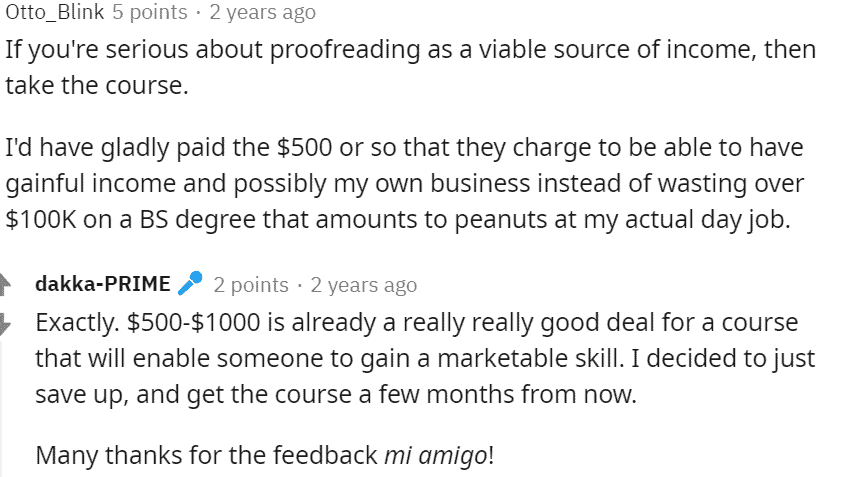 Source: reddit.com
This user is giving the course a thumbs up for the marketable skill that it equips one with.
TrustPilot Score
Trust Pilot, another trusted customer review site, gives the course a 4.4-star rating. From the platform, here is one mom who took the training and ended up changing her career.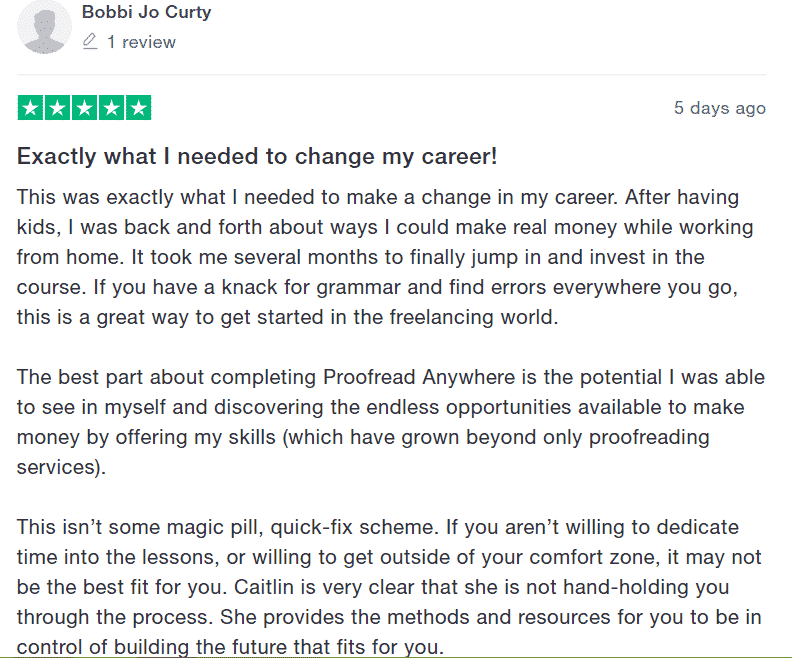 Source: trustpilot.com
Generally, taking this online course is a double-edged sword. It can work to your favor and you land a high-paying job, or you can spend your cash, and if you don't put the training to use, it all ends up to waste.
Remember: Proofreading is not a passive income-earning job, you have to put in the work to get paid!
What I Liked About Proofread Anywhere
Free access to a private Facebook page

An online course that's flexible to learn from anywhere

Once you enroll and pay, you get free lifetime access to any extra bonuses that may come along

Installment payments

You gain expert proofreading skills that shape you on becoming a successful freelance proofreader

Except for the transcription proofreading course, which has a limited time frame, you learn at your pace

Perfect course for starts that helps you work your way up to being an expert proofreader

Caitlin responds to your comments and keeps users up to date through various blog posts
What I Don't Like about Proofread Anywhere
P

roofread Anywhere is a bit expensive and without refunds

Earning potential through proofreading is a bit limited since there is no passive income potential.
Final Thoughts
Proofreading is among the best go-to side jobs not just for moms but everyone with a few hours to spare every day. You can do it full-time or as a part-time online gig. Getting a footing in the business does, however, need a little push from a legit training such as Caitlin's Proofread Anywhere.
Not only is she a proofreader, but Caitlin is also an established business leader in the field. She teaches how to become an expert and land paying gigs as well.

Enroll in Proofread Anywhere Workshop today!
If proofreading is not your piece of the pie, you can check other work-from-home jobs here.
So, what's your thought? Have you gone through the course? Let me know in the comment section below.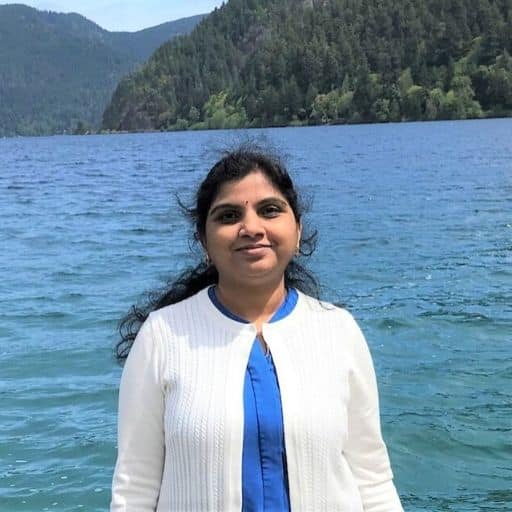 Howdy Folks, thanks for stopping by my blog.
I'm Swati, a proud mom, dedicated side hustler, full-time blogger, and a recognized millennial work-at-home expert. My expertise has been featured on esteemed platforms such as Forbes, CEO Blog Nation, Referral Rock, Vital Dollar, Databox blog, and many more. I have embarked on this incredible journey to share my firsthand experiences in the world of online income generation and to assist all of you in earning money from the comfort of your homes.
Join me in my mission to revolutionize the way we make money and achieve financial freedom. Trust me, it's not as challenging as it may seem!
Together, let's explore the boundless opportunities and pave our paths towards a prosperous future.