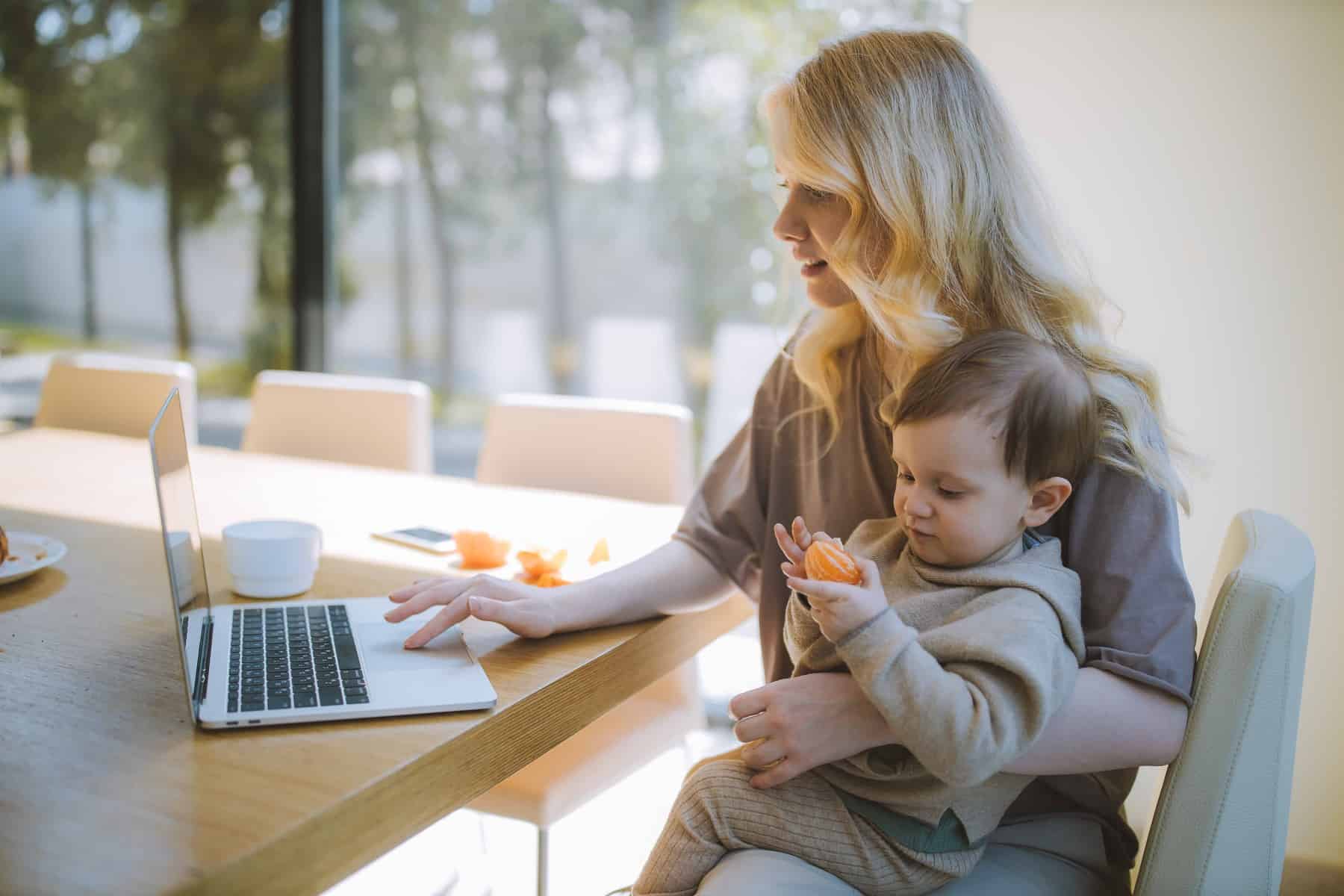 Does working from literally anywhere appeal to you? Do you want more out of life… and know you can get it with the right skill set?
This list has the best side hustles for every single mom. Whether you need a second job or an additional source of income, we have found an extra moneymaker that fits your skills, schedule, and needs!
What is the Easiest Side Hustle?
While it depends on your preferences ultimately, jobs that can be done from home can generally be considered easy side hustles for single moms such as freelance writing or translation. Jobs that provide passive income for single moms, like purchasing vending machines, are also among the easy extra income ideas for working moms.
Listed below are some of the best side jobs for working moms and easy side hustles for busy or new moms since they can be done in the comfort of your (likely) very busy house.
1. Online Surveys
Online surveys are a super easy side hustle for single moms. Websites like SurveyJunkie and Swagbucks will pay you just for giving your opinion since many businesses need consumer input on their products and branding. You can find a lot more of them here!
2. Start Your Dream Blog
Blogging is no quick money. Also, it's not easy! Yes, you read that right!
But, if you're willing to work hard or smart, spend time or at least outsource, blogging is one of the most lucrative and flexible side hustles for semi-passive income, and it requires no intro!
The myth about blogging is that you can start earning money as soon as the blog goes live! To be frank, it's only the starting part of a blog that is easy; making money out of it is a whole different ball game.
While some bloggers make money right off the bat, maybe in their very first month, others take time racking their brains. Guys, I'm not freaking you out – I'm just being frank. The easiest way to make money off your blog is via advertising, but it doesn't stop there. It's just one of the many other ways to turn your blog into a lucrative business.
Depending on the effort you put in and the monetization model you've set up, you can expect $500 – $50,000+ a month blogging, and I'm not joking! I personally make $5,000 a month on average.
The best way to make a blog profitable quickly is by finding a niche. With a good niche, you could make tens of thousands a year. This can be as obvious parenting but could also be your hidden talent or something you've always wanted to learn about (everyone loves a deep dive)!
Ready to make money and crack the code of blogging? Get started with my no-fluff step-by-step blogging guide, and learn to turn your blog into a Profitable Business from scratch.
3. Proofread Books, Blogs, or Any Files!
Ever heard of this lesser-known side hustle called Proofreading?
If so, then you can't miss this free workshop. Quality proofreaders are in high demand, and Caitlin will show you exactly what you need to do to become a rockstar proofreader.
My friend, Caitlin Pyle a six-figure Proofreader at Proofread Anywhere has taught thousands of men and women how to make a living with their proofreading skills. If you love words, details, and red pens, then you will want to check this out.
Their Proofreading Course is jam-packed with relevant info that you need to know before diving into this world! The workshop is primarily for people who can say yes to one of the following…
Are you always catching typos and misplaced commas?

Are you constantly correcting texts and Facebook posts?

Do you read through an email five times before you hit send?

Do you cringe when a restaurant menu has a misspelled word?
Now, how much can you make as a proofreader? Well, I happen to have a couple of friends who are in that industry, and it turns out — quite a lot! There are some proofreaders earning over $40,000 working for themselves and loving their jobs. Interested?
Find out the exact steps it takes to become a proofreader in this free webinar!

4. Voiceover Acting
As an online freelancer, you can offer your talent as a voice actor from your home. All you need is your voice and a microphone, although a quiet place may be hard to find as a mom!
Not everyone has the same level of emotion in their voices. Besides, very few people have the right kind of vocal texture and tonal quality that is ideal for voice acting jobs. Do you think you have that kind of voice quality? Then you should try your hand at this profession!
However, you need to work on your voice modulation skills and correct pronunciations in different accents to make a name in this industry. Websites like Voices, Voicebunny, and Voice123, offer great projects. Most of the platforms work with reputed production houses, film studios, and ad creators.
You do need to invest in some equipment to create a perfect home studio. Do you think you have everything it takes to become a voice actor?
Then, jump on to the wagon, and aim for a six-figure income, like several voice actors by taking this as their full-time job.
5. Transcriptionist
Looking for a flexible work-at-home job that requires no additional educational background or expertise? Yes, I heard you. Now, it's your turn, and here's an easy way to get paid.
Become a transcriptionist!
You've got to listen to audio files and type them out on paper; and for doing so, you can get paid over $25/hr.
SpeechPad is one such site that pays you for turning audio files into text. It can pay up to 0.40 for each minute of audio. That's more than $25/hr, though that's only possible if you can type as fast as the speaker. You get paid every fortnight via Paypal.
To get started, you can start by taking a short 7-day free mini-course in transcription, curated by Janet Shaughnessy, one of the experts in the field of online transcribers. Recent statistics reveal that the average yearly income of transcribers in the US is almost $60k!
Given the popularity of YouTube videos and podcasts, transcriptionists are highly in demand. They can also be used in professional fields like lawyers in need of transcriptions of interviews, court proceedings, and more.
If you have good auditory processing and good typing, you can make money typing up transcriptions or captioning videos. Here are the best online transcription jobs to help you get started.
---
Bonus: Teach English From Home
Even if you don't have teaching experience, you can likely teach the language you speak, especially if English is your native language. If it isn't, consider teaching whatever your native language is, or any other language you are comfortable with.
To teach English online, you may need an ESL (English as a Second Language) certification but with it, you can make between $10 and $22 an hour. This is one of the most opted legit side hustle, especially by single moms! Interested?
VIPKid can help you get started!
---
6. Do Freelance Writing
If you have a passion for writing or the skill to turn your words into something meaningful, then freelance writing can be your best bet. Many established and popular websites are in need of unique evergreen content and are willing to pay a decent sum for freelance writers.
As a complete newbie, you can easily charge at the least $50-$150 per article, depending on your demographic, topic, and expertise. Anything less than that is definitely not worth your time for research and the time spent. I've personally come across professional bloggers, who charge between $600-$1000 per article.
Writing for these companies is definitely a great side hustle to make extra income. Some of my favorites places to make good income are Listverese, Hubpages, Money Pantry, MetroParent, Her View From Home, The Penny Hoarder, and many more!
7. Sell E-books
Creating and selling e-books is one of the most lucrative side jobs these days!
If you think this isn't for you, then let me reassure you that you need not be a professional writer to start selling your e-books. In order to be successful, you should be able to address a popular pain point wisely and market to the right audience, that's it! You're done.
But, how the heck do you sell them? On Amazon!
Amazon Kindle puts millions of books at your fingertips, and you can't find a better e-commerce platform for selling your publications. Selling on Amazon adds trust and makes selling easy. So all you have to do is make the best of this hot-selling platform.
Many authors are crushing it on Amazon selling their publications. For example, if you publish a small e-book – say, worth $9.99 – and it turns out to be the hot-selling one on Amazon. If you sell a hundred such copies in a month, you can easily make around $1000 a month, that's a $24,000 income totally passive!
Isn't that amazing?
The best program to learn how to dominate Kindle publishing is definitely Kindle Money Mastery.
8. Scopist
As a Scopist, your job is a mix of editing and transcribing. You will need to edit the transcripts of courtroom files and assisting court reporters in the process. To put it simply, you will be a courtroom reporter.
Scopists will be able to make $40-$50K working full time. The least experienced Scopist should make a minimum of $20-25 per hour. So, get started with this lesser-known side hustle. Don't wait until the market stagnates right before your eyes!
Interested?
Learn to earn a 6-figure income as a Scopist with this course. You can also learn the art from the course by Janet Shaughnessy. You can understand how you will have a clear advantage in this field if you have an educational or professional background in the field of law.
9. Captioning/Subtitling
Captioning or closed captioning is another name for the job of providing subtitles that we see on videos. It is the text that serves as a translation of the dialogues or narrations in the video. And, you can perform closed captioning to earn quite a good amount of money.
Needless to say, you need to be bilingual, with good knowledge of both languages. Additionally, you'll need a good understanding of several kinds of accents, along with great typing speed to become successful in this profession.
Many websites provide excellent subtitling job options. You can easily earn $0.45-$1 per audio minute. Websites like REV now has a huge opening for freelance workers who have the right knowledge and skills to become their team member. Find out my detailed review of the Rev platform right here. The top performers on this website can earn up to $1200 per month!
10. Sell Stock Photos
The mantra that made this side hustle lucrative says, "Photos create a better user experience and convey a strong message than content."
Many popular websites and small businesses are ready to spend tons of money on Licensed stock photos for their blogs and social media management. Some e-commerce sites even hire professional photographers to picture their products and showcase their brand.
This increasing demand for photos has led to the genesis of many stock photography sites for legal and authentic photo and video collection. And, with the advent of the iPhone and other smart android mobiles, you don't even need a costly camera. So what are you waiting for? Now is the time to hone your photography skills and sell those stock images hidden inside your hard disk drives for ages.
Start selling photos and make a solid income. If this sounds interesting, then check out Camera Career. Not sure where and how to sell your photos? You can License your photos through stock photography sites like iStock and Shutterstock
Shutterstock and Foap app are two amazing places to sell your photos and videos. At Shutterstock, you can earn up to 30% of the sale price of your content. At Foap, on the other hand, you can make $5.00 per photo, but you can enter contests and win up to $300!
If you don't know where to start, check out these places to sell your pics online
11. Bookkeeping
Businesses are on frequent quests for efficient bookkeepers to handle their day-to-day finances. And, they don't care 'from where you work' it the work gets done. So, can easily find some incredibly easy bookkeeping jobs online.
If you understand accounting, then bookkeeping is one of the easiest jobs that you can invest your time in. Basically, it is the task of recording the daily transactions of a company, for the purpose of maintaining records. The best part is you can also earn up to $500 a day as a Virtual Bookkeeper just like her!
You have to do this on a day-to-day basis, and will require great attention to details. This is particularly important because you will be dealing with numbers. And, even the smallest error can disrupt the calculations in the later stage.
Interested in becoming a Bookkeeper? Get started with this Free 3-part video series by a Top Bookkeeper!
12. Purchase Vending Machines
Vending machines can be bought online and then placed in rented spaces. If you find high traffic areas, this can become very profitable for almost no work making it the perfect passive income for single moms.
13. Test Apps and Websites
User-testing websites are a great remote job idea for single mothers. You get paid to help companies improve the user experience on their apps and websites. Generally, app and website testers make $10 per test. Get started here with the 15 best companies that pay you to test their applications.
14. Start an Online Store
Starting an online store is only as much work as you want it to be. Websites like Etsy, eBay, craigslist, Facebook market, and Depop allow you to sell a variety of goods.
You can sell used goods, books, printables, clothing or you can make any number of arts and crafts to sell them online. It doesn't take much to set up an online store and it instantly gives passive income for single moms.
15. Renting out Baby Supplies
Being a mother, you probably have a lot of baby supplies. Since babies grow so quickly, you likely have a lot of baby supplies that your child has outgrown. You may as well rent an object you already have and probably don't need, especially if you live in a touristy place or big city.
Equipment like cribs, high chairs, baby monitors, car seats, and toys are commonly rented out. BabyQuip can help you get started!
16. Instagram Affiliate Marketing
Instagram has more than 1 billion active users daily! Isn't that mind-boggling? And, this crazy trend isn't anywhere close to a decline. This makes Instagram the #1 preference for all businesses across the world.
Do you have products to sell or a brand to promote? Creating an Instagram Business Page is a great way to connect with your audience, grow your followers, and reach potential clients. The best part is you can do this yourself!
Additionally, you can also take up the job of selling products and offer services for a number of your clients.
Affiliate marketing on Instagram is just another revolution! Doing Sponsorships and promoting brand products can be a great way to make a solid income on Instagram even while maintaining your day job.
All you have to do is build a dedicated following and review the products/services that you love (or already using). If someone is convinced to purchase because of you, you will earn a commission. If even they don't sponsorships pay for itself and make you several thousand dollars a month!
17. Sell Digital Products
Digital products such as PDFs, ebooks, templates, training videos and tutorials, lesson plans, at-home chores and activities, meal plans, charts, cheat sheets, study guides, and more can be sold online for little work making it basically passive income.
Pinterest, Twitter, Facebook, and other social media can help you find a market while websites like Scribd will allow you to sell your media. Find some of the best platforms to sell your digital products here.
18. Furniture Refurbishing
A great side hustle for females, furniture refurbishing can activate your creative side as well as your bank account. Free and cheap used furniture is relatively easy to find at places such as garage sales, estate sales, and thrift stores. Once painted, decorated, or re-stained, the furniture can be resold! Depending on the design and the piece, you can make a large profit.
19. Create an Online Course
There are tons of platforms on which to sell online courses and, if you can teach something interesting or useful well, then you could be making really good money! Some people earn $30k a month with online courses!
20. Create Lesson Plans
This is less intensive than the online course and very profitable as teachers hate lesson planning. If you have teaching experience or are an organized notetaker, you could be making $45k a month!
21. Rent Out Your Driveway
If you live in a high traffic area, like near a stadium, your driveway could be making money off of the inherent parking issues. Renting out the spaces in your front yard in addition to or instead of your driveway can quickly make you $1,000 a month. If you hire someone else to deal with the cars and the people driving them, this becomes passive income for single moms.
22. Online Yoga Instructor
Especially now that everyone is spending higher amounts of time indoors, online fitness programs are in demand. If you love yoga (or any other form of group exercises such as cycling, Zumba, or HIIT) and a good personality, you could teach and lead courses online!
23. Rent Out Extra Space
If you have an area that is livable in your house (such as a basement with a bathroom) or simply just extra space, you could be making money!

Renting out your house as either storage or living space is a great way to make passive income as a single mom. You could be making hundreds of dollars of extra income a month.
24. Upselling
This can be as easy as buying things from Walmart and then selling them for more on Amazon. You can get cheap items at thrift stores, Craigslist, Facebook marketplace, Depop, LetGo, and more! These cheap items can then be refurbished, decorated, or otherwise reimagined before being sold for a profit. You can learn how to turn $10 into $10k through upselling objects here.
25. Sell Art
If you have any artistic ability, your work could be sold on Etsy, Redbubble, Society6, Storeenvy, Instagram, Depop, and more! People buy a large variety of handmade items such as embroidered work, sewn or upcycled clothing, buttons, patches, crocheted or knitted clothing, clay figures, and more as well as prints on products such as tote bags, bottles, posters, blankets, pillows, and much, much more!
If you can't think of any ideas, see the most profitable crafts to sell here!
26. Resell Cars
Just like houses, cars can be flipped. A dirty and moderately old car can be bought for cheap, cleaned up, and repaired before being sold for a profit. Reselling cars can make you money quickly, like $700 in two weeks.
27. Surrogate
While being a surrogate mother is definitely the most intense of the side hustles for single moms that we have to suggest, it also pays a lot. If your body reacts well to pregnancy, and if you already have to stay home, you can make between $20,000 and $30,000 on average plus the cost of clothing, medical bills, and more.
28. Online Rewards
If you're a mom, there is no doubt that you are already shopping. Online rewards apps like Rakuten, Swagbucks, and more allow you to make money while you do the shopping you already have to do!
Find the 10 best cashback apps here!
29. Start a YouTube Channel
From basic helper videos to high-end resourceful materials, YouTube is an all-in-one hub with easy and quick access to knowledge. And, above all, nothing seems to outperform this platform. They are not even close!
So, why not take advantage of this and make money Vlogging?
I know, I have said this again and again. However, I don't find any reason why I shouldn't include it in this list one more time. If setting up a YouTube channel is already in your mind, then I think the above stats are enough to provoke you to start one.
While your channel can be about anything, cooking and parenting channels allow you to get your content right from your house. If you have an interesting talent, artistic ability, or an exciting personality, those could be your niche as well!
What is a good second job for a single mom?
The best second job for a single mom depends on the first job! With the time and energy you have available to devote to a second job in mind, there is a side hustle for you. Even if you think you are too busy with a side hustle, there are even passive ways of making money.
Listed below are the type of jobs that you can advertise on fliers around your neighborhood. If you are in any book clubs, the PTA, or any other community groups then you have your market!
30. Music instructor
If you know how to play an instrument, you can be a music instructor. Online, in your home, and at home visits are all viable options. Even if you have only a small grasp on an instrument, you can teach basics to a younger audience or beginners! You can teach vocals, piano, guitar, or something more obscure like a flute, violin, or trumpet as many kids study music in school.
At the very least, you could teach basic voice warmups and practices (like scales and tongue twisters), basic sheet music reading, or recorder. You can also advertise that instruments and music ability can help kids get into college. Generally, music teachers make between $20 and $30 an hour.
31. Childcare/Daycare
This is the perfect side hustle ideas for moms with babies. Since you already take care of your own children, you may as well make money by doing it. Depending on the size of your house and your personal capabilities, you could make money taking care of any number of children in your area. If you are friends with other mothers, you already have a market!
32. Mow lawns
Mowing lawns is typically seen as a teenager's job, but that's only because of how easy it is! With a few signs around the neighborhood and some word of mouth advertisement with the neighbors, you could be making money in no time.
People generally pay up to $60 an hour for grass cutting, weed trimming, and bush cutting.
33. Landscaping
This can be done in addition to mowing lawns or as a stand-alone service. Either way, it is a great side hustle for single moms. It includes things such as planting flowers, pruning plants, shaping bushes, designing gardens, and more!
34. DJ (Disc Jockey)
With the right energy and a good playlist, you can make very easy money. The average pay is $18.22 an hour, and having kids you will likely be able to find gigs at school dances, graduations, and birthday parties!
35. Tutoring
One of the best side hustles for females and single moms is tutoring!
Earning an average of $15 to $20 an hour, you can teach whatever age range and subjects you are comfortable with. If you live near a school, are on the PTA, or know other moms, you know children who need tutors. You can also get a certification to increase your credentials!
36. Dog Walking
If you are comfortable with dogs or have owned a dog in the past, you can make money just for walking them. You can walk more than one at a time depending on the behavior and comfort levels of the dog, and the best part is you essentially get paid to exercise.
37. House Sitting
House sitting is an easy side hustle for females. It involves things like watering plants, getting the mail, bringing in packages, feeding animals, and more! The more services you offer, the more you can charge.
38. Pet Grooming
If you are an animal lover, this is a great second job. On average, dog groomers make $11 an hour, but with extra services or proven and efficient work, you could make upwards of $20 an hour. People who groom cats can be especially hard to find despite the fact that long hair cats desperately need grooming, so is a profitable niche to consider as well.
39. Pet Sitting
If you already have a pet, you may as well make extra money for your animal care. Pet sitting often entails watching an animal at someone else's house. This includes feeding, walking, changing litter, giving water, playing, and any other specifications.
While dogs and cats are an obvious market, you could make more money if you are experienced enough to watch less common animals like birds, chinchillas, reptiles, and more! On average, pet sitting earns you between $25 and $50 a day!
40. Pet Boarding
Pet boarding is another side hustle that is especially good if you already own a pet. Pet boarding entails watching an animal(s) at your house, usually because the owners are vacationing or out of town.
While it is typically longer-term and more intensive than pet sitting, it can make you more and be done in the comfort of your home.
41. Babysitting
Babysitting is another perfect side gig for single moms since they already have the experience! Plus, getting paid for your childcare can be very rewarding.
Averaging $12.50 an hour, you likely have a market among your child's friends' parents. Websites like Care and SitterCity.com can help you get started.
Interested in becoming a baby sitter? Here's how to get qualified and start on the right note!
42. Yard Sale
Odds are, you have things lying around that you do not need or rarely use. You can easily turn those into money with applications like Poshmark, Facebook Marketplace, Craigslist, OfferUp, LetGo, or even a local yard sale! When selling virtually, good pictures and accurate descriptions go a long way.
43. Hairstylist
Hairstylists make around $11.66 an hour but with reputation and skill, you can make more. You can also find a lot of work around the community, doing hair for events like weddings, proms, homecoming, graduations, photoshoots, and more.
44. Makeup Artist
Makeup artists are in a similar position. Events like weddings, proms, sweet 16s, quinceaneras, bat and bar mitzvahs, graduations, photoshoots, and more can bring in lots of clients.
45. Dance Instructor
If you are especially good at a specific type of dance, or just generally dance inclined, you can make good money teaching others. Dance instructors and choreographers are especially in demand for events like quinceaneras, bat and bar mitzvahs, debutants, sweet 16s, prom, and more.
46. Cook or Bake Goods to Sell
Not as intensive as catering, you can make your favorites in the kitchen and then sell them.
Baked goods like cupcakes and cookies are easy to make in bulk. For parties, people love handmade cakes, pizzas, and, more!
You could even make homemade candies. Whatever you are interested in cooking, it can be sold!
47. Cleaning and Housekeeping
Housecleaning is simple, but everyone needs it. People in your neighborhood would likely feel more comfortable hiring a housecleaner they know then they would letting a stranger into their house. You can make up to $20 an hour with tasks as simple as dusting, vacuuming, cleaning floors, and more.
48. Seamstress
If you can sew, you can make money doing it. Sewing is especially in demand during school dances like homecoming and prom where everyone needs fancy clothing that fits. Birthdays create this demand as well. If you can sew entire pieces, you can sell customs or do commissions for even more money!
49. Personal City Tours
If you live in a touristy or bigger city, you can offer your insight as a tour guide!
You can offer your services directly or with an application like Airbnb. If you have the audience, this is a very easy way for single moms to make money.
Become a host, earn up to or over $2,000 a month with Airbnb!
50. Petition Circulator
Petition circulating is a super easy job for single moms. All you have to do is ask registered US citizens to sign a variety of ever-changing petitions. When you turn in a signed petition, you get between $1 and $4, which can add up when it's weekly or even daily.
Collecting signatures around your community in places such as grocery stores, libraries, and other public places are sure to connect you with lots of people!
51. Tech repair
If you have any technical capabilities, tech repair can very easily be run out of your house! Laptops and cellphones are the biggest electronics in need of repair but any electronic is capable of breaking and many people need specialists to repair their tech. Generally, tech repair costs around $15 an hour whereas iPhone screens are repaired for closer to $189.99.
How Can a Single Mom Make Extra Money?
We have the best side hustle ideas for moms listed here. There are a wide variety of side hustles and easy jobs that can make single moms extra money. No matter your schedule, availability, or skills, there is a side hustle for you. All these jobs require you to have a car and a license (but little else)!
52. Deliver pizzas
If you have a car, you have a job! You are likely surrounded by pizza restaurants that are all in need of drivers. The average pay is $11 an hour but you can make closer to $20 an hour if you are good and committed.
53. Ride Share
You can turn your car into money by driving for Uber, Lyft, a taxi agency, or all three! This is one of the best side hustles for single moms as it requires little more than a license.
54. Rent Out Your Car or Truck
If you own a car, you could be making money off of it without ever leaving your home. If you have a truck, your vehicle is even more in demand! Whenever someone needs to move or get large items from one place to another, they will look for a truck. If you live in a big city or a touristy area you may find your regular car in high demand as well.
55. Personal Delivery
If you have a car, you can deliver any number of products. Applications and stores like Amazon, Shipt, Instacart, GoPuff, Ubereats, Postmates, GrubHub, DoorDash, and more will pay you for the simple task of retrieving and delivering goods. It can even be done contactless nowadays.
56. Wrap Your Car
This is a great source of passive income for single moms. Companies pay you to advertise for them on your vehicles. All you have to do is get either your entire vehicle or just a window(s), depending on the price and company.
What is the best career for a single mom?
It's up to you! There are jobs for single moms in a variety of fields from freelance writer to the freelance programmer, artist to an actor, business owner to an accountant. There is truly a job and/or side hustle perfect for your wants, needs, and abilities.
The below side hustles are on the more professional side of things. They may take more time or effort than some of the other options on this list but they often rake in bigger opportunities and money. Some of the "career" extra income ideas for single moms can seem more like second jobs than side hustles compared to some others on this list.
57. Start a virtual call center
Using the application Arise, you can start as an agent to get an understanding of everything. Once you feel comfortable, you can get others to work for you!
58. Home health aide
As a home health aide, you would provide companionship and help for the elderly. You care for and run errands for those who need help. You can work with an agency if you need help getting started!
59. Property Management
While this requires a real estate license, it is a great way to earn money as a single mother. It takes real estate and management skills.
60. Wedding Planner
If you dream of your wedding day, have a wedding board on Pinterest, or feel like you can handle bridezillas, then a wedding planner may be the gig for you! For an average of $22.50 an hour, you plan things like cake, catering, venue, photos, and more!
61. Event Planner
Event planners organize and book food, music, venues, transportation, guests, themes, and more. Event planners make slightly more than wedding planners at $23.50 an hour.
62. Stage Houses
House stagers are hired to make houses look better so that they will sell faster. Making up to $300 an hour, house stagers make sure that the property is clean, fully lit, spacious, and that the function of each room is obvious (living room, kitchen, etc).
63. Catering
If you can cook or bake, especially on a larger scale, catering is a great high paying side hustle. You could theoretically get your family to help with larger orders! Catering typically pays between $20 to $40 an hour.
64. House flipping
Nearly anyone can flip a house, and the rewards can be large. More popular than ever, flipping houses grossed an average of $66,448 in 2018. If you understand home values and are able to get proper repair estimates, you can estimate your margin of profit before you make any offers!
65. Interior design
If you scour Pinterest for room inspiration or loved decorating your dorm room, interior design could be for you! You can get paid for designing and decorating rooms, redecorating rooms to maximize effect and aesthetic, and selecting furniture and decorative pieces.
66. Virtual Bookkeeping
With a CPA license or a degree in accounting or finance, you can make up to $60 an hour as a single mother! Bookkeepers handle tasks such as reconciling bank statements, recording invoices, maintaining petty cash, monitoring income and expenses, creating and maintaining a budget, producing financial statements, providing financial reports, and more.
Check out Bookkeeping Business Academy and QuickBooks Certifies Pro Advisor to get started.
67. Personal fitness trainer
You can become a general personal fitness trainer or you can offer specific services like HIIT, yoga, weight loss, and more. Personal fitness training can be done online, personally, and one on one, or as a group! On average, personal trainers make between $12 to $25 an hour.
68. Multi-level Marketing
Working for an MLM like Amway, Avon, Mary Kay, or Beach Body can be very risky, but there are rewards. You can sell products, or make more money by building up a team of people to sell like a pyramid!
69. Fashion Stylist
This is a great side hustle for females. Some people are fashion blind and look to professionals for help. If you think you are stylish, you can help people make outfits out of the clothes they already own or help them buy new clothing items, be it online or in person.
These side hustle ideas for single moms fall under the category of freelancing. You can offer your skills in a variety of fields using a website like Upwork or Fiverr.
70. Virtual Assistant
If you already know administration tasks, this is perfect for you! You can do data entry, social media management, email management, and more remotely. Many online blogs look for virtual assistants as they make anywhere from $1,000 to $10,000+ a month and want to grow even larger. By responding to advertiser emails, tracking income and expenses, setting up PR meetings, and marketing products you could make an average of $16 an hour.
71. Graphic Design
If you have any artistic skills (and graphic design experience is a plus!) graphic design is a very lucrative freelancing market online. Small businesses, home businesses, YouTube channels, social media accounts, twitch channels, and more all need logos and/or product design. Some of the best websites for graphic design specifically are Creative Market, Envato Market, Fiverr, Inkd, Society6, and Redbubble.
72. Web Development and Design
If you have coding experience, you can offer your services as a web developer and/or designer. While there are many platforms for web design, it can still get complicated so many people still look for freelancers.
73.Video Editing
With video content at its height due to the internet, many are in need of video editors. YouTube channels, twitch channels, short films, web series, publications, and more need video editors and often look towards freelancers to fill that hole.
74. Marketing Specialist
Nowadays, you can sell products or services from home! Reach out to blogs and websites you read regularly or simply google "remote marketing" or "work from home marketing" to get started.
75. Photographer
Photography is a great freelancing market as there is a wide variety of jobs available. Photographers are needed for events like weddings and graduations, as well as personal photographers for models. Photographers typically make $30+ an hour.
76. Tech Support
There are tons of online entrepreneurs trying all over the internet who are not technically inclined. This creates a need for technical support! That need is further exacerbated by the remote school and work so the business is booming!
77. Translator/Interpreter
If you are bilingual, there is a whole market of freelance opportunities now available. Web content, legal and medical forms, books, short stories, scripts, videos, and more all need translations and people need interpreters for any number of personal meetings and events.
78. SEO Consultant
Search Engine Optimization seeks to increase visitors to a given website through web searches on online search engines like Google. With insider knowledge of SEO, you can make between $35 and $80 an hour.
79. Chat Operator
Chat operation is a great way to make money on your own time and pace, something that is lucrative for single mothers looking for a side hustle. If you can troubleshoot and work with frustrated people then you should check out the top 25 chat operator jobs from home. Chat operators make $14+ an hour!
80. Resume Writing
People are often lost when trying to make professional and enticing resumes. If you can write and understand what job hirers are looking for, you can make more than $50k a year with this side hustle. Human Resources experience is a plus!
81. Tax Preparation
If you do your own taxes (or just know how to), you can make an average of $21 an hour preparing other peoples' taxes! In February, March, and April this can become a very profitable side hustle.
82. Programmer
If you know how to code, you have access to some of the highest paying side hustles for single moms. Programmers make an easy $30 but can make even more (think $50 an hour) with a bit of experience.
83. Start a Podcast
Podcasts have been growing in popularity over the years and only keep gaining momentum. Podcasts don't have to be about a specific niche (although they can be!) as many people start podcasts with their friends and have normal, albeit entertaining, conversation.
84. Search Engine Evaluator
This is honestly the easiest side hustle for single moms as it requires no experience or skills and can be done entirely on your own time. Earning $12 an hour, you type certain search words into a search engine and record the results that appear. Get started here!
85. Data Entry Clerk
Data entry is similarly easy, and even more boring. Still, it can be done entirely from home on your own schedule and without any experience.
86. Community Manager
Between Pinterest, Facebook, Instagram, Twitter, and much, much more, most business owners are searching for help managing their social media. As a community manager, you would take care of all of the social media accounts of the business as well as promote those pages.