This MinePrize Review 2023 is to help you get some side income by making use of the unutilized processing power of your computer.
Yes, your personal computer processes complex tasks per second but still has lots of unused idle computer resources that can be used remotely at a fee.
Unlike other platforms that require using a computer, your MinePrize earnings are independent of human efforts. All you need is to be a registered MinePrize user with a MinePrize-enabled web browser.
As such, MinePrize is a passive income platform for making extra money from your internet connection and PC.
So, how does MinePrize operate, how much can you expect to earn, and is joining the MinePrize network worth your time?
This MinePrize review has all the answers to the above, including MinePrize payment methods, and genius ways to boost your MinePrize earnings.
MinePrize Review: Overview
| | |
| --- | --- |
| Criteria | Feature |
| Year of Establishment | 2017 |
| Purpose | Payment for idle CPU time |
| Available Countries | Worldwide |
| Applicable | Everyone |
| Subscription Plans | None |
| Average Earnings | $1 in 10 weeks |
| Cuts And Commissions | None |
| Payment Methods | Paypal, Prizes, and Crypto |
| Bonus Program | Referral program ($10) |
| Minimum Payout | $100 (10,000,000 points) |
| MinePrize App | None |
| Ratings and Accreditations | 100 on Scam Detector, Not rated on Trustpilot. |
| MinePrize Login | https://mineprize.com/login |
| MinePrize; Final Verdict | MinePrize is legit and safe, but not worth your time. |
What Is MinePrize?

MinePrize is a web-based platform that allows users to make extra income by making use of the idle processing power of the user's computer.
MinePrize operates under what can be generalized as distributed computing. This is where complex mathematic tasks are done better using a system of integrated computers, in a cloud network, to produce a faster output.
The site is mum on the people or company behind the platform. Further, the site does not have an About Us page.
I was, however, able to find the following information about MinePrize on the internet:
The domain name MinePrize.com was founded in October 2017.
Its servers are hosted in the US.
The site is rated as "Likely to be legit" with a Trust Score of 100% by ScamAdviser.
The address for the parent company is 2155 E Warner Rd 85284 Tempe Arizona.
So, is MinePrize genuine? Notably, many enthusiasts of online platforms prefer earning from paid survey platforms, data entry, and freelance writing.
Nevertheless, if you are interested in making some cash or crypto from renting the idle processing power of your computer, from anywhere in the world, MinePrize could be just the right platform for you.
Join MinePrize and Get a $10 Bonus
How Does MinePrize Work?
In a nutshell, MinePrize uses your computer's processing power to solve complex mathematical problems and make data transfers for each computation that gets completed. You get rewarded with MinePrize points that you can later redeem for Cash.
In this Grid Computing model, your computer is assigned a block of intensive computing tasks, and points are awarded for completed work.
The good news is that your computer helps in solving part of a larger problem, such as the Search for Extraterrestrial Intelligence (SETI).
To start contributing to such research and get paid, you need to first register as a MinePrize user to get access to the platform's dashboard.
The process requires you to fill out a sign-up form and provide an email address. For the MinePrize web page to run and ensure your membership is approved, you'll need to disable your antivirus.
Furthermore, the restricted zone setting of several browsers can block the use of certain websites including MinePrize; to remove the MinePrize blocked signal;
Tap the tools option in the browser's menu.
Click on "Internet options" and select "Security".
Tap the "Restricted sites" bar then select MinePrize among the list of blocked sites.
Click "Remove", then click "OK".
You get a sign-up bonus of $10 and access to the MinePrize dashboard once you are through with the sign-up process.
The main page has a "Start to work" bar that initiates the computing process once pressed.
Earnings on MinePrize vary from user to user depending on the processing speed of individual computers. Basically, a computer with a faster processor will earn you more than a slower computer.
How Much Can I Earn With MinePrize?
Most MinePrize users claim that they roughly gather 1 MinePrize point per minute of running the program on a single computer. Given that 100,000 MinePrize Points are worth $1 in cash, you will need to let your computer run for approximately 10 weeks to earn a dollar from MinePrize.
As with many if not all online platforms, the amount you stand to earn depends on the amount of time and effort you invest in carrying out the tasks.
However, the functionality of MinePrize is, for the most part, independent of your physical input, skill, or academic prowess.
The earnings of MinePrize users depend on;
The number of computers you use with MinePrize.
Amount of time you let the computer run.
Your preferred computing intensity.
The processing power of your computer(s).
It's worth noting that MinePrizes earning potential is way low compared to what other online platforms have to offer. For example, affiliate marketing, a passive income stream, can earn you thousands of dollars per year.
The best thing about MinePrize is that it's a great hands-off way of making extra cash from the idle CPU power of your computer.
MinePrize Payment Methods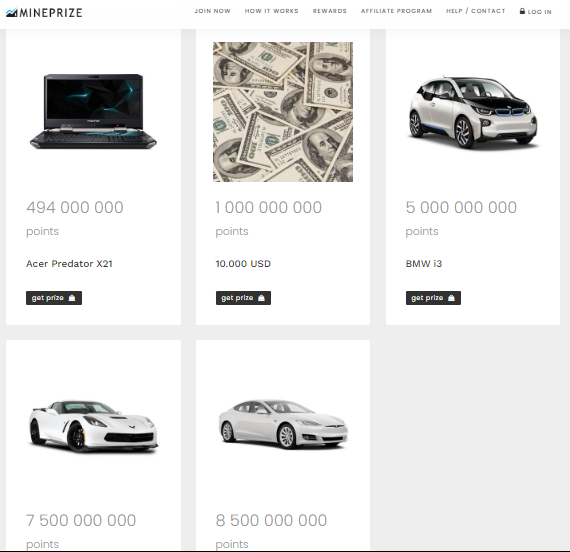 Once you have reached the threshold, you can either redeem the points for PayPal cash or convert them to Ethereum or Bitcoin and transfer them to your cryptocurrency wallet.
You can also get prizes such as an Asus Rog Spatha gaming mouse, Sennheiser Game Zero headphones, and Nintendo Switch console.
Fancy a Chevrolet Corvette or a Tesla? With a higher payout, you can redeem points for high-end computers, cars, phones, and TVs.
Additionally, MinePrize is on course to introduce Payoneer and Perfect Money as payment methods for completed tasks.
MinePrize Minimum Payout
You need to have accumulated a balance of at least $100 to be able to cash out on MinePrize. This means that you need to have at least 10 million MinePrize points for you to get a cash payout.
MinePrize Pros and Cons
MinePrize offers a chance to make a few dollars by using your idle computer power. Below we take a look at the good sides and the downsides of using MinePrize.
| MinePrize Pros | MinePrize Cons |
| --- | --- |
| No registration fees – there are zero costs to register as a MinePrize user. | Has a low payout amount – the monthly amount you earn from MinePrize won't be enough to cover the electricity cost and maintenance costs for the computers you put to use. |
| Substantial sign-up bonus – MinePrize offers $10 as a sign-up bonus for new users. | Has a high payout threshold – with the low payment per computation offered by MinePrize, it will take a very long time to reach the payment threshold which is set at a whopping $100. |
| Offers commission for referrals – joining the affiliate program for MinePrize will earn you 10% of your referral's earnings. | Disabling your computer antivirus is risky and not advisable. |
| Works with all web browsers. | Not available for mobile phones and tablets. |
| Short and easy signing-up process – new members are given instant approvals by MinePrize. | |
| Allows multiple computers – MinePrize allows logging in with multiple computers to increase your earnings. | |
| Anyone can join MinePrize with membership being global. | |
MinePrize Hacks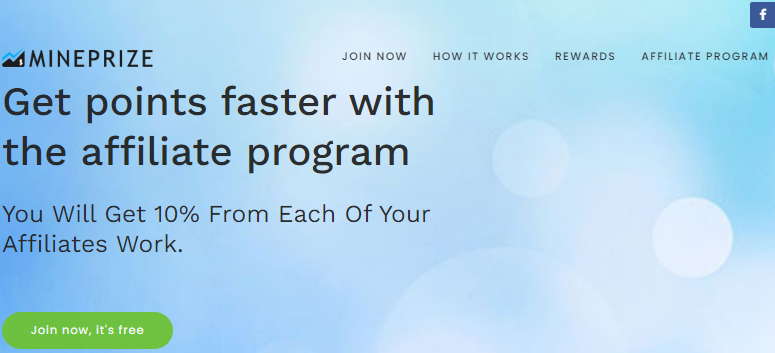 Accumulating MinePrize points is quite a time-consuming endeavor. To help you make good money on the site, use the ways detailed below to boost your point collection rate.
When your computer is idle, close all running tabs and applications, apart from MinePrize, to focus all the processing power on MinePrize's complex mathematical tasks.
Create a setup of multiple computer systems. This helps to create more cumulative computing power.
Do you earn from PC games? Typically, gaming computers have powerful CPUs that can help you accumulate more points in less time.
Do not be running other programs that compete for mining space.
In your MinePrize account settings, you need to opt for a higher computing intensity to reduce the time your computer takes to perform tasks.
Lastly, increase your MinePrize earnings by joining its affiliate program which gives you a 10% commission from referrals. This is a lifetime program, making MinePrize one of the best options for long-term passive income generation.
Is MinePrize Legit or a Scam?
MinePrize is a legitimate company offering real money for putting your computer's processing power to use with no notable fraud cases reported.
So, why the concern?
The increased number of online platforms that require the use of internet data and computer space for cryptocurrency mining has increased, making platforms like MinePrize suspicious.
An increased risk of being scammed online, is another major concern about using MinePrize, considering you are allowing foreign software to access your computer.
Nevertheless, there is almost no evidence to suggest that MinePrize is a scam. Further, the platform is only interested in the computational power of your PC and does not require you to undertake any tasks to get paid.
Its payout estimates in form of points for the average user are also too low to be bait for online scammers. The point is that the site is legit albeit you won't be making bank.
Find Out:
MinePrize Reviews
As of publishing, MinePrize is not verified nor is it rated by Trustpilot. There are also no MinePrize reviews on Trustpilot.
Nonetheless, no fraud allegation reviews have been submitted on sites like Scam Adviser or the Better Business Bureau (BBB) to suggest that MinePrize is a scam.
The website doesn't seem to have any social media presence, with just a few people on Twitter and Facebook sharing their MinePrize.com referral codes and calling on others to join.
On Reddit though, there are several threads discussing MinePrize. Above is one such thread on the r/beermoney subreddit.
The general consensus is that sharing your CPU power is not a good side hustle. Rewards from MinePrize are notoriously difficult to attain and the expenses for running the program won't allow you to break even.
Case in point, in the screenshot below, a MinePrize user on the same forum comments to not have made $1 yet, after running the program for 4 years!
The advice they get is to buy a powerful computer system, which means spending more to earn next to nothing.
MinePrize App Review: Is It Worth Trying?
MinePrize is a legitimate and easy way of making money off your computer's idle computing power. As a MinePrize user, you will have the advantage of earning from doing nothing else after you are done with the process of signing in.
However, the points you receive per every task completed are adversely low.
Furthermore, the high payout threshold MinePrize offers of $100 means that cashing out will take you a lot of time; that's time that you can better invest in other better-paying online platforms like TimeBucks and Nielsen Panel App.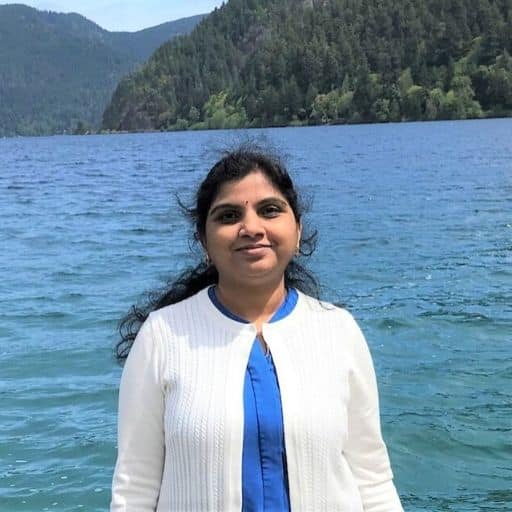 Howdy Folks, thanks for stopping by my blog.
I'm Swati, a proud mom, dedicated side hustler, full-time blogger, and a recognized millennial work-at-home expert. My expertise has been featured on esteemed platforms such as Forbes, CEO Blog Nation, Referral Rock, Vital Dollar, Databox blog, and many more. I have embarked on this incredible journey to share my firsthand experiences in the world of online income generation and to assist all of you in earning money from the comfort of your homes.
Join me in my mission to revolutionize the way we make money and achieve financial freedom. Trust me, it's not as challenging as it may seem!
Together, let's explore the boundless opportunities and pave our paths towards a prosperous future.