Credited to the internet, there exists a variety of ways you get that extra income today as you'll see in this Nielsen app review.
Popularly known as Nielsen Computer and Mobile Panel, this is an app that surveys your internet behavior such as browsing, socializing, shopping, networking, and more.
It works differently from other survey sites since, with the Nielsen app, you don't have to do anything to earn. You are required to just download the Nielsen App on your mobile and collect up to $50 worth of reward points by the end of this year.
This research platform rewards its users a total of $10,000 every month. Besides this, there are other rewards to look forward to.
If you are doubting its credibility, the parent company has been in operation for over 90 years.
More to this, the Nielsen app is available for download on Google Play or App Store, and there is also a computer version.
But is the Neilsen app legit? And can you make passive income from it? For this and more, stay glued on this Nielsen app review.
Let's get started.
What is Nielsen Mobile App?
In a nutshell, Nielsen is a company that undertakes research on behalf of other companies from all over the world. Basically, they collect your (user) data as a consumer of a certain product. This info is used to improve a company's products and services.
Nielsen Computer and Mobile Panel app is one of the programs operated by Nielsen Research. It's available in other countries, away from the US and UK, as Nielsen Digital Voice Panel or Nielsen Homescan.
As previously stated, the Nielsen app collects data on how you use the internet; that is what you do online. The bottom line is to improve user experience, interface design, product delivery, sales, among other metrics.
Using the panel is pretty straightforward. Just install Nielsen App and let it run in the background where it sends data back to their main server.
Once you sign up and create an account, you'll answer a short survey as part of the registration process. After this, you don't have to answer any other surveys on a daily basis to earn.
Who's Eligible to Join Nielsen App?
Nielsen Mobile app sign-up is completely free to everyone around the globe. No fees are involved and you don't need to share your credit card number.
Besides this, you need to
Be aged 18 years and above

Own a mobile phone or computer for Nielsen app download, and

Authorize software download on your minor's devices
Also, you need to have permission when installing Nielsen app on another person's device. This can be your spouse or kid. Nielsen Computer Panel even lets you install their software on your work computer provided that you have your employer's permission.
On the downside, Nielsen is not always recruiting. Sometimes you may try to sign and meet a "You do not qualify at this time. We will let you know if you can participate at a later date" message.
At the moment, Nielsen Mobile and Computer Panel are recruiting in the UK, US, Italy, Germany, Australia, Hong Kong, and New Zealand. This, however, changes from time to time. You should therefore keep checking your eligibility every now and then.
Get started today, download the Nielsen App on your mobile today!
Not clear on how Nielsen app works? It's simple, once you install and register, the Nielsen app monitors your online activity from the background. It keeps track of what you search, watch, read, or even listen to online.
Your data plus other people's is then aggregated by Nielsen. This data can in return tell potential customers of a certain product, and what the market wants.
According to Nielsen's own words, this app wants to know "how people use their smartphones and/or tablet devices".
How Does the Nielsen App Work?
To get started, visit Nielsen Computer & Mobile Panel website and click on "Sign Up".
You'll be redirected to fill a form about your personal details such as your name, birth date, email, country, gender, and mobile number. This platform will then prompt you to create your account username and password.
To finish your account setup, you'll receive a passcode on your phone for verification.
That's not all, you'll then have to undertake a short survey for info such as;
The number of people in your household, their names, age, date of birth, and gender.

Number of devices with access to the internet

Respective people in your household that use these internet-enabled devices

Types of devices you use, how frequently they are used, and the operating system these devices run on
Answering all these will prompt more questions directed to you and your household members such as your education level, occupation, race, the status of employment, and ethnicity. If you have multiple household members over 2 years of age, you may find this a very tiresome process.
Once through with Nielsen's lengthy questionnaire, you'll be guided to Nielsen app. Download and install its tracking tool for your desktop plus the Nielsen mobile app. A browser extension will be automatically added to your default browser.
Be aware that Nielsen's reward system works differently for either desktop or mobile users. Computer users are only eligible for sweepstakes entries while mobile users do earn up to $50 in reward points every year.
Additionally, mobile users do get bonus points per week, within the first month of using the Nielsen app.
Install the Nielsen Panel app to claim up to $50 in reward points this year.
How Much Does the Nielsen App Pay?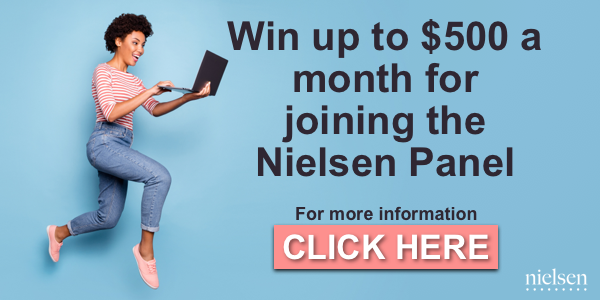 After completing your account set up and installing Nielsen app on your phone or computer, you can start earning rewards as long as the Nielsen app remains installed on your device.
Computer users are eligible for Nielsen's monthly sweepstakes. Every month, this platform rewards $10,000 – shared amongst computer users.
Two top earners walk away with $1,000 every month while the other 400 winners pocket around $500 every month. There are more than 500 winners each month.
Mobile users earn points every month all year long. These points are redeemable for gift cards. You can use the cards on your favorite retailers such as Amazon, Starbucks, Target, Macy's, and plus many more.
Do not forget, the standard reward points you get every year for just having installed the Nielsen app on your phone; all you have to do is let the app run all year long.
This passive income is not that much, but the fact that you earn for just using your phone normally makes it worth it. It's also worth noting that there are no daily task obligations to earn.
To increase your earning streams, install the Nielsen app on both your computer and mobile – Install and collect up to $50 in reward points per year.
Nielsen Cash & Rewards: How Do I Get Paid by Nielsen?
As explained in the previous section, having the Nielsen app installed on your phone rewards you with $50 in reward points yearly.
Besides this, you earn points weekly, redeemable for gift cards. These gift cards are sent to your email the moment you redeem them – 800 points get you a $5 gift card.
The Nielsen software on your computer automatically enters you into their $10,000 monthly sweepstakes. And, all panelists earn game tokens for chances to instantly win rewards on their scratch-off games!
This is informed by the fact that internet use over different devices varies with other factors such as demographics and accessibility. However, the number of devices you can register depends on your country of residence.
In some countries, the Nielsen app looks for computer users only. You can also be limited by the number of people or devices found within a given locality. As such, your participation is not automatic but subject to the panel's needs in your area.
What I like most about Nielsen is there are programs (referred to as panels) for everyone. So, if don't qualify to register your mobile devices, you can opt for the Nielsen Families panel and represent your block.
The exact rewards you receive depend on your country of residence. Nielsen app mostly rewards its users in different countries with points redeemable for gift cards. On the other hand, some countries do receive cash rewards.
The bottom line? Rewards vary.
For instance, Nielsen app users in the US receive monthly prizes of $10,000, across the board. In the UK there exists monthly, quarterly and yearly prizes aggregating to a total of £30,000 per year. The amount is divided among 150 winners.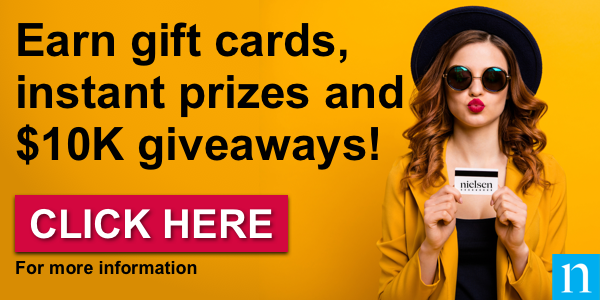 Besides the Nielsen app, you can also earn through Nielsen Digital Voice Panel. Here you get paid by just surfing the internet. This involves playing games, streaming music, reading blogs, watching videos and movies, or even doing your own research.
You only need to download and install the Nielsen Digital Voice app to enter into Nielsen's monthly sweepstakes worth up to $1,000.
Additionally, you'll also be invited to special surveys from time to time. Rewards? You get bonus entries to Nielsen's sweepstakes, plus cash rewards.
By joining you can play games for rewards, receive sweepstakes entries, and/or earn points depending on your level of participation
Does Nielsen Send Real Money?
Nielsen rewards most of its users with gift cards sent by email. These gift cards are a result of redeeming your monthly points (800 points for $5).
Besides this, you also receive up to $50 in reward points at the end of every year for just having the Nielsen app installed on your phone. You are also eligible for Nielsen monthly sweepstakes.
However, these rewards vary from country to country in some countries receiving cash rewards. Additionally, you can choose to donate your rewards to charity.
Nielsen App Ratings
Run by Nielsen Research, Nielsen TV ratings are the most popular research panels conducted by this platform.
The TV ratings collect data to help determine the number of household members who watch a particular television program and the duration of time they watch it.
As of today, Nielsen ratings are collecting such data in over 100 countries worldwide.
On the other hand, Nielsen Mobile App has garnered a 2.7-star rating on Google Play with over 500,000 downloads. The rating is aggregated from over 6,000 user reviews. On the App Store, the app has 2.9 stars from over 200 reviews.
The Nielsen App Reviews
It's evident from the above ratings that the app scores poorly. The same trend is seen among reviewers on other market raters such as Trustpilot (2.3 from 26 reviews).
Such poor ratings can be attributed to Nielsen's stringent requirements and the difficulty involved in getting approved. Nonetheless, there are still current users who've given Nielsen 5-star ratings.
Some users complain that the Nielsen app slows down their internet and you get lots of annoying notifications. Looking at Nielsen's terms, they state that it doesn't interfere with your internet connection or send unnecessary notifications.
From the above Reddit thread, one thing is, however, clear- Nielsen App does pay. Some reviewers also talk of receiving cash in the mail, randomly. One of the reviewers even talks of his company receiving $9,000 for completing Nielsen surveys yearly.
What I Liked About Nielsen App
Available for multiple devices

You can earn passive income through it

Every user with this app is eligible to earn up to $50 in reward points every year

Points can be redeemed for gift cards at various retailers

Nielsen app collects data to improve products and services for other companies

Free to join

Your data remains safe with the Nielsen app
What I Didn't Like about Nielsen App
No cash rewards in most countries

Limited earning opportunities

Low passive income

Eligibility restrictions

Some countries are limited to sweepstakes entries only

You cannot install the Nielsen app on some phone models
How to Un-Install Nielsen App on Mac?
Not happy with the Nielsen app? You can easily stop this app from collecting your data.
You can halt your panel membership and then uninstall the Nielsen app from your phone or computer.
The following are steps to uninstall this app from your Mac device.
Go to your computer settings

Click on "Apps"

Scroll down to Nielsen Mobile App

Click on "Uninstall" and complete the on-screen instructions
Is Nielsen Legit?
As mentioned before, the Nielsen app is 100% legit.
To back up this claim, Nielsen's research is BBB (Better Business Bureau) accredited with an A+ rating. It has been in operation for about 97 years collecting data in over 100 countries globally. No scam website can operate for that long.
Additionally, the app is the source of countless developmental changes across platforms and tools across different industries.
Is Nielsen Safe?
The Nielsen app tracks your activities over the internet. Due to this, you might be worried about the security and privacy breaching of your information. Is it safe? Let's find out
According to Nielsen Research privacy policy, they can use your data to contact you, but at no time will they sell your personal information to 3rd parties for use.
That said, Nielsen makes it clear that it can share your data with the Nielsen Family or panels and other 3rd party companies who provide services to Nielsen. These include data analysis, IT services, web hosting, and more.
In turn, these 3rd party companies are supposed to protect your data and keep it confidential, as per their contract with Nielsen.
As a note, installing Nielsen app on your phone or device means that Nielsen cannot use or access your emails, instant messages, or text messages.
While Nielsen collects data, it doesn't collect any content of the websites you visit, your user ID, passwords, and any other private data.
Instead, this app collects data on website addresses, the duration you spend on a particular website, and other such online behavior. You'll also remain anonymous to the panel's AI.
Apps Like Nielsen
Not recruiting in your country at the moment? Check out these alternative survey panels available in your region.
1. Swagbucks
Swagbucks is one of the best survey platforms where you can earn passive income by completing short tasks such as watching videos, online searching, and trying out different offers.
Here you earn points redeemable for gift cards or cash paid through PayPal. 2,500 Swagbuck points are worth a $25 gift card. Sign up for Swagbucks and receive a $10 welcome registration bonus.
Click to Access Swagbucks Review
2. Survey Junkie
SurveyJunkie is a site that rewards you with points for completing surveys. These points can be exchanged for gift cards or PayPal money. Surveys on this platform only take a few minutes to complete.
More to this, you get free sign-up bonuses and other incentives.
Check out: Survey Junkie Hacks & If its really worth trying Survey Junkie In 2023 (Review)
3. Ibotta
With Ibotta, you earn rebates on purchases such as household products and groceries.
This platform has partnered with many stores where you can check out offers you'd love to redeem when going to shop. To earn cashback, go shopping and scan your receipt using the Ibotta app.
Get up to $20 Ibotta Welcome Bonus
Nielsen Computer and Mobile Panel Review
From this Nielsen app review, it's true you can earn by just having the Nielsen app installed on your phone or computer. Well, $50 rewards are not that much, but it's a good amount for doing nothing – that's all passive income is about.
Unlike other survey sites, you don't have to complete any daily tasks to earn with the Nielsen app. Just download it, leave it, and wait to get your cash every year.
Interested? Download the Nielsen app for your annual bonus. Want to earn more? Check out these highest paying apps that can be installed on your phone/computer.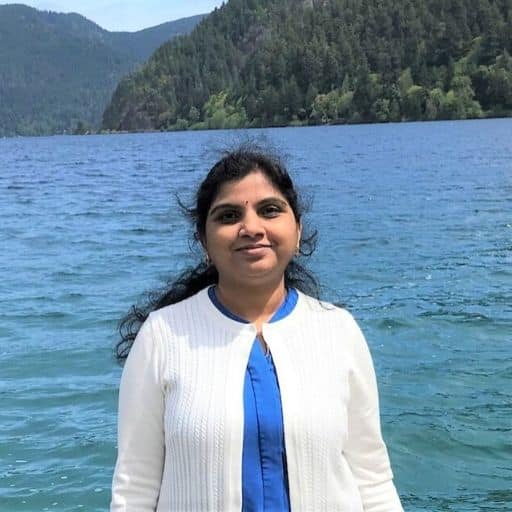 Howdy Folks, thanks for stopping by my blog.
I'm Swati, a proud mom, dedicated side hustler, full-time blogger, and a recognized millennial work-at-home expert. My expertise has been featured on esteemed platforms such as Forbes, CEO Blog Nation, Referral Rock, Vital Dollar, Databox blog, and many more. I have embarked on this incredible journey to share my firsthand experiences in the world of online income generation and to assist all of you in earning money from the comfort of your homes.
Join me in my mission to revolutionize the way we make money and achieve financial freedom. Trust me, it's not as challenging as it may seem!
Together, let's explore the boundless opportunities and pave our paths towards a prosperous future.