Wondering if, Swagbucks is safe to use?
If you're like me always looking for an extra way to make money, you have probably stumbled across Swagbucks Rewards Panel. Swagbucks is an application that rewards you for simple-to-do tasks. It's often referred to as the one of the best panel to make quick income in less time.
Usually, when a new opportunity arises we become skeptical and start asking our selves if its a scam or if it's worth it. The good news is with reviews of real users posted on different forums we can decide if the opportunity fits our needs.
Is Swagbucks safe to use?
Swagbucks was founded in 2008 by Scott Dudelson and Josef Gorowitz. Headquarter is in El Segundo, California, United States. Currently operated by Prodege, which also operates Clixsense. According to their website, Swagbucks already paid out $56,80,000 to date.
Swagbucks has 290K plus followers on Twitter and they are active there. They have 240K followers on their Facebook Page. It rewards you for doing simple tasks like participating in surveys, watching vidoes, playing games, referring people, and shopping online.
You can access the app either from your mobile phone IOS/Android on your desktop. After a simple registration process that includes your email, full name, and country you are good to start. It is very important to enable your location, as the offers vary from Country to Country.
EASY MONEY HACK:
Swagbucks BBB
Before signing up for any service you should always look for consumer ratings. When it comes to Swagbucks, you can look for their parent company – Prodege, LLC. The company operates consumer rewards websites and mobile apps that help consumers earn rewards and save money, including Swagbucks.com, MyPoints.com, ShopAtHome.com, and MyGiftCardsPlus.com.
Speaking of which, Prodege LLC, holds an A+ rating on BBB. That in itself speaks of legitimacy. Adding to this, Swagbucks even scores a 4.5 rating on TrustPilot with over 15,000 reviews.
How Does Swagbucks Work?
If you are using a mobile phone you will see the tabs: Watch, Answer, Shop, Discover, and Invite at the bottom of your phone.
The

Watch

tab gives you points or

SB

as they are called for watching certain promotional videos. Usually, the videos can be trailers of upcoming movies, books or item releases, or special news that impacts humanity. Each video varies from 50 seconds to 3 minutes of content, depending on the length is the number of points you will get.

The

Answer

tab lets you answer surveys depending on what you qualify for. Every day you get a questionnaire with certain tastes and hobbies, then the app decides what surveys are best for you. There is also one general question per day that gives you 1 point.

The

Shop

tab gives you points back for shopping in certain retail stores. For example, Amazon gives you 10 points for each $1 spent at the moment this article was written. To obtain these points you must click the link under the shop tab that will take you to the merchant's website. Points take a while to appear on your account as they give a time frame for returns and cancellation of the items.

The Discover

tab gives you points for trying out new promotional products. Usually, they are the same month after month. You can try television networks, learning academies for kids, new products, and casino games. Most trials are 30 days which gives you the opportunity to try something new without having to pay and canceling in time.

If you have a lot of friends on social media you can get a great advantage with the

invite

tab. The current promotion is 10% of everything your friends earn for life. To get this benefit the person must register under your referral link which can be found on the tab. You can either email the link or text it to your friends.

Swagbucks Codes
On the top right-hand side of the app, you can see a wheel type icon. This icon lets you place Swag Codes, these codes can be found on Swagbucks Facebook page any time of the day. Usually, they are two to three points that can be obtained with each code.
How Much Money Can You Make Using Swagbucks?
I began using Swagbucks a while ago. I am not an active user, but try to use it every once in a while. I have made a total of $88 to this date from referrals and points. Obtaining points is quite hard actually, I tried the Watch tab for about a week leaving it overnight continuously, and only obtained 100 points.
With the website version, the user can play online games with other users and get points if you win. Most of the games are paid and Swagbucks gives you points for adding money to your account. The games are fun you have a choice of Scrabble or Bejeweled which are popular and easy to play. I loved playing Bejeweled and won a few tournaments. Also, the website gives you an inbox that pays you to read the content and gives you points. Most users enjoy the daily goal that gives you challenges to obtain surprise points in every task given to you.
The shop tab frustrated me as sometimes the points took over three months to be credited and certain products I bought were rejected. I guess the frustration is that after three months you can't return any item or ask for a refund if you were buying a promotional item. The stores on the Discover tab are not usually I buy from, making it a little hard to get points as fast.
The Discover tab usually has the same offer month after month, making it really hard to get any points after you have tried it all. Once in awhile the offers change, but they are mostly for casino games which I am not a big fan of. After a while of chasing the swag codes, I grew tired of them, as they only give 2 to 3 points and to reach the payout it will take me months if using it alone.
To avail of a bonus, usually $3, you need to earn 300 SB (300 SB = 3 USD) within 30 days after registration. Additionally, you can claim a $1 bonus by adding the Swagbutton.
Can you get real money from Swagbucks?
The minimum payout is 500 SB points that let you get a $5 Amazon Gift Card. There are several options you can pick from retail stores to restaurants. They vary from $5 to $25 according to the popularity of the store. The redemption process is usually quite simple, the user selects the gift card they want and Swagbucks emails you in about 48 hours the code or number for the gift card.
I mostly made a few dollars with the referrals, but as I mentioned before after a while they stopped making points or just decided to quit. I used all of my points in Visa Gift Cards and just gifted them to my family members on important dates.
Is Swagbucks Legit?
Yes, Swagbucks is safe to use and is a free service that can give you cashback or extra pocket money.
My experience was a combination of the mobile application and the website. Genuinely speaking, it's not a platform to get rich or replace your 9 to 5 income. If you are just looking to make a quick passive income and have the time to play games and watch videos, it is definitely an excellent way to make that extra cash.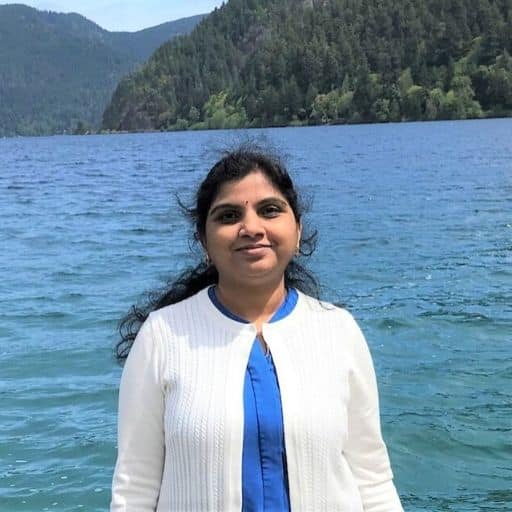 Howdy Folks, thanks for stopping by my blog.
I'm Swati, a proud mom, dedicated side hustler, full-time blogger, and a recognized millennial work-at-home expert. My expertise has been featured on esteemed platforms such as Forbes, CEO Blog Nation, Referral Rock, Vital Dollar, Databox blog, and many more. I have embarked on this incredible journey to share my firsthand experiences in the world of online income generation and to assist all of you in earning money from the comfort of your homes.
Join me in my mission to revolutionize the way we make money and achieve financial freedom. Trust me, it's not as challenging as it may seem!
Together, let's explore the boundless opportunities and pave our paths towards a prosperous future.