If you have some extra hours of spare time and need some extra money, this TimeBucks review has got you covered. TimeBucks is one of the many online platforms where users can earn through referrals or by completing simple tasks.
The site can be accessed by navigating to TimeBucks.com on your browser, besides there is also a TimeBucks App available on Google Play.
To give you a headstart, this TimeBucks website review sheds light on how to sign up for TimeBucks, how Timebuck functions, and how to earn through TimeBucks tasks.
Is Timebuck legit or not? Read on for comprehensive answers to all the burning Time Bucks questions.
Firstly, let's take a brief overview of the platform.
TimeBucks Review: Overview
| | |
| --- | --- |
| CRITERIA | FEATURES |
| Debut Year | 2014 |
| Purpose | Get-paid-to platform |
| Available Countries | Worldwide |
| Average Earnings | Unspecified (depends on tasks) |
| Payment method | AirTM, Payeer, Neteller, Skrill, & Bank Transfer. |
| Ratings and accreditations | 3.2 stars on Trustpilot |
| Google Play | 3.9 stars , 500k plus downloads |
| Apple App Store | None |
| Cuts and commissions | None |
| Subscription fees | None |
| Bonus | 15% for referrals plus promotional offers |
| Payout threshold | $10 |
| Timebuck: Final verdict | Timebuck's reward site is Legit and trustworthy. |
What Is TimeBucks?

TimeBucks is one of the best online platforms that pay users for the completion of easy online tasks. It started back in 2014 and is currently owned by Australian-based Clearing Pty Ltd, a company founded in 1975.
The company is legally registered in Australia, offering various financial services including brokerage of securities. In India, the business operates under Rayon Indian Clearing LLP.
TimeBucks is a legit platform that also has interests in media through outlets like The Daily Greatest, The Time Cage, and various mobile applications.
The reward site outshines most of its competitors by offering a wide variety of GPT tasks that users can earn from. Such activities include posting on social media, playing games, installing apps, taking selfies, answering surveys, and viewing slideshows.
Joining the site is free and earnings are paid via AitTM and other payment methods at a minimum threshold of $10.
Click Here To Register on TimeBucks
How Does Timebucks Work?
TimeBucks is quite similar to many other get-paid-to platforms. Basically, the site pays you weekly for doing tasks that you normally do for free. The list includes micro tasks like commenting on a post to fun activities like growing a beard.
In essence, you make free money from the comfort of your home with new ways added periodically to make your time on TimeBucks exciting.
Normally, your application is not subject to an approval process, meaning you can apply right now and start to complete tasks for real cash.
The TimeBucks sign-up process only requires an email address and a password. The site also allows new users to sign up using a Facebook account.
To match you with the various tasks, the platform does ask for some personal information when setting up your TimeBucks profile. Your dashboard also features your payment method, profile picture, and identity verification (optional).
So, what does this Australian company expect from work from home gig workers? Below are the different options for getting paid on TimeBucks- just click the Earn tab after you sign in to view all the tasks.
1. Taking Surveys
TimeBucks will avail surveys to you based on your demographic profile. An estimate of the survey duration and the payment for the survey is displayed before you start.
Like most online reward portals, the surveys are sponsored by advertising partners. As such, factors like nationality, age, education, and level can determine the frequency and type of surveys that populate your feeds.
2. Watching Videos
This is the most uninvolved task that you can undertake on TimeBucks.
However, watching short video clips is one of the low-paying gigs on this get-paid-to rewards site, making you just a few cents per video.
Nevertheless, the idea that you can watch videos and make money is a great way to pass time and add some cash to your pocket.
Note: Some videos only pay if an advert runs at the beginning of the clip. The point is that you need to let the ad play uninterrupted and also watch the video to the end to earn credits.
3. Completing Captchas
Solving captchas doesn't take much in terms of time or even data but reading through most Timebuck Captcha reviews, it takes time to adapt to it.
There are no set limits to how many captchas you can solve. However, solving 20 captchas will only earn you about $0.003.
Related Post: How To Earn Through Captcha Entry
4. Posting Videos on TikTok
TikTok Tasks occupy a whole section in the earning department of TimeBucks. Each post needs to conform to certain preset rules and conditions that you first have to agree to.
Payment in this stream varies depending on the quality score of your videos and the engagement they elicit. The opportunity is listed in the Post tab and pays depending on the specific campaign budget.
It's also worth noting that your TikTok account will be categorized as the TimeBucks team sees fit. The categories include Real Person and Character accounts, with each class of account paying varying rates.
What's more, you get a $1 bonus for signing your TikTok, immediately after your first post gets verified.
5. TimeBucks Referral Program
Timebuck allows users to earn up to 15% commission on the tasks taken by the friends they have referred. This commission however excludes your friend's referral commission and bonuses.
Additionally, 10% of advertising deposits that your referred users make will be debited to your account as a commission. To get your TimeBucks referral link, go to the Earn or Dashboard page and scroll to the Refer tab.
Next, start posting your referral link on online forums, social media posts, and reviews. You can also get your friends to join TimeBucks via your link by sending the link directly through messaging apps and DMs.
Referrals and many other TimeBucks tasks are seamless to undertake and can be done with a few taps; that's probably why TimeBucks doesn't pay a lot for these tasks.
Note, referrals can also earn a whooping 200 sweepstakes entries during promotional events.
6. Installing Apps
From your dashboard, click the Install Apps tab to view a list of apps that you can install and get paid for. Typically, you don't have to engage with any of the apps to get paid.
The best thing is that you may get to download a mobile app that also pays you for other work-at-home tasks.
You are also free to uninstall the app but I advise waiting to get the payment for the task before you remove the application.
The reason is that on the off chance that you miss the payment, TimeBucks Customer Service will require a screenshot of the app on your phone.
7. Growing a Beard
Among the many tasks in the earning section, growing a beard is arguably the most interesting and best-paying.
Rather than a single task, growing facial hair on TimeBucks involves a series of daily microtasks. The basic task is to take a selfie daily showing your beard's progress.
From the YouTube Channel FreeRobuxWorld, above is one of the YouTube videos showing a compilation of such photos.
How long does your mane take to grow? For the Grow a Beard task, TimeBucks requires a 60-day commitment. The output is a viral video that's used in various marketing channels.
The minimum amount of money you can make from this Daily Take Photo activity is $20. You'll be happy to know that this is among the few gigs that TimeBucks pays upfront.
8. Weekly Sweepstakes
Every TimeBucks user is automatically entered into a weekly sweepstake. You just need to login into your account daily to get your entry.
To improve your chances of winning, increase your sweepstakes entries by undertaking tasks. Note, the system resets all entries to zero after the draw is made every Thursday.
9. Other Microtasks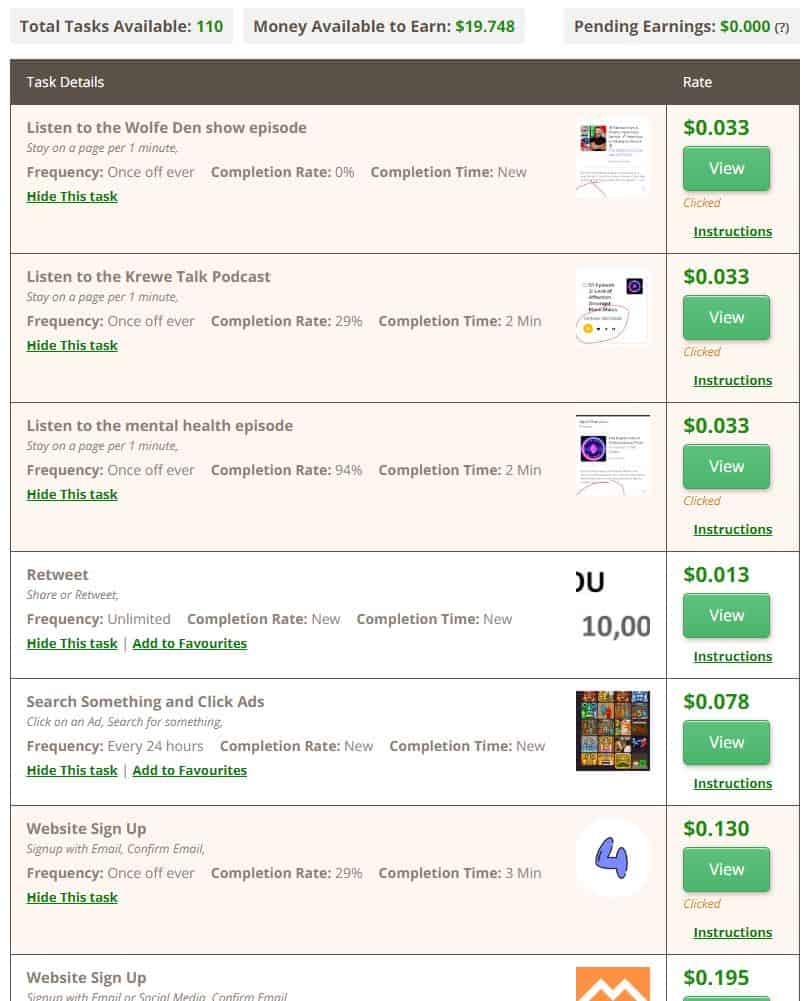 Source: Facebook
There are many micro-tasks that can make you money on TimeBucks. The list changes depending on the sponsors' needs, and so does the rate.
One such money maker is Push Clicks. All you have to do is click a link that redirects you to an external website. The other website profits from increased traffic, while you get paid for a simple click.
Examples of other TimeBucks tasks include:
Retweeting.
Clicking ads.
Website sign up.
Listening to podcasts.
Joining TimeBucks' social media handles like Telegram.
How to Sign Up for TimeBucks?
Before participating in the TimeBucks activities, you first need to create a TimeBucks profile after you sign up. To register, you need to;
Launch your browser and navigate to the TimeBucks.com Sign Up page.
Click on sign up.
Fill in the sign-up form accurately.
Create a strong password for your account.
After you fill out the form, a confirmation email will be sent to your email account.
Once you get the email, log in to your TimeBucks profile, provide personal information, and add your AirTM payment information.
Does TimeBucks Have an App?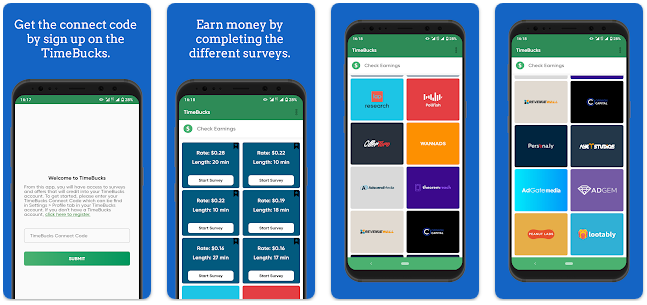 Yes, currently, there is a TimeBucks application available on Google Play meaning that you can access your TimeBucks account and carry out tasks through your smartphone.
Despite being a recent addition, it has more than half a million downloads from the Google Play Store. Currently, there are over 2,500 TimeBucks app reviews on Google Play rating the app at 3.9 stars.
Moreover, the TimeBucks dashboard is simplified and easy to navigate using your mobile phone if you decide to make money using your phone.
Click Here to Download Timebucks On Playstore
TimeBucks Payout: How Much Does TimeBucks Pay?
As per TimeBuck's policies, first-time users are often given better offers. TimeBucks reports earnings of up to $50 on the first day for a United States user; you can go on to make up to $30 every day after.
Typically though, according to the opinions of most users, you can earn a total amount of up to $30 monthly if you invest a few hours of your free time on the site.
Like many other GPT sites, the amount you can cumulatively earn from TimeBucks depends on how much time you invest in carrying out platform-related activities. Further, some activities pay better than others.
Completion of tasks on the panel auto-updates the balance on your TimeBucks wallet. However, the amounts you earn are way less for the tasks done so might consider other daily-paying online gigs.
TimeBucks Payment Methods
The property of TimeBucks that stands out over the numerous advantages it has is the choice of payment options.
Once your TimeBucks wallet has a balance of more than $10, you can cash out your balance through either Skrill, AirTM, Payeer, or Neteller. You can also withdraw your amount through a bank transfer, a Tango Card, and Bitcoin.
Does TimeBucks pay via PayPal? The answer is No. The site did use to pay via PayPal but the option was discontinued due to TimeBucks' 'pay to click' features that go against PayPal terms of service.
Additional Side Hustle: Make Bitcoin For Free
What Is TimeBucks Minimum Withdrawal?
The minimum amount that needs to be in your TimeBucks dashboard before you can make a withdrawal is $10.
Payments are finalized at the close of the day on Tuesdays- the time zone of reference is New York. The implication of this is that your earnings on Wednesday won't show on your withdrawal invoice.
The funds roll over to the next billing cycle.
How Much Can You Earn On TimeBucks Per Day?
According to TimeBucks, a new user can earn up to $ 50 on the first day on TimeBucks and from $10 to $20 after that, depending on the time they spend on the application.
As earlier stated, the amount you can make on online platforms depends on the number of tasks you complete. However, the number of tasks that come your way depends on the personal information you provide and the country you live in.
However, the unavailability of surveys and low payment per task deter many users from even hitting $5 per day.
Does TimeBucks Pay Real Money?
Source: Facebook
Yes, TimeBucks pay real money. Your TimeBucks balance increases with each task you complete on the platform. When you reach the $10 threshold, you can withdraw your balance either as cash or as Bitcoin.
Furthermore, you are the one to choose your preferred payment options. To reassure users, the site shares Payment Proofs and a leaders' dashboard on the official Facebook handle.
How to Cash Out On TimeBucks?
TimeBucks lack a withdraw button meaning there is no way to request for payout. Payments are however made automatically on Thursdays of each week provided that you have reached the threshold of $10.
You just have to make sure that you have added your appropriate payment details. To do this, you need to;
Navigate to the TimeBucks site and log in.
Tap on the settings tab and then on the Payment Method.
Select your preferred payment method, enter the required info, and hit Confirm.
How to Complete Surveys On TimeBucks?
Source: Facebook
To take surveys on TimeBucks tap the Your-Surveys tab after you log in. From the list displayed, choose the survey that you like and complete it to earn the amount specified for the task.
Notably, among the number of ways you can earn from TimeBucks, taking surveys is one of the most financially rewarding. Timebuck surveys are from different providers but once you take them, the payment reflects in your Timebuck's balance.
Luckily you get to know the survey provider, estimated completion time, and the rate before you opt into the task.
Nevertheless, the availability of surveys is not guaranteed. Your country and demographic information determine the number and type of survey invites that you receive.
Note: Payment for completed surveys can take up to 30 days to reflect on your account.
Is TimeBucks Legit?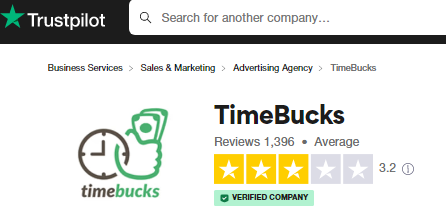 The most burning question to most prospective platform seekers is whether TimeBuck's scam or legit. Here is a short answer:
TimeBucks is a legitimate source of extra income from carrying out tasks and surveys. It is currently verified and rated at 3.2 on Trustpilot from 1300+ reviews. In particular, it receives praise for safe and timely withdrawals.
The company is a legit registered business entity in Australia under the Australian Clearing Pty Ltd. The company is headquartered at 235 Main Street, Osborne Park WA 6017 Australia with the business number 26 625 700 156.
The legitimacy of the platform is boosted by many users who praise TimeBucks for its accommodating support staff.
On the other side, there are complaints of low payment per task. However, TimeBucks payment proof and validating reviews from users qualify it as a legit source of extra income.
TimeBucks Reviews (Positive)
For an authentic look at making money on the app, below are some screengrabs of positive reviews from Reddit and Trustpilot.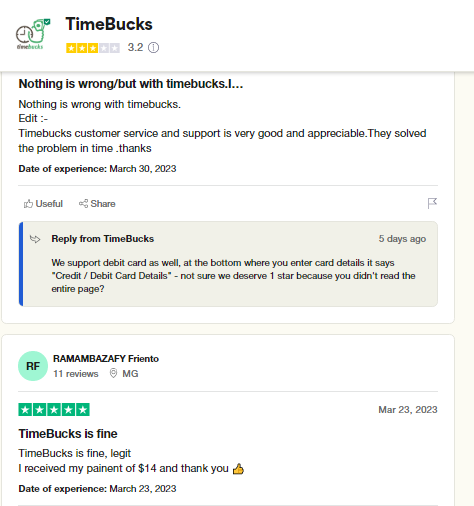 Source: Trustpilot
In the above 5-star reviews on Trustpilot, current users that the site is legit with one user saying they have made $14 on TimeBucks. It's also evident that TimeBucks Support makes timely replies to queries from reviewers.
A unique aspect I gleaned from the positive reviews is that the company can ban your account for using a VPN. However, after contacting support such issues seem to have been solved promptly.
TimeBucks Reviews (Negative)
In the above Reddit thread, one user who earned $40 in 2022 complains that TimeBucks is time consuming in comparison to the time it takes to complete tasks.
Another user comments that they didn't have surveys on their Offer Walls section. To this end, it's worth remembering that paid surveys come with strict criteria on who can be invited to participate.
In a different Reddit forum, reviewers say that some surveys end in the dreaded "error 404" before you can submit.
Check Out Other Reviews:
Is TimeBucks Real or Fake?
TimeBucks is a real online platform that users can earn from by completing online tasks. According to most TimeBucks user reviews, the app pays as advertised. It is a good site for investing some hours on get-paid-to tasks.
However, depending on your nationality, gender, and other personal traits TimeBucks may not offer you many options of making money online weekly.
TimeBucks App Review [Final Thoughts]
Like most other GPT platforms, TimeBucks requires you to invest a lot of time to make decent amounts. That said, the browser platform and mobile app are legit, easy to use, and well liked across the globe.
The site promises users the chance to make between $20 – $30 per day. Nonetheless, that's not always the case, and you may have to do with a few dollars a month.
To ensure you make some good cash on a daily basis and without fail, I suggest signing up on surveys sites like Swagbucks and Inbox Dollars for more gigs.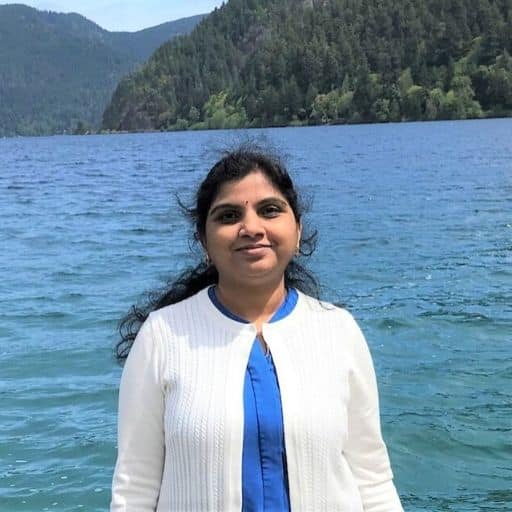 Howdy Folks, thanks for stopping by my blog.
I'm Swati, a proud mom, dedicated side hustler, full-time blogger, and a recognized millennial work-at-home expert. My expertise has been featured on esteemed platforms such as Forbes, CEO Blog Nation, Referral Rock, Vital Dollar, Databox blog, and many more. I have embarked on this incredible journey to share my firsthand experiences in the world of online income generation and to assist all of you in earning money from the comfort of your homes.
Join me in my mission to revolutionize the way we make money and achieve financial freedom. Trust me, it's not as challenging as it may seem!
Together, let's explore the boundless opportunities and pave our paths towards a prosperous future.