In my quest for the legit paid survey sites, I stumbled upon Branded Surveys and I was astounded by the site's payment rates and jobs load.
First off, I found no spam offers or dubious scoring systems meant to rob you of your time.
That said, to earn consistently, you need to learn some tricks here and there. To this end, I have prepared a thorough Branded Surveys review for you.
This guide covers what there is to know about making money on Branded Surveys.
In particular, I've paid attention to the platform's sign up process, reward schemes, typical daily payouts, legitimacy, data privacy, and hacks to make more money off Branded Surveys.
I also invite you to read more on what others have to say about Branded Surveys on review sites like Reddit and Trustpilot.
Let's get started by going through the site's main features:
BRANDED SURVEYS
FEATURES
Year Established
2014
Purpose
Paid Surveys and Market Research
Available Countries
The

US, Canada, and the UK

Applicable

Everyone 18 years and abo

ve, plus teens (13 – 17 yrs) with parental consent
Subscription Plans
Free
Avg Earnings
$1 -$3 per survey
Shares & Cuts
None. Keep 100% of what you earn
Minimum Payout
500 Points = $5
Payment Method
PayPal, BrandedPay, and Amazon
Referral Program
50 Points = $0.5 per referral
Referral Code/Link
Sign Up with My Referral Link here
Seller Rating
4.3 out of 5 On Trustpilot
Branded Surveys Review: Final Verdict
The

platform is 100% legit and it features lots of high-paying surveys

, including third-party surveys.
What Is Branded Surveys?
Like all paid survey platforms, Branded Survey is in the business of helping businesses and organizations collect data from people. Their clientele contracts them to carry out demographic-based research on both new and old products and services.
From the pay, they share a commission with you to submit an opinion. At the same time, the site provides users with a community of survey takers.
This helps you to interact with like-minded people, take part in industry-wide polls, as well as earn giveaways.
And, What Is Mintvine?
The panel was founded in 2012 and went by the name MintVine until it was rebranded to Branded Surveys.
Some of the improvements brought about by rebranding include elite panels, survey matching, and a better payment system (Branded Pay).
How Does Branded Surveys Work?
The company works with different industries including shopping & restaurants, entertainment, tech, financial, and health.
Participating companies provide Branded Surveys with questionnaires that usually take 20 minutes or less to complete per panelist.
To access the surveys, you need to sign up and fill in your user profile. Once approved, their AI matches you with surveys depending on demographics such as age and location.
From my experience, it helps to complete as many surveys as you can to ensure many surveys come your way.
The reason is that the platform features a quality score that determines your suitability as a panelist; the higher your score, the more the number of surveys on your dashboard.
Is Branded Surveys Legit?
Yes, Branded Surveys is 100% legit, safe, and a trustworthy site! Here's why:
The legitimacy of an online paid data-gathering firm can only be showcased by its professionalism.
You'll find such ratings on platforms like Better Business Bureau perfect for unbiased insights on what a platform promises versus what you really get.
Searching 'Branded Surveys BBB' shows that the company is not only accredited, since 2014 but also gets a 'B' ranking.
Further, on Trustpilot, Branded Surveys is verified and has 4.3 stars out of 5 from 51,000+ reviews, which is an excellent rating for a survey company.
Also to date, a total of $25M+ has been paid to survey takers on Branded Surveys since 2012. Which is an indication of cash flow and legitimate business.
Branded Surveys Signup: How to Sign Up for Branded Surveys?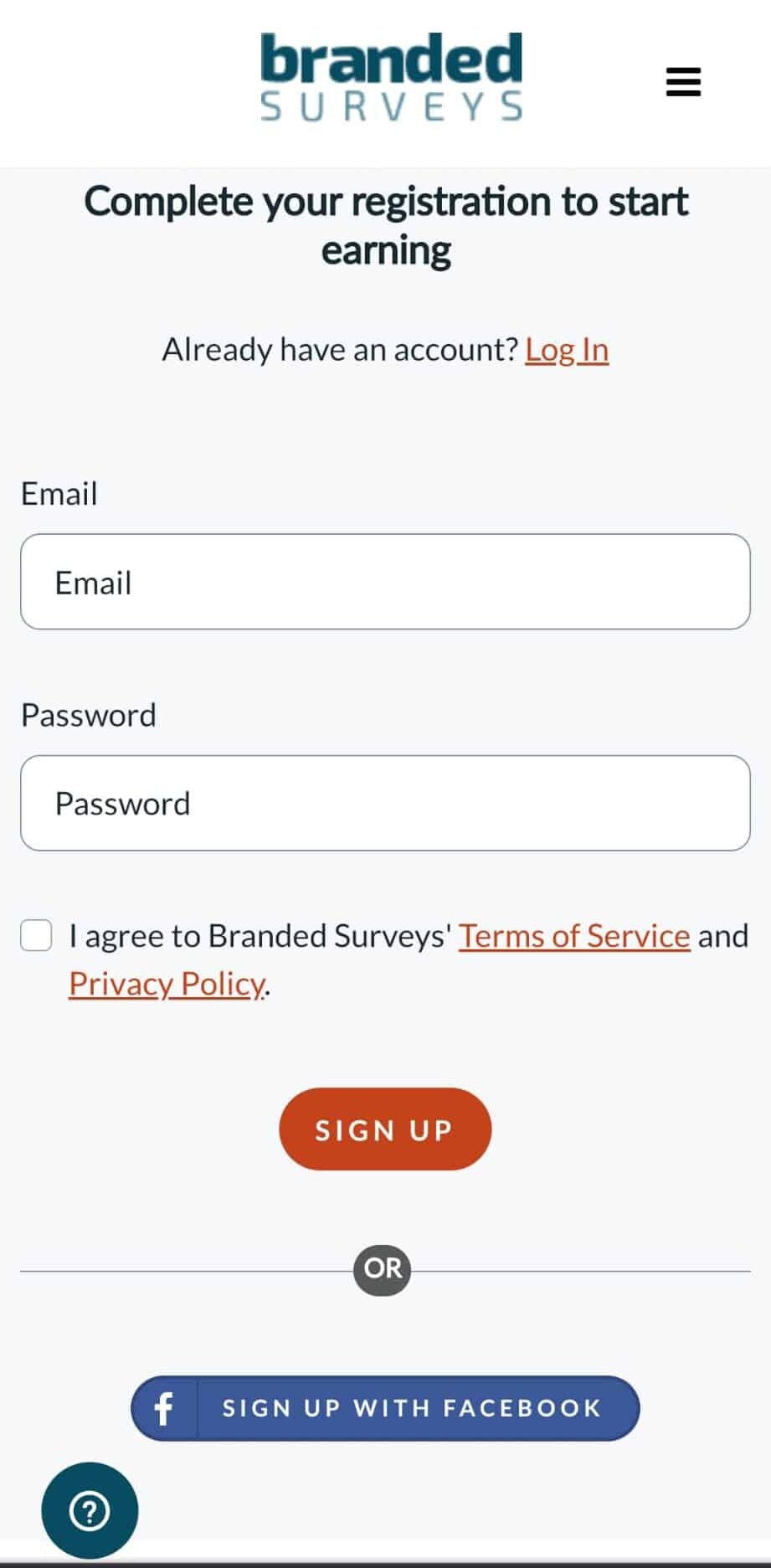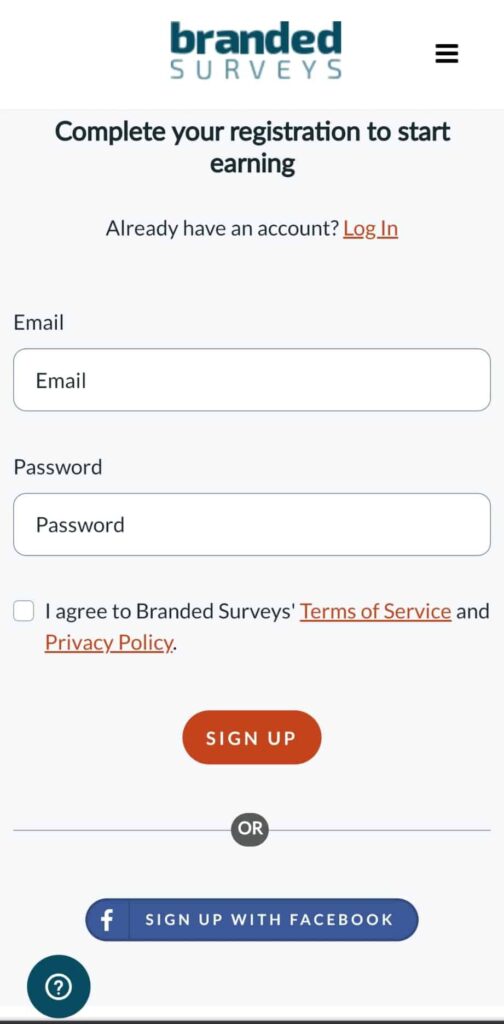 To sign up for Branded Surveys jobs, start by clicking here to access the official website. Next, tap on "Sign Up" to create your survey account using your email address.
Additionally, you will be requested to fill in your name and DOB.
You can also forgo the process by clicking on the "Join with Facebook" option. For the second option to work, ensure to allow Facebook access to third-party apps.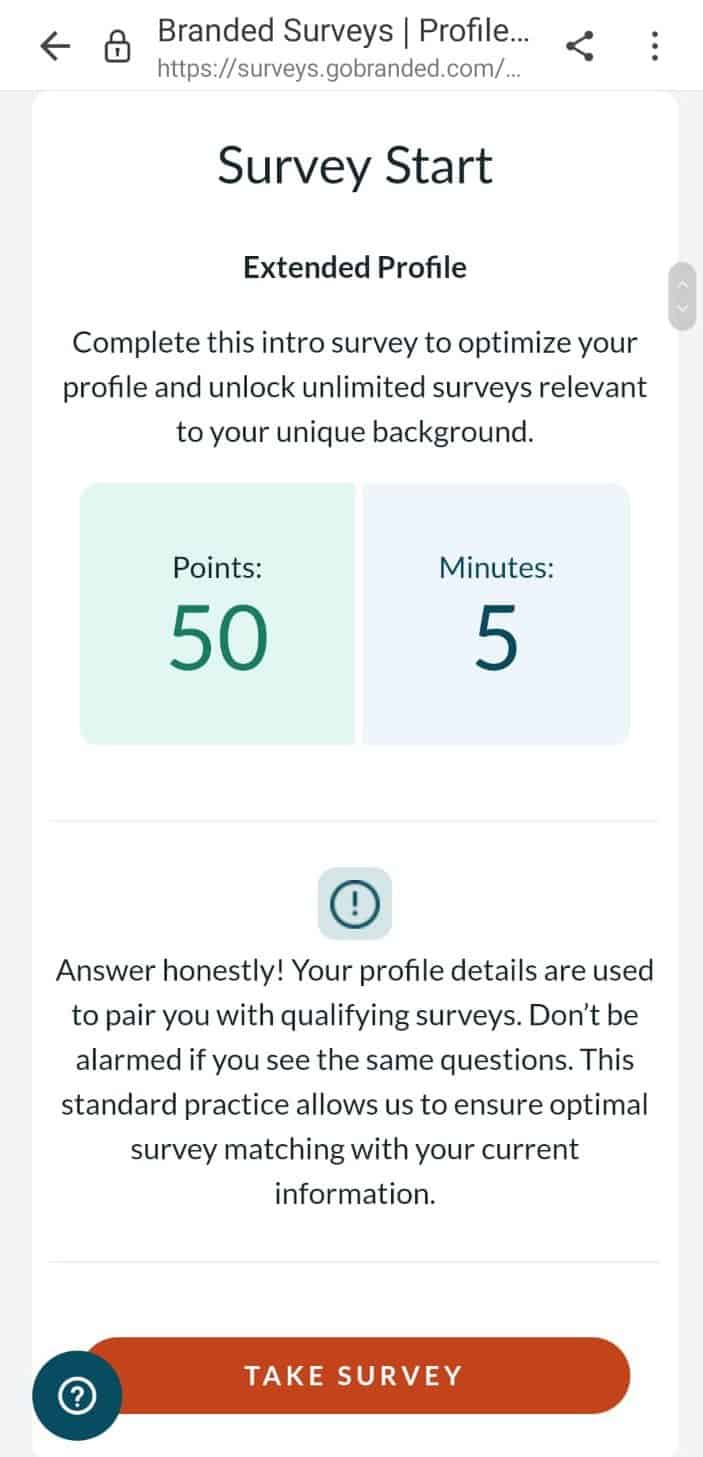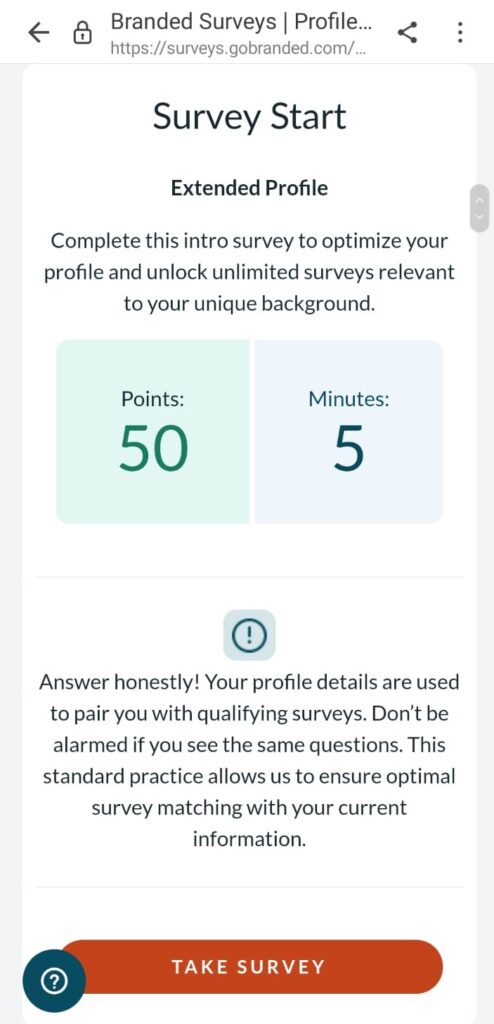 Most importantly, you must complete a short extended profile survey under the "My Profile" page after you sign up. The survey takes just 5-mins and upon account activation, you'll receive an instant 50-point sign-up bonus.
The answers you provide are used to match you with appropriate surveys. Ensure to provide factual information plus, I found it useful to keep updating your profile as your demographic data changes.
More to this, you can sign up by using a friend's referral link, for which they earn 50 points. Sign-up is reserved for those 18 years or older from the US, the UK, and Canadian.
However, teens aging 13-17 years are also acceptable to join with their parents' consent!
Branded Surveys Login: How to Login to It?
Sign up on Branded Surveys is free, and you don't get charged to complete studies. Once your profile is active, head to the official website and click on "LOG IN" in the top right corner.
Next, you'll need to fill in your email address and password to get to your dashboard. This will open your profile to surveys that match your profile information.
As a tip, pay attention to free surveys that target specific topics. These are meant to pad your profile, making it easier for the site's Survey Matching Engine to populate your dashboard with appropriate jobs.
Branded Surveys Payout Amount
The minimum payout for Branded Surveys is 500 points.
So, how much money do you get for 500 points on branded surveys? Minimum points get you $5 redeemable through PayPal, Branded Pay (bank transfer for the US only), Visa, or Amazon gift cards.
Nevertheless, it takes up to 3 business days for the money to hit your account after the withdrawal. Gift cards also take the same period to reflect on your email.
To make money on branded surveys, you need to rack in as many points as possible. This is possible by taking different surveys including brand awareness, market insights, and product-based surveys.
Each survey rewards you from around 35 points to as much as 300+ points. Depending on the survey type, it takes between 5 – 15+ minutes to complete one questionnaire.
Typically, studies that take long to complete earn you more than short surveys – I'm talking about Branded Elite surveys paying up to $20!
Branded Survey Reviews (As Per Reddit)
To know some of the top Branded Surveys problems, I checked reviews on Reddit. This allowed me to be prepared for cancellations, quality scores, bonus points, and the platform's elite program.
From my research, below are some of the notable comments.
On being kicked out of ongoing surveys, there are mixed feelings among Redditors. Some talk of constant cancellations, while others point to a few acceptable instances. Notably, being thrown out of a survey happens within less than 5 minutes after starting a survey.
I also agree with one of the reviewers that it makes sense to go for high-paying surveys that take less time. You'll also find that disqualifications are common with online surveys.
What sets this platform apart is that you get rewarded for any job that you are disqualified from. It might be just a few points but it is still better than working empty-handed, right?
Another common problem when taking surveys is redirecting to other paid survey platforms.
The first time it happened I freaked out, but as the above reviews show, this is common when you have different survey platforms open within the same browser.
Is Branded Surveys a Scam?
It is not uncommon to come across 'Branded Surveys banned' and 'account restriction' complaints.
Hot Tip: In such cases, you should be able to contact their support and appeal for account reinstatement, as well as cash out the money when it's available!!
However, after completing 3 surveys and successfully withdrawing $10, I can attest that the platform is completely legit and worth a try.
That said, you may find some surveys to be problematic, especially studies from third parties that appear on your dashboard. The main concern is that you may be disqualified from surveys midway.
Here is a striking comment made by another Redditor that backs my opinion.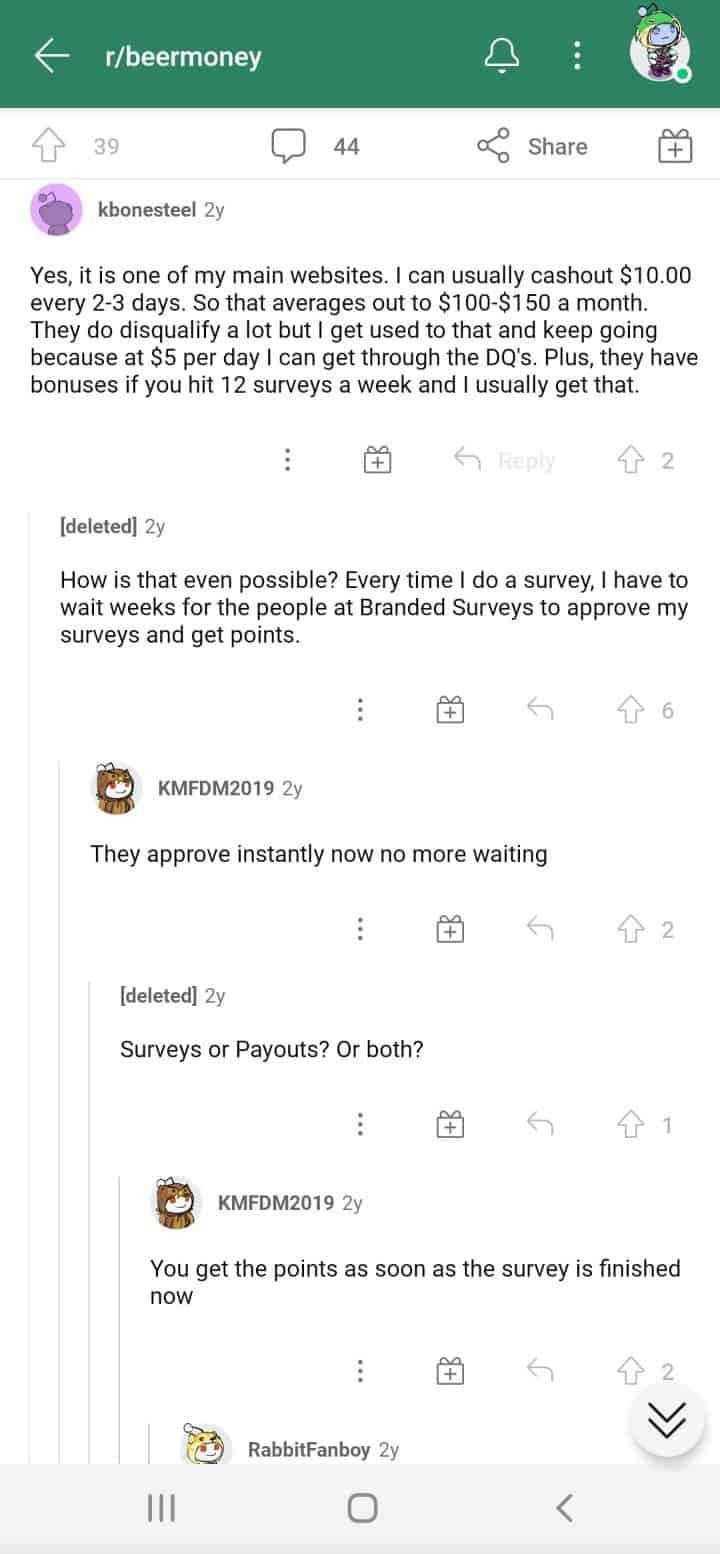 Best Alternatives to Branded Surveys
Truth be told, online surveys don't pay much, which is why I only use the proceeds for small purchases.
Basically, I give the hustle 30 minutes or so from my daily schedule, just enough time to meet my weekly and monthly Branded Surveys quotas.
But here is a tip, if you want to earn good money from surveys, join several sites.
This will give you a mix of high-paying surveys. With this in mind, here are websites and apps like Branded Surveys.
The site rewards you in Swagbucks (SBs) with 100 of the points being equivalent to $1.
Apart from paid surveys, the site lets you earn from watching videos, shopping online, answering trivia and playing games.
What I like most about the platform is that it is also available as a mobile app, for both Android and iOS users.
Join Swagbucks and Claim your $5 welcome bonus
Working on Respondent.io can make you $19/hr from referrals alone. Even better, at times, you can even expect high-payout research studies of $500 and $1,000 on the site.
And, no matter where you are in the world, you can sign up and complete surveys on the platform. Most importantly, I find their surveys very logical, and interesting.
Sign Up for Repondent.io Surveys
This is one of the oldest GPT sites offering paid surveys since the year 2000. Users earn for watching ads, trying new products, and reading emails.
The company is A+ rated on BBB and comes with a high referral bonus of 30% of your friends' lifetime earnings.
Registration alone earns you $5 plus access to surveys on the go through a mobile app.
Claim Your $5 Inbox Dollars Bonus
Branded Surveys Pros & Cons
Pros Of Branded Surveys
Cons Of Branded Surveys
Free to Join

No dedicated app

on Playstore or APP Store

One of the best bonus programs

Constant disqualifications

Open to teens (with parental consent)
Quick surveys timeouts

High-paying surveys

No instant payouts (rewards take 3 days)

Access to third party surveys

Not available global

ly

A guaranteed daily poll (5-points)

No expiry of points
Pros and Cons of Branded Surveys
Branded Surveys Hack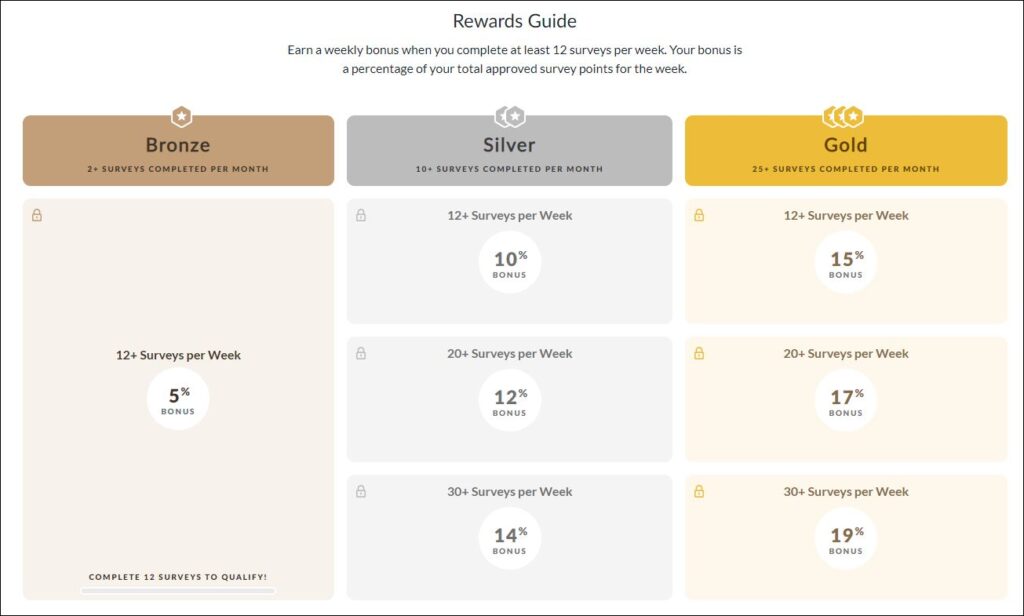 Wondering, how do I get more points for branded surveys?
Even for hardworking participants, taking surveys over and over can be boring. This is why I encourage you to scale up the Branded Surveys Elite program.
This exclusive circle lets you earn more from fewer studies and gets you access to cash giveaways plus bonus points for your weekly survey completion.
In addition, try the following Branded Surveys hacks:
Get your referral link and invite as many friends as possible. Each

successful

referral earns you $0.50.
Earn a weekly bonus when you complete at least 12 surveys per week
Take surveys throughout the month to advance through Bronze, Silver, and Gold badge levels!

Complete the set number of surveys in your tier to earn bonus points (5% to 19% increment).

Be among the top 50 earners to get bonus points. The leading person on these leadership boards also wins extra points, apart from the bonus.

Pick long and high-paying surveys.

Calculate the number of points you make per minute to decide which survey pays best.
Branded Surveys: FAQs
1. Is Branded Surveys Free?
Yes, joining Branded Surveys costs you nothing (free), except for the minutes it takes to register and fill out your profile survey. You don't pay any monthly fees or commissions to continue using the site.
2. How Old Do You Have to Be to Join Branded Surveys?
18 years is the minimum age for new Branded Surveys applicants. Nevertheless, consideration is given to teens, aged 13 – 17 years, with parents' consent.
3. Are Branded Surveys Available Worldwide?
No, all applicants must be from the US, the UK, or Canada.
4. How Much Is 1000 Points On Branded Surveys?
100 points on Branded Surveys earns you a $1. As such, 1000 points makes you $10.
But, does Branded Surveys pay cash? The site rewards participants with points that can be redeemed for PayPal cash or direct bank deposit through Branded Pay.
Your earnings take up to 3 workdays to debit your account after you cash out.
5. How Much Money Can You Make From Branded Surveys?
Earning through paid surveys is dependent on factors such as the time you take on the job and the payout for each completed survey.
According to Branded Surveys, typical studies pay between $0.5 and $2.
Depending on your quality score, you can get surveys worth 20,000 points ($20), each.
6. How Do I Redeem My Branded Survey Points?
Wondering "how do I withdraw money from a branded survey?", the process is quite simple!
Once you have hit the minimum payout, or more, click "My Points" to confirm your available earnings.

Next, click the "Payout Options" tab and select your preferred payout method.

Lastly, verify your account through an email notification, then type the number of points you wish to redeem.
7. How Long Does a Survey On Branded Surveys Take?
Surveys on the site can take from a few minutes to anywhere between 10 to 30 minutes to complete.
Typically, the longer the study, the better the reward. Nevertheless, there is a standardized system for the number of points versus minutes.
To know which survey is worth your time, know how many points you stand to make per minute.
8. Does Branded Surveys Have an App?
Currently, there is no Branded Surveys App on either Google Play or Play Store.
Nonetheless, the company does partner with web monetization companies that offer different earning streams on your dashboard.
As such, you may be required to download third-party apps, engage in free trials, and sign up on other sites.
9. Do You Have to File Taxes for Pyamets from Branded Surveys?
Tax laws vary depending on the country from where you are earning.
In the US, any earnings of $600, or more, per year per individual must be reported by the payer to the IRS. If your earnings fall in this category, you need to fill out the W-9 and submit it to Branded Surveys.
In turn, they will provide you with the 1099-MISC which you'll submit with your other tax fillings.
My Take On Branded Surveys: Real Not Fake
If you ask, 'what do you enjoy most about taking surveys with Branded Surveys?', I'd say:
Daily Polls, availability of surveys, and email reminders for surveys.
Adding to that, s

urveys on Branded Surveys are exciting and specific to the user's demographics.

Also, I find their quotas easy to meet, making it easy to move from a Bronze to a Gold member within a few months for high bonuses.

More to this, their payment structure is versatile and transparent, plus a very low cash-out

threshold of just 5 dollars.
You can definitely trust a legit platform like Branded Surveys with a constant supply of surveys that pay top dollar. Plus, with the above handy tricks and my personal take on the different elements of the site, you are sure to earn good pocket money through this site.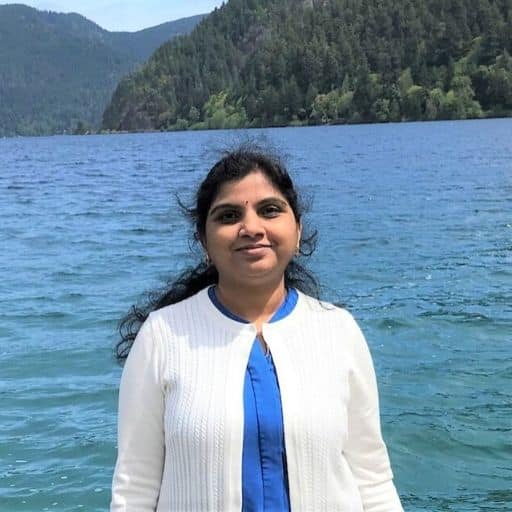 Howdy Folks, thanks for stopping by my blog.
I'm Swati, a proud mom, dedicated side hustler, full-time blogger, and a recognized millennial work-at-home expert. My expertise has been featured on esteemed platforms such as Forbes, CEO Blog Nation, Referral Rock, Vital Dollar, Databox blog, and many more. I have embarked on this incredible journey to share my firsthand experiences in the world of online income generation and to assist all of you in earning money from the comfort of your homes.
Join me in my mission to revolutionize the way we make money and achieve financial freedom. Trust me, it's not as challenging as it may seem!
Together, let's explore the boundless opportunities and pave our paths towards a prosperous future.