Flea market flipping is an exciting way of making extra cash on the side. Do you love the thrill of the marketplace chase? With enough patience to go through heaps of items and move from stall to stall for items with the high resale value, this is the side hustle you've been looking for.
This article will help you understand what flea market flipping is plus the marketplace's price guide. I will also take you through the best items to target and most importantly, the earning potential of fleamarket flipping.
Let's start with the definition of flea market flipping.
What is Flea Market Flipping?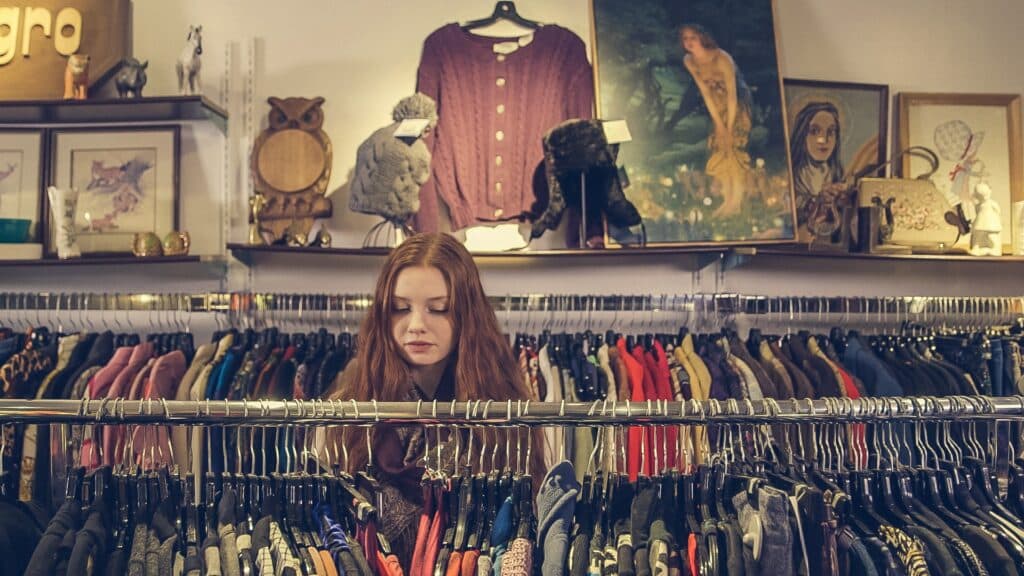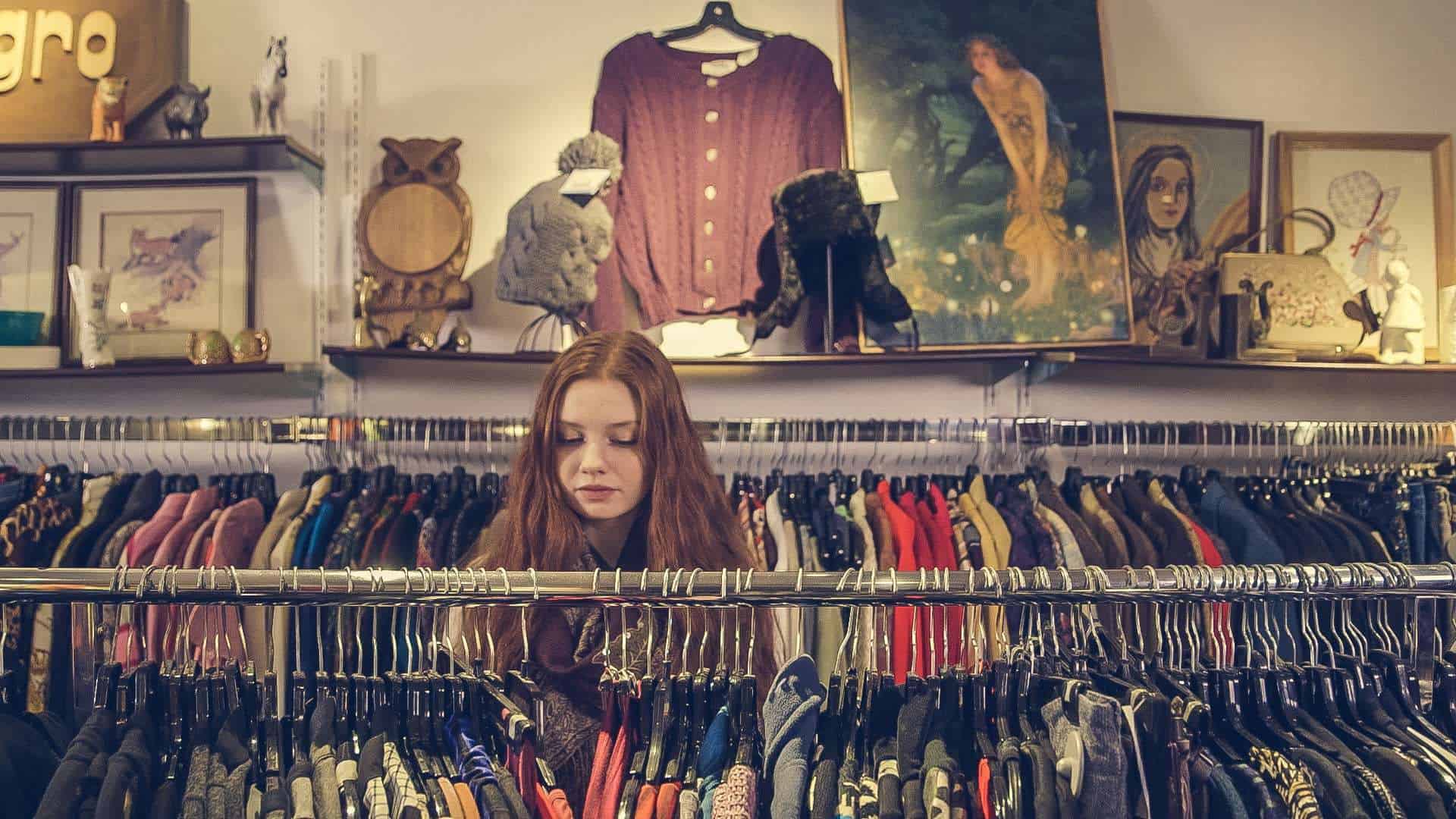 Flea market flipping involves buying items in a flea market at a low price and selling the same at a higher price. Both the buying and selling take place at the flea market or on other similar platforms.
In the present day, flea market flipping has become easier and more convenient. The reason is that you can buy and later sell items on various digital platforms, eCommerce websites, and other third-party sites. Simply put, flea market flipping has gone digital.
How Does Flipping Work?
In essence, flipping works by finding or buying items of low or no value and selling them for a profit to people who see value in them. This is the process of putting someone else's unwanted items into good use.
Typically, flipping works within the flea market or marketplaces such as thrift stores and yard sales.
Expert market flippers also make use of eCommerce sites like Amazon and Alibaba to find quality and high-demand items. The trick is to find items at cheap prices, buy them, and market them to buyers at a higher price.
How Much Money Can You Make Flipping Items?
Flea market flipping provides unlimited opportunities for those willing to explore further and deeper into the market. But, how much does a flea market vendor make?
Your potential to make money is determined by your interests, and the time you dedicate to flipping. Your overall earnings also depend on the number of items or the quality of goods you are flipping.
In practice, with just a little effort, you can make up to $100 on certain flips. To a great extent, the amount you make for each flip also depends on the item. Big-ticket or high-end items are good at fetching good market prices and can earn you thousands of dollars.
The thrill of landing priceless finds is what drives flipping shows like Flea Market Flip and Antiques Roadshow. According to flipping experts, vintage items that sell for as low as $5.99 can be resold for as much as $35k.
So, how much money can you expect to make as a flipper? Typically, when selling over local buying and selling apps, expect a profit of up to 30% and around 50% when listing on major marketplaces like eBay.
FLEA MARKET FLIPPING SUCCESS STORY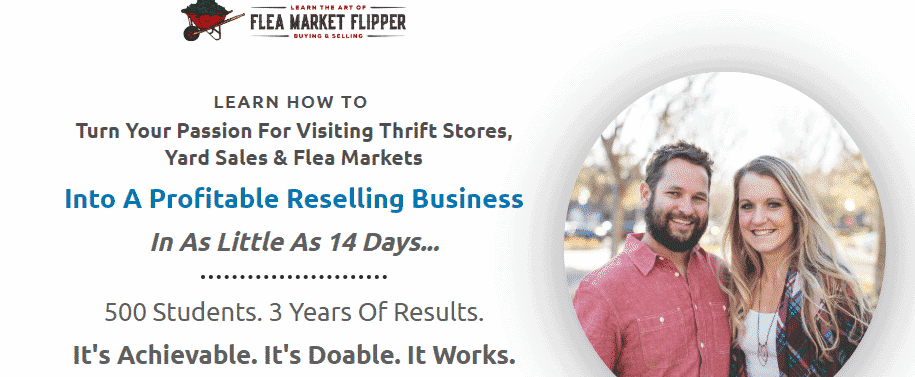 This couple, Rob & Melissa, founders of Flea Market Flipper, made over $100,000/yr flipping items for profit. They turned someone else's discarded belongings into desirable objects worth real cash.
If you're ready to find a way to make extra money in your spare time. Want to turn your passion for visiting thrift stores, yard sales, and flea markets into a profitable reselling business?
Flea Market Flip Items for Sale
Some of the most successful flippers have turned their flea market flipping side hustles into full-time jobs. Interested? To get started, remember that the most unique things are the easiest and the most lucrative items to flip.
Here are some good examples:
1. Woodcrafts
Any woodcraft that you can think of, including traditional and commercial furniture can be flipped. Woodcrafts fall under many categories including archaic, old-fashioned, classic, modern, cheap, and expensive.
Depending on the category or type of craft, some are harder to flip than others. The trick is to polish or modify wooden finds to add value and to attract a good price in the market.
A fundamental thing about crafts is that everyone uses them. Be it a shoe rack, fruit vase, or a work table, wood items are all around us.
With the right woodworking skills, you can acquire cheap crafts and rework. For instance, you can buy a cheap wooden dining set that looks worn out, apply a fresh coat of paint, and flip it for extra cash.
Check out this ultimate guide to furniture flipping business
2. Rare and Unique Items
Unique items such as antique lamps, glassware, plates, and precious stones are easy to flip. The popularity and appeal of rare items are due to their perceived value and ragged beauty. Their market is characterized by many collectors, dealers, and users.
Most of the buyers are interested in reusing, recycling, or just adding old items to their collections.
3. Popular Brands
Items falling under this category attract a lot of attention from buyers. The reason is that while they may not necessarily be expensive, popular brands are trusted across the board. Items under this category include everything from shoes and clothing to electronics and tech products.
If you have a good eye, these are the go-to some of the best flipping deals. This is because renowned brands fetch high retail prices in the mainstream market. If you are flipping an item that is not very dilapidated, you can set a price that is closer to the retail value to get a good profit.
Most people are interested in such items due to their brand names. These are items that are very expensive when new and unused. As such, learn to differentiate between Nike and 'Niqe'. Yes, sometimes the ruse is accomplished through a single letter.
4. Musical Instruments
Guitars, pianos, cellos, and clarinets are a common feature around the house, especially when kids are in their formative and teen years. The question is, how many kids end up pursuing music careers in their adulthood?
The simple answer is that most of these instruments end up in attics and, luckily for flippers, on yard sales and flea markets.
If you manage to find working instruments, polish them and repair minor damages before you sell them.
Best Selling Flea Market
Items
By and large, the best items to flip depend on your interests and understanding of your target market. You can go with products that are easy to sell. In this case, bestsellers are determined by the period it takes to offload the items.
Alternatively, you focus on items that are likely to give you the highest returns once flipped. In such scenarios, the best-selling flea market flipping items are the ones with the highest profit margins.
Your level of social interaction, social connections, and level of entrepreneurship skills also determines the best items for you.
A good example is a woman belonging to a mom's group with common interests. Such a person may find it easier and more convenient to flip baby-related items. The same reasons apply to a musician interested in flipping musical instruments.
If you have knowledge and skills in a specific niche, it is easy to apply your expertise in the marketplace. This will reduce the time you dedicate to research for your hustle.
That said, the following items offer great opportunities for flipping regardless of your skills and experience:
5. Heavy
Equipment
If you are more interested in margins and profits, flipping big equipment can provide the opportunity you are looking for. Such items may include gym equipment and huge pieces of machinery.
Flipping large items requires good planning and may necessitate more resources. Most importantly, you need to arrange for transport, viewing, and even testing.
For example, if you are flipping a treadmill, your buyer may insist on a qualified technician to test it plus transporting the item to a mutually agreeable location.
6. Seasonal Items
Holidays are when people spend a great deal of money on everything from cards to jewelry. Understandably, things are expensive at this time, meaning you can earn good money provided that you acquire the items beforehand.
The idea is to buy holiday items when they are off-season and list them once the holidays' beckons. Seasonal items to capitalize on include holiday decorations, cards, school supplies, and holiday clothing.
Here is a money idea; buy Santa hats in February, store them, and start selling them around September. At the start of the year, the items are cheap but increase in value as December approaches.
7. Broken Items
With flipping, it's easy to concentrate on items that are working as advertised. However, such items are bound to cost more compared to broken-down equipment. So as to earn more, try and put your expertise into action. For example, if you are good at repairing laptops, look for broken ones.
Replacing a local drive here and a Wi-Fi antenna there will leave you with a 'refurbished' laptop.
This is an item that can go for $350 against a buying price of $100. That's a 300% resale value for just utilizing parts that cost around $50 or less!
The digital age is here with book apps and reading tech such as Kindle. Nevertheless, books, the good old medium of gaining knowledge are still fashionable. The best part is that you can find all sorts of genres in flea markets and at a good price.
You have to do some repairs on the book jackets and patch up torn pages, but the resale value is always high. Additionally, you can get free books from donors and publishing houses, and sell them once you are done reading.
To kickstart the hustle, start by going through your storage boxes for those college books that you forgot about. Magazines and your own college notebooks can also be flipped to the right buyers.
9. Tech Products
If you are a technology enthusiast, flipping smartphones and computers can provide a great opportunity for you. The key to flipping technology is understanding the technology itself.
Go for popular brands like Apple, Samsung, HP, and Dell. That said, buyers expect to be told of any faults within the gadget.
Simply put, do not overprice items that may require further repairs once in the possession of the buyer.
Instead, find innovative ways to upsell accessories such as batteries, LCD screens, power adapters, and removable drives. Also, you can repurpose obsolete tech items into fancy and useful products.
Best Profit Items Flea Market
The principal concern for any flipper is choosing what to sell at flea markets to make money. Among the easiest things to flip for-profits are the products you create as Do It Yourself (DIY) projects.
For example, you can easily convert an old tire in a garage into a coffee table. You can also learn to make art and flipping.
With this in mind, here are some of the easiest things you can flip for profits:
10. Sports Gear
Flipping sporting gear such as hockey gear, skis, knee pads, and cleats are popular items in flipping. To sell, ensure that the gear is clean and in a usable condition.
You can also combine selling gear with collectibles such as championship rings and signed balls that come are in high demand from fans. Target collectors and dealers with rare baseball cards that you can get at a few dollars from yard sales and storage auctions.
11. Handyman Tools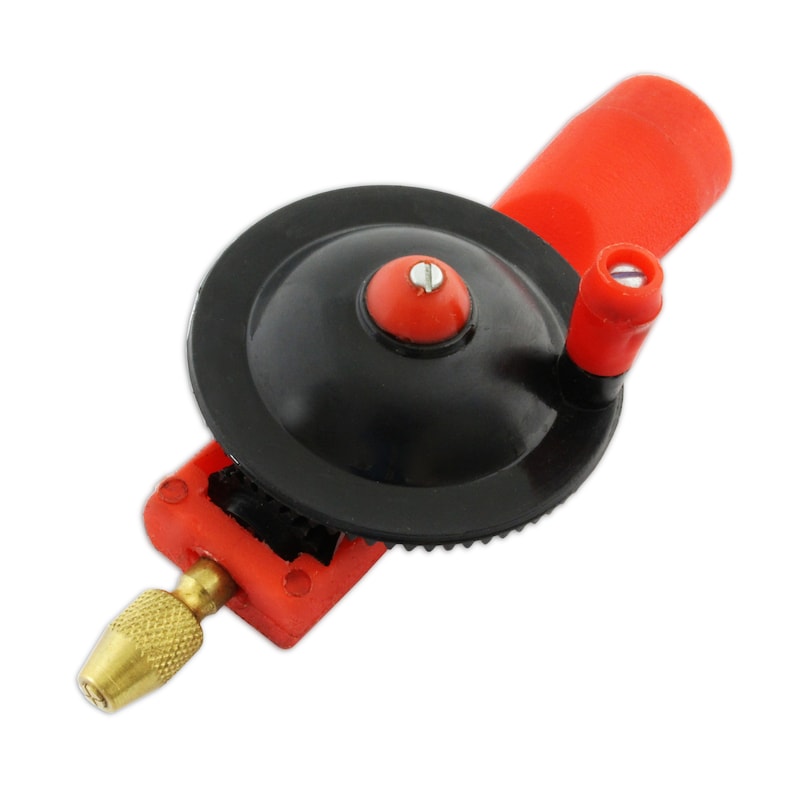 Work tools and equipment are popular items in flea market flipping and can boost your earnings. The best flipping deals in this category are tools from the most-reputable brand names.
Look for second-hand power and hand-operated tools from companies such as Makita, Bosch, Dewalt, and Ingco. Accessories such as cutting discs, grinding discs, and drill bits also sell fast among handymen and DIY enthusiasts.
Just like other high-value items, power tools and equipment are expensive. For that reason, people look for original but used items, that fall within their budget.
12. Mother & Baby Items
It's an open secret that women and baby items carry the day when it comes to selling different items. Also, items such as baby cribs, clothes, used breast pumps, and toys can be safely reused. The same goes for wedding gowns and party dresses that can be hired and resold at high prices.
Also, new parents look for every opportunity to save money and usually buy stuff in bulk. Take advantage of these market realities to flip mother and baby items.
With baby items, flip safe and high-quality items to avoid accidents. In particular, beware of loose joints and parts on items such as strollers, toys, and carriers.
First off, refrigerators, dishwashers, freezers, and cookers are bulky. Secondly, these appliances are expensive even when sold as used items. The above factors, plus high demand, make home and kitchen appliances some of the easiest things to flip.
Ensure to test the appliance on-site before you make an offer. This will ensure that you bargain down the price depending on the condition of the item and foreseeable repairs before you can flip it.
14. Secondhand Apparel
The resale market is awash with secondhand clothes. Join the sellers and claim your share of this $36B industry.
What's more, ThredUp, a leading online thrift store projects that the apparel market will double in a few years with half of the money coming from resales.
To sell here, you need to model your top clothes. Also, it helps to set fair and fixed prices to minimize haggling with your buyers.
I say this is because secondhand clothing buyers usually purchase several items at a go. So, if they are met with an unrealistic price list, they may shy off from your store.
Interesting Read: How to Flip Money for More Cash
How to Price Items for Flea Market
The following is a simple step-by-step flipping item for profit flea market price guide:
Step 1: Research the pricing of the item in online stores, auction sites, antique shops, and thrift stores. Remember that price is likely to fluctuate depending on the popularity and availability of a given product.
Step 2: For antiques and collectibles, compare the price with the value of items in guidebooks and renowned marketplaces.
Step 3: Check out the prices being offered by competitors. Experts also advise that you get in touch with online store administrators to get an in-depth analysis of price trends.
Step 4: Add the commission due to a middleman or any fee that is to be retained by the flea market or thrift app for selling your items.
How to Make Money at the Flea Market?
You could earn over $1,000 on a monthly basis by working for a few hours every week. In 2021, Forbes told a story of a couple that earns over $100,000 in Flea Market Flipping.
You probably think I am exaggerating. Make no mistake about it, making money by visiting flea markets and flipping items is certainly possible. And believe it or not, the hustle has been around for ages.
Needless to say, you need to put your entrepreneurial skills to identify the best items to flip in the fleamarket. To help you out, here are some tips:
1.
Familiarize Yourself With the Market
Find flea markets, garage sales, and thrift stores in your area. Get to know the kind of items that each seller has in stock, as well as their prices. The information will be handy when you need to fulfill additional orders from your buyers.
Also, flipping only works if you can buy items at the lowest possible cost. This is only possible if you know how to rummage through piles of items to find hidden gems.
2.
Learn From Flipping Experts
Get in touch with people who have perfected the art of flea market flipping.
I recommend you join Flippers University. This is where you can learn how to resell items like a pro.
Their online courses teach you how to find items, where to list them, and how to ship them to clients. The training also covers how to handle returns and refunds.
3.
Buy With Cash
While flipping online through sites such as Craigslist is doable, handle the buying part in person. This allows you to examine items and buy at fair prices without paying for shipping. How to sell at a flea market like a pro also calls for good bargaining skills; you will find such negotiations easier when using cash.
Is Flea Market Flip Real?
You must be asking yourself if flea market flipping is real and if it is worth it. Just keep reading and I will explore some of the most convincing reasons why flipping is not only real but worth your time and efforts.
But before we go into that, have you watched the reality TV show HGTV Flea Market Flip? The show is a clear demonstration that the flea market flip is real. It is available on iTunes, Discovery+, and Fubo TV.
You can also learn tricks from the likes of the Great American Country Flea Market Flip show and numerous YouTube channels.
Typically, the shows sponsors contestants to buy and repurpose flea market items to earn a profit.
The idea is to use a little amount of money plus the right creativity to transform items and make huge profits.
Contestants are also made to work in teams, with the HGTV sponsoring beginner flippers with $500 to compete and earn all of the day's profits.
So, is flipping worth your time?
Let's look at the major pros of buying and reselling flea market items.
1. Flipping is Flexible
Flipping can be a perfect opportunity if your goal is to become self-employed and plan your own time. Flipping allows you to be your own boss, work at your speed, and enjoy all the freedom that comes with self-employment.
Even better, your earnings are directly proportional to your time and effort. This gives you the perfect control of your work and life balance. Isn't that all that we are all looking for?
2. You Can Make Huge Profits
If you do your research on the most profitable items to sell at flea markets coupled with considerable investment, flipping has the potential for huge income. With good effort, flipping can help you make over 6 figures in income. And if you are looking to expand your investment portfolio, how about investing your profits from flipping into other businesses?
Selling at a Flea Market Tips
Most ardent flippers insist that you should always look for valuable items to maximize profits.
The most important tip is to always conduct your research on the items you want to buy. And if you want to work smart, always look for familiar items; this reduces the learning curve.
A successful flipper is keen to decide on a general business model; high volume and low profits vs. low volume and high profits.
With the former, your focus will be on flipping many items with low-profit margins whereas the latter sees you flip a few items like vehicles that can bring in high profits.
If you are a beginner trying to look for the best item to flip, I have some tips for you:
1. Find items that you can modify, improve, or repurpose
Look for items that can be made to look better or serve different purposes with just a little effort. For instance, you can improve the value of old furniture by adding a fresh coat of paint. With solid DIY skills, you can repurpose a ladder into a bookshelf or an old bathtub into a couch.
2. Look for repairable items
You can profit more by flipping repairable items. For example, you can buy broken jewelry and repair using beads, strings, glue, and clasps. The same goes for toys missing minor parts.
3. Flip Items that can sell as 'slightly' used
Choose items that are only gently used to attract buyers easily. The closer the item gets to mint condition, the higher the profit.
4. Do the math
A name-brand bicycle may sell fast but if your buying price is too close to the market price, then the item might not be worth your effort. Instead, take your time to find that unknown seller with a vintage bicycle that they are selling at a throw-away price. The point is, do the math as you search for items to flip.
Top Selling Flea Market Items 2022
Among the best products to sell at flea markets include the following:
Yard tools and equipment

Bottles, and jars

Vintage toys

Sports equipment

Power tools

High-end luxury and designer goods

Antique art or books

Vintage clothing

Mother and baby products

Used books
FAQs
1.
Do you need a permit to sell at a Flea market?
Just like any other business, flea markets are governed by certain laws and hence need a permit.
As a vendor, you are expected to obtain permits for your stalls and other permits required by your local authorities. These are licenses and certificates that permit you to buy and sell to the general public.
Note, laws governing flea markets vary by state, county, and sometimes municipality. However, when flipping online, the laws may not be that strict.
2.
Is flea market flipping profitable?
Flea market flipping can be highly profitable for both pros and beginners. The most interesting and weird items make a good profit. Also, almost anything turns a profit with the margins different depending on uniqueness and durability.
Notably, large items like commercial equipment have huge profit margins.
3.
Can you make a living selling at flea markets?
Flea market flipping is a respectable and profitable hustle.
Typically, your earnings depend on the number of products you can move, the profits from each item, and the time it takes to offload your items.
As a beginner, it's realistic to make around $300 to $1,500 monthly with flea market flips.
Conclusion
Flea market flipping is potentially a huge income-earning stream. The hustle, however, requires a good eye and ample research to know which products sell fast and where to get the right clientele.
There are reports of flippers making over $100k per year, meaning that with the right personal drive and marketplace, you can make flipping your full-time job.
The above guide introduces you to flea market flipping and provides important tips on how to break even in the hustle. I have also covered the best and fast-selling flips in 2023.
Now, I would like to hear your take on flipping and what items you look forward to buying in flea markets? Are you a flipper, share your tricks as well in the forum below.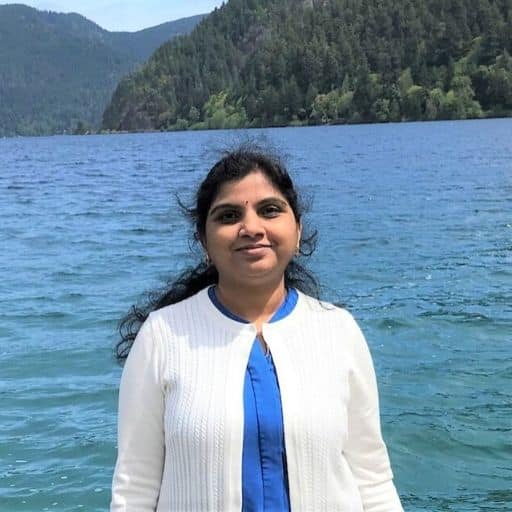 Howdy Folks, thanks for stopping by my blog.
I'm Swati, a proud mom, dedicated side hustler, full-time blogger, and a recognized millennial work-at-home expert. My expertise has been featured on esteemed platforms such as Forbes, CEO Blog Nation, Referral Rock, Vital Dollar, Databox blog, and many more. I have embarked on this incredible journey to share my firsthand experiences in the world of online income generation and to assist all of you in earning money from the comfort of your homes.
Join me in my mission to revolutionize the way we make money and achieve financial freedom. Trust me, it's not as challenging as it may seem!
Together, let's explore the boundless opportunities and pave our paths towards a prosperous future.