If you need to reclaim some space or fund a small project, you can sell used appliances for cash. Not only is this part of frugal living but the best approach when looking to upgrade your appliances.
Scoring money from old stoves, dishwashers, and ovens can also be timely when moving to a place with old stuff. Luckily, the internet is full of marketplaces that deal with all sorts of things and skills.
This post focuses on how to sell used, near new, and old appliances for money. Apart from the best online options, we shall be looking at local places for in-person trading of used appliances.
Read on how to get your old freezer, waffle iron, electric kettle, vacuum cleaner, and the like, ready for resale. Also, what's the price of commonly used household appliances? Let's find out……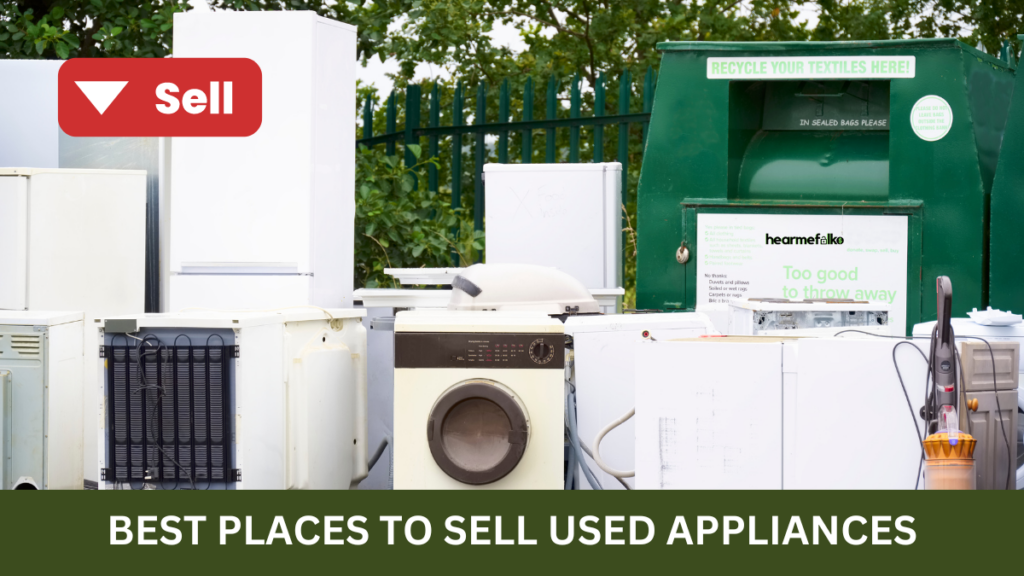 Can I Sell Used Appliances for Cash?
Certainly, you can sell old and used appliances for real money!
This is a popular practice with various trading options available, including local places and online platforms. Basically, the major rule is that you must be the rightful owner to sell a used item.
Where Can I Sell Used Appliances?
Local appliance stores, OfferUp, eBay, Craigslist, and property management companies are among the best places to consider. Utility businesses and scrap metal dealers are other entities that buy used appliances.
Who Buys Used Appliances for Cash Near Me?
Various individuals, companies, businesses, and organizations are interested in buying used appliances.
This includes local appliance resellers, scrap metal recyclers, repair shops, pawn shops, online marketplaces, non-profit organizations, and buyback programs.
Different players in the industry purchase used appliances for resale, refurbishment, parts, or charitable purposes. As such, the specific interest and approach to buying used appliances can vary depending on the buyer and their business model, or mission.
Best Places To Sell Used Appliances
Who buys used washer and dryer? You will find thousands of buyers of these and other old appliances in the marketplaces below. These are platforms where all you need is to list your item, set a price, and negotiate with interested buyers to make a sale.
1. Craigslist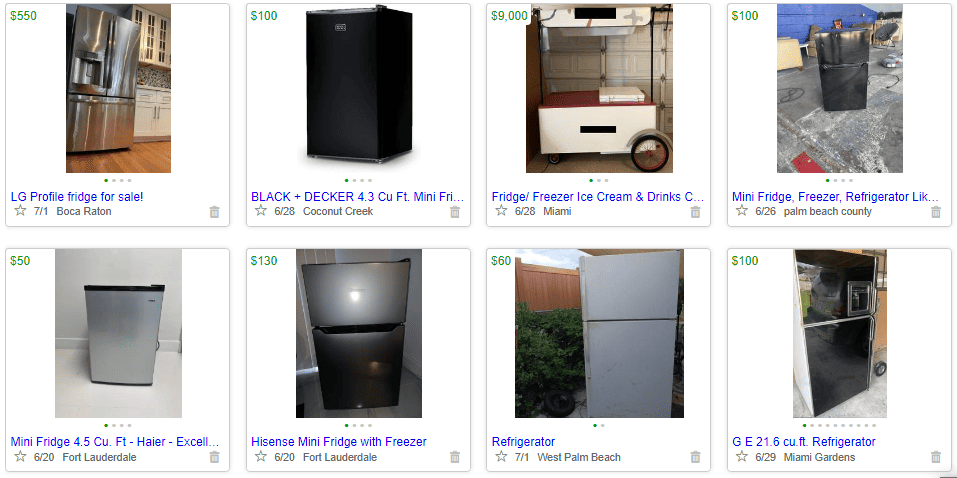 Craigslist is a well-established sites and one of the best options for trading in household stuff online and within your area. It is popular for people searching for refrigerators and freezers for sale, especially during Summer and holidays.
The site has a user-friendly interface without display ads for easy navigation and good user experience. I also find Craigslist ideal for getting rid of bulky stuff that require local pickup.
This is a versatile marketplace that allows the sale of even Craigslist's feet pics and almost anything you need to declutter from your home.
2. OfferUp
OfferUp allows you to indicate that your items are for local sale only and require pickup. One notable advantage of the site is the availability of ratings for buyers and sellers.
Further, you can report a negative experience with a user to alert others to avoid similar issues in the future. The site charges a commission of between 0% and 12.9% of the final price.
3. Facebook Marketplace
Sell used refrigerator and sell old washing machine listings are popular on the Facebook Marketplace.
The best part is that you can sell appliances directly within the Facebook platform without the need for additional apps or creating new user accounts.
The local aspect of the FB Marketplace ensures that most potential buyers are from your immediate area. Listing is free with the option of boosting your shop to reach a large number of people in your local community.
Another benefit is that buyers have registered accounts, making it easier to verify their seller identity.
Learn How to List Items On Facebook Marketplace.
4. Shpock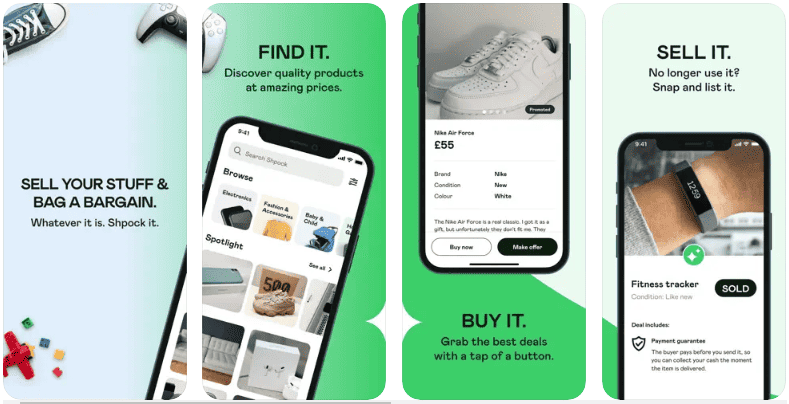 Shpock is an app that has gained popularity for its variety of listings. This diversity is particularly advantageous when it comes to selling appliances since you can specifically target buyers who are interested in vintage items.
By listing your appliances on Shpock, you can reach a niche market which increases your chances of making successful sales. The application has a user-friendly interface and convenient features for sellers.
Beware though, Shpock is lated poorly on Trustpilot at 2.1 stars from almost 5k reviews. Most negative remarks talk about scammers looking to obtain items for free.
5. 5Miles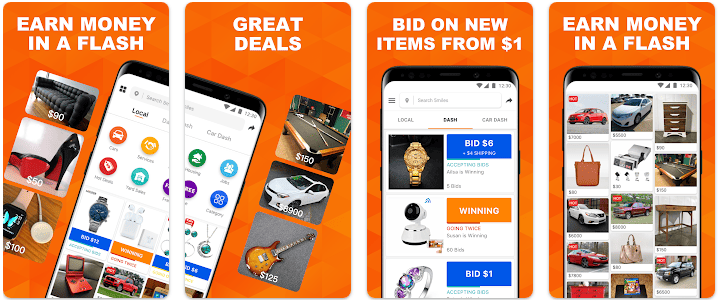 If your preference is to sell to local buyers within a short distance from your location, 5Miles is an ideal choice. This online selling platform and app allow you to post listings within a five-mile radius, ensuring convenience for both parties.
Also, by restricting the geographical range, 5Miles promotes local transactions, making it easier for buyers to inspect the appliances in person before making a purchase.
The site sells via bidding, meaning your used stove can fetch 70% of its original price, or more if its vintage. Creating a shop on 5Miles is free, except for a 10% charge of the final price.
Register to Sell Appliances On 5miles
6. Wallapop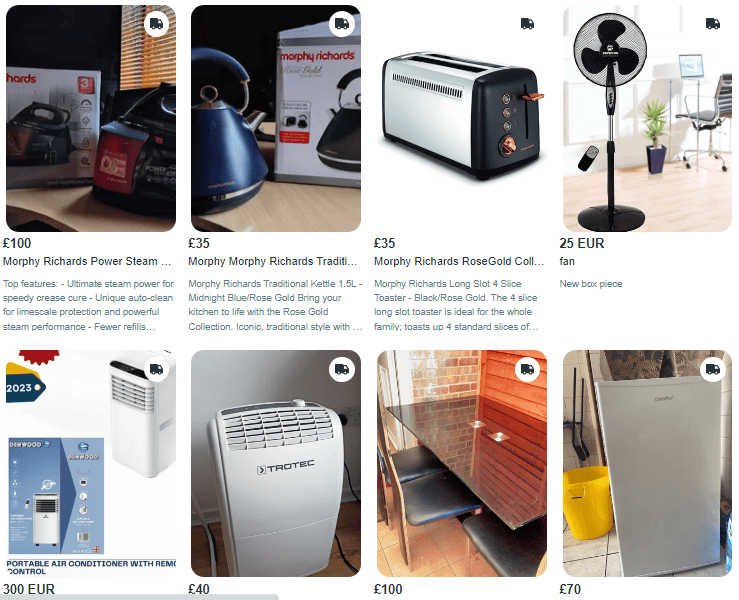 With over 15 million users, Wallapop has established itself as a popular local sales platform. It presents an effective option for selling old appliances quickly, especially to the younger generation.
The company is based in Spain, with user and buyer communities in Europe and the US. Known as a mobile local market, Wallapop can help you become a flipper within your community.
The site's user base consists of individuals who actively engage in the platform's marketplace, seeking affordable deals and second-hand items.
Sellers are charged 10% of the sale price for payments made via the app.
Join the Wallapop Market Today
7. eBay
eBay is a widely recognized online marketplace for various products. One advantage of the platform is its bidding feature, which allows buyers to place bids on your listed items.
This competitive aspect can lead to higher prices and potentially maximize your earnings from appliance sales.
As a seller, always provide clear and detailed explanations regarding the delivery or pickup process for the appliances you are selling. The transparency helps smoothen over the entire transaction.
Note, eBay charges value fees on listings and final sales price, depending on the item's category.
Create an eBay Account Appliances Resale
8. VarageSale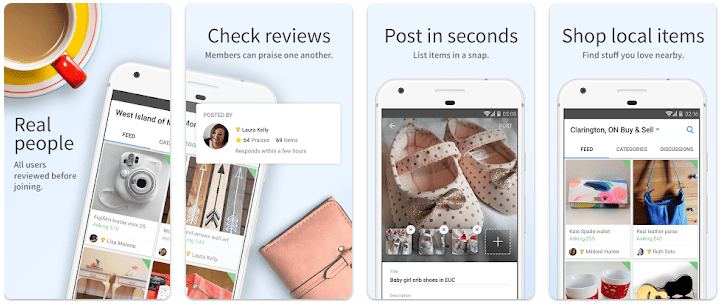 VarageSale operates as a virtual platform for garage sales for various items, including appliances. Its users are spread across Europe, Japan, Canada, Australia, and the US.
Buying and selling on VarageSale is free, except for transaction costs over the agreed payment systems. The site requires buyers to provide a warrant that they are the sole owners of the appliance before it can be listed.
VarageSale App is available on Google Play and App Store
9. LetGo
LetGo is a popular local selling app that enables users to declutter their homes by selling unwanted items. Setting up an account on LetGo is quick and straightforward, allowing you to start listing your appliances for sale promptly.
To attract potential buyers, it's essential to take high-quality pictures of your appliances. It's also worth noting that LetGo does not profit via fees for transactions.
10. Mercari
This is an online service for connecting buyers and sellers. Here, you can make "sell used dishwasher" listings and get paid fast.
The site is commonly associated with selling small items like toys and clothing, but it's expanding its offerings to include larger items. Listing is free with Mercari charging 10% of the money collected as fees upon sales.
This is a Japanese company with a global outreach. That said, the site has a poor rating on TrustPilot with sellers complaining about a bad return policy and inadequate app support.
List Your Appliance On Mercari
11. Tradyo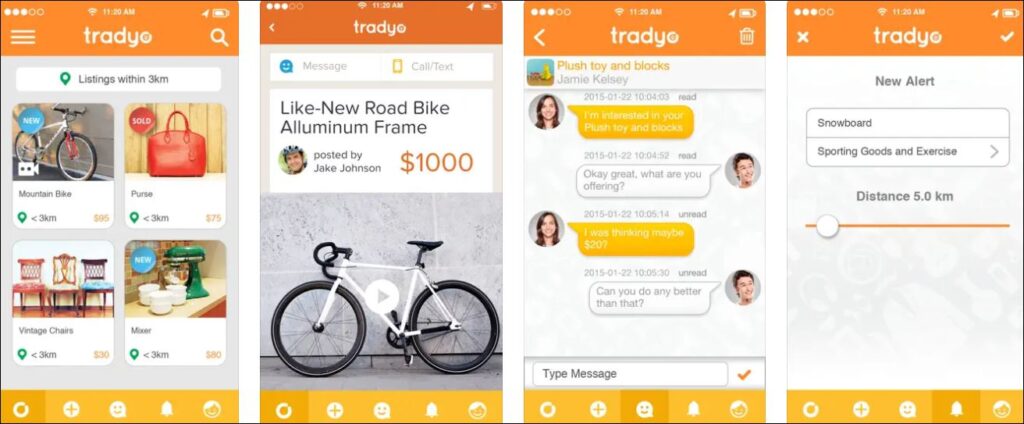 Tradyo is an app that operates similarly to the classified site Craigslist. As such it provides an alternative platform for selling used appliances and other items locally.
An important benefit for Tradyo sellers is that creating a shop on the platform is free. Additionally, it offers the convenience of an instant chat feature, which is useful when coordinating logistics for the pickup and delivery of sold items.
Lastly, Tradyo allows you to list multiple items for sale simultaneously, increasing your chances of attracting potential buyers.
The platform is only accessible to iOS users and allows you to list a diverse catalog including jewelry, cars, appliances, and novelties.
How to Sell Used Appliances Near Me
While the foregoing platforms provide excellent online options for listing your appliances, there are additional avenues to consider.
You can use community bulletin boards, classified ads in newspapers, or neighborhood groups to advertise your appliances. These methods can connect you with buyers in your immediate vicinity.
In detail, below are places that buy used refrigerators and similar appliances in your area:
12. Sell Appliances Locally
Consider contacting local appliance stores where you plan to purchase new appliances. If you're making a significant purchase, they may offer discounts or rebates in exchange for your old appliances.
The store might resell your old appliances or exchange them for scrap and parts. This is a favorable option since you can sell your appliances and make the new purchase in one place.
13. Friends & Family
Selling your appliances to nearby friends and family for cash is another viable option.
One advantage of selling to acquaintances is the familiarity and trust factor, eliminating concerns about meeting strangers and potential safety risks.
Surprisingly, a quick picture of your appliance along with your preferred quote will do the job in less than an hour on WhatsApp or Facebook.
This option is a win-win situation where you get cash for your appliances, and your friends or family members acquire items they may need at a discounted price.
14. Housing Cooperatives
Housing cooperatives, typically found in major metropolitan areas, often purchase used appliances, especially kitchen appliances, to furnish their units for members.
These cooperatives can have numerous units, which translates to a significant demand for appliances. Here you can sell used microwave, washer, dryer, and fridge units.
To find a cooperative that needs near-new appliances, you can also liaise with house fitters and contractors in your friendship circles.
15. Home Insurance Discount
If you have recently purchased energy-efficient appliances such as an oven, electric kettle, waffle iron, or kitchen stove, your insurer may offer a discount on your premium.
The discount functions as an annual cash-back incentive, resulting in lower homeowners insurance rates.
Remember to contact your insurance provider and inform them about your new appliance purchases to ensure you receive any applicable discounts.
16. Scrap Metal Recyclers Near You
Certain appliances contain a significant amount of metal, making them valuable for scrap metal recycling. However, due to the price fluctuation of scrap metal, it's advisable to contact multiple scrap metal recyclers to inquire about their services and deals.
Some recycling centers may even provide pickup services for your used appliances. The service is immensely helpful when facing dificulties transporting the appliances yourself.
Below are examples of companies that buy scrap metal around the country:
To find scrap metal buyers in your area, search here
17. Laundry Facility
If your used laundry appliances are in working order, selling them to a laundromat can be a great option. Laundromats are always in need of washers and dryers since breakdowns are common in the business and new equipment is expensive.
Related Post: Getting Started as a Laundromat Owner
18. Garage Sales
In addition to exploring online platforms, consider organizing a physical garage sale. While the success of garage sales can vary, promoting the event beforehand is crucial. So, advertise the sale on platforms like Craigslist and social media to attract potential buyers and ensure a good turnout.
19. Property Management Companies
Property management companies that handle rental properties are often interested in purchasing used appliances. They are willing to pay cash for appliances in working order, as they can use them in their rental units.
Selling your old appliances to such companies provides them with cost savings and addresses their need for items with proven service.
20. Local Utility Provider
Some utility companies have appliance buyback programs and incentives. Basically, you get rebates or cash incentives for old appliances.
The programs are often part of government initiatives that promote energy conservation.
21. Appliance Trade-In Program
Looking to sell used fridge? Before you head to place a classified ad online, find out if your supplier or the makers of the appliance have trade-in and trade-up programs.
How the program works is that you return the appliance, its inspected, and valued. You are then offered a chance to upgrade the unit for newer and more efficient models, less the value of the used appliance.
Also, you may get credit toward future purchases of other products from the same store/manufacturer. Note, some companies offer free pick, while others charge for the appliance's haulage.
Here are some companies with trade-in schemes:
22. Consider Repair Shops or Appliance Technicians
Local repair shops or independent appliance technicians purchase appliances to salvage parts or repair them for resale.
Reach out to repair shops and handymen in your community and find out if they are looking to buy old household appliances.
23. Look for DIY Repair Projects
You can describe your appliances, including those in less-than-perfect condition, on DIY forums. Here you'll get repair enthusiasts who restore old stuff on video for a following.
Note, this is a community that is willing to pay high prices for just a small part of an entire appliance.
How Much to Sell Used Appliances for?
Here is a table of estimated prices for used appliances based on data from various online markets.
| Type of Appliance | Average Resale Value |
| --- | --- |
| Refrigerator | $600 |
| Washer | $300 |
| Dryer | $200 |
| Dishwasher | $200 |
| Stove | $600 |
| Dishwasher | $200 |
| Freezer | $500 |
| Washing Machine | $500 |
| Oven | $600 |
| Microwave | $100 |
| Air Conditioner | $300 |
| Water Heater | $200 |
To get the resale price of used appliances, take the original price and divide it by the manufacturer-stated lifespan to get the items' value per year. Next, multiply the value by the number of remaining items' years at the time of resale to get the best resale price.
So, for a 4-year-old refrigerator, with an expected lifespan of 17 years, assuming the original buying price was $800: $800/17 gives you $47 per year and $47 x 13 gives you $611 as the current value of this fridge. Note, 13 represents the remaining number of years for the appliance to function as originally intended.
Similarly, if the price of a dryer was $500 and the dryer is currently 7 years old, divide the original price by the average lifespan of washers and dryers, which is 10 years. This calculation gives you a value of $50 per year of usage.
Basically, the price of your used appliances depends on factors like condition, age, brand, and model.
On Craigslist, prices for used refrigerators range from $200 to $1000 while prices for used ovens or stoves range from $50 to $1800 for a sophisticated appliance.
While on Facebook Marketplace, prices for fridges and freezers listed near Springdale, Arkansas range from as low as $50 to as high as $3000.
Tips on How to Sell Used Appliances for Money
To sell used appliances for cash, you need to be patient, flexible, and proactive throughout the selling process. It also helps to always prioritize safety and transparency in your transactions, and only sell what you don't need. Other tips for making money from used appliances include:
1. Clean and Prepare the Appliances
Before selling your used appliances, make sure to thoroughly clean and prepare them to improve their appearance and functionality. This will make them more appealing to local appliance stores that buy used appliances.
2. Take High-Quality Photos
Good-quality photos can significantly enhance your appliance listings. Use natural lighting and capture different angles to showcase the appliances' condition and features.
Also, ensure you don't do touch-ups on the photos as this is misrepresentation which will drive away potential buyers and get you poor seller ratings and reviews.
Pssst… Need to earn extra from photography? Learn How to Make Money from Hand Photos.
3. Provide Detailed Descriptions
Write detailed and accurate descriptions for each appliance you're selling. Include important information such as the brand, model, age, dimensions, features, and any relevant details about the condition or any repairs done.
Remember, transparency about the appliance's history and defects helps build trust with individuals and companies that buy used appliances near me.
4. Practice Competitive Pricing
Find out current value of similar appliances to determine a fair price. Also, consider the age, condition, brand, and functionality of the appliance.
I also find used appliances and make money forums on Reddit good eye-openers for pricing advice. Here are the forums to join:
5. Choose the Right Selling Platforms
Utilize online selling platforms for specialized appliance selling. Each platform has a unique user base and features, so go for the ones that are popular in your area and offer a convenient selling experience. Also, the less the fees, the better.
6. Promote Your Listings
To increase visibility and attract more buyers, actively promote your appliance listings. Share them on social media, local community groups, and online forums related to buying and selling appliances. The more exposure your appliances receive, the higher the chances of landing interested buyers.
7. Be Responsive and Communicative
Respond to questions from interested parties and be ready to supply any additional details they may need. Also, be courteous, professional, and accommodating throughout the selling process.
8. Offer Delivery or Pickup Options
Consider offering flexible delivery or pickup options to attract a wider range of buyers. Some buyers may prefer appliances to be delivered to their location, while others may prefer to pick them up themselves for a discount.
9. Negotiate
Be open to negotiating the price with stores and companies that buy used appliances, especially if your item is worn or broken.
Simply put, understand the market value of your appliances but be willing to compromise to facilitate a sale. Nonetheless, set a base price that ensures you get a fair ROI (Return on Investment).
10. Ensure Safe Transactions
When finalizing a sale, prioritize safety. Meet potential buyers in well-populated and public areas if conducting an in-person transaction. If accepting payments electronically, use secure payment methods such as PayPal or other reputable platforms that provide protection against fraud.
What if My Appliances Aren't in The Best Condition?
If your trash compactor, induction cooker, and the like are not operational, consider selling them to local scrap metal recyclers. You can also fix minor issues yourself or repurpose certain parts of the appliances to fetch a better resale price.
That said, manage your expectations when selling appliances in less-than-ideal condition. Some places that buy old appliances will actually offer a price based on the weight of the appliance as opposed to its functionality.
Are there any Appliances That Don't Sell Well?
While the demand for appliances can vary depending on factors such as location, condition, and market trends, outdated, non-functional, damaged, unpopular, and highly customized appliances generally tend to have lower resale value and may not sell as well as others.
Appliances that don't sell well in one market or condition may still find interested buyers through alternative avenues such as scrap metal recycling, spare parts sales, or specialized online communities.
Some of these appliances include:
1. Outdated or Obsolete Appliances
Places that buy used stoves for resale won't accept items that are no longer in line with current technology or energy efficiency. The low standards may have limited appeal to buyers.
2. Non-functional or Heavily Damaged Appliances
Appliances that are not in working condition or have significant damage may have limited resale potential. Such items may only find buyers looking for scrap or repair parts.
3. Less Commonly Used Appliances
Appliances that are considered less essential or have limited utility in households, may have a smaller target market. Such items include specialized kitchen gadgets like Cake Breakers and Bread Boxes, or niche appliances that are challenging to sell.
4. Lower-quality or Lesser-known Brands
Appliances from lesser-known brands or those that are perceived to have lower quality may have a harder time attracting buyers, compared to well-known and reputable brands.
5. Highly Customized Appliances
Appliances that have been heavily modified or customized to fit specific needs or aesthetics are hard to sell. Such items include smart appliances that are designed to go with other smart home features.
How to Get Rid of Old Appliances Near Me?
If your main goal is to promptly dispose of your appliances without going through the selling process, consider hauling services or donating them to charitable organizations.
Note, getting rid of old appliances can be costly, as explained in the program below:
You can utilize Best Buy's services to have your old stuff picked up and taken away. The company doesn't pay you for the appliances. Furthermore, the program charges up to $199.99 for two large appliances and other smaller items.
2. Donate Large Appliances For Cash
Are places that buy old washing machines refusing your trade? Try making a donation. The best part is that you can receive a tax deduction on your federal taxes when you donate your appliances, resulting in a larger tax refund.
Some well-known nationwide charities that accept appliance donations include:
These organizations often offer free pickup services for donated appliances.
FAQs
1. Who Buys Broken Appliances?
Some potential buyers include appliance repair shops, scrap metal recyclers, or individuals who are skilled in appliance repair. Online platforms and classified ads can also connect you with buyers interested in broken appliances for parts or repair.
2. How Much is a Used Dishwasher Worth?
The price of a used dishwasher can vary based on factors such as its age, brand, condition, and features. Generally, you can expect the price to be below the original retail value.
To get a better estimate of its worth, you can research similar models being sold on online marketplaces where prices range from $50 to $500. I also recommend consulting with local appliance resellers or repair shops for price estimates.
3. How Much to Sell a Used Fridge For?
To determine a reasonable selling price, you can get the fridge's value per year through dividing its original (new) price by the number of expected service in years. The answer you get, multiplied by the remaining usability age will give a favorable estimate of its current value.
Nevertheless, used fridges resell at different prices depending on age, brand, size, condition, and any special features they may have. Market demand and local factors can also influence the selling price.
4. Where Can I Sell My Old Appliances for Cash?
Consider online platforms and marketplaces such as Craigslist, Facebook Marketplace, OfferUp, and LetGo for listing your old appliances. You can also explore local appliance resellers and recycling centers that offer cash or trade-in options for used household items.
5. Can I Sell My Appliances Fast?
Yes, you can sell appliances fast but the speed depends on various factors, including demand in your local market, pricing, and the quality of the appliances.
To increase the chances of selling them quickly, ensure your appliances are clean, in good working condition, and competitively priced.
Promoting your appliances through multiple channels, such as online platforms and local classifieds, can also help attract potential buyers.
6. Can I Get Cash For My Old Microwave?
Yes, you can potentially get cash for your old microwave. You can explore your viable options to sell used kitchen appliances near me, including avenues such as online marketplaces, local appliance resellers, or recycling centers that offer cash for appliances.
The amount you can receive will depend on factors like the microwave's condition, age, brand, market fees, and market demand.
Is It Worth Selling My Old Appliances For Cash? [Final Take]
If there is demand in the market and the appliance is still working properly, selling can recoup some of its value. However, if the appliances are outdated, broken, or require significant repairs, you may need to assess whether the potential cash value outweighs the convenience of donating them to charitable organizations or recycling them responsibly.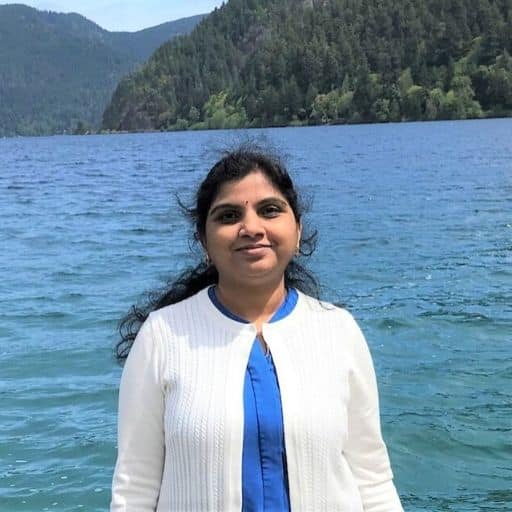 Howdy Folks, thanks for stopping by my blog.
I'm Swati, a proud mom, dedicated side hustler, full-time blogger, and a recognized millennial work-at-home expert. My expertise has been featured on esteemed platforms such as Forbes, CEO Blog Nation, Referral Rock, Vital Dollar, Databox blog, and many more. I have embarked on this incredible journey to share my firsthand experiences in the world of online income generation and to assist all of you in earning money from the comfort of your homes.
Join me in my mission to revolutionize the way we make money and achieve financial freedom. Trust me, it's not as challenging as it may seem!
Together, let's explore the boundless opportunities and pave our paths towards a prosperous future.