Are you wondering how to start a laundromat business with no money? Then you are in the right place. While I usually appraise you of ways to make money online without investment, let's divert a little to a brick-and-mortar business idea that requires low capital to start.
To start with, a laundromat is a lucrative business where customers are supposed to pay a certain fee to use washing machines and clothes dryers. It is a good investment with promising profits.
After all, who doesn't love clean clothes? And to maintain high standards of hygiene, you need to do your cleaning regularly. Unfortunately, with busy work life, it is not easy to balance your schedule.
So, this is where you come in with your laundromat business venture. Depending on your starting capital and target market, you can either start big or small.
The good news is technology is here with us and you can purchase coin-operated laundry machines. Also, there are other machines where customers can swipe cards or use mobile payments to pay for the service.
Most importantly, if you are business savvy and wish to maximize profits, you can have a snack bar or video game section in your laundromat. Customers can use the entertainment, as they wait for their laundry, and you get to make more cash. Also, it is idealistic to have some employees to assist the customers.
That's just the lowdown of running a successful laundromat. To understand the business better, let us answer the question "how can I start a laundromat business without investment?"
Are Laundromats Profitable?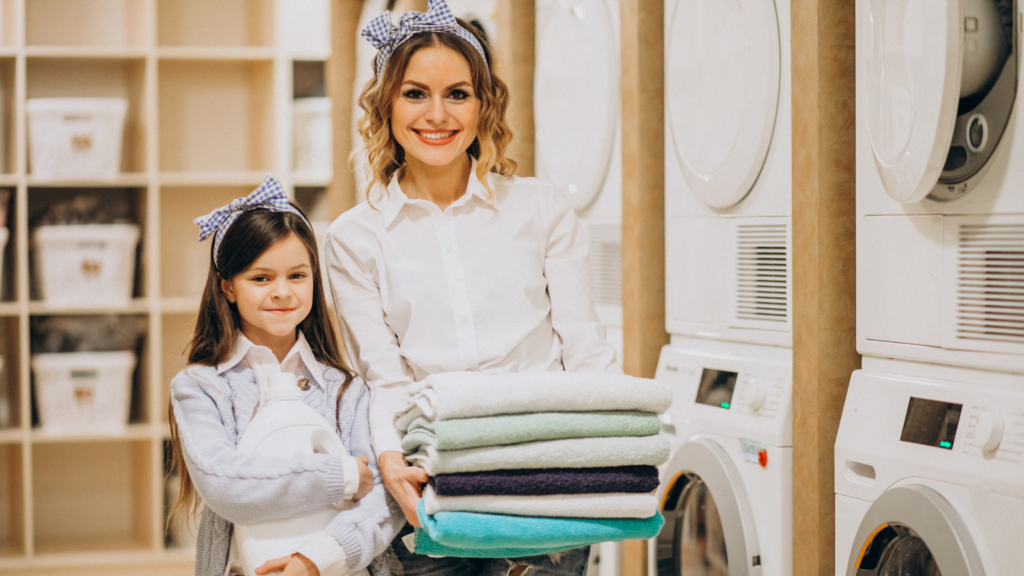 As an entrepreneur, it is important to put into consideration the profitability and risks associated with a new venture, laundromats included.
The idea is to go for a business that is all-season. And a laundromat just happens to be among the best passive investments that can even ride out a recession.
So, how profitable is a laundromat? Coin Laundry Association states that the annual cash flow of laundromats is approximately $15,000 to $300,00.
This is quite a decent income considering that there are around 35,000 laundromats globally with each having a market value of between $50k and $1m. All statistics point to laundromats, also known as co-0p laundries, to be quite profitable.
Before you start dreaming of the dollars you are about to make though, you need to put the following into consideration:
Location of Your Laundromat Shop
The physical location of your laundromat shop will definitely affect your profits. How will you attract customers if your business is located near several laundromats? As such, avoid areas with wealthy residents but rather young people living in rental apartments.
Also, ensure that you have ample parking space, your signage is visible, and your shop is near main roads for quick and easy access.
It is very important to research your competitors. You need to understand which services your competitors provide and at what prices.
For instance, you might find your competitor does not offer folding services, giving you a chance to capitalize on the same. Competitor analysis also allows you to learn work ethics and customer expectations for a smooth operation.
These are a number of expenses you need to settle on during the budget planning stage for they greatly determine your profits.
Specifically, you need to account for how much you will be paying for electricity and water. To reduce your expenses, consider using energy-saving laundry machines. Similarly, you have to weigh the pros and cons of leasing versus purchasing new appliances.
The other major expense to plan on is labor. Decide on whether you will run the business alone or have full-time and part-time employees to help out.
These decisions are meant to cut down costs and concentrate on maximizing profits. All in all, the initial purchases are expensive but cost less to run and maintain.
It is important to be precise about the services you are going to provide. You can decide to go with coin laundry services only or a mix of other services for better returns.
Such services include laundry only, washing and folding, laundry and pick-up, or even a combination of all the above. The idea here is to only set up what you can handle to ensure customer satisfaction.
Your customers need to know about your existence and your services. This calls for unique marketing strategies to attract customers.
For instance, you can use social media platforms, ads, and billboards to get to your customers. You can also start a blog to talk about laundry and the industry's development.
This should set you apart as an expert while also providing a platform for answering queries and building a community of loyal customers. Note that marketing comes at a cost but if it's executed, the effort brings in more profits.
Steps To Starting a Business Blog in 2023
Owning a coin laundromat is a perfect way to be your own boss. However, this means that all decisions and management start and end with you.
So, even if you have employees, it is necessary to pay regular visits to your laundromat to ensure that cleanliness is maintained and to handle any issues that might arise.
Owning A Laundromat Pros and Cons
Are you still baffled about how to start a laundry service business? I got you!
How about I assist you by making you understand the advantages and disadvantages of owning a laundromat business? After which, you will be able to make an informed decision on how to run a laundromat like a pro.
Pros
One of the main advantages of owning a laundromat is that you are your own boss. This makes it possible to work according to your schedule if your employees are reliable.

You start enjoying your profits benefits as soon as you invest in machines that are reliable. It might be a bit expensive in the beginning but with time, the business will be worth it.

As a laundromat owner, it is easy to expand your business. Aim to have several laundry stores in different locations.

Unlike other retail businesses where you need to stock your store, it is different when it comes to starting and operating a laundry service business. Besides purchasing washing machines, fabric softeners, driers, and detergents you don't need to keep track of your inventory day in and day out. Here the inventory is minimal.

If you are using coin-operated machines, you are likely to handle little to no complaints from customers because they are in control of their laundry – a self-service operation, so to say. The only time your attention is needed is in case of a faulty machine.

The customers usually pay before using the laundry machines. So, you don't wait to get paid or run your business on credit. This is in contrast to online businesses where you have to wait for quite some time for payments to reflect in your account.

On the legal front, all you need is a laundry license and inspection of your coin machine to ensure that the mechanism works as intended – no stealing from customers.

Once you own a laundry store, it is easy to sell it in case you need to try out a new business idea, or when you want to retire.
Cons
As the boss, you are responsible for all types of risks prone to the business. Expect employees to call when trouble arises – for instance when clothes get destroyed by the equipment.

You need a lot of capital to start a laundromat business. The starting capital is estimated to be somewhere around $15,000 to $30,000. Quite expensive for a beginner.

With a laundromat business, you need to be available all the time. Some people will do their cleaning during the evenings and others at night. You can choose to make yours a daylight-only kind of business but that would see you miss out on throngs of customers who frequent laundromats after 5-9 jobs.
And now, let's outline what you need to do to get your laundromat off the ground:
How to Start A Laundry Business from Home?
Here are step-by-step instructions on how to start your own laundromat business from home.
Step 1: Decide on The Business Model
Make a decision on the type of laundry business you want to start. As I noted earlier, your options fall on either one or all of the following.
Laundromat only

Wash and fold services

Laundry p

ick-up and delivery services
Step 2: Choose a Business Name
An attractive business name will make potential clients eager to try the services provided. Before settling for a company name, it is advisable to check on the internet if the name already exists.
Step 3: Choose A Business Entity
This is a very crucial step.
You need to consider the liabilities you are willing to handle. This is where you look into the pros and cons of a partnership in comparison to a sole proprietorship.
If need be, you can consult a business advisor on the way forward while tabling your other financial obligations such as mortgages and personal loans.
Step 4: Come up With a Business Plan
Writing a business plan helps you to analyze your investment ideas in depth. You don't have to worry about a business plan because there are many free templates available online that will guide you through.
This is a plan that contains all the key decisions for the short and long-run objectives of your business. I will take you through a typical laundromat business plan later to make you understand the concept better.
Step 5: Register Your Company
You are supposed to register your company using the name you decided in Step 2 above so that you can run it legally. To keep track of the documents and process, you might need a lawyer.
The good news is that some businesses do not require you to do the registration in person. You can do it online through the IRS website.
The key to this process is that you will be issued with an Employers' Identification Number – for paying your taxes and opening bank accounts for the laundromat.
Step 6

:

Get Permits and Licenses
This is one of the most essential steps on how to start a laundry business. Permits and licenses largely depend on your state's law.
Apart from getting the store permit, you might need a health permit if you decide to have a snack bar as well. Also, if you are doing deliveries you'll need a permit for your van.
Since business permits differ from state to state, I would recommend that you consult a business lawyer on the specifics.
Step 7: Finding A Suitable Location
As I earlier stated, to start a laundromat business, you need to do a market study first.
This is supposed to help you spot the best location and keep off unnecessary competition, keeping in mind who falls within your target market.
Being closer to your customers is the main goal. Consider locations near rental housing units and colleges. Don't forget about security too.
Step 8: Purchase the Proper Equipment
Having done everything from step one to securing a space now your thoughts on how to start a laundry service business are narrowed to doing purchases. Depending on the size of your shop, you will need at least 20 laundry machines costing you between $100,000 to $400,000.
This is a crucial part that is fully dependent on your business plan. You should be able to finance everything right from the start. Also, you might consider leasing the machines or buying on a hire purchase basis. Whichever works best for you, go for it.
On the bright side, you have sites such as eBay, Amazon, and Craigslist to compare prices and buy both used and new machines.
Step 9: Opening A Bank Account
– for business purposes only
Guess what, you are only one step away from solving the puzzle of how to start your own laundromat business.
Open bank accounts for business purposes only. Why? To be able to improve your business credit score – a high credit score boosts your funding options in case you want to go big.
In addition, having separate financial accounts from personal accounts secures your personal assets in case of any legal action against your business.
Step 10: Marketing Strategy
Put on that smile because this is the last step 'I want to start a laundromat business.' Your marketing strategies should target your customer base.
Ensure that you have a website/blog for your business, having all the necessary details- from contacts to locations and opening hours.
To have a better reputation you have to respond to every feedback whether positive or negative. I also recommend making your business visible online locally through platforms such as Google My Business and Bing Places.
On the flip side laundromat business startup is way more expensive but the returns are promising. On average once your business picks up you can make a net profit of between $5,000 to $7,000 per month.
Additional Tips on How to Start a Laundromat
If you want your laundromat business to succeed you need to:
Ensure you have completed thorough market research, competitor analysis, target market, and risks involved. This will aid in coming up with a stellar business plan and tangible profit expectations.

Ensure your operational costs are at a minimum without compromising on quality. This can be achieved by purchasing energy-saving and durable laundry machines.

Offer complimentary services like cloth repairs, stain removal, and selling detergents. This will increase your revenue.

Keep spreading awareness about your business. Let your presence be felt by every new student or tenant who moves into the neighborhood.
How Much Does It Cost to Start A Laundromat Business?
For a wholesome look at the kind of budget you are looking at, let's dive deep into the different costs of starting a laundry business. The cost of starting a laundromat business highly depends on the location. This is simply because setting up a business in large cities is expensive than starting one in a somewhat rural area.
To minimize your start-up cost you can decide to buy an existing laundromat business instead of starting from scratch.
For example, buying will save you money for sewer connection which is around $200 – $8000 for every washer. You also get to forego paying for permits, construction, and the cost of laundry equipment which amount to about $150,000 to $300,000.
The only money you will spend is for the renovations of the shop and any additional laundry machines that you may require.
If you decide to use a top load washer, it will cost you $500 – $700 each.
The front-load ones will each cost you $3,500 to $20,000.
A dryer will be around $5000 to $6000.
If you are going digital and installing the card system, this will cost around $40,000 to $80,000.
A water heating system is also essential and this will need something between $15,000 – $40,000.
A soap machine that will not cost less than $500.
Customers will need laundry carts to easily carry their laundry and each cart will cost between $50 – $75.
Cleaning supplies like soap, fabric softener, a wall clock, and trash bins will be roughly around $750 to $1,000.
Summary: Cost of a Laundromat
From the above estimates, an average-sized laundromat, whether you are buying or setting it up brick by brick, will cost you between $200,000 to $500,000.
The amount can even go up considering that you need to hire employees to help in cleaning the shop, folding clothes, and doing deliveries. Nevertheless, no expense will catch you by surprise because it should be accounted for in the business plan.
Besides the startup cost, you will have to set some money aside for rental fees, miscellaneous expenses, maintenance, employee payments, utilities, and insurance.
According to Entrepreneur, the recurring monthly expenses range between $4,000 and $8,500.
Laundromat Franchise
If the above cost estimates are too high and you are still set on starting a laundromat business, try opening a laundromat through a franchise. Why? Franchise businesses simplify the task for you. They will do everything for you: Provide all the laundry equipment you require, the expertise needed in handling the machines, and a brand name that is already famous. You barely start from step one.
The following are my top recommendation for laundromat franchises you can consider.
1. Speed Queen
Speed Queen is one of the largest manufacturers of laundry equipment (commercial) in the USA. Laundry is what they do best. Speed Queens is always ready to partner with you.
$30,000 is their initial franchise fee plus an additional $10,000 for shop development. Total expenses are estimated to be between $490,000 – $1,275,000.
Get on the Speed Queen grind and start earning now!
2. WaveMAX
WaveMAX laundry is a very unique franchise to consider. This is because they have fewer employees, no fast food, and their operation is highly automated. It has been operating since 2012 and it is based in Jacksonville FL.
The franchise fee is $49,950 with a total investment ranging from $209,955 to $928,550. The working capital is estimated to be around $10,000- $25,000 with a royalty fee of 6%.
3. Zoom Express Laundry
Zoom Express offers pick-ups and delivery services. Their headquarters are in Dallas, TX. They consider the welfare of the customers by providing lounge areas, kids play areas, charging stations, and screens.
The cash flow here is estimated to range between $15,000 to $30,000 with combined gross revenue of $5 billion annually. Its success rate is at 95% with a return rate of 20% to 35%. Their model comes with the promise of up to 90% repeat customers.
4. Maytag Commercial Laundry
Maytag Commercial Laundry has been in business for almost 60 years. They are always ready to support investors like you with a laundromat business. They are responsible for branding and designing your store but do not ask for franchise fees.
However, you are required to have $80,000 in liquid assets to sign up for this laundromat franchise business.
5. SuperSuds
SuperSuds Laundries started operation in 1996. They serve Pennsylvania and Virginia regions. While their website does not state the minimum cash requirement and franchise fees, their model is known to attract lots of customers.
For starters, they locate laundromats near spacious parking lots. This is in addition to providing you with high-speed large-load washers and driers. Another unique aspect of their business is having state-of-the-art entertainment systems including WiFi and flat-screen TVs.
Laundromat Business Plan
Before a lender finances your laundromat business idea, they will ask to see a business plan. The same requirement goes for franchises and other potential partners. So, what does a typical laundromat business plan entail? Read on to find out.
Executive Summary
In the executive summary, you include the business name, management team, customer concentration, and lastly business targets.
Company Summary
Here, you are supposed to indicate the company's owner, your aim for starting a laundromat business, and finally how the business will actually start.
Type of Services You Will Offer
In this section, provide specifics of your laundromat services. Will you have the self-service laundry machines i.e the coin-operated machines, dry cleaning services, wash-fold services, and/or ironing services? You also have to state other services that may not be directly related to doing laundry including snacks, entertainment, pickup, and deliveries.
Marketing Analysis
You need to have a clear marketing strategy for customer satisfaction. Points to consider here include market segments, middle-class target households, other exciting businesses within your market, inbound visitors, and product pricing among other factors.
Strategy
In this category, you need to indicate how you plan to carve a market in an area that could already be saturated with laundromats.
On the other hand, you may have to outline how you plan to introduce coin-op laundry services in an area where people wash their clothes at home. This is mostly about laundromat competitive analysis, sales strategy, and sales projections.
Personnel Plan
Laundromat business plans should have a personnel plan plus their average salaries and benefits.
Financial Plan
You need to outline important financial assumptions such as break-even margins, projected profits & losses, monthly and yearly profits, projected cash flows, and a balance sheet. Last but not least, your laundromat business plan should clearly state the ratio of expected costs in comparison to the projected income.
Laundromat Business Plan Startup
A laundromat business plan start-up is not that different from a typical laundromat business plan. The only difference is that it should be considerably shorter but straight to the point. Here's what you should include;
Business Objective
You need a clear objective on who you are and when you want to venture into a laundromat business. Where is the business to be located? You need a vision too which should be around 3 – 4 paragraphs.
Target Market Identification
During startup, you need to identify your market demographic which is age, gender, careers, and location. You will need to analyze your product or service and how people will respond once you introduce it to the market. Also, you'll need to set the price after and understand the market price to avoid over/undercharging.
Competitor's Analysis
Doing a competitor's analysis will help you with branding. This will give you ideas of how to be unique from your competitors. This solely depends on your target market.
Budget
You need to know how much money you require to start up the laundromat store. If you don't budget, it means that your business might not succeed. So, you'll need to consider the price of laundry equipment, licensing, leasing, or purchasing the shop, insurance, inventory, and the payroll of your employees- if you are planning to have any. Budgeting simply makes it easy to do your purchases within the confines of your available finances.
Financial Goals and Objectives
Showcase your short-term and long-term plans for your laundromat. Are you planning to expand the business? You will base your projections depending on the total untapped population in your target market. This calls for statistical knowledge on the percentage of the market that you can reach or convert from your competitors.
Power Structure
For a startup, you need an organizational structure clearly defining everyone who will be in the business and their responsibilities plus the power hierarchy. But if you plan to run the business yourself, you can skip this section.
Marketing Plan
You need to strategize your marketing plan. How will you create awareness for your customers and reach them on time? Maybe have a launch party?
With your startup plan well laid out, you now have to deal with the most crucial part of the business- how to finance your dream business. Let's look at the options that are available to you
How to Open A Laundromat Business with No Money?
It is right to say that, by this point, you an idea of how much you need to start/own a laundromat. To get the start-up capital, you can:
Take A Business Loan
With a loan, you won't have to worry about how to open a laundromat business with no money. But before applying for a business loan, you need to consider whether you have a profitability path from the venture.
Also, you have to consider if you are protected as an individual in case of losses and other liabilities. Most importantly, you should have an airtight plan on how you are going to recoup all funds loaned to you.
Remember you need to have a very good credit score to qualify for a loan and a certain amount for the down payment. On the flip side, some loans have a very high-interest rate and by the end of the day you will end up paying way too much in interest. So, how about you give my next second option a thought.
Attract Investors
If are looking into how to start a laundry service business with no money and you don't want debt, how about you choose an investment partner.
Partnering with a friend or relative means sharing part of your equity with them. This will help you achieve your dreams of owning a laundromat sooner than you can accumulate capital through savings.
Ensure that you update your partner(s) on every detail regarding the running of the business.
Open A Laundromat through a Franchise
As I stated earlier, opening a laundromat through a franchise can help to get started without money. Some franchisors will only need you to be in a favorable location to be part of their trademark. However, you should know that being part of a franchise means you can't run the business any way you like- there are rules and ethics to be followed.
FAQs
1. How to Start Your Own Laundromat Business?
A laundromat business can be started through a sole proprietorship, partnership, or franchise. When you starting without any capital of your own, the best approach is to go with a franchise. Either way, you still need to come up with a detailed budget and a foolproof business plan to ensure that you end up making a profit.
2. Is Owning A Laundromat Business Profitable?
On average, you can make $15,000 to $300,000 annually from a coin-operated laundromat. The wide income range is brought about by many factors including location, number of machines, services offered, and the business model.
It's possible to drive up your profit margins by running the business alone and providing complementary services such as pickup and deliveries.
How to Open a Laundromat With No Money: Bottom Line
Above is all the information you need to know about how to start your own laundromat business.
Whether you decide on buying a laundromat or starting one from the ground up, one this clear; the business has good returns. Like any other business though, a laundromat comes with its own share of risks.
With this in mind, it helps to engage a financial advisor to guide you in coming up with a business plan and ways of getting capital.
Don't forget to leave a comment below, especially if you ever started a laundromat without money!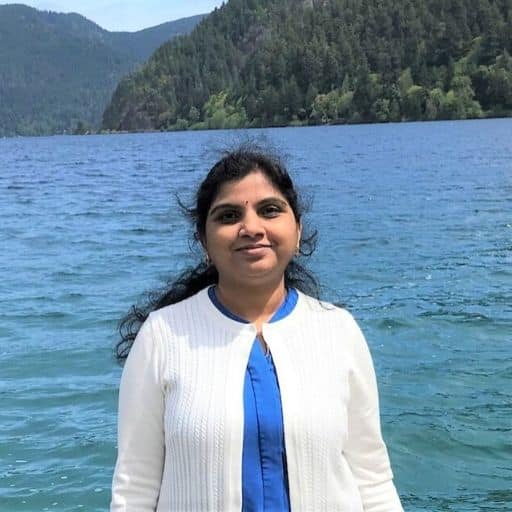 Howdy Folks, thanks for stopping by my blog.
I'm Swati, a proud mom, dedicated side hustler, full-time blogger, and a recognized millennial work-at-home expert. My expertise has been featured on esteemed platforms such as Forbes, CEO Blog Nation, Referral Rock, Vital Dollar, Databox blog, and many more. I have embarked on this incredible journey to share my firsthand experiences in the world of online income generation and to assist all of you in earning money from the comfort of your homes.
Join me in my mission to revolutionize the way we make money and achieve financial freedom. Trust me, it's not as challenging as it may seem!
Together, let's explore the boundless opportunities and pave our paths towards a prosperous future.