Selling resin crafts is a great way to make money for artists. Not only are they relatively easy to make, but they can also be quite profitable.
Resin is a clear, hard plastic that can be used to create a variety of different products.
It is strong and durable, making it ideal for a wide range of projects.
From jewelry to coasters, there are endless possibilities when it comes to resin crafts.
Resin crafts are mostly made using molds, but you can also use other materials to create Resin products.
To help you get started, we've put together a list of 25 super profitable resin crafts that you can sell.
Let's find out how you can make money selling resin products, what are the best products you can create using resin, and the things you need to keep in mind when selling Resin products.
Can I Make Money Selling Resin Crafts?
The short answer is a yes, you can certainly make GOOD money selling resin crafts!
There's a growing market for resin-based products, as people are increasingly interested in unique and handmade items.
If you look at markets selling resin crafts, you will find this as a competitive market. Many artists and small businesses sell resin crafts and make decent money.
So, if you're creative and passionate about resin crafting, and can find a profitable niche with some great project ideas to get started, there's no reason you can't make money!
Where to Sell Resin Crafts?
You can reach out to local businesses that may be interested in showcasing your products in their stores.
Or start by selling your crafts online through platforms like Etsy, FB Marketplace, and eBay, or set up a booth at local craft fairs and markets.
Is Selling Resin Crafts a Profitable Business?
Yes, selling resin crafts can be quite profitable, but it all depends on your niche and your ability to find items with high price margins.
The Success Formula for a Profitable Resin business is to sell high-demand low-competitive items.
You'll be able to make a good profit by selling your products at higher prices.
However, if you focus on less popular and more competitive goods it may take longer before any profits come through because consumers will only buy from brands they trust or know about already–so keep this in mind when setting up listings!
With a little effort and some marketing, you can build a successful resin craft business with a steady income.
Also Read: 50 Crafts with the Highest Profit Margin In 2023
Best Selling Resin Crafts 2023 [Top 10]
Wondering, what resin products sell the most? Below are the top selling
Resin Jewelry (Necklace, Bracelets, Earrings, Hand Rings, etc)
Epoxy Tumblers
Epoxy Coasters
Epoxy Tables
Epoxy Resin Night Lamps
Resin Keychains
Resin Bookmarks
Resin Pet Tags
Resin Party Ornaments
Custom Resin Trays
Most Profitable Resin Crafts to Sell
From handmade gifts to home decor items, there are several profitable resin crafts to sell.
By adding colorants, mica powders, or other embellishments to clear-casting resin, crafters can create unique and beautiful pieces that are perfect for selling.
Here are a few top selling resin products in this category:
Epoxy Resin Crafts: Things to Make With Resin to Sell
Epoxy resin is a type of synthetic resin that is widely used in the manufacture of several commercial and industrial products.
Some of the popular products that are made using epoxy resin include paints, varnishes, adhesives, and coatings.
In the crafts industry, epoxy resin is used for making jewelry, home decor, mixed media art, and a lot more…
1. Epoxy Tumblers
One popular craft is epoxy tumblers. Tumblers are easy to make and can be very profitable.
On Etsy, there are 18,000 listings for epoxy tumblers. Prices for tumblers start at around $20.
You can use glitter to add some decoration and personalization to the tumblers. This is an easy way to make a profit from epoxy resin crafts.
2. Epoxy Coasters
Epoxy coasters are relatively easy to make and can be sold for a wide range of prices, from $5 to $100+
However, the profit margin on epoxy coasters is relatively low, so it's essential to be able to mass-produce them if you want to make a significant amount of money.
By embedding colorful gems or sea glass in clear resin, you can create beautiful coasters that are both functional and decorative.
Once you've mastered the art of making epoxy coasters, you'll be able to sell them for a good profit.
3. Epoxy Tables
Epoxy resin craft that can be pretty profitable is epoxy tables. Epoxy tables are typically made by pouring epoxy resin onto a wood substrate, which can then be decorated with various materials.
These tables can be sold for a high price point, as they are often seen as works of art.
If you have the necessary skills, making epoxy tables can be a great way to earn money from your crafting business.
While there are some epoxy tables for sale on Etsy for around $150, you can also price your unique item for even $3000.
But keep in mind these items will require extra attention when packing and shipping. So it's better if you have some experience in those areas.
Also Read: Woodworking Projects that Sell Well
4. Epoxy Resin Night Lamps
Easy Resin Crafts
Searching for easy-to-make resin items. Here are a few resin crafts you can make with minimal effort and still make some profit.
Most of these items are small, so you do not have to worry much about packing and shipping costs.
5. Resin Straw Toppers
If you're looking for an easy and fun craft with epoxy resin, you should try making straw toppers!
All you need is a mold, some epoxy resin, and some straws.
You can get creative with the designs or keep them simple with minimal designs.
If you're looking to earn some extra money, you can mass-produce them and sell them on Etsy or craft fairs. We only found around 800 listings for this niche on Etsy, so there's room for growth!
6. Resin Keychains
One of the simplest and most popular projects is making resin keychains. It is both stylish and practical.
To make an essential keychain, simply pour the resin into a mold in the shape of your choice and add any desired embellishments, like glitter or beads.
These resin keychains can be made to include Custom initial letters, Luggage tags, and Women's handbags, making them a perfect gift for friends and family.
You can also add photos, logos, or other designs to custom keychains for a one-of-a-kind look that your customers will love.
Competition is high on Etsy as we found over 50000 listings for resin keychains.
But you can get more creative because this is a personal item, and you can sell personalized resin keychains for a reasonable price. Your creativity will beat the competition easily.
7. Resin Bookmark
In my view, this is the easiest resin craft to make you will find on this list.
Resin bookmarks are a popular craft item, and they are straightforward to make. There are around 6000 listings on Etsy for resin bookmarks, and prices for the items range from $5 to $15.
If you are new to resin and crafts, making epoxy resin bookmarks might be a good start until you master this fantastic art.
8. Resin pet tags
Resin pet tags are a great option if you're looking for a unique and easy craft to make and sell.
There are only a few thousand search results for this type of product on Etsy, so you'll be able to stand out from the crowd effortlessly.
And since pet accessories are a competitive niche, you could charge around $20-$30 per tag and still be in line with the prices of other sellers.
To make your tags even more unique and appealing to buyers, try adding extra value such as personalization or custom shapes.
With a bit of creativity, you can easily make this craft your own and build a successful business around it.
9. Resin Magnets
Resin magnets are a great way to craft for beginners. They are easy and quick to make, and you can sell them on Etsy or any other handcraft marketplace.
Resin magnets are also a great way to make money. You can sell them for around $3 each or make a dozen based on a theme and sell the pack for $30.
There are 7000+ listings for resin magnets on Etsy, so you will be sure to find a market for your resin magnets.
10. Resin Party Ornaments
If you're looking for an easy resin craft, why not give resin party ornaments a try? Resin party ornaments are a great way to add a personal touch to any special occasion, and they can also be sold for a profit on Etsy.
Imagine making a Christmas tree ornament pack, a birthday party décor pack with epoxy Resin Confetti, or an Epoxy Rustic Wedding favor.
You can sell even a single ornament for around $15. How about making a whole pack? There is $100 of profits to make with a little effort.
11. Paperweight
Resin paperweights are a beautiful and unique way to add a personal touch to your home office or desk. And they make great gifts!
A clear resin paperweight makes a great gift for anyone who loves to write or keep organized. Simply add a favorite photo, quote, flower, or image to the bottom of the paperweight for a personal touch.
We assume competition is very low for this category as there are only 1000+ listings on Etsy. You can sell these for $10 or even $80 if it's unique.
Resin Gel Pens
Resin pens are a great item to sell on Etsy. They are easy to make and can be priced to sell. You can sell a basic resin pen for $10 or get more creative with your designs and charge $100.
There are nearly 9000 resin pens already listed on Etsy, so there will be competition, but with some creativity, you can make your pens stand out from the rest.
12. Custom Resin Tray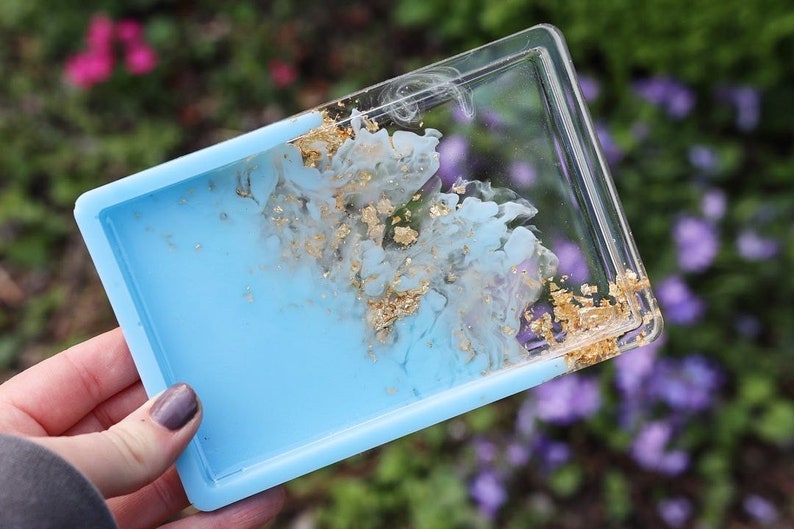 Add style to any table setting by creating a resin-topped serving tray. You can use leftover bits of resin to create a stunning mosaic design.
DIY Resin Crafts
13. 3D Paintings
If you are an artist or good at painting, this can be a fun DIY project. Gather your color palette, your favorite colors, and resin. You can use a wooden box as the frame. Paint your art layer by layer made using resins.
14. Resin Cutting Boards
This is an excellent DIY project if you are also good at woodworking.
All you need is a cutting board, acrylic paint, and some alcohol ink and you are good to go! These make great decorations for your kitchens too.
You can easily sell these for anywhere around $60 – $180 and there seems to be a great demand for resin cutting boards, especially on Etsy.
Popular Resin Items to Sell: Sell Resin Handmade Jewelry
This is one of the most popular types of resin crafts because it is so versatile.
Since Resin is an excellent material for making jewelry, you can make all sorts of different types of jewelry, from necklaces and bracelets to earrings and rings.
And, because there are so many different ways to design resin jewelry, you can really let your creativity shine through.
15. Resin Hand Rings
Resin jewelry is trendy and profitable to sell. Resin rings, in particular, are in high demand on Etsy, with 43,000+ currently for sale.
However, there is still plenty of room for growth in this market, as resin rings are typically priced between $5 and $40.
If you get creative with your designs and add glitter, pressed flowers, or wood, you can easily stand out from the competition and make a killing selling resin jewelry.
16. Necklace
Necklaces are one of the easiest resin crafts you can make.
You can sell an everyday resin necklace on Etsy for around $5-10. More creative ones are priced at around $100. But the competition for resin necklaces on Etsy is high as we saw more than 100 000 listings.
17. Bracelets
You can resin bracelets very quickly. Eye-catching designs are a must in our view.
Choosing a targeted niche can be less competitive and more profitable. You can mass-produce resin bracelets with a little effort, and they sell for around $200 on Etsy.
18. Resin Earrings
Resin jewelry is a great way to make a profit. In particular, resin earrings are trendy and can be sold reasonably. You must be patient, as these are tiny art pieces, but the results can be worth it.
With over 145,000 listings for resin earrings on Etsy, there is a lot of competition. However, you can price your earrings between $20 and $50, depending on the level of creativity.
With a bit of effort, you can easily make a profit from resin jewelry.
19. Jewelry display
Resin jewelry is a popular craft that can be used to create beautiful and unique jewelry displays. If you are looking for a less competitive product, resin jewelry displays are a great option.
You can create simple jewelry hangers that can sell on Etsy for around $20 – $50 or create more unique and expensive displays that can sell for around $100-200.
The competition for resin jewelry displays is low, as we found only 2000+ listings on Etsy.
Resin Art Ideas to Sell
20. Resin Clocks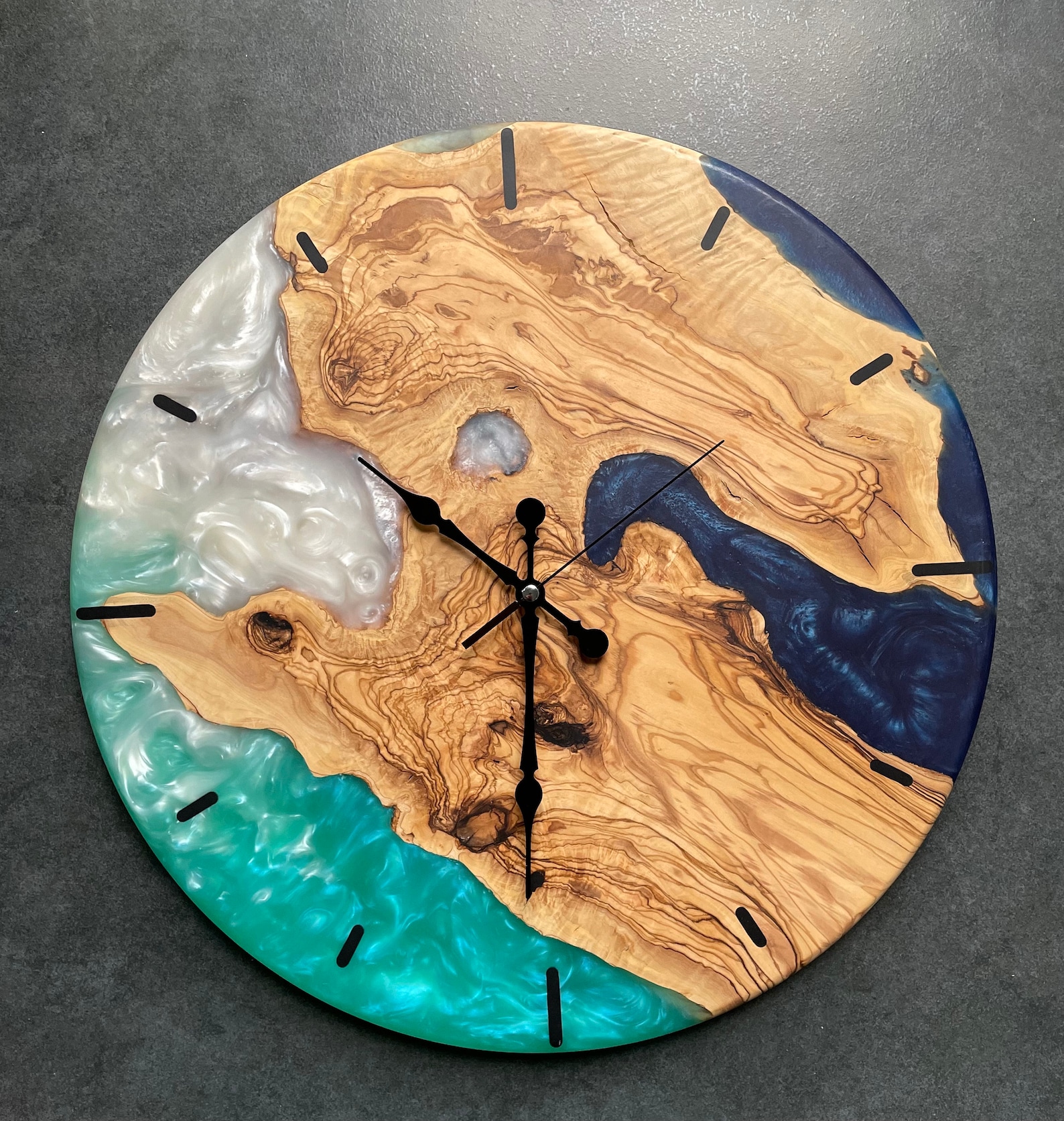 Resin clocks are perfect if you know woodworking and crafting because it seems like there is a high demand for wooden resin clocks on Etsy. Anyway, that's not mandatory. You can use other materials or just resin only.
You can quickly sell a resin clock for above $100. If you are willing to add that extra touch, this is a super profitable product to sell on Etsy, as there are only 2000+ listings on Etsy.
21. Resin Canvas Art
If you are good at a minimal or abstract painting, there is a good chance you can make some decent money by selling resin-mixed canvas art on Etsy.
You do not have to be Picasso to be an eye-catching artist on Etsy. Simple canvas paintings sealed with resin are for sale on Etsy for above $100. There is a bit of competition for the niche. But what matters is uniqueness and colorfulness.
You can also narrow it down and choose areas like bohemian canvas art, minimal canvas painting, or abstract art, as Etsy has a high demand for these types of arts.
22. Wall Hanging Mirrors
Making resin wall mirrors can be super profitable as this has lesser competition on Etsy. There are only 900 listings for resin mirrors on the marketplace. Some shop owners are nailing it with hundreds of sales for just a mirror and some resin art.
The average price for those mirrors on Etsy is around $30. But you can price it less or higher depending on the work. You can quickly sell a resin mirror for around $300 if you know how to add value to the product.
23. Resin Figurines
Sculpting is a popular genre in the arts. There is a considerable amount of money to be made in this industry. With resin, it's much easier to make sculptures because the resin is super flexible.
We found a high demand on Etsy for resin sculptures as the artists are selling hundreds of high-priced items.
The size of the artwork doesn't matter. Even if it's a small-sized sculpture, you can quickly sell it for around $100 – $200. We spotted some easy-to-make sculptures for sale on Etsy, even for $800.
If you are lazy or busy, just replicate some world-famous art pieces like David by Michaelangelo.
24. Resin 3D Stickers
3D stickers are one of the hottest trends in the crafting world right now. By layering stickers on a clear transparent film, crafters can create a stunning three-dimensional effect in their resin pieces. The possibilities are endless, and crafters are only limited by their imagination.
Best of all, these stickers are surprisingly easy to use. simply peel and stick them onto the desired surface.
Whether you're looking to add a bit of dimension to your scrapbook pages or want to create a one-of-a-kind piece of jewelry, 3D stickers are the perfect solution.
Also Read: How to Start Selling Stickers for Profit
25. Photo Coasters
Photo coasters are a creative way to decorate homes and inexpensive yet unique gift ideas. In addition, they are very adorable on fridges when attached to magnets.
With simple resin molds, you can make some extra cash in designing and selling the coasters to friends and family.
What Resin Crafts Sell the Most?
Resin crafts that sell the most include resin coasters, jewelry, home decor, magnets, etc. Anything that is personalized is extremely popular and always a bestseller.
Where to find Resin Crafts Molds?
To create resin crafts, you will need a resin mold. These molds can be made from flexible rubbers and come in various shapes and sizes.
You can find resin molds at local art shops or online markets like Etsy or eBay.
When choosing a resin mold, be sure to pick one that is the size and shape that you need for your project.
You will also want to consider the flexibility of the resin mold and whether it will be able to withstand the heat of the resin.
Once you have your resin mold, you will be ready to start creating beautiful resin crafts!
How to Make Money with Epoxy Resin?
Epoxy resin is a versatile material that can be used for various purposes, from coating floors to making countertops.
It is also an increasingly popular material for making jewelry, art, and crafts. If you are looking for a way to make extra money, epoxy resin could be the perfect solution.
There are several ways to make money with epoxy resin, from selling finished products to becoming an authorized distributor. Here are just a few ideas to get you started:
One option for making money with epoxy resin is to sell finished products. This could include anything from jewelry to artwork to home decor items.
If you have a knack for crafting, you could create your unique designs and sell them online or at local craft fairs.
Another option is to become an authorized distributor for a resin manufacturer. This could involve setting up an online store or becoming a regional distributor for a company.
As an authorized distributor, you would be able to sell the resin directly to customers and businesses in your area.
No matter which option you choose, there is potential to make good money with epoxy resin. You can turn this versatile material into a profitable business venture with a bit of creativity and effort.
Where to Sell Resin Crafts?
If you're looking to sell your resin crafts, there are some different platforms you can use.
1. Etsy
If you're looking for a place to sell your resin crafts, Etsy is a great option. Etsy is a marketplace specifically designed for selling handmade and vintage items and craft supplies.
That makes it a perfect place to sell resin crafts that you've made yourself. Plus, setting up an Etsy shop is quick and easy, so you can start selling right away.
And since Etsy is a well-known site, you'll have the opportunity to reach a broad audience of potential buyers. So if you're looking for a place to sell your resin crafts, Etsy is worth considering.
2. eBay
eBay is a popular option for selling resin crafts. You can list items in both auction-style and fixed-price formats.
You will need to take good photos of your resin crafts and write good descriptions to sell them on eBay.
You may also consider setting up an eBay Store to sell your resin crafts on a more permanent basis. Shipping can be done through USPS, FedEx, or UPS.
3. Instagram
Promoting and selling your products on Instagram is a great way to reach out to potential customers. You can sell resin crafts on Instagram.
You can use the platform to share pictures and videos of your products and provide information about where customers can purchase your items.
Instagram is a visual platform, so it's a great way to showcase the beauty of your work.
In addition, by using hashtags, you can reach a larger audience and connect with other crafters who might be interested in your work. So if you're wondering where to sell resin crafts, Instagram is a great option.
4. Pinterest
If you sell resin crafts, you may wonder where the best places are to sell your products. One option is to sell directly through Pinterest.
You can now create a Pinterest shop, and this can be a great way to reach out to potential customers who are already interested in crafts and DIY projects.
You can also use Pinterest to drive traffic to your listings on other sites, such as Etsy or eBay. This can be done by creating pins that link back to your product pages.
By utilizing Pinterest, you can reach a broad audience of potential customers and quickly sell your resin crafts.
5. Facebook Marketplace
Facebook Marketplace is an excellent option for selling epoxy resin items. You can set up a listing for your products and reach a broad audience of potential buyers.
Just take good-quality photos of your products and write detailed descriptions, so buyers know what they're getting.
You can start selling your resin crafts on Facebook Marketplace and reach a whole new group of customers with a little effort.
Here's how to post on Facebook Marketplace
6. Online Stores
Shopify is a platform that allows you to create your online store, and it's a great option if you're looking to sell resin crafts on a more professional level.
You can create a custom shop with your branding and design and sell products directly to customers through the Shopify platform. There is a monthly fee for Shopify services.
You can buy the basic plan just for $29 per month. But we must say it is worth the price.
If you're serious about selling resin crafts, then Shopify is worth considering.
Whatever platform you choose, make sure you take the time to create beautiful listings and promote your products regularly. You can find success selling resin crafts online with a little effort.
7. Craft Fairs
8. Holiday Bazars and Local Fairs
How to Start a Profitable Resin Business?
Getting started in the resin business can be a bit overwhelming. But don't worry, we're here to help!
Here are simple steps on how to sell resin products and get started on your way to success.
1) Do your research
The first step is always to do your research. Familiarize yourself with the resin market and what products are selling well. This will help you determine what products you should make and sell.
2) Choose your niche
Once you know what's popular in the resin world, it's time to choose your niche. What type of products do you want to make? What style? What themes? Pick something that you're passionate about so that making and selling your products is enjoyable.
3) Create a Business Plan
Now that you know what you want to make and sell, it's time to create a business plan. This doesn't have to be anything fancy, but it should outline your goals, strategies, and how you plan on making money.
4) Choose Your Shop Name and Branding
Your shop name and branding are essential for helping customers find and remember your shop. Spend some time brainstorming and develop something creative that represents your products well.
5) Create Your Products
This is the fun part! Start creating the products you've been dreaming of. Be sure to take quality photos so that potential customers can see what they're buying.
6) Set Up Your Shop
Now it's time to set up your shop. You can sell your products on various platforms such as Etsy, Amazon, or your website. Choose the one that makes the most sense for your business and starts listing your products.
7) Promote Your Shop
The final step is to promote your shop so that people can find it and start buying your products. There are several ways to do this, including social media, online ads, and good old-fashioned word of mouth.
By following these simple steps, you'll be on your way to starting a successful resin business!
Resin Ideas to Sell: FAQs
1. How Do You Price Resin Pieces?
There are a few different pricing methods for resin art, and the best one for you may depend on the type of product you sell.
A per-piece pricing structure might work well if you're selling smaller items, like jewelry or keychains. For larger pieces, like sculptures or home decor, pricing by the hour may be a better option.
Regardless of the pricing method you choose, make sure to factor in the cost of the resin itself and any other overhead costs like electricity or shipping. It's also important to consider your own time and skillset when pricing your products.
If you're just starting, it's okay to charge less than your more experienced counterparts. As you build up a portfolio and demonstrate your talent, you can raise your prices accordingly. You can ensure that you're fairly compensated for your resin art by factoring all of these elements into your pricing strategy.
2. Why Does Resin Sell Well?
Resin is a complex, brittle material used in various applications, from jewelry making to manufacturing. Because it is so versatile, the resin can be an appealing option for selling crafts and other items. However, there are a few things to keep in mind when selling resin-based products.
First, the quality of the resin is essential. Second, it is crucial to be familiar with the available resin types and their different properties. Finally, it is essential to have a good understanding of the resin-curing process.
By taking these factors into account, you can be sure to choose the suitable resin for your project and sell your products successfully.
3. How Much Does Resin Jewelry Sell for?
Jewelry made from resin can vary in price, depending on the quality and craftsmanship of the piece. However, as a general rule, resin jewelry sells for more than comparable pieces made from other materials.
In general, you can expect to pay anywhere from $20 to $200 for a piece of resin jewelry.
The exact price will depend on the factors mentioned above. So if you're looking for something special and unique, be prepared to pay a bit more.